Today is Caroline's last day of winter break! The rest of us returned to work and school this morning after 11 days at home together. Normally, a break this long would make us all go a little stir crazy. But after spending the past 9 months working and schooling from home, it was pretty nice to just be home without those responsibilities. Matt and I were so grateful to take a break from work and not worry about virtual school. We stayed up late, slept in, spent most days relaxing at home, skipped the gym, tackled house stuff (I cleaned and organized a LOT of things) and celebrated the holidays!
A few of my favorite highlights, in addition to Christmas…
Bike Rides
We loved riding our new bikes we got for Christmas! Matt and I didn't own bikes previously so it has been so fun for all of us to ride together now. The kids' bikes are much bigger than their last bikes and we have been so proud of how well they are both riding them (and using the hand brakes)! Thomas did wipe out pretty good in the mud on one of the trails we discovered, but otherwise has been crushing it.
Snow Tubing
On New Year's Eve we took the kids snow tubing at Hawksnest in Seven Devils, NC! This was an adventure that I have dreamed of doing with our kids and my heart felt like it was going to explode I was so happy. Not only was it the kids' first time snow tubing, it was my first time too!!! We had an absolute blast.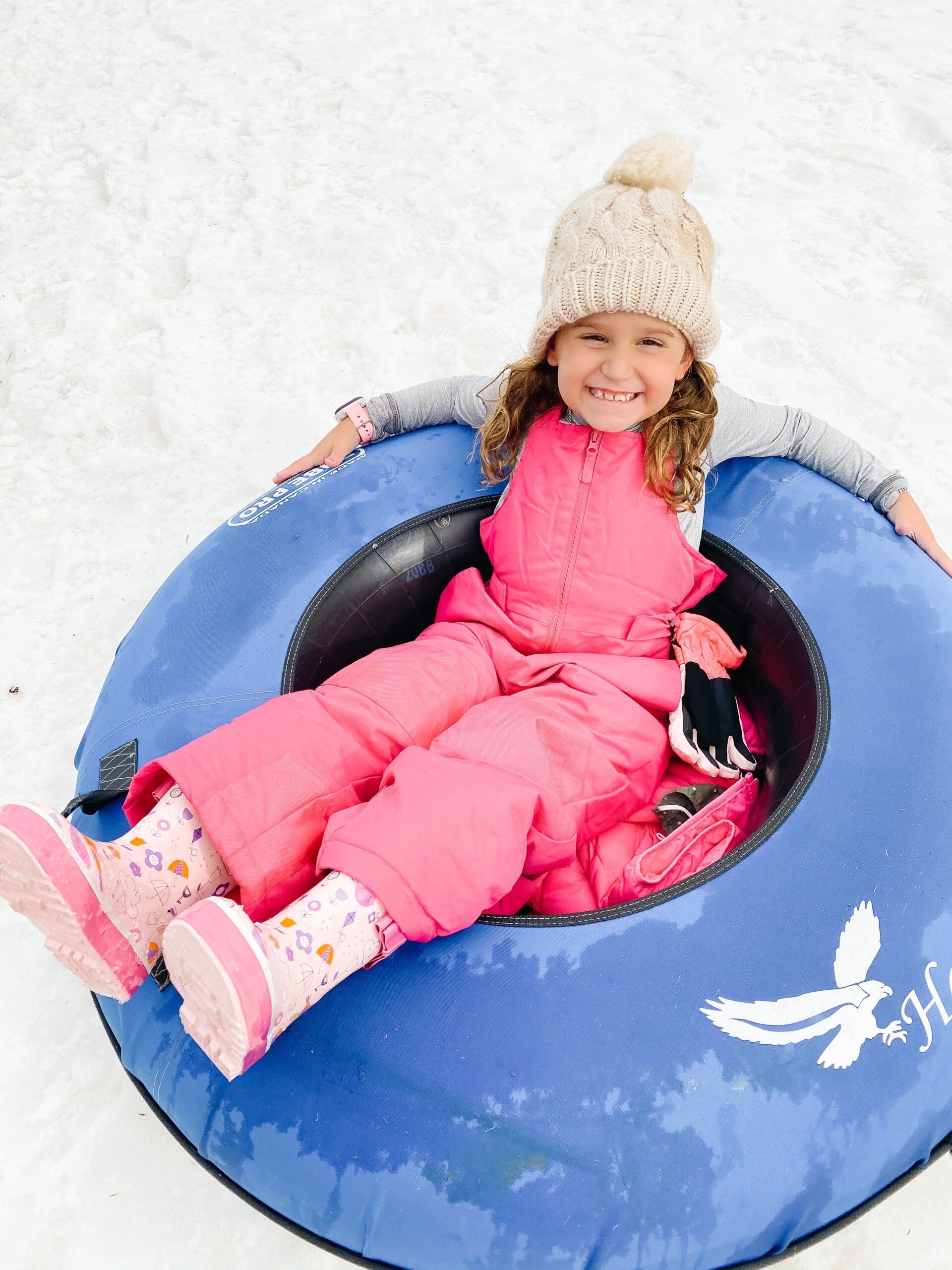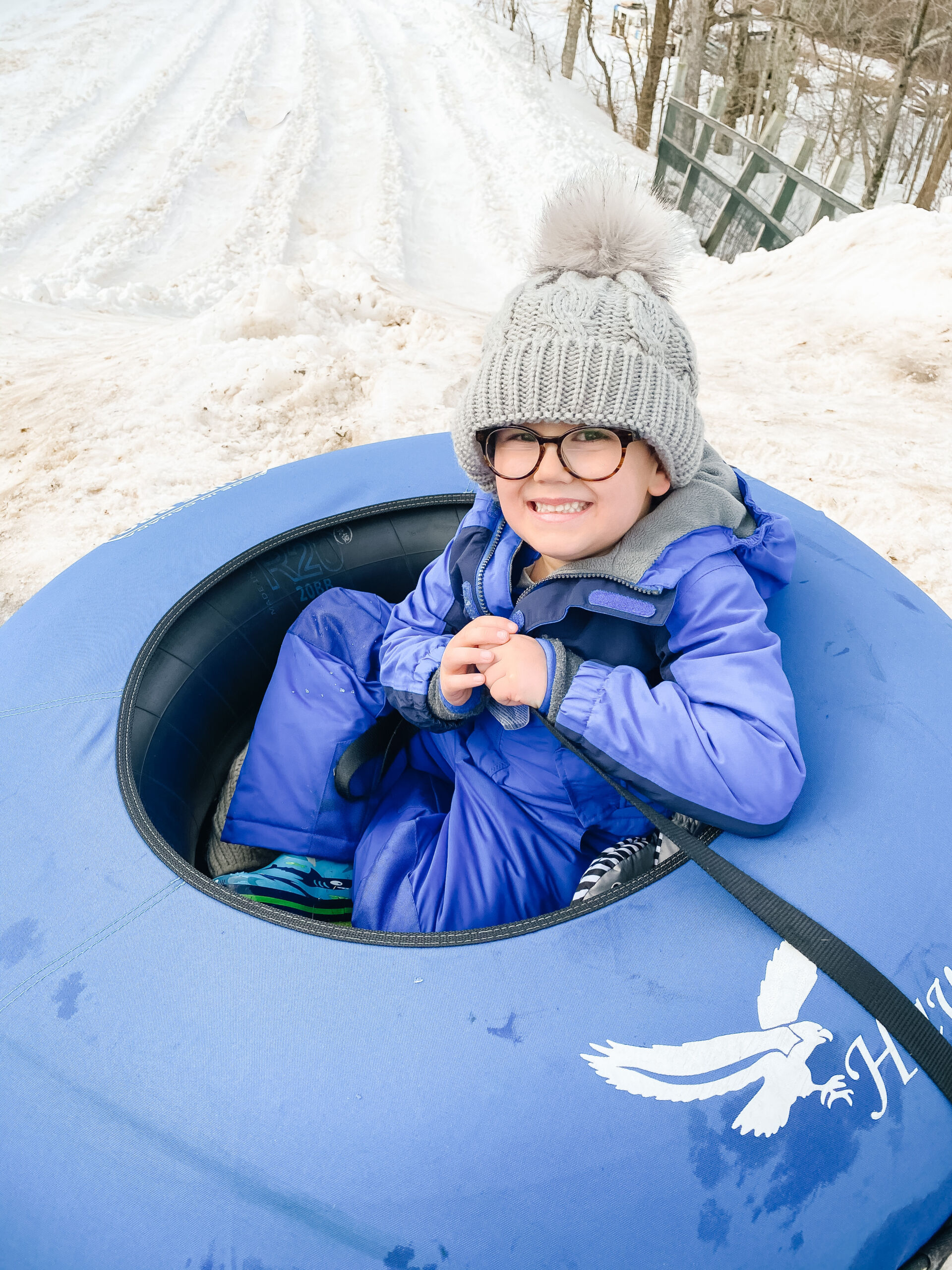 Our Snow Gear

*Responses to FAQ I've received: The Kids' Boots: The kids wore rain boots not snow boots and they were totally fine! In fact, a LOT of other little kids were wearing rain boots too. I didn't want to spend the money on snow boots since we won't wear them as much as rain boots. Hawksnest is also pretty condensed so there isn't a lot of walking. Save your pennies and buy rain boots. My Gear: Yes, I'm wearing kids size gear. I am very petite and the women's gear swallows me up so I prefer kids sizes since snow gear runs SO large! I liked my bib but was annoyed it didn't have pockets.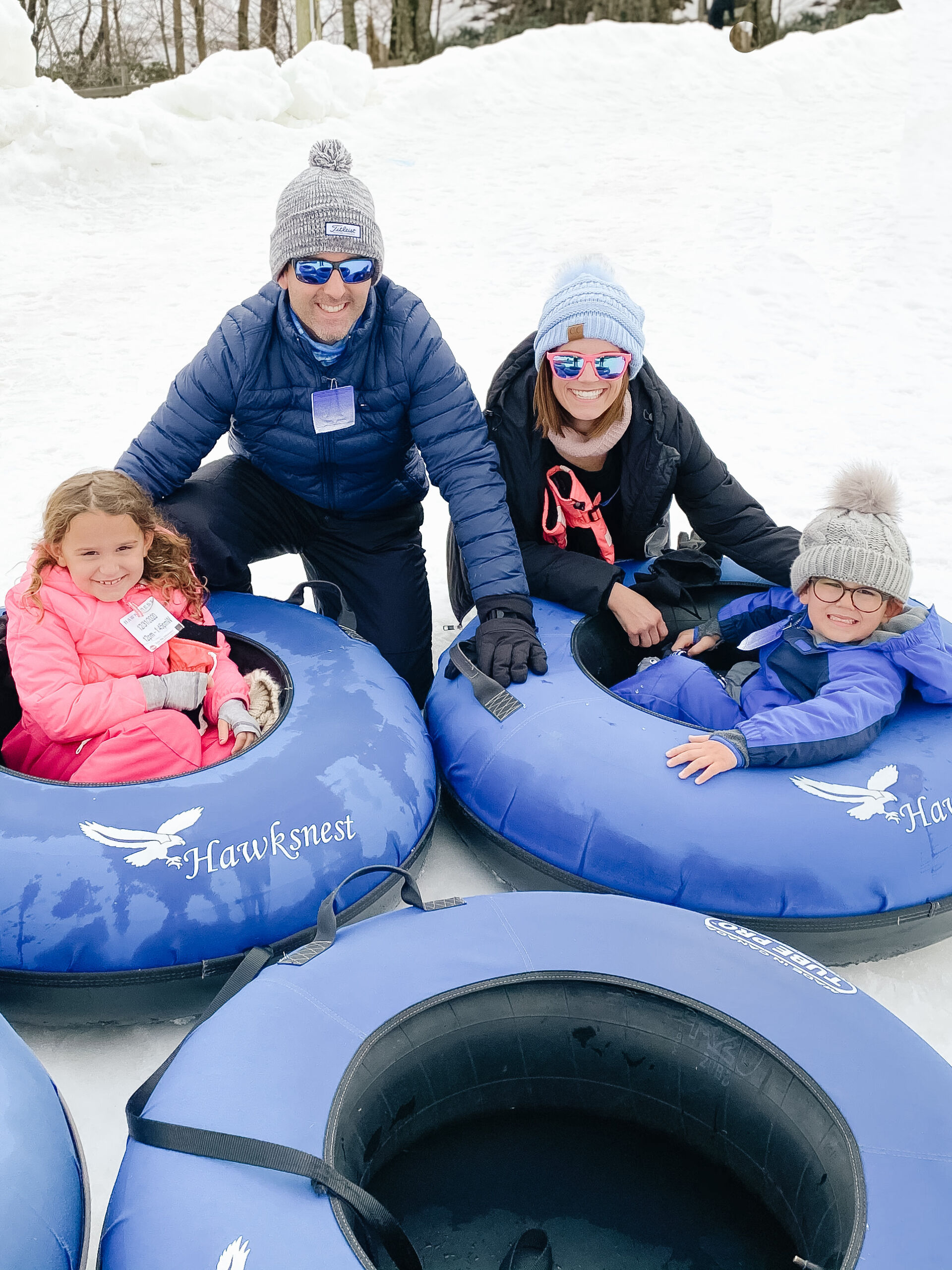 New Year's Eve
We got back into town from tubing and kicked off our NYE celebrations. We poured sparkling grape juice for the kids (they felt so fancy) and brut rose champagne for us!
Caroline was SO excited to sing Auld Lang Syne while I played the piano! We had been practicing together a lot over the holiday break and she couldn't wait to finally perform for Thomas and Matt! She nailed it and we were all so proud of her!
For dinner, I surprised the kids with their first cheese fondue experience! Thomas didn't like the cheese so he just ate the dippers, but everyone else loved it! And we had chocolate fondue for dessert which was a huge hit.
Cheese Fondue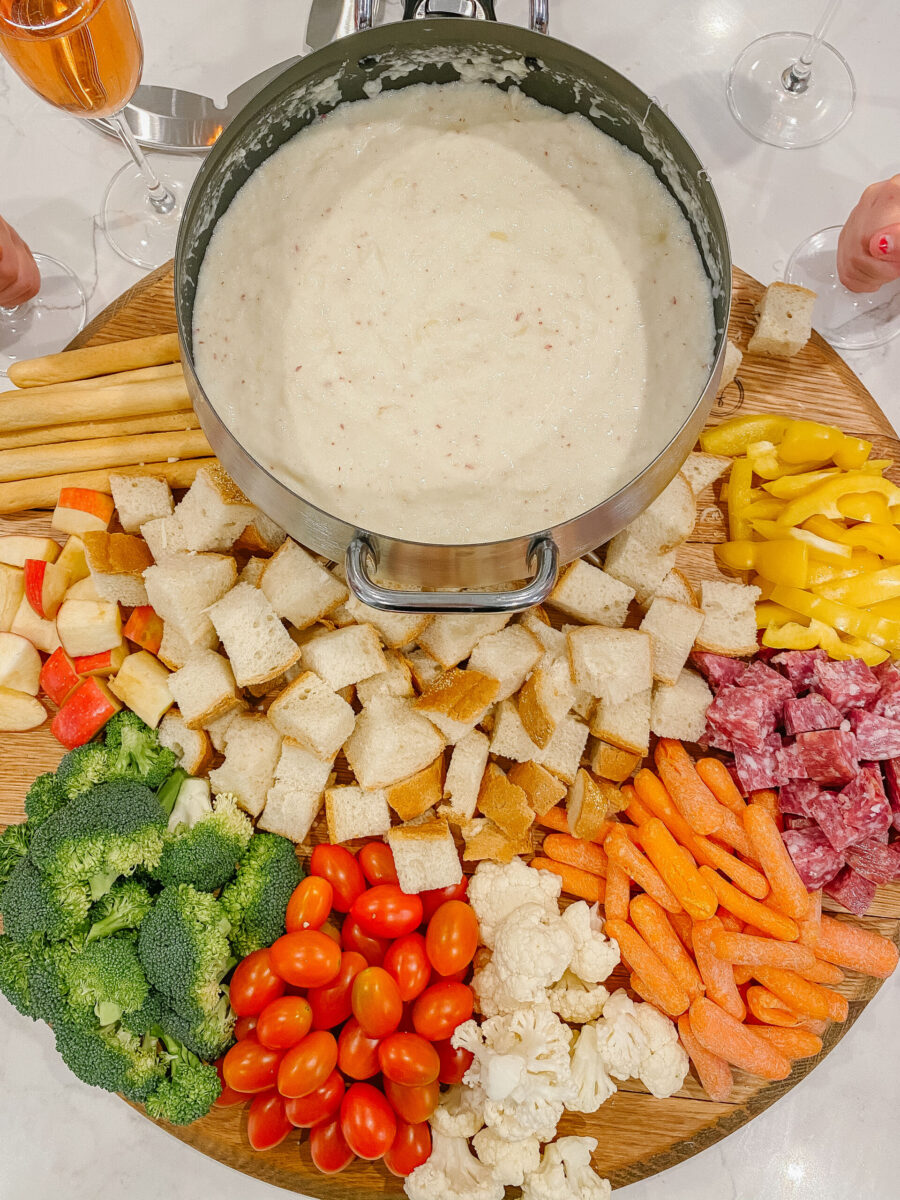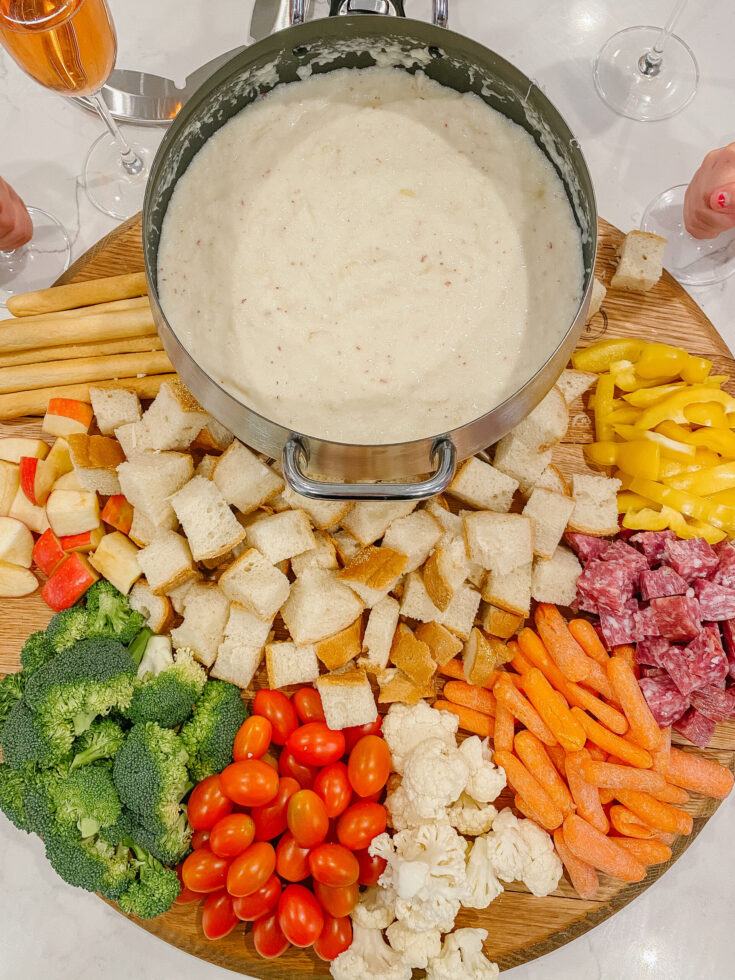 The perfect dinner experience to ring in the new year or celebrate birthdays, Valentine's Day, anniversaries and more!
Ingredients
1 tbsp garlic, minced
2 cups Trader Joe's Swiss & Gruyere shredded cheese blend
2 cups Manchego cheese, shredded
2 cups white cheddar cheese, shredded
2 tbsp cornstarch
1.5 cups, plus 2 tbsp dry sherry
Dippers
Instructions
Stir garlic all around the inside of a fondue pot over medium heat until fragrant.
Pour 1.5 cups sherry into pot and reduce heat to medium low. When liquid starts to bubble, start adding cheese by the handful, stirring until melted and combined.
In a small bowl, whisk cornstarch with 2 tbsp sherry until cornstarch disolves; stir into fondue pot. Continue whisking until cheese mixture is smooth and slightly bubbling, about 5 minutes.
Reduce heat to low and serve immediately with assorted dippers.
Notes
Feel free to go a little crazy with your cheese dippers. Some of our favorite include broccoli florets, cherry tomatoes, cauliflower florets, carrots, cubed salami, sliced bell peppers, diced apple, bread sticks, french baguette cubes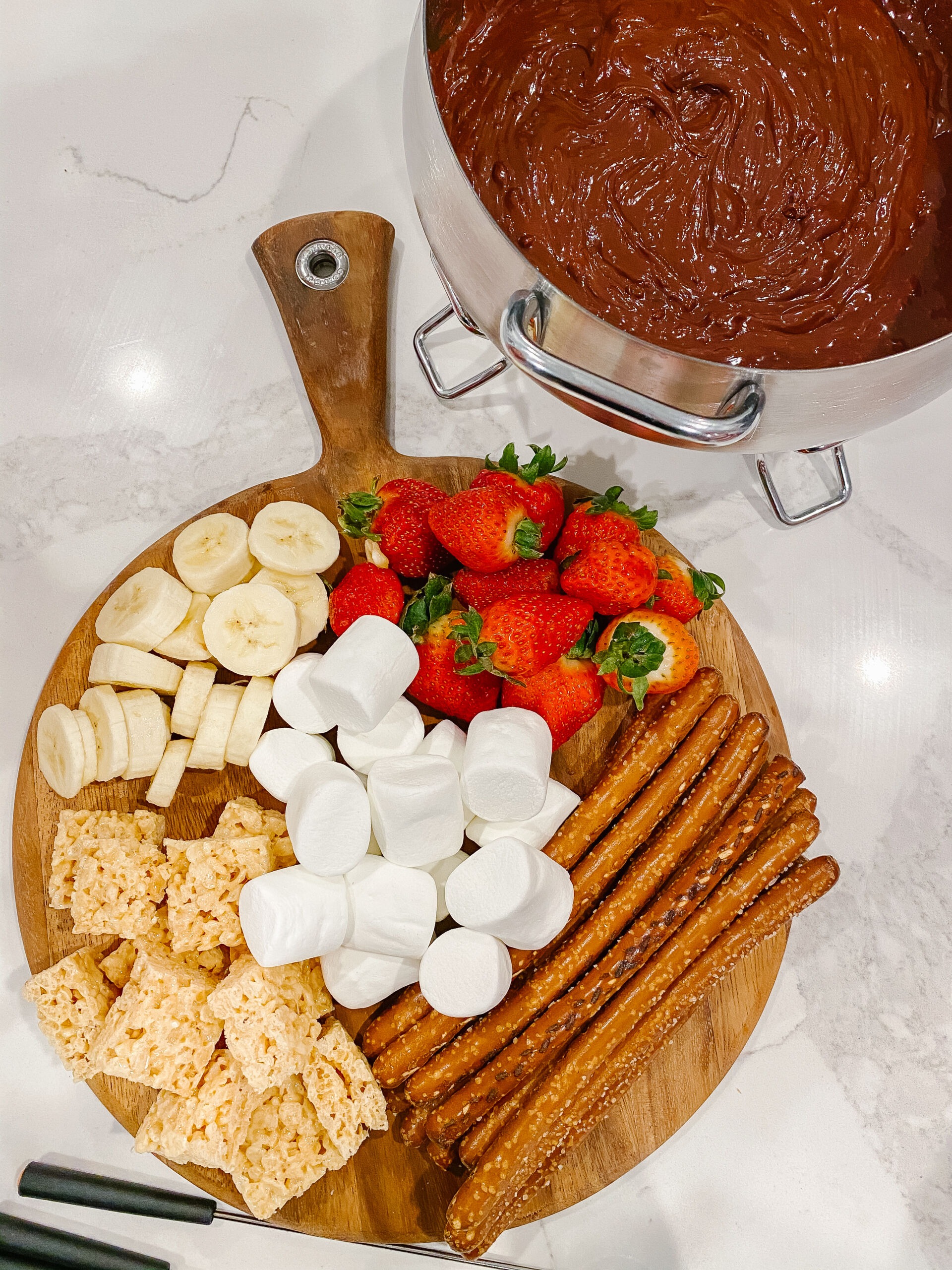 Chocolate Fondue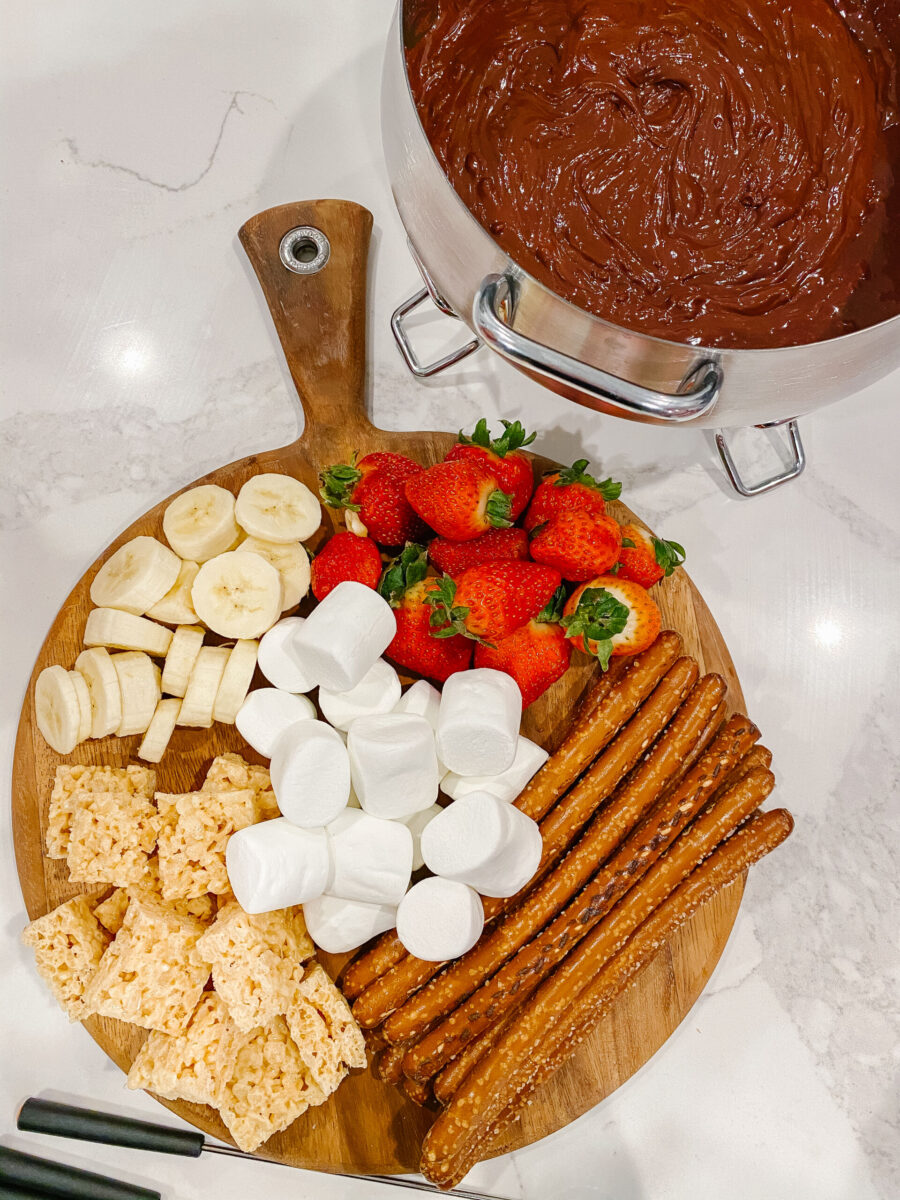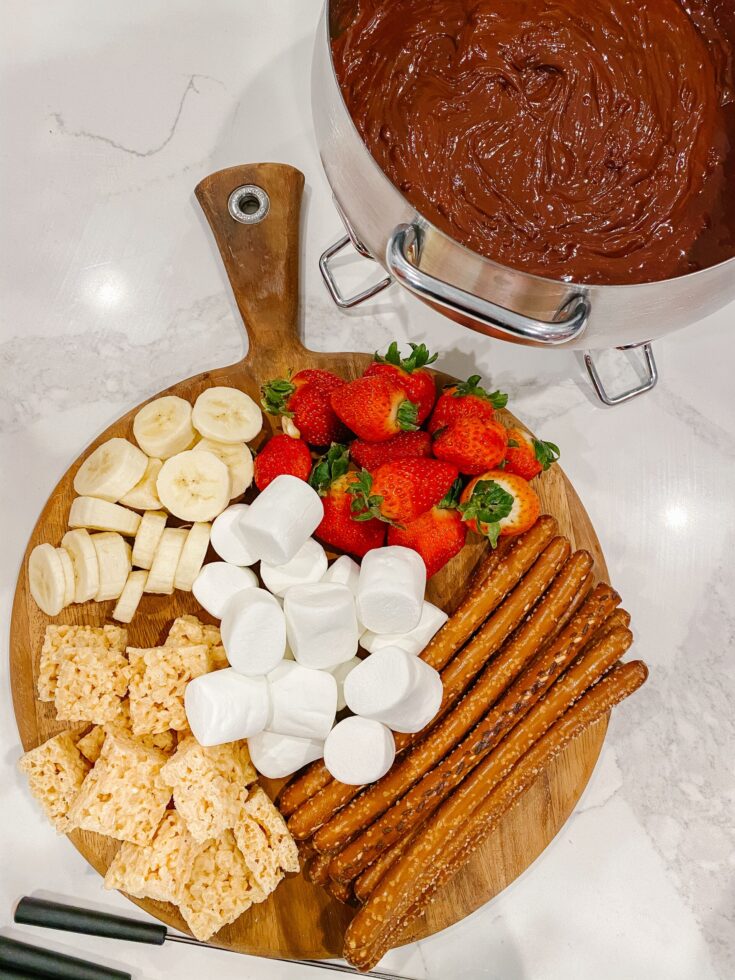 The perfect dinner experience to ring in the new year or celebrate birthdays, Valentine's Day, anniversaries and more!
Ingredients
1 lb semisweet chocolate (high quality)
2 cups heavy cream
Dippers (sliced bananas, marshmallows, strawberries, rice crispy treats, pretzel sticks)
Instructions
In fondue pot over low heat, add chocolate and heavy cream, stirring occasionally until chocolate is melted and mixture is smooth.
Serve immediately with dippers.
Notes
It is VERY important that you use HIGH QUALITY chocolate for fondue. It really makes a huge difference in how evenly and smoothly the chocolate will melt. I used ghirardelli chocolate for our fondue.
Hair Cut
Definitely NOT a highlight, but didn't want to leave this incident on the cutting room floor (pun!). A few nights ago I was laying on the couch after pulling my neck when Thomas asked if he could play "hair salon" with my hair. Assuming he wanted to brush or braid my hair, I said yes and he informed me he needed to get some salon supplies (brush, hair tie, etc.). Seconds later he had combed a section of hair into his hand and then I heard a heart-dropping sound…the sound of scissors cutting. I jumped to my feet in panic and turned around to find him holding a thick lock of red hair in one hand and my kitchen shears in the other. I was already in so much pain from my neck injury…and now panicked by my hair cut that I broke into tears. Caroline stood nearby absolutely horrified while Matt rushed me to our bedroom to calm me down and assess the damage. The chunk of hair now looked a lot scarier in Thomas's hand, and thankfully I can blend the area of missing hair in until I can get a proper hair cut. Anyway, I don't know what went through Thomas's head to make him think it was appropriate to use scissors on my hair (especially after he cut his own hair during quarantine while I was on a conference call) but let's just say he will never do that again…or be allowed to touch scissors indefinitely. So while I was calming down, Caroline yanked Thomas upstairs. After awhile Matt and I called a very remorseful Thomas downstairs to have a talk with him. He brought an apology note and a $5 gift from his piggy bank with him…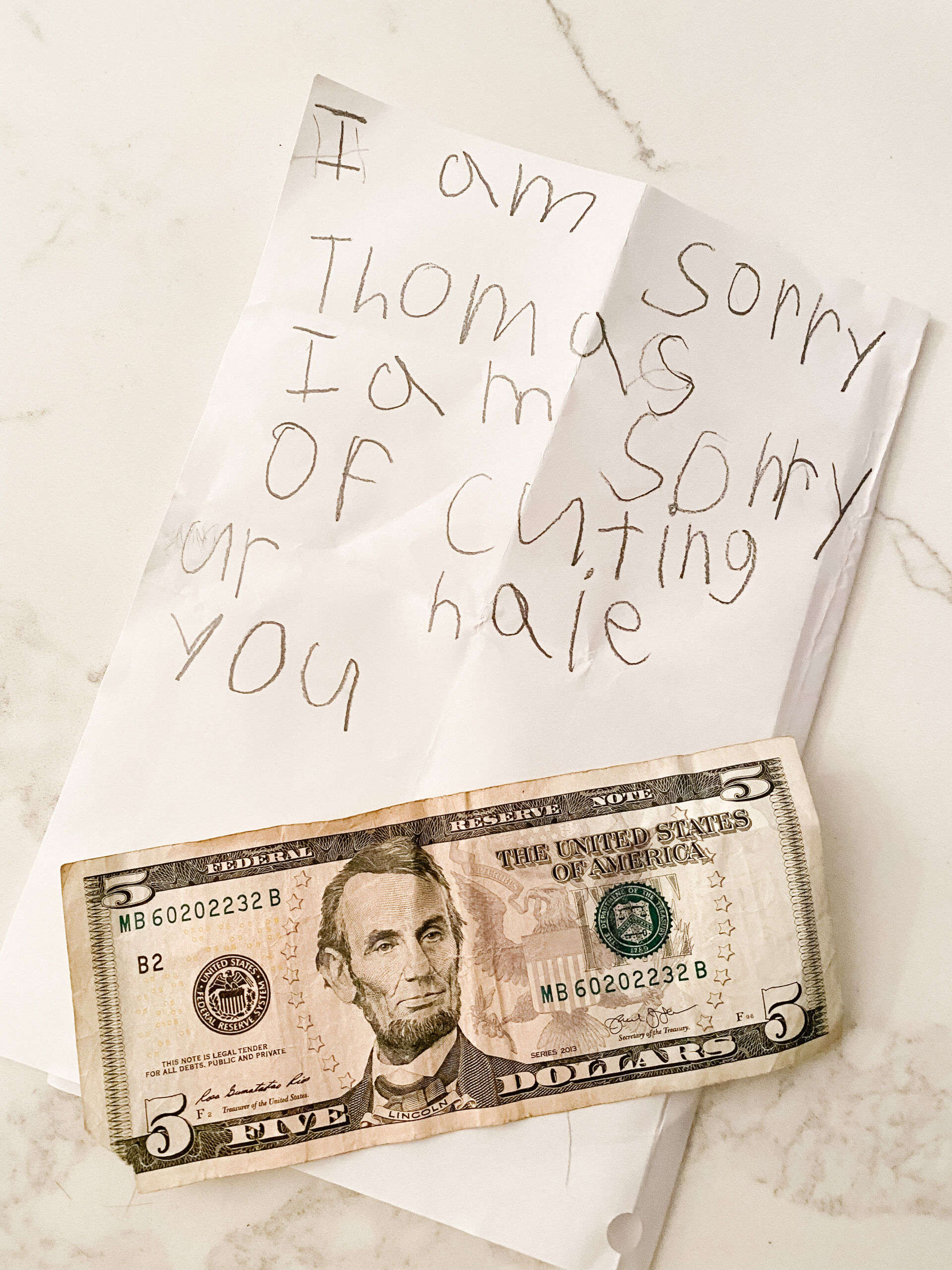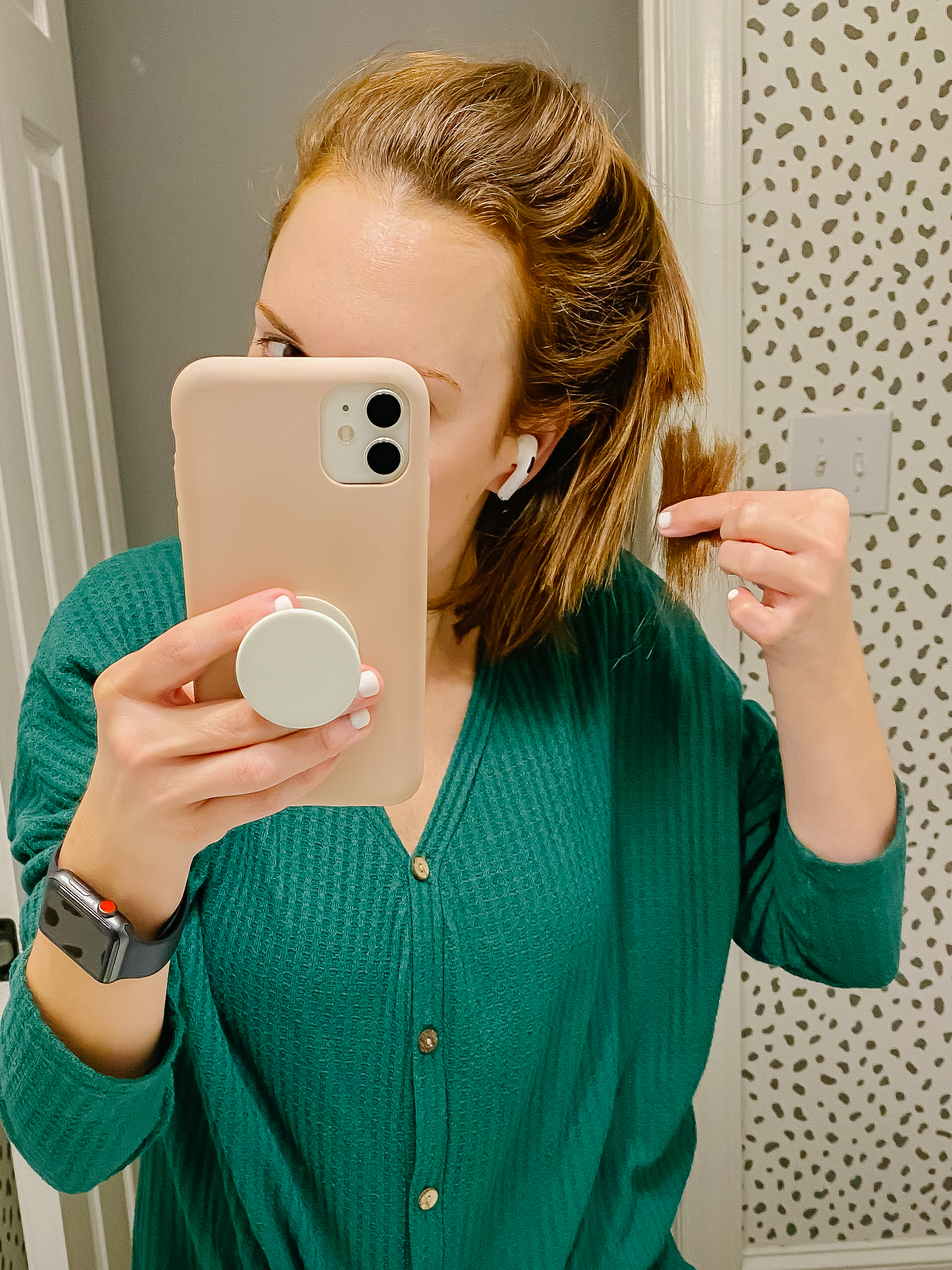 Truck Farewell
We said goodbye to Matt's 2013 GMC Sierra. His truck has been so good to us and we have so many amazing memories in it. We brought both kids home from the hospital in his truck, hauled so many things (including a move to our current home), traveled to Florida a million times, hid Christmas presents in the truck bed, packed it full for mountain trips, beach trips, camping trips and so much more. The truck also kept Matt and Caroline safe during a scary car accident years ago. We are so grateful for the 7 years we had with the truck and are looking forward to making new memories in Matt's new Tahoe!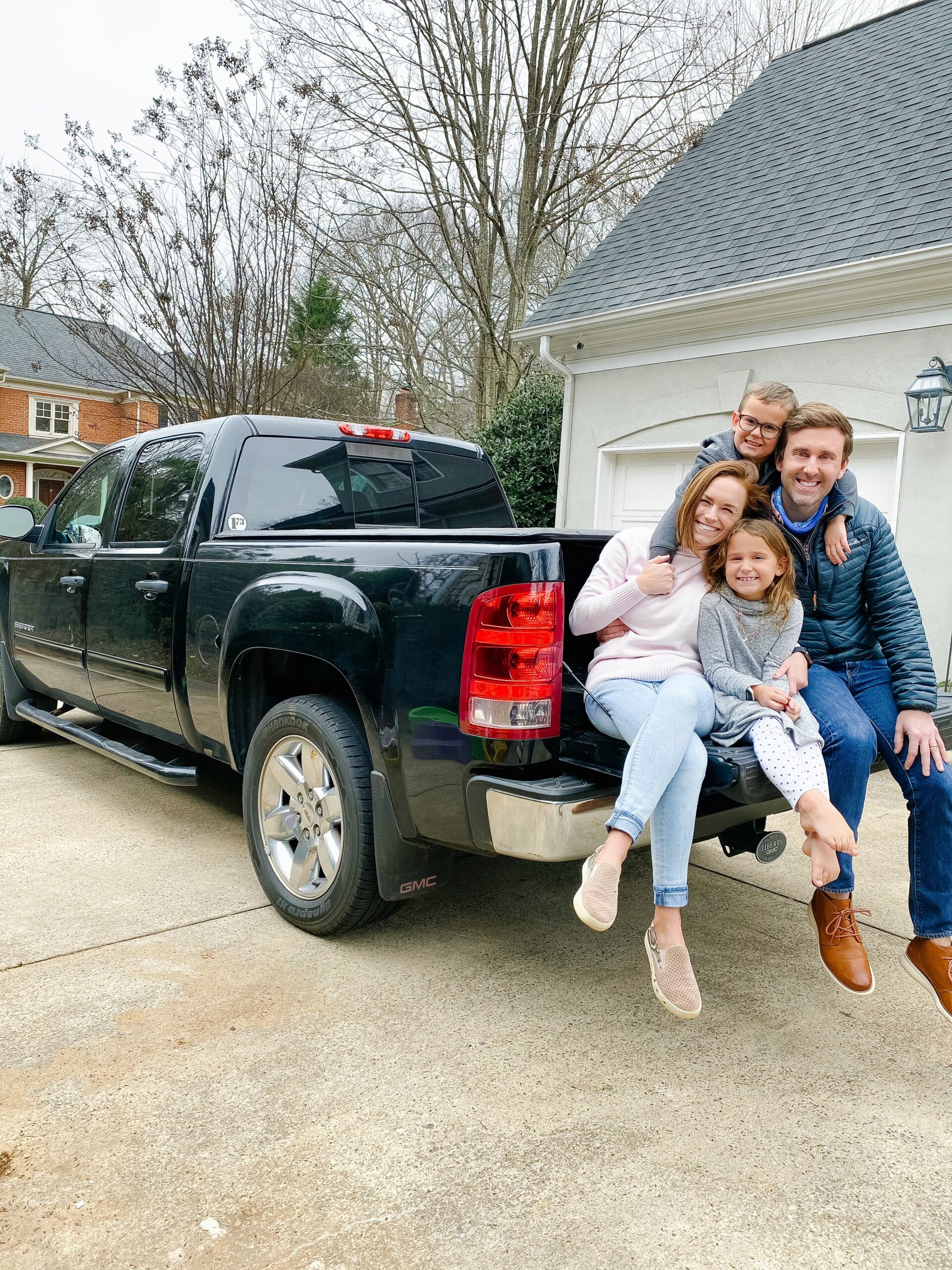 And that was a wrap on winter break!