Well, it was truly an unforgettable Easter! While we really missed seeing our family and being able to do a few of our most favorite traditions, we had a wonderful holiday quarantined together. I've never been more thankful to squeeze my healthy family.
A few highlights I want to remember forever…
On Palm Sunday the kids dyed eggs. They were really in to it this year which made it so fun to watch. After all of the eggs were dyed they devoured a ton of them in one sitting — Caroline ate the egg whites and Thomas ate the yolks.
On Good Friday we made Resurrection Rolls (AKA Empty Tomb Rolls). Our church sent out the recipe in the Sunday School bulletin and I adapted a bit (making it a little sweeter!) from a similar recipe I found on Pinterest.The kids absolutely loved this activity and it was a fun way to share the Easter story.
Resurrection Rolls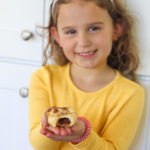 This disappearing marshmallow treat is a beautiful (and delicious) way share the Easter story with little ones!
1 can refrigerated crescent rolls (the larger the size, the easier it is to wrap your marshmallow )
8 large marshmallows
1/4 cup sugar
1 tbsp ground cinnamon
1/4 cup butter, melted (can substitute with water, if preferred )
Preheat your oven to 375ºF.

Spray a jumbo muffin tin with cooking spray. (You can use a cookie sheet but a muffin tin keeps the melted marshmallow contained)

In a small bowl, mix together the cinnamon and sugar.

Unroll the crescent dough and separate each triangle.

Dip marshmallows in melted butter (or water) and then roll them in cinnamon sugar mixture.

Place marshmallows on the top of the crescent rolls and roll into a crescent roll shape, then secure the sides by tucking them under and pinching them closed.

Optional: Dip roll in butter and sugar mixture then place sugar side up in muffin tin.

Bake for 8-10 minutes or until golden brown on the outside.

Let cool for a few minutes and then let the children pick a roll to open up. The marshmallow has disappeared! Talk about how this relates to our Easter story and enjoy!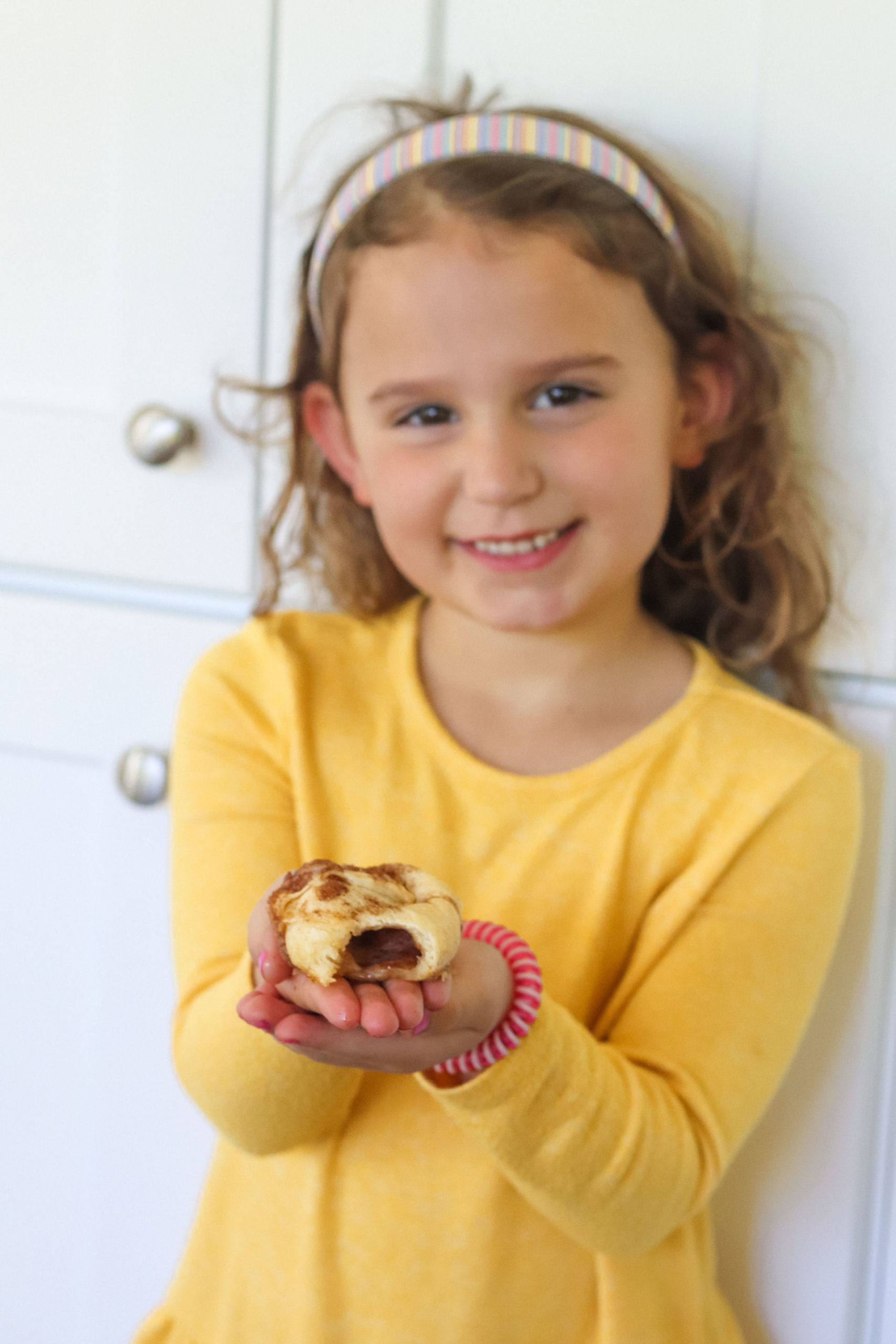 On Easter Eve, Matt and I made a date night out of stuffing plastic eggs, shucking oysters, sipping margaritas, bingeing on leftover Easter candy and Netflix on our porch. It was our first "date night" in quarantine and it was SO nice and much needed. We picked up fresh oysters and margarita mix curbside from our favorite date night restaurant, The Crunkleton.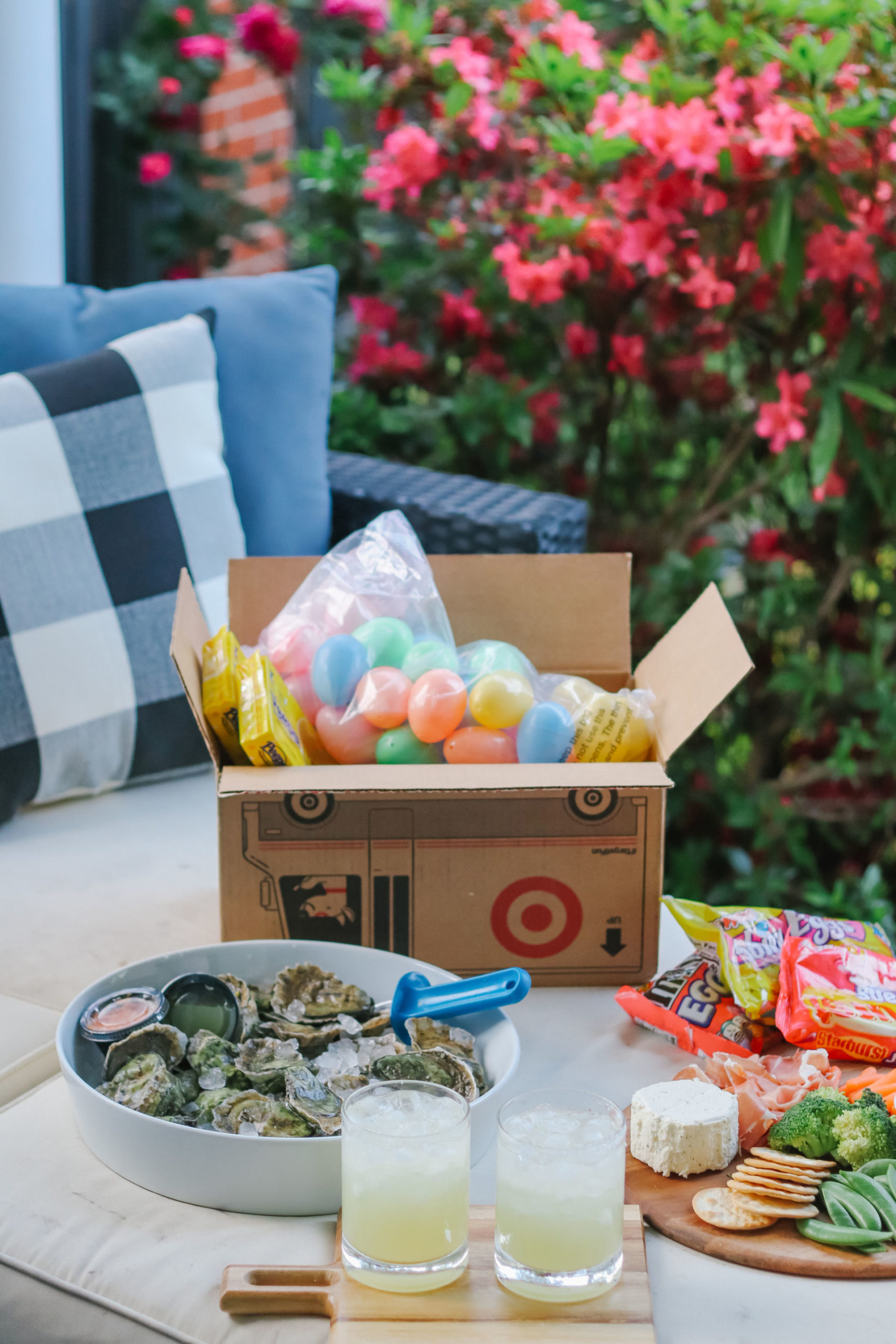 After the kids were fast asleep, Matt put his artistic skills to work making bunny prints with sidewalk chalk. He does this every year and gets so excited about this tradition. We weren't sure how excited the kids would get over the prints this year but (WAY TOO) early Sunday morning they were peeking out of Caroline's window and spotted them…and went wild in excitement. It was so adorable that I couldn't even be mad about how early they woke us up.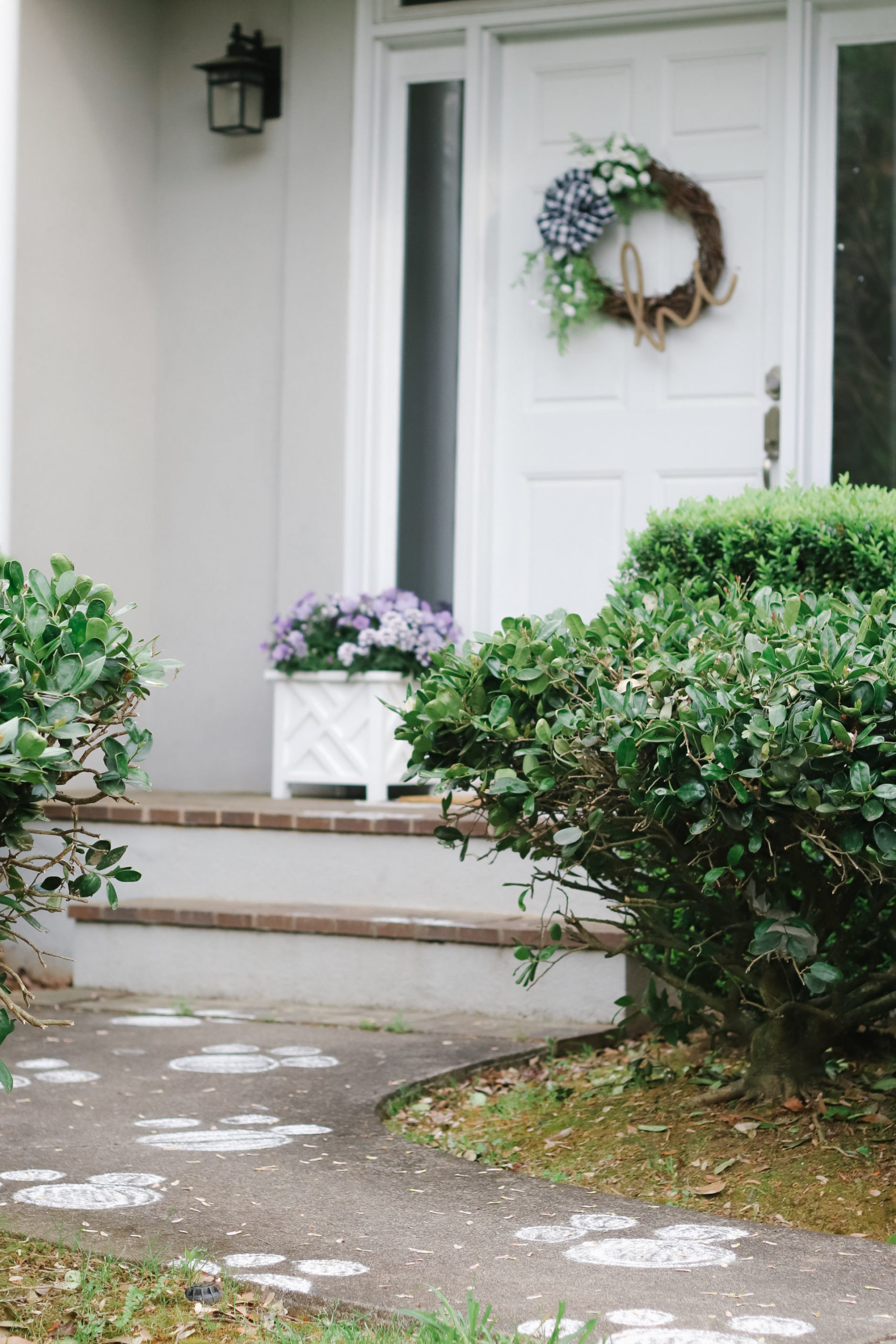 Thomas allowed the Easter bunny to come inside this year too. When the kids came downstairs to their baskets they flipped. Thomas was most excited about his toy boat and Caroline was thrilled to find a paint set in her basket.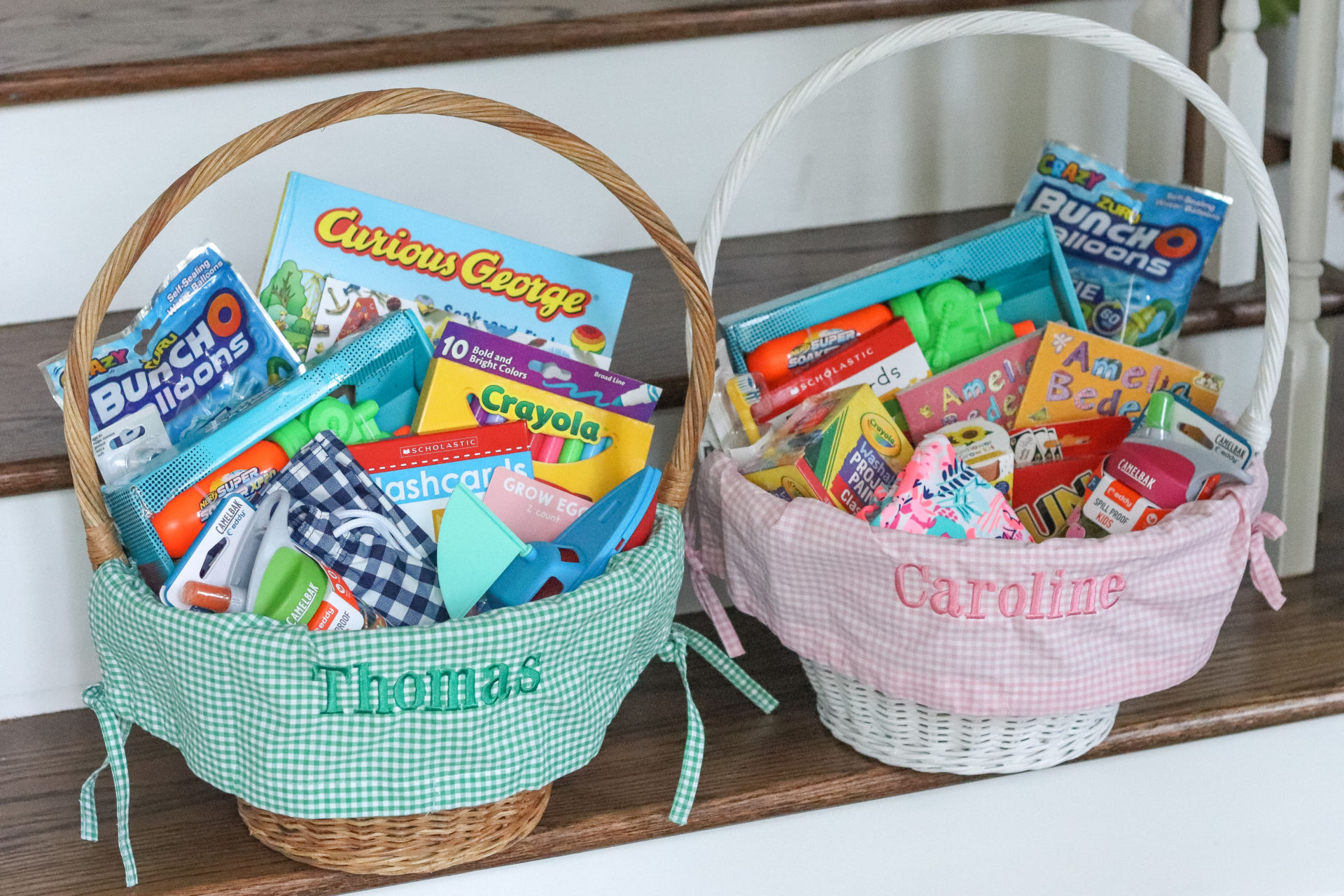 We had 100% chance of rain in the forecast all day so we were worried how our egg hunt would be affected and chose not to hide the eggs the night before to be safe. Just before rain was scheduled to arrive, I distracted the kids by making cinnamon roll bunnies, while Matt quickly sprinkled 50 eggs (including two golden eggs) around the front yard and driveway. We couldn't believe how different our hunt went this year. Last year Thomas collected 3 eggs and then sat down immediately and ate the candy without caring about the remaining eggs. However, this year both kids were much more competitive. We considered telling each kid they could only collect certain colors each to keep the hunt even, but they were too fast for us. In 10 minutes they had collected all the eggs — and almost evenly. I think Caroline collected 28 eggs. Matt hid Caroline's golden egg in a planter and Thomas's golden egg was hidden on the bumper of Matt's truck parked in the driveway. It was hilarious watching Thomas circle the truck a million times looking for it. We put $5 bills in the golden eggs this year.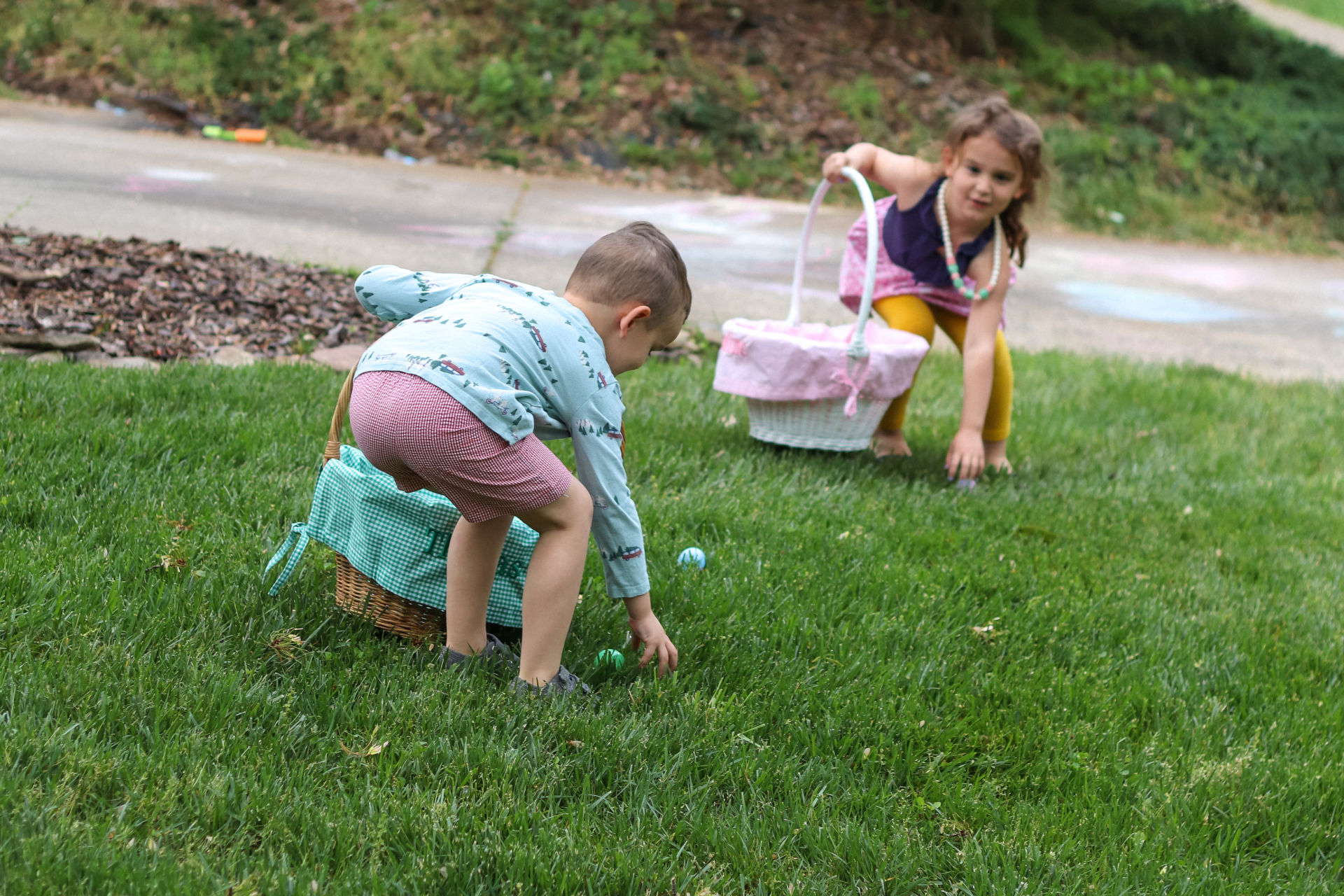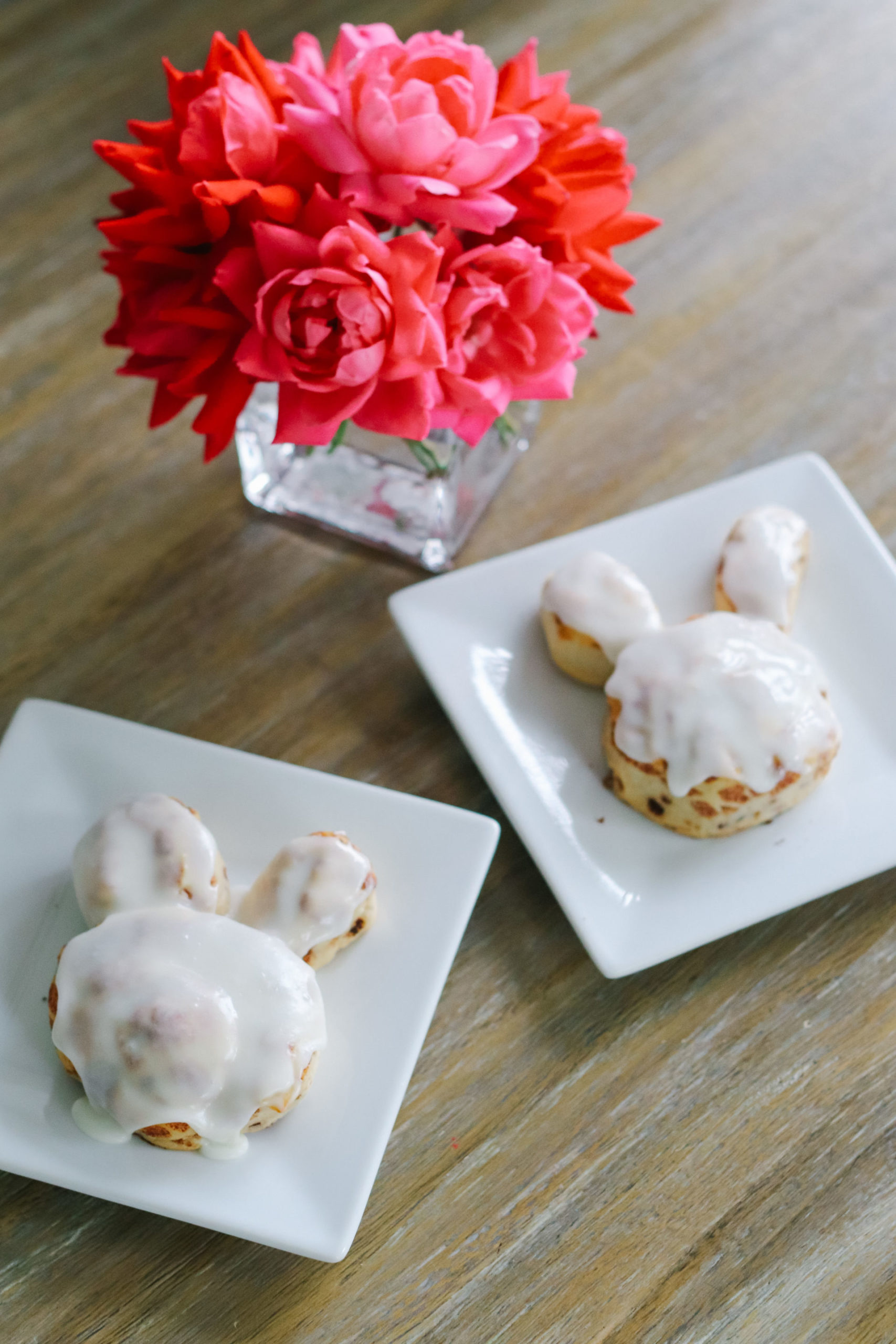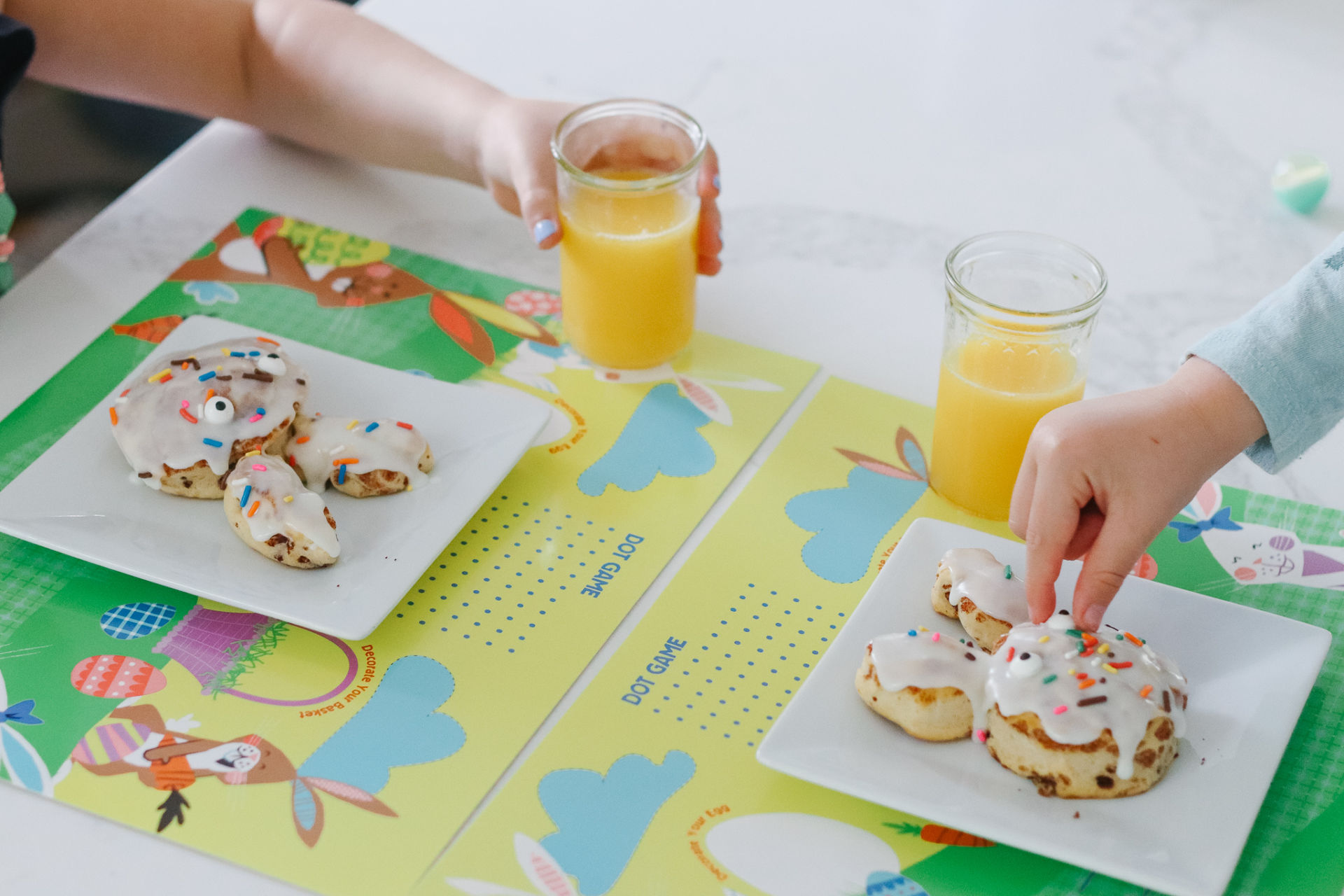 After breakfast we had church in our living room! The kids mostly ran around the house 85% of the service but Matt and I really enjoyed tuning in with our coffee in hand. The service was beautiful.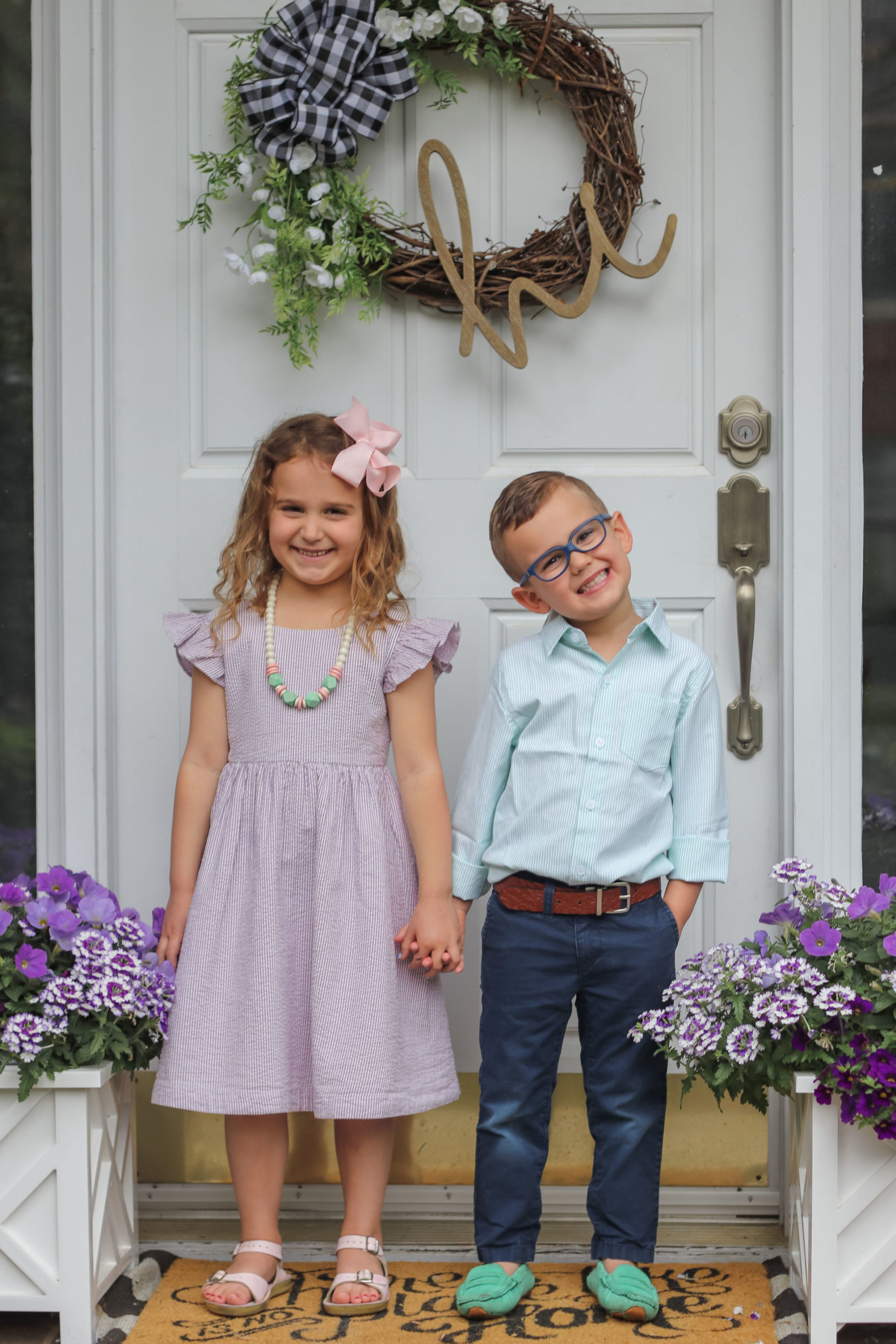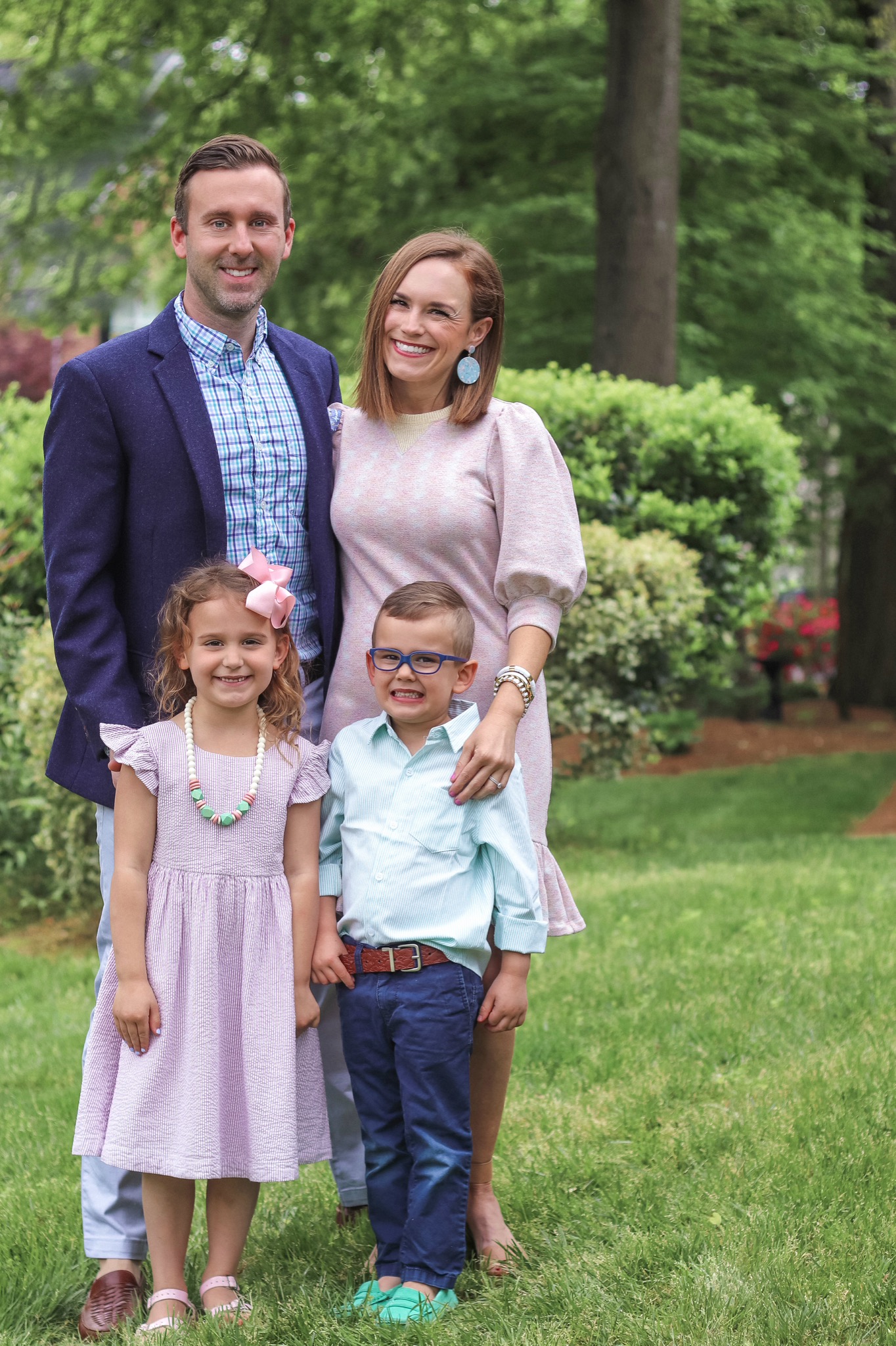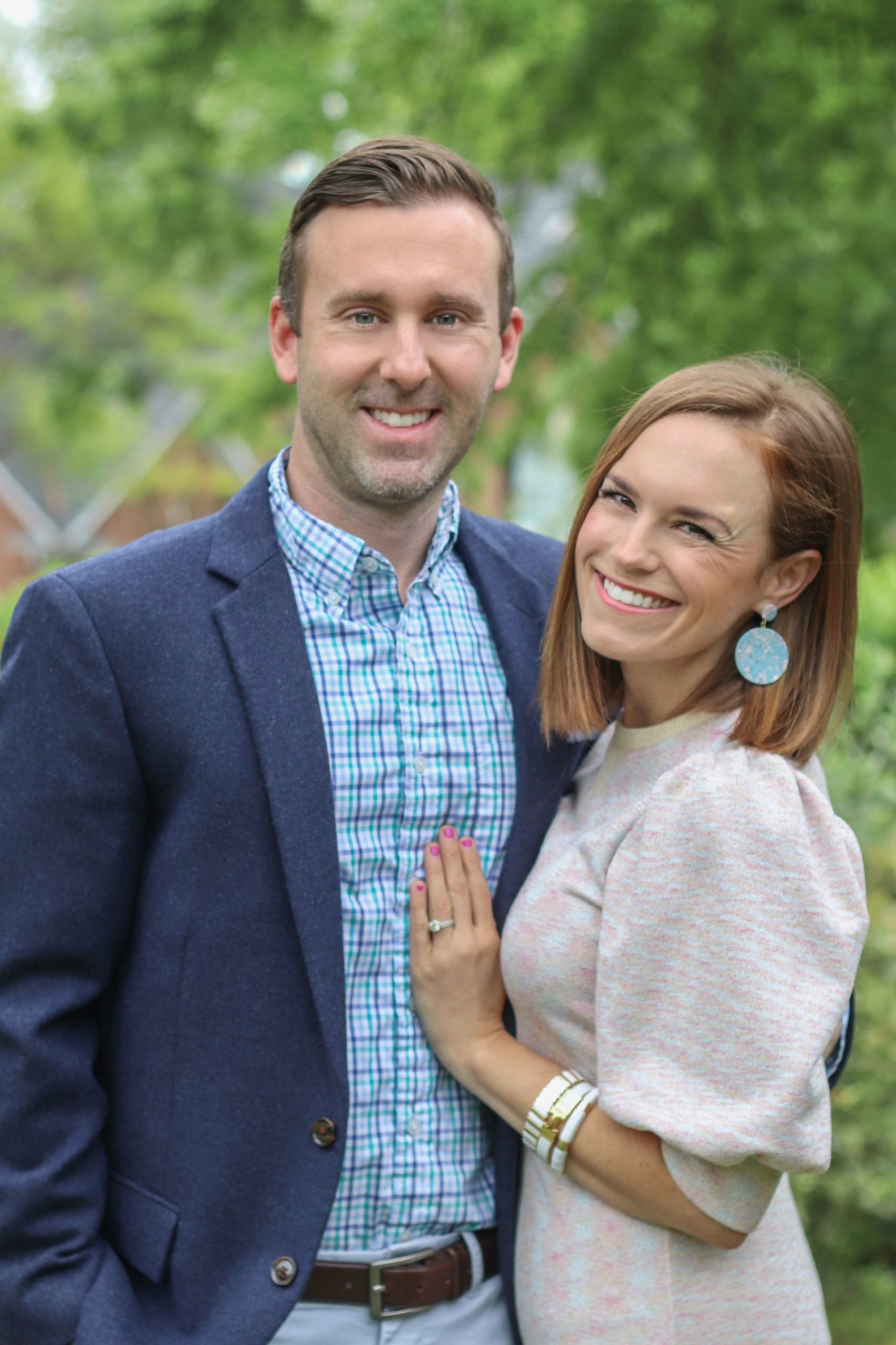 We picked up our entire Easter meal curbside this year from one of our favorite restaurants. It was SO nice to just pop everything in the oven to reheat and the food was absolutely incredible. For our meal kit, we selected a turkey, mac & cheese, brussels sprouts, wedge salads, cranberry sauce, turkey gravy, rolls and cheesecake!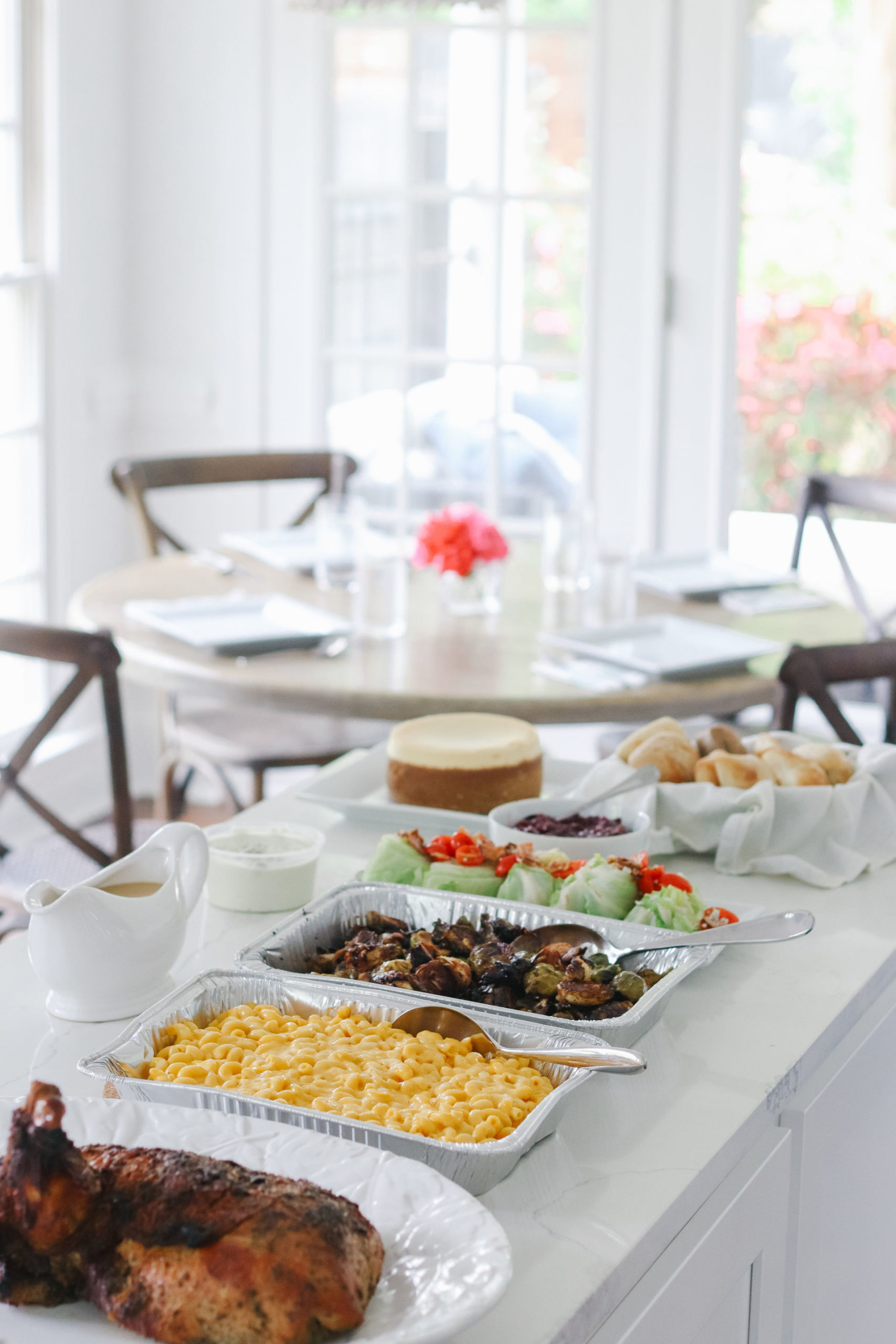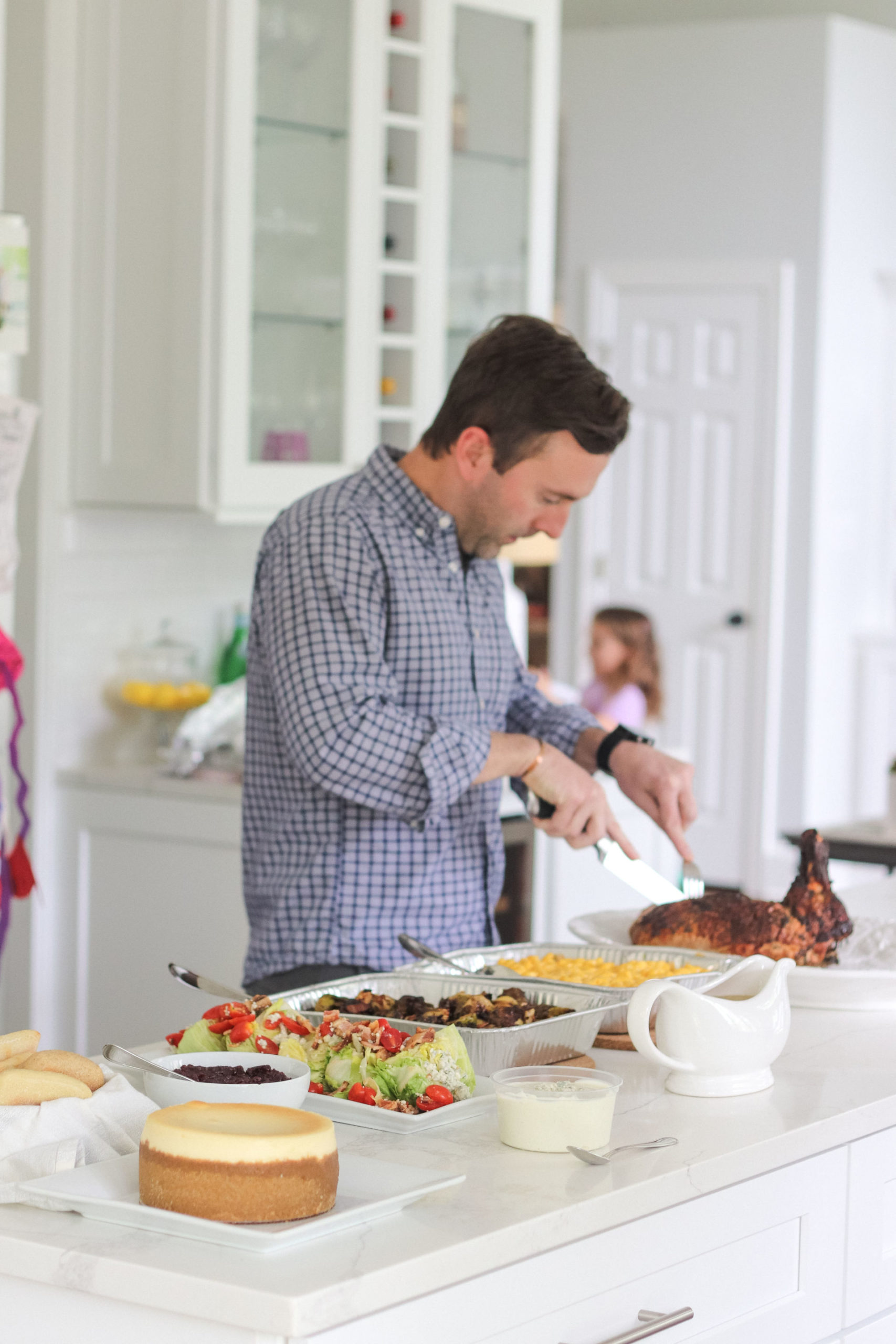 We spent the rest of the day relaxing at home while the kids trekked Easter basket grass throughout the entire house.