Thank you to Walmart for partnering with my family on this post and to my readers for supporting my blog. All reviews are my own.
Father's Day is this Sunday so over the weekend I asked Matt what some of his favorite gifts have been from me over the years. And he said his favorite gifts are the ones that come with an experience (which I agree! I prefer an experience gift too!). So with lots of input from Matt, I thought it would be fun to round up a few experience gift ideas as well as small gifts to pair with it!
1. Golf Club Fitting & Golf Accessories
For Matt, anything golf related is what he really wants for any gift. His top two favorite experience golf gifts from me over the years have been golf lessons and club fittings! I'm actually purchasing another club fitting for him this year.
There are endless golf gifts options you can pair with one of these experiences so I asked Matt what some of his favorite golf items are right now. His top picks include his backyard chipping net, alignment putting mirror, putting matt and magnetic rangefinder band (wraps around his rangefinder and sticks to the golf cart metal frame).
Need more ideas? Here are a few additional items selected by Matt: Cigar Clip / Nike Golf Hat / Golf Balls / Golf Towel / Golf Glove / Golf Tees / Putting Cup / Groove Sharpener Tool / Alignment Tool & Marker / Golf Swing Selfie Stick
Golf Gift Ideas

2. Date Night & Grooming Products
A night out together is really a gift to both of us so this is one of my favorite ideas too. Another reason why I love this pairing is because over the years Matt has asked for gadgets or products that feel like they aren't enough to gift on their own. Adding on a date night really rounds out something like a beard trimmer, ya know?
A few of Matt's favorite products/items that are always sitting on his vanity…
Product Gift Ideas
3. Afternoon BBQ + Grill Cookware
Last year I surprised Matt with a new grill and we broke it in with friends! Matt loves to grill and often reminisces about his memories of large family gatherings grilling barbecue chicken at his granddad's house. They only used charcoal and always used the same BBQ sauce which is forever in our fridge. If you're looking to purchase a new grill or Blackstone griddle, I highly recommend pairing it with an afternoon of hosting friends or family over!
A few of Matt's favorite grilling products and accessories: 4 Burner Grill / Non-Stick BBQ Grill Matt / Grill Wok / Chimney Starter / Silicone Basting Brush Set / Stainless Steel Grill Basket
Grill Gift Ideas
4. Gym Membership & Deep Tissue Massage Gun
As many of you already know, Matt is absolutely obsessed with his deep tissue percussion gun. He purchased it in preparation for his recent golf trip (9 rounds in 6 days!) and used it daily..and still uses it after every workout. So I wasn't surprised when he said we had to include this in the gift post as it is seriously the most practical gift for any guy ("especially over the age of 40," says Matt) who is active or pulls their neck/back/should muscles out from time to time.
Pair this deep tissue gun with a gym membership for boxing, rowing, yoga, crossfit, cycling, etc!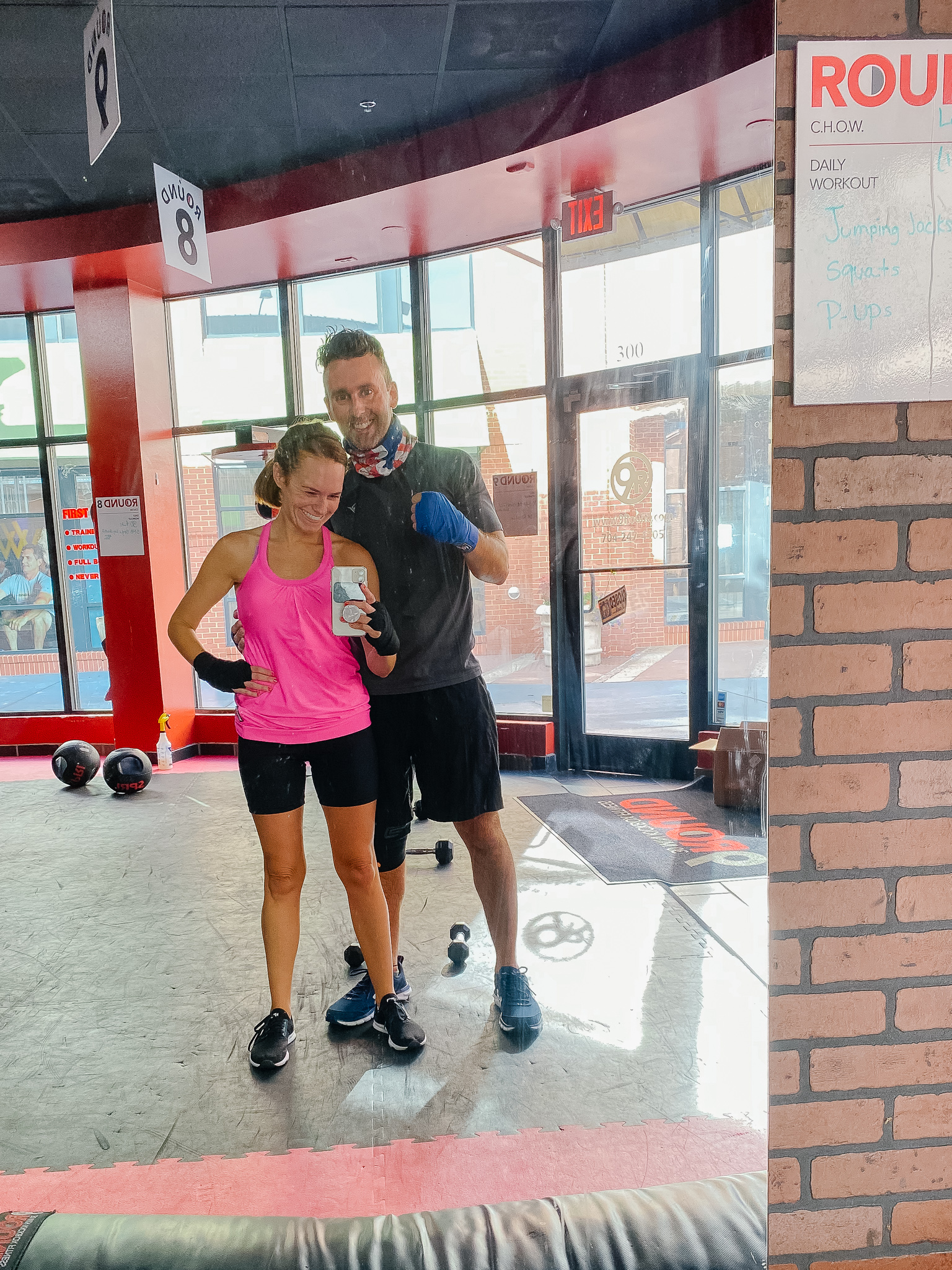 5. Camping Trip + Camping Accessories
Our family went tent camping for the first time last year and we had so much fun that we decided we'd make it an annual adventure. We had to purchase SO much stuff before our trip so there's no shortage of camping gear items you can gift alongside an overnight trip.
Here are a few of Matt's favorite camping tools and gadgets:
3-in-1 Hatchet: Matt has to split wood while we camp and this is his go-to hatchet. It makes him happy.
Tri-Pod Hanging Grill: Did I mention Matt likes to grill? This tri-pod grill is really light weight and can handle a family of four!
Mini Lanterns: Headlamps are great, but these little lanterns "really let the animals know you're coming," says Matt. He's not wrong. These lamps are super powerful and we placed them all around our campsite so the kids could see.
Camping Gift Ideas
Matt had a LOT of fun picking out lots of other random items that I didn't include since they didn't quite pair with any of the above experiences. However, I did promise I would include these two items from his list since he was really excited about them:
Electric Scooter: I laughed when Matt told me he wanted this scooter for the office. I will admit, his office is pretty large and he sits really far away from the printer. During Christmas, we hid all of our bikes at his office and I think he got a little too comfortable riding his mountain bike through the hall to his paralegals office.
Laser Tag Set: I can get on board with this gift as there are currently Nerf darts ALL OVER MY HOUSE and I think laser tag would eliminate tears over accidental darts to the face.
Happy Father's Day to all the dads out there! And thank you to Matt for all his fun ideas and product selections for this post!