Last week I hosted a fall Supper Club! It's hard to believe this is our 9th year of monthly dinners together — and my first time hosting in our new home!
At the beginning of the year when I sent out the sign-up, we were drowning in renovation construction. I remember thinking there would be NO way I could even think about hosting a dinner party in our home until much later in the year, so I grabbed the month of September — and the timing worked out perfectly for a fall tablescape!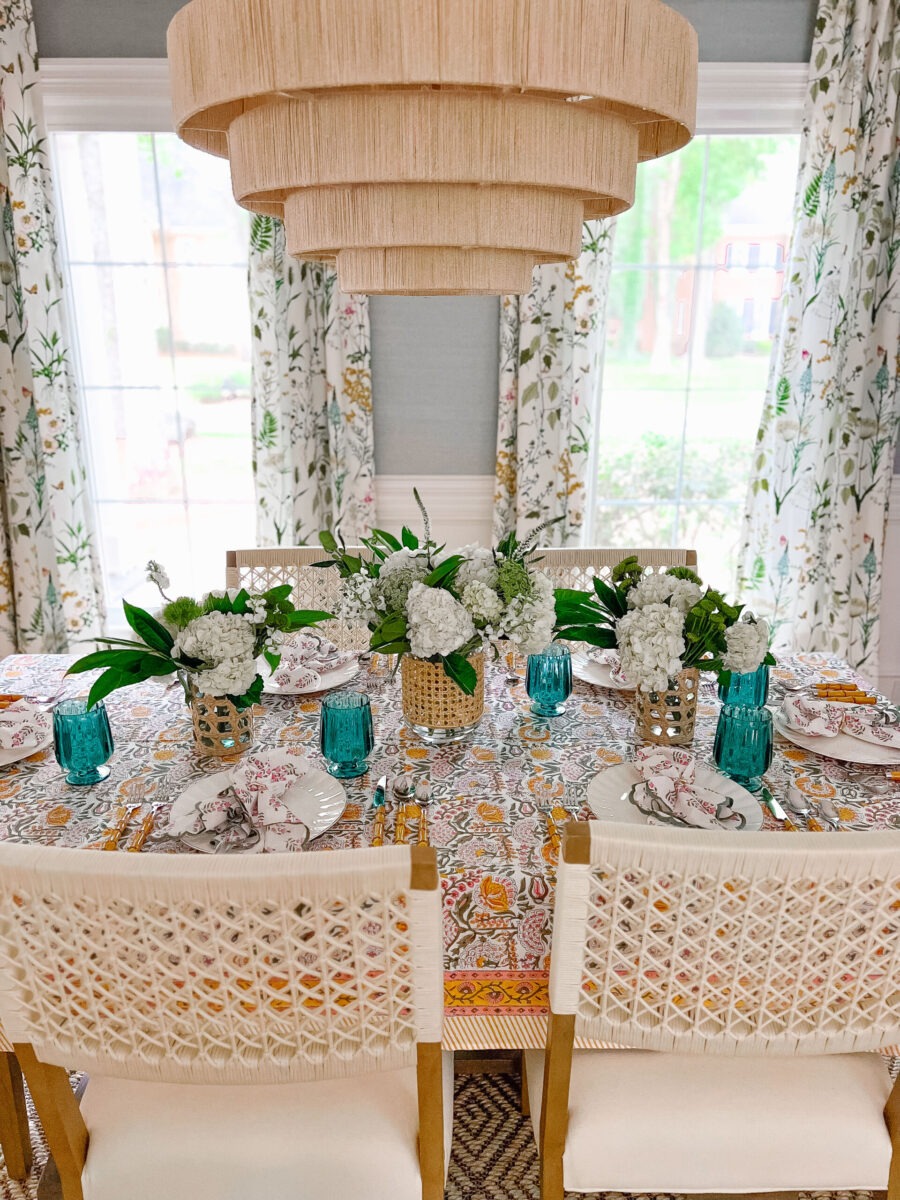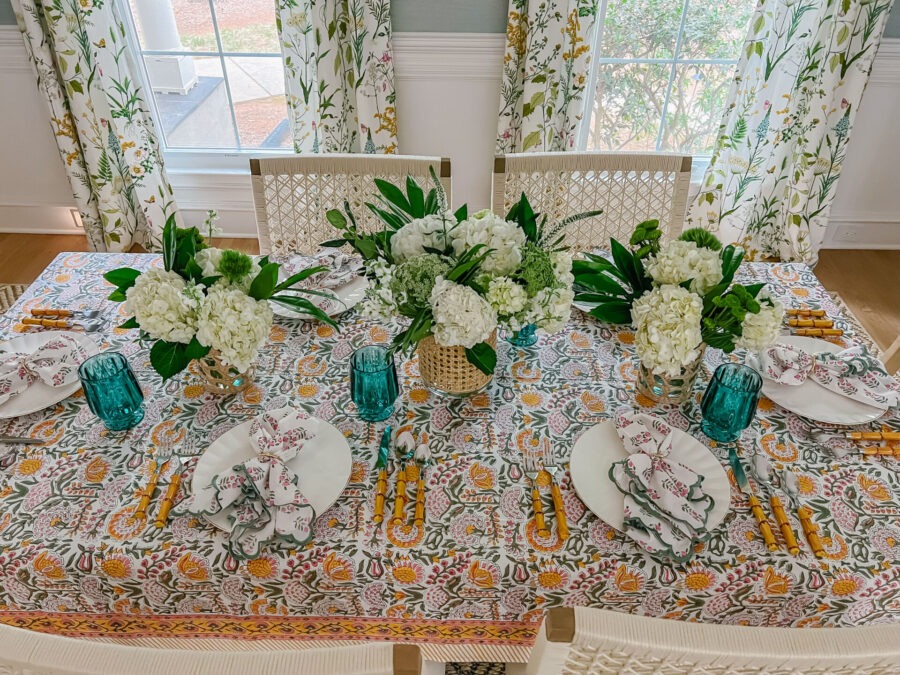 Fall Supper Club Tablescape
Almost every tablescape item was purchased from Amazon. I usually stick to greens and blues so I thought it would be fun to break out some brighter colors this time.
Tablecloth (Color: Clover): The tablecloth was the first item I purchased, and then I built the rest of the tablescape around it! I now own this tablecloth in 4 colors and love them all so much. The quality is so good and all of the patterns are gorgeous.
Dinner Plates: These 10.5″ porcelain dinner plates feature a pretty gold trim that really elevates the placesetting.
Goblet Wine Glasses: I was excited to break in my new goblet glasses that two of my girlfriends surprised me with for a housewarming gift! You can find them in four really pretty colors too.
Bamboo Flatware: I've seen this flatware set priced pretty high at several places and was able to find a 20-piece set at a fraction of the cost on Amazon.
Embroidered Napkins: Another find with lots of patterns, colors and sizes!
Cane Wrapped Vases: I purchased my vases from At Home on clearance, but you can also find them on Amazon (HERE + HERE)
Flowers: I love how my flower arrangements turned out! I grabbed most of the flowers from the grocery store, but also stopped in at the Charlotte Flower Market to grab some more unique stems to add in.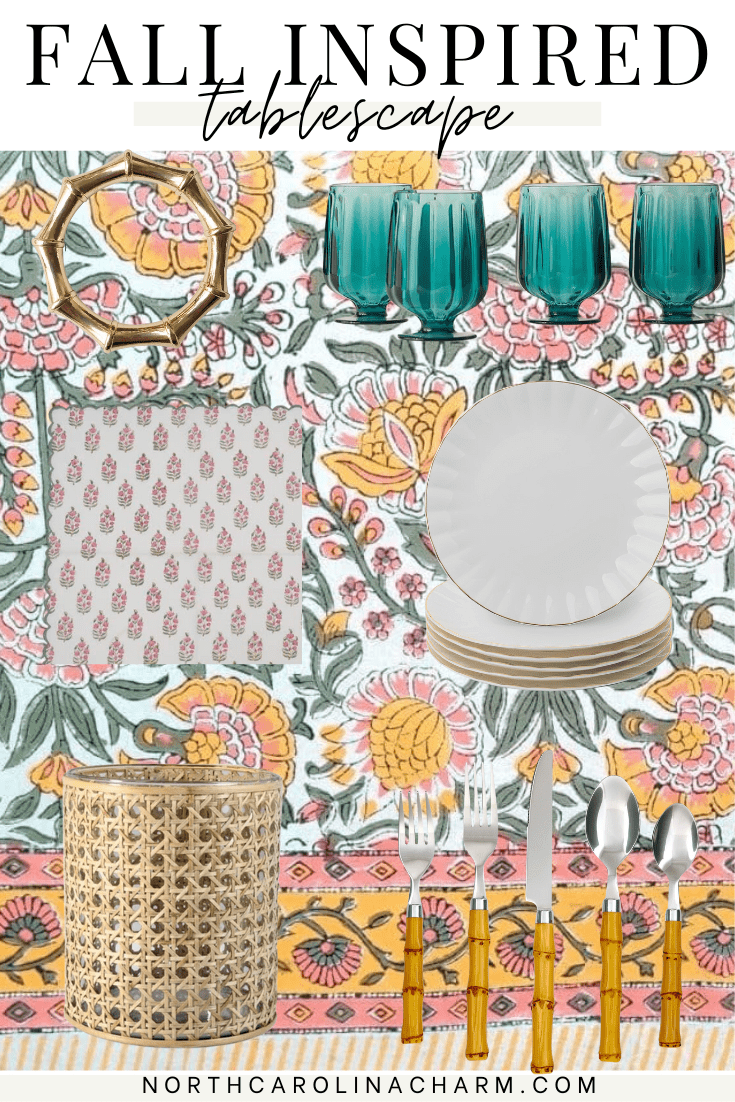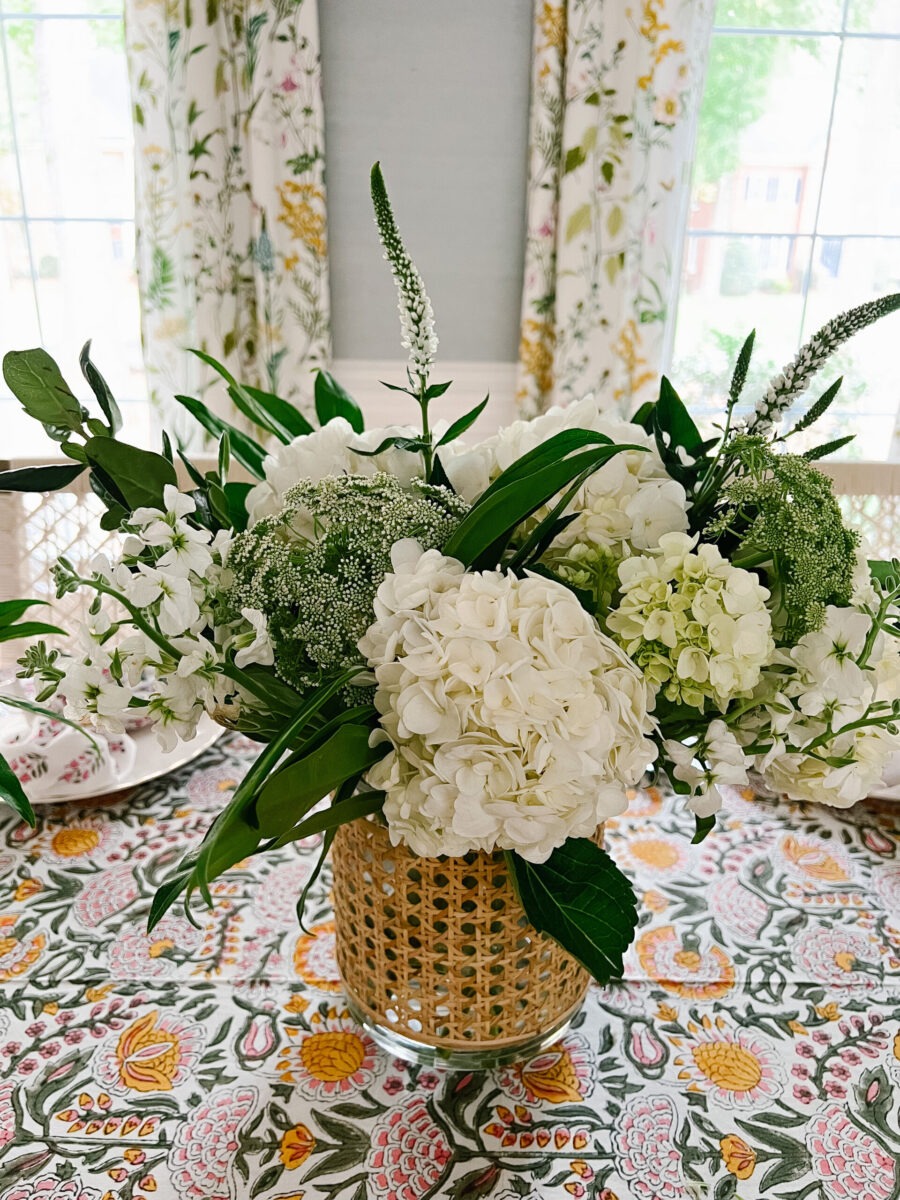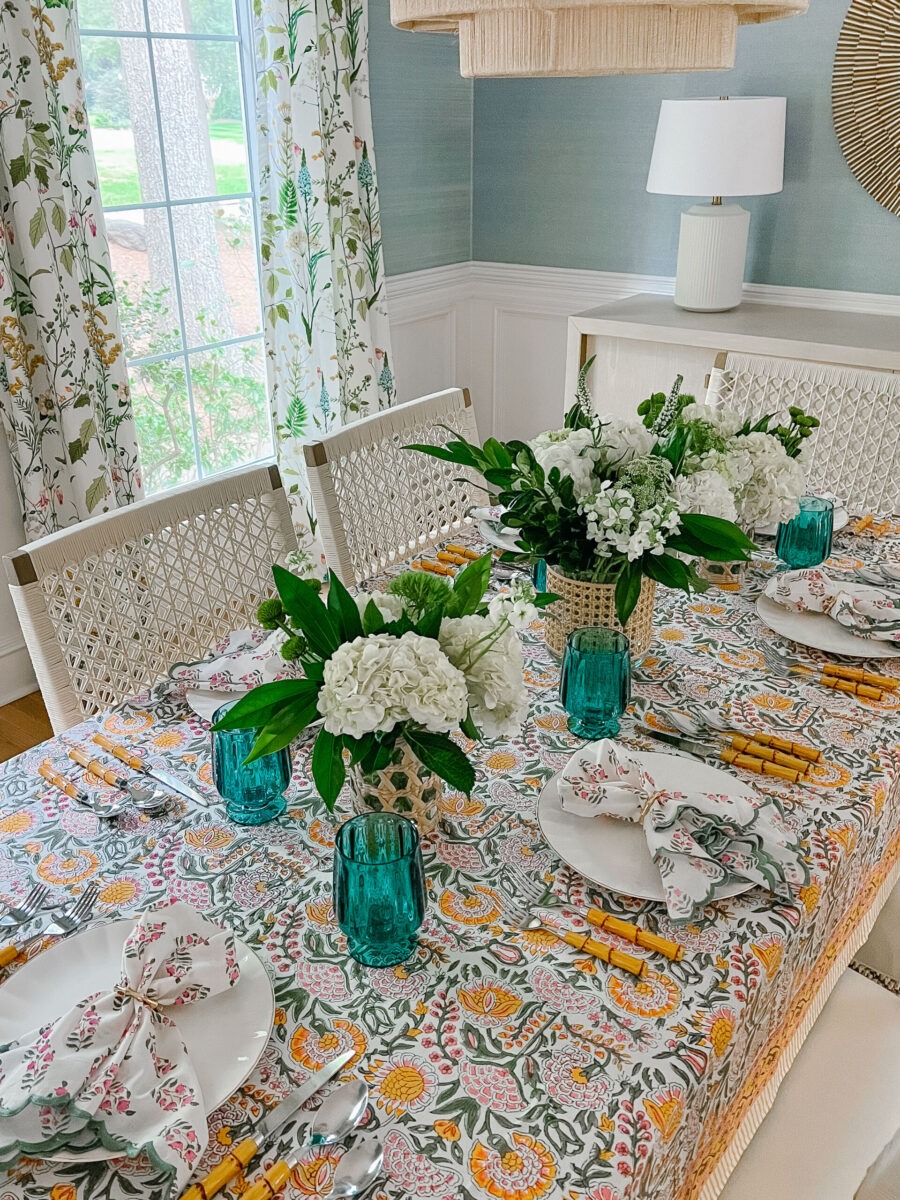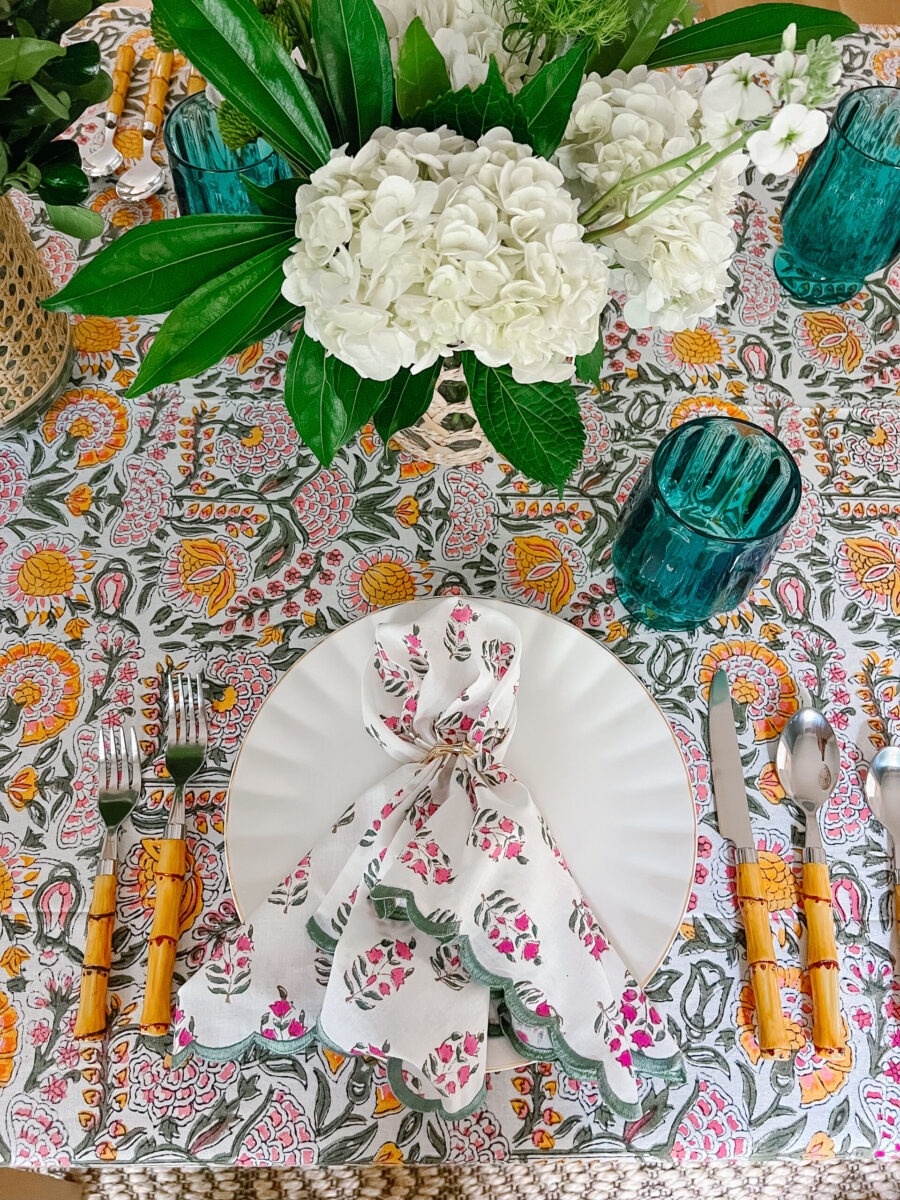 The Food
Since I knew I'd be spending more time on my tablescape this year, I decided to outsource the food this year. I tend to get hostess neurosis if I'm scrambling to set the table, whip up the appetizers, and move things in and out of the oven. Here's what I served…
Apple Cider Margaritas
For my cocktail, I whipped up some Apple Cider Margaritas. These were easy to make ahead of the girls arrival. In a shaker, I mixed up the ingredients below, poured over ice, and garnished with sliced apples and a cinnamon stick:
2 oz Tequila
1 oz Cointreau
1.5 oz Apple Cider
.5 oz Maple Syrup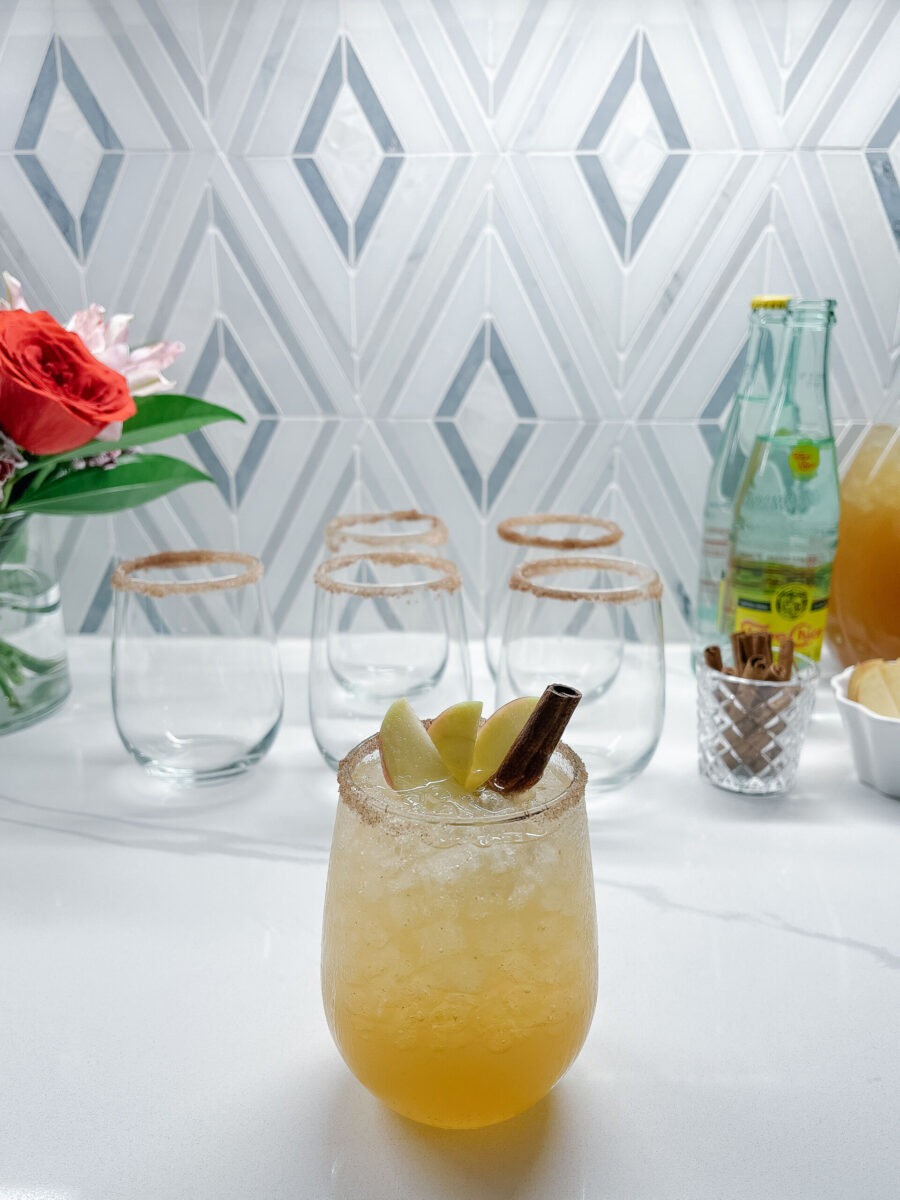 Appetizers
For a light snack before dinner, I served a few small things — avocado hummus (from Flower Child), Tzatziki dip, and goat cheese stuffed peppadew peppers (from Ilios Noche). Matt and I order the peppadew peppers every date night we have at Ilios Noche and they are just so dang good. I've been saying for a while now that I should pick up an order of these to serve at one of our parties and finally did! And they went FAST as I suspected they would!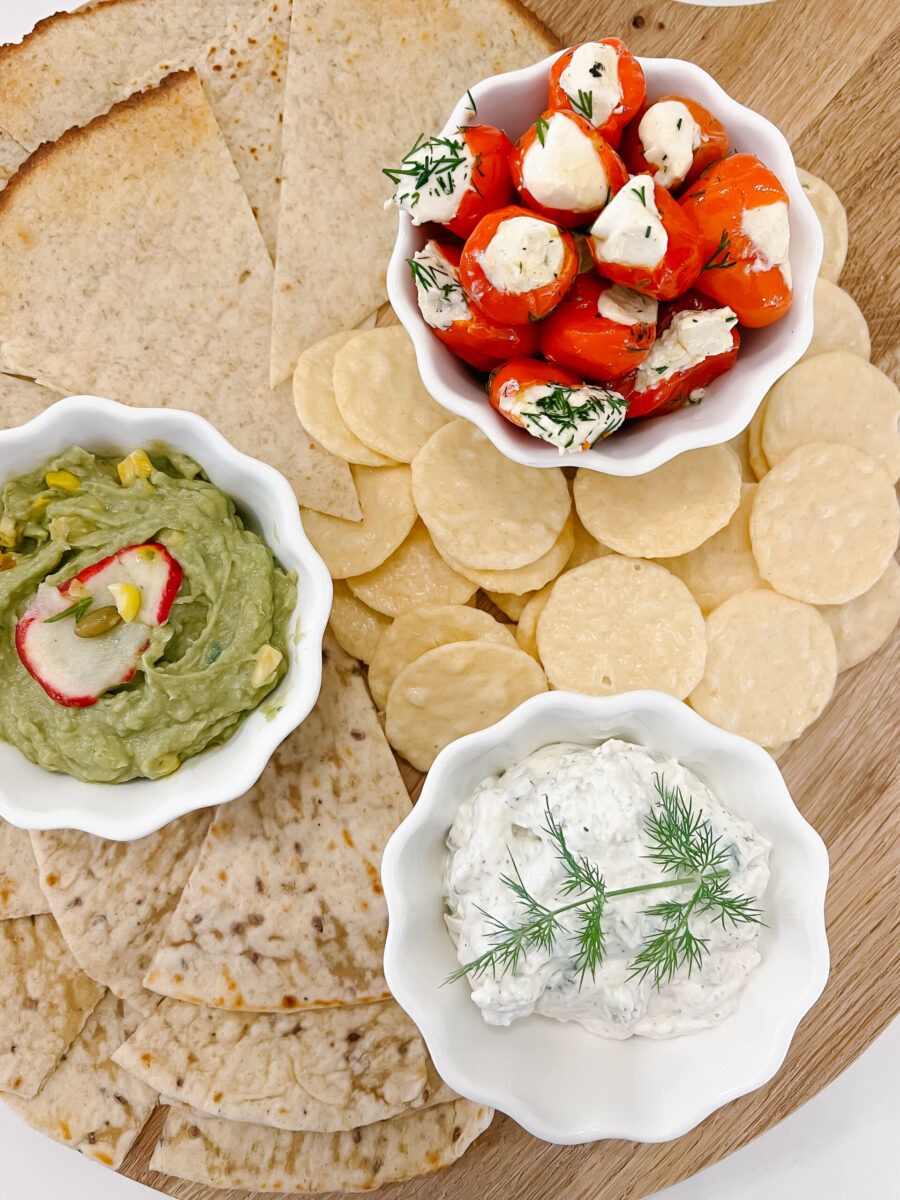 Dinner
For dinner, I picked up a family meal from Flower Child! I served the organic strawberry & roasted beet salad, chicken, red chili glazed sweet potato, and Sichuan green beans. All of it was delicious and easy to reheat just before serving.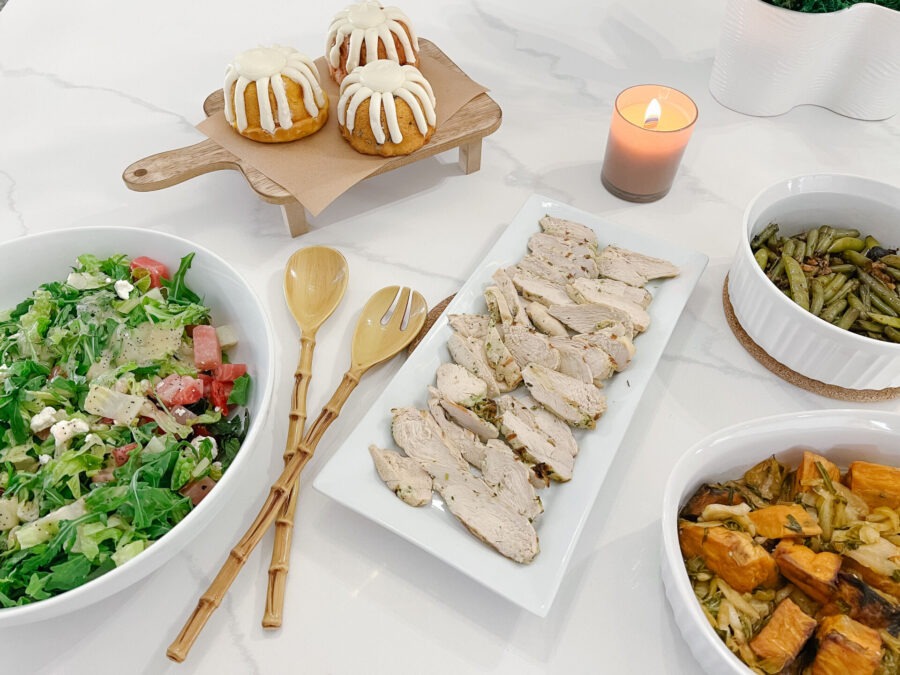 Dessert
And for dessert, I served mini bundt cakes from Nothing Bundt Cakes — strawberries & cream, gluten-free chocolate chip, and lemon! SO GOOD!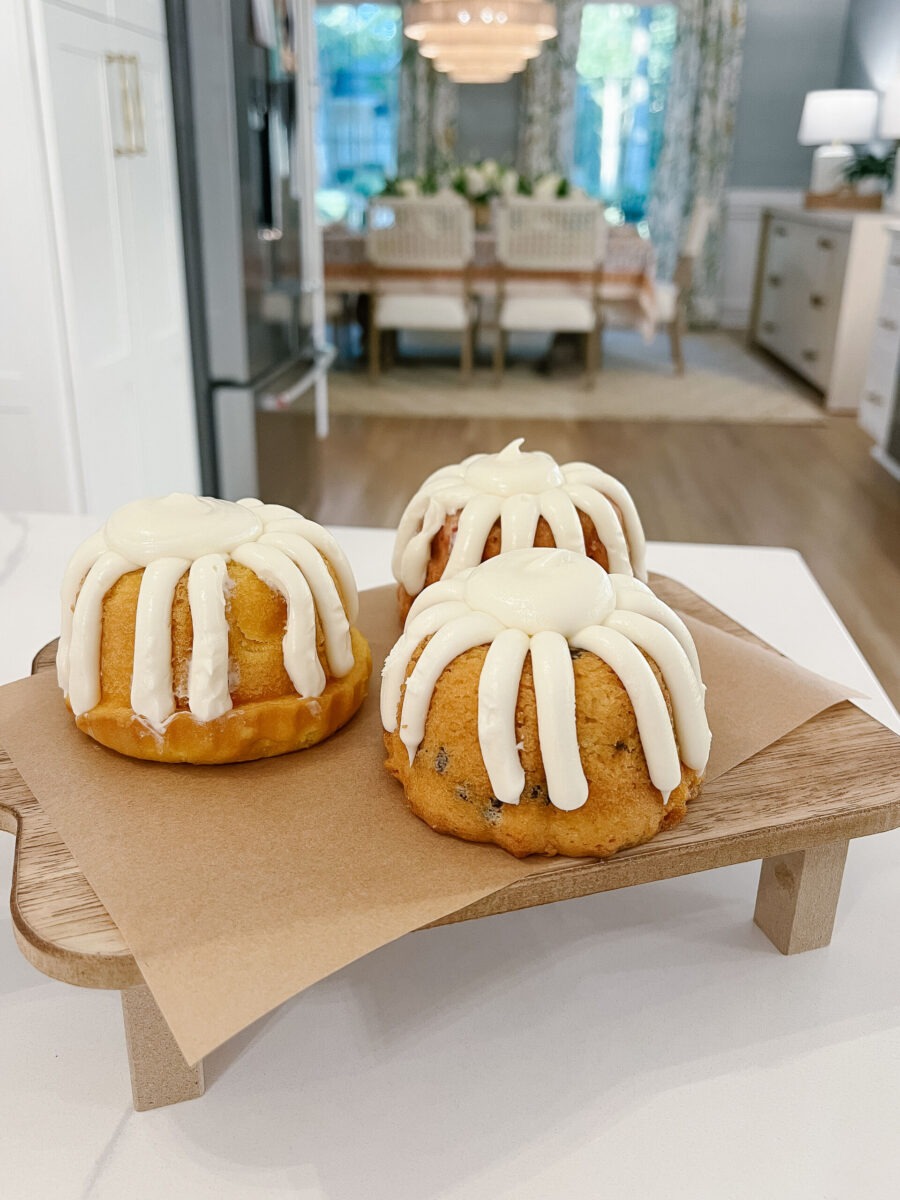 After dinner, we played a few games of mahjong before calling it a night! It was another great supper club dinner down in the books! It felt so good to have all 7 girls gathered around my dining table together in our new home.
My Previous Supper Clubs