It's been such an exciting and busy week over here launching my Snooze Day collection! I have truly felt so supported and loved by y'all. I know I say this a lot, but I am so grateful for this amazing community. Today is the last giveaway of launch week (and it's a REALLY good one) and then we'll be back to our regular content on Instagram!
Alright, I've got Easter eggs to stuff, need to track down all the basket goodies I've hidden around the house, and lots of laundry to tackle so I can pack us up for Spring Break, so let's get down to it!
1. Aladdin Broadway Musical
Caroline and I were invited to see Aladdin this week at Belk Theater! It was our first time seeing this show and OH MY GOSH it was SO DANG GOOD. It was a pretty late showtime (especially for a school night), so I thought maybe we'd leave at the intermission but when that time came we were both SO invested and couldn't wait to watch the rest. I cannot get over how awesome the set was, the costumes, the talent! It was one of the best shows I've ever seen.
It's going to be a rainy weekend in Charlotte, so if you're looking for something to do, I highly recommend scooping up some tickets!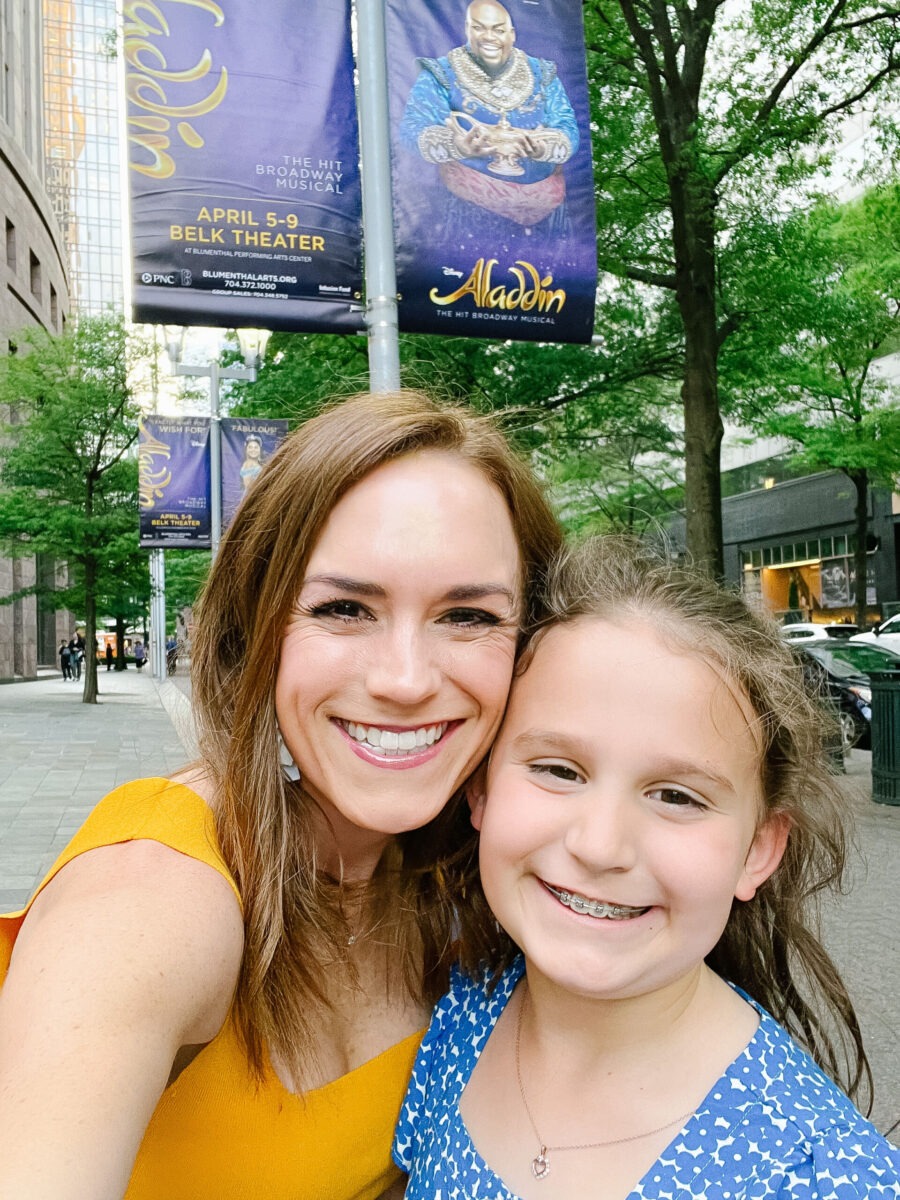 I found the most delicious scented body wash at Target this week while I was grabbing candy for Easter eggs. Native has a Candy Shop line for kids with lots of fun limited edition scents that smell absolutely amazing. All the scents are so fun — sour berry belts, gummy bears, strawberry and vanilla taffy, etc. The prices on Amazon are pretty wild, but you can also find it at Target and it's currently buy 1, get 1 25% off!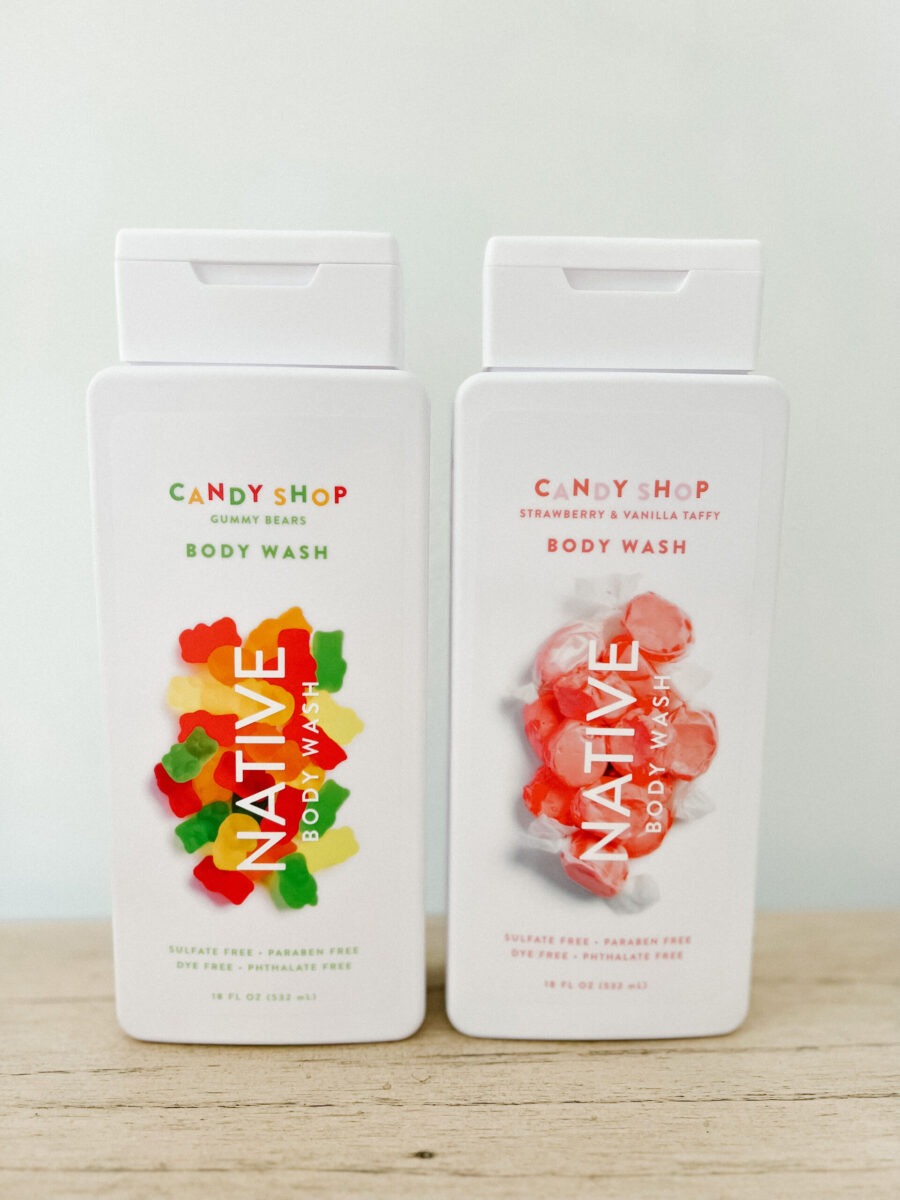 3. Closet Clean Out Hack
This week I cleaned out my closet so I could pack for spring break! I do this twice a year when it's time to swap out my seasonal wardrobe. It usually takes me a few hours because I literally remove EVERY item from my closet, deep clean all the shelves, and then ONLY add back the items that I truly love and donate the rest.
Anyway, the hack — I've shared this before but every time I do my clean out I always re-hang all of my hangers backwards and as I wear each item I flip the hanger back around. So by the end of the season, if the hanger hasn't turned, it should probably go.
So all the hangers are turned and my spring/summer closet is ready to go!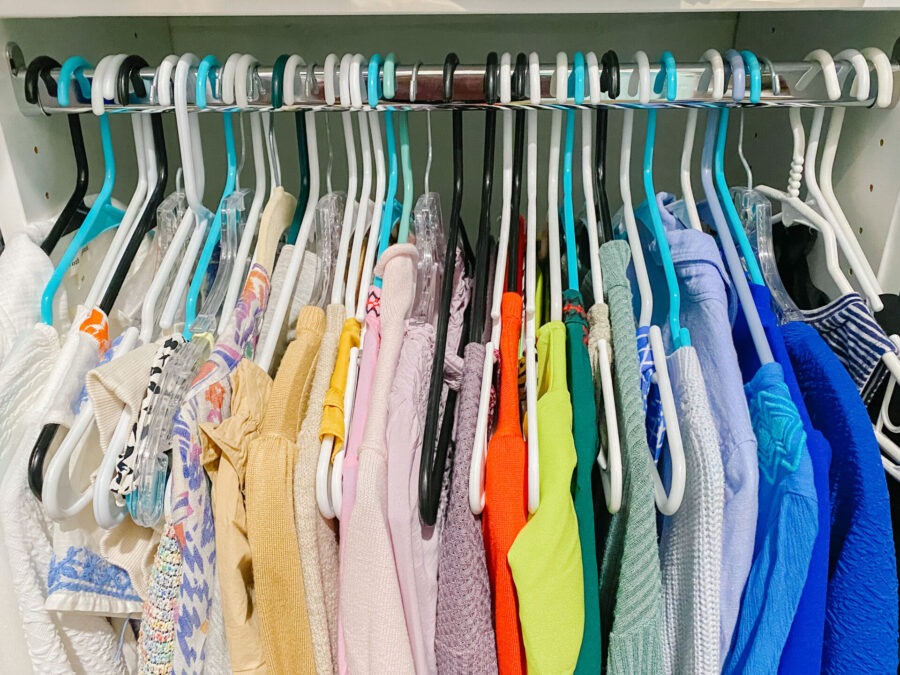 I shared an amazing podcast recommendation earlier this week on burnout and had a few people reach out asking me to re-share the link, so I wanted to share it here! I've listened to it 3.5 times and each time I get something new out of it (it's really PACKED with lots of good info), and several of you have said the same as been true for you! If you're looking to prevent or manage burnout, I would go give this podcast a listen!
Podcast Overview: Today we have a fire conversation for you with burnout management coach Emily Ballesteros! We did a deep dive on how to actually manage and prevent burnout. She shares some amazing insights and strategies (beyond like, take a bubble bath). Listening to her share tips and advice gave me so many reflections and a-ha moments, and I know they will for you too. In this conversation, we get into:
– Why the 40-hour work week is completely outdated and sets us up to fail
– The five areas of burnout management
– How Emily recommends pacing yourself during your work and setting boundaries
– Quiet quitting—what is it, why is it trending, and does Emily encourage it?
– How to approach personal care as a pyramid to ensure your non-negotiables are met
– The concept of a "third place" (where people go to socialize outside of work and home), how that's disappearing, and the impact that has on our mental health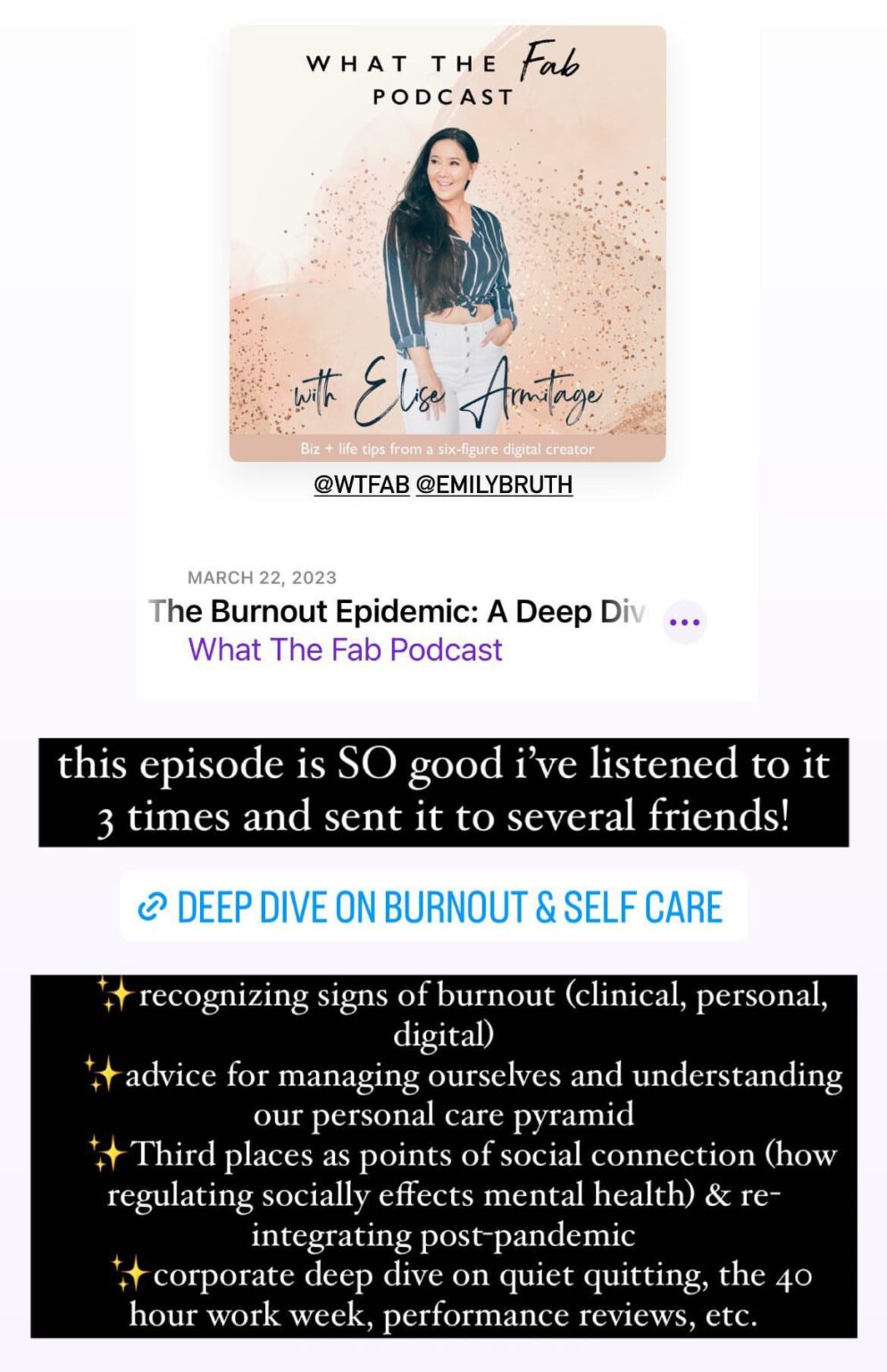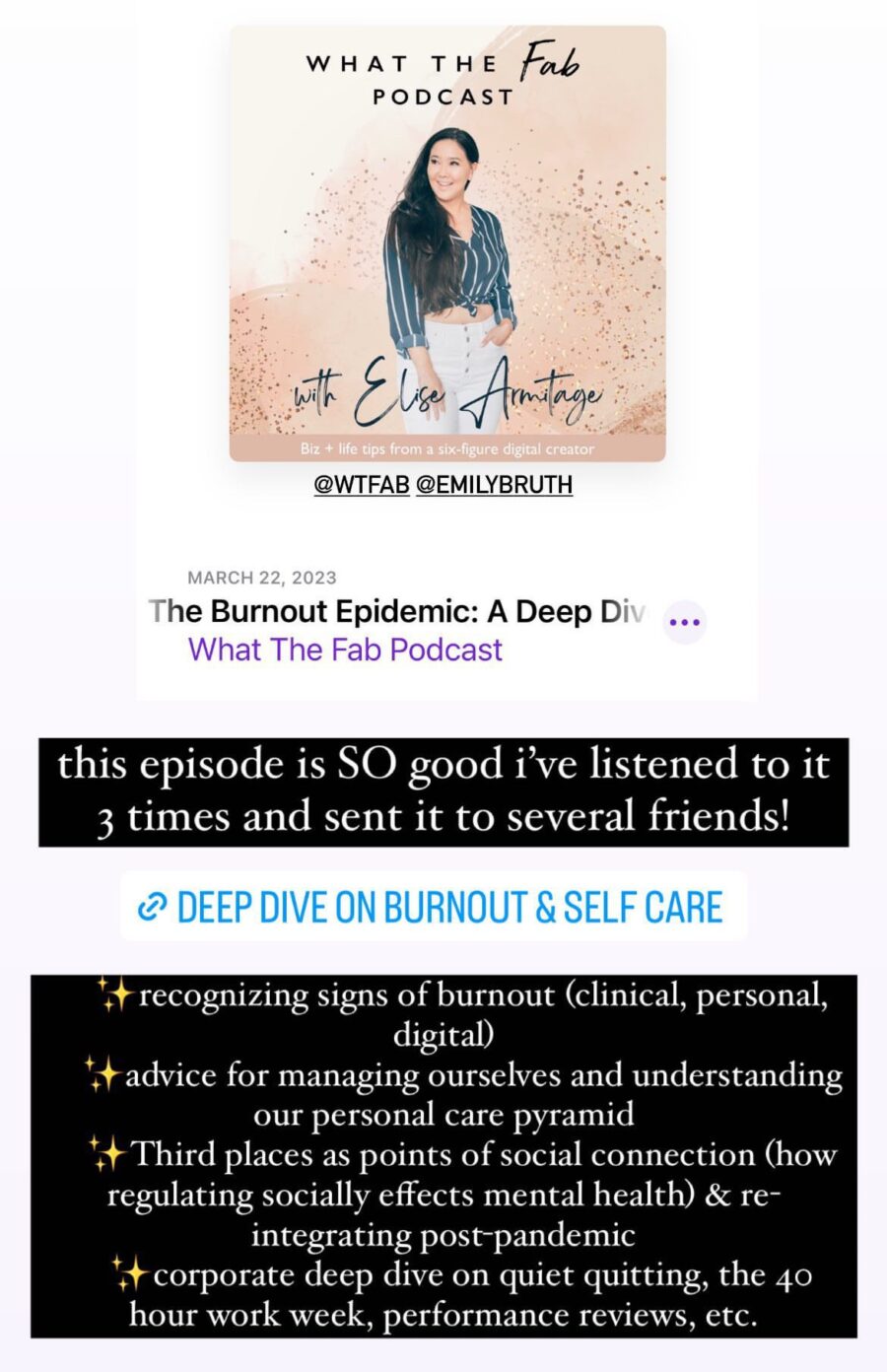 Caroline got me this super helpful tennis scorekeeper for my racket for Christmas and I wanted to share it for those of you who love tennis and have a hard time (like me!) keeping up with the points, games, and sets! The scorekeeper board has a sticker backing so you can easily mount it to the inside or outside of your racket.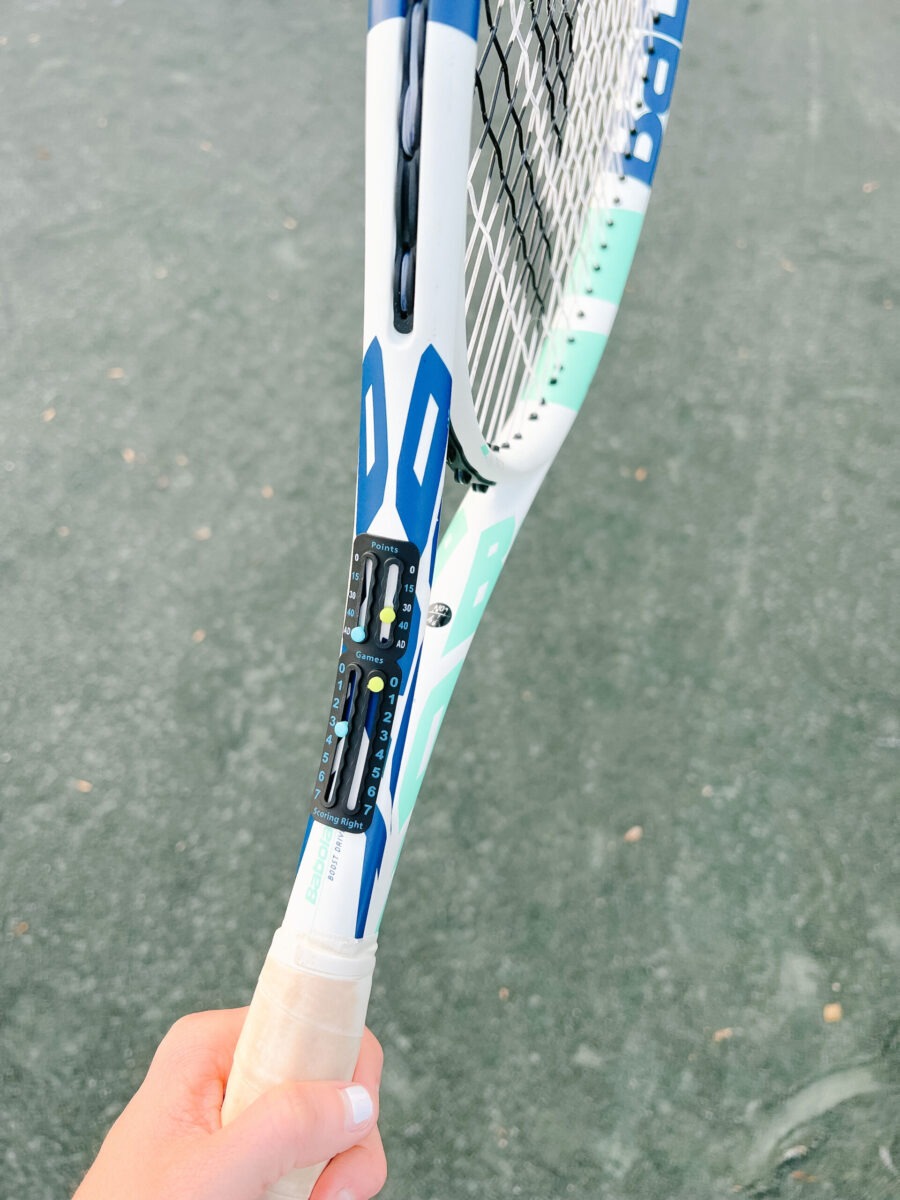 In Case You Missed It