With the arrival of October, I thought it would be fun to share some of our Halloween traditions, along with some reminders for all my busy mama readers who are trying to remember to order costumes and hang some ghosts in the trees in between folding loads of laundry and running kids to sports practices.
The holiday season can be so bittersweet.
On one hand, I love the excitement of decorating the house with the kids, whipping up seasonal treats for parties and family movie nights, and creating that extra holiday magic for my family.
And on the other hand, it can feel like a LOT at times and without fail, there is always something I put off too long or forgot to do all together. In fact, one year I had to stop at 3 stores to buy Halloween candy after work at 5:30 pm on Halloween night and it was NOWHERE to be found — literally, the shelves were cleared out! While it wasn't the end of the world, it did contribute to the extra rush of getting everyone home, fed, and dressed for trick-or-treating that I could have otherwise avoided.
So a few years ago I created a "Holiday Traditions & Reminders" note in my phone to remind me of all the things we're going to want to do or tackle for every holiday, along with notes on how far in advance to prioritize them (ahem, it's time to buy garland for your staircase now!).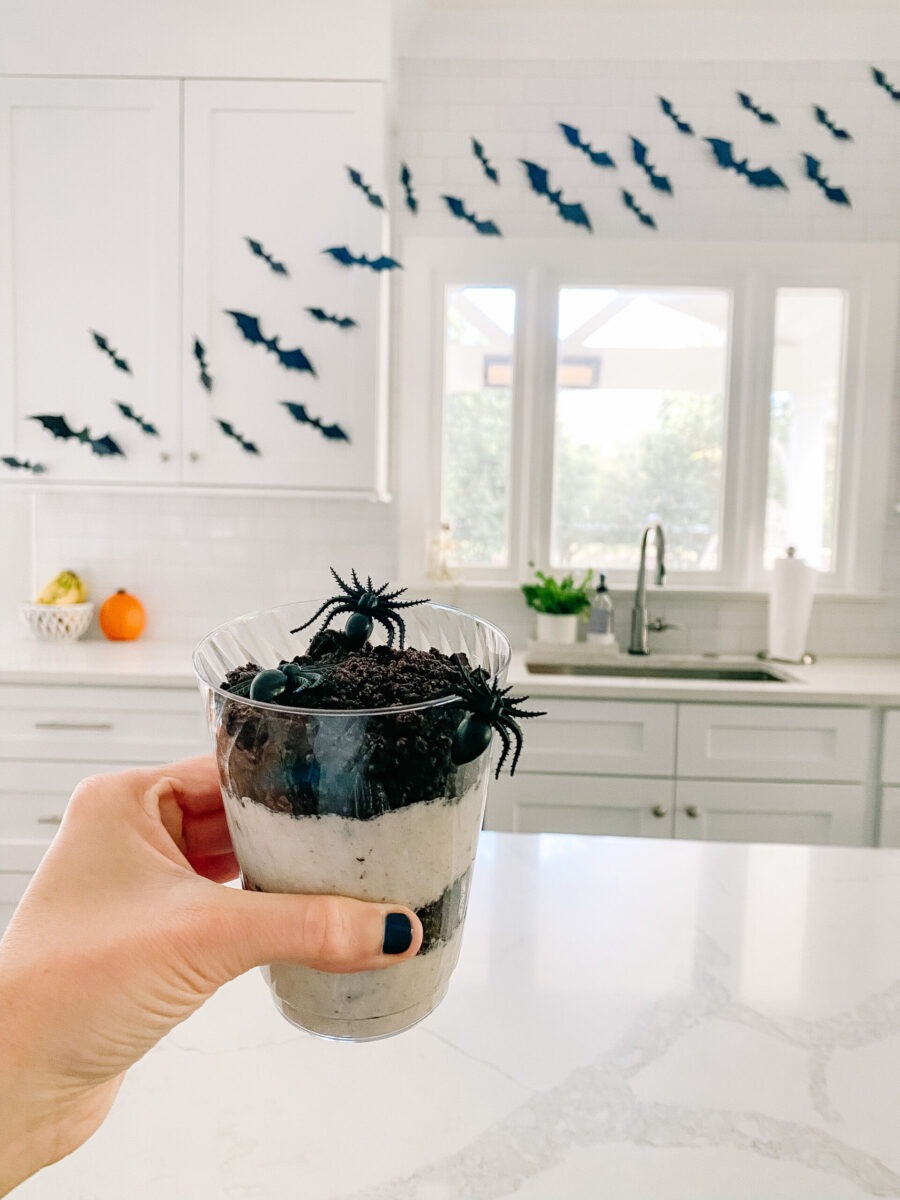 Halloween Traditions
Before you dive into this Halloween list, I just want to remind you that you do NOT have to DO ALL THE THINGS this season. My hope for this post is to inspire you to create a new tradition in your family and/or serve as a reminder to tackle those tasks that can become stressful if you wait until the last minute (ahem, Halloween costume accessories)!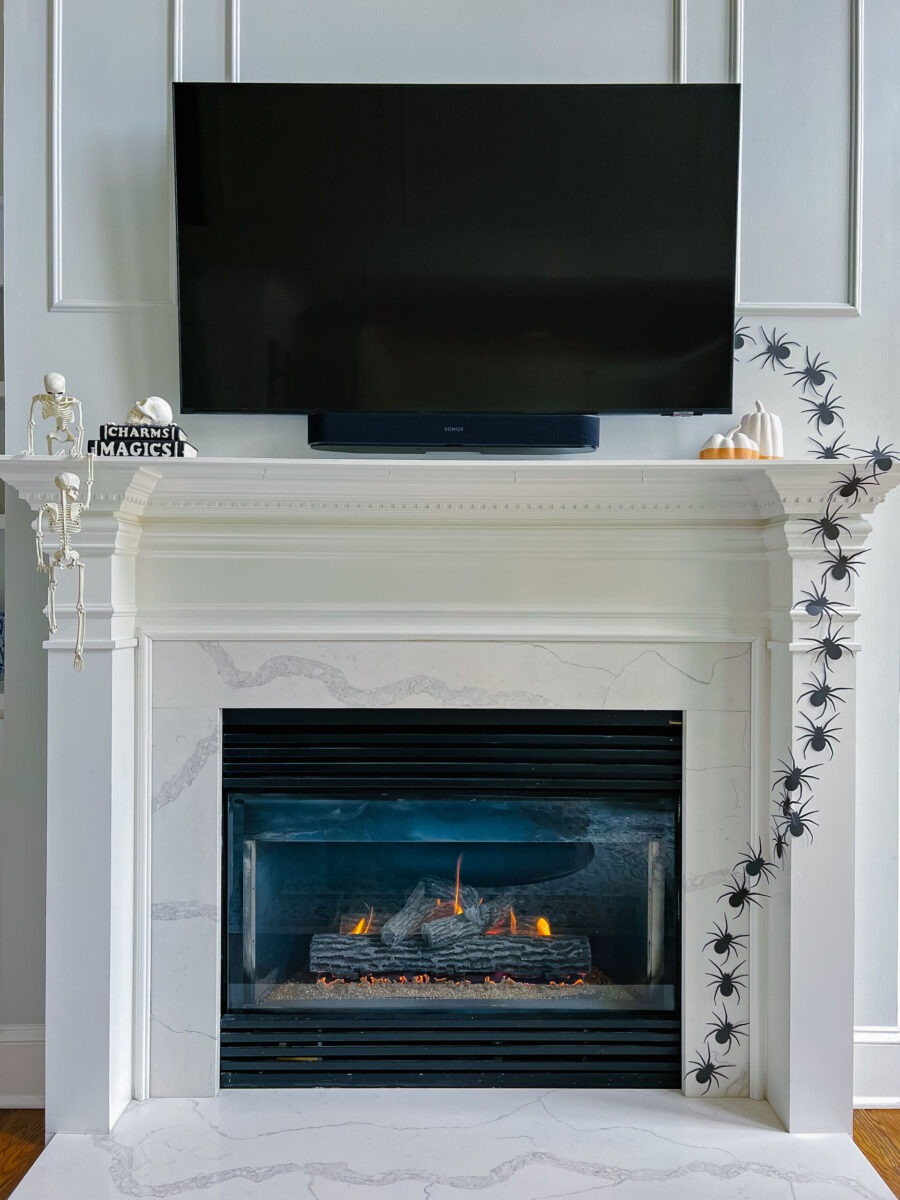 1. Purchase Halloween Costumes & Accessories Early
Kicking off the list with probably the highest priority item — Halloween costumes. If your kid is dying to be a specific character or wear a particular costume this year, buy it NOW — as well as ALL the accessories too. Then tuck them away so none of the pieces get lost. And don't forget to grab your trick-or-treating candy bucket too, unless you prefer a pillowcase!
Costumes tend to fly off the racks early in the season and there is nothing less fun than trying to track down King Triton's trident the day before Halloween (trust me!). This is a particularly important reminder for my fellow Amazon shoppers — LOTS of costumes and accessories are NOT available on Prime, or will not arrive before Halloween even if you buy them now (or pay $40 expedited shipping).
Oh, and don't forget to order your pet's costume too!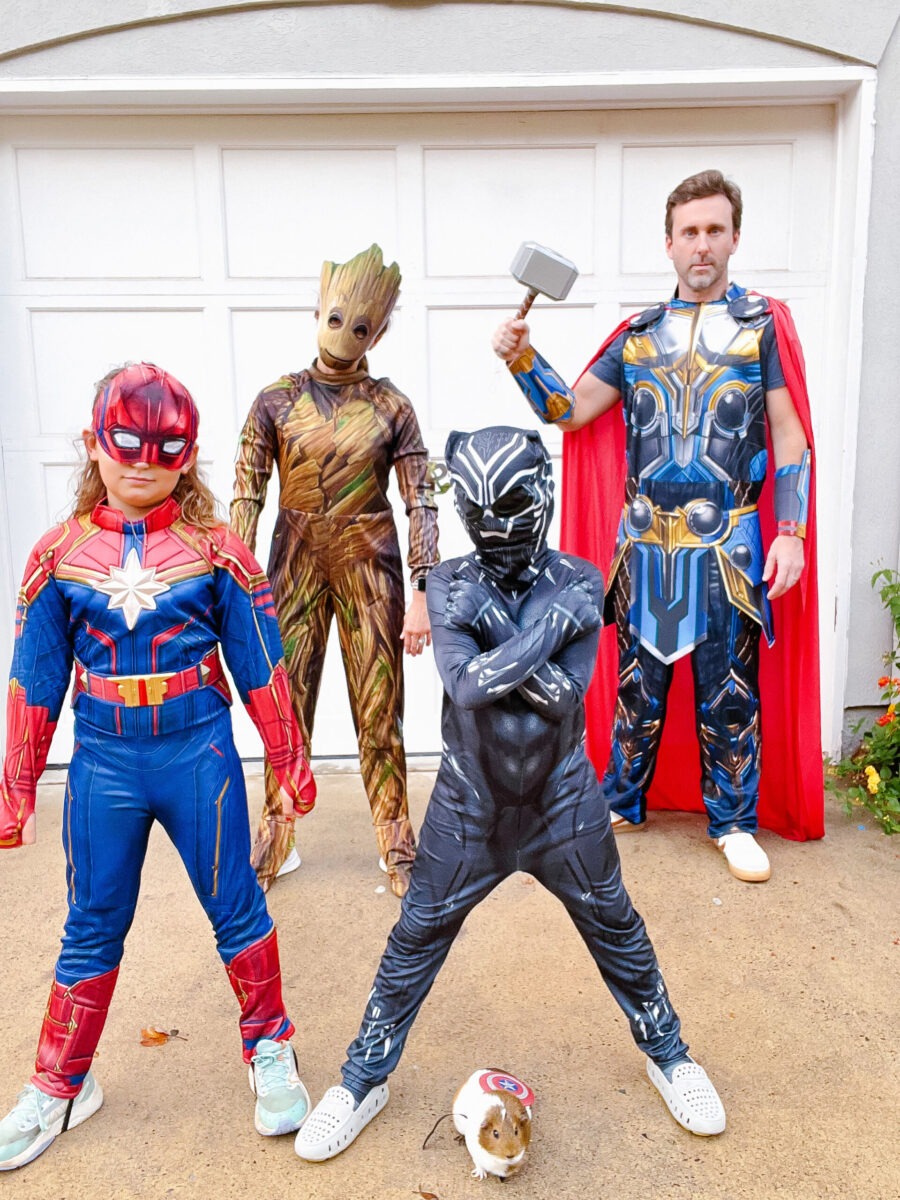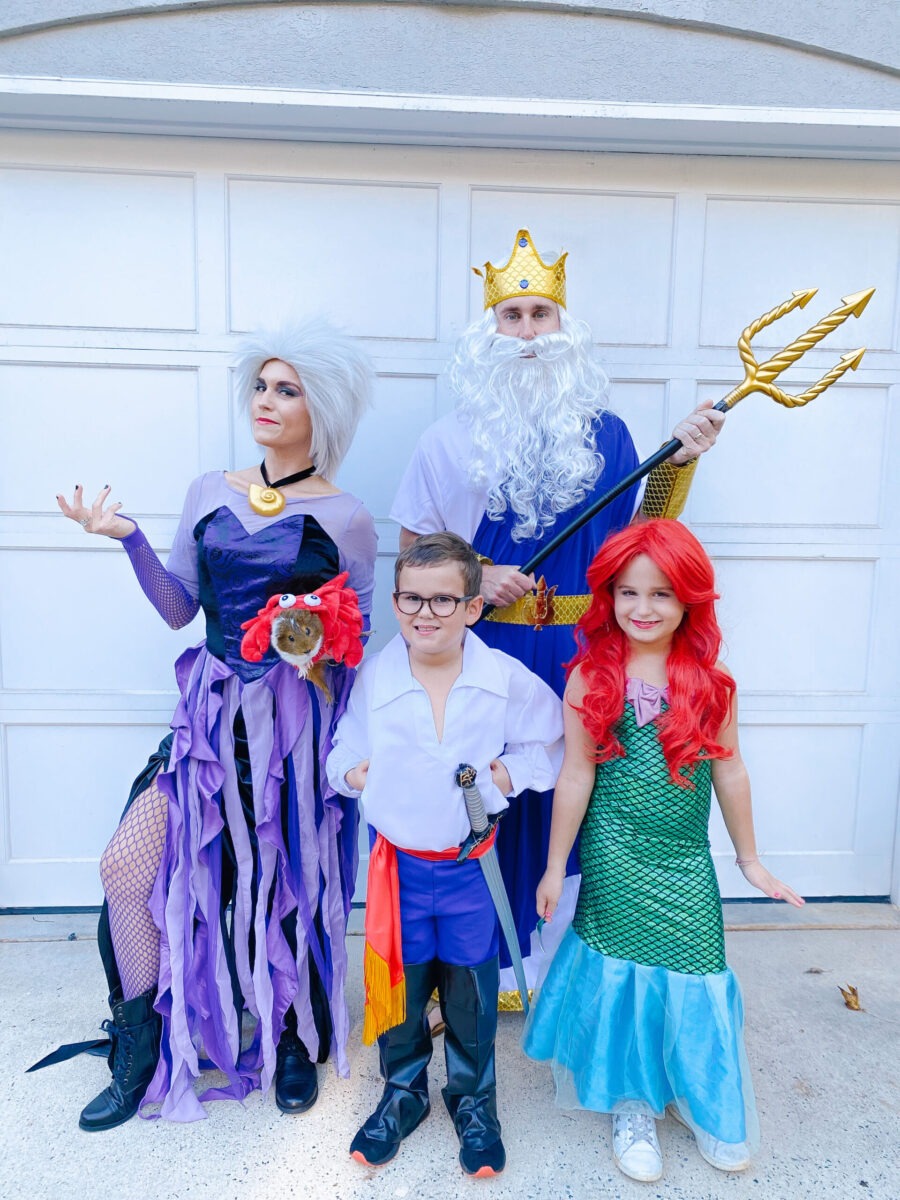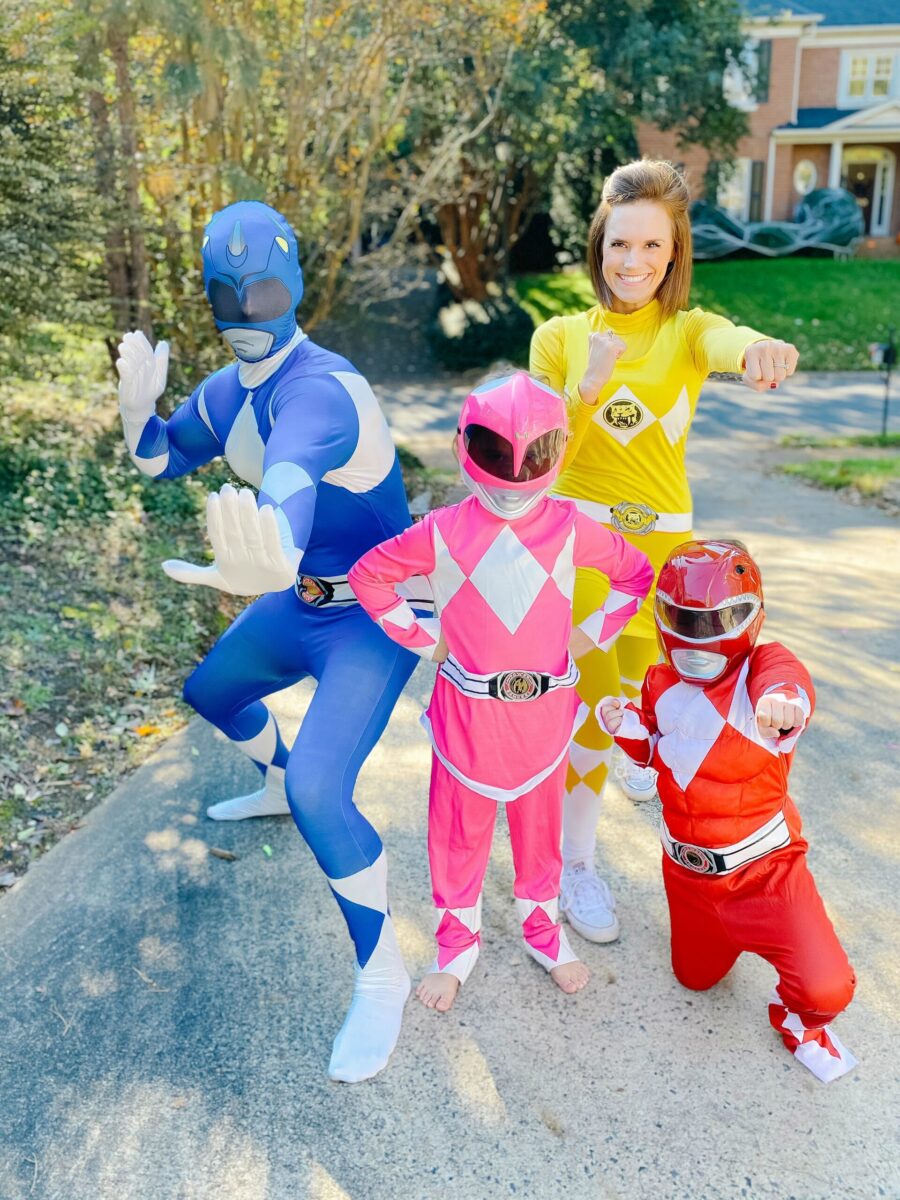 2. Pajama Fairy Visit
If your kids still get excited about festive pajamas, now is the time to scoop them up if they no longer fit into last year's set!
Our Pajama Fairy likes to arrive a few weeks before the holiday (so we can get as much wear out of them as possible). I like to lay out their jams on their beds just in time for Friday Family Movie Night. Not only do they get super excited to discover the magical delivery, it motivates them to quickly take showers so they can put them on for movie night — win, win.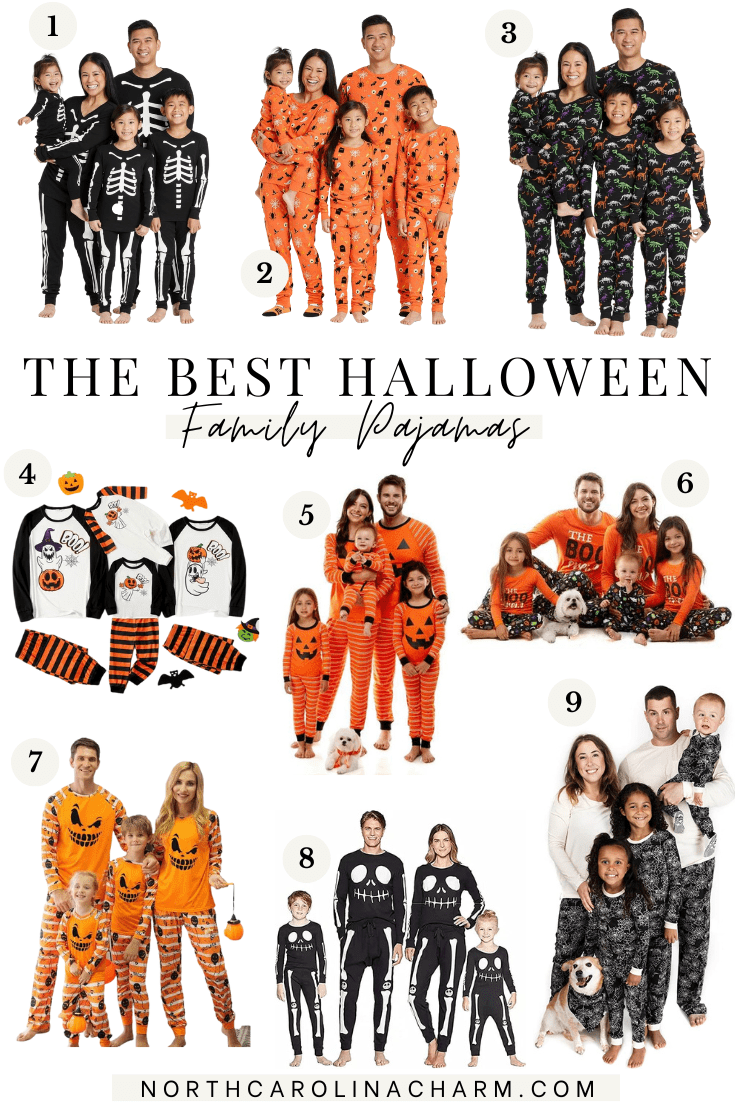 3. Decorate the House
One of my favorite traditions!
Last year the kids requested "scary" decorations for our house so I bought a lot of new stuff including the coolest witches (my favorite!), lots of skeletons, tombstones, a flying bat, spiders + webs, ghosts and even a fog machine. Shout out to Matt for always being willing to hang out of all the windows to hang up our skeletons.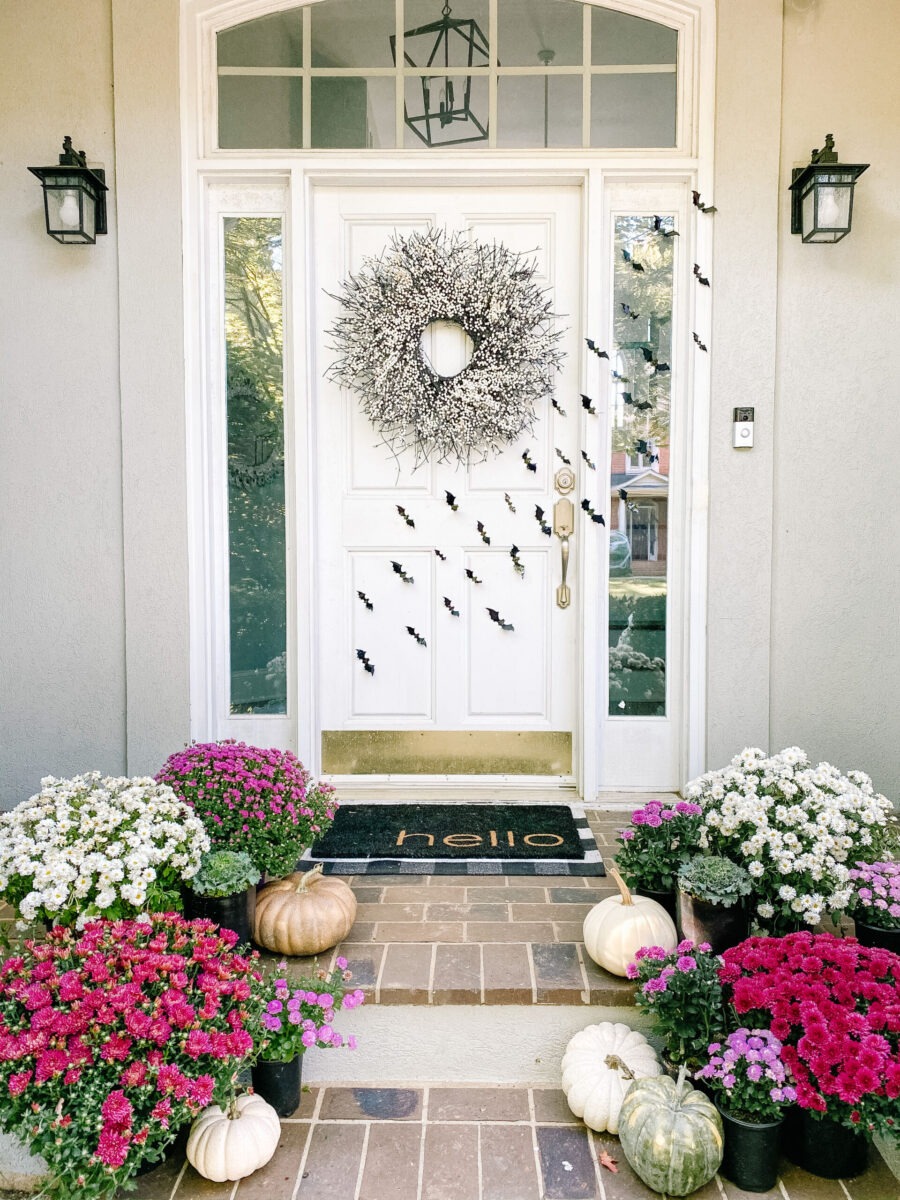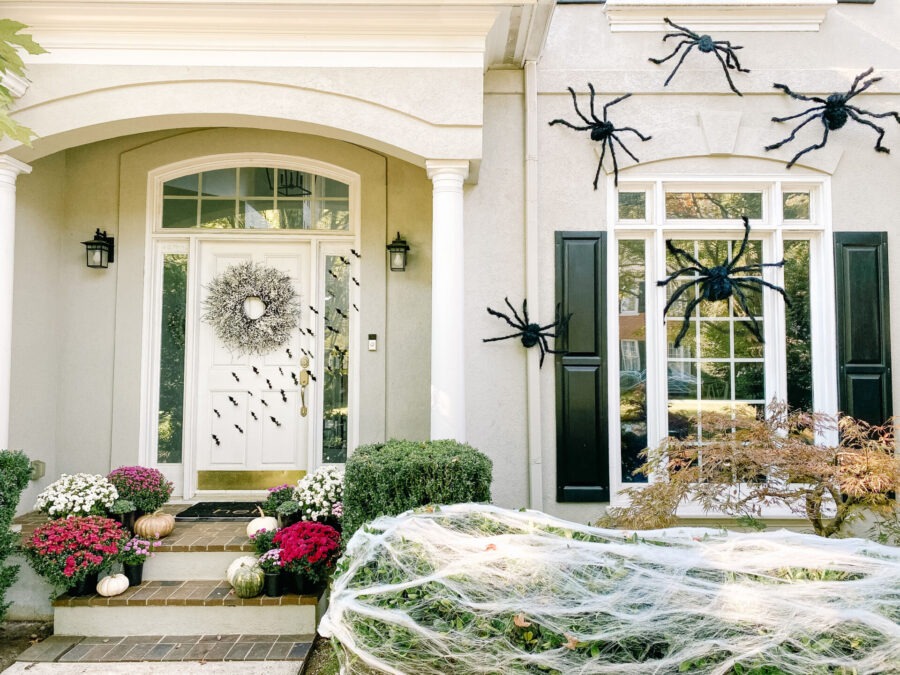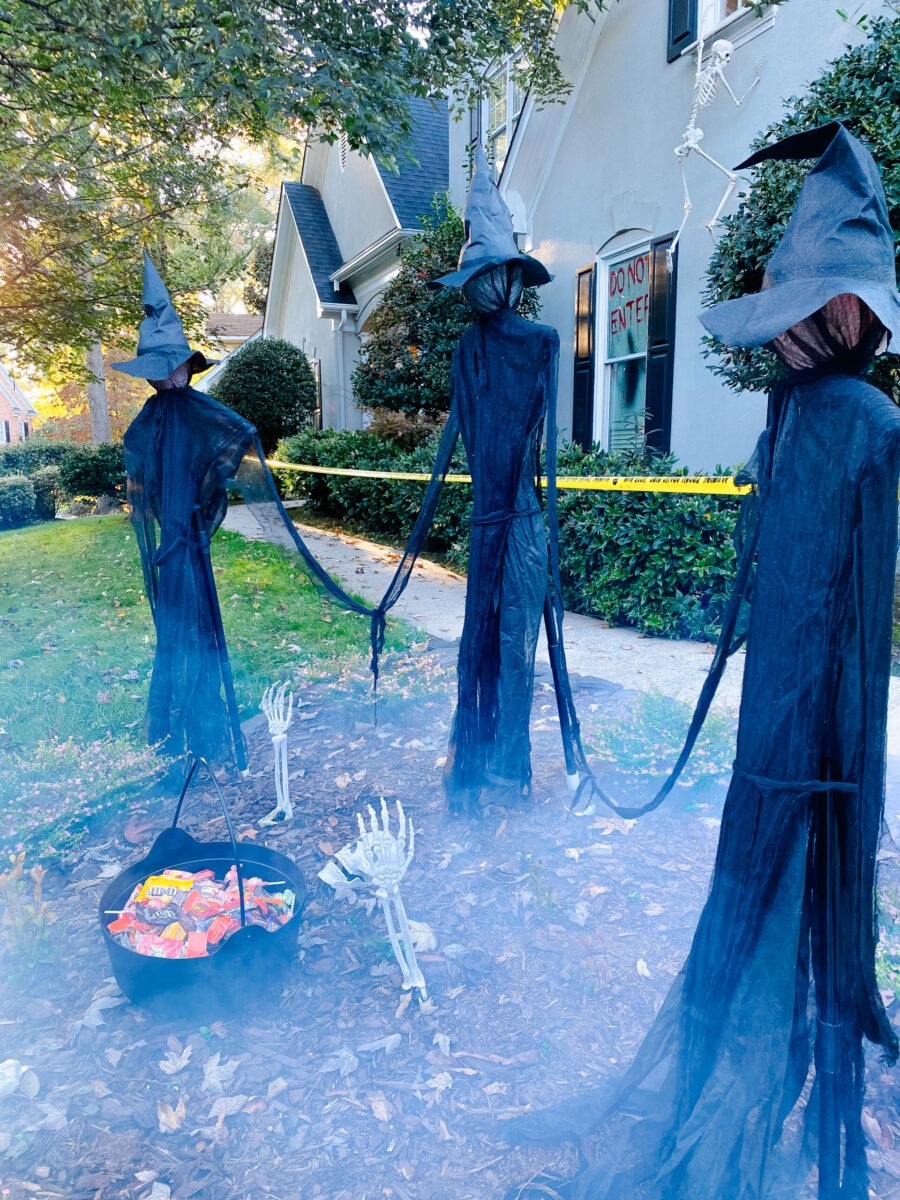 4. Watch Halloween Movies
During the month of October, we have two movie traditions — 1. we watch a Halloween movie for every Family Movie Night and 2. Matt has to watch a SCARY movie with me after the kids go to bed. This is the ONLY time of year I can get him to watch scary/horror/thriller movies. I love scary movies and Matt hates them.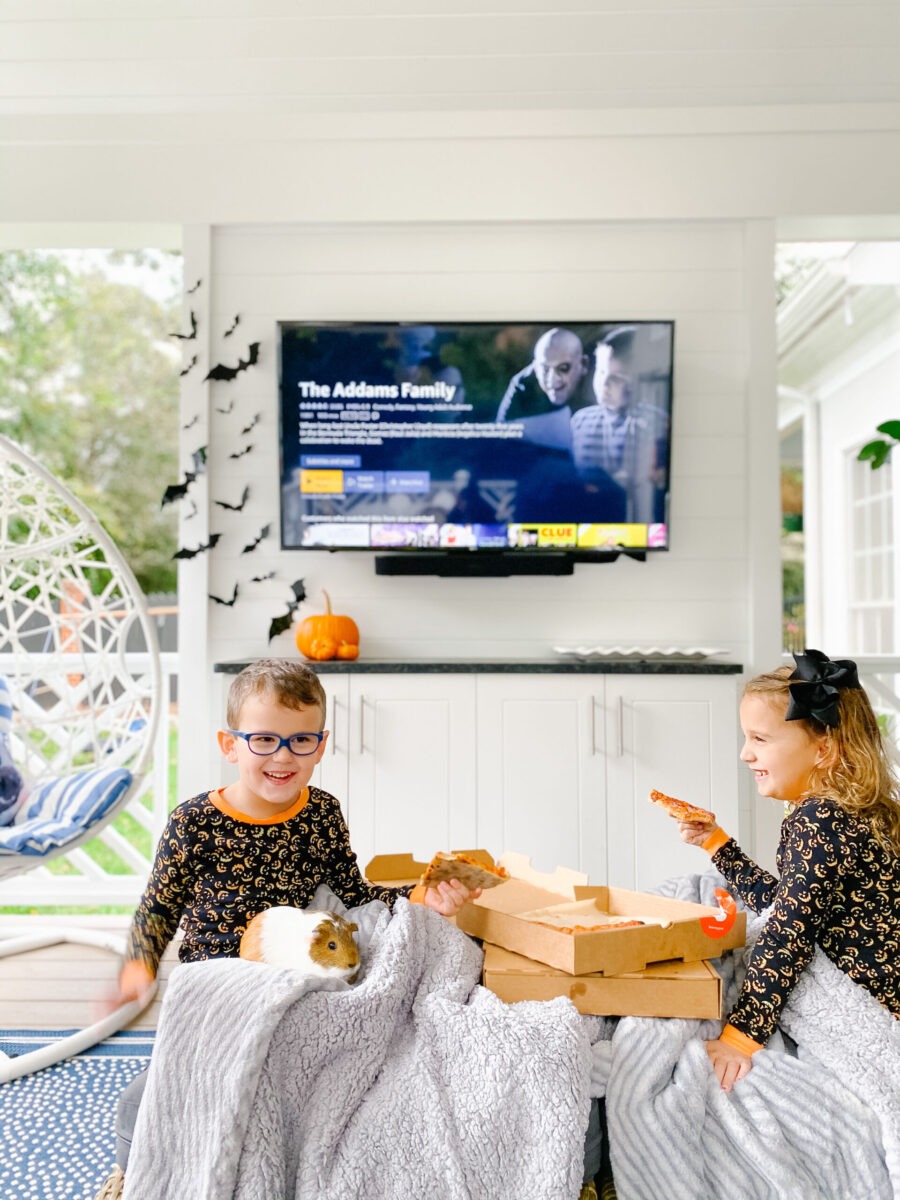 14 Family Halloween Movies
In no particular order, here are some of our favorite spooky movies to watch as a family. I cannot wait to get a smidge scarier this year (and then y'all can all yell at me when I complain about my kids sleeping in our bed). I recommend watching the trailer to determine if these are appropriate for your kids.
Casper
The Addams Family (1991)
Addams Family Values (1993)
Addams Family Reunion (1998)
Hocus Pocus
Hocus Pocus 2
Ghostbusters
Hotel Transylvania
Halloweentown
Beetlejuice
Labyrinth
Scooby-Doo
E.T.
Edward Scissorhands
And now for the list probably only 2% of you want…
Scary Halloween Movies
If you're looking for a scary movie to watch sometime during the Halloween season, I shared these reader recommendations on Instagram! This list is not for the faint of heart — some are absolutely terrifying (ahem, Descent, Hereditary, and The Strangers), mind-blowing and you are guaranteed to jump at least once or twice. Oh, and definitely make sure the kids are deep asleep first!
1. *The Conjuring
2. *What Lies Beneath
3. The Empty Man
4. *The Shining
5. Silence of the Lamb
6. *Midnight Mass (Netflix series)
7. *The Strangers
8. IT
9. *Halloween
10. Clue
11. *Scream
12. Insidious
13. The Omen
14. Ready or Not
15. Hereditary
16. The Exorcist
17. Kiss the Girls
18. Amity Horror
19. The Signs
20. *Wait Until Dark
21. Saw
22. *A Quiet Place
23. Friday the 13th
24. Candy Man
25. Descent
26. I Know What You Did Last Summer
27. Skeleton Key
28. The Others
29. Perfect Murder
30. The Ring
31. Sleepy Hollow
32. Sinister
*popular recommendation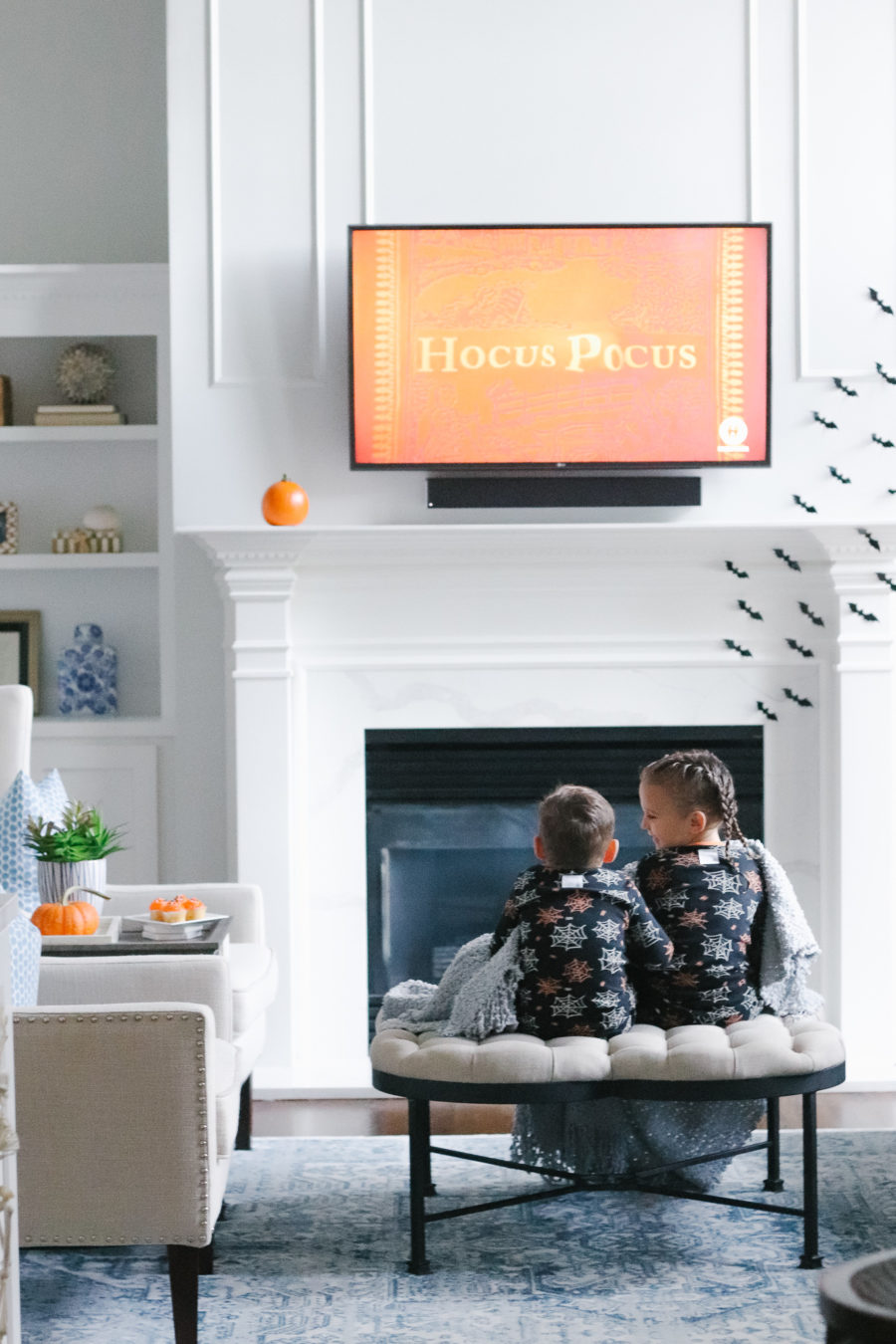 5. Visit the Pumpkin Patch and Carve Pumpkins
There are a handful of great pumpkin patches in Charlotte but our favorite is Aw Shucks Farm! It's fun for kids of all ages. There are farm animals you can pet and feed, lots of festive treats for sale, fishing, a corn maze, games and activities, pumpkins and so much more!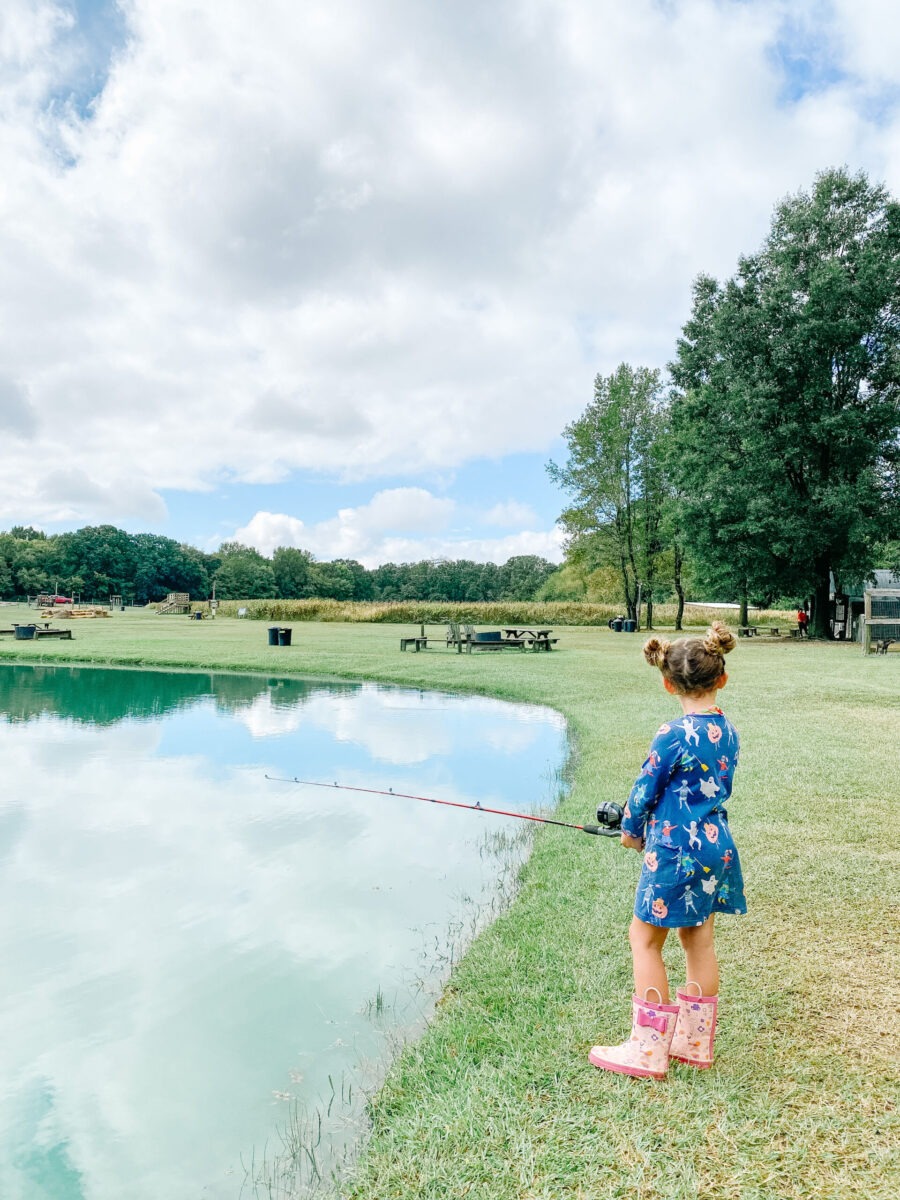 Pumpkin patch visits: 2021 / 2020 / 2019 / 2018 / 2017 / 2016 / 2015 / 2014
Don't forget to wash your uncarved pumpkins to extend their life if you're going to set them on your porch for a few weeks: How to Preserve Your Pumpkins.
6. Halloween Night
I love to serve an easy and festive dinner on Halloween night to get something other than candy in the kids' bellies. The past few years I've made mummy dogs and they've been a huge hit!
And a reminder: If you're going to order pizza delivery, pre-order it EARLY in the day. By dinnertime, the delivery time can be super long and you don't want to be waiting on pizza while your kiddos are ready to start trick-or-treating.
One last tip, try on your Halloween costumes before Halloween and snap your photo then. We usually do it the day or weekend before just to make sure we have all the pieces and everything fits. Getting this picture out of the way BEFORE Halloween truly makes the world of difference as you aren't rushing to get smiles from everyone while trick-or-treaters are starting to walk by.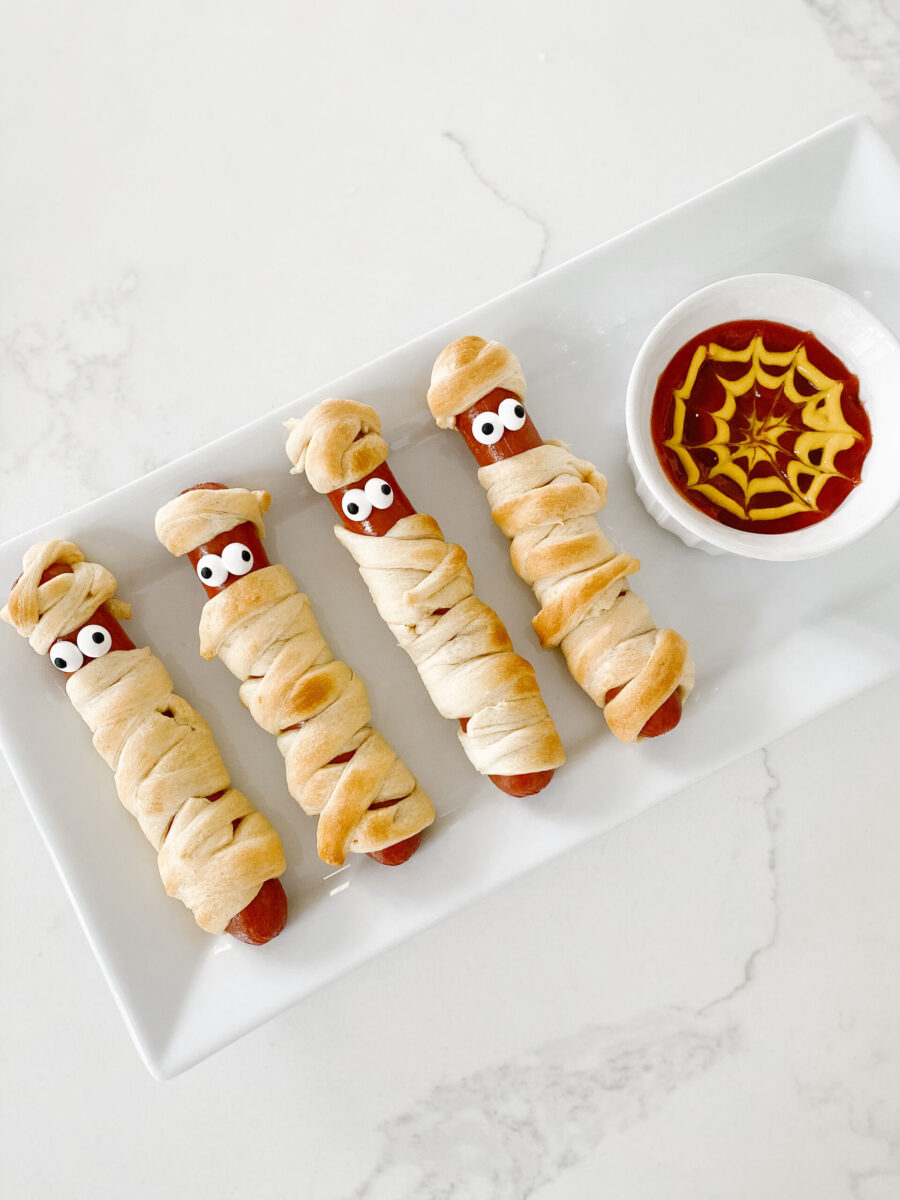 Alright friends, I hope this post has inspired you to create a new tradition, or motivated you to knock out those Halloween costumes today!
Happy Halloween season, friends!