We spent an extra long Memorial Day weekend down in Florida with my family! We originally had a beach vacation planned with Matt's family but it got rescheduled for later this summer. The kids had been looking forward to their end of the school year vacation and I didn't have any camps lined up for them so we pivoted and decided to drive down to Florida since we had already taken Secured Leave/PTO. Many of you already know that I was born and raised in Orlando until I moved to Gainesville for college…and then Charlotte. When I tell people I grew up in Orlando they often reply "you must have gone to Disney all the time!" That was definitely not the case for our family of 5! While we did visit all the parks at some point, we spent most weekends at the beach (where both sets of my grandparents lived)! So despite being an Orlando native, I honestly did not know where to start with all of the theme parks and activities once the kids were old enough. And then
dad got really sick
so we spent every second of our visits home with him for several years. Shortly after he passed away, we were desperate for a change of scenery during our first trip back in Orlando so we surprised the kids with a trip to
Disney
! And since then, we weren't really sure what to do with the kids next until I
polled y'all for recommendations
! We now have quite the bucket list thanks to you all and have officially checked off Legoland and Gatorland! A few highlights from our fun trip home…
Pool Party
We spent one of our days pool partying at my sister's house. She was the hostess with the mostess and the cousins were all SO excited to be together and played hard all day long. And the parents had a blast too. We sipped vodka lemonades and bubbly, watched the kids and dads do lots of cannonballs and Lindsey and Ryan served a delicious shrimp boil for lunch! It was a fantastic day and we all crashed hard into bed that night!

Legoland
The next morning we took the kids to Legoland! This park is truly a gem and I would absolutely recommend it to anyone with young kids (regardless of whether or not they love legos). We loved everything about Legoland. The park is compact and easy to navigate, there are so many things to do and it was a laid back experience (compared to the bigger theme parks)! And both kids met the height requirements for all the rides except one! I highly recommend checking out
Thomas's reaction in our rollercoaster video
— absolutely hilarious. I promise he loved the rollercoasters.
Legoland Park Tips
A few tips we followed that really helped make our experience amazing:
Arrive early. Since we were visiting the park on Memorial Day we arrived a few minutes early (before the gates opened) to beat the holiday crowds.
Download the app. The app has everything you need from an interactive park map to ride wait times. Throughout the day I expected the park to get really busy but we never had to wait more than 20 minutes for any ride which was so nice!
Start at the back of the park. We followed the advice to head to the very back of the park as soon as it opened and were able to ride our favorite rollercoaster (Flying School) twice without having to wait in line at all!
Favorite rides: We loved every coaster but if my kids had to rank the rides by favorite they both agreed #1 Flying School, #2 Coastersaurus, #3 The Dragon. We also liked the interactive rides (Ninjago Ride & Lost Kingdom Adventure). And although it wasn't a ride, we really liked the Ninjago: Master of the 4th Dimension 4D show!
Don't skip the water show. I repeat, don't skip Brickbeard's Watersport Stunt Show. The stunts were mind-blowing, the show was really entertaining and it was the perfect mid-day break from the sun.
You

MUST

try the apple fries. I had heard so many good things about these fries and they did not disappoint. They were absolutely incredible.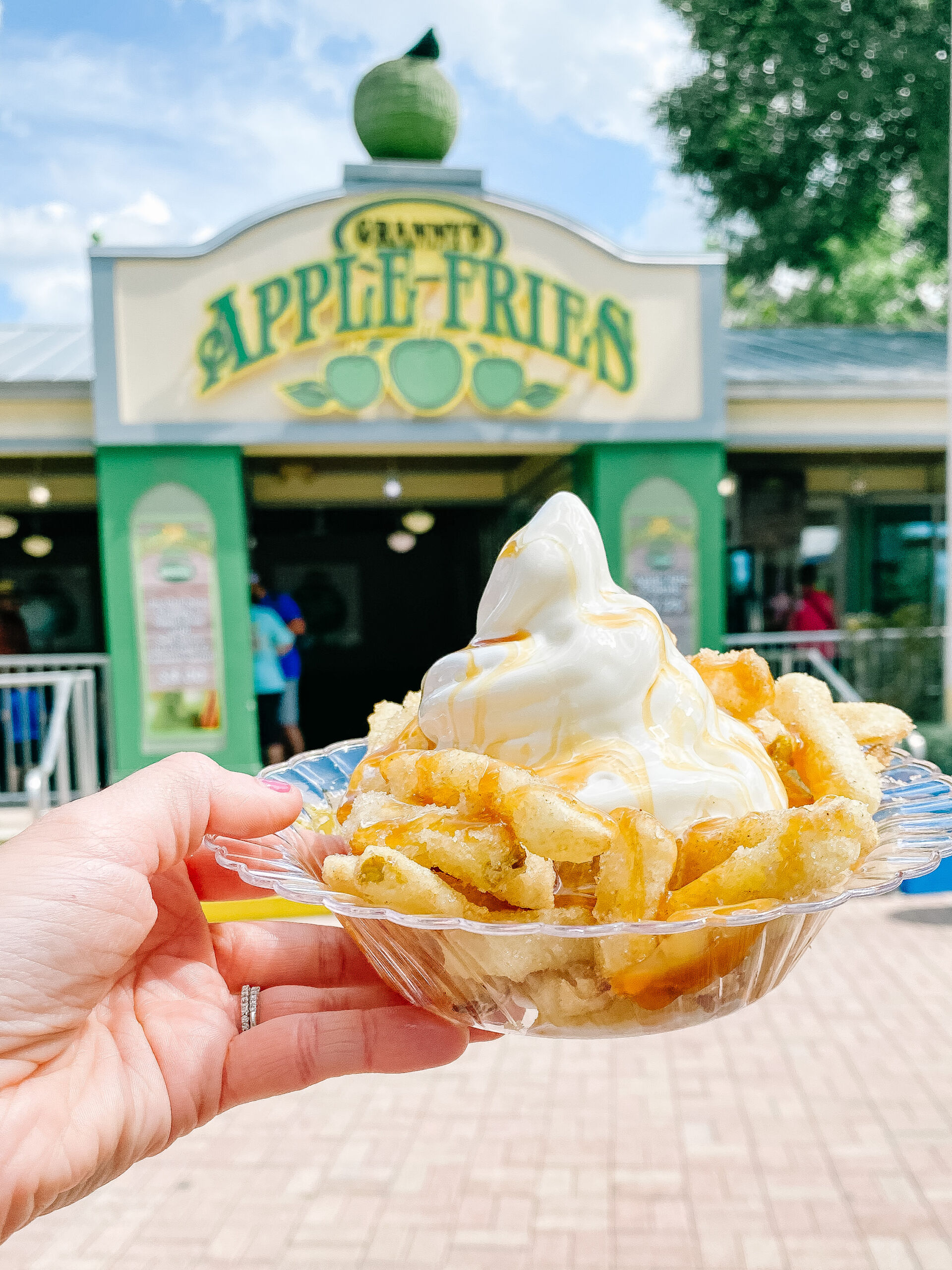 Gatorland
The next day we took the kids to Gatorland and OH MY GOSH this park absolutely blew all of us away. My parents took us to this park as kids so I was excited to take our kids here with mom. To be honest, we had low expectations going in and all of us were so impressed by this park (which has obviously undergone many improvements over the years). Everyone who works there is so friendly and knowledgeable, there are TONS of activities (including zip-lining & a splash park!) and experiences, lots of exotic animals (ginormous turtles, snakes, panthers, parrots, etc.) it's super affordable and the food is terrific. We planned to only spend a few hours at the park but ended up spending the
entire
day and only left to make it to Lindsey's house for dinner on time.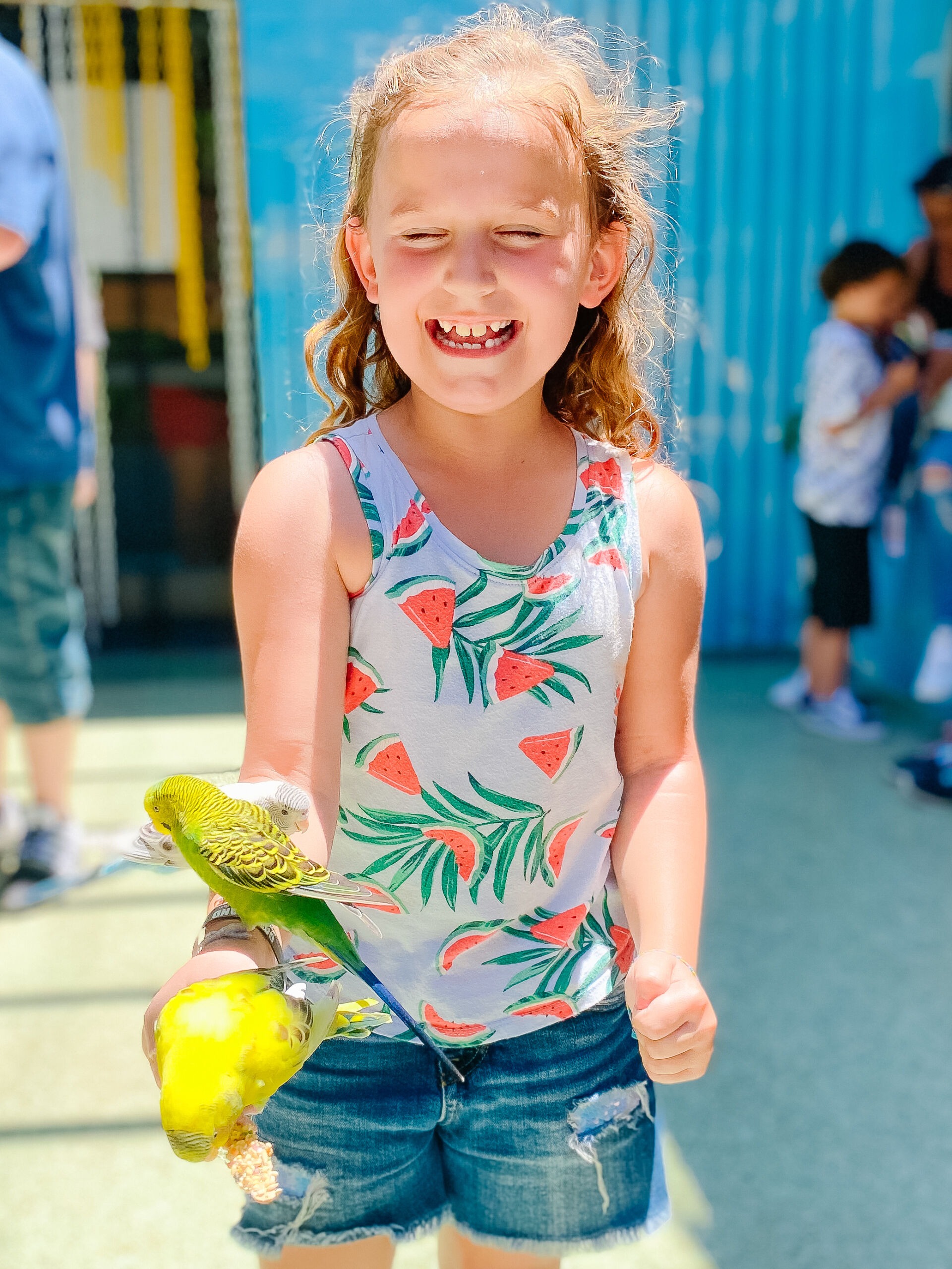 One of our favorite experiences was actually feeding the birds at the
Very Merry Aviary
! For a few dollars you can purchase sticks of birdseed before entering a room where you are met with hundreds of free flying budgerigars. It.was.so.cool. We could not stop laughing as the birds continued to land on us.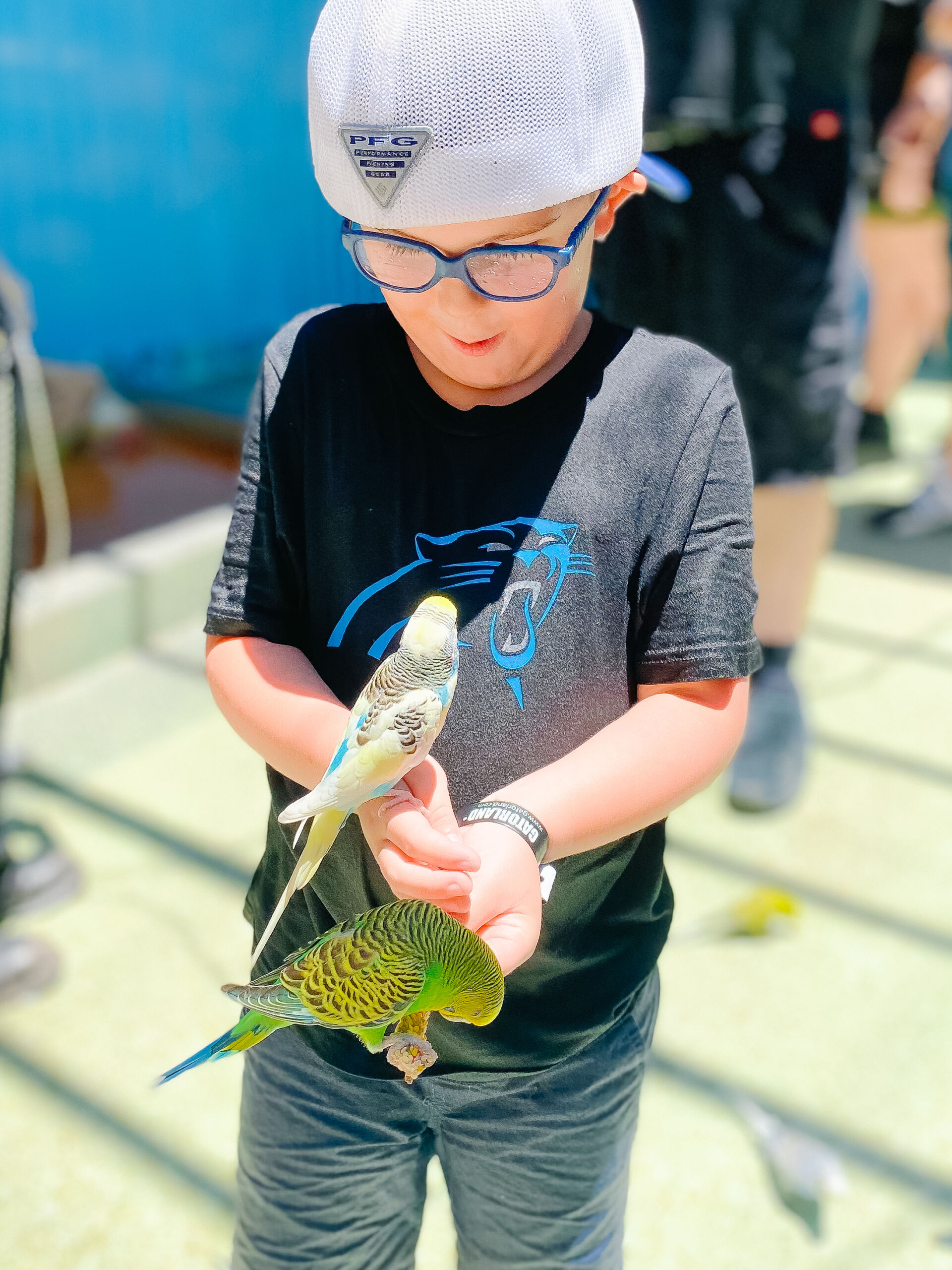 I also cannot say enough great things about
the shows
. They were all really, really, really well done. We attended all 3 shows offered during our visit (Gator Jumparoo, Alligators: Legends of the Swamp & Up Close Encounters) and they were all hysterical (seriously, they were like comedy shows) and incorporated a ton of audience participation…and of course, GATORS! We learned
so
much from the shows…like you're actually
not
supposed to run in a zig-zag if you're ever being chased by an alligator. During the
Legends of the Swamp
show the host requested a volunteer from the audience and Thomas's hand shot up so fast…and the next thing I knew he was in the middle of the gator pit selecting an alligator for the host to wrangle…which he
did
after pulling Thomas's alligator out of the water by his tail! After a few crazy stunts (like holding a gator mouth open by his chin), he taped the alligator's mouth closed and invited the audience to take a photo sitting on it! Thomas was invited back to the stage to be the first to sit on the gator, followed by Caroline. It was
really, really
cool and both kids talked about this for
days
afterwards.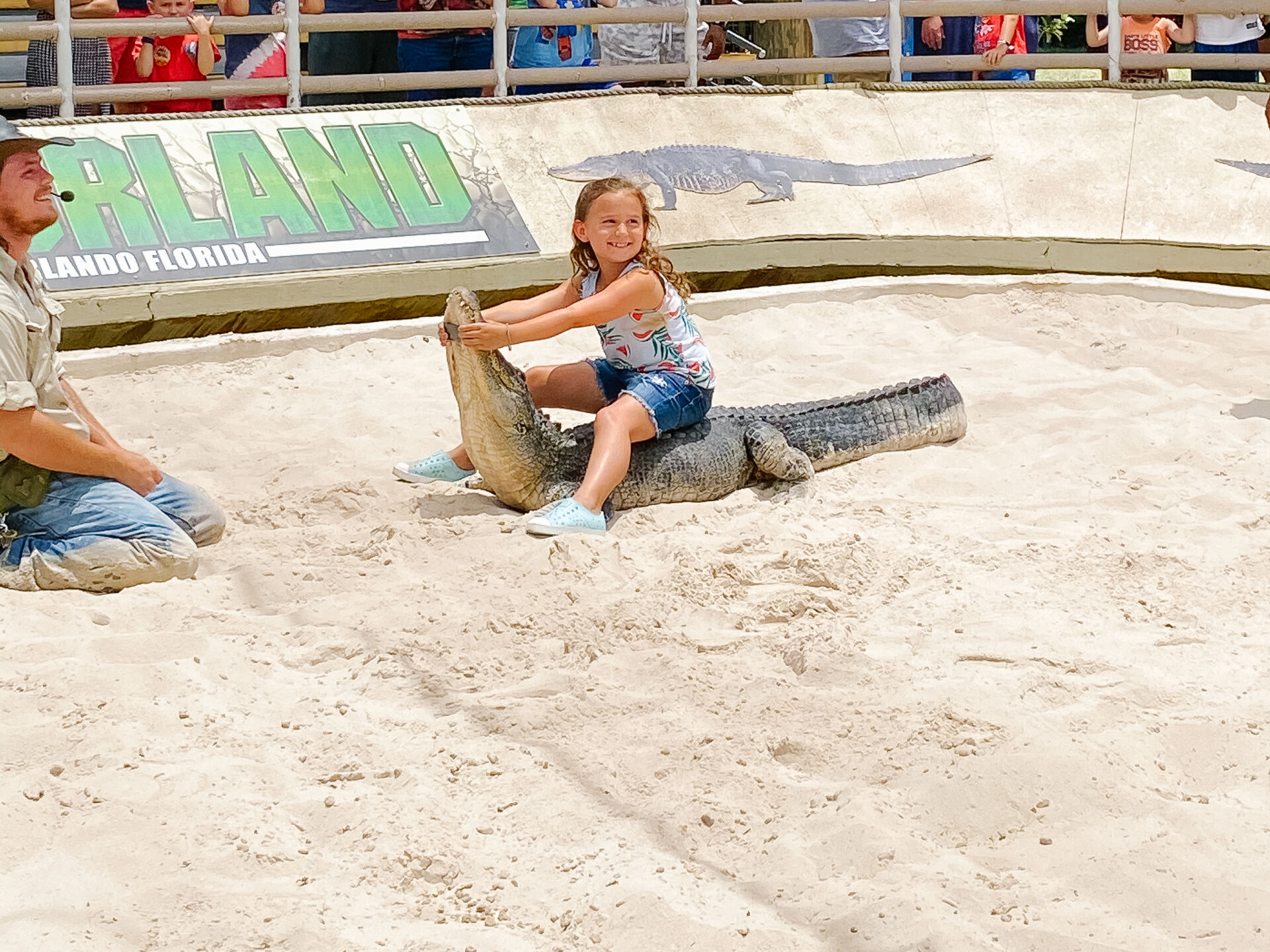 After the show we headed to Pearls for lunch and
the food
was REALLY good and really cheap. In fact,
everything
is really cheap at Gatorland which enticed us to pay the extra few pennies for lots of yummy treats (ice cream, fresh squeezed lemonade, cotton candy, etc.) and a few experiences… When we arrived to Gatorland I was a little overwhelmed at the ticket counter with all of the "add-on" options. Want unlimited train rides around the park for $2? Why not? Want to feed alligators for $10? Sure!… Admittedly, I didn't fully understand what the "feeding the alligators" experience entailed until we arrived to the Alligator Breeding Marsh at our scheduled time and our host OPENED THE GATE and motioned for us to walk
behind
the fence to actually
feed
the alligators. WHAT?! Even though the handlers kept the gators at a safe distance and stressed how safe the experience is, it definitely did not calm my racing heart as Thomas and Caroline tossed handfuls of meat right into the mouths of alligators!!! The rest of us got in on the action too (although unlike the kids, I chose to throw my meat far, far away). Once we were out of meat we were given the opportunity to pose for a photo in front of all the gators. It was absolutely wild…and terrifying…but really, really cool. I highly recommend checking out my
Gatorland Instagram videos
!
Volcano Bay
When I called my mom to surprise her with our plans for a visit home she was
elated
. And even though we had a jam packed trip she offered to keep the kids for a day if Matt and I wanted to plan a day date. I immediately said YES and promptly scheduled our Volcano Bay day date. I have been absolutely
dying
to visit this park since it opened in 2017. In fact, my parents gifted me with tickets for my 31st birthday that year and I was ecstatic. Sadly, we had to hit pause on redeeming our tickets to soak up as much quality time with dad as possible. So 4 years later we finally made it to Volcano Bay and it was everything I had hoped it would be and so much more. In fact, Volcano Bay officially goes down as my absolute favorite day date (dare I say it…)…
yes, of ALL TIME!
I loved it
that
much. I was super impressed with Universal's virtual line system. Upon arrival, we each received a "TapuTapu," which is a waterproof watch designed to hold your place in line and also serves as your wallet so you don't have to carry money on you. It was SO cool and allowed us to spend time exploring other attractions while we waited for our turn for the more popular rides. We ended up riding our favorite ride, the
Krakatau Aqua Coaster
, three times!!! Throughout the day the wait times definitely grew longer, but once we saved our place in line (by scanning our TapuTapu at the totem pole) we were able to jump on other rides that had zero wait time, grab drinks & food, floated in the
Fearless River
or ran back to our seats on
Waturi Beach
to re-apply sunscreen. All of the rides were so much fun. Matt braved the
Ko'okiri Body Plunge
, a body slide at the top of the volcano that features a 70-degree fall through a drop door down 125 feet. And then somehow he convinced me to do the
Serpentine Body Slide
which I will never ever do again. Haha. Drop door rides are NOT my thing and I was so terrified when they closed the trap door that I tried to chicken out but it was too late. You can watch the fear and panic on my face in my
Volcano Bay Instagram Reel
! We will definitely be returning to Volcano Bay and next time we're going to bring the kids!!!! I assumed they wouldn't meet any of the height requirements but was excited to see that they can totally ride most of the rides! And that was a wrap on our Memorial Day Weekend Florida Trip!
Other Posts You May Love