We had a great weekend in Florida. It was so nice to get home and spend some time with our family. A lot of you checked in asking about dad. Thank you. You are all so sweet to think of him and we can't tell you how much we appreciate all of the prayers. The last time we were home dad was definitely feeling his best. Since then he has started to decline a bit and the pain has officially arrived. Constant, debilitating pain actually. So now he is on pain medication around the clock in order to be comfortable and is no longer walking. But his spirits are still high and he was elated to have all of his kids and grandbabies under one roof for the weekend. That is the best medicine for him. And we are very thankful and blessed to have squeezed in another trip home.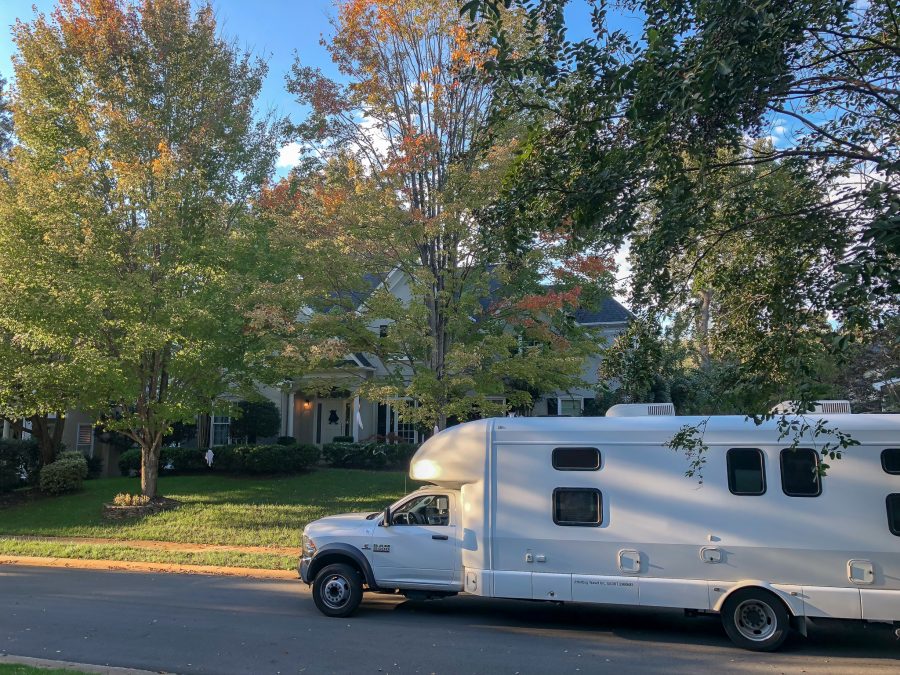 I mentioned last week that we were taking a break from flying and trying something new — Jitterbug, a chauffeured luxury coach road trip service (based in Charlotte, NC)! There are a lot of reasons why this service was so attractive to us but the top 3:
1. No airport hassles. Last time we flew home we took an afternoon flight out were delayed so many times we didn't get to my parents until 11:30 pm with exhausted kiddos. It was awful and we lost half a day of our trip.
2. Flexible departure times with door to door service. We selected an evening departure time for the way down and the coach picked us up at our home and dropped us off at my parents house the next morning. On the way back we chose a day trip. Both were great.
3. Unique experience! To be honest, we were really curious and excited to try this service out! We don't love to fly. We don't love to drive. So this was a new option that sounded awesome.
Before I dive in, I'm going to answer the most popular question first — what is the cost? This all depends on your trip details — dates, times, route, cabin, etc. So each quote is customized. The ball park is $829 – 960 each way for the main cabin. There are two cabins in the coach — a main cabin (up to 6 guests) and a junior cabin (up to 5 guests). Or you can reserve the entire coach (up to 11 guests).
For us, it's extremely difficult flying affordably and comfortably with a 3 & 4 year old. To accommodate both of our work schedules almost all of our flights home to Florida are scheduled around busy holiday weekends to capitalize on holiday PTO. And usually, the more affordable flights are only offered at terrible times (like 5 am or 9 pm) on certain days a week. Then you have to add in baggage fees, seat fees, parking fees, etc. And if we try to fly at more convenient times, the flights are basically the price of a kidney. So, while this service isn't cheap, it's a lot more convenient and luxurious than our comparable priced 9 pm flight on a Sunday night with two wild toddlers.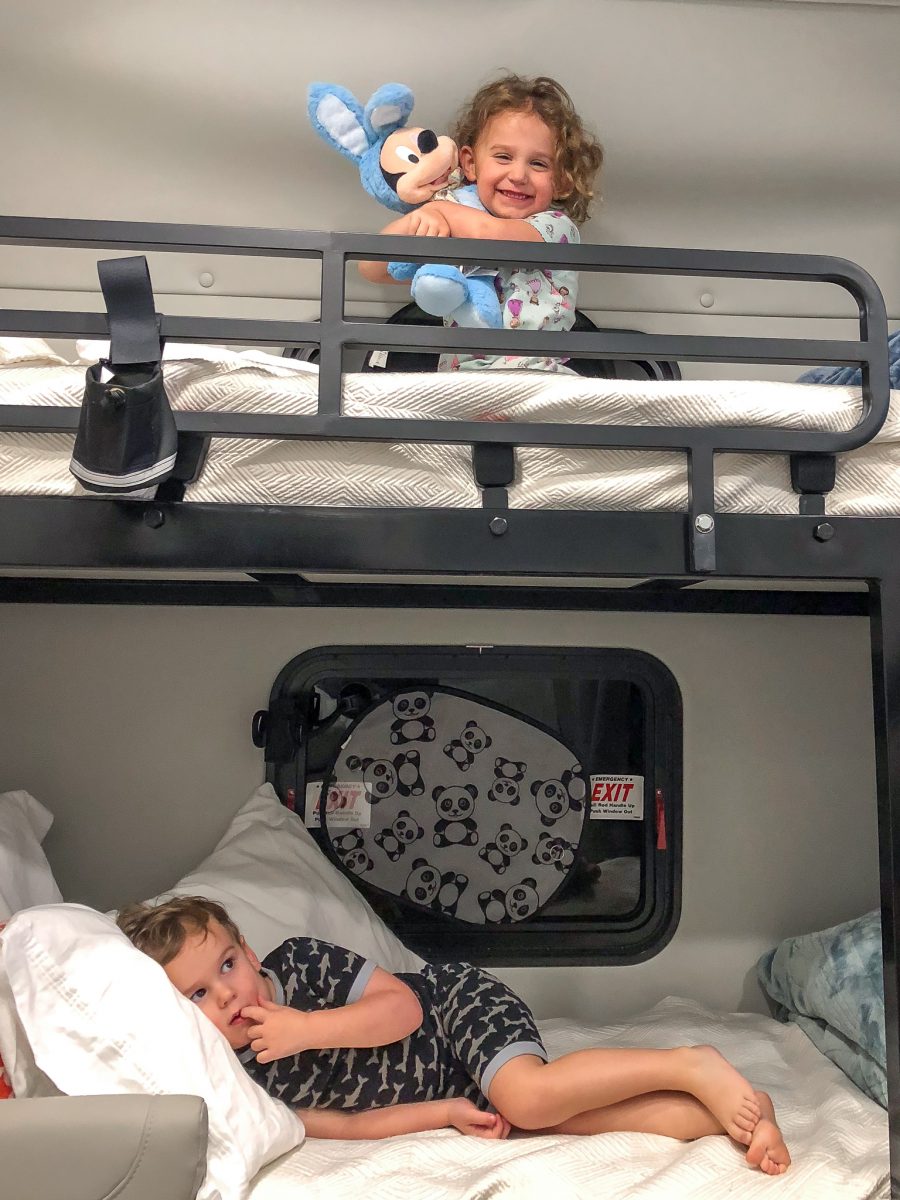 OK, on to our trip…
To squeeze in additional time at home, Matt and I decided on an overnight trip, leaving after work on Thursday night, driving through the night and arriving early Friday morning. This gave us a full Friday & Saturday at home which was so nice! On the way down we traveled in the junior cabin and on the way back we traveled in the main cabin. Both cabins came with amenities like a private bathroom, TV (with Netflix!), reclining seats with footrests, mini-refrigerator, wi-fi, electrical outlets, video intercom, and more. I also want to mention that our driver, Jenn, was excellent — extremely polished and professional which put Matt at ease (my biggest concern for the trip).
The plan was to get a later start so we wouldn't arrive too early to my parents house. That kind of backfired us on (which is why you didn't get the promised updates of our experience on the way down) because after our coach arrived at 9 pm and we were loaded up and settled, it took us a good chunk of time trying to convince our fascinated children to go bed. After enough Netflix negotiation and melatonin, we finally got them down. And then we crashed shortly after them. We arrived at my parent's house at 5:30 am and successfully transferred the kids (& ourselves) to bed for a few extra hours of sleep.
A few pictures from our time at home…
Friday we had a BBQ + pool day at my sister's house!
Saturday we took the kiddos to the park and then spent the rest of the day at home with dad watching football. And of course, we had our steak night.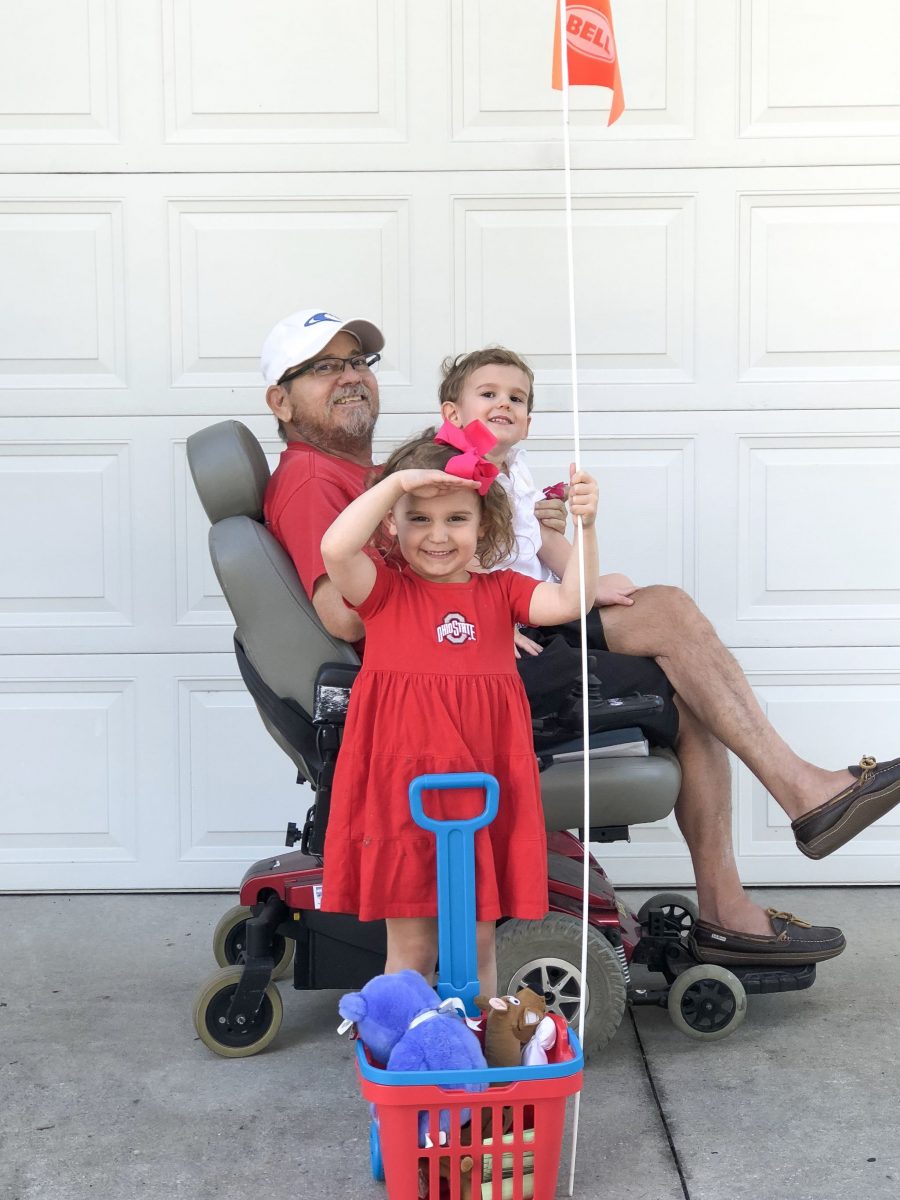 Sunday morning was a tough goodbye, as always.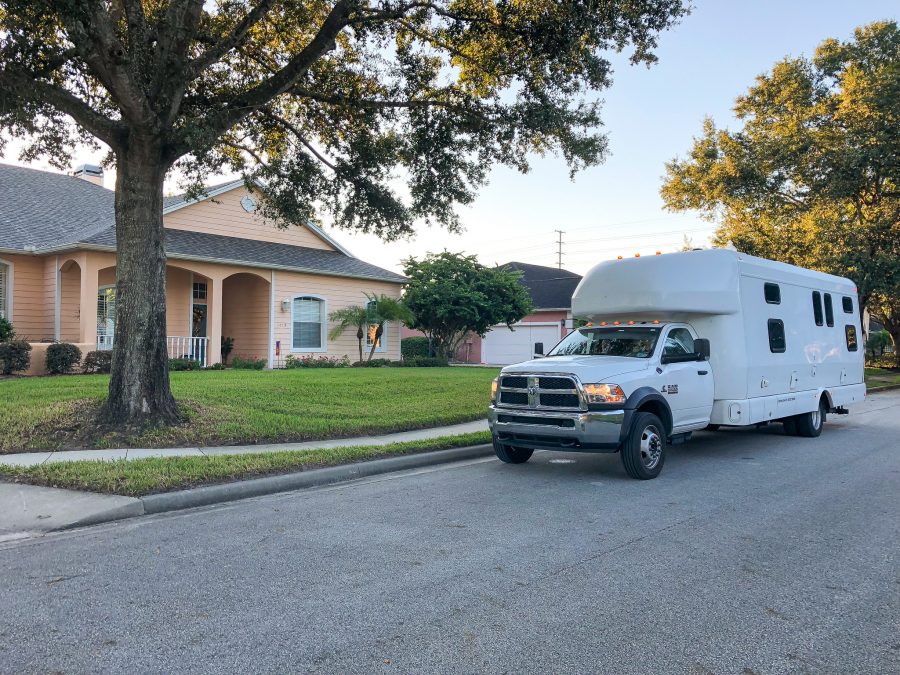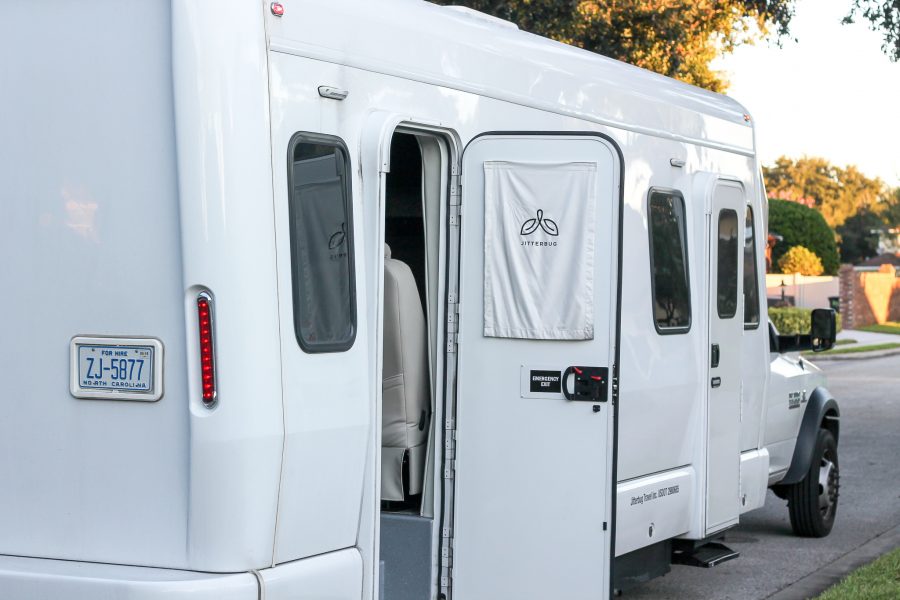 The ride back home was absolutely terrific. The extra space in the main cabin was amazing for spreading out and we had an excellent and relaxing time binge watching Netflix, napping, snacking and blogging (for me!). And we didn't arrive home absolutely exhausted like we normally feel after a long road trip.
Final review! Will we use Jitterbug again? YES! I have already requested a quote for our next trip down to Florida! My tip is to book early to secure the main cabin for night travel to ensure everyone has a bed to stretch out in (although the reclining chairs are very comfortable!). Pack coolers for snacks and drinks to skip any stops. Bring your favorite pillow, blankets and stuffed animals (Jitterbug does provided these if you want to travel lighter)!