This week I am getting our family packed and ready for a few days at the beach for Spring Break so I thought it would be fun to share some of my favorite items we're bringing with our Spring Break Packing List…
I've been using these for years! They are so great for keeping your towel in place on your chair so it's not constantly sliding around.
We take this speaker with us everywhere — Matt takes it golfing, we bring it camping, to the beach, hang it outside, etc. It's super durable, waterproof, and the sound quality is excellent. It comes in 4 colors!
My sister brought this 50 SPF sunscreen stick to the beach last year and I loved it so much that I immediately purchased one for myself — and just repurchased a new stick for spring break. This dry-oil stick offers glow-boosting hydration and invisible SPF 50 protection. It rolls on SO smooth and leaves a dewy finish without an oily residue so the kids don't complain when I roll it all over their faces. Highly recommend!!
Swim Ear drops came highly recommended to us after both kids got swimmers ear a few summers ago and we've been using it ever since! We put these in the kids ears at bedtime if they've been in the pool that day to help clear water trapped in their ears.
These are the absolute best beach chairs we've ever owned. They adjust to 5 reclining positions including lay flat (perfect for kid beach naps), are lightweight, have a rustproof aluminum frame, adjustable pillow, padded shoulder straps to wear as a backpack, include a cell phone holder, cup holder, folding towel bar and an insulated beverage/storage pouch. Perfect, right? These also come in pair of 2.
We have been using this utility wagon for years to tote ALL THE THINGS while on vacation — groceries, luggage, beach toys, heavy coolers and even the kids when they were little and the sand was too hot to walk on. You can unfold it in seconds, doesn't require any assembly and folds to only 8″ thick so it's easy to store. It's available in 5 colors.
This cute straw hat was at the top of my Christmas list and I am so excited to wear it all summer! I got the kids size and it fits perfectly (and it's not much smaller than the adult size). Comes in 2 colors.
**I also wanted to share the SUPER cute straw hat I purchased for Caroline after seeing it advertised in my Instagram feed — the Marley Lilly Straw Hat. I love all 3 colors and it's monogrammed!
I own these sunnies in several colors and love them so much. They are inexpensive so I don't cry when I inevitably lose or sit on them and are a flattering fit for all faces! You can find all my favorite colors in this post.
Inflatable Pool Noodles: One of my favorite finds last summer for the kids! These inflatable pool noodles are 72″ long, come in a pack of 6 (3 curvy and 3 straight), are super durable and deflate for easy transport and storage.
Pool Float Hammock: And while we're covering pool floats, I have to mention my personal favorite — the hammock! I purchased this float a few summers ago and it really is the best float we've purchased. I like that it can be deflated and is easy to store or travel with! It comes in 17 colors and is inexpensive!
OK y'all — THIS is the Amazon bikini of the year for me. I added it to my cart awhile back and a few days later noticed 2 more added in different colors. Matt saw it in the shopping cart and thought it was such a good looking suit that I needed to buy it in more colors (which is what I typically do when I find a swim suit that I love and fits well). This swim suit is GREAT quality, fits true to size (I purchased mine in size small) and comes in 8 colors. It also has adjustable shoulder straps and the bottoms are mid-rise. I wish the cups were sewn in…but for the price I can't really complain.
This is a new sunscreen I am trying this year. After sharing my skin concerns with my aesthetician at Skin Pharm, she highly recommended this product. This purely physical sunscreen combines a moisturizing base with tint to improve redness and dull skin. It provides broad-spectrum coverage from UVA, UVB and infrared radiation.

My favorite lip protection for summer! This water-resistant (for up to 80 minutes), hydrating lip balm with SPF 30 absorbs both UVA(ging) & UVB(urning) rays so your skin doesn't.
This waterproof tote lives up to the hype and we LOVE it. It's rubber so it's easy to rinse clean and is big enough to fit ALL our things. It is available in 20 colors. I will say, it is a little pricey but many dupes are now on the market that are much more affordable: Sunbagg / Frogg Toggs / BocaBagg
This is the lightweight & hydrating broad spectrum sunscreen we use daily on the kids! It's always a little painful to purchase the extra large pump bottle each year but gets us almost all the way through summer (depending on how much product my kids waste while applying it). The lotion has a light, refreshing scent & absorbs easily without feeling sticky or leaving a "white-cast".
Takes me back to my high school lacrosse days! This mini size game set is great for playing lacrosse at the pool, beach or in your backyard. And they are easy to toss in the beach bag since they aren't full size.
Look, we've gone through a TON of goggles over the years (especially for Thomas) and have purchased this set 4 times!!! We keep a set in the trunk of both cars and every pool bag because if Thomas doesn't have a pair of goggles, he absolutely cannot swim. And these goggles truly are THE BEST. They have an anti-fog coating, a great seal so they don't leak, provide UV protection, adjustable straps (that are actually EASY to adjust) and a well-designed clasp that allow kids to easily unclip their goggles with one hand.
I just scooped this up in color: c-beige for spring break! I was honestly pretty skeptical how it would fit and when it arrived I was surprised how flattering this cover-up is! I shared this one along with some of my go to cover-ups in this post. Comes in 16 colors.
So last year was the first year we brought kites to the beach and completely underestimated how awesome they would be. First, it was entertaining and hilarious to watch Matt get them into the air. And once they were up, they served as a boundary line for the kids while swimming in the ocean — "you can't go past the kite!"
This extremely lightweight mesh beach bag is durable, huge and holds ALL our beach toys. It's easy to rinse all the sand out and clean! And it can also be folded down to a tiny size for traveling or storing.
Probably our #1 beach toy. What kid doesn't want to dig a tunnel down to the ocean or a massive hole? Just make sure to have one per kid. Trust me.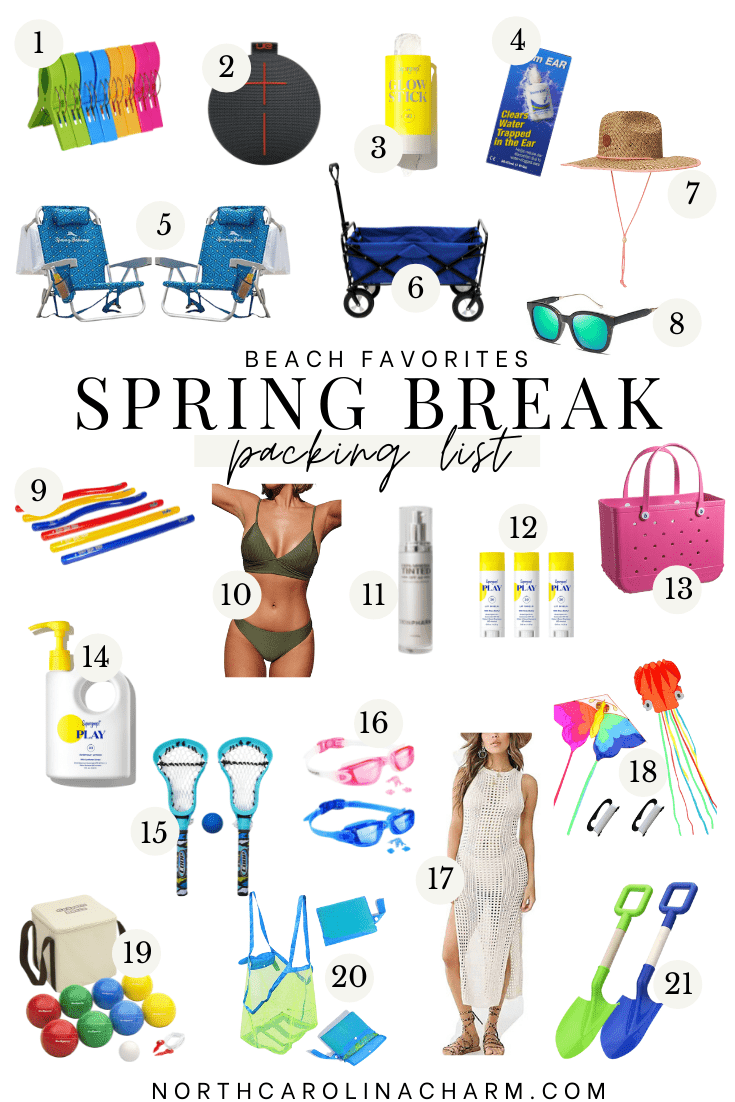 Spring Break Packing List Must-Haves
Want to see our full list of summer beach and pool favorites? Check out my Amazon Shop!