We had the most wonderful Thanksgiving holiday! Both sides of our family came to us this year and we were so excited to host everyone in our home! My heart could explode from how happy it made me to have the people we love most seated around our dining table.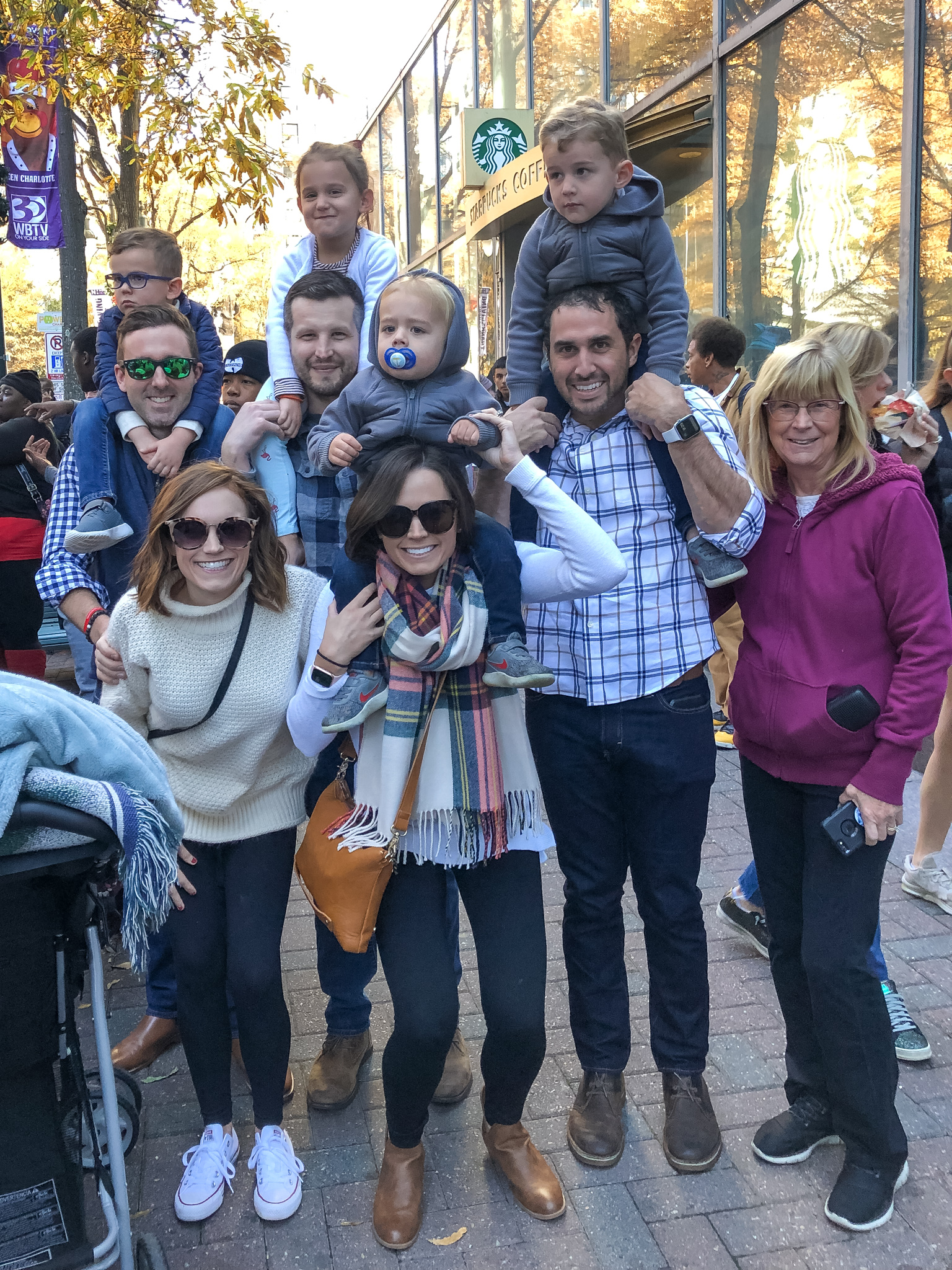 On Thanksgiving morning I popped a breakfast casserole in the oven that my sister and I prepped the previous day. It was excellent (and is one of my go-to casseroles). After breakfast we went Uptown to watch the Thanksgiving Day parade. The kids absolutely loved it.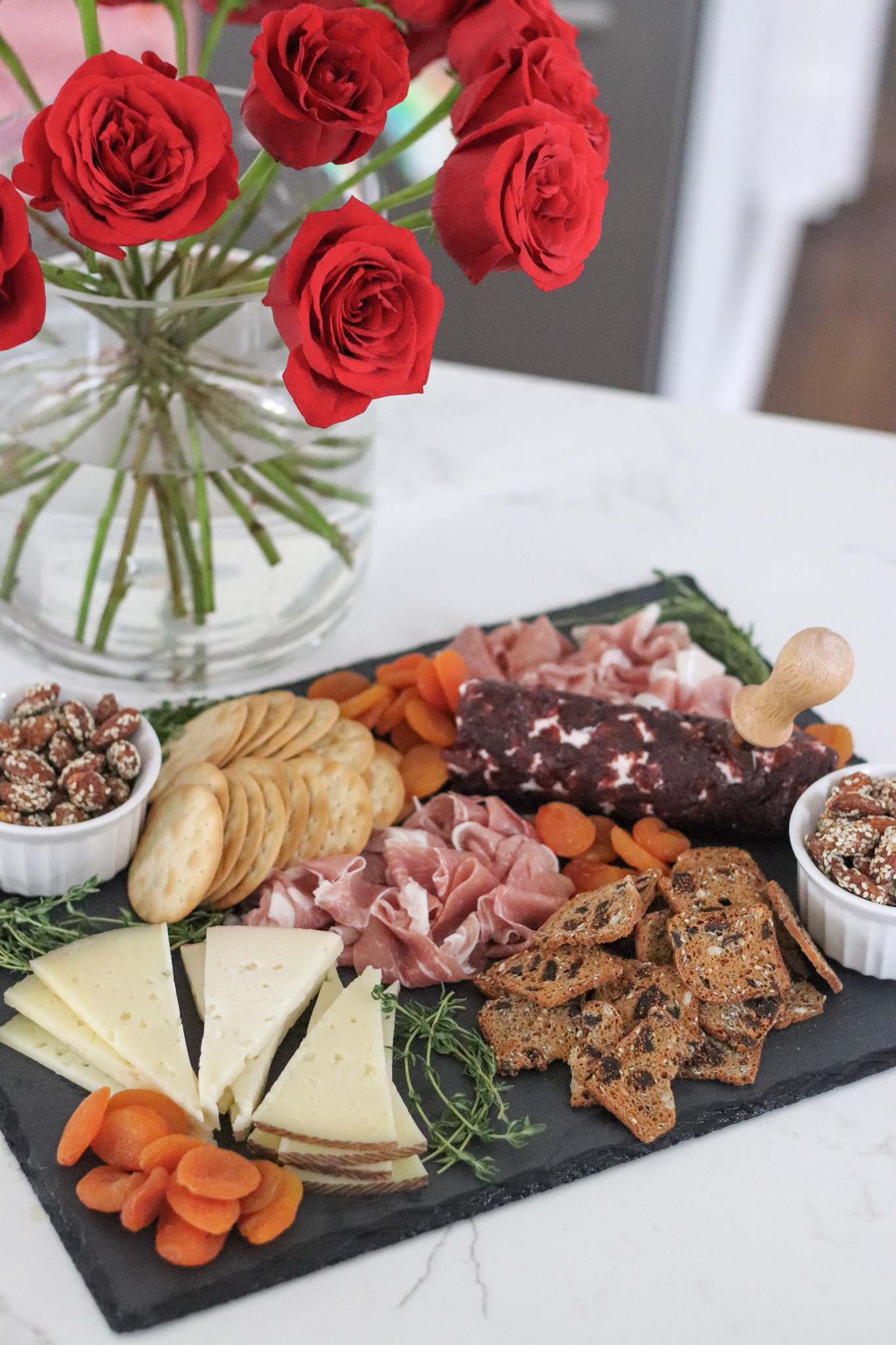 Matt's parents arrived shortly after we got back home from the parade and my mom and I whipped up a ton of appetizers for everyone to graze on throughout the afternoon. Almost everything was from Trader Joe's and we just popped it all into the oven — bacon wrapped scallops, bacon wrapped goat cheese stuffed dates (omg — so ugly looking yet SO delicious), french onion soup bites, mini brie puff pastry brie bites, cranberry sauce & cheese stuffed fillo bites, cheese & crackers, my favorite hot corn dip and a few other goodies!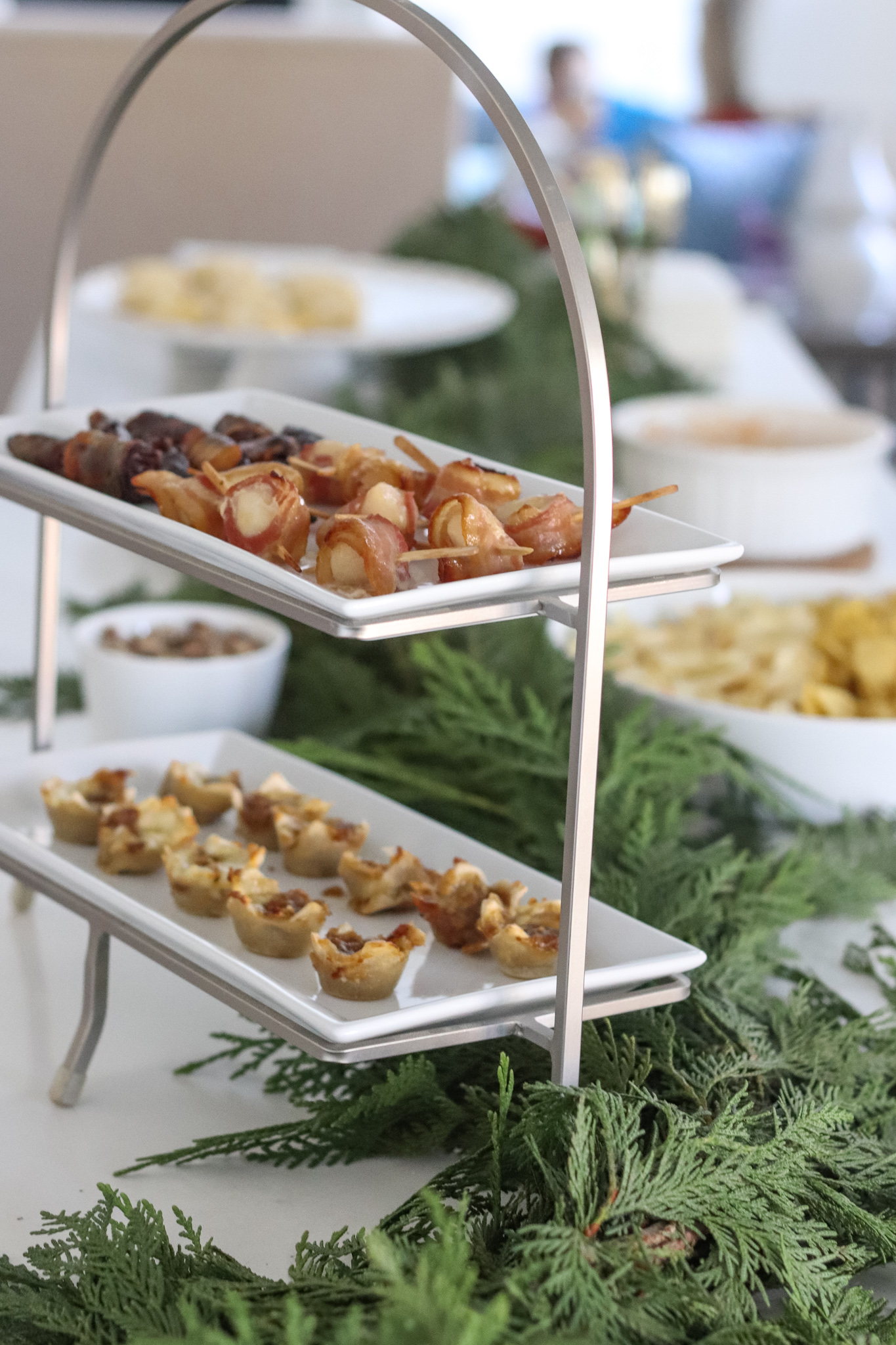 I also really stepped out of my comfort zone this holiday and did something that is downright horrific in my family — in addition to serving a bunch of frozen Trader Joe's appetizers, I ordered our entire Thanksgiving dinner from Publix. I'm not gonna lie, I was pretty nervous to pull out the oven safe plastic containers stuffed with pre-made casseroles for my side of the family who loooooooooooves a homecooked from scratch meal (my mom literally preps Thanksgiving food for like a week). And trust me, cooking is one of my biggest passions, so this felt strange!!!
But I decided it was more important for me to spend the morning at the parade and as much quality time with my family outside of the kitchen as possible.
And you know what? I wouldn't change that for the world in hindsight.
My mom helped me manage all the timers and temperatures for each dish…and I got to enjoy the entire day bouncing around our home spending time with family!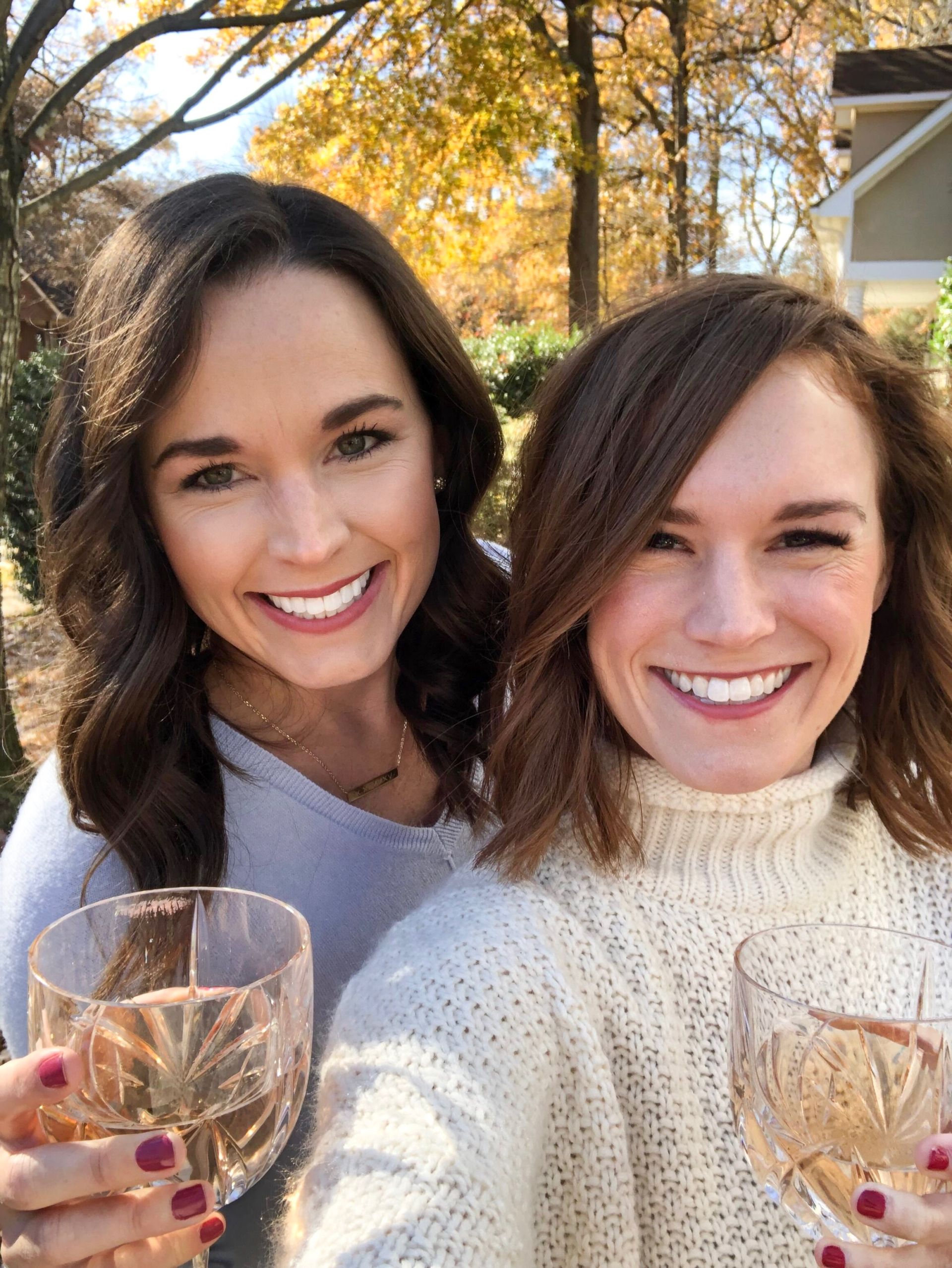 To make the island a little more festive, I spread a gorgeous 18 foot fresh cypress garland that Lynch Creek Farm sent me down the center. It looked so pretty!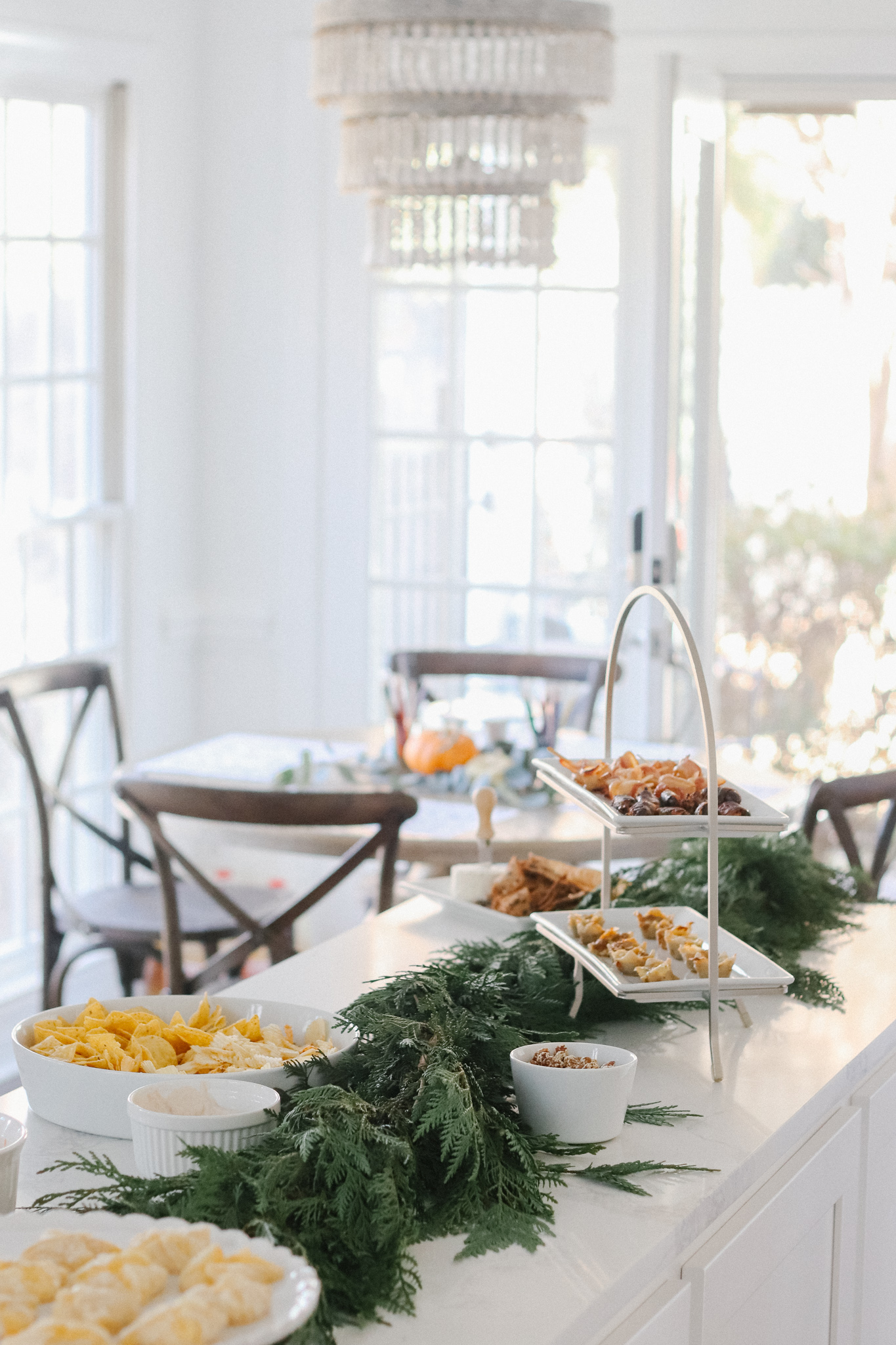 My sister and I decorated the cutest (& simple) kids table together using fresh eucalyptus, pumpkins, colored pencils, coloring activity place mats, and a delicious pie matt's mom brought! Lindsey and Jackson really got in to the coloring contest…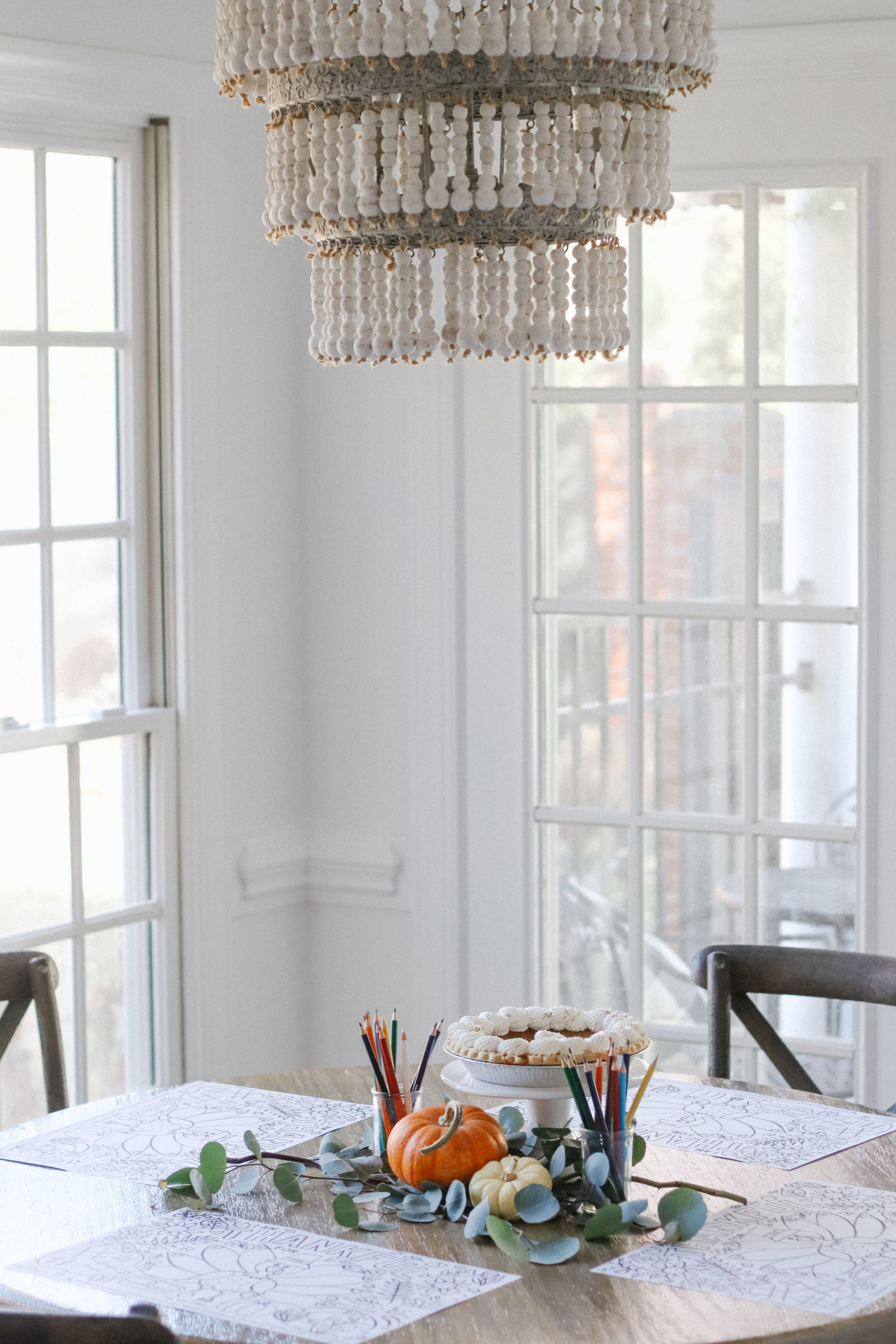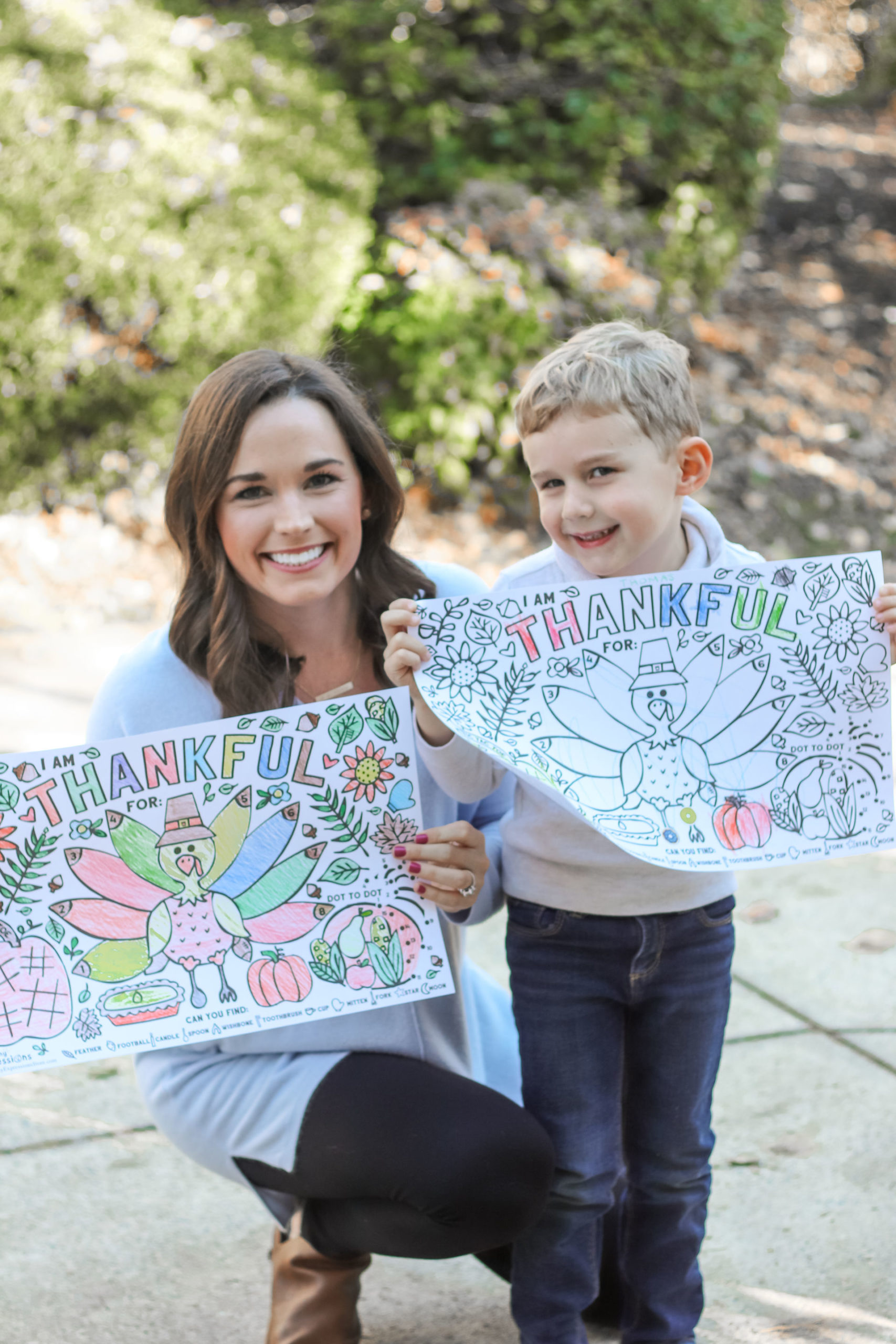 The kids had the best afternoon playing together in the backyard and lounging around the house. Per usual, Thomas was glued to his grandad!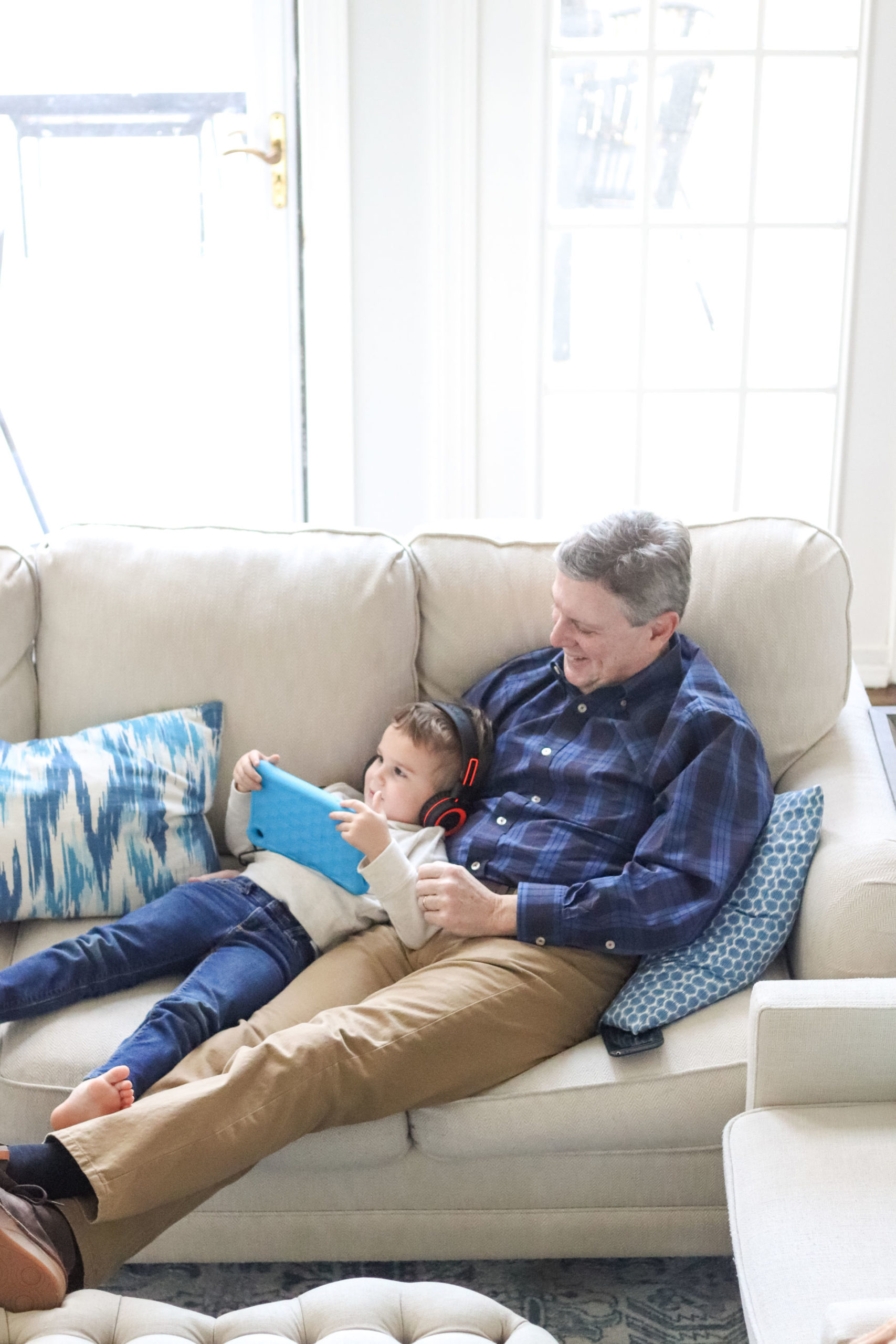 Lindsey and I dusted off my crystal wine glasses for the holiday. And yes, we did Thanksgiving in leggings!!! And yes, I know we look like twins…I'll gladly take the compliment — because I'm two years older…and a lot less fit!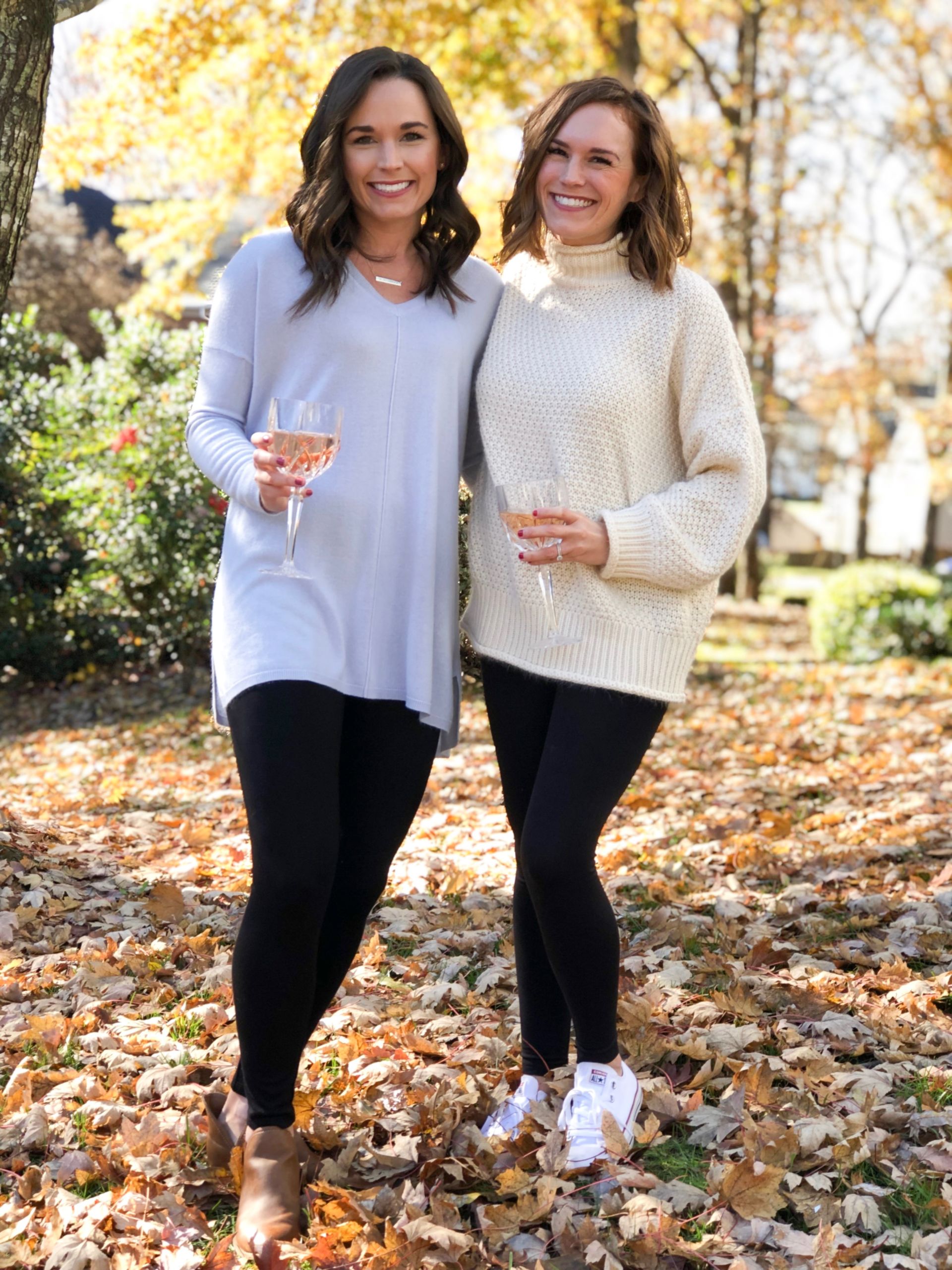 my outfit: leggings/ sneakers/ sweater
Our attempt at a "let's hold Ian up for a picture"…I'm still dying over this…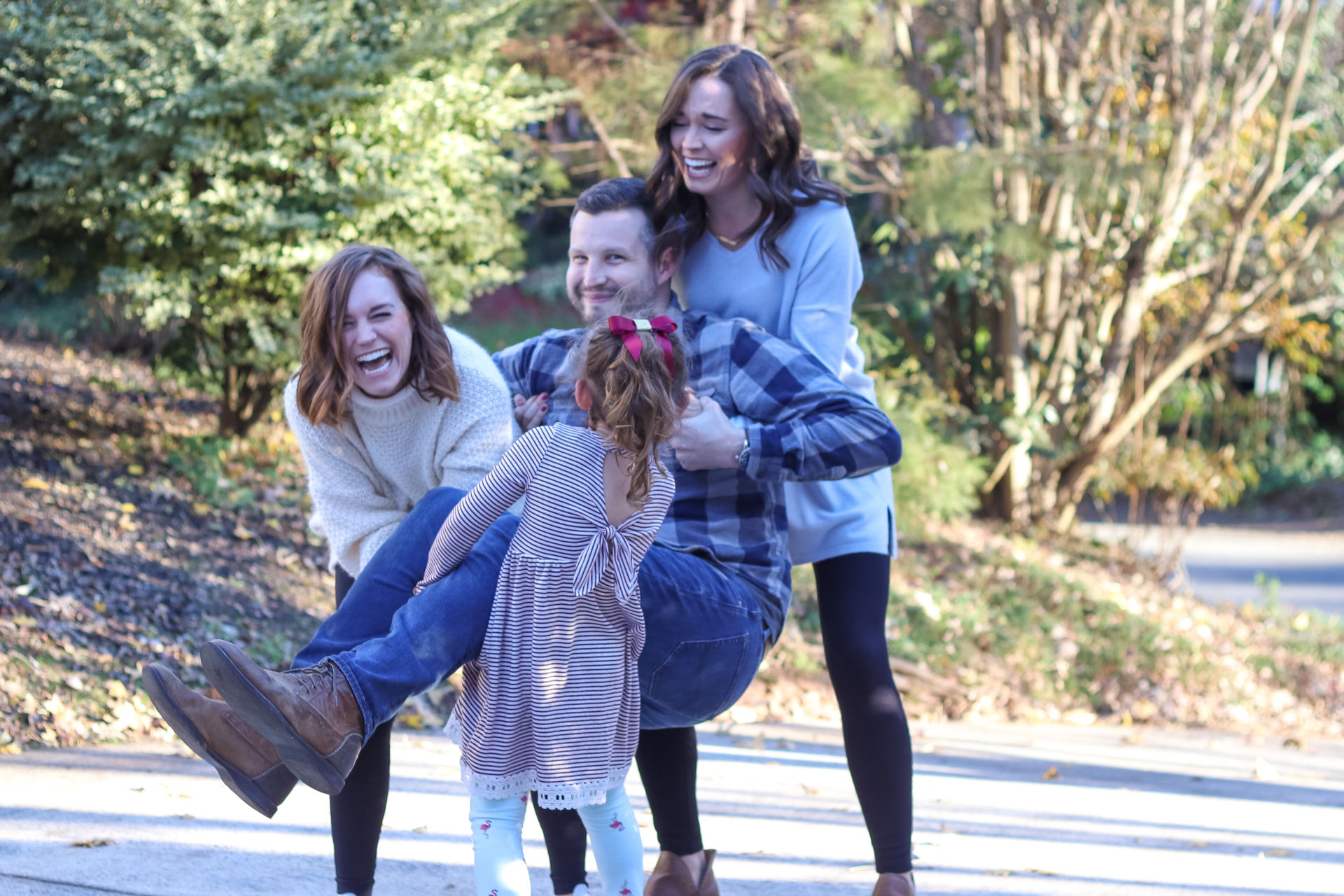 After so many tries, we gave up and went with a normal sibling photo (plus Caroline)…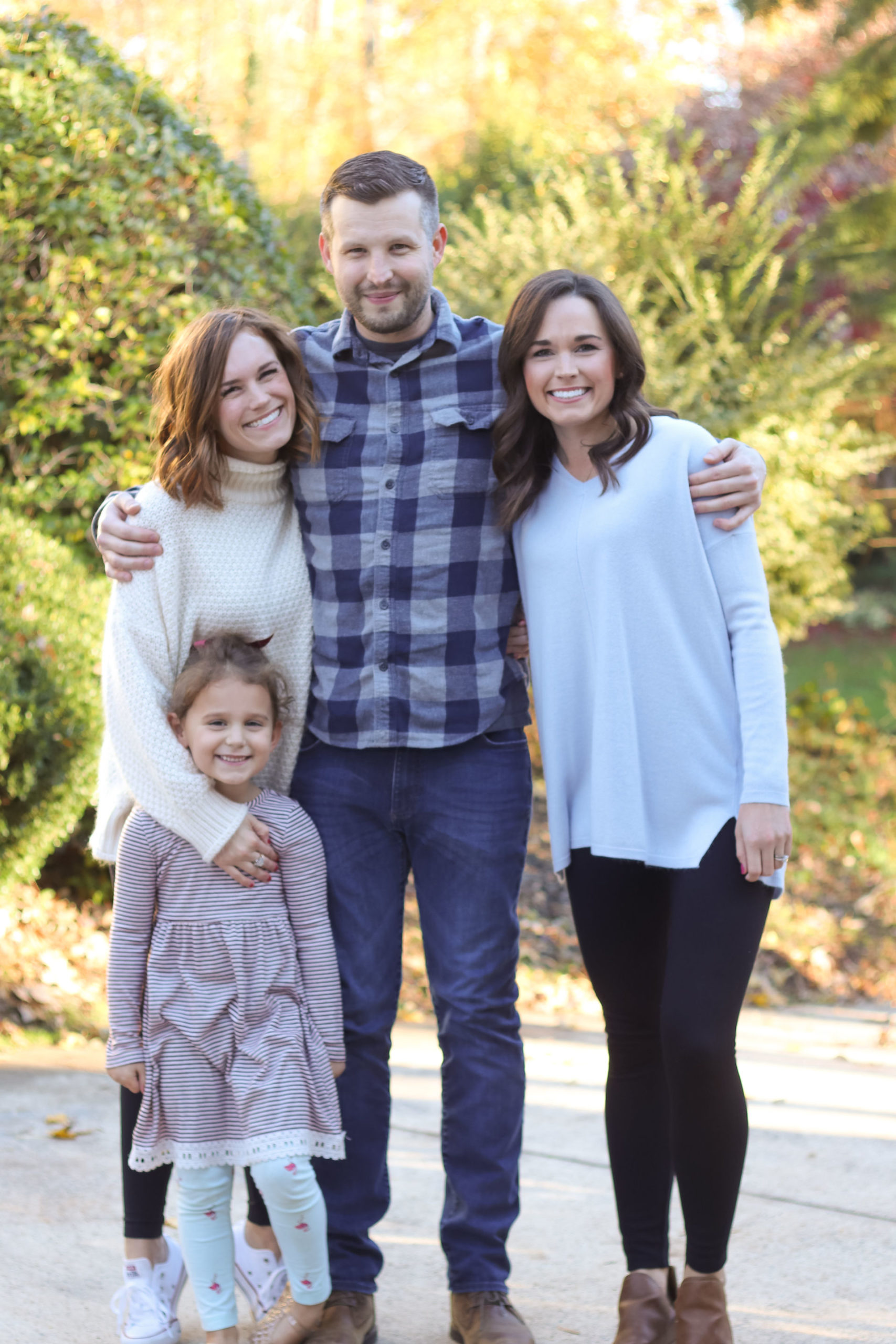 One of my favorite moments of Thanksgiving was once we got ALL the casseroles in the oven, the turkey in the fryer and a refill on all the drinks…we gathered the courage to do a (biodegradable — don't yell at me!!!!) balloon send-off in honor of dad's 62nd birthday. It was a bittersweet moment for us all and one that I'm so thankful we were able to have together for dad's first heavenly birthday.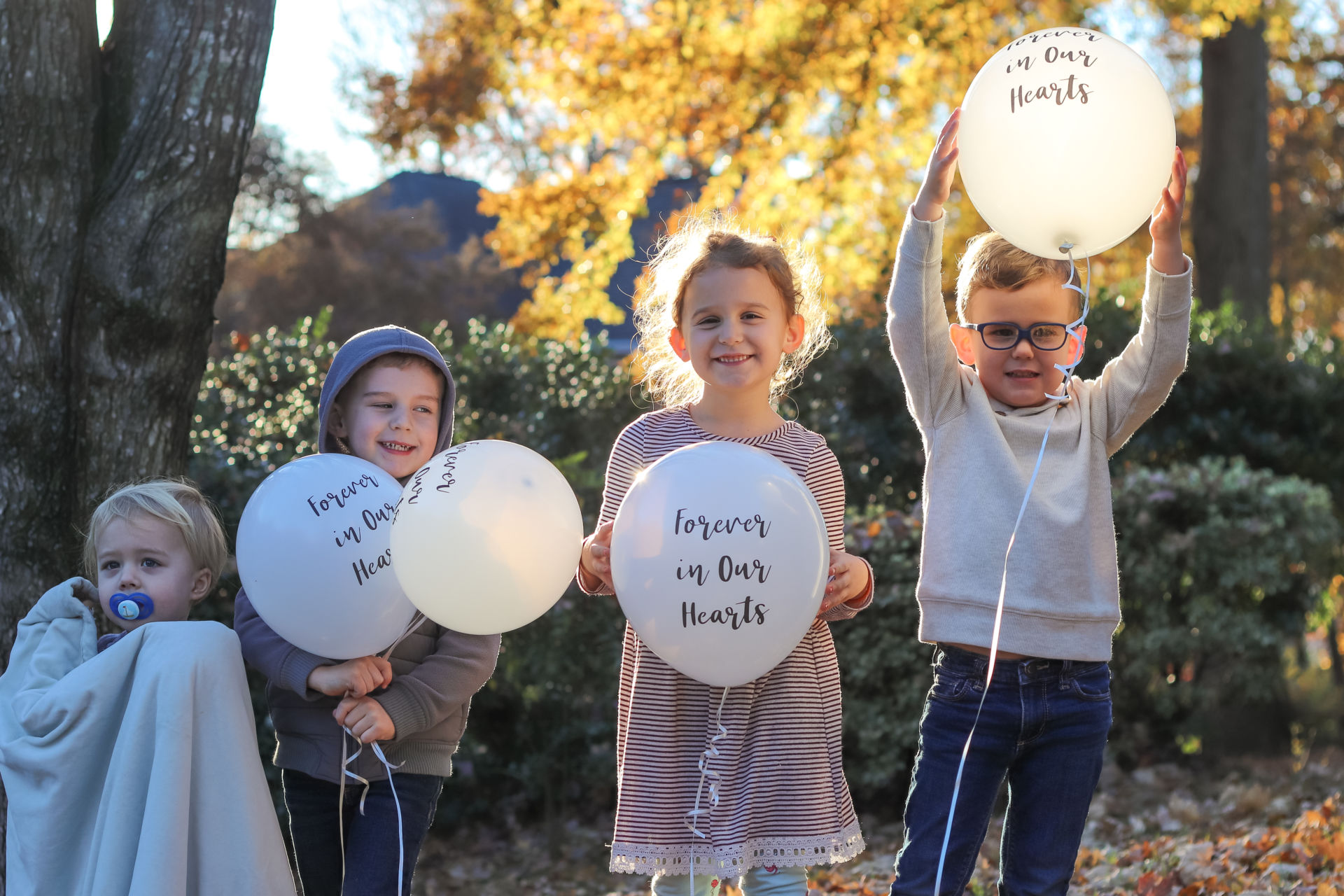 Caroline was very concerned about whether or not Heaven has grass. And if so, wouldn't the balloons pop on the grass as they enter heaven????? Good point, Caroline.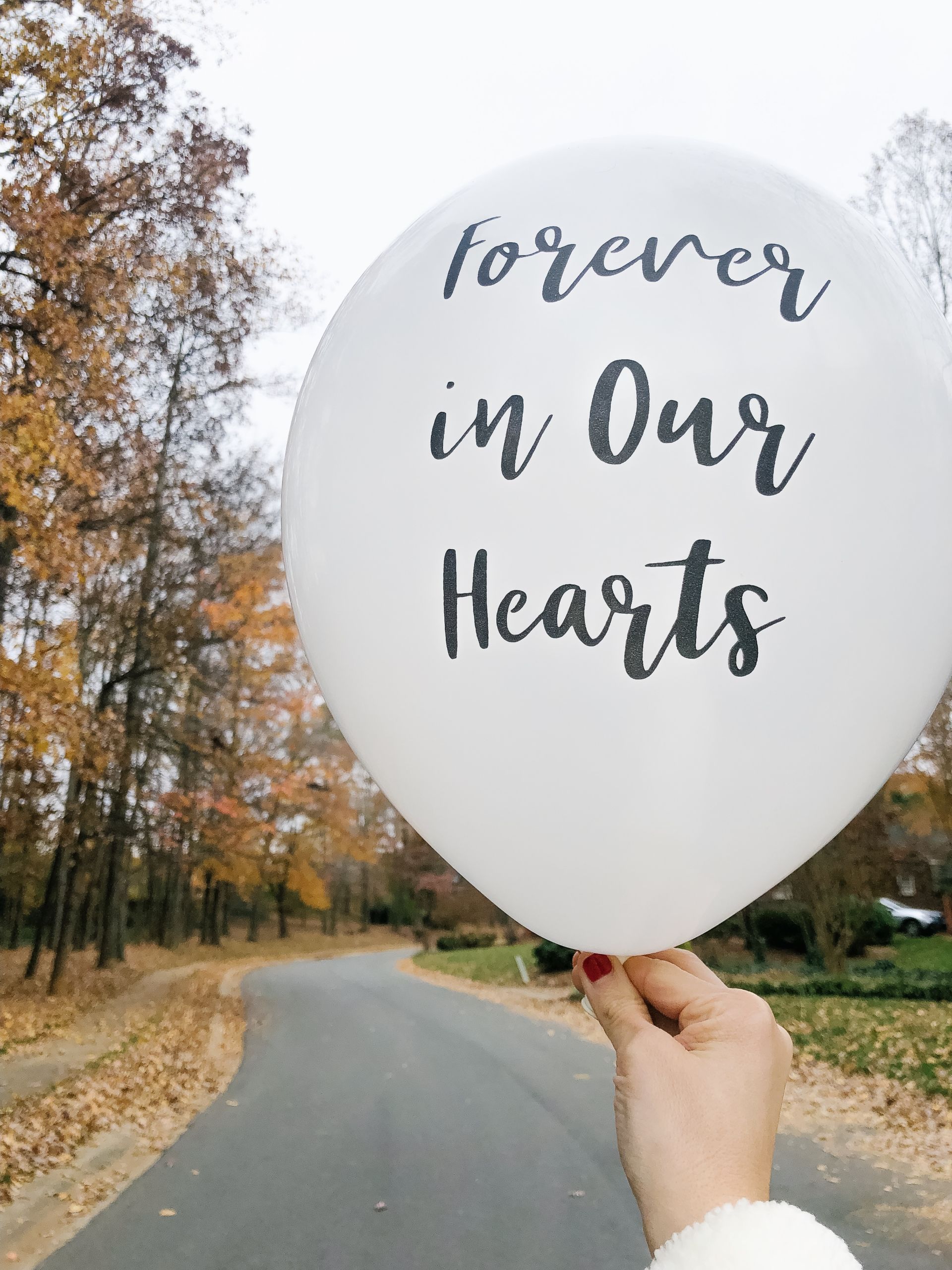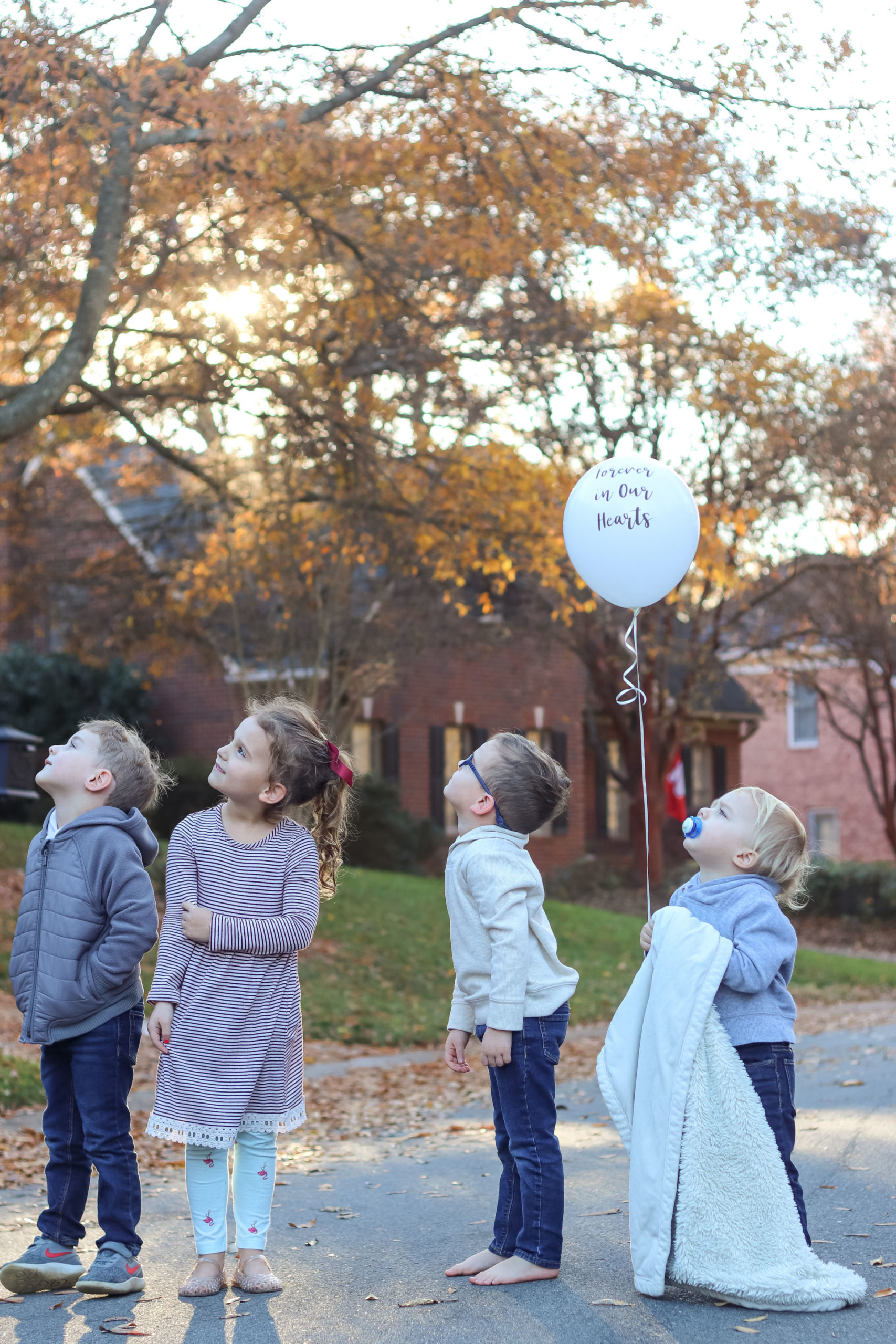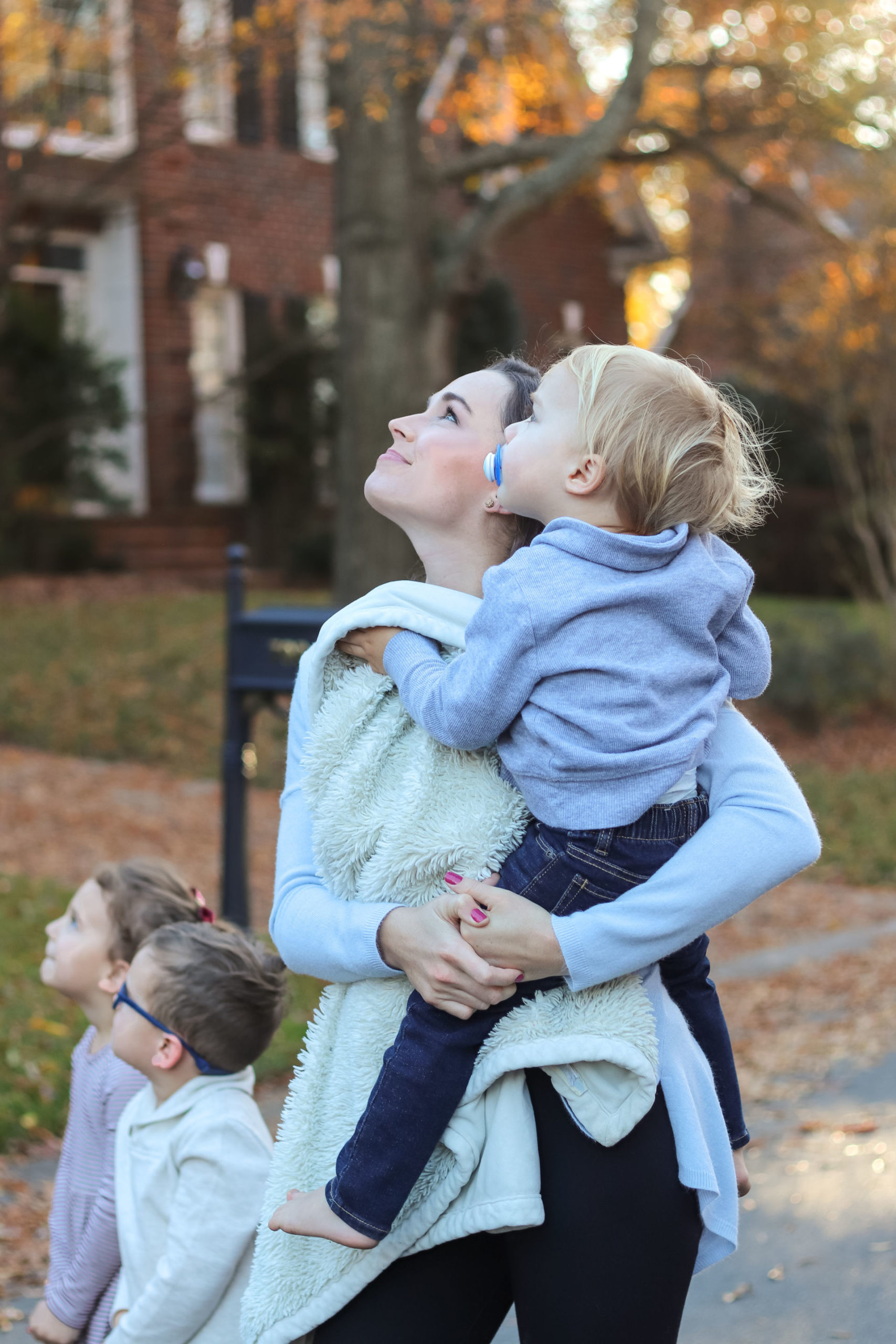 After the balloon send off we gathered around to watch Ryan pull the turkey out of the fryer! Every single year Ryan begs for a fried turkey. And thanks to my girlfriend for loaning me her turkey fryer last minute (thanks Abby!), I was able to come through for my brother-in-law with a fryer so he could make his turkey dreams come true! Ryan fried up the most delicious fried turkey I've ever had in my life. It was truly incredible and he was SO proud of himself. And we were all proud too.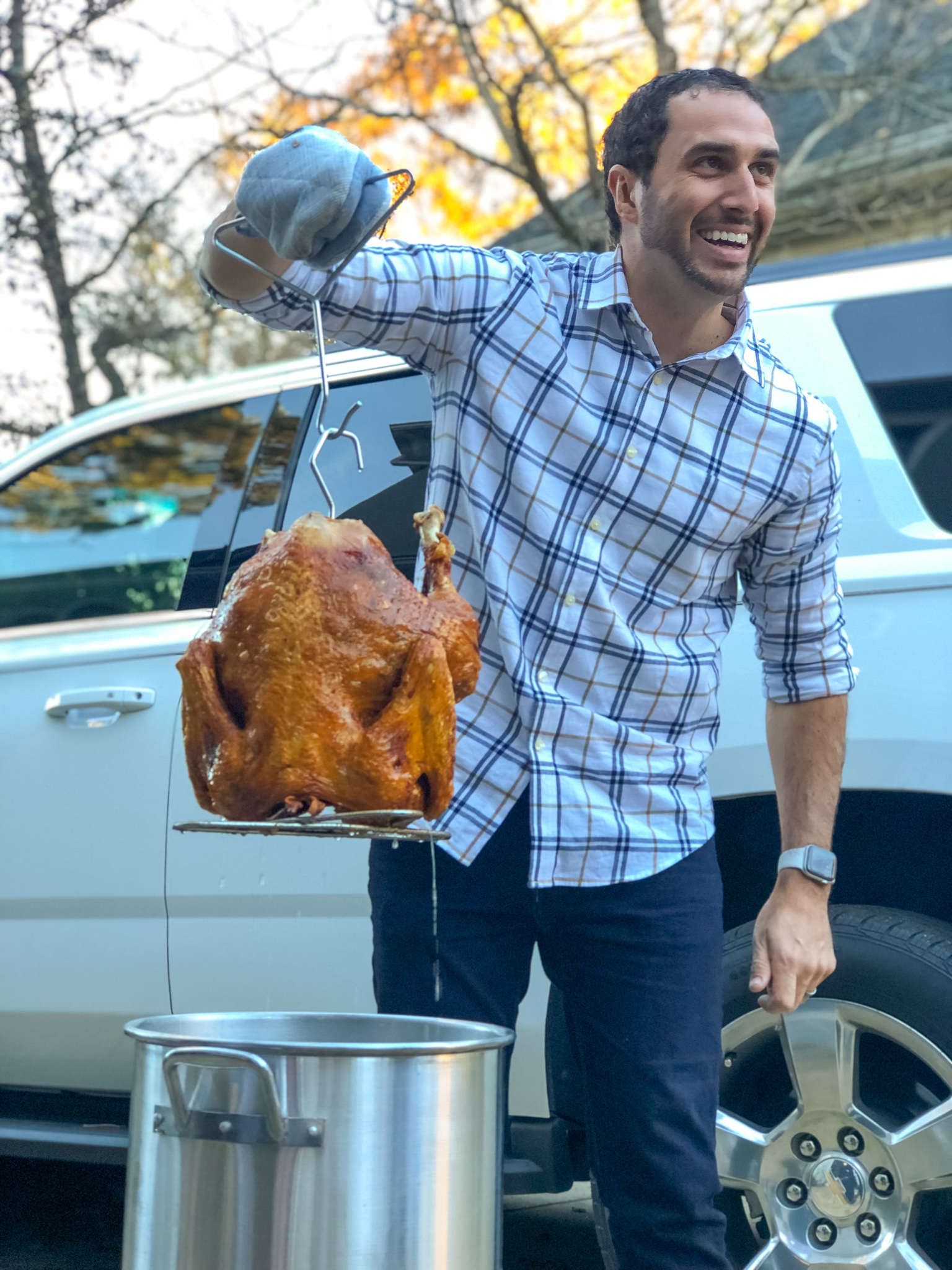 I do have to give Pubix some serious credit — their Thanksgiving meal was delicious! I ended up serving two of their Thanksgiving meals — the turkey meal and the ham meal. Both came with several sides and everything was delicious!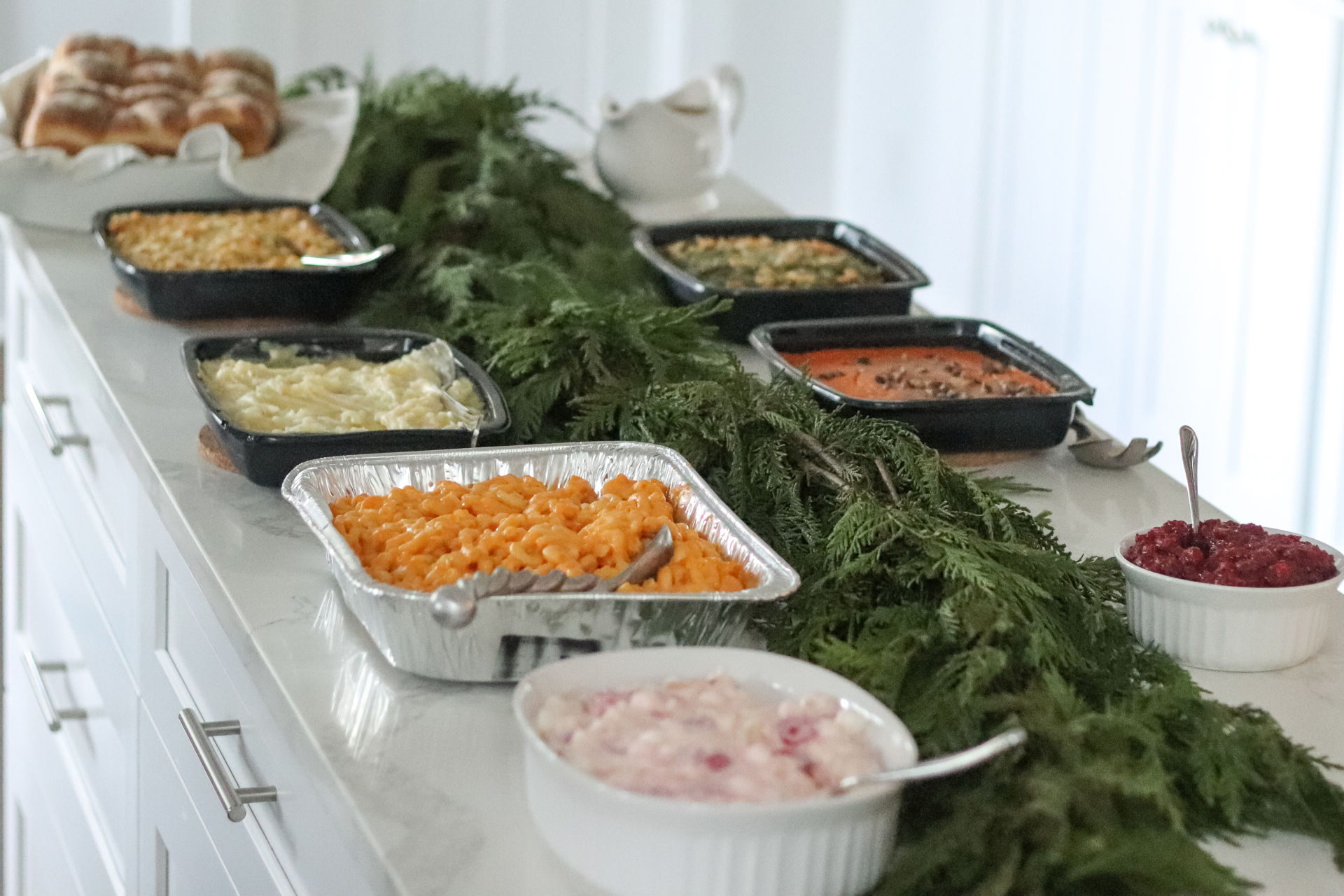 I was thrilled with how my tablescape turned out. Almost everything came from Amazon (including the gorgeous candle holders!!!) and I went with disposable flatware and disposable plates which made clean-up a breeze! For the centerpiece I layered a few types of fresh eucalyptus and added some mercury glass votives. And at each placesetting, I busted out my old calligraphy pen and made place cards.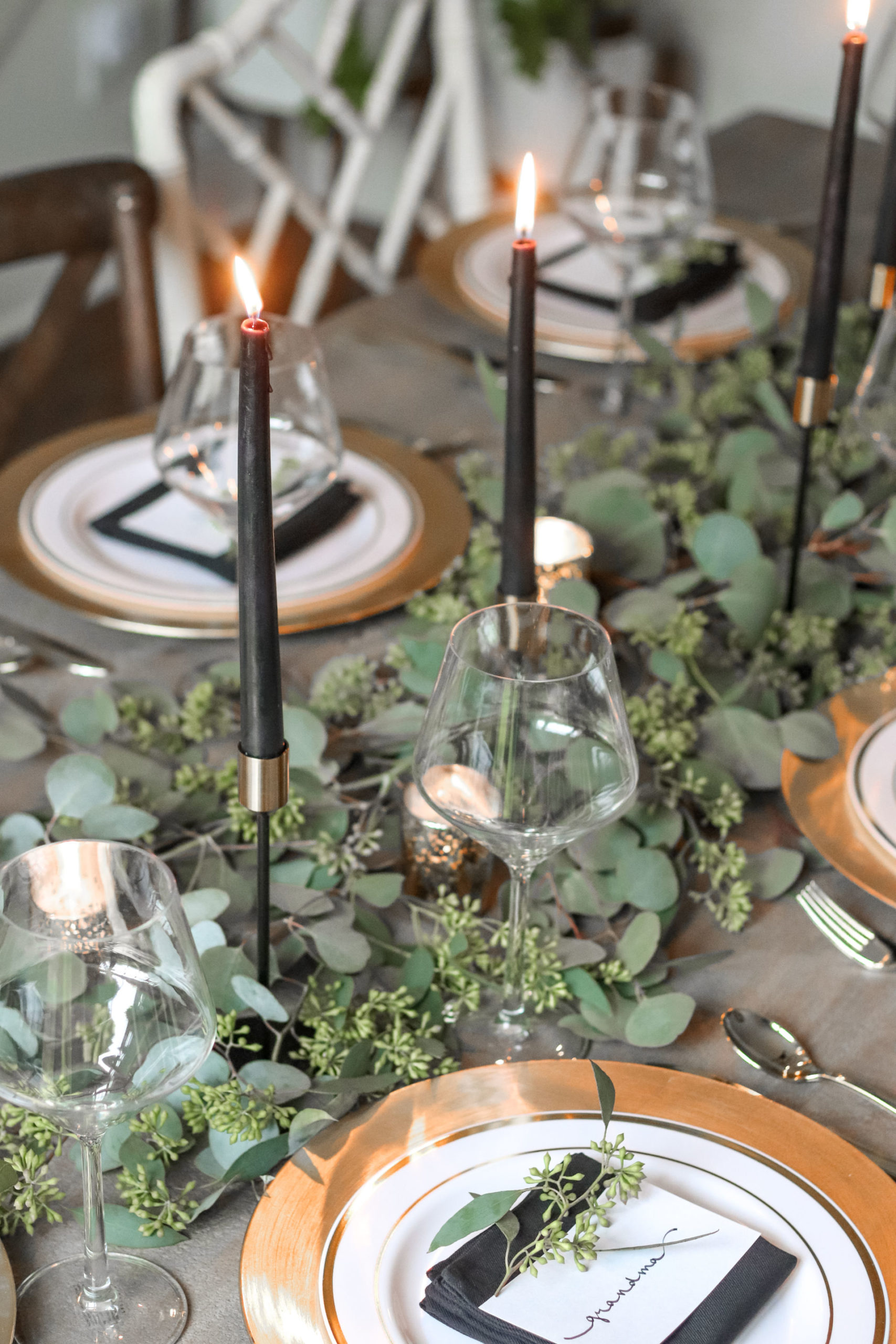 Once we were all seated, we prepared ourselves for the blessing.
A few years ago, when I learned our time with dad was limited, I started recording him saying the blessing at every meal I was present for. And with Thanksgiving being our first holiday without him, I sought permission from each family member to play a recording of him saying the blessing as a way for us to incorporate him.
It was incredibly painful yet beautiful all at the same time to hear dad prepare our hearts and bless our Thanksgiving meal.
sources: candles / candle holders / gold chargers / black napkins / mercury glass votives / disposable flatware / disposable plates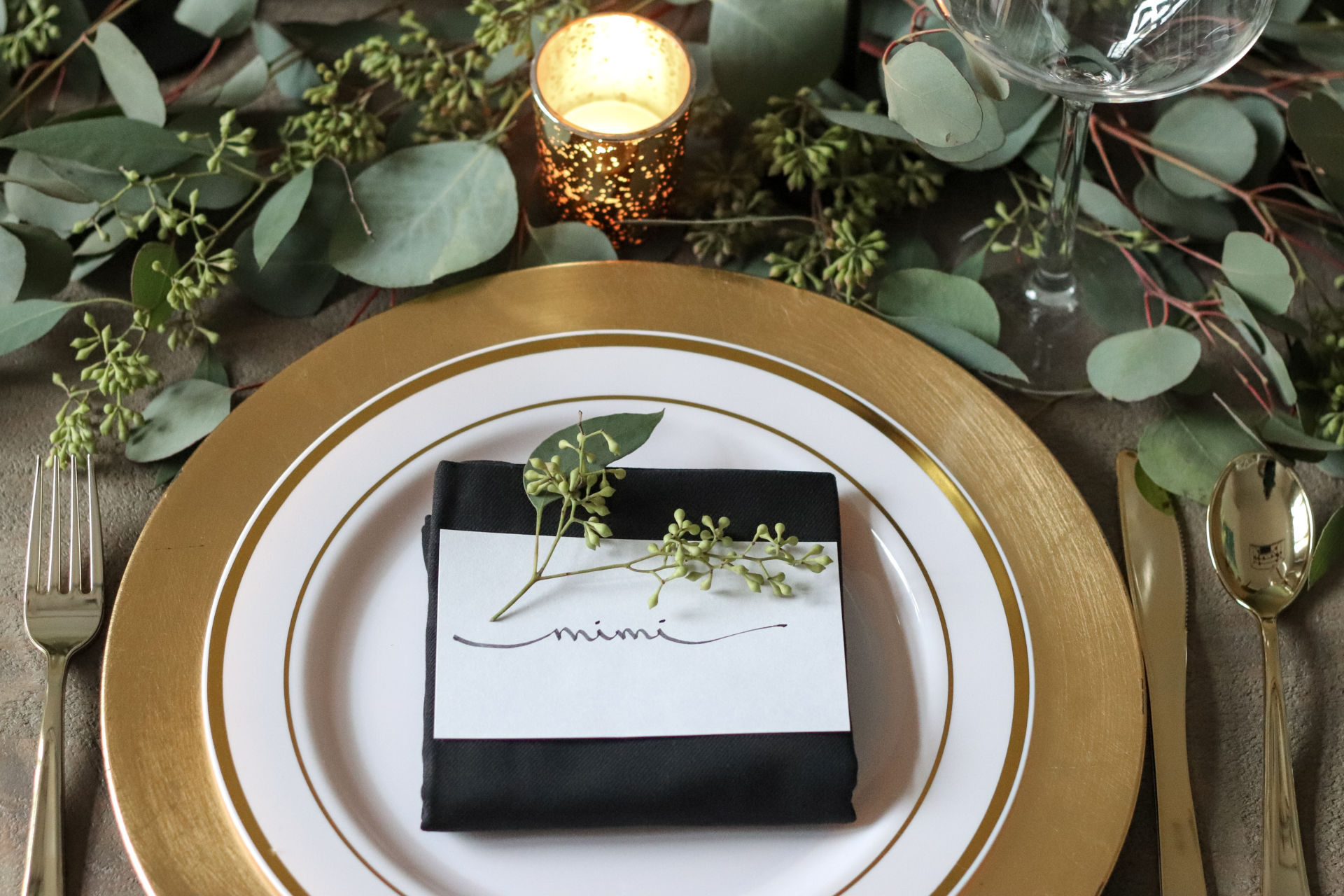 After dinner we surprised the kids with matching jammies!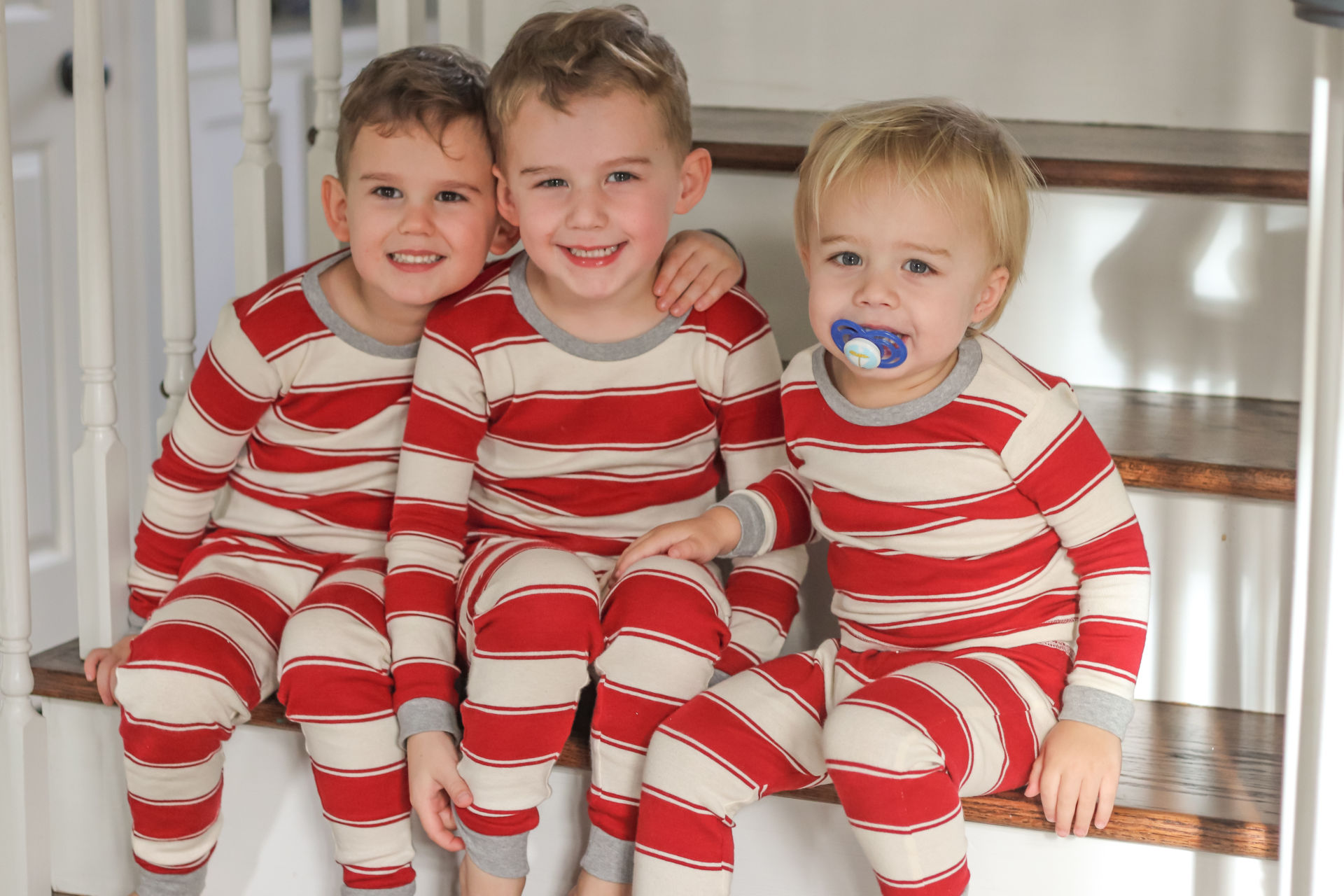 And that's a wrap on our Thanksgiving Day!