Matt and I celebrated my birthday early this past weekend (I turn 32 tomorrow!) with an overnight staycation in Uptown Charlotte. We love staycations (you can read about our last staycation here) — we don't lose any time to travel and we get to experience places in our own backyard. This staycation we decided to cash in our Marriott points for a night at the Ritz-Carlton. I've been pretty lucky to stay here a few times for work events but this was Matt's first Ritz experience and he couldn't believe the level of excellent service we received. Before we even got to the reservation desk to check-in three people had already wished me a happy birthday. And to our surprise, our room was ready 6 hours early!
After unpacking, we spent the morning at the spa, one of my favorite places on earth. Following multiple nights in a row of no sleep (due to nosebleeds, bed wetting and slaying dragons) we practically collapsed into our lounge chairs and didn't move until it was time for our couples massage treatment.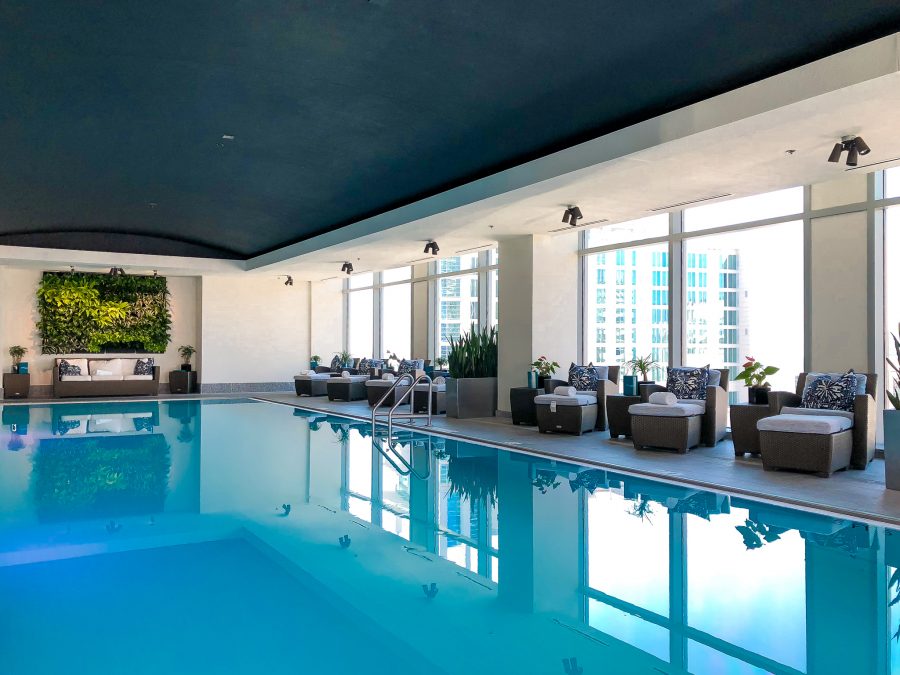 Our time at the spa was everything I had dreamed it would be and more. It was SO quiet and relaxing that I couldn't stop smiling at Matt in complete disbelief of our day. We read books, sipped champagne, chatted without toddler interruptions and when it was time for our massage, the Ritz surprised me with a hot stones upgrade for my birthday. So completely spoiled.
After our treatment, we arrived back to our room to find a delicious birthday surprise — a plate full of treats from Bar Cocoa which we immediately devoured. And although our room was absolutely gorgeous, the bathroom stole the show for me with a ginormous tub and flat screen TV built right into the mirror. Needless to say, I took my sweet time getting ready for dinner while Matt vegged out watching the Ohio State game (against his alma mater Tulane).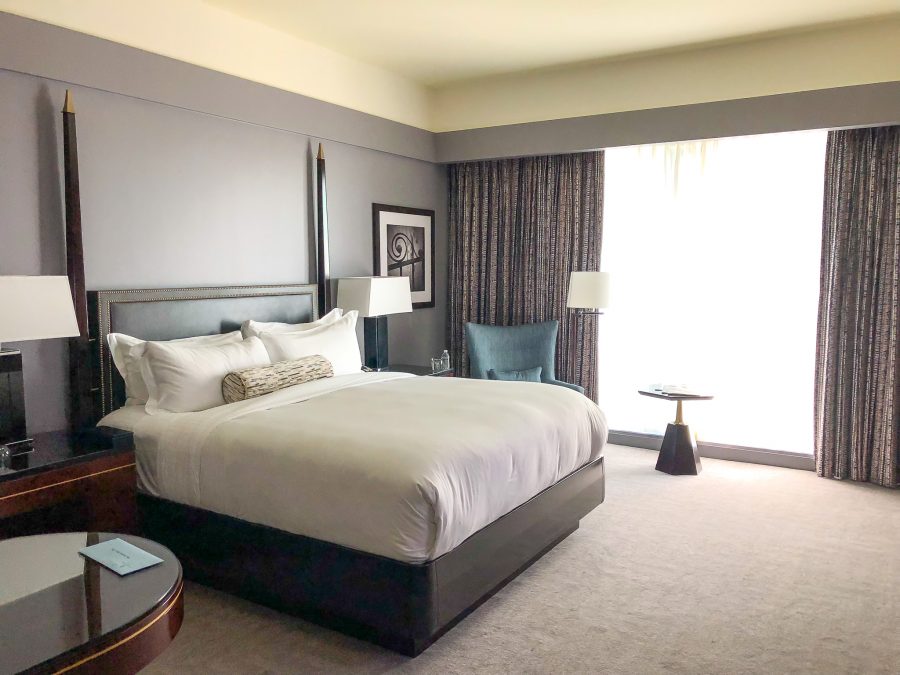 Before we left the hotel for our night out, Matt surprised me my birthday presents. And I just have to confess, Matt is so much better at gifts (his love language) than me. He is so dang thoughtful and got me a new bangle bracelet and visited Miramae, the skin care studio across the street from his office he knows I love, and bought me a gift card and worked with the co-owner to pick out a fancy serum that I would never buy for myself.
Before dinner we met our friends Abby and Barr for a drink at Merchant & Trade.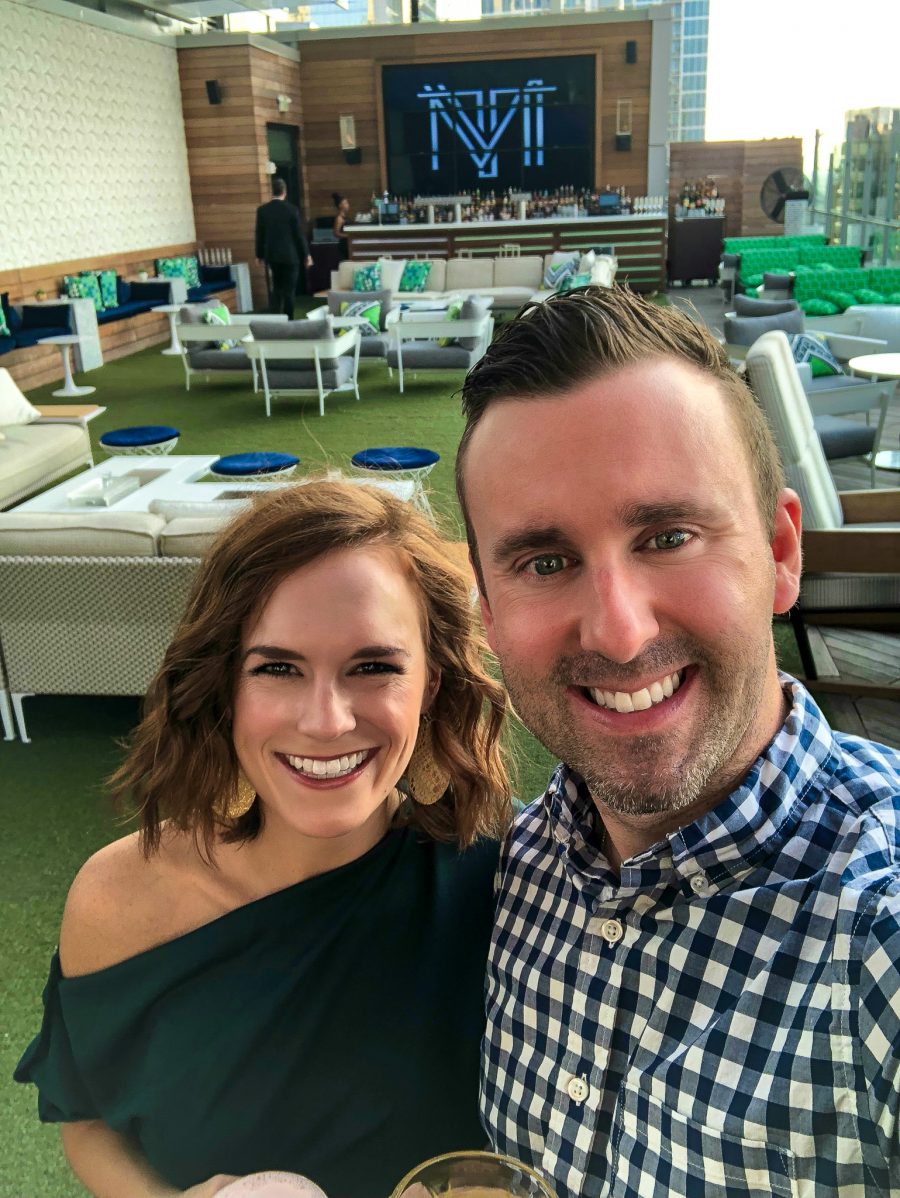 Side note: this cute little romper is a $12 amazon steal — comes in tons of colors, has pockets and feels like pajamas.
Matt and I headed downstairs to Angeline's for dinner. We started with the prosciutto and melon appetizer, and for dinner Matt got the bistecca and I got the pappardelle. And the restaurant ambiance was perfection.
Our last stop of the night was the Punch Room, an upscale speakeasy back at the Ritz with craft cocktails.
Sunday morning we kind of slept in before grabbing brunch at La Belle Helene and heading home to spend the day with our babes.
It was an amazing weekend.
Previous Birthday Celebrations: 31 in Asheville // 30th Surprise Party //29th Birthday //28 in Asheville // 27th Surprise FL Trip