Another Monday, another weekend rewind!
FRIDAY
We were off to a bumpy start on Friday when Caroline woke up screaming and sobbing about her ear hurting. We thought it may be swimmers ear from the previous nights swim lessons but it turns out it was a mild inner ear infection that didn't seem to bother her anymore once I told her she could stay home from school. Anyway, I took her to my office to knock out a few hours of work before her doctors appointment and she had the best time coloring with my massive collection of felt tip marker pens and highlighters. And when it was time to leave she had shred an entire pad of legal paper into about 8 million pieces.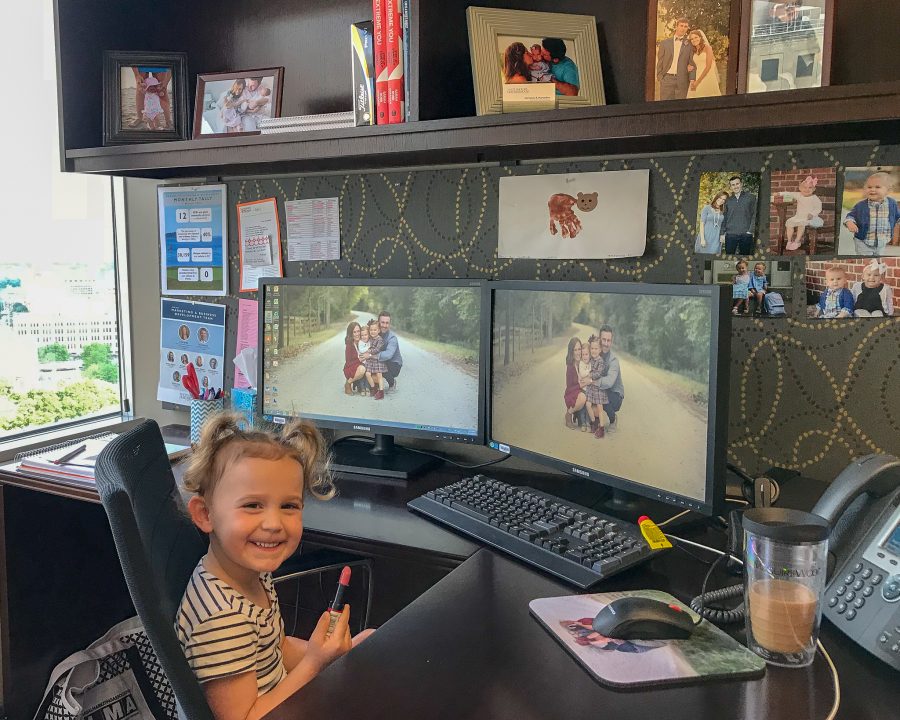 Let's see, other exciting Friday highlights include:
1. A massive sprinkler repair project that completely tore up all of our newly planted landscaping. Matt turned on the sprinkler system to water our one day old plants and within a few minutes we had mulch landslides from multiple areas of the yard flooding. Turns out we had two big breaks in the irrigation lines, well technically 3 but one was found and fixed the day before when our french drain was being installed.
2. Our cable and internet was restored! We survived a full 24 hours without cable or internet after both lines were accidentally cut during the french drain installation. A very nice AT&T guy ran brand new cable lines across the back yard and Matt buried them.
3. A large piece of the front of our house is missing as we undergo some nasty stucco repairs that were found during our gutter cleaning. I don't know how these weren't found during inspection because the stucco guy said that if left untreated for much longer the inside of our dining room walls would start to smell and tear away from the house. This project is near complete, just need to paint the new stucco. Joys of living with stucco.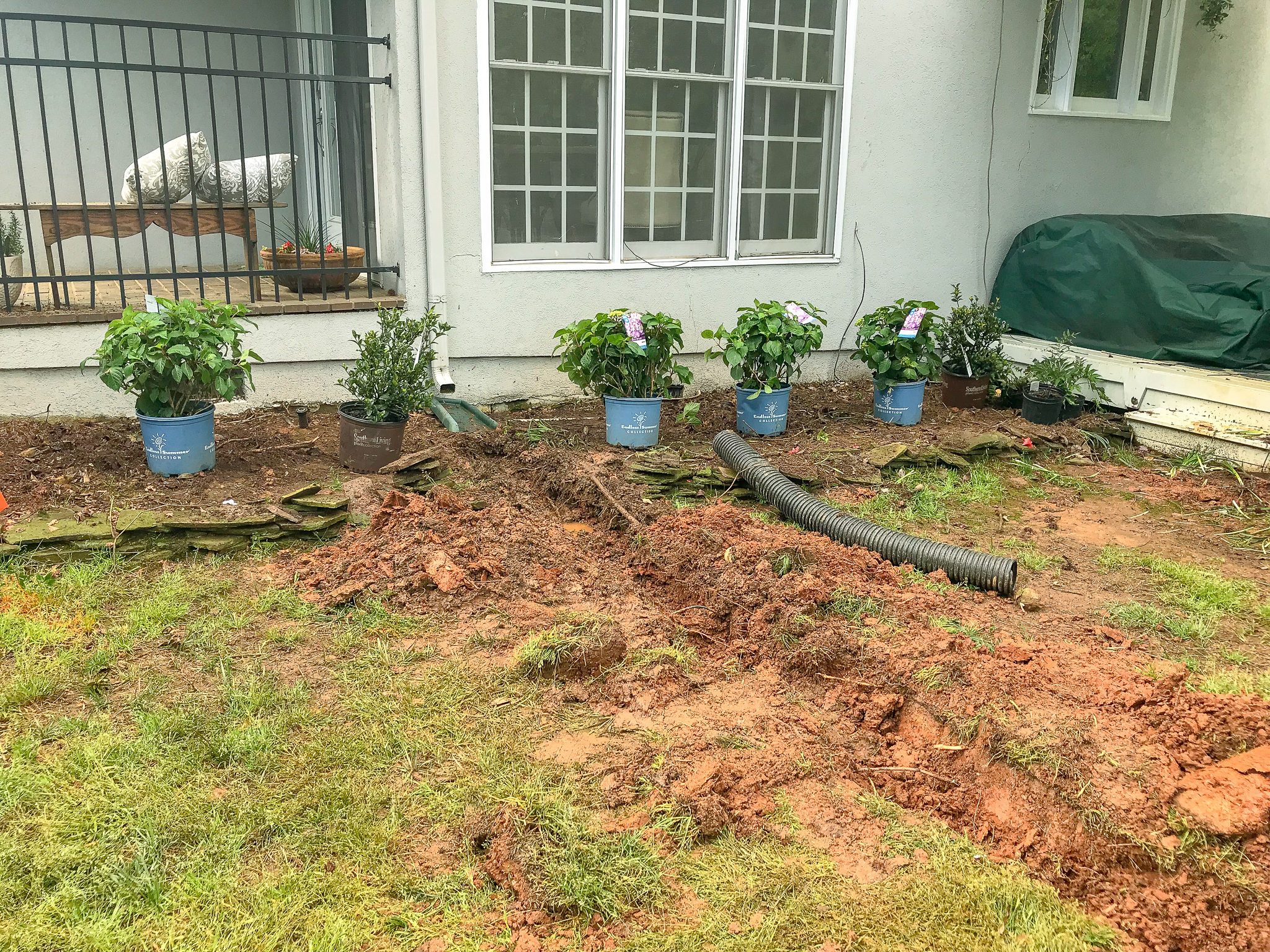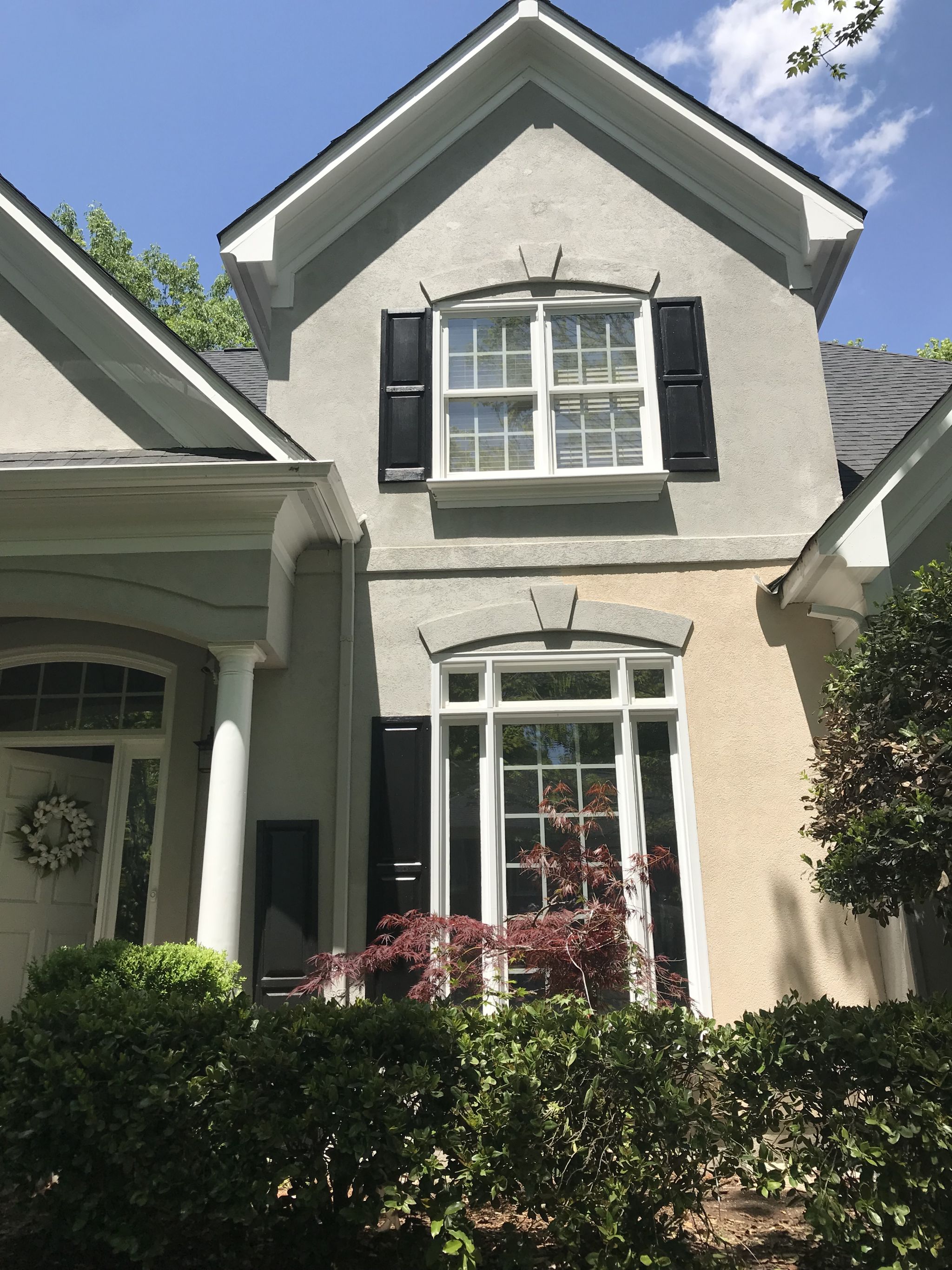 Matt came home early to help with all of the above things and brought Thomas home with him. Together they painted one last section of our fence and the bench on our side porch that Matt's grandad made. I was skeptical to paint such a sentimental and gorgeous piece of furniture but it turned out perfect.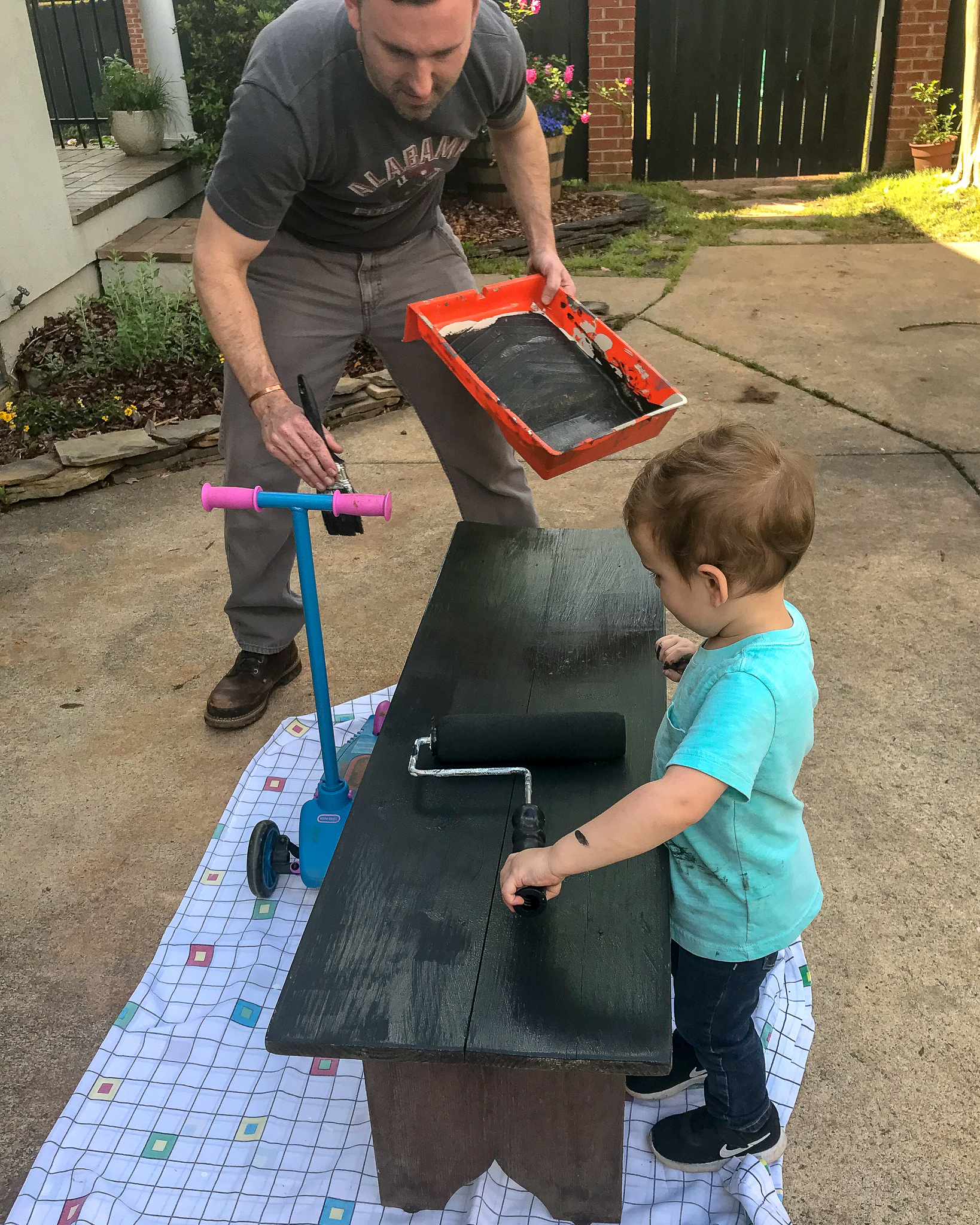 We didn't want to share one bite of our amazing dinner with the kids so we waited until we put them to bed to devour our Argentine Chimichurri Steaks with a Sweet Potato, Poblano, and Tomato Jumble! My favorite Sauvignon Blanc has been sold out for almost a month now at Total Wine so I picked up a few new bottles to try and for dinner I opened a bottle of Spier Sauvignon Blanc (under $10) which was really good!
SATURDAY
Per usual, we ran a billion errands (grocery store, Harris Teeter, etc.), worked out in the yard planting more plants and getting all the ducks in a row for Caroline's upcoming birthday party. But before all that, we took the kids out for a pancake breakfast where they behaved 65% of the time and spent the other 35% crawling along the window ledge, playing under the table and opening every packet of jelly. We thought we'd test out whether or not we could get through a meal out together without YouTube. And no, we definitely cannot…if we want to enjoy it at least.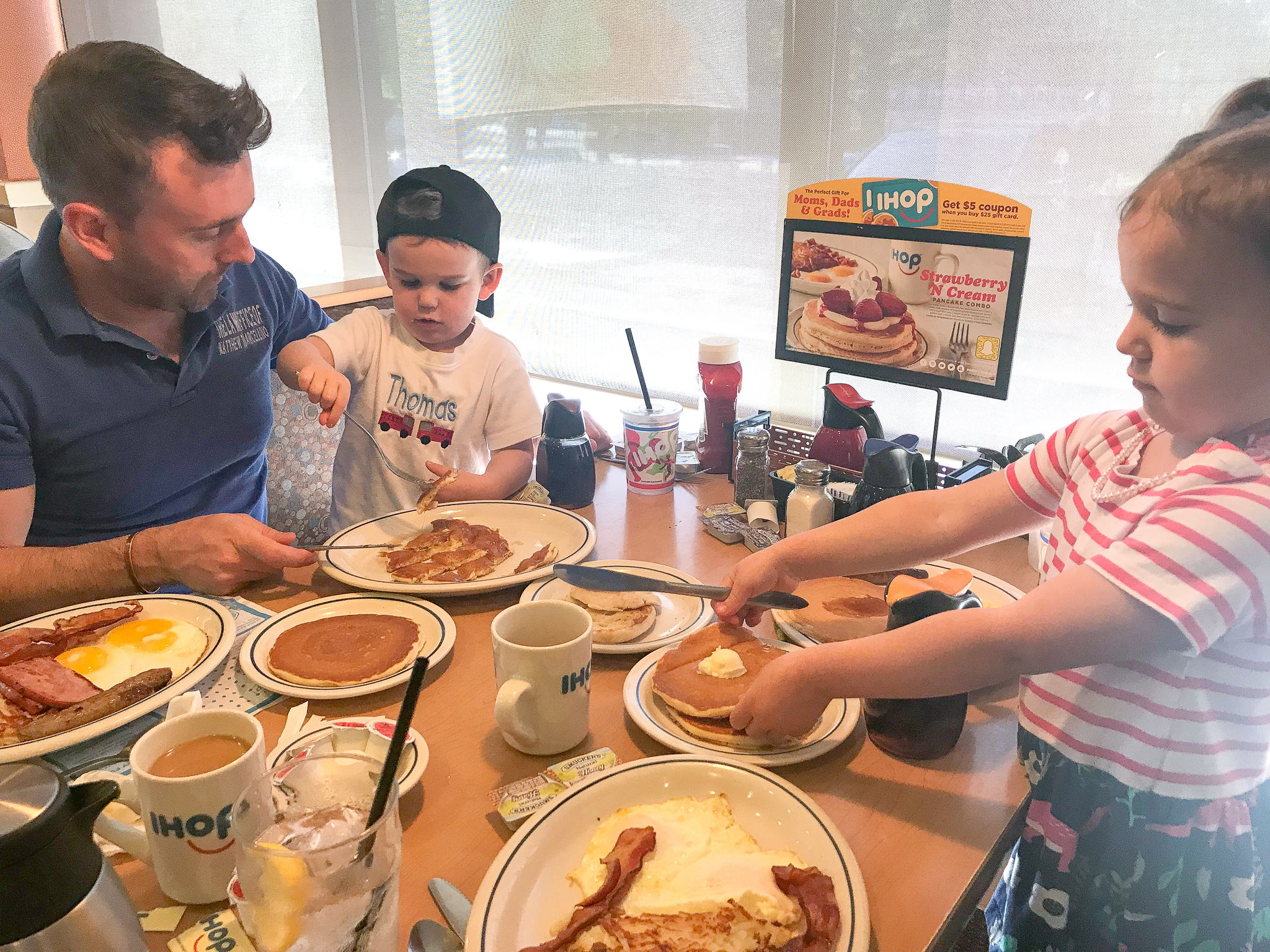 Later that morning after realizing the kids were playing too quietly together in the playroom Matt went to check on them. I had forgotten to lock up the markers and now they have been banned for life. You can watch Caroline get lawyered by her daddy here.
Saturday evening we went to a friend's house for dinner! The kids played hard and crashed at bedtime — the perfect play date. Also, I cannot get over how big Caroline has been looking to me lately. She is growing at rapid speed it seems and is looking less and less like a toddler and more and more like a big girl every day. And I love that she loves pearls.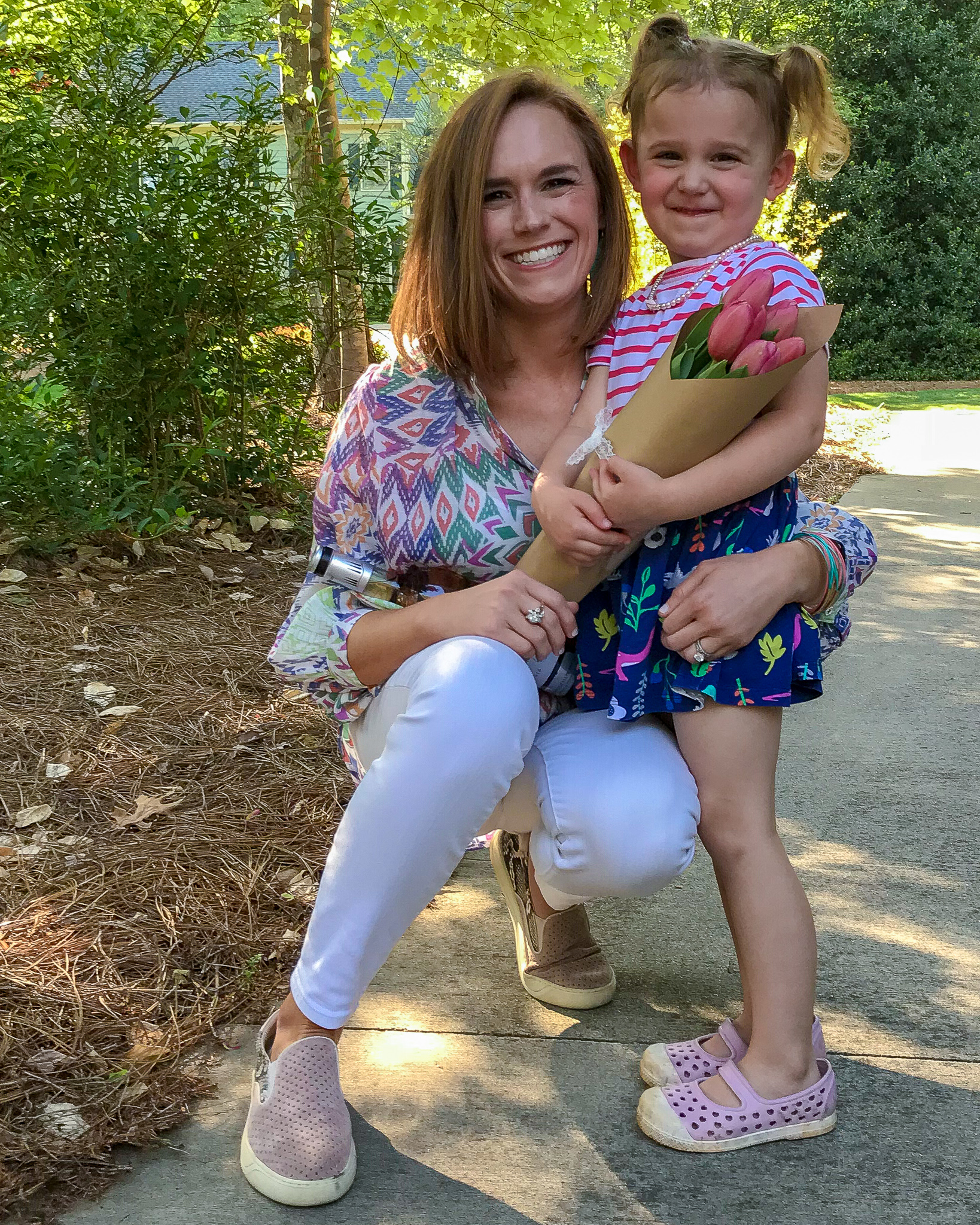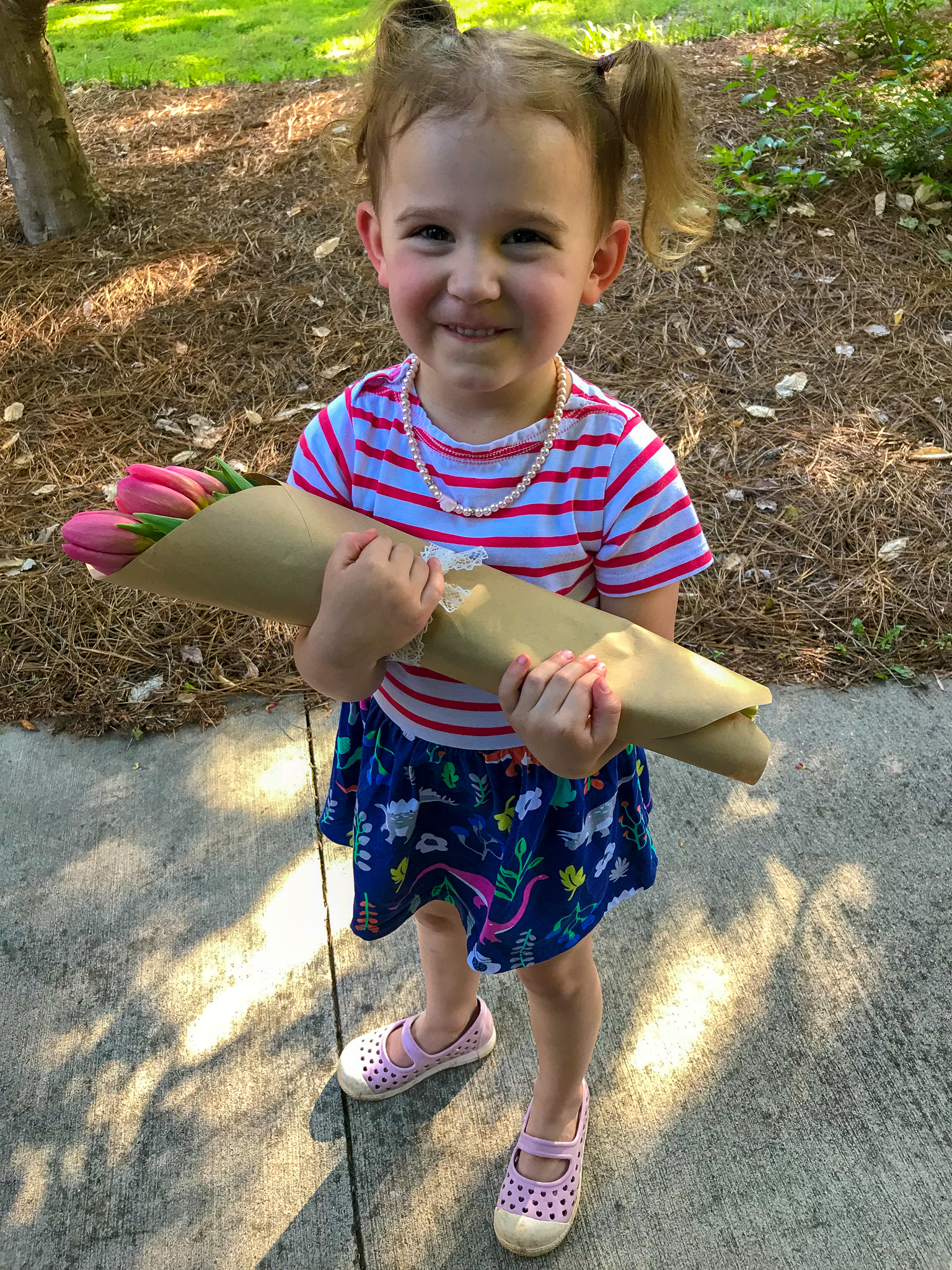 Caroline's Dress // Caroline's Slip-Ons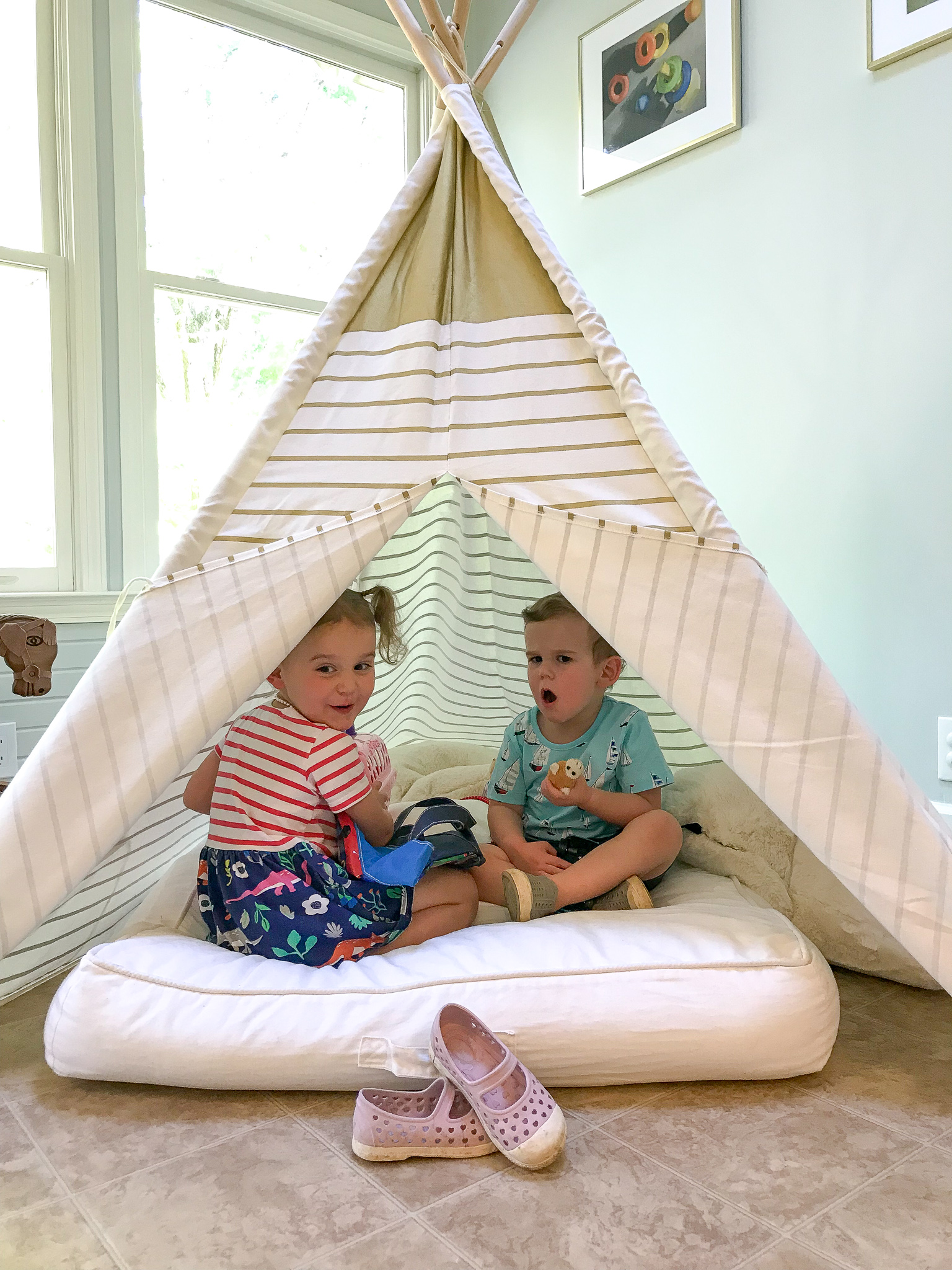 Lots of teepee detail requests! TeePee // TeePee Cushion
SUNDAY
My favorite day of the weekend! Matt made pancakes for breakfast. We went to church and out to lunch with our friends. Sunday afternoon we knocked out a few more projects, had our weekly budget meeting over mimosas, did 6 loads of laundry and made Grilled Citrus Tuna Steaks with Avocado & Spinach for dinner. After the kids went down we watched The Greatest Showman which we both LOVED (thanks Lisa)!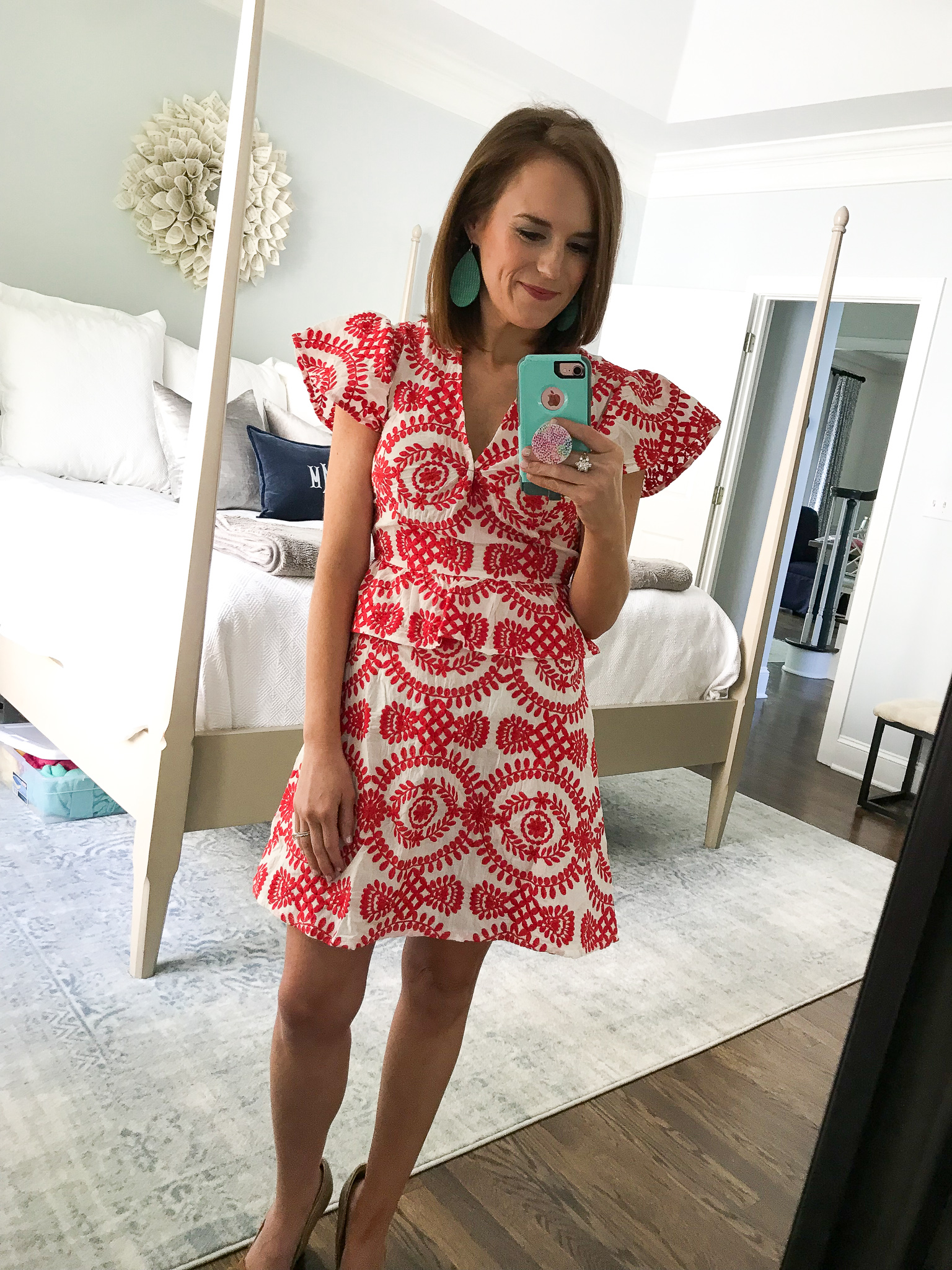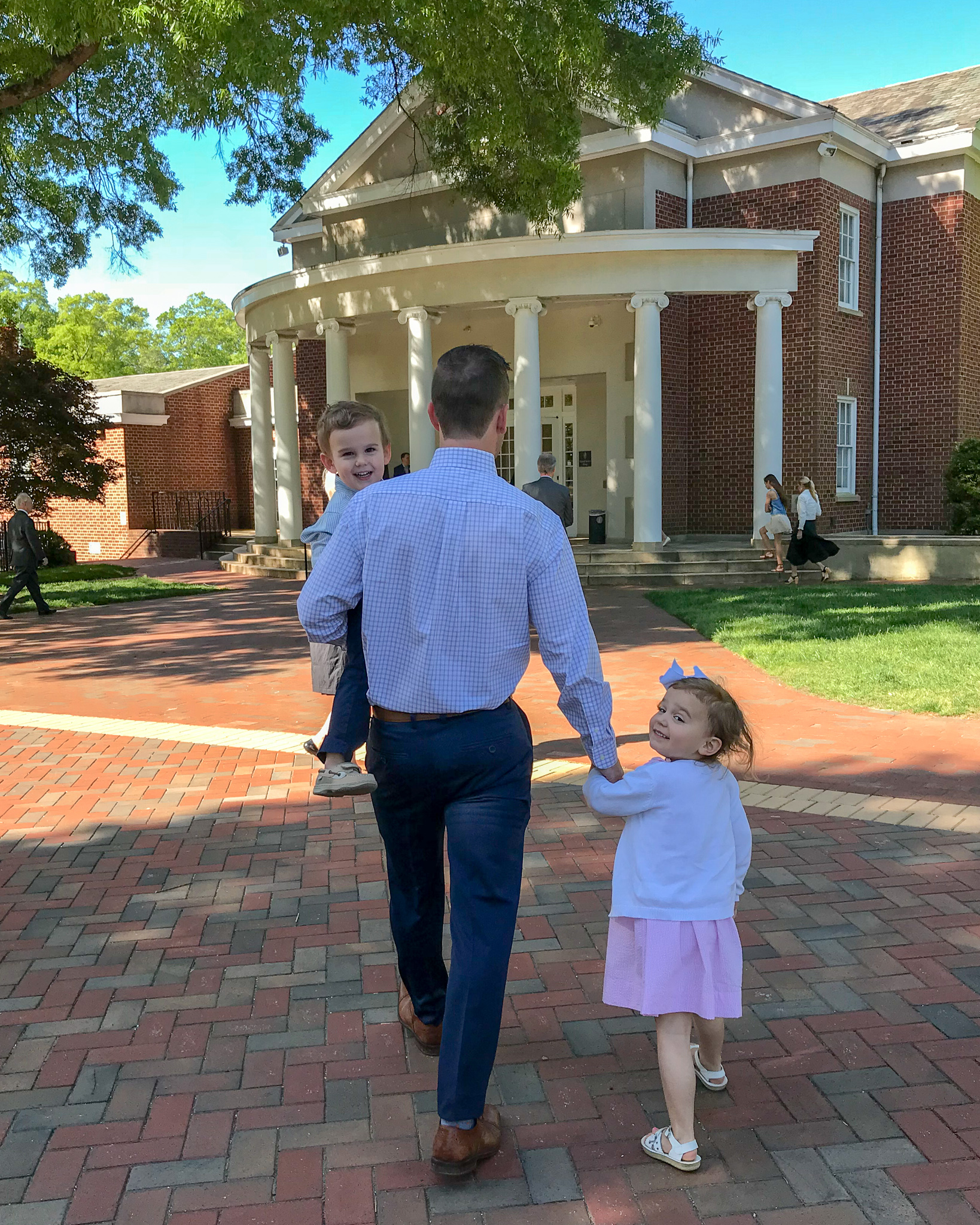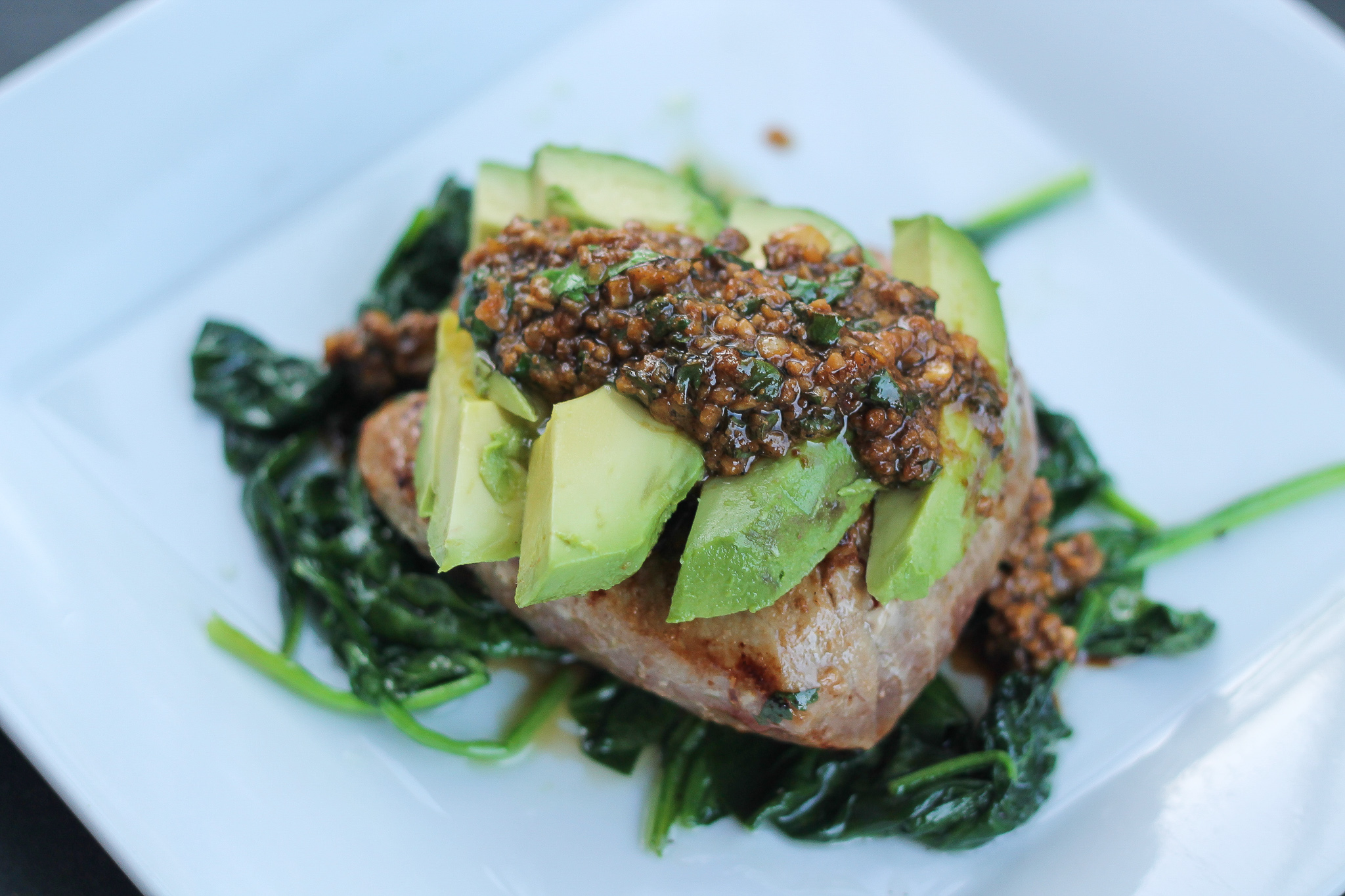 Have a great week, friends!