Happy Monday!
The kids are home again today — this time for Teacher Work Day. After remote school last week, I'll gladly take a day with the kids at home with NO school. And I cannot wait for a "normal" school day tomorrow to catch up on all the work stuff I was unable to do with them home last week and today.
Friday
As I mentioned, the kids were home on Friday for remote school due to the possibility of snow and a threat of freezing temperatures. Matt worked from home too but was literally on calls from the moment he woke up until pizza was getting delivered for Family Movie Night.
This was Thomas's first experience with virtual learning and he did GREAT! In fact, it was suuuuuper cute hearing him participate in class so much and I was absolutely shocked with how well he pays attention to instruction. And for show & tell he was ecstatic to introduce his classmates to Sprinkles!
Caroline also did terrific, but I could tell she was struggling a little bit returning to this scenario. After finishing Kindergarten remote and spending most of her first grade year remote too, I think she's over virtual school. And when it came time for asynchronous work, the tears came flooding back. I don't blame her. I also had a lot of overwhelming feelings seeing both kids on iPads while I attempted to work 15 steps away from them. Spoiler: I didn't get anything done at work because no matter how many times I showed Thomas how to mute/unmute himself, he needed tech support literally every 22 seconds.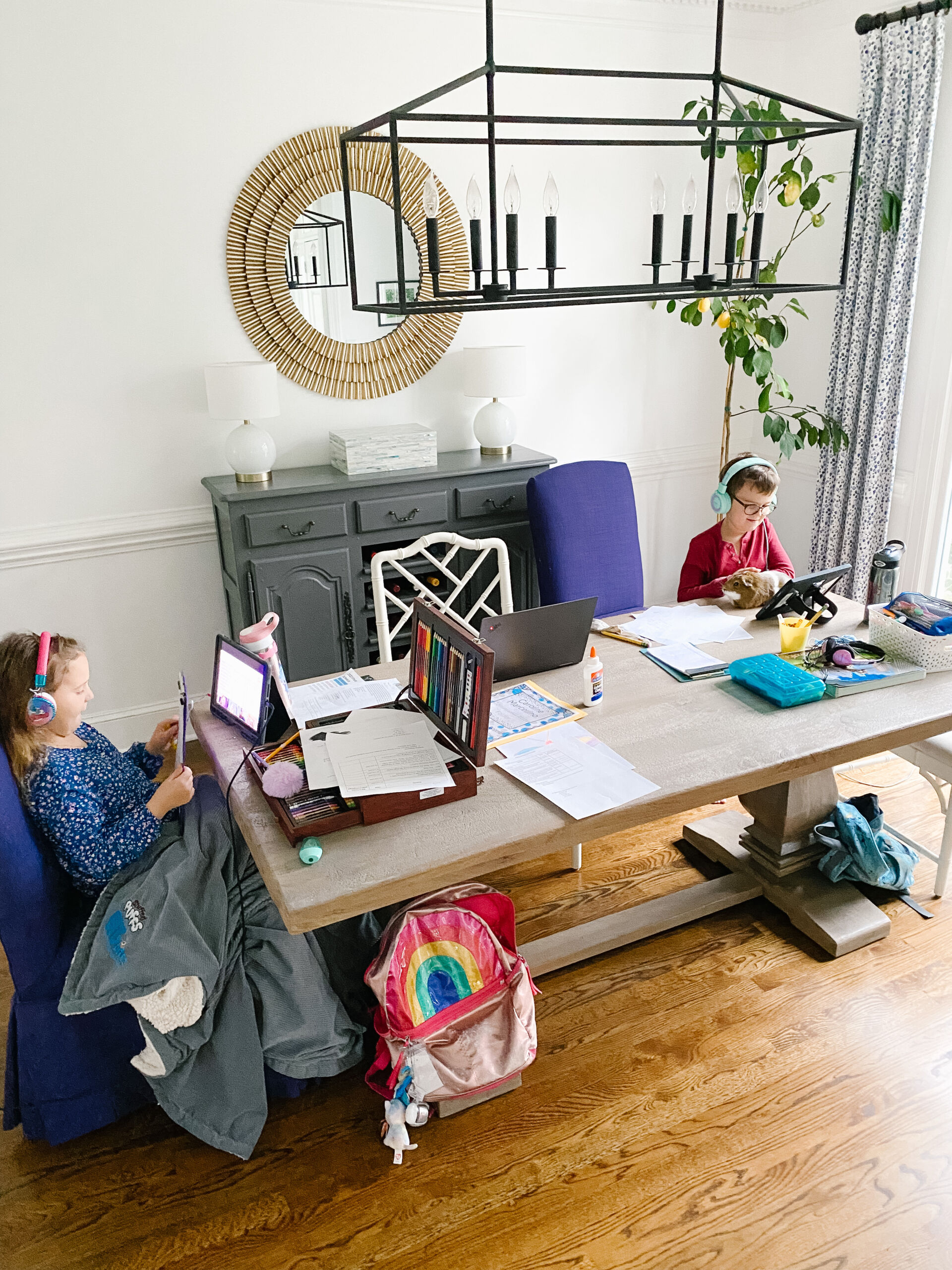 Friday night couldn't come fast enough and we were all SO ready for Family Movie Night. I am starting to struggle a little bit with Whole30 right now and partially threw in the towel and ordered pizza for dinner (Chipotle Whole30 bowls are usually our go-to takeout during January) from Uncle Maddio's Pizza. Matt and I shared a cauliflower crusted pizza with vegan cheese which deserves mentioning because if you're dairy-free, you know how hard it is to find delicious melted vegan cheese…and this pizza was SO good.
For Family Movie Night, we watched our first Marvel movie as a family. I made a checklist of the movies in chronological order and am hopeful that we'll get Caroline on board to watch them all. I have only seen maybe 2-3 Marvel movies ever so I really want to watch them all because Thomas loves all these superheros so much and I know nothing about their stories. As of right now, Caroline is adamantly opposed to watching 27 Marvel movies, but I think she enjoyed Captain America as much as everyone else did. And for every Marvel movie we watch, she gets to bake or request any treat of her choice for Family Movie Night dessert…
Saturday
Saturday morning we woke up to the snow we had hoped for on Friday! It was absolutely beautiful this time around — no ice, just gorgeous fluffy snow that melted by the afternoon.
For brunch we took the kids to Snooze where they devoured pancakes and hash browns. This sweet potato breakfast smash was unreal…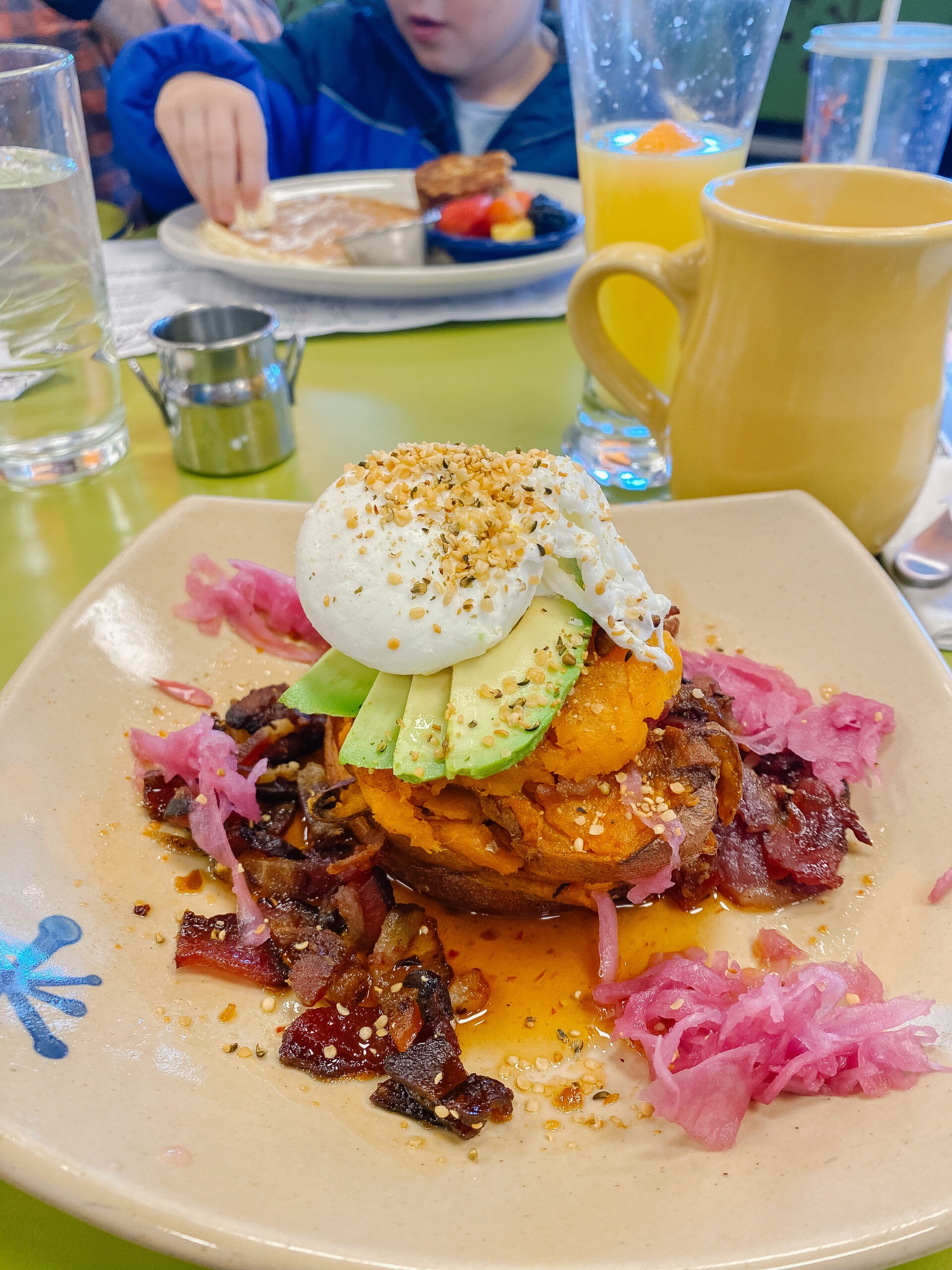 Afterwards we ran to the grocery store, played Mario Kart and the kids took their new saucer sleds for a spin! YES — thankfully I was prepared this time around because our pool rafts didn't make it past one snow day.
Later in the afternoon we dropped Caroline off at her best friend's house for a sleepover and brought Thomas's best friend back to our house for a sleepover. We took the boys to Big Air for their classmate's birthday party which was awesome for bouncing out lots of energy.
Sunday
Sunday morning Matt made a ginormous spread of pancakes, hash browns, eggs and bacon, which the boys quickly devoured in between rounds of Mario Kart. These boys are absolutely hilarious together and I was so entertained listening to their banter while they played.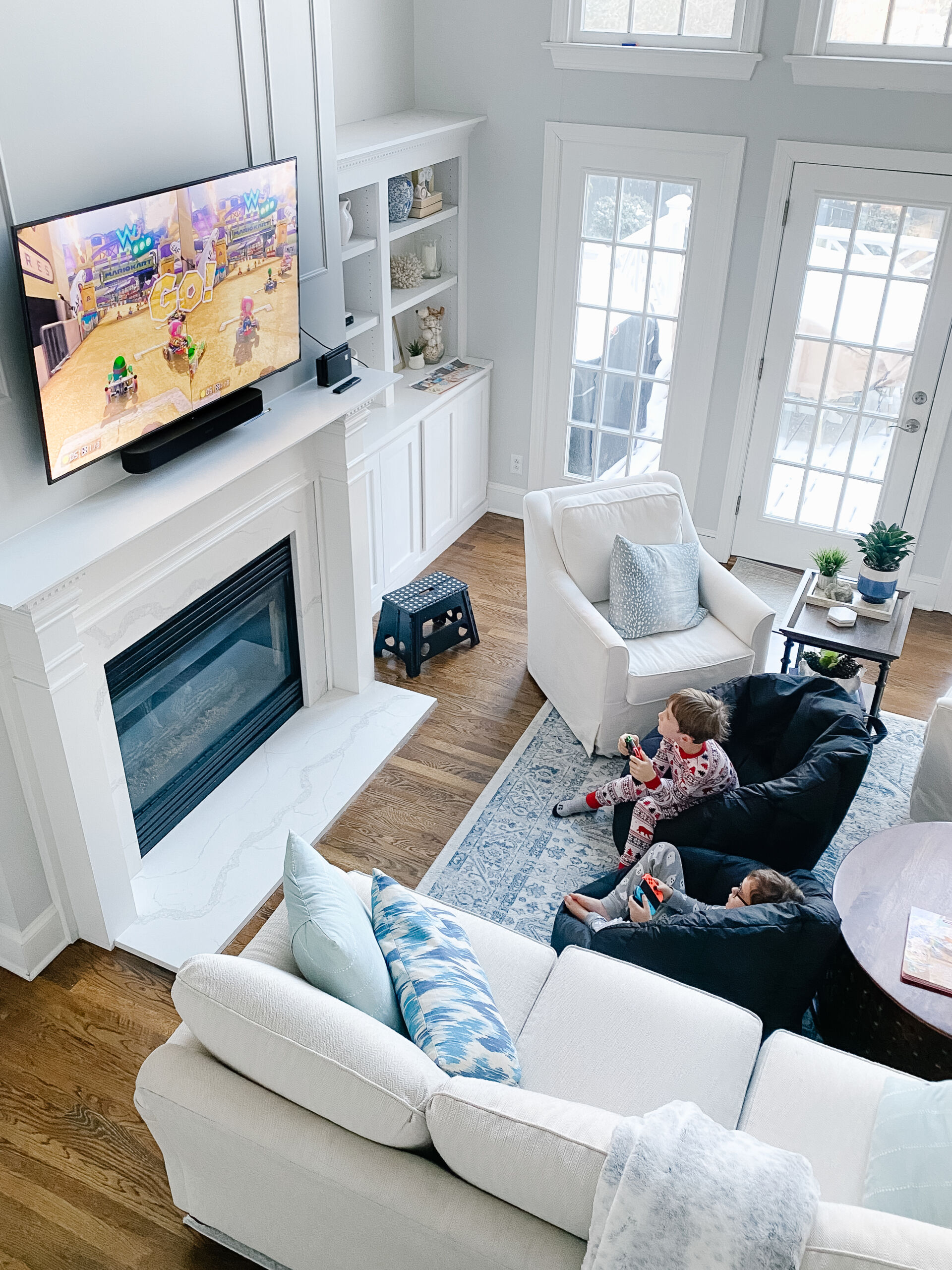 Sunday afternoon we swapped the kids back from their sleepover and watched Marvel movie #2 — Captain Marvel! And after dinner (baked potato soup for Soup Sunday!) we watched movie #3 — Iron Man! Caroline whipped up some pink princess popcorn (from her Disney Princess Cookbook) for the movie treat and it was a hit!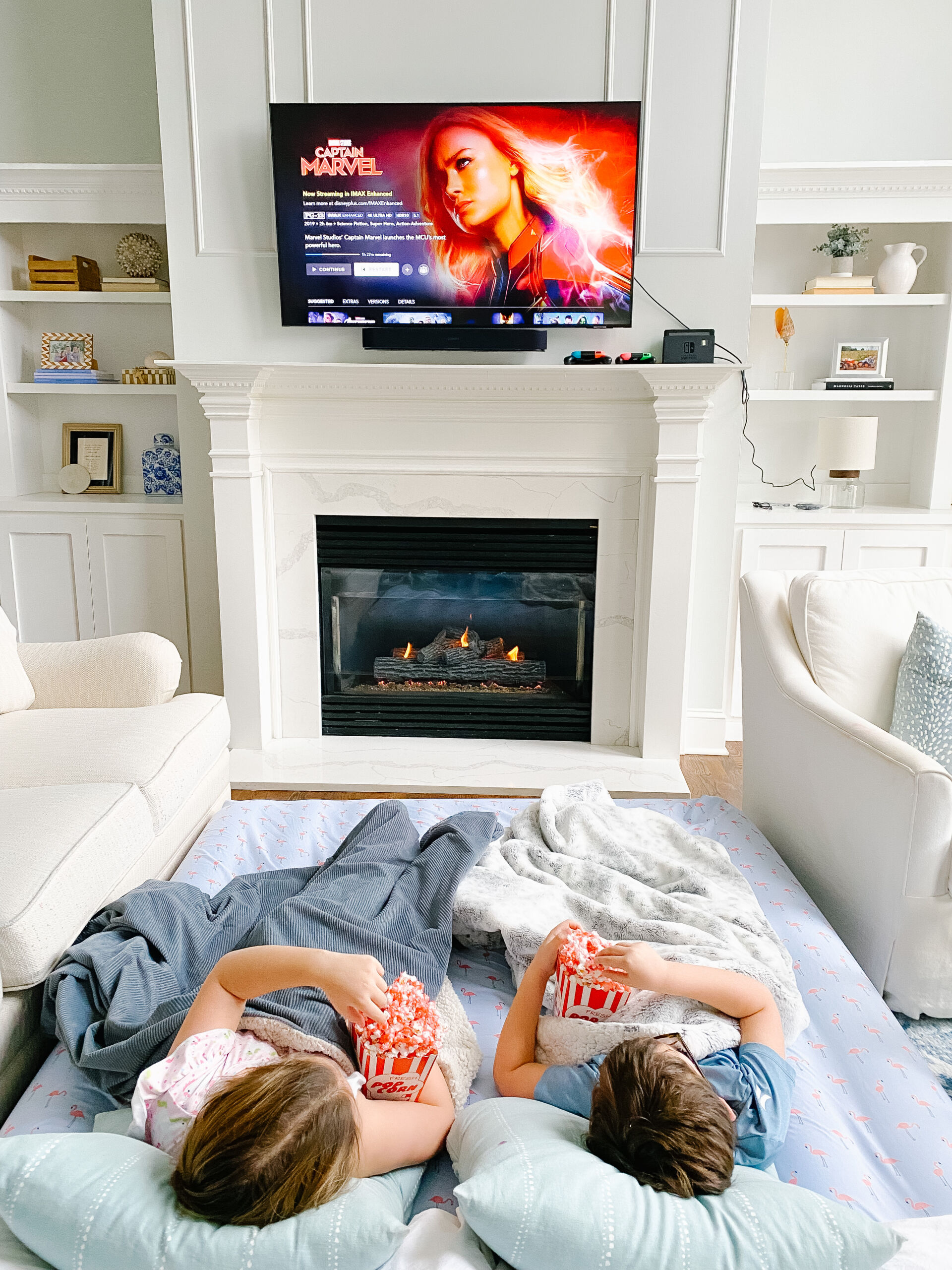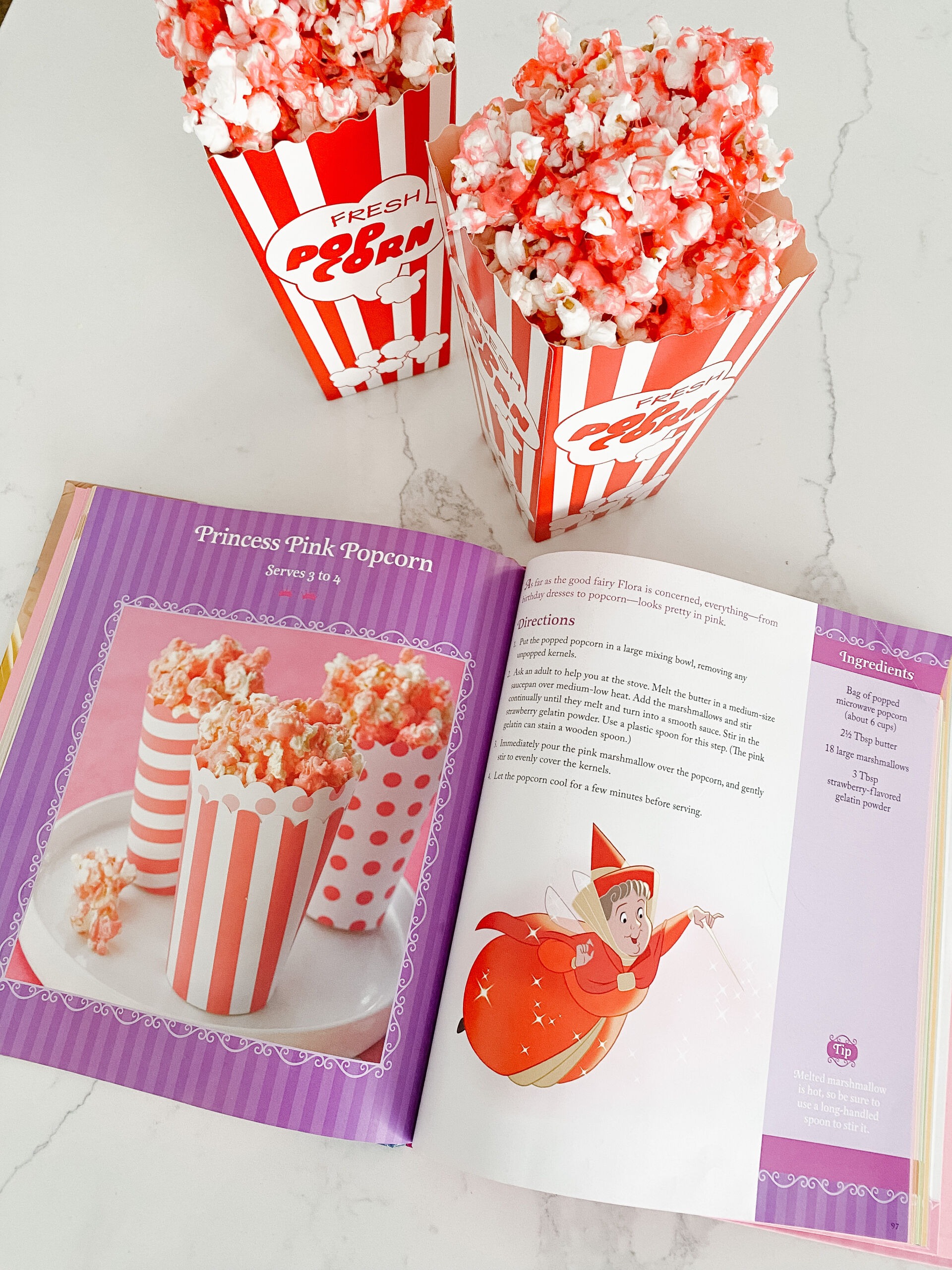 And that was a wrap on the weekend!