Before I rewind the weekend I just want to say THANK YOU for all of the love, support and kind words y'all have poured out in response to my announcement on Friday. I truly feel so grateful to have such a supportive community, and I cannot tell you just how much all of your messages, comments and emails have meant to me.
While this change is definitely going to be an adjustment to figure out, the weight off my chest has been instantaneous and felt by everyone in our family. It honestly feels surreal to not have work email on my phone and I find myself checking for it constantly out of habit. And even though I've turned in all my equipment and all traces of work have been wiped from my devices, throughout the day I swear I hear phantom team chat dinging noises coming from my home office! It's been such a strange and exciting transition.
Alright, let's rewind the weekend…
Friday
Friday night we watched Marvel movie #20 (Spider-Man: Homecoming) on the back porch for Family Movie Night. I would definitely rate this movie at the top of my list of favorites so far. It was really good. And after the kids were in bed, Matt and I binged a few episodes of Bad Vegan on Netflix. This series is wild!
Saturday
Matt played in a golf tournament all day Saturday. Meanwhile, the kids and I ran a few errands (Home Depot for herbs, picked up BBQ from a Boy Scout Troop and Publix for lunchables for lunch) and spent as much time outside as possible since it turned out to be such a pretty day. We rode scooters, I planted my herb and veggie garden (one of my favorite projects to tackle every spring!) and Caroline and her friend Lucy spent most of the day building a lemonade and cookie stand. The girls had a blast selling their treats to all the neighbors and Thomas supported them as the official taste tester.
We had a delicious BBQ dinner using the pulled pork we purchased from the Boys Scouts earlier that day. I made sandwiches, fries, corn on the cob and baked beans for the family, and I recreated my favorite BBQ chopped salad (from Midwood Smokehouse) for my dinner.
After dinner we played a few rounds of Hedbandz which is always fun and hilarious.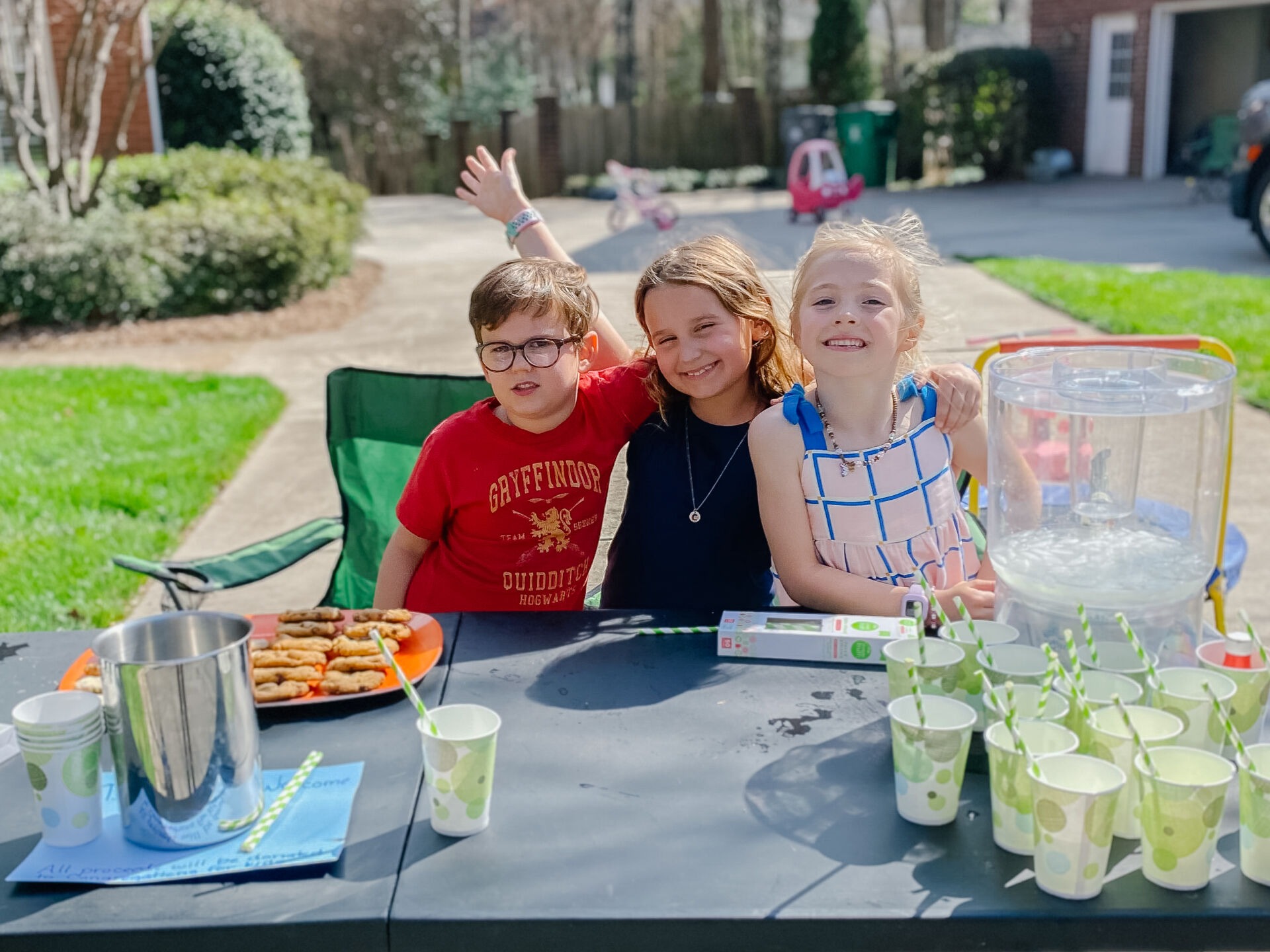 Sunday
Sunday morning I took Caroline to a fun Princess brunch! She's slowly starting to age out of princesses so I was SO excited to squeeze in one more of these before this phase passes! And it was so fun!
After brunch we played tennis as a family until it was time for Caroline and Thomas's lesson. I still cannot get over how much these kids are loving tennis. It is SO cute to watch them play too.
Sunday afternoon we caught up on chores and for dinner we grilled pizzas!
And that's a wrap on the weekend!