Now that I'm on recovery cruise control I thought I would share some really helpful information that I've learned along the way for any of you (or your friends) preparing to embark on this journey. If your surgery date is set, CONGRATULATIONS, you've made it through the toughest part! Seriously, the decision (and waiting for the surgery) is honestly the hardest part. I couldn't be more proud of all the women out there who are standing up to cancer and saying "NOPE!" by choosing a prophylactic double mastectomy. You are truly inspirational. And for those of you who are preparing without the choice, I honestly don't have the words to describe how incredibly strong and brave you are.
From my personal experience, I am going to share some advice, tips and items that have tremendously helped me through this journey…
THROW A BOOB-VOYAGE
First, I highly recommend celebrating your God-given tatas before they are removed. A few days before your surgery, go out to dinner with your best girl friends, have them over for a game night or throw a boob-voyage party!
Being surrounded by my best friends and their families days before my surgery really encouraged me and helped reduce my anxiety about the procedure. I also didn't want anyone to feel awkward about my mastectomy (especially my friend's husbands) so I invited kids and husbands to my party and everyone had a great time. Plus my amazing husband is on this journey with me and was very scared about my procedure so I wanted him to celebrate and let loose with the guys too. And now, when I see my friends I don't feel like I have to whisper or feel awkward about my recovery around their husbands.
MEALS
You won't be cleared to cook for awhile (six weeks for me) so let a friend create a meal sign up for you and also stock your freezer ahead of time. Take Them A Meal is a great website for meal coordination and even offers the option to ship pre-made meals from friends and family who don't live nearby. This was a wonderful surprise from my friends who live many miles away but still wanted to help. Also, for our meal sign-up site my friend posted a note notifying guests that we'd leave a cooler on the front porch for days that were particular hard and I could not visit. And trust me, there will be many of those days! But your friends, neighbors, co-workers, etc. understand!
FAMILY SCHEDULING
If you have kiddos (especially small kids) make sure you line up back-up help for school pick ups and drop offs in advance! Your primary support person will be taking care of you so you'll need an extra set of hands for the kids.
NECESSITIES
I remember freaking out about a week before my surgery thinking "what do I need?!?!?" I was so worried about stocking my freezer and lining up so many things that I totally forgot to prepare for my recovery. I also frequently receive emails from readers asking what sort of gifts are really helpful during recovery so they can send something thoughtful and useful to a friend going through this procedure. So here are a few of my must haves for coming home from surgery. Remember, every woman is different so you may not need all of these. But I wanted to put together a the most comprehensive list possible! You can shop all of these items at the bottom of this post too.
1. Button Up Clothing: For at least the first 3 weeks, you will not be able to dress yourself. I lived in pajamas at home and leggings with cardigans when I left the house. These must be button up so you don't have to lift your hands above your head to pull your shirt on or shimmy up your body (pulling up on clothes is very painful at first)! I recommend purchasing one size bigger than you'd normally wear.
2. Pillows, Pillows, Pillows: You will need tons of pillows of all shapes and sizes to get comfortable. I used a neck pillow, two heart pillows for under my arms during the day, a teeny little pillow for extra support in random places, several massive pillows for behind my back and a variety of thick and thin pillows surrounding me.
The Bed Wedge: Probably my #1 recommendation for recovery. Until your surgical drains are removed (for me that was three weeks post-op), I was instructed to sleep sitting up. We tried building a pillow fort which was never comfortable enough but then I found a bed wedge and it was a complete game changer. I was able to actually get a little sleep with the wedge pillow. Thank you to HMBL Home for offering my readers 15% off with promo code NCCHARM15.
3. Lip Balm, Hand lotion, Hair Ties, Headbands: There is nothing more frustrating than not being able to move that stray hair out of your face or off the back of your neck those first few days. I kept my hair in a pony tail (shout out to the husband for learning this) and used huge durable headbands to keep my hair from falling in my face and driving me nuts. Keep all of these things on the night stand next to the bed for easy access.
4. Dry Shampoo, Face Wipes & Facial Spray: You are not allowed to shower for several days after the surgery. Once you are cleared, taking a shower is a bit of a production the first few weeks and you definitely need assistance washing your hair. For the days I was too tired to shower, a spritz of dry shampoo and face wipes and facial spray helped me feel refreshed.
5. Pill Organizer Box: You will have so many pills to keep up with! And you will not be able to unscrew the top of your prescription bottles so having your pills pre-sorted by hour or day in a pill box is incredibly helpful! We crossed out the days of the week and wrote times instead on my box.
6. Throat Lozenges: After surgery I had a very dry, sore throat for several days and coughing hurts your chest so keep throat lozenges handy!
7. Electric Toothbrush: You will not be able to bend over the sink bowl to spit or wash your face so keep a cup nearby and some face wipes too!
8. Surgical Bra: Some hospitals will provide you with a surgical bra and some hospitals ask you to bring your own. Check with your doctor and hospital ahead of time! I really liked my Amoena Post-Surgical Bra with Drain Management. Read more about drain wearing and surgical bras here.
9. Drain Camisole: A post-surgery pocketed camisole was my second choice of drain wearing. I loved my camisole because it was super soft and comfortable and I could easily throw a cardigan over it to hide the drains.
10. Lanyard: For clipping your drains to when you shower.
11. Drain Apron: I received the sweetest set of aprons made by the volunteers at the hospital. The apron was my preferred drain holder when I went out and about although I had to be careful with the drain cords under my shirt, especially when I had my little ones in tow! You can decorate your own canvas waist apron or purchase a black apron if you want to be more incognito.
12. Back Scratcher: No one warned me how itchy the pain meds would make me so I used a long plastic serving fork the first few weeks and eventually upgraded to a legit back scratcher.
13. Tumbler with Straw & Snacks: You will need water next to you at all times. Make sure you have lightweight cups with straws because the first few weeks you will want to limit the range of motion in your arms! Straws were a lifesaver. Also, keep snacks nearby for when you take your medications. The snack cup was a pretty amazing gift I received and highly recommend!
14. iPad, Magazines, etc.: Fill your Netflix que up…starting with Parenthood and Friday Night Lights.
15. Scar Cream: Once your wounds are healed your doctor will recommend that you start using scar cream. I used (and liked) Mederma. They will sell you an overpriced bottle at their office or you can purchase it from Amazon, Walmart or Target for much cheaper. Also, after awhile you can switch to Vitamin E oil which is much more affordable.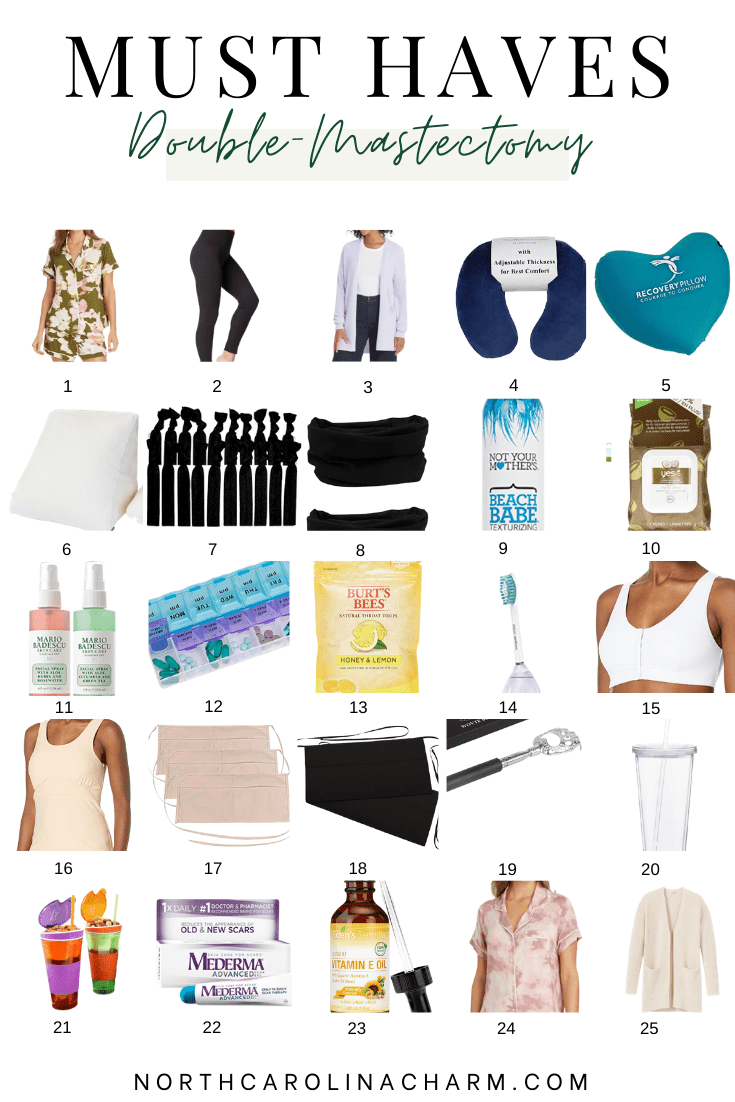 EXTRA SPECIAL GIFTS FOR YOUR FRIEND
Here are really great group gifts to go in on to surprise your friend.
Blow Dry Bar Gift Card: Unless the patient lives with a hair stylist, I highly recommend a blow out gift card. After four weeks of ponytails, my hair was an absolute mess. Matt did his best to help me wash and blow dry my hair, but after so many weeks you begin to crave feeling normal again. One of my girlfriends surprised me with a gift card to Blo (a blow dry bar) and I went at 3 weeks post op so I could attend a baby shower looking halfway decent. I was so thankful and happy to have my hair professionally washed and styled that the stylist washed my hair twice and I literally cried happy tears leaving the salon.
Pedicure Gift Card: Having a fresh pedicure to look at all day in bed helped me feel halfway decent, especially during those first few weeks of not being able to do my hair or makeup.
Housecleaning: Under no circumstance will you be allowed to do any sort of light housework including vacuuming, loading/unloading the dishwasher, etc. My mom surprised me with 6 weeks of housecleaning to ensure I didn't do it myself and it was the best gift ever.
Send a Meal: Other great meal gifts we received were gift cards to local meal delivery services like Foodie Call and Postmates. Check your area to see what is offered there.
WHAT TO PACK IN YOUR HOSPITAL BAG
You may be in the hospital for 1-2 nights. Leave your valuables at home to keep them safe! Here is what I packed (and used):
Mini Pillow
Chapstick
Snacks
Button Up Pajamas
Socks
Flip Flops & Slippers
Hand Lotion
Surgical Bra & Drain Belt
Toiletries (toothbrush, toothpaste)
Throat Lozenges
iPad & Charger
Hair Ties, Bobby Pins & Headband
Face Wipes, Face Spray & Dry Shampoo
And that's a wrap! I will be updating this post as I receive questions from readers!