Looking for great warm weather workout items? Then you can to the right space! Today I am sharing my top warm weather workout favorites below…
It has been SO nice to transition from leggings to athletic shorts and skirts lately as the weather has been warming up in Charlotte! The mornings are still a little chilly but by the afternoon the temperature is perfect! So today I'm rounding up all my favorite workout items right now…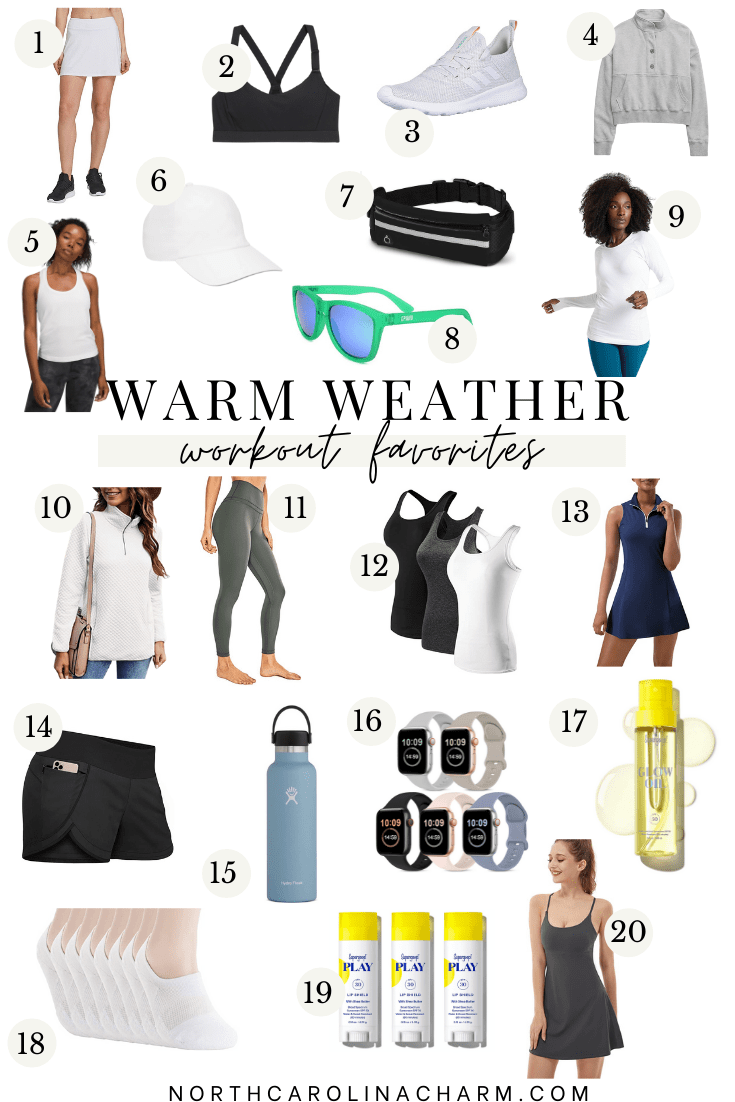 My Warm Weather Workout Favorites
Tennis Skirt: One of my favorite tennis skirts! It comes in 16 colors (I have it in white), has a ball pocket, a phone pocket and the quality is excellent.
Sports Bra: No surprise I had to include my absolute favorite sports bra. Awhile ago I polled y'all for the best sports bra with sewn in cups and got a lot of recommendations (which I rounded up HERE). And this is absolutely the best sports bra I've ever owned — the Medium Support Powersoft Adjustable-Strap Sports Bra from Old Navy. It's comfortable, features adjustable straps, is affordable, provides great support and has SEWN IN CUPS. This bra really is the total package and is often on sale. I just ordered two more!
Tennis Shoes: I've been wearing these athletic sneakers since y'all recommended them last fall and absolutely love them (you can find all the reader recommended athletic shoes HERE). They are so comfortable, offer lots of support and are affordable.
Cropped Sweatshirt: I just ordered this sweatshirt to wear during the cooler mornings. It comes in 6 colors and is currently on sale!
Race Length Top: Hands down, this is my favorite workout top and is always my first choice when it's clean. The top is slim fit and race length (a little shorter than regular length) so it doesn't ride up while doing burpees and planks! I just wish it was a little more affordable so I could buy a lot more. It comes in 8 colors.
Women's Fast and Free Running Hat: My favorite hat for tennis, golf, outdoor walks, the pool and more. The fabric is lightweight, has a four-way stretch, is sweat-wicking, and quick-drying.
Running Belt: This n

eoprene

belt has been a game changer for outdoor runs, hikes, etc. It holds SO much —

phone, credit cards, cash, keys, and earphones all in one place. It's lightweight and the waistband is adjustable so it stays put while moving around. It's also water resistant and

comes in 9 colors.
Sunglasses: I'm a huge goodr fan but it has been so hard to find the colors I want in stock anywhere so I decided to try this brand and they are exactly the same — but cheaper. These polarized sunnies are anti-glare, provide

UVA & UVB protection and the special grip prevents them from bouncing or slipping while moving around. They come in 14 colors.

Longsleeve Top: My favorite long sleeve workout top when it's chilly outside. It comes in 6 colors.
Quilted Pullover: I scooped up this adorable pullover up a few weeks ago to wear with my tennis skirts and absolutely love it. The quality is excellent, it's super soft and has a slight stretch, is cozy and comfortable, has pockets and comes in 9 colors.
Leggings with Pockets: These are my #1 leggings! I have 7 pairs (one for every day of the week!) and have never loved a pair of leggings more than these! They have pockets, are affordable, the quality is excellent and they come in a rainbow of colors.
Dry Fit Tank Tops: If my favorite tank (#5) is dirty, these are my go to compression tank tops. The moisture-wicking fabric is s

oft, breathable and stretchy! They

come in a 3 pack (in 9 different color combos) and are super affordable.
Tennis Dress: I am kind of obsessed with tennis dresses right now and have this one in two colors (available in 12 colors)!!
Running Shorts: My favorite Amazon running shorts are no longer available which is a huge bummer, but these look identical to the ones I have. And these have a side pocket which is awesome.
Hydro Flask: Matt and I both love these water bottles. I prefer a water bottle with a cap so I can toss it in my workout bag without worrying about it leaking. And the special insulation keeps my water cold all day long. Available in 3 sizes and 16 colors.
Apple Watch Silicone Bands: I have and love this set of silicone bands for my Apple watch.
Supergoop! Glow Oil: The newest Supergoop! product I just picked up and really like — the Glow Oil! First, I love that it's a water-resistant spray (you still have to rub it in) with SPF 50. And I also love how it's lightweight, hydrating, packed with Vitamin E and leaves a subtle glow (without looking/feeling greasy!).
No-Show Socks: The BEST, BEST, BEST no-show socks. Matt and I both have one million pairs. I've shared these socks a million times (and I think they are still one of my Amazon best-sellers) because they really are amazing.
Supergoop! Lip Balm: I've got a tube in almost every bag — my tennis bag, my running belt, my car, the pool bag, etc.. This lip balm is my favorite SPF lip protection.
Athletic Dress: Another cute dress I've been loving for tennis! This one has a built in bra and shorts — and comes in 16 colors.