We've been continuing to work on various projects around the house! Next week I am finally going to share our master bathroom renovation (I have a few pictures I still need to take), but in the meantime I thought it would be fun to share a smaller project we knocked out recently — the foyer! Thankfully we didn't have too much to do in this space since the majority of the renovation happened during the staircase makeover.
Anyway, let's take a look at the transformation…
This was how our space looked when we purchased the home.
Before we moved in we did a major facelift by refinishing the hardwoods, painting the room and painting the banister! You can read all about the staircase project here.
Time to decorate! After several failed rug attempts we finally found the one! The previous failed rugs were either too small, too colorful or too big.  So finally we mapped out ALL the sizes on the floor in painters tape and were quickly able to visualize various rug sizes which was a tremendous help.
For most of our home furnishings I try to wait until a major sale to make my purchase. So when Rugs USA ran their 20% off 4th of July sale I jumped on it and ordered the Flatweave Cotton Sparkling Moroccan Tribal Trellis Rug. I was a little worried this rug wasn't going to work because several reviews mentioned how sparkly it is in person. One review even likened it to a disco ball! Yikes! I am definitely NOT a sparkle person — not in the slightest! But I crossed my fingers and hoped it would be subtle enough to work.
Is it sparkly? Yes, but it is definitely subtle as I had hoped! I LOVE IT. And the black print ties the room together so perfectly with the banister.
The next item to tackle was this gorgeous 90's foyer pendant. I know you're dying for a close up so here ya go…
So I absolutely fell in deep deep love with the
Darlana Lantern
, but I wanted to stay married so I began my hunt for a more affordable dupe! After a
lot
of searching I finally found the beautiful 
Varnum 4-Light Foyer Pendant
which could not have been more perfect. Despite months of waiting on restock alerts and multiple backorders it
finally
arrived. And let me just say IT WAS WORTH THE WAIT!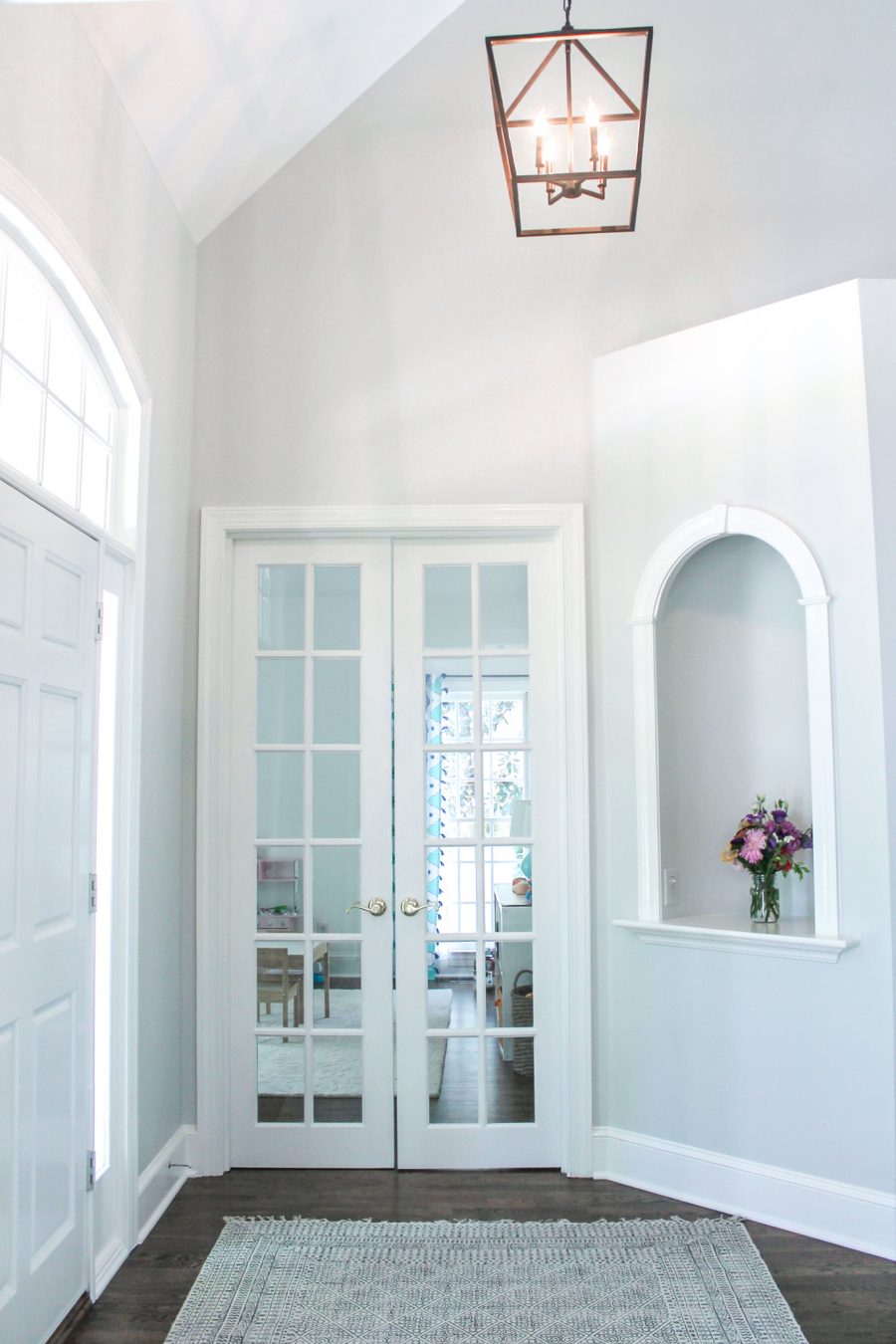 Also, I wasn't expecting this but the foyer lighting has actually helped add a lot of light to our family room too!
How our foyer actually looks in real life.

Sources: Rug // Foyer Pendant (size large, color bronze)

   Other Rooms in Our Home Tour: Breakfast Nook + Laundry Room | Thomas' Room | Staircase Makeover + Refinished Hardwoods | The Play Room