Looking for a gift for your dad, brother, husband or another man in your life to shop for? Matt and I have got you covered today with a wide variety of items. You've seen almost all of these items mentioned on my blog over the past few years because Matt owns most of these! And if he doesn't own them yet, they are on his wish list this year and he insisted I include them on the gift guide. Also, I decided to keep the top 5 sellers* from last year's men's gift guide on the list and add 20 new things!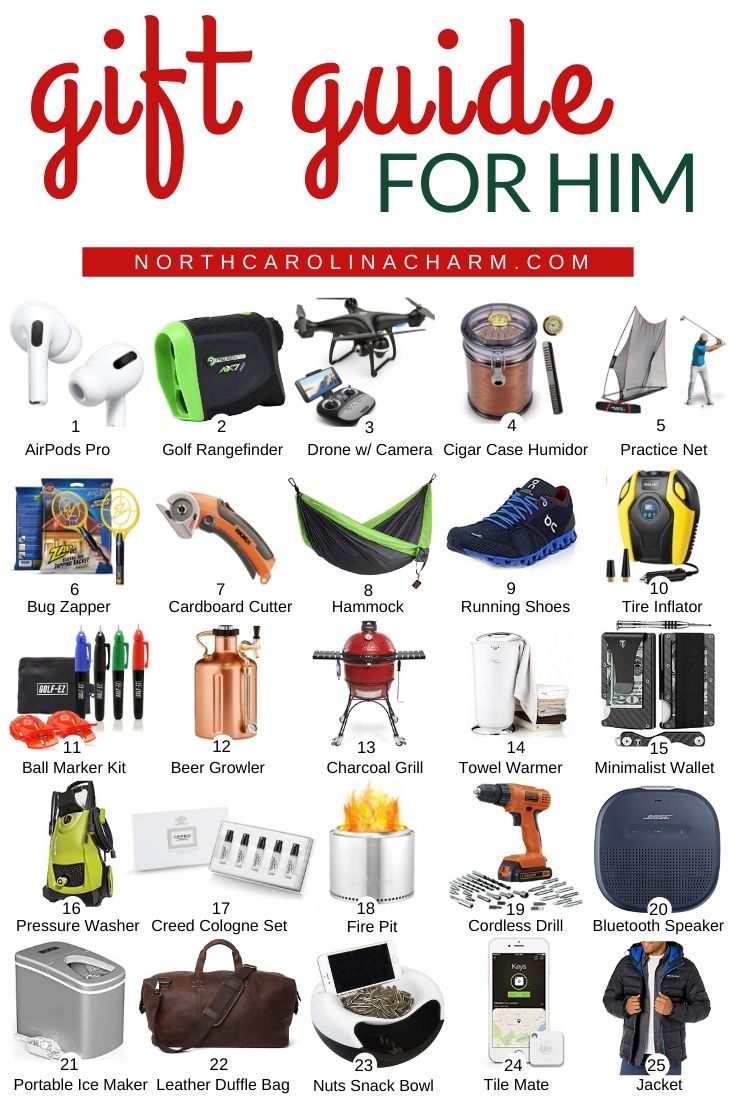 *indicates top 5 seller from last year's gift guide
Apple AirPods Pro / These new AirPods feature a transparency mode for when you want to hear over your ear buds. The wireless noise canceling headphones are perfect for wearing on the go and deliver up to 24 hours of battery life!
Golf Rangefinder / Matt loves his rangefinder and was really excited to add this laser rangefinder to the list this year.
Drone with Camera & Live Video / With more than 2100+ reviews, this drone is the perfect gift for the guy who loves toys! The photo and video quality is excellent and the drone can fly for up to 15 minutes!
Cigar Case Humidor / Holds 18 cigars
Practice Driving Net / For the golfer in your life who loves to practice their swing. Matt has one of these and loves to practice in the backyard with Thomas. The net is easy to set up and break down and can easily be stored.
Bug Zapper Racket / I bought this set for Matt over the summer for chasing mosquitoes around. This would be a fun gag gift. But also very practical.
Cardboard Cutter / One of the most used gadgets we've ever owned. This cutter makes breaking down boxes SO much easier!!
Outdoor Travel Hammock / On Matt's wish list this year!
On Cloud Running Shoes (Also available at Nordstrom) / I have blogged about these shoes over and over and over but these really are the very best running shoes Matt and I have ever owned. They truly feel like you're walking on a cloud! These shoes are a little more expensive than what we normally spend on running shoes but I promise they are totally worth every penny.
Electric Air Compressor Pump/Tire Inflator / Another practical gift for inflating tires, basketballs, inflatable pools and more!
Golf Ball Marker Tool Kit / Stole this item straight from Matt's Christmas list.
*Carbonated Beer Growler / The #1 seller from last year's gift guide!!! Matt's dad surprised him with this gift for 2017 Christmas and we've gotten so much use out of it — especially in this city filled with breweries. This mini keg keeps beer fresh and carbonated for 2 weeks. Go ahead and grab some C02 refill cartridges for the stocking too.
Charcoal Grill / This grill is said to rival the Green Egg and has so many great reviews!
*Towel Warmer / Who doesn't want a warm towel waiting for them when they step out of the shower?! This was a popular gift item from last year's guide!
Minimalist Wallet / Matt insisted I include this wallet this year. This was the #1 seller two years ago and Matt still stands by this wallet as his favorite.
Pressure Washer / We bought this over the summer and it is AMAZING for washing the exterior of our home, sidewalks, driveway and cars!
Creed Cologne Set / My brother is obsessed with Creed Cologne has been telling me to get this set for Matt for a long time. Finally, for Matt's milestone law firm anniversary this year I surprised him with this cologne and it's really a gift to myself too — it smells that divine and I promise is worth the splurge!
*Bonfire Pit / This was the second best seller from last year's guide and the #1 gift I received the most thank you messages about from readers who gifted this and wanted to report back that it was a huge hit! The reviews on this stainless steel fire pit are unreal. The double wall design and bottom vent holes allows a more complete burn which means little to NO smoke!!! Which also means you won't smell like smoke when you're done using it!
Cordless Drill / This is the drill my dad told me to buy Matt a few years ago and it is still going strong!
Portable & Waterproof Bluetooth Speaker / One of Matt's all time favorite golf accessories, this speaker is perfect for clipping to your golf bag — rain or shine!

Portable Ice Maker / We purchased this ice maker during our kitchen renovation and have gotten SO much use out of it. It's perfect for parties when you need extra ice fast! It makes 26 pounds of ice in 24 hours.
Buffalo Jackson Leather Duffle Bag / Matt got his bag from the local shop in Charlotte and has not stop raving about the quality since. This company sells seriously gorgeous leather products and the quality is outstanding. In fact, I highly suggest checking out all their products for additional gift ideas. This luggage tag would make an excellent stocking stuffer!
Pistachio & Sunflower Seeds Snack Bowl with Cell Phone Stand / Perfect gift for the guy who loves to snack on pistachios or sunflower seeds.
*Tile Mate Key Finder / For the man in your life who constantly loses his keys, wallet, phone, etc. This magical Bluetooth tracker easily loops onto keychains or attaches to anything you don't want to lose so you can find it fast. This was a top seller from last year's guide.
Columbia Hooded Insulated Jacket / Matt's favorite jacket in his closet.
Need more ideas? There were additional items we couldn't squeeze into this year's guide! You can find them HERE!