A few weeks ago I polled y'all on Instagram for blog post topics and a popular request was a round-up of breakfast ideas for kids.
We typically rotate between a handful of breakfast ideas but I'm always looking for more options to add in to our rotation. In fact, not too long ago we found ourselves in a breakfast rut with the kids so I polled y'all for new breakfast ideas and saved them in a note on my phone — and refer to it pretty often!
While it's never something fancy or labor-intensive, I really enjoy "making" the kids breakfast every morning and being in the kitchen with them while they eat. I should clarify "making" their breakfast is not as fancy as it sounds. I am not whipping up eggs or pancakes in the morning. Like many of you, the goal is to get something on the table for the kids to eat that is fast, healthy and hearty. Most of the time, it involves some sort of frozen option with fresh fruit.
I also want to note that while I was working a full-time corporate job, the kids had to fend for themselves in the morning while we all scrambled to get ready, fed, and out the door.
So today I wanted to round up our favorite breakfast items, as well as some reader-favorite breakfast items that were shared with me too! I've tried to link our products as much as I could to make your shopping easier if you also like to order groceries from Walmart, Target or Amazon Fresh.
21 Breakfast Ideas for Kids
I'm kicking off our list with our top 5 go-to breakfast options for our kids. I know no one is going to be mindblown that we feed our kids frozen waffles but I still think even the most basic breakfast foods sometimes helps me break out of our rut when I'm grocery shopping.
1. Yogurt + Granola
This is one of our favorite breakfast options. Our kids LOVE a parfait for breakfast and these couldn't be easier to throw together. I do find that this breakfast option can sneakily be LOADED with sugar though so I'm pretty picky about the yogurt and granola we use.
Our favorite low-sugar yogurts are Two Good Greek Yogurt (available at Walmart or Target), Oikos Triple Zero Yogurt (available at Walmart or Target) and Chobani Zero Sugar Yogurt (available at Walmart or Target). And our favorite granola is Bear Naked. I usually add in lots of fresh berries too (strawberries, blackberries, blueberries, and raspberries).
Favorite Yogurts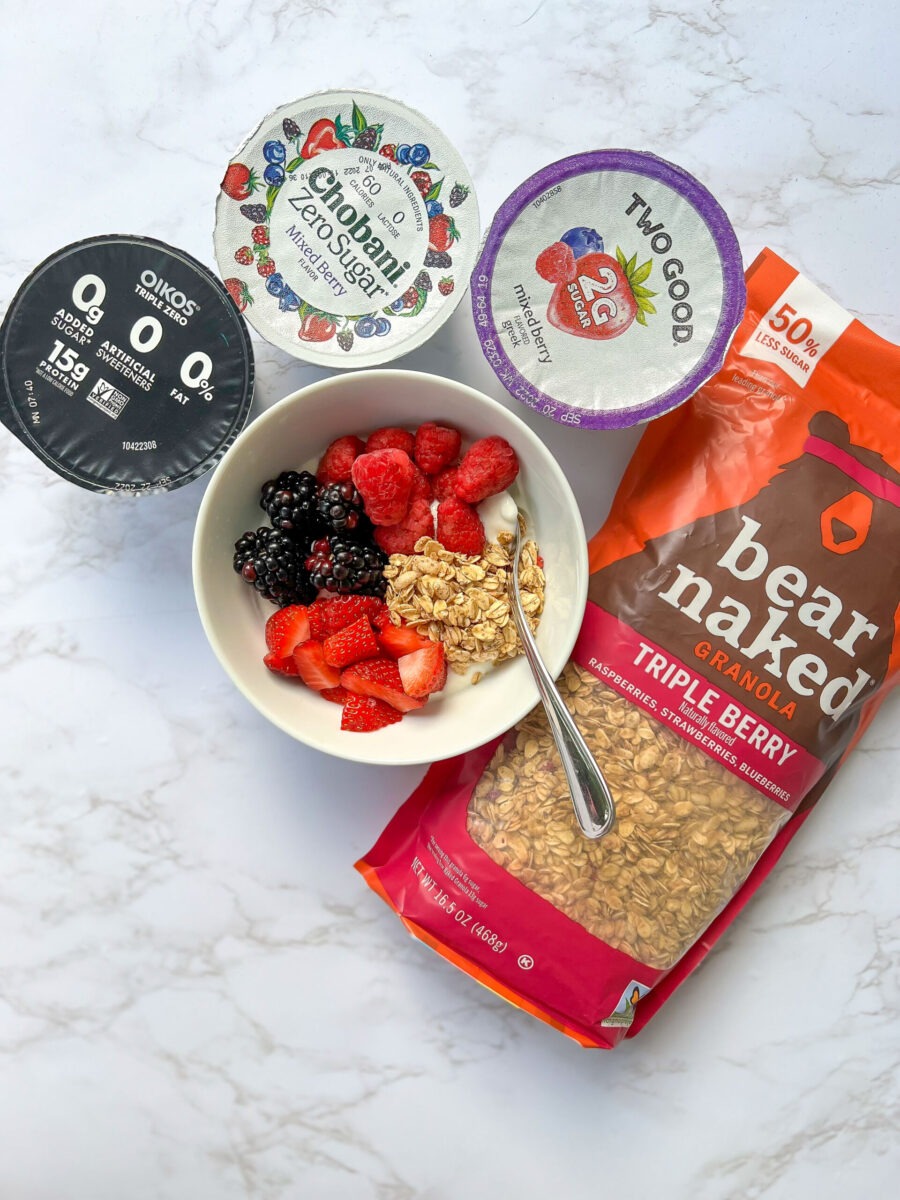 2. Frozen Waffles
Another favorite breakfast item — frozen waffles. This one happens to be one of my favorite items too — especially on the days we're really rushing to get out the door.
I really like the KashiGO waffles and the Kodiak waffles because they are made with 100% whole grains and are packed with protein (especially the Kashi). Our freezer is usually stocked with whichever brand is on sale.
If the waffles have a flavor like chocolate chip, birthday cake, cinnamon, etc., we can usually get the kids to eat them without syrup. However, if we need to sweeten them up, we drizzle some ChocZero's Maple Syrup on top. This sugar-free, low-carb, gluten-free maple syrup isn't our kids' favorite and is a "stickier" consistency but they'll eat it. If we're on a waffle kick, we will switch up the toppings some mornings with almond butter or Nutella (the kids favorite).
Favorite Waffles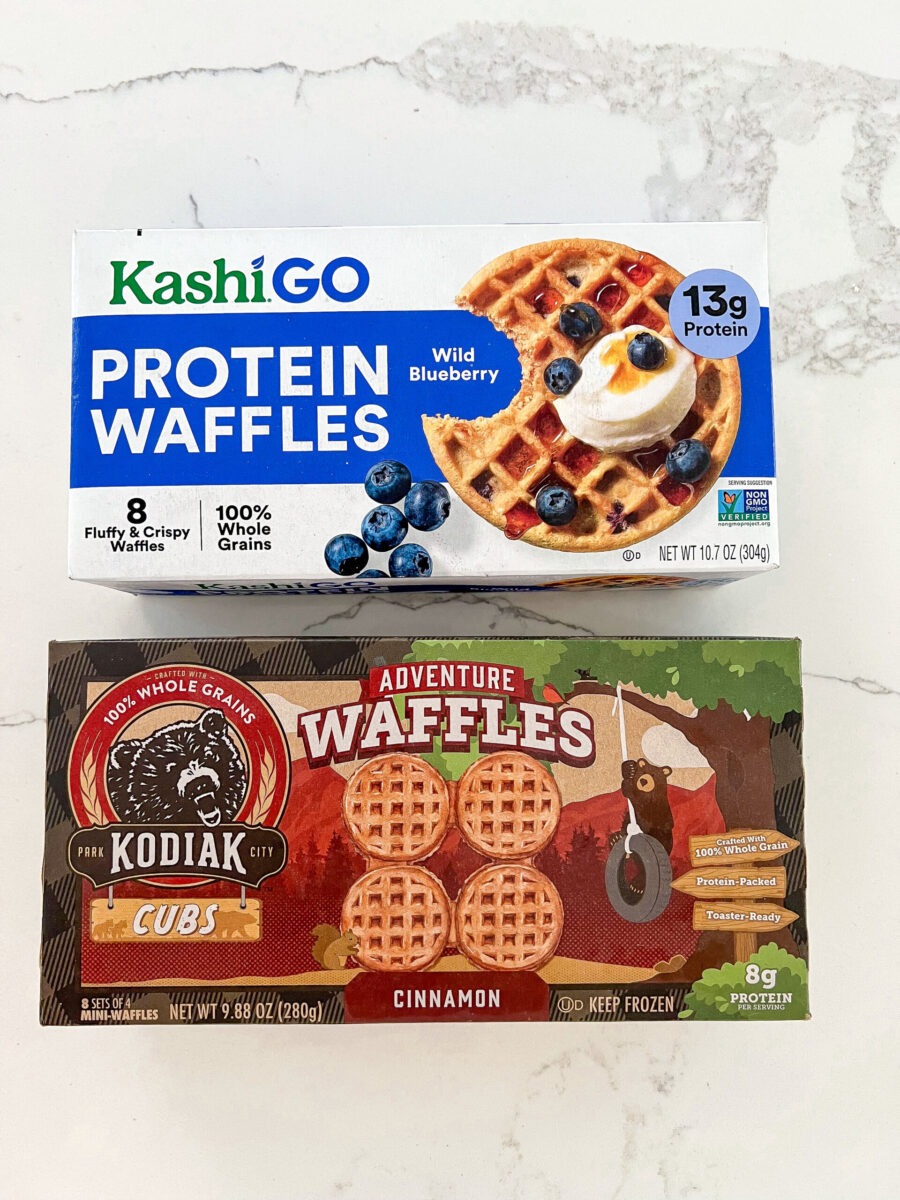 3. Cereal
Our kids could live off of cereal and we go through SO much of it in our home. When shopping for our cereal, I usually look for a box that has a whole grain as one of the first three ingredients, doesn't have a million grams of sugar, plus some fiber and protein. However, we definitely have cereals in our pantry that don't meet any of these requirements too and I try not to stress about it. (Tip: Sometimes I'll mix sweeter cereals with plainer ones in a cereal saver container to cut down on the sugar.)
Favorite Cereals
Favorite Cereals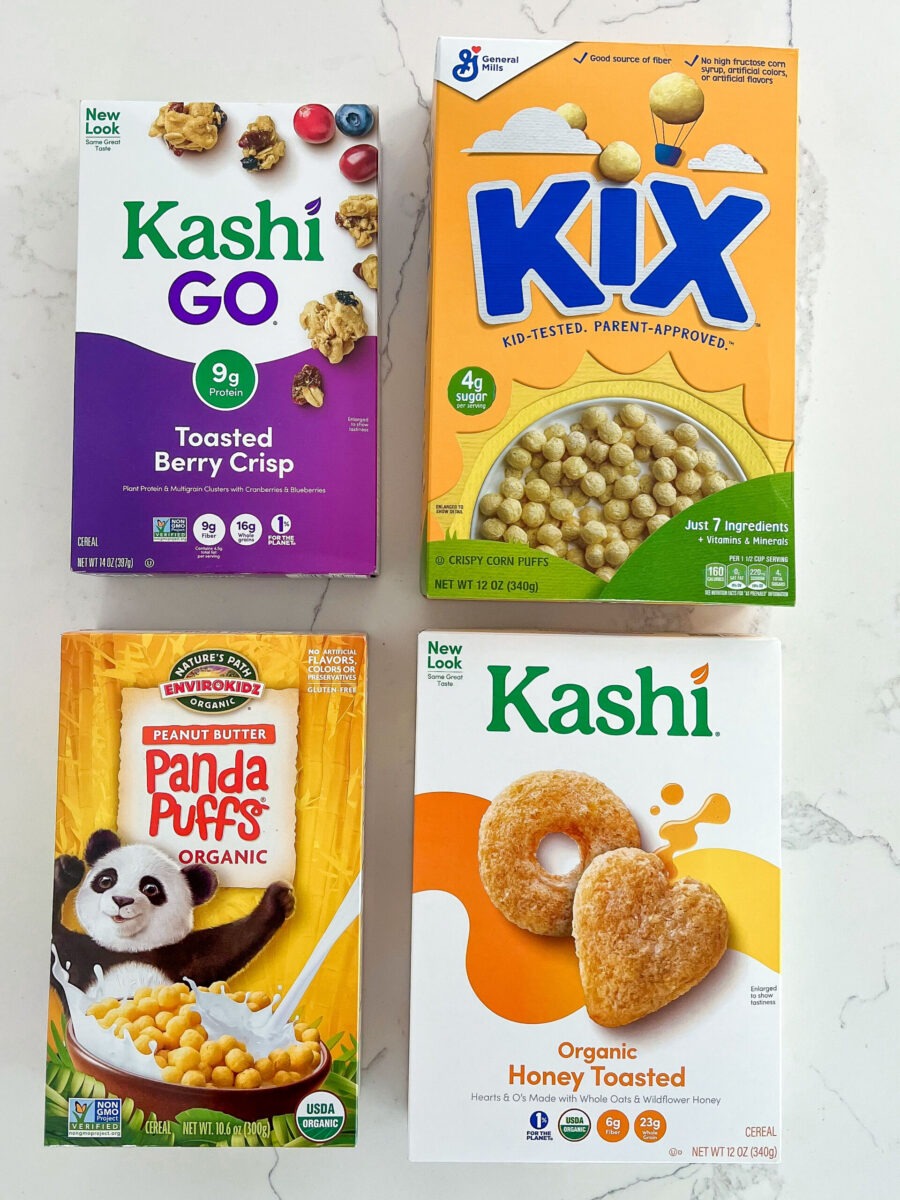 4. Smoothies
I usually save our smoothie breakfast for later in the week when we are running low on fresh fruit.
This is also my favorite way to hide greens in the kids' breakfast. To entice the kids to drink a green smoothie, we usually name it something fun like "super powers smoothie." And I've found adding a banana usually covers up any hint of veggies. (Tip: As soon as our bananas start to turn brown, we peel and freeze them for smoothies.)
3 Favorite Smoothie Combinations
Frozen Strawberries + Frozen Banana + Yogurt
Frozen Pineapple + Frozen Mango + Yogurt
Frozen Berries Mix + Frozen Banana + Fresh Spinach + Almond Milk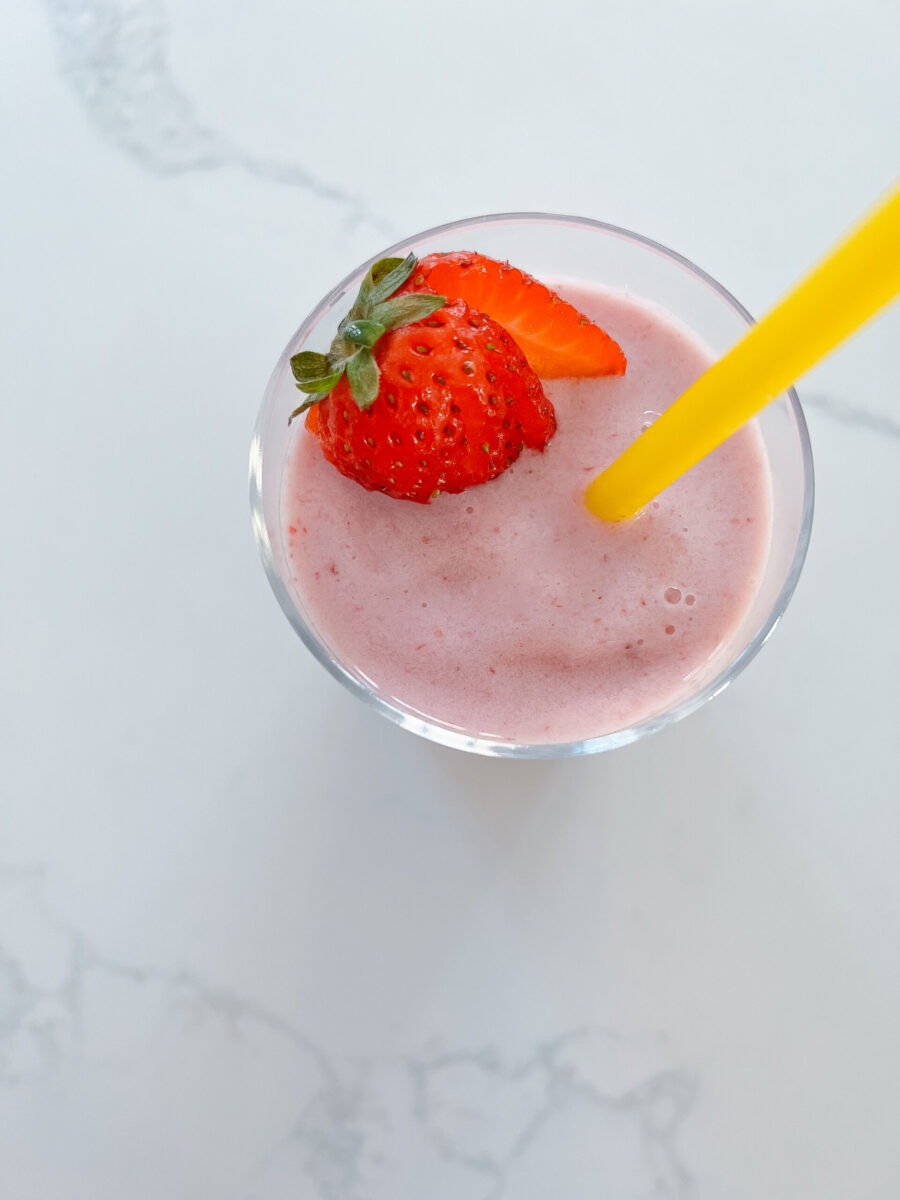 5. Bagels or Toast
Usually topped with dairy-free cream cheese, dairy-free butter, or almond butter! We love Dave's Killer Bread in our house.
Favorite breads & spreads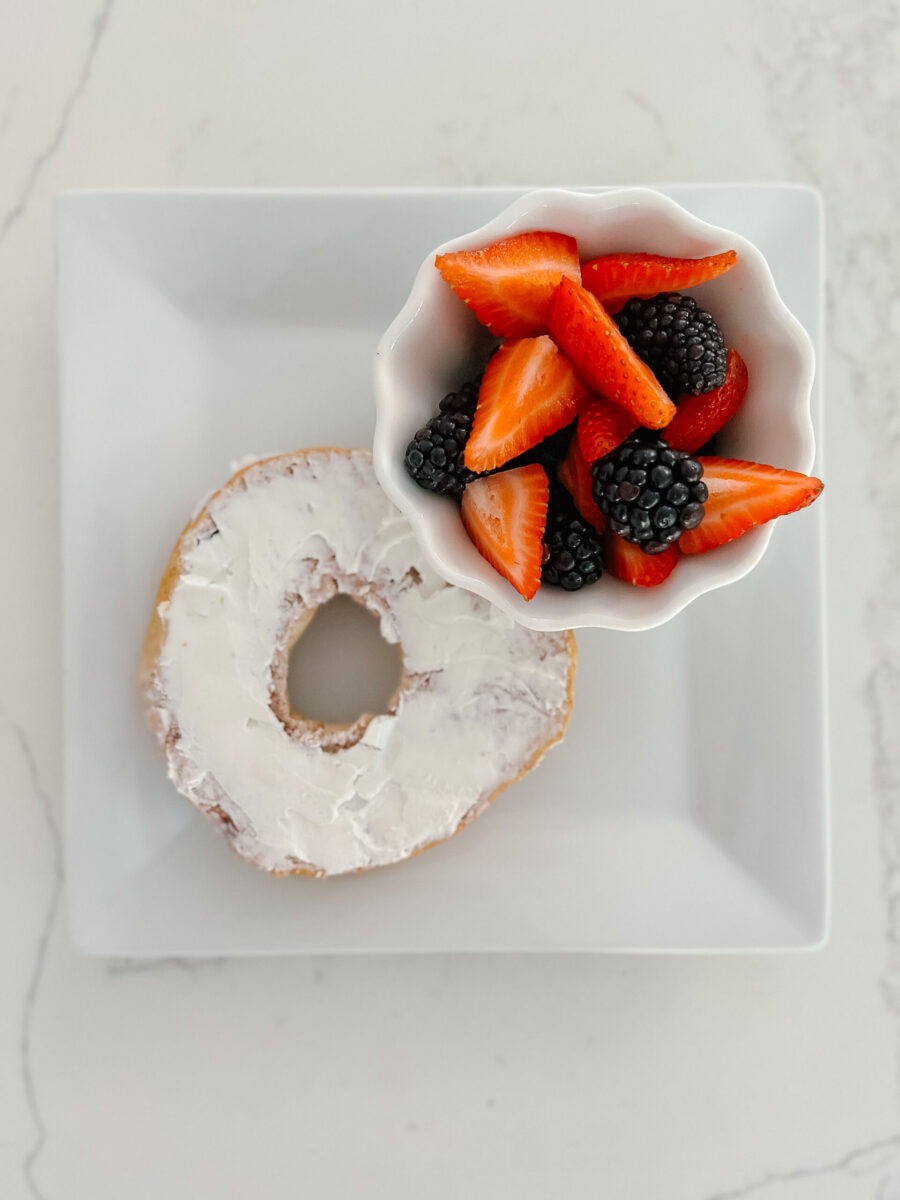 Reader Favorite Breakfast Ideas for Kids
And here is the list of reader-favorite breakfast items for kids! I love referring to this list when the kids start to tire of our regular options. It's a good reminder to hard boil some eggs or whip up some muffins/bread on Sunday evening for the kids to eat during the week.
Make ahead options: oatmeal bake, egg casserole, frittata
Frozen hashbrowns
Kids RX bars
Oatmeal (lots of variations): with maple syrup / dinosaur eggs / sprinkles / peanut butter / chocolate chips
Breakfast cookies
Breakfast burritos/breakfast tacos
Eggs: Hard boiled, scrambled, egg bites
Grits
Applesauce
French toast/cinnamon raisin toast
Sausage
Pop tarts
Toaster strudel
Apples & peanut butter
Breads/muffins: Pumpkin / banana / blueberry / zucchini / kodiak power muffins
English muffins
Also, if you're looking for kid-friendly dinner ideas, I recommend checking out THIS POST!