This year Caroline requested a flamingo party for her 4th birthday. And when I looked at the calendar I was SO excited to see her party would fall on Cinco de Mayo…and so a Flamingo Fiesta was in order…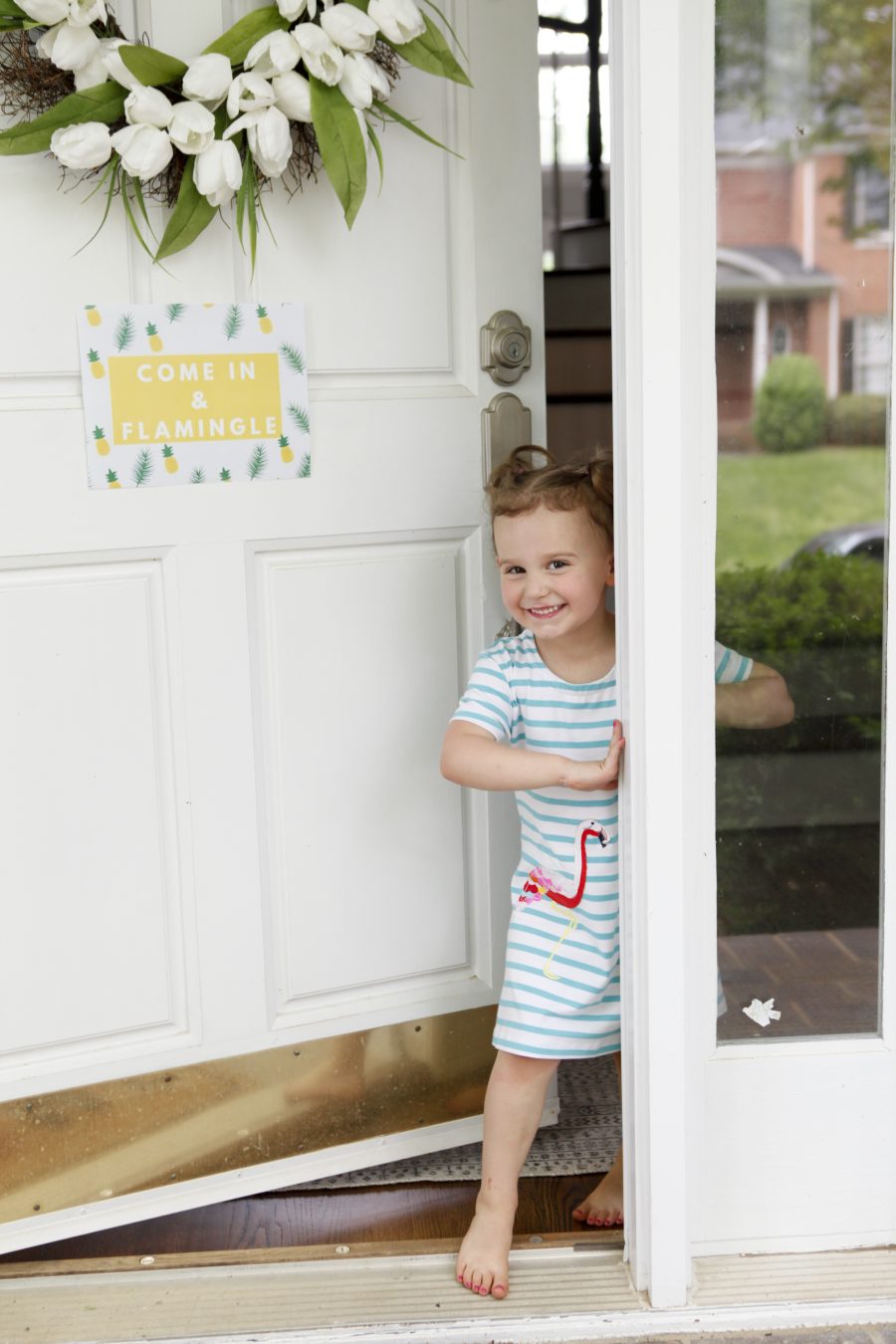 Shall we start with the party details?! Basically I purchased a TON of faux palm fronds and laid them everywhere. Then I added in fresh flowers (with more faux palm fronds), fresh pineapples and lots of bright paper decor. The decorations were all easy to assemble and turned out so cute!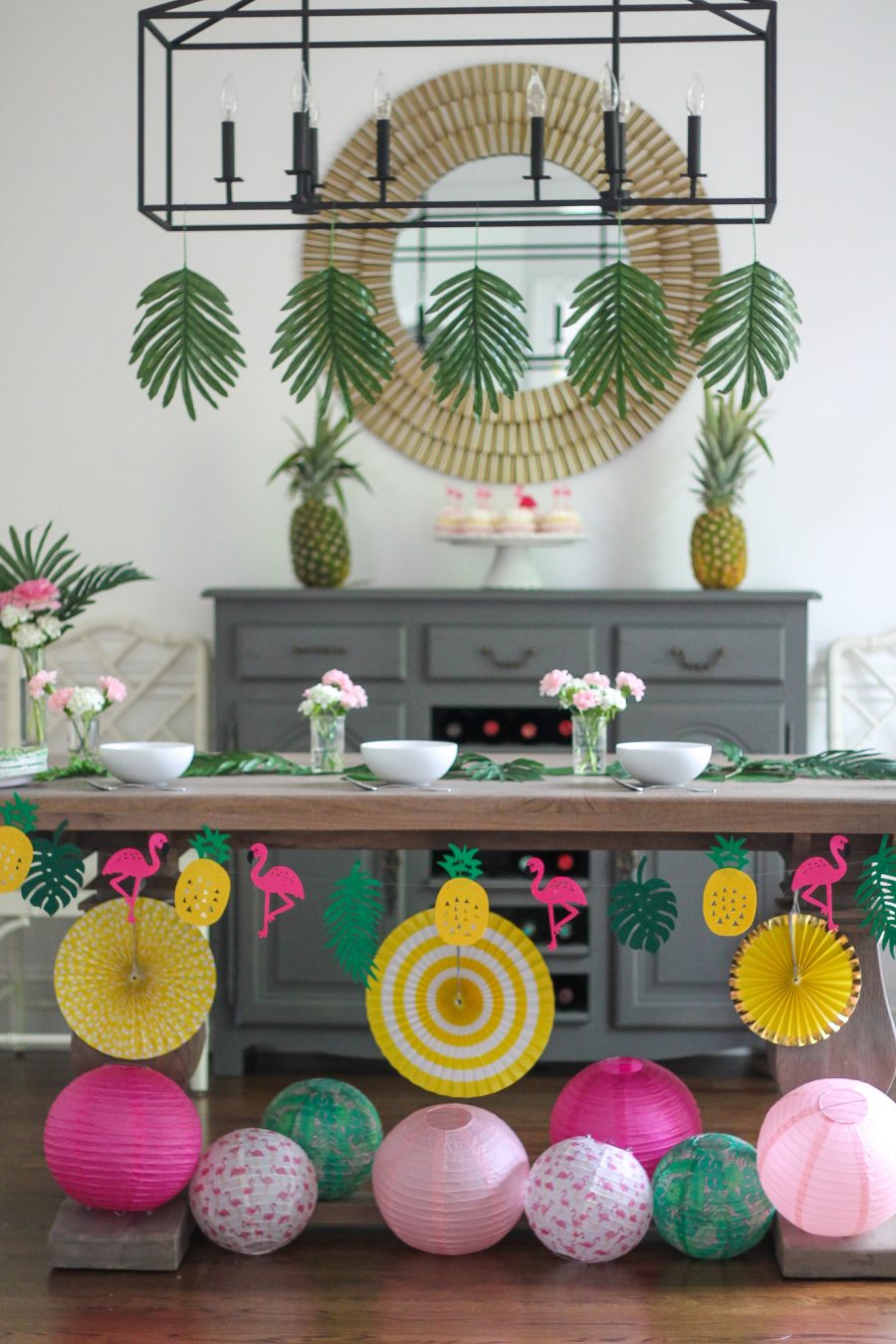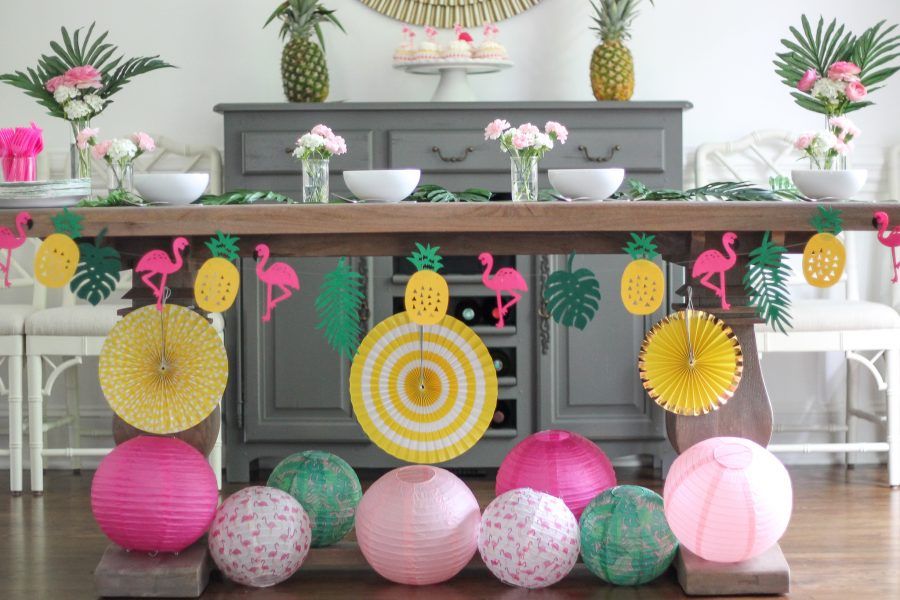 Obviously it wouldn't be a proper fiesta without a taco bar! I considered making everything myself and then Matt said no because he knows I turn into a crazy person and come down with hostess neurosis on party day. So we outsourced the taco bar to the experts at Cantina 1511 Uptown. This was the best decision ever. An hour before our party started Cantina delivered and set up every single thing. They also provided all of the disposable trays, serving spoons, wire racks, sterno cans, etc.
For our taco bar we selected roasted ancho chicken and al pastor pork which came with all the fixins (lettuce, cheese, pico de gallo, and sour cream). For our sides we picked black beans and Mexican vegetable rice (huge hits among the toddlers, by the way). Oh, and an aluminum pan full of queso, which would later be the biggest hit at the after hours portion of the party.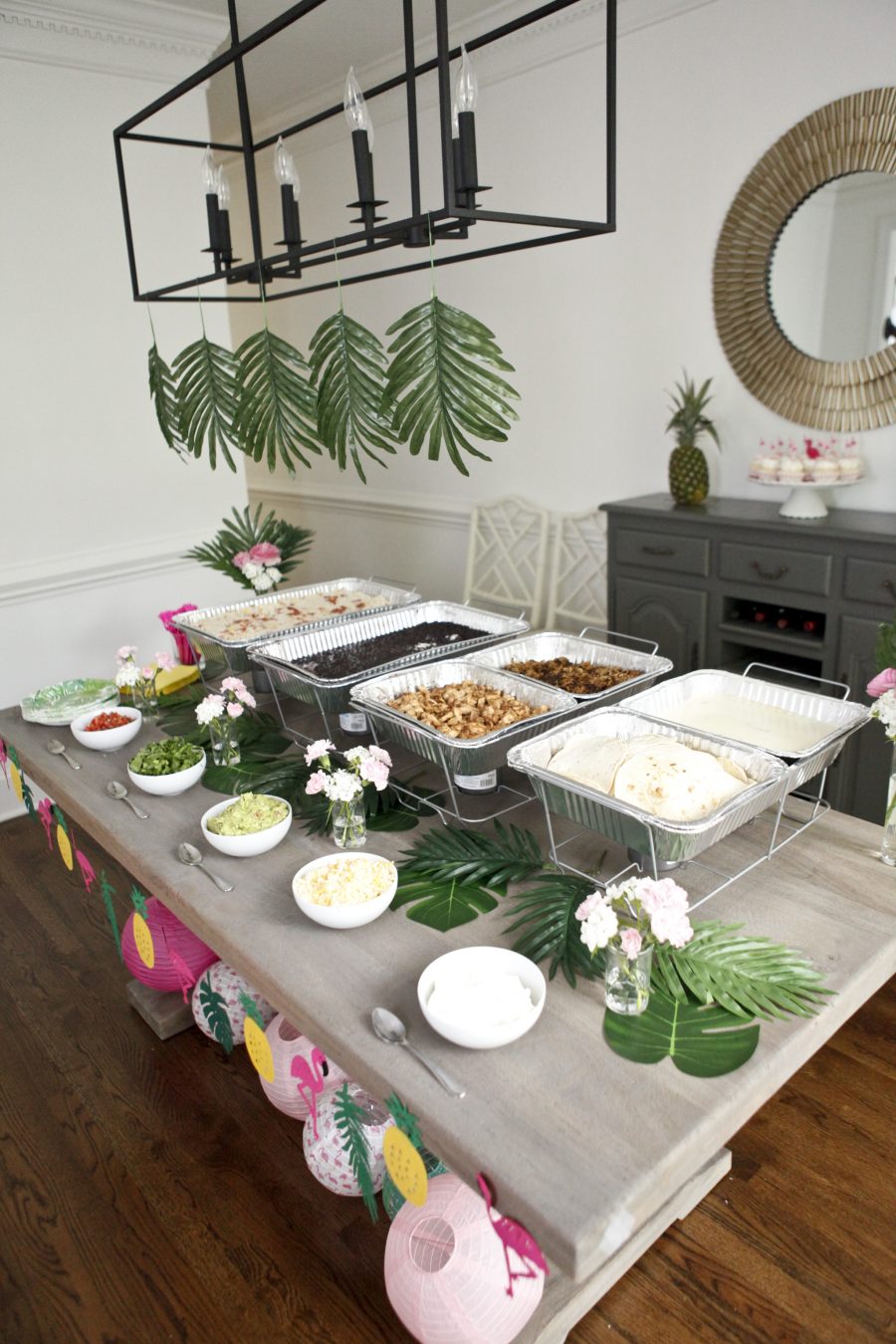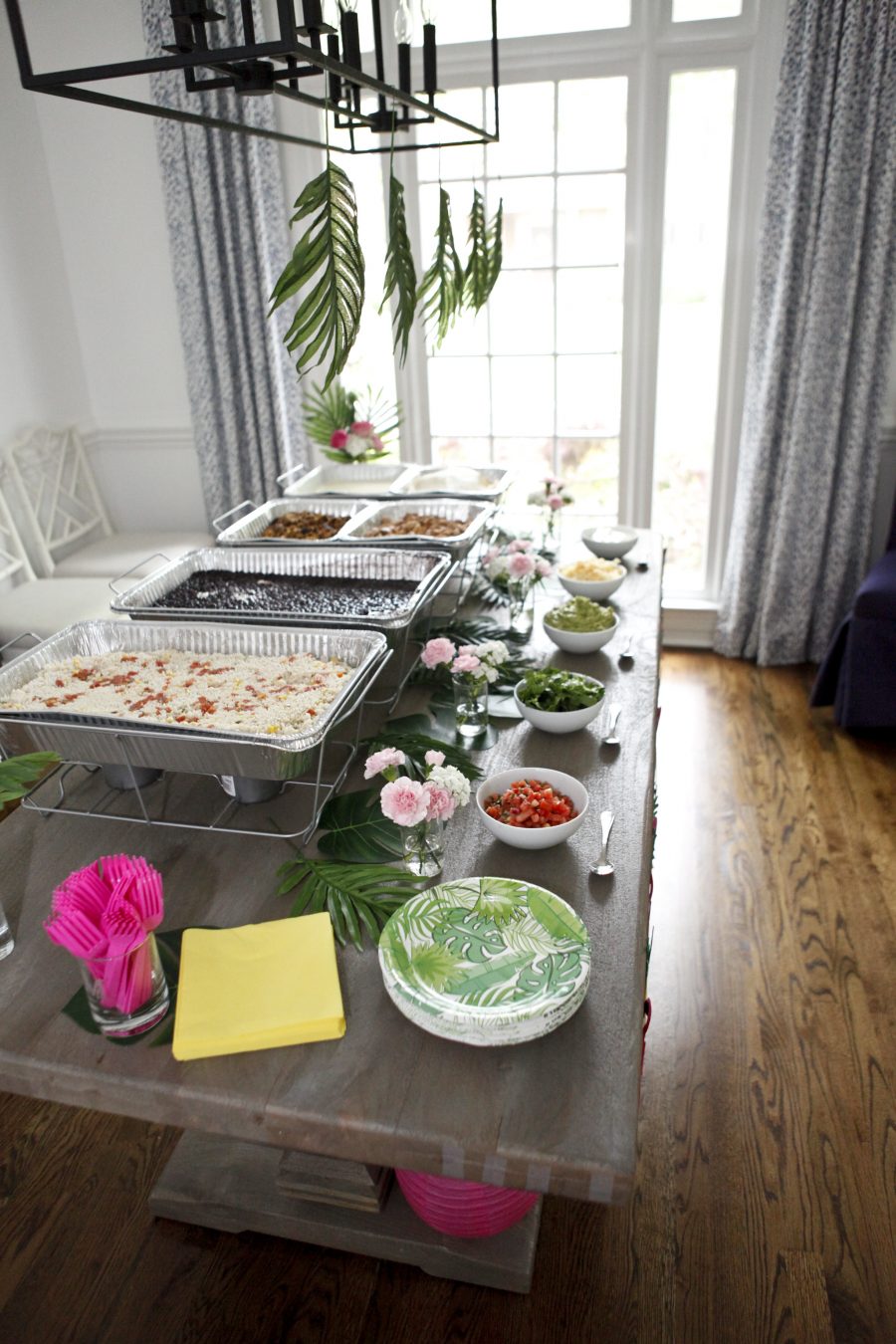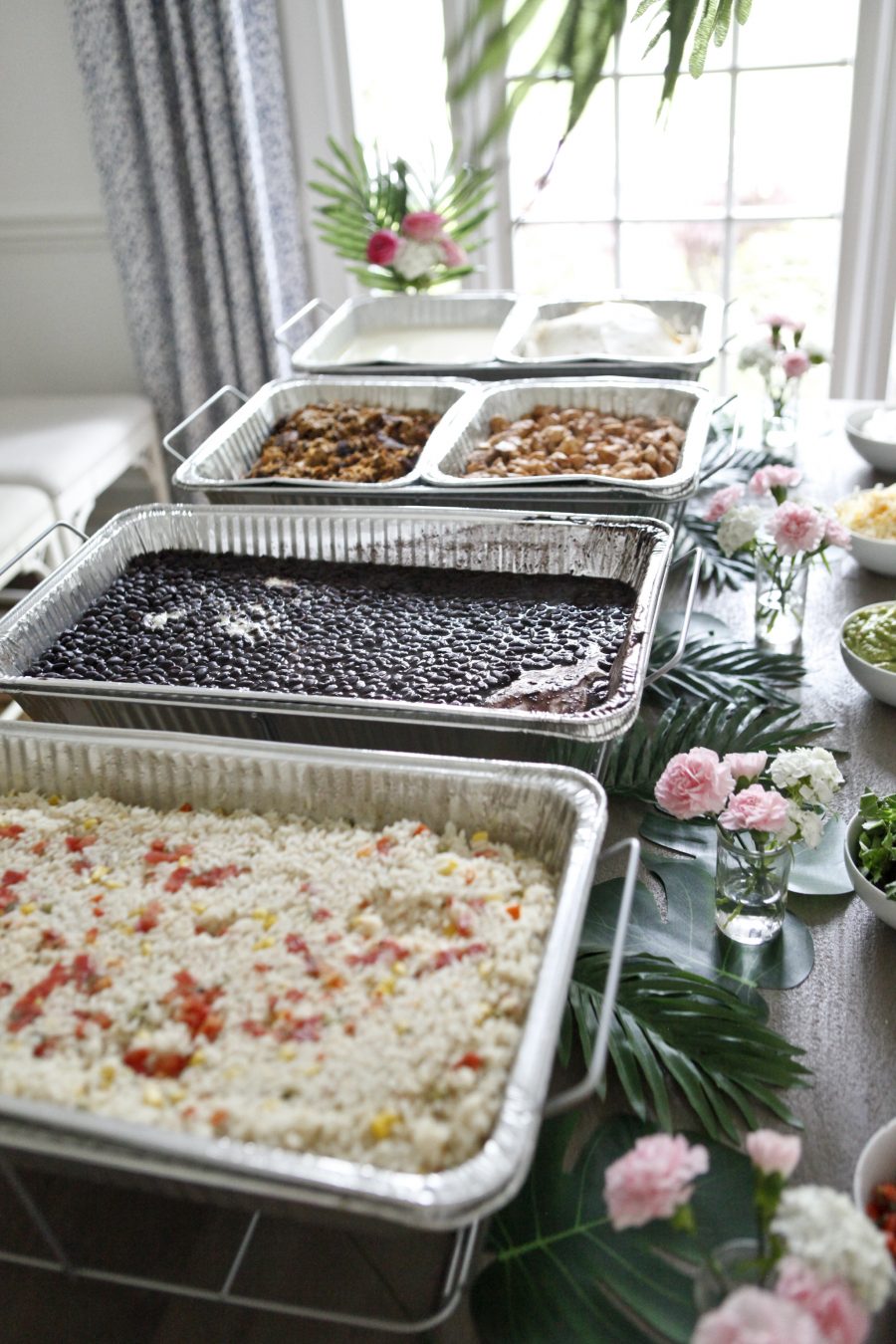 Shout out to Matt for getting creative with the palm leaves and hanging them from our dining room light!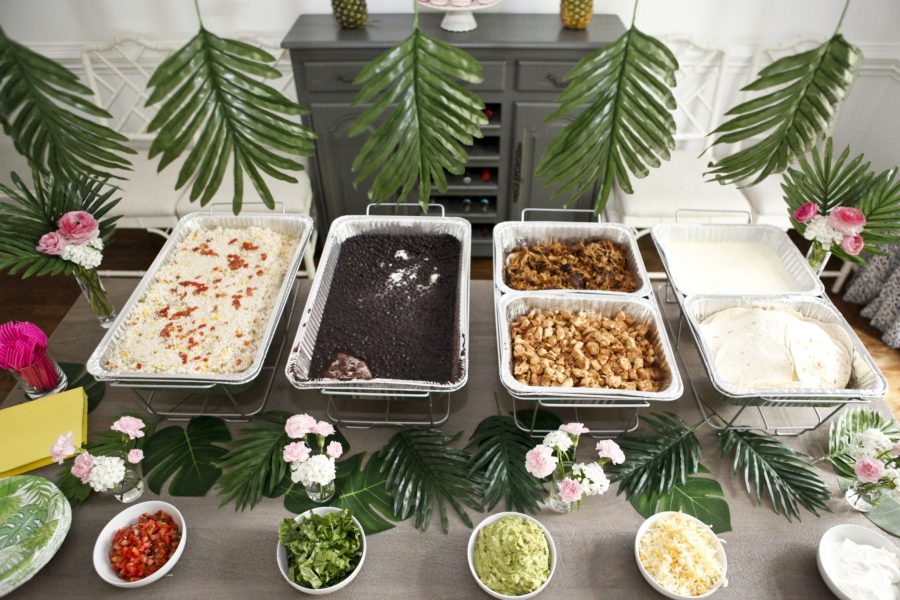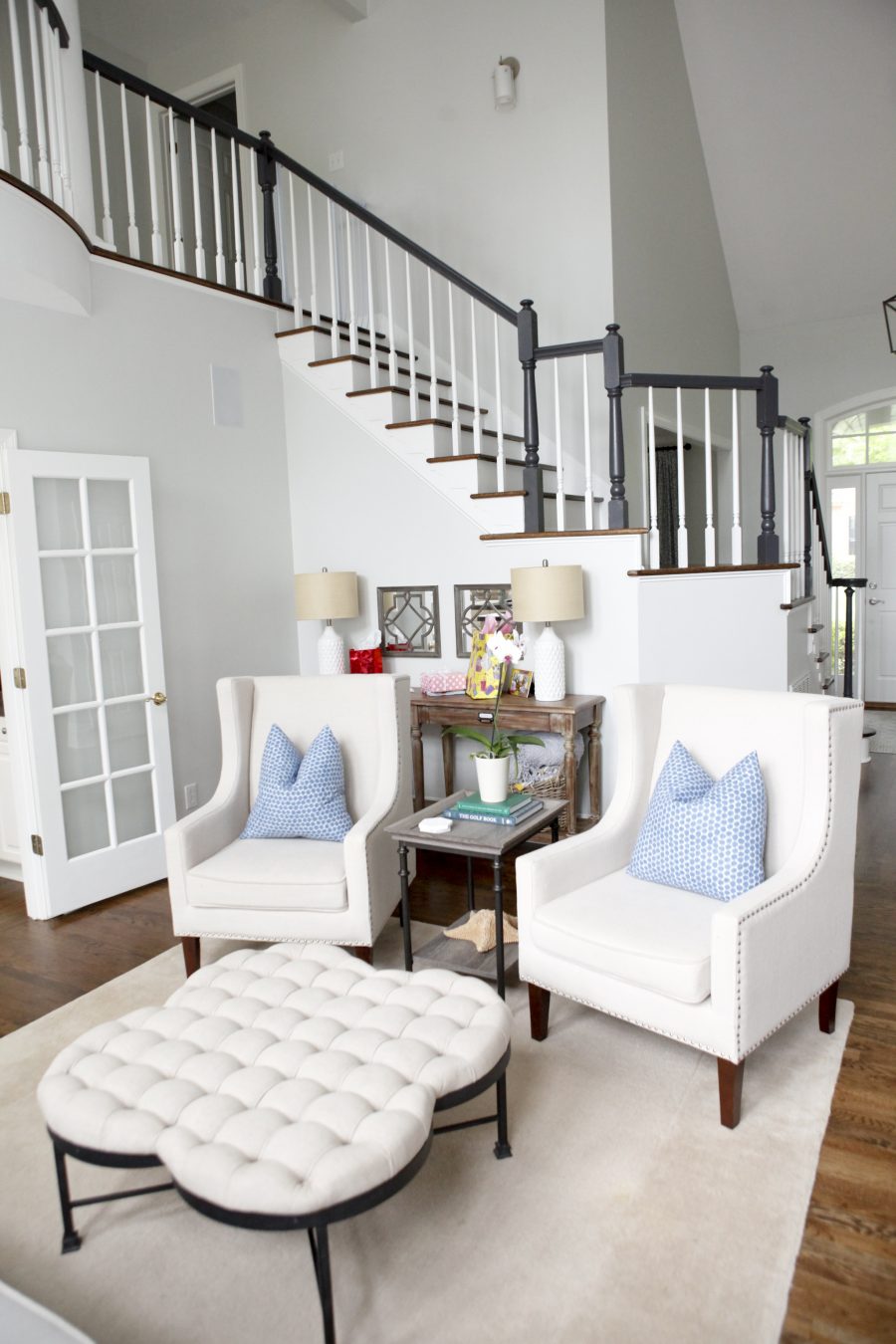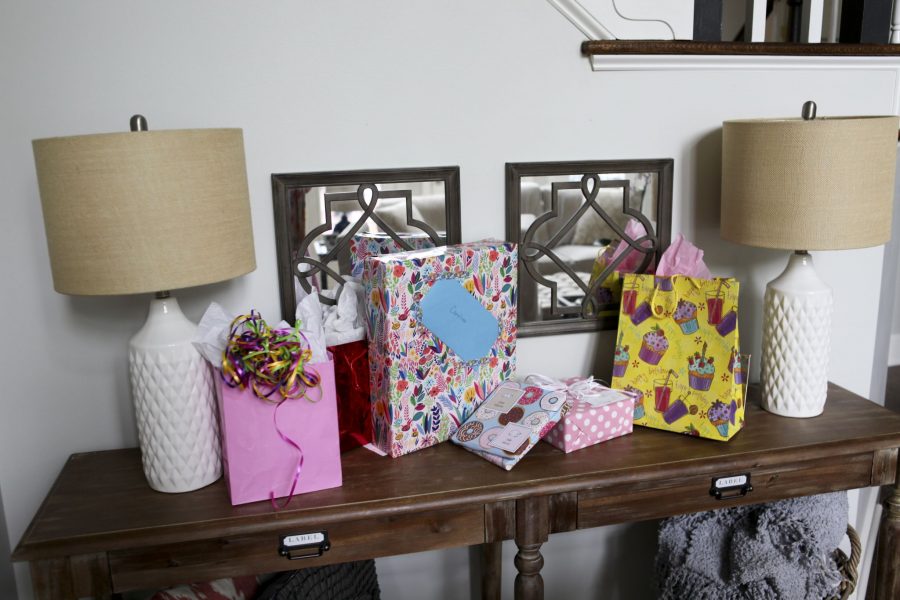 Outside we served drinks — lots of varieties of beer, rosé, sauvignon blanc, margarita punch and lemonade for the kiddos in the cutest pineapple cups. Cantina also set up a salsa bar with red salsa, salsa verde, guacamole, queso and lots of chips!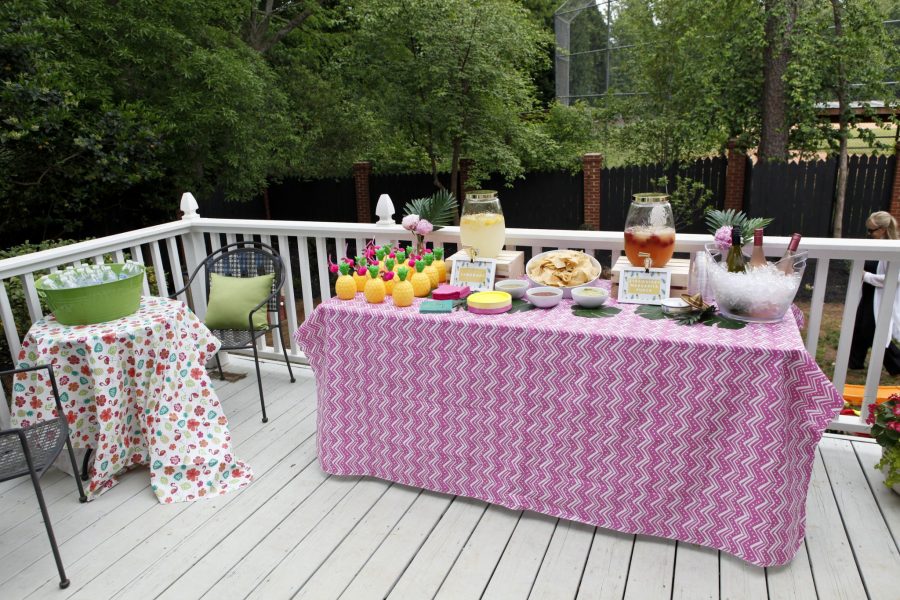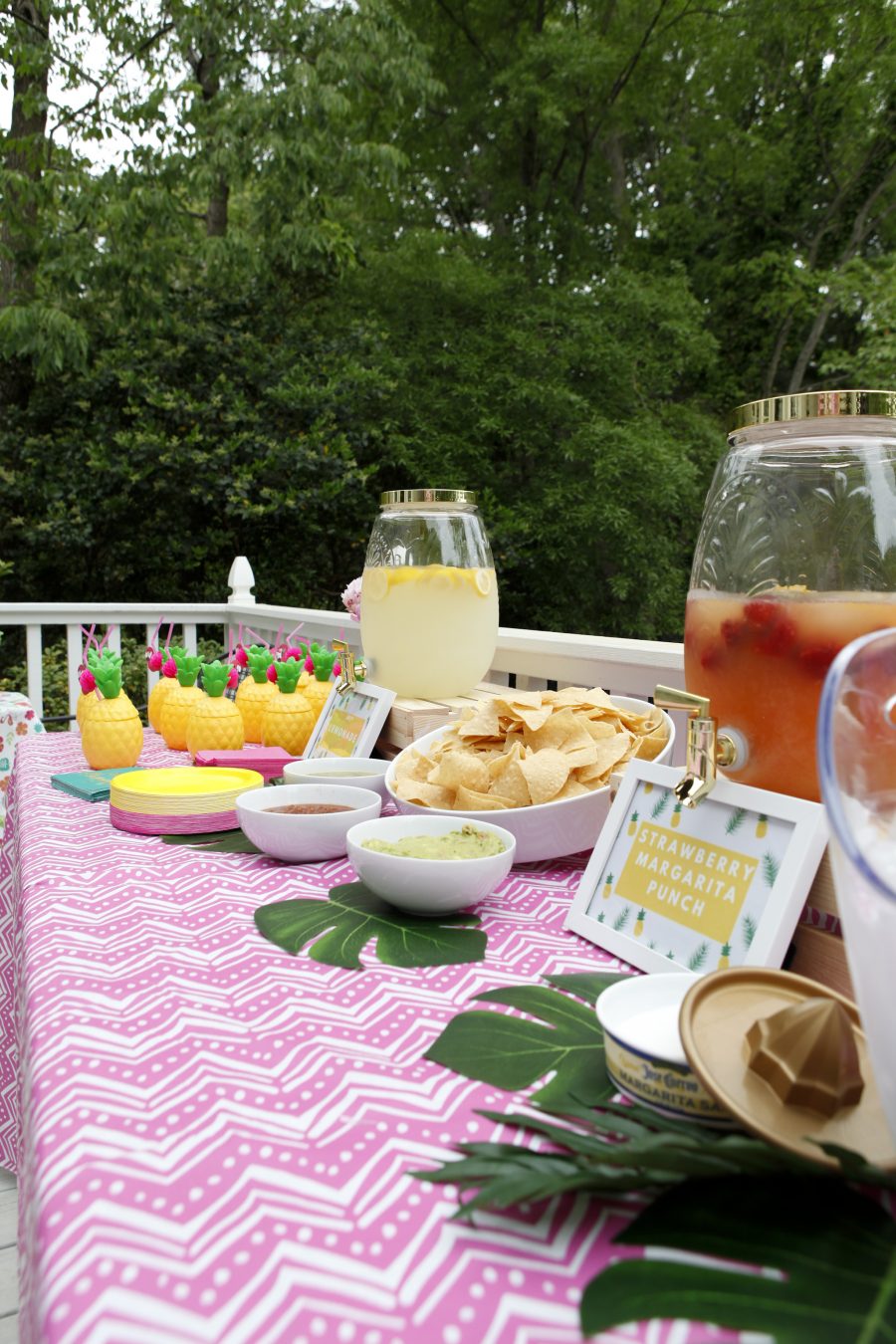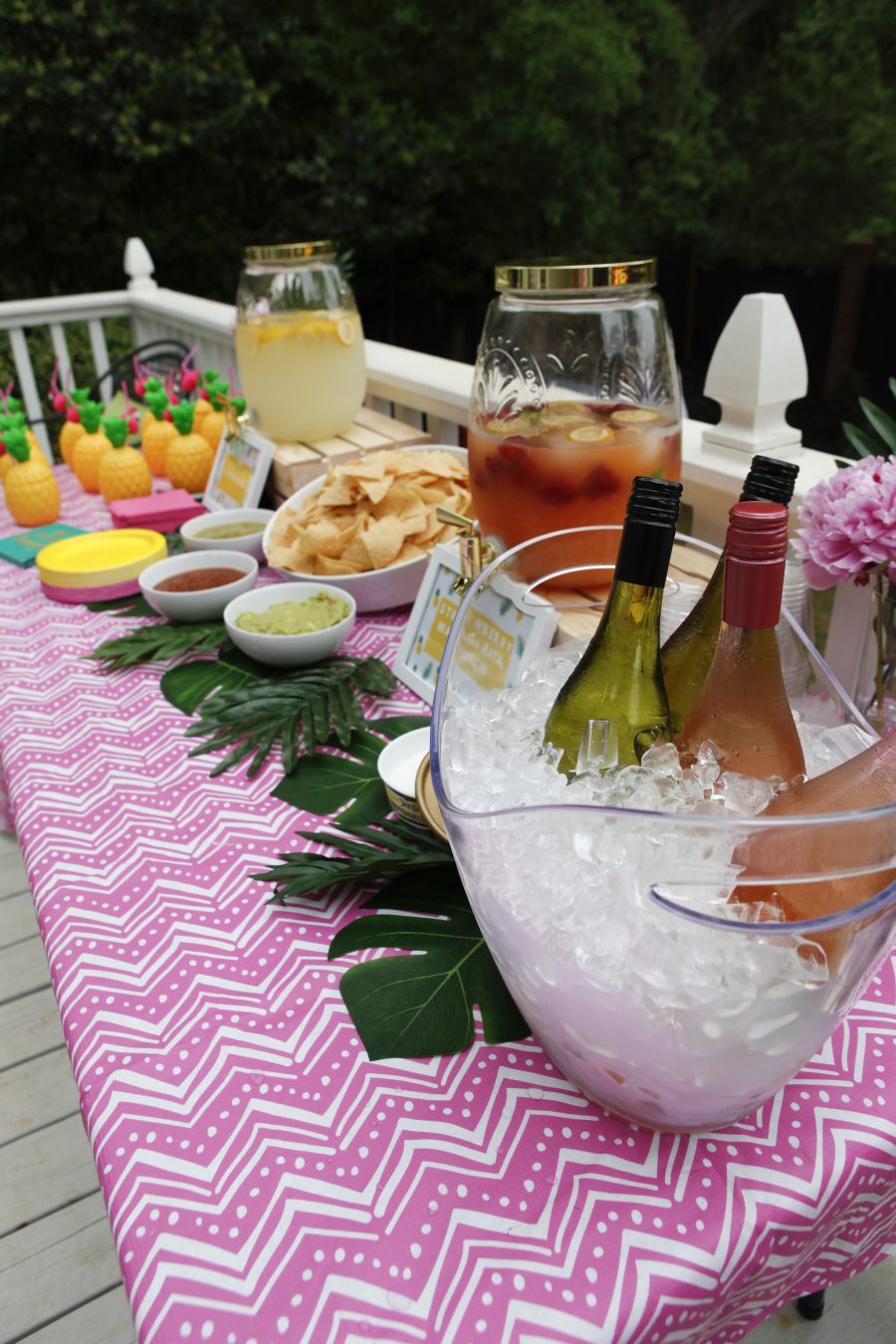 The Strawberry Margarita Punch was a big hit and we were shaking the last few drops out of the dispenser by the end of the party.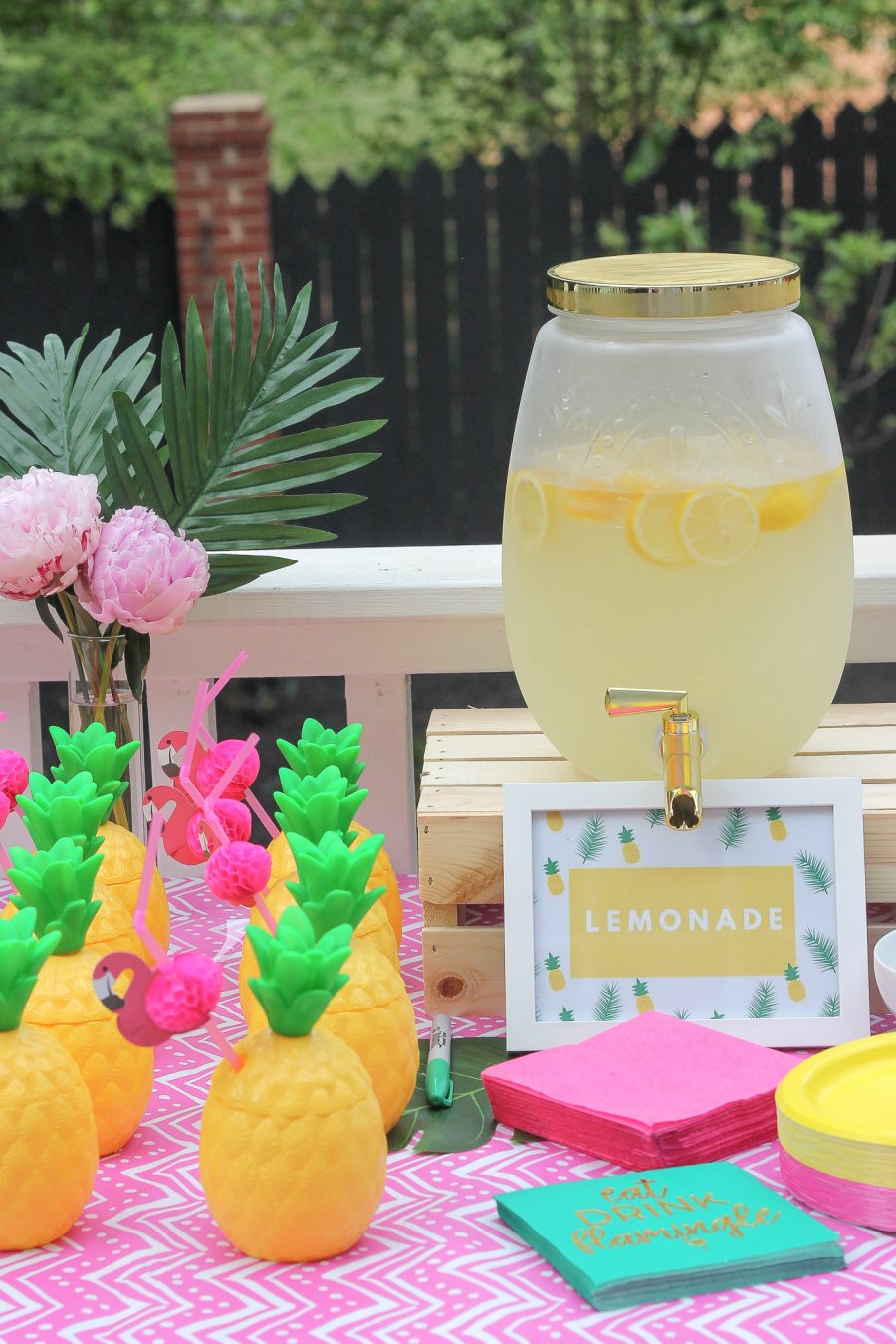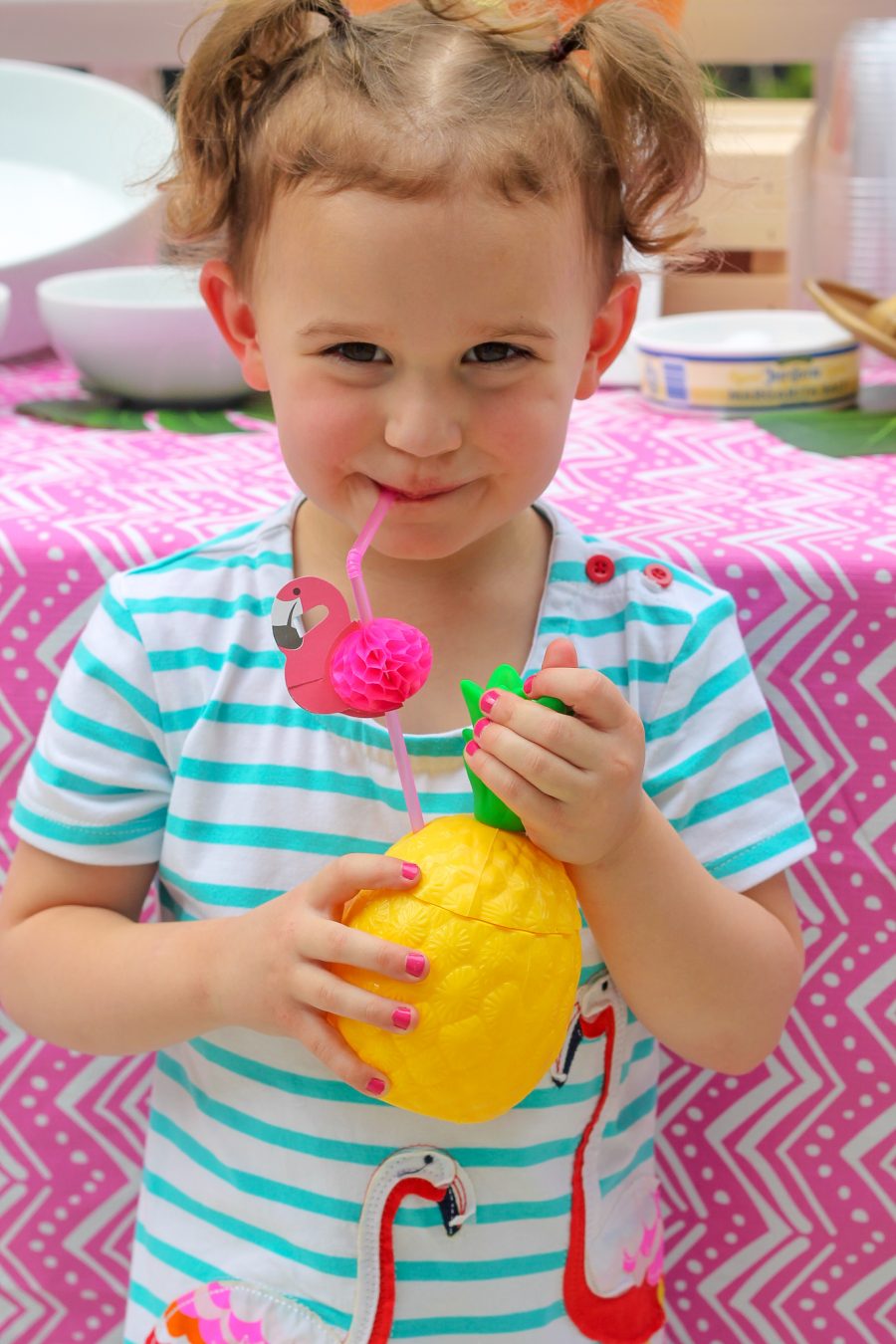 Per usual, I kept the cupcakes super easy by ordering them a few days before the party from Harris Teeter. Then I added some festive cupcake wrappers and flamingo toppers. Pretty sure Caroline had at least 4 cupcakes before I stopped counting. Well, 4 cupcakes of just icing. You only turn 4 once!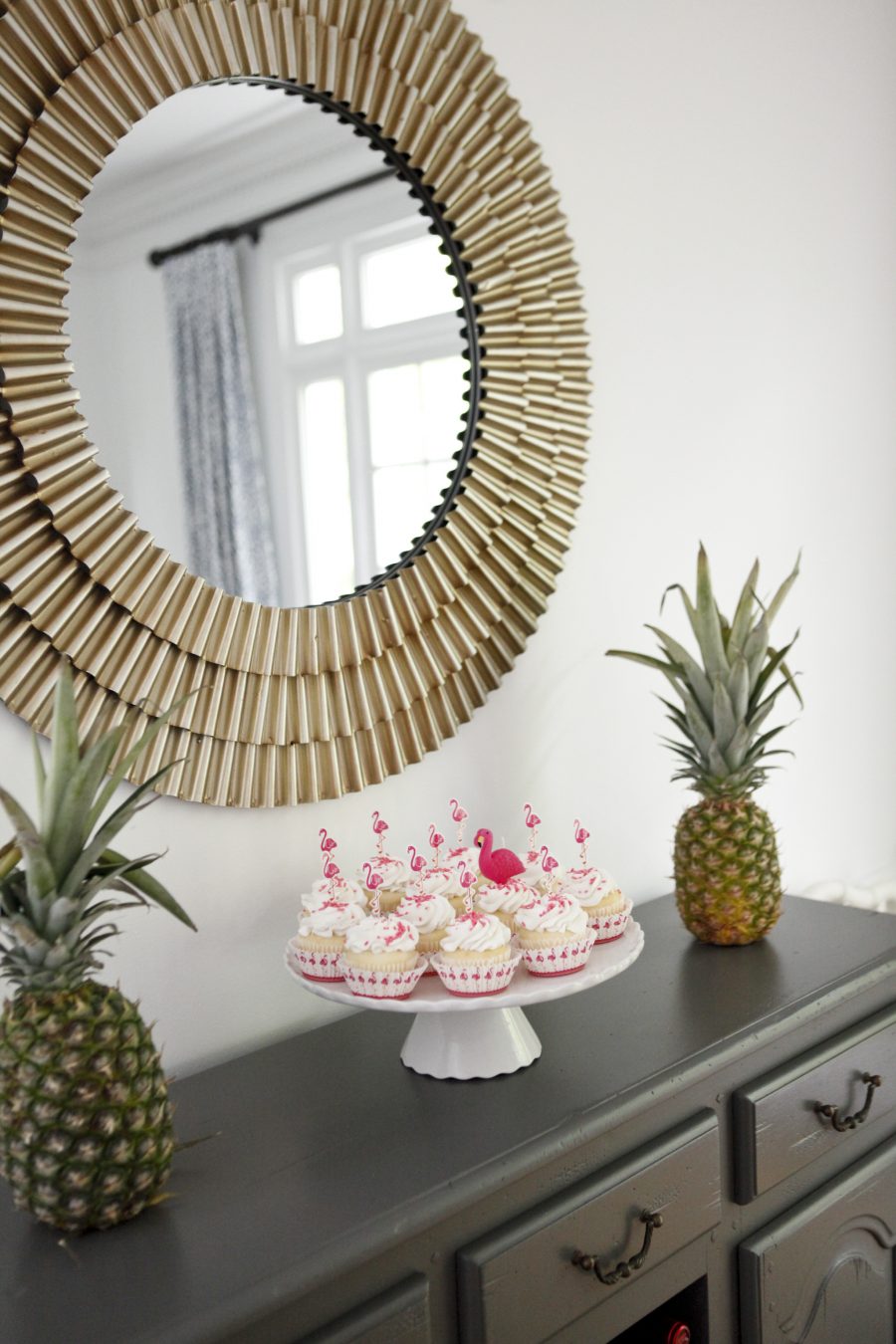 On to my favorite pictures…all my favorite people…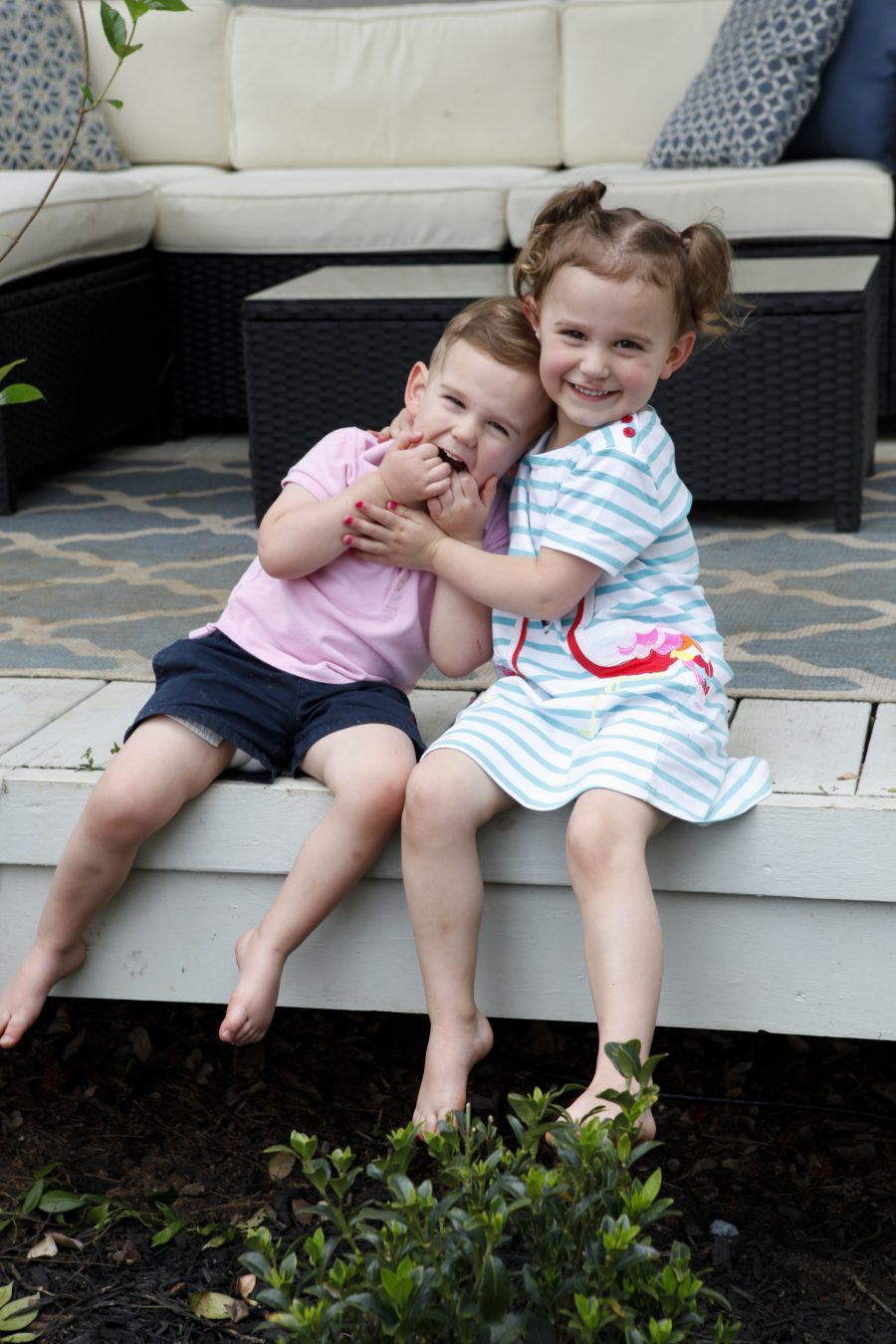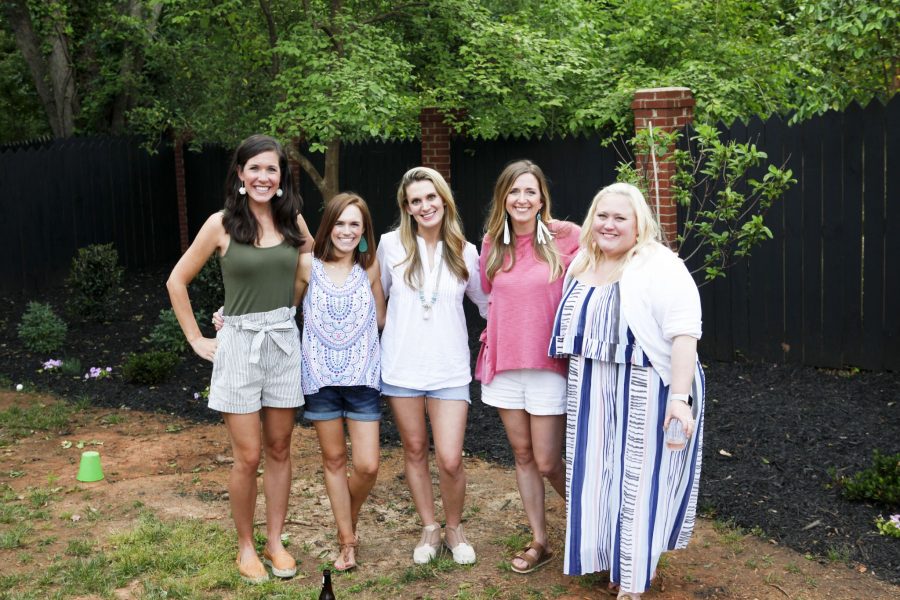 Some of the supper club crew, minus Cristina! Love these girls!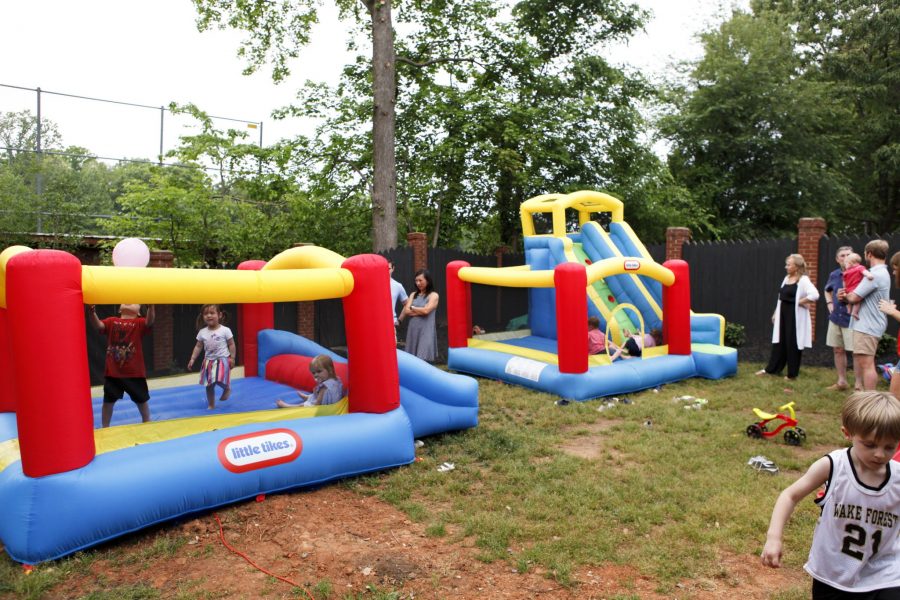 The only thing better than a bounce house? TWO BOUNCE HOUSES!!!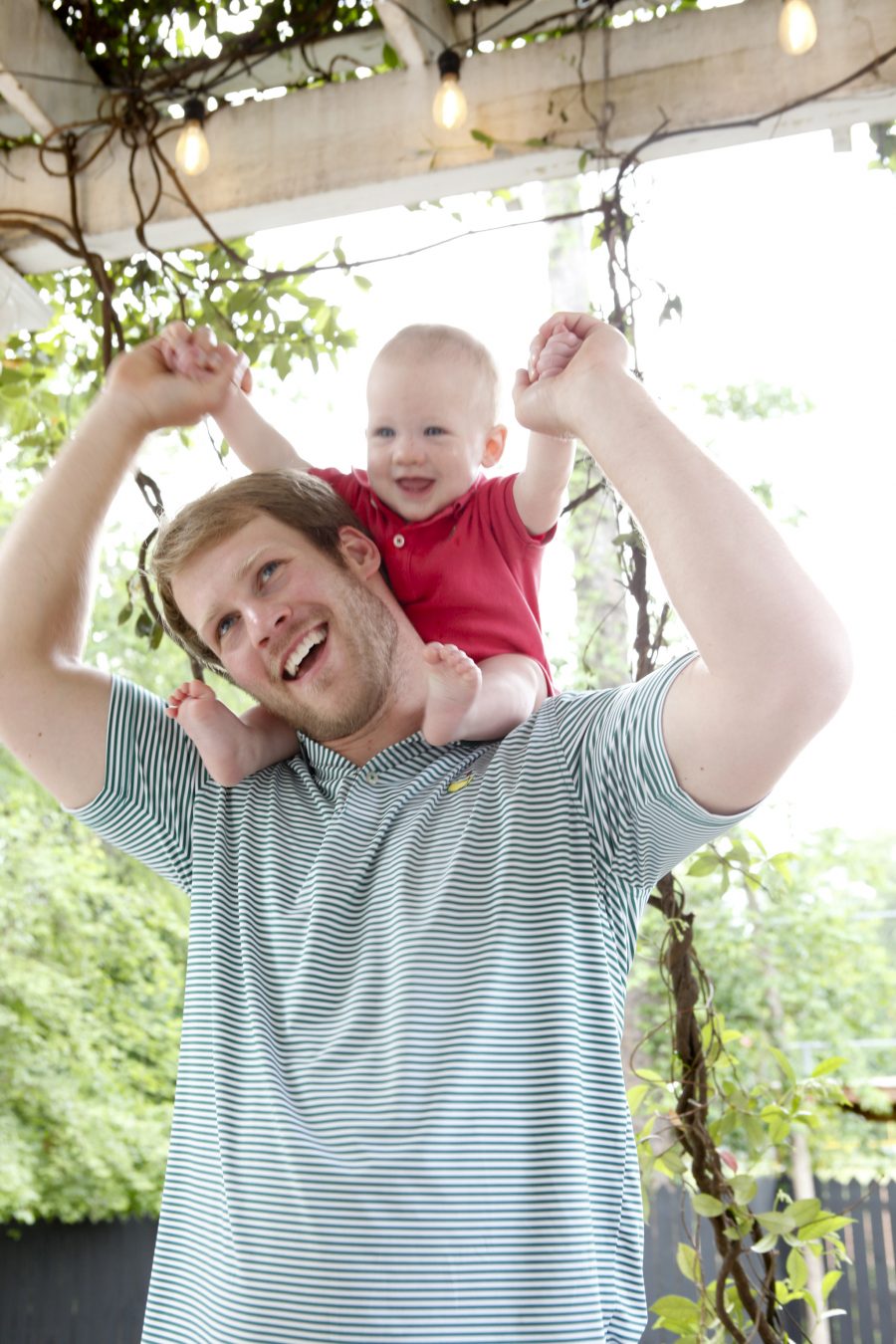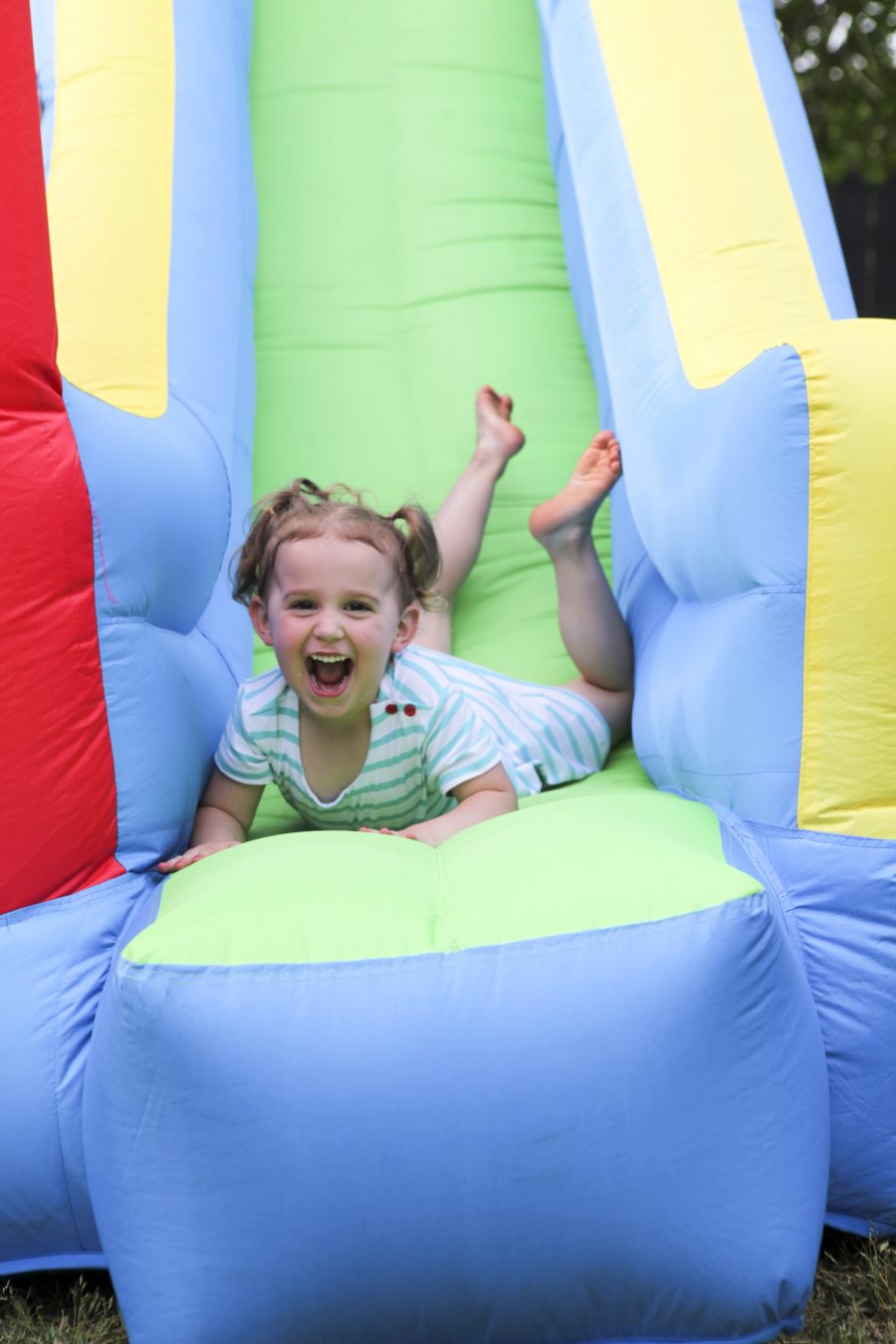 Caroline's very best friend, Austin, going on 4 years strong. These two have truly been inseparable since 3 months old and love each other fiercely.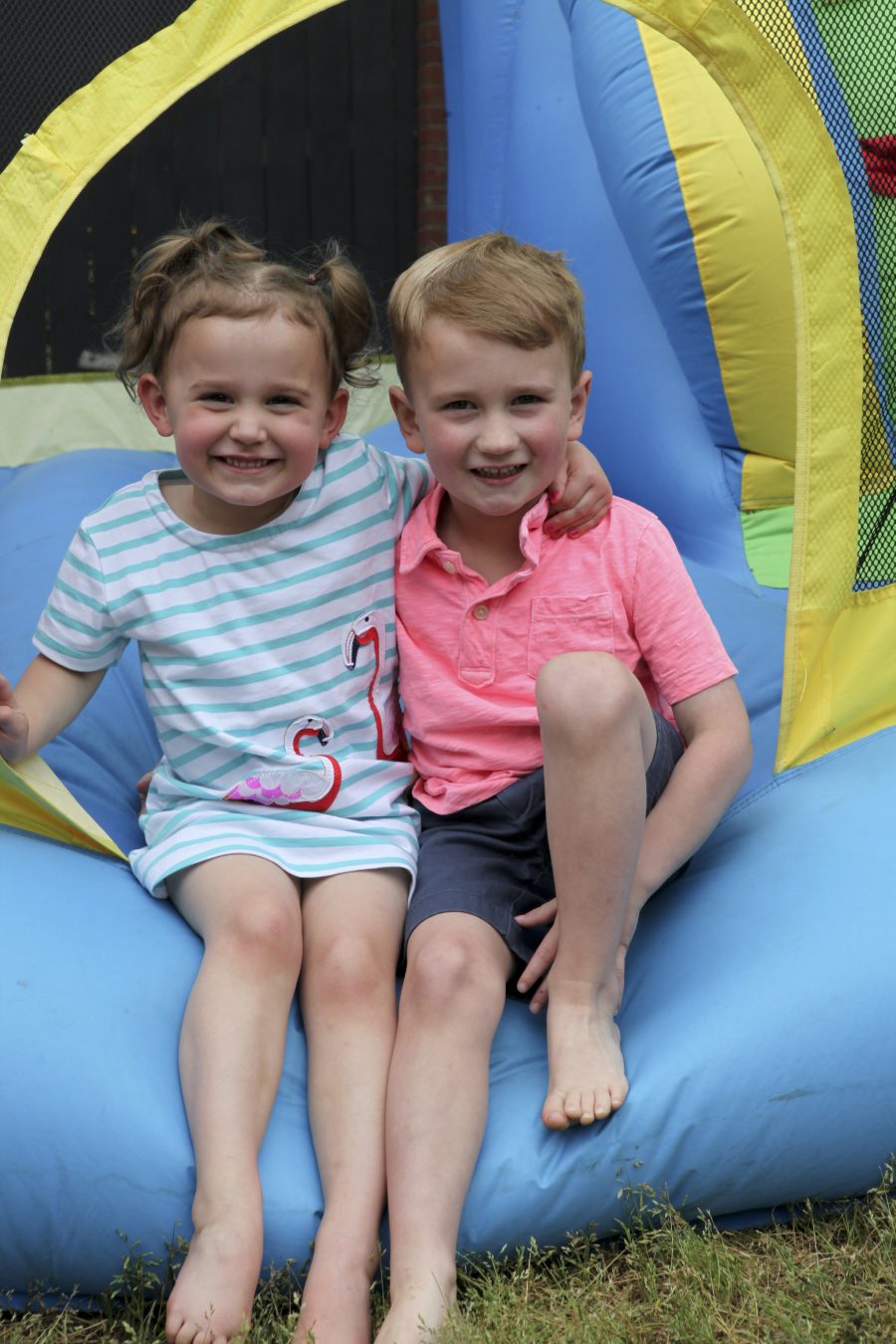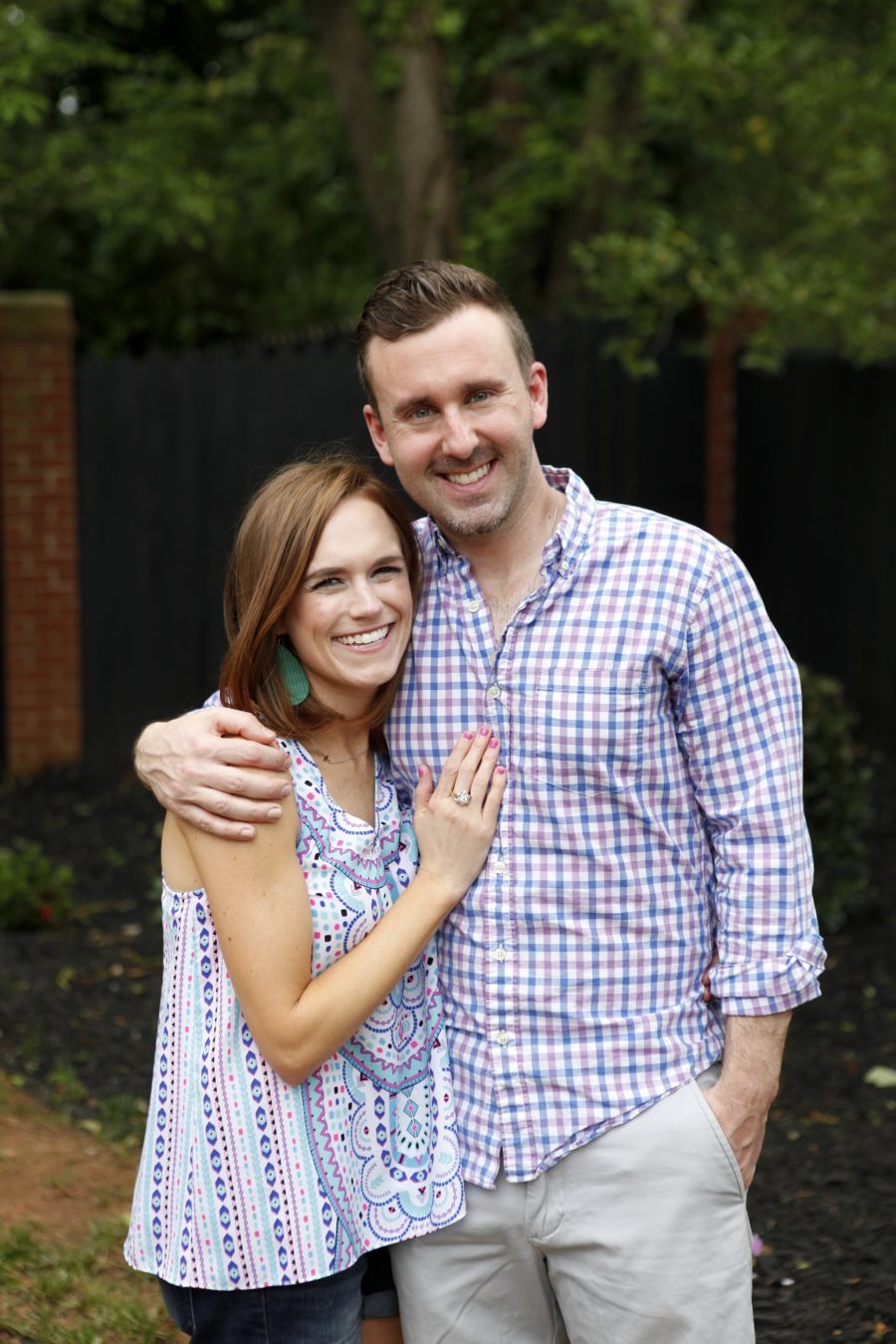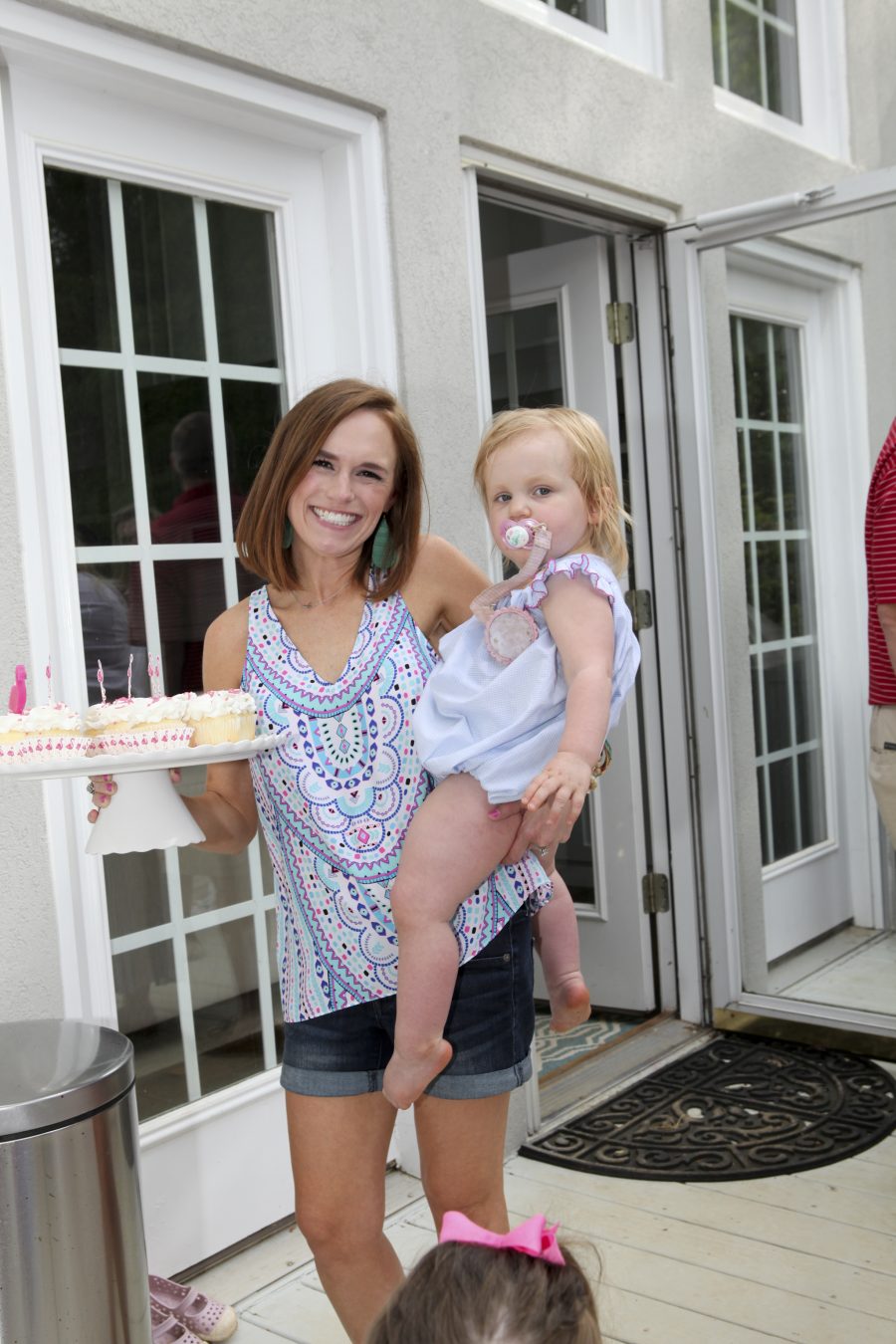 And I have to give a HUUUUUGE shout out to my talented photographer friend Taylor for capturing another one of our parties. Thanks to her I was able to enjoy the party not from behind my camera! She is truly the best!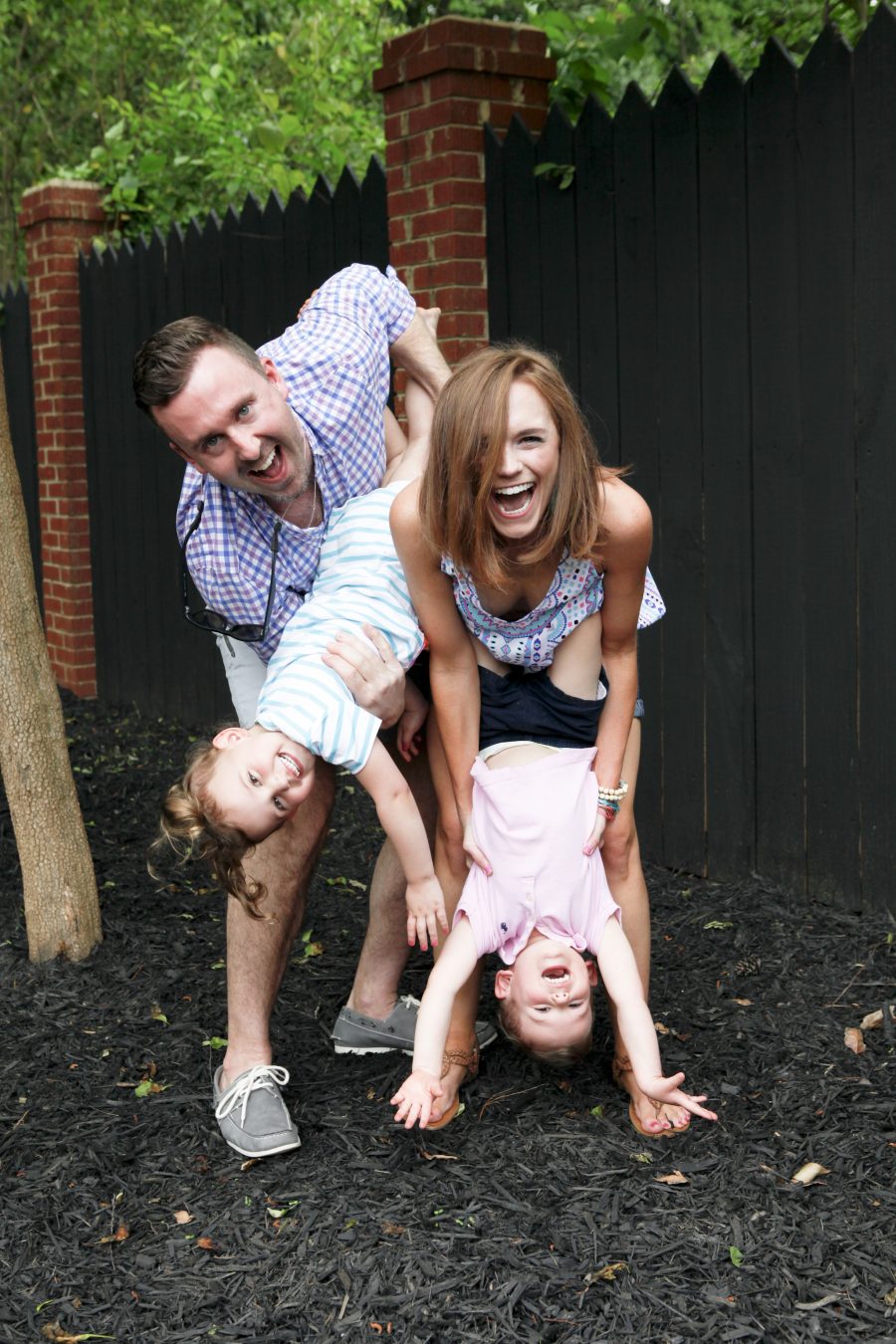 It was a fantastic fiesta and Caroline says it was her favorite birthday party yet!
Sources
Caroline's Flamingo Dress // Faux Tropical Leaves // Flamingo & Pineapple Banner // Paper Lanterns // Paper Fans // Tropical Paper Plates // Flamingle Napkins // Flamingo Cupcake Toppers // Flamingo Cupcake Wrappers // Flamingo Straws // Pineapple Cups // Beverage Dispensers // Ice Bucket // Yard Flamingos // Dining Room Table // Dinning Room Light // Jump N Slide Bounce House // Giant Slide Bounce House
Shop The Party:

Previous birthday parties for Caroline
Caroline's Yellow 3rd Birthday Party
Caroline's Mickey Mouse 2nd Birthday Party