Last weekend our Community Group (minus two of our girls who couldn't make it) spent the weekend in Charleston, SC for a little Retreat — and it was so wonderful.
I have a lot of messages to catch up on in Instagram, but so far I've seen a lot of questions around where we stayed, what we did, outfit details, what is Community Group and how does it work, etc. I'm going to answer all of the specific retreat weekend questions in this post, and then I'm going to write a separate post on our Community Group (how it works, how we formed this group, format of our meetings, etc.).
Before I dive into our retreat weekend I'll clarify that no part of this weekend was sponsored, discounted, or gifted in any way. I genuinely just want to share our experience since I received so many questions about it.
Oh, and I've tried to link as many outfit details as possible but wanted to share that many were rented through Nuuly (here is my girlfriend's referral code if you're interested in trying)!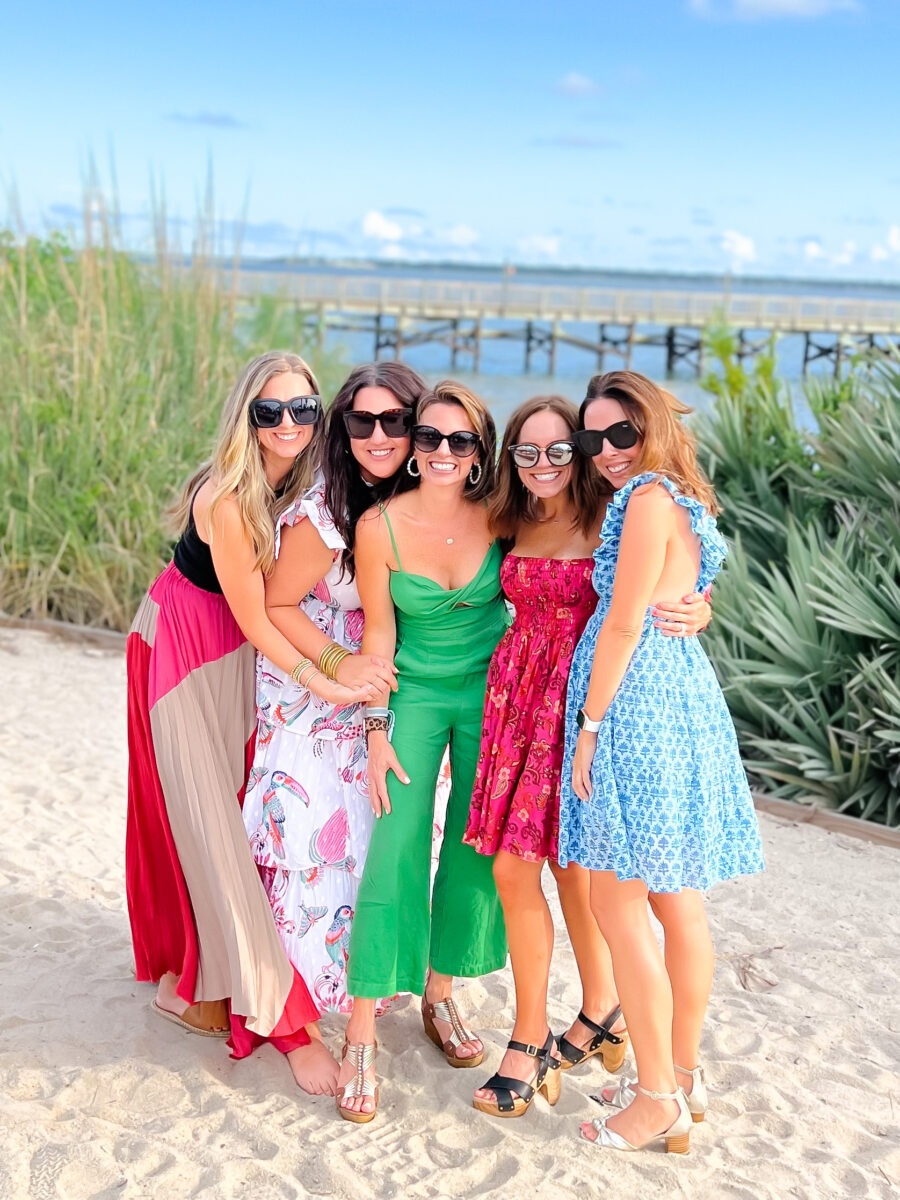 Community Group Retreat
As I mentioned, I'll cover more of the group-specific questions in a separate post, but the easiest explanation is our group was originally structured as somewhat of a unique hybrid between a book club (primarily focused on faith-based books) and a life group, but has since evolved into so much more than I can really describe succinctly.
Since the fall of 2019, we've gathered monthly to discuss a wide variety of books (from bible studies to personal development to spiritual growth) and dive into all sorts of life topics. And through the years this Group has been through so much. And I truly mean SO much.
We've worked through many hard scary things (medical, marriage, etc.), continue to lean on each other through pain, loss and grief, have celebrated major life events (babies, new homes, new careers, etc.) and so much more. During our monthly meetings, the hours always seem to fly by and before we know it…it's almost midnight and there's still so much more to cover. So we decided last year that we would make it a priority to get away together once a year to have unlimited time to tackle the big things, celebrate our friendship, plan for the year ahead, recharge, and have FUN.
While this is probably considered a "girls weekend" to most people (and that is totally accurate too), we've labeled it a "retreat weekend" because it's more of an extension of our Community Group monthly meetings. We assign a little bit of homework on the front end, set individual intentions for our time away, plan for a few exercises (this year we created vision boards for our phone lock screen) and we also carve out blocks of time for each girl throughout the weekend to share something on her heart that she can open up to the group to discuss, brainstorm or wrestle through together.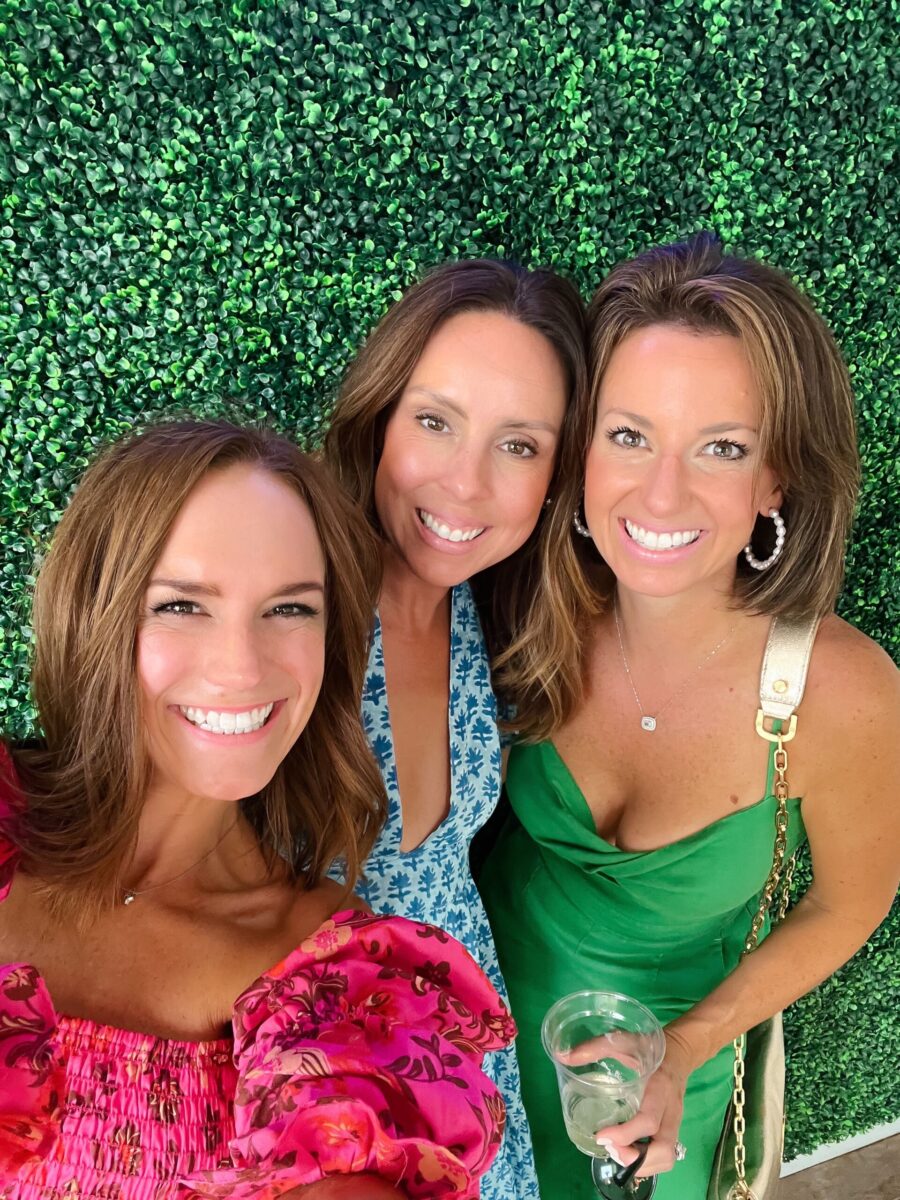 Our Resort
Last year we stayed at the Grove Park Inn in Asheville, NC so we decided to switch things up and try the Charleston Harbor Resort & Marina in Charleston, SC this year. Both cities were amazing destinations for a girls weekend but I think Charleston may be our favorite location yet because it felt like there was a little bit more to do.
We stayed at the resort's Harborside but would recommend The Beach Club (which was a little more updated). This waterfront resort was an easy drive for us from Charlotte (less than 3.5 hours), offered lots to do (spa, activities, multiple pools, restaurants, etc.) and the location was fantastic for getting to Downtown Charleston by water taxi!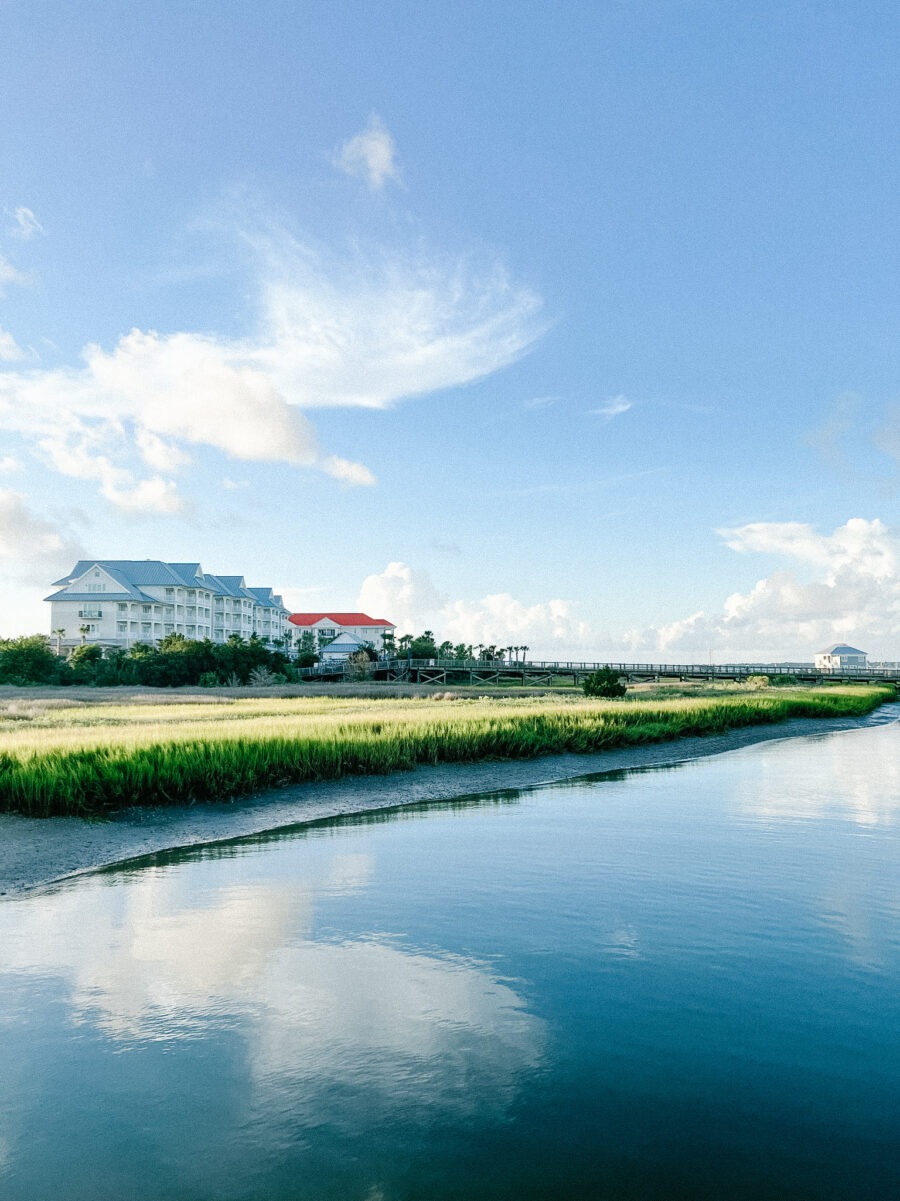 Restaurants
Eating lots of yummy food was definitely a priority! Here is where we ate along the way:
Butcher & Bee: On our way into town we stopped at Butcher & Bee for a late lunch and delicious cocktails. I love the ambiance of this place and the menu is always rotating with fresh flavors.
Charleston Harbor Bridge Bar: A great happy hour stop on property before dinner. The Charleston skyline views are so gorgeous and the drink menu is fun.
Charleston Harbor Fish House: Downstairs from the Bridge Bar, this waterfront restaurant was DELICIOUS. Everyone loved their meal.
39 Rue de Jean: We had a spectacular brunch at this French cafe in downtown Charleston. I hadn't been here in over 10 years and it was just as awesome as I had remembered. The food was amazing and the service was A++++!
Goat Sheep Cow: We stopped at this gourmet cheese shop in Charleston to grab a variety of cheeses, meats and accouterments to bring on our sunset sailboat cruise. The girls working the shop were SO knowlegeable and helpful, and our charcuterie board turned out perfect!
Beach Club Tiki Bar: The tiki bar was awesome for our pool day lunch.
Camellias: Located inside Hotel Bennett, this champagne lounge was one of my favorite experiences during the trip for a pre-dinner drink! The ambiance is absolutely unreal (lots of pink hues, gorgeous furniture and the most amazing crystal chandelier I've ever seen), the service was excellent and the drinks were incredible. Highlyyyy recommend this lounge for a girls trip!
The Ordinary: A gorgeous raw bar in downtown Charleston.
Park & Grove: The cutest brunch spot on the way out of town. Their homemade English muffins are incredible.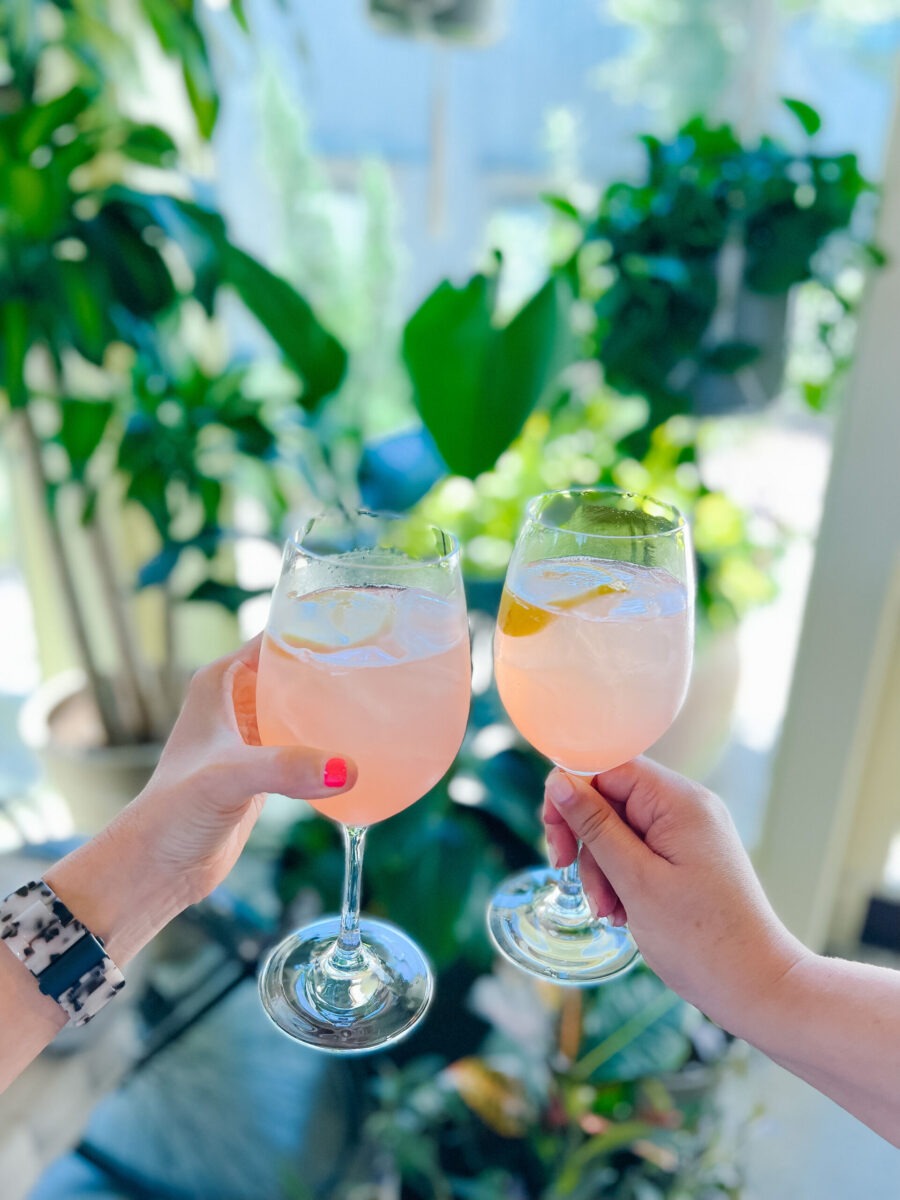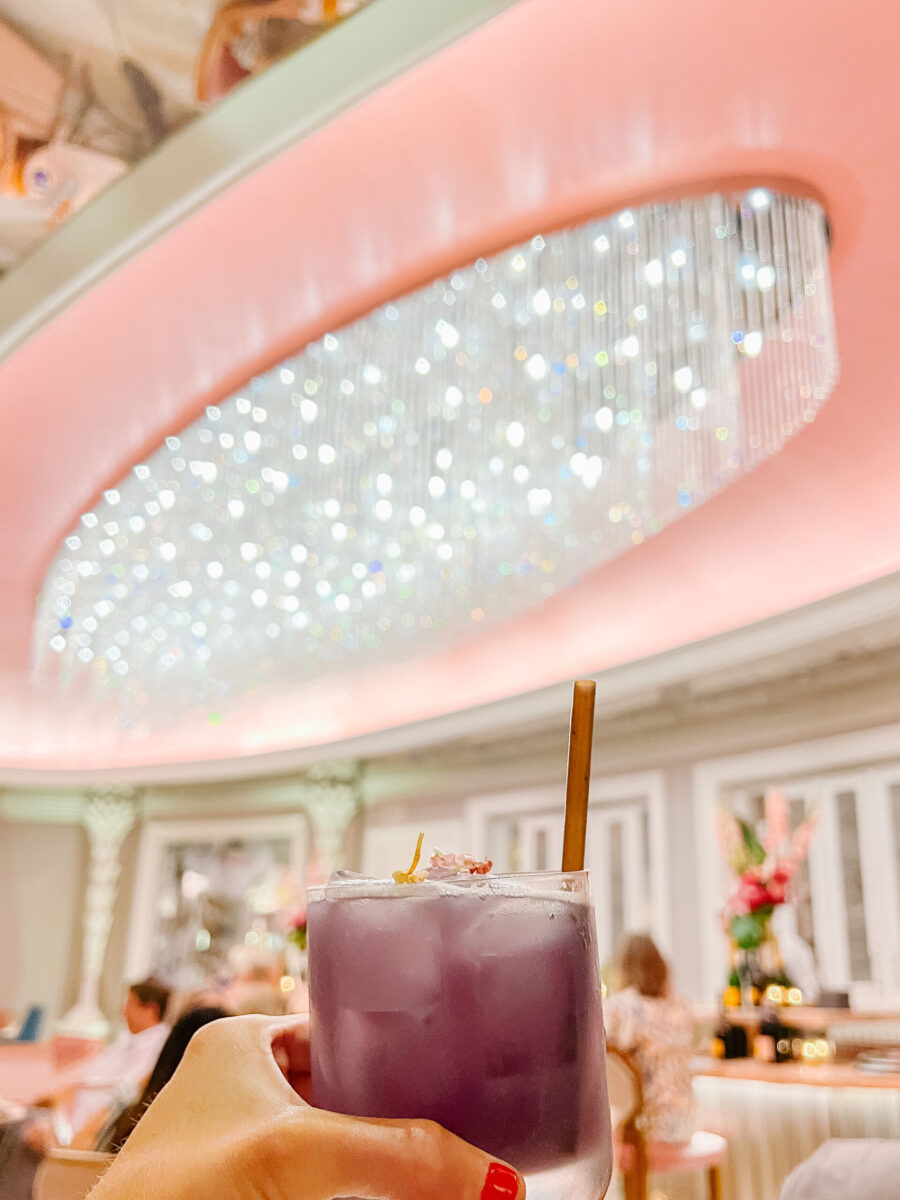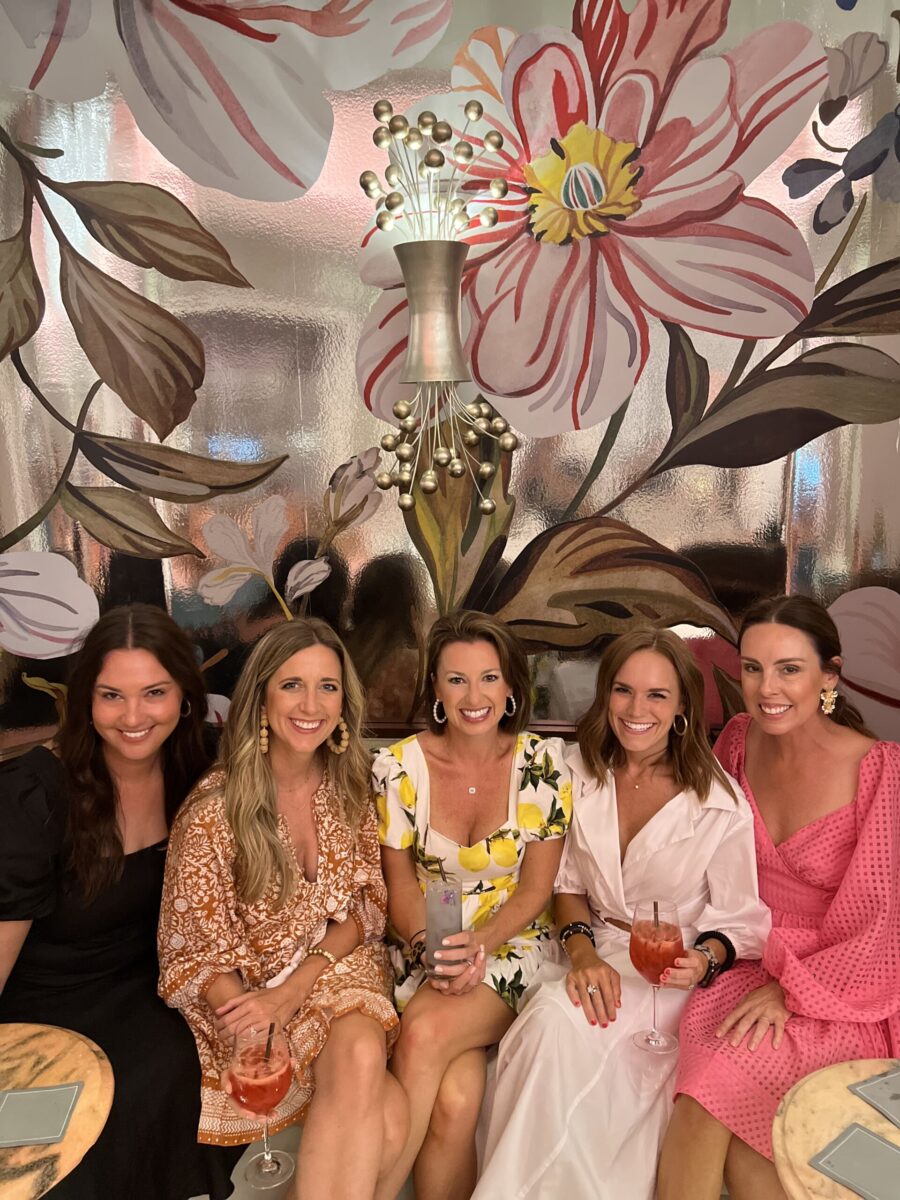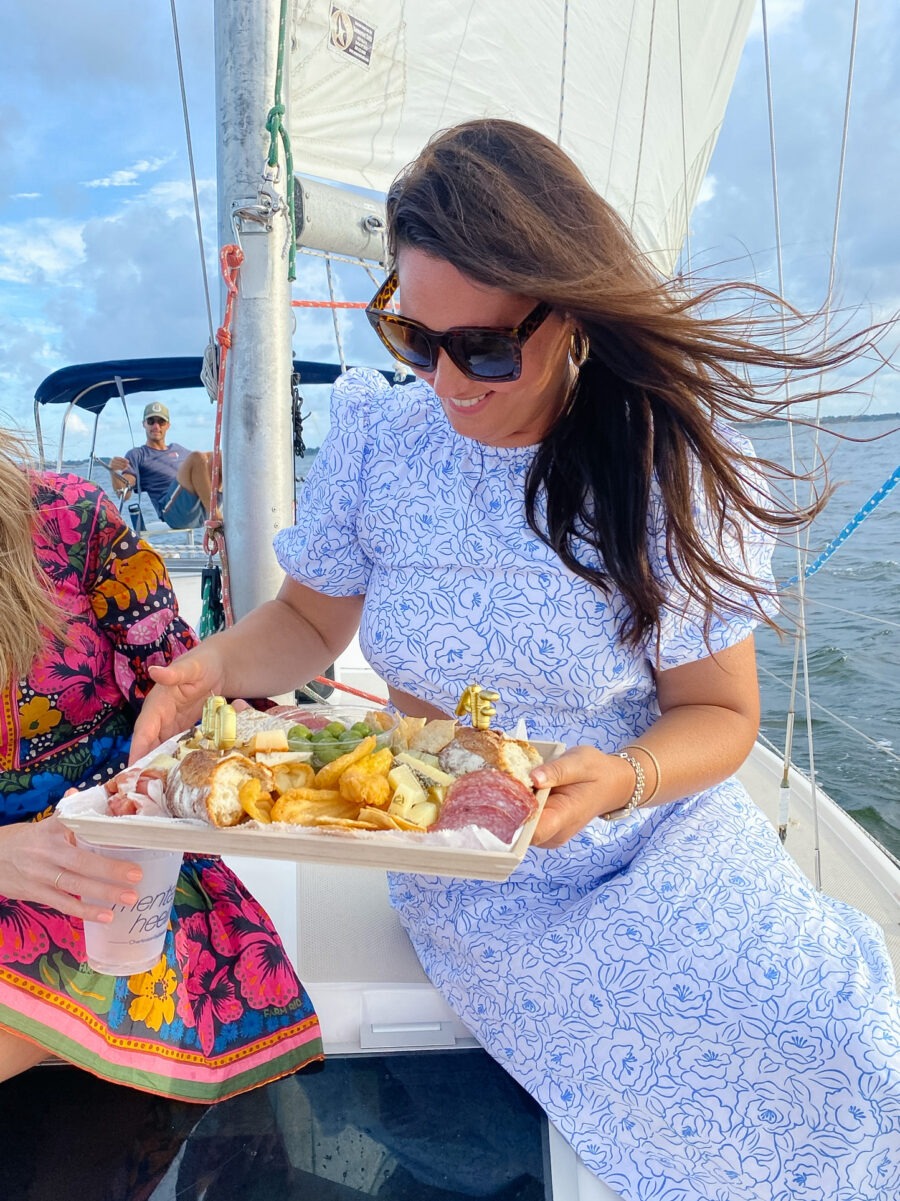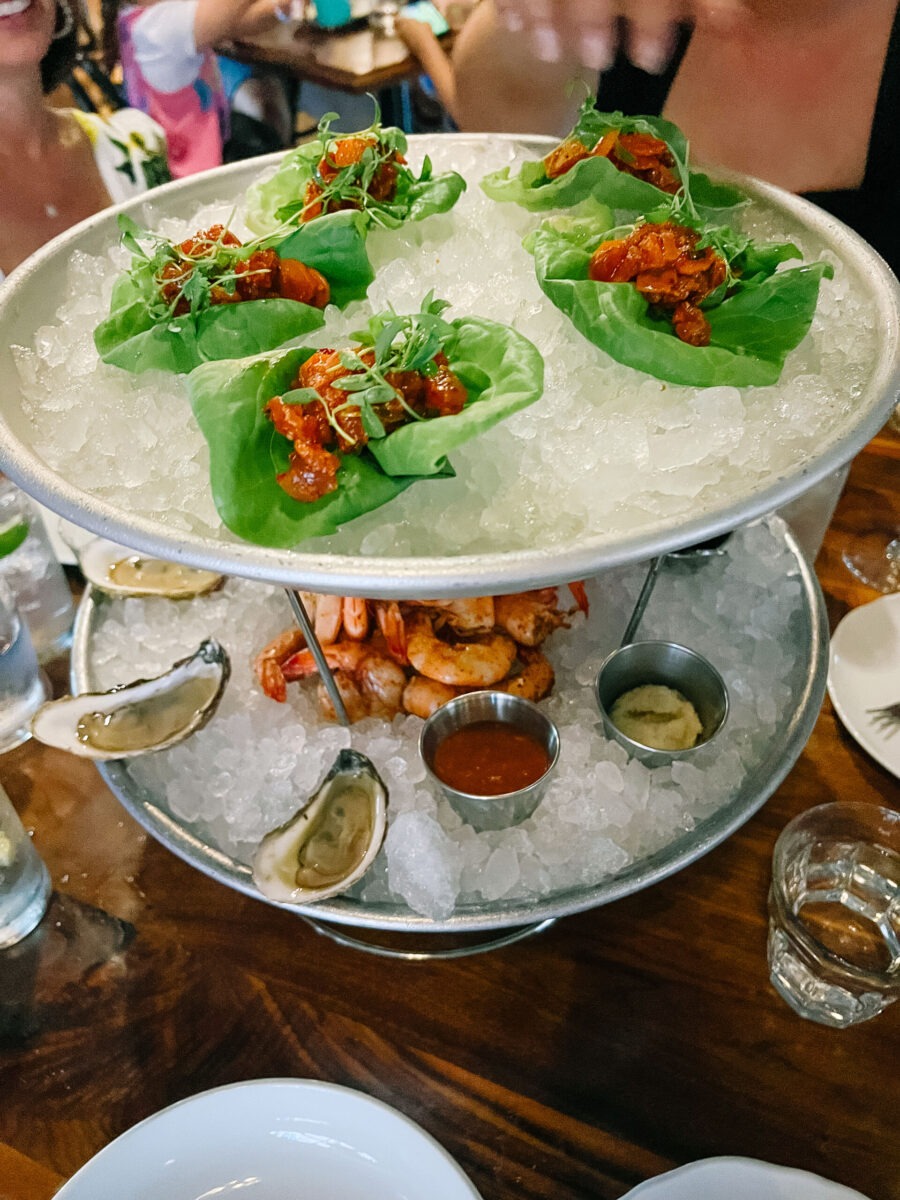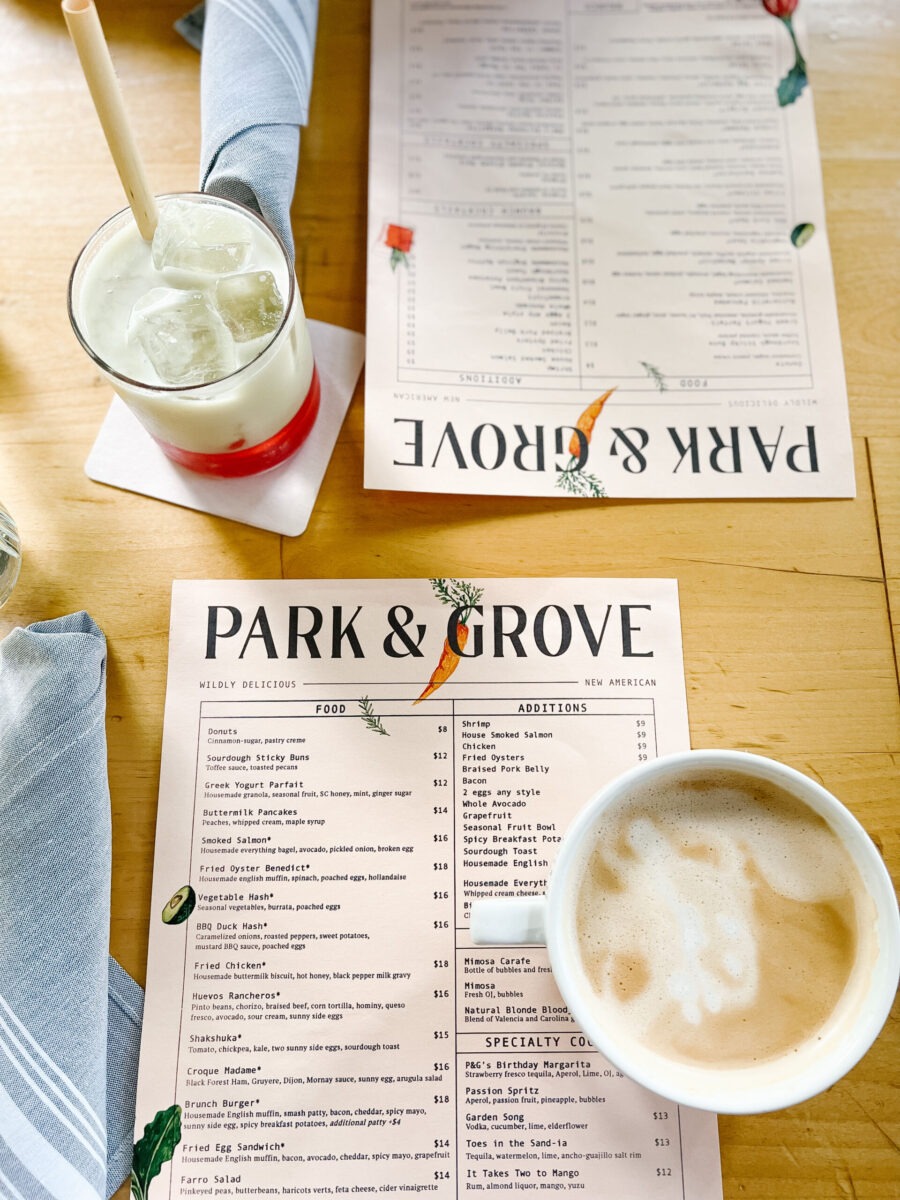 Activities
Shopping in Downtown Charleston
It was so so cool to take the water taxi from the resort into downtown for some shopping. There are so many cute shops, restaurants and boutiques to check out. It was HOOOOOOT so we only lasted a few hours but it was fun.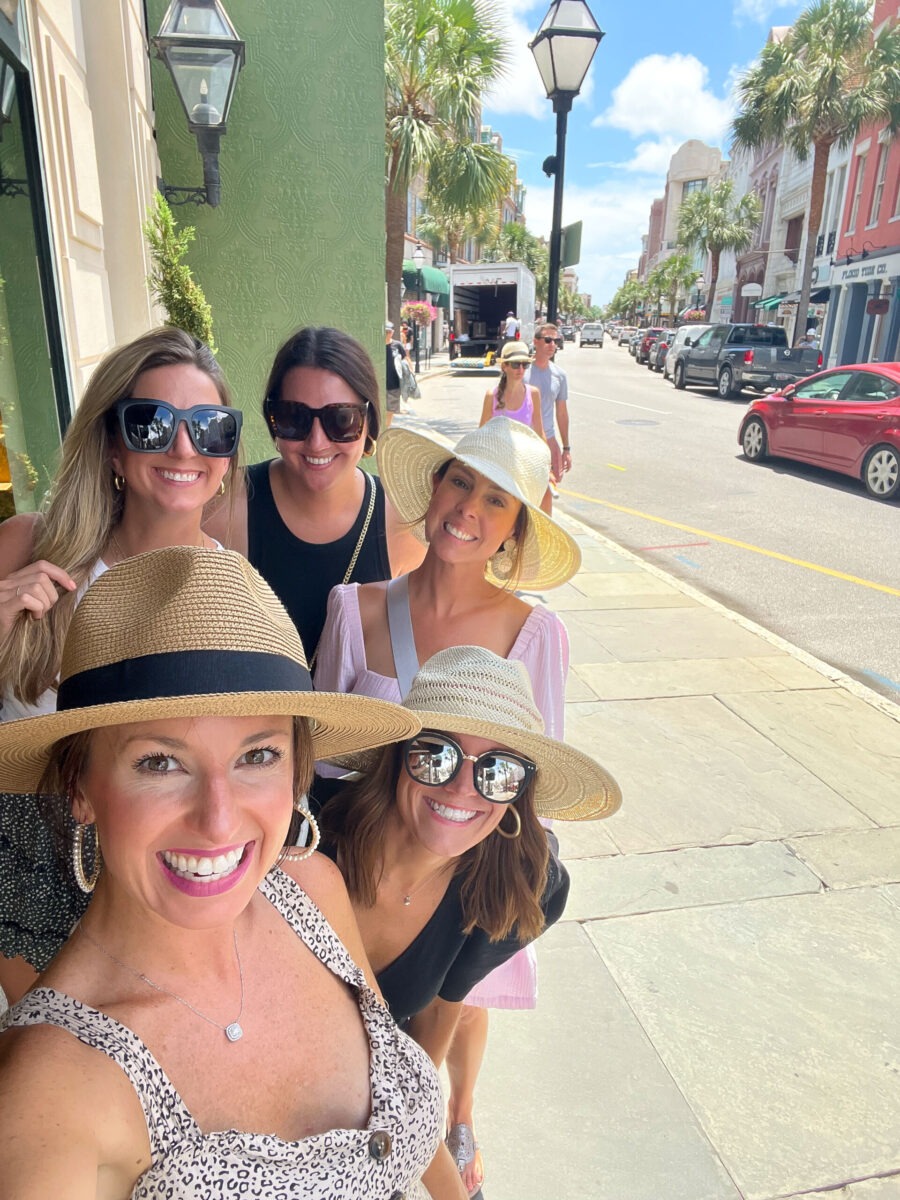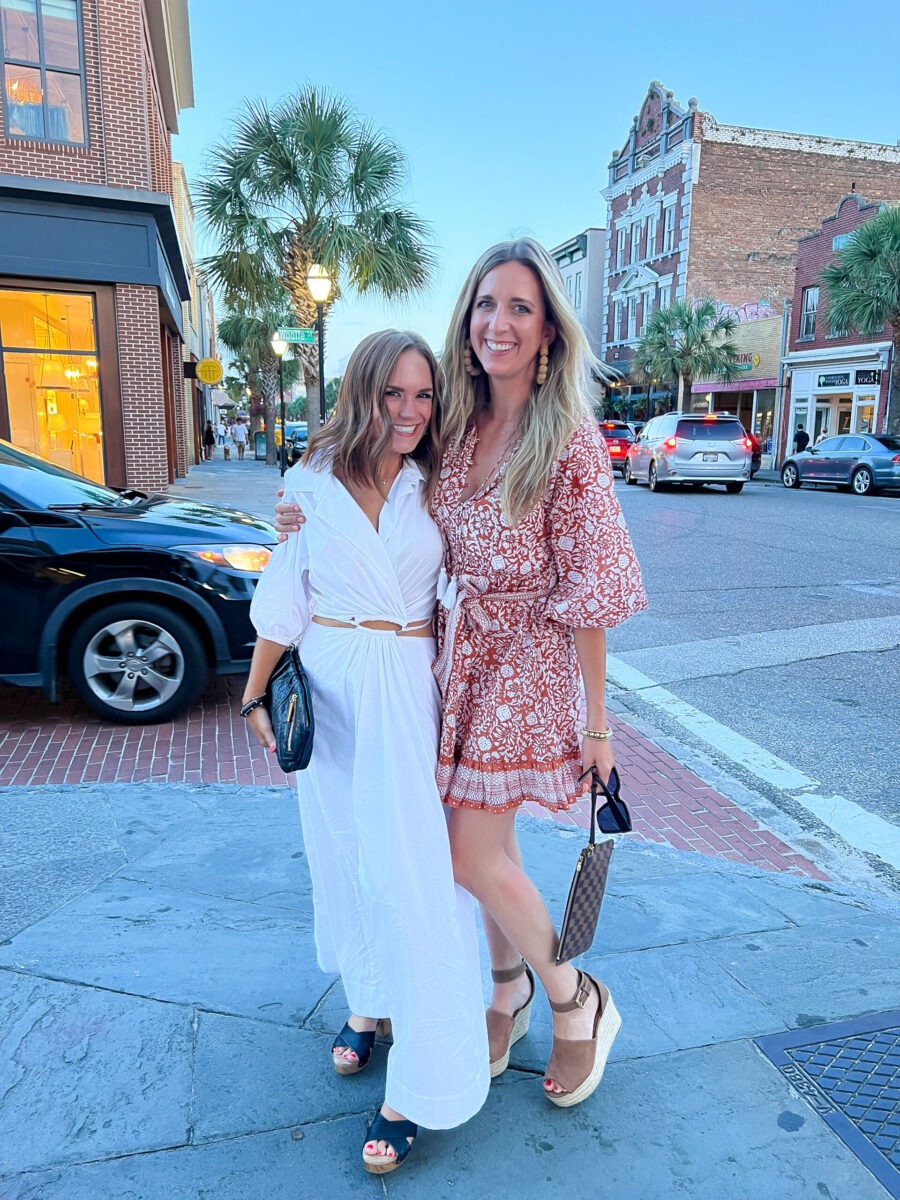 We spent one day at the pool and it was so lovely. While poolside, we worked on vision board lock screens and it's a reminder every time I tap my phone of what's inspiring me, makes me happy and goals I'm working towards. I was so excited to show Matt my lock screen when I got home that we made one together for his phone too!
During our pool day, we took turns visiting the spa (right off the pool) for massages and everyone raved about their SPECTACULAR treatment. I cannot recommend the Blue Eucalyptus massage enough — truly one of the best massages I've ever had.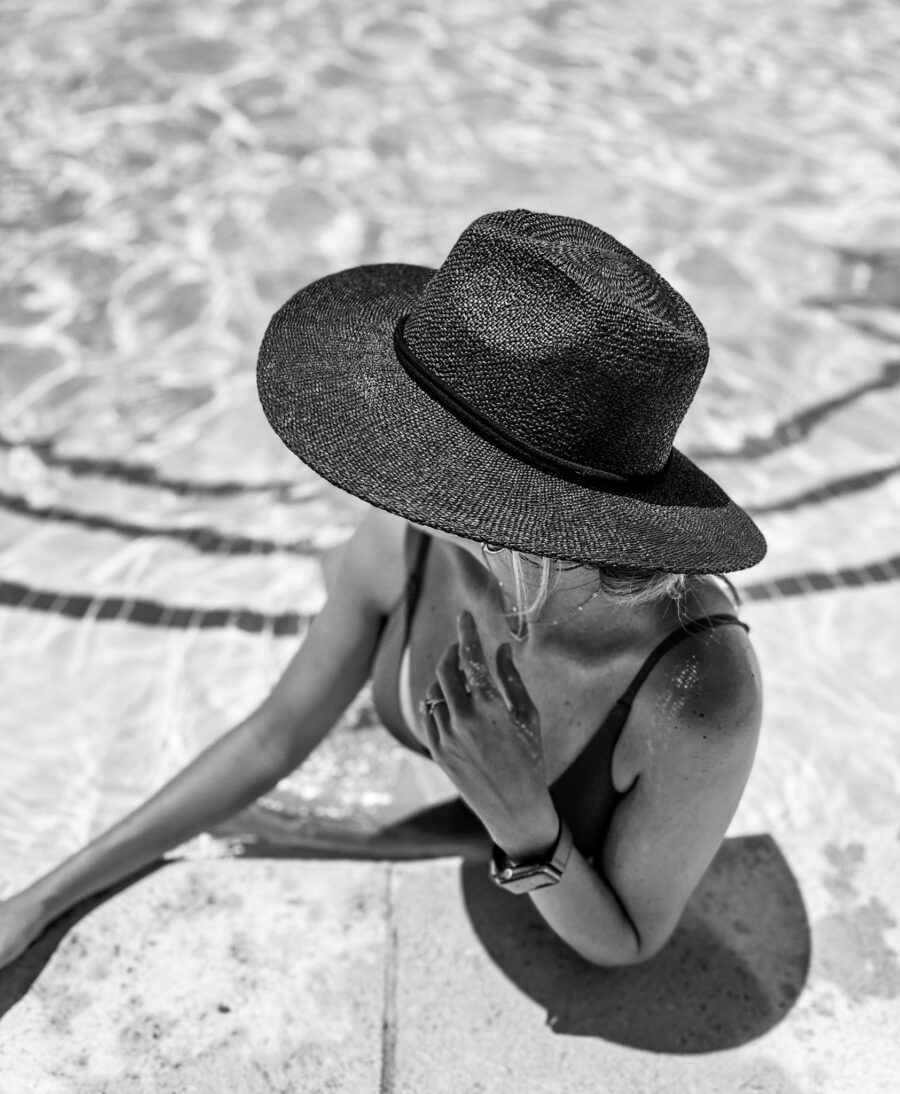 Hands down, the highlight of our trip. There are no words to describe just how relaxing and magical this experience was. The views, the gorgeous lighting as the sun set, the wind blowing through our hair, dolphins swimming literally everywhere – it was truly an experience I'll never forget, and one that I'm so grateful to have done with these girls.
The Mental Heeling crew was absolutely fantastic and offered to take a million photos for us, kept our wine glasses full and even beautifully assembled our charcuterie board below deck so we could surprise Stephanie for her birthday. I cannot recommend chartering a sailboat with your girlfriends enough.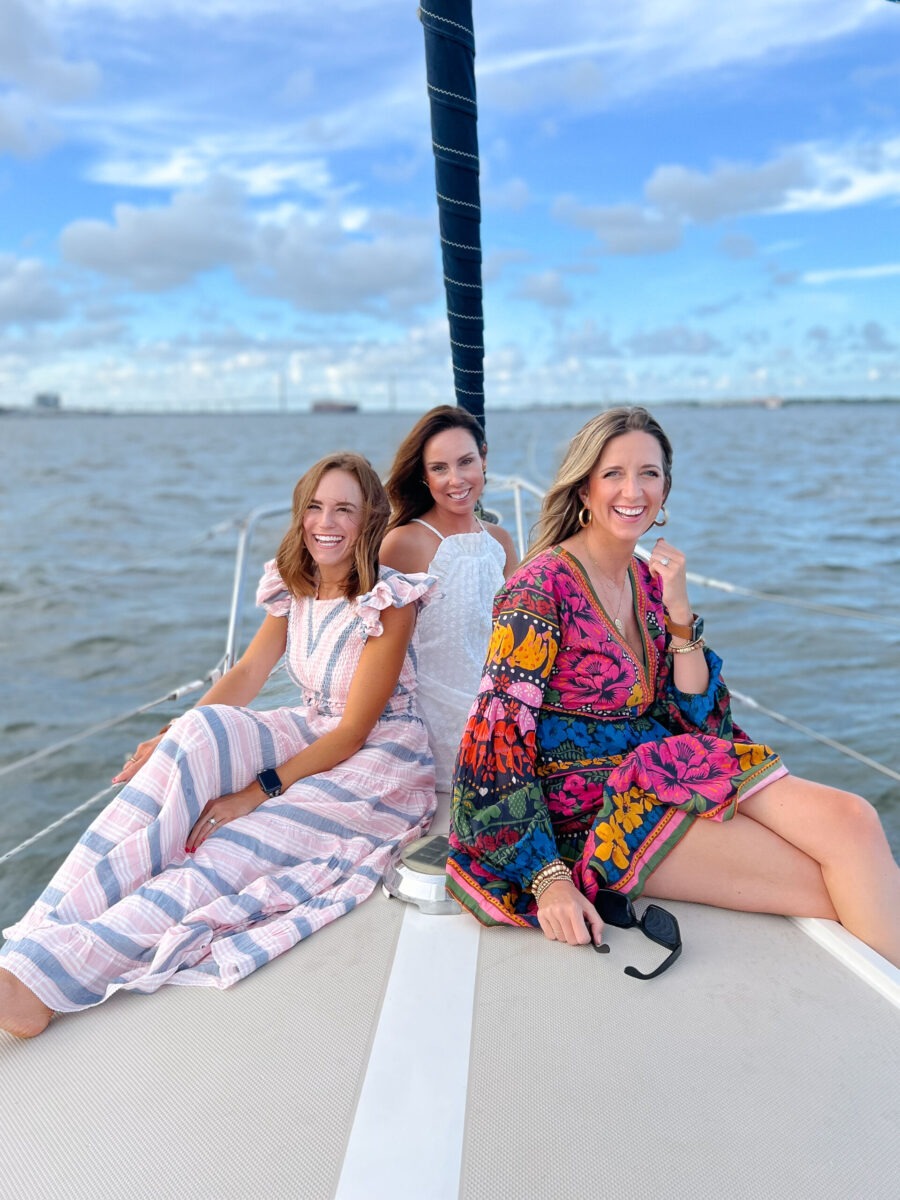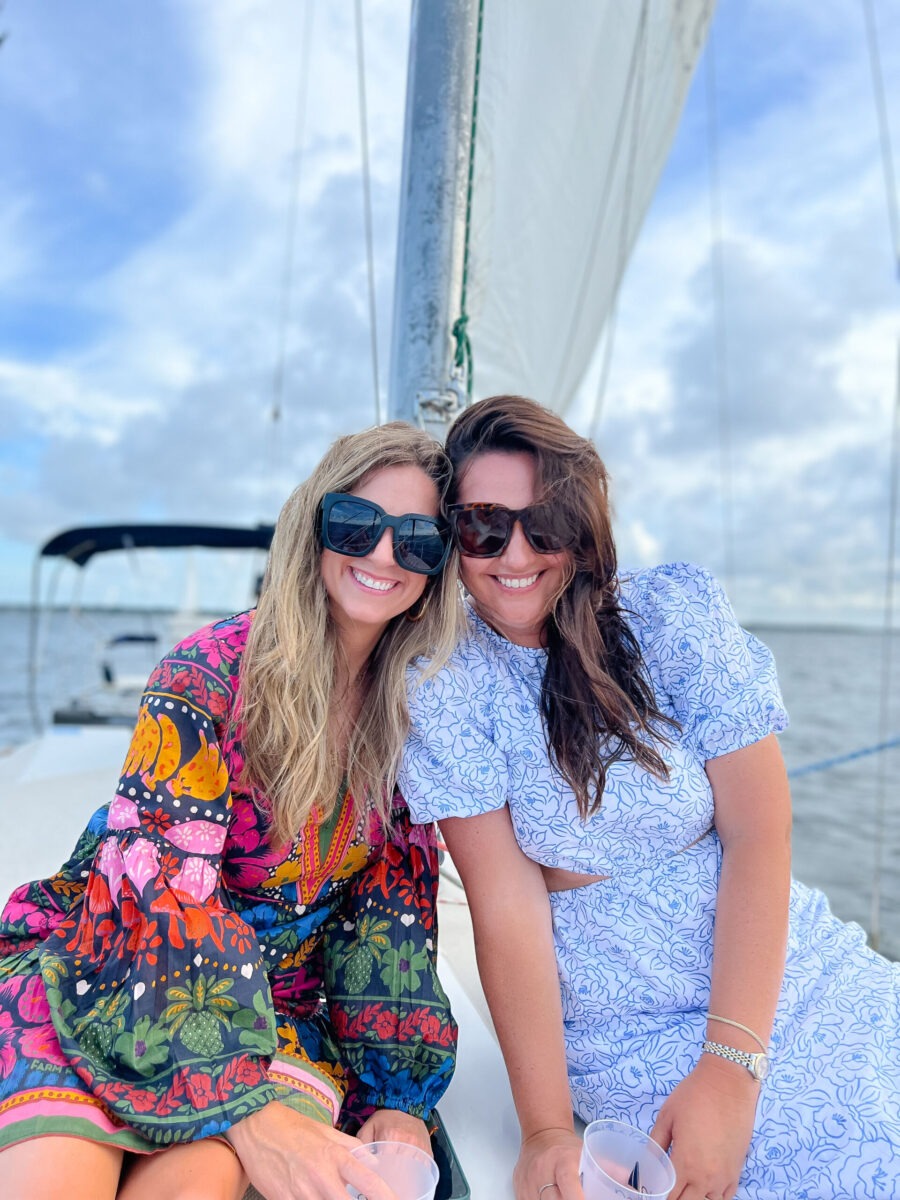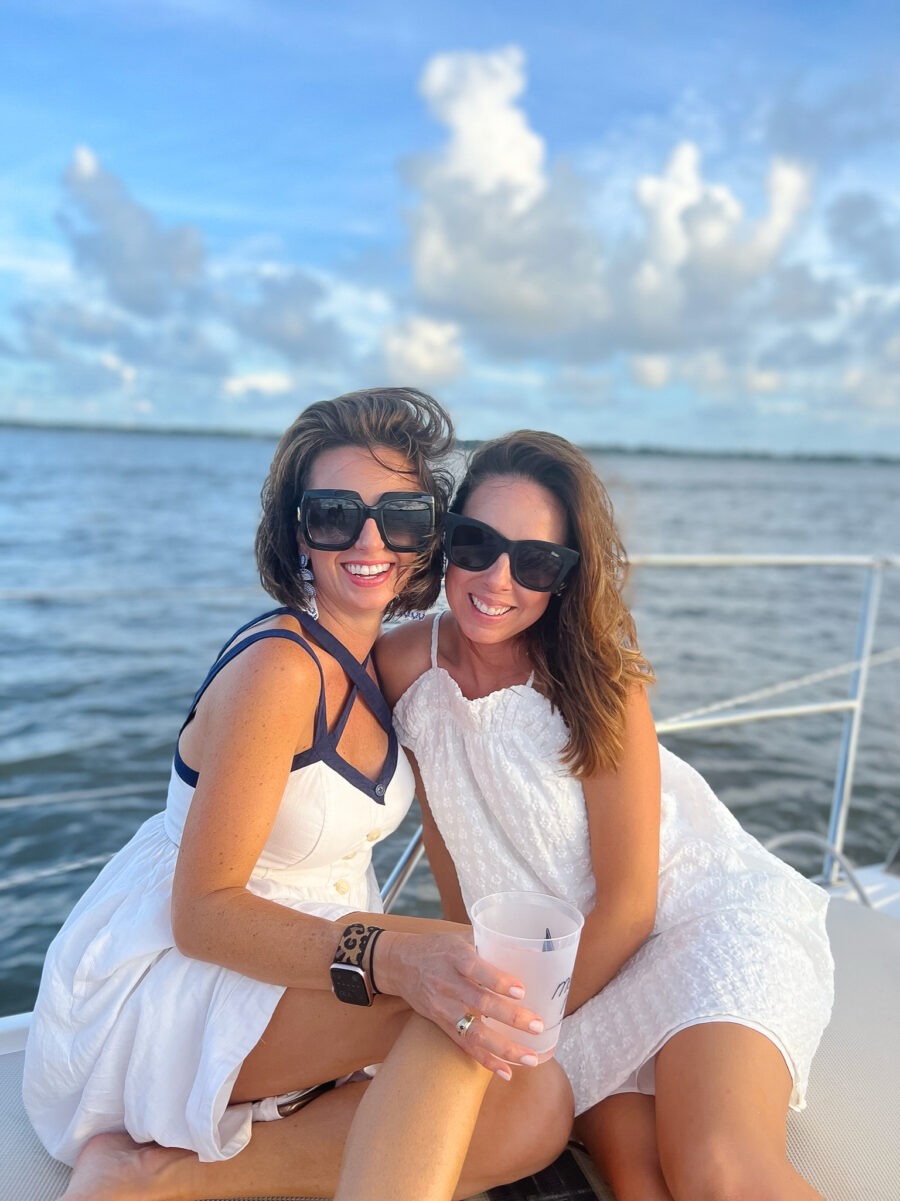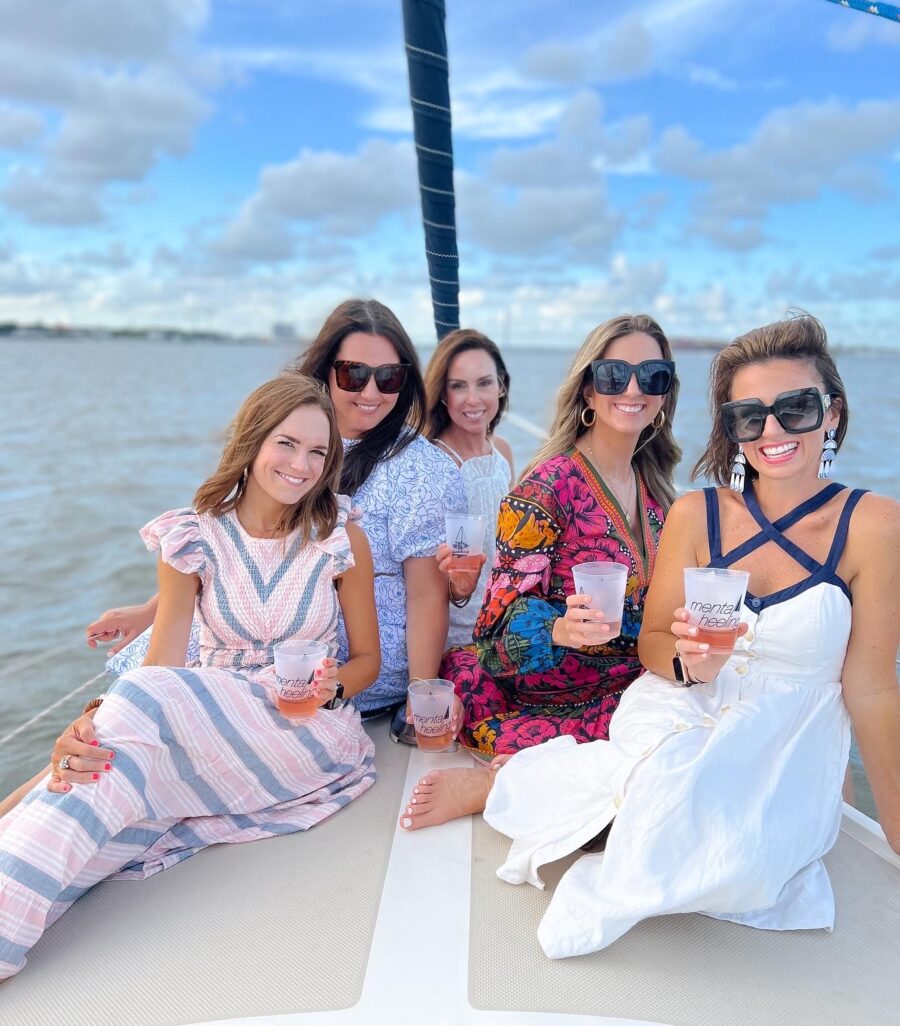 It was truly the very best weekend and I'm grateful that we were all able to get away for a few days and dive deep into life together. It was really amazing to reflect on and celebrate growth and change since our last retreat, cover heavy topics without having to whisper so we don't wake kids, and recharge together. My heart is so full and happy.