We did it!! We went tent camping for the first time as a family over Labor Day weekend. For our campground, we chose Table Rock, SC which was a little less than 2.5 hours away from Charlotte. It was a destination recommended by our friends and offered lots to do from hiking to water activities.
We arrived Saturday morning and set up our tent site for the weekend. I'm not going to lie, the trip required a LOT of planning (lots of new camp gear purchases, meal planning, packing lists, etc.). We completely packed out Matt's truck inside and outside to the max with stuff. Campground camping was a totally new experience for me and I was excited for running water, electricity, a fire ring and a picnic table at our site. I used to camp primitively all the time in college and when Matt and I first met, which meant all of our camping gear was designed for long hikes and was super compact and lightweight. Well, for car camping you can actually camp in comfort so we basically started from scratch with all new camp gear.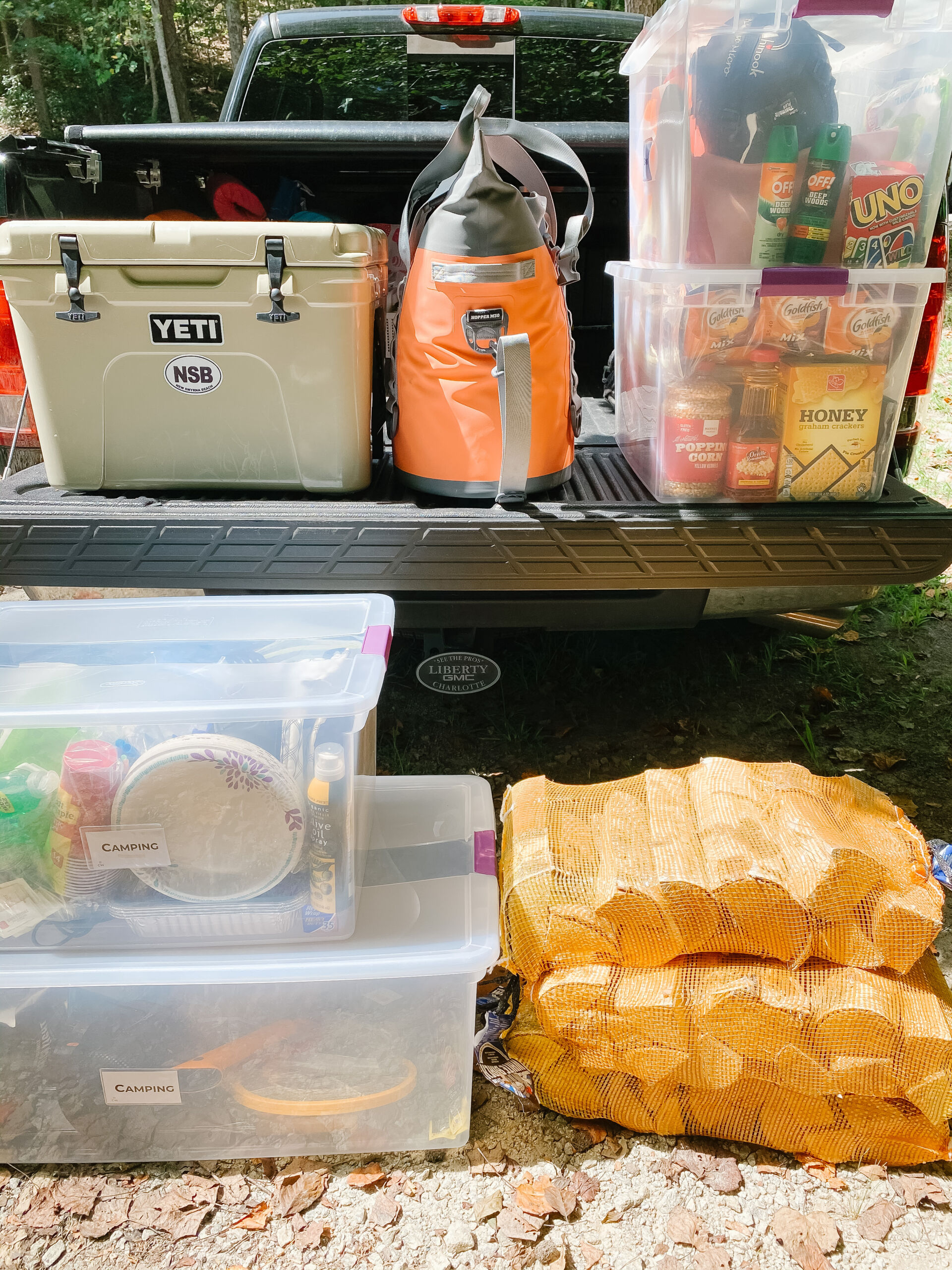 It took us about an hour to set up camp once we arrived. The first thing we tackled was pitching our new tent, which I am absolutely obsessed with. I spent hours and hours agonizing over which tent to purchase for our family. I must have read a thousand reviews and had our options narrowed down to 4 tents until finally selecting the 8-person Hikergarden Campros tent. The features that ultimately sold me were the amount of mesh windows to allow for max air flow and the curtain room divider so the kids could have their own space separate from ours. We inflated two queen-size air mattresses inside and still had a ton of room for all of our bags, toys, etc. We also strung twinkle lights inside the tent which was so fun at night!
The only negative tent reviews were around the door zippers (which are hard to open but we figured out how to make these a lot easier to unzip). After two nights in this tent, I can honestly say I would buy it again and again and again. I kept saying "I am so obsessed with this tent" all weekend!! We had gorgeous weather the entire trip so I can't speak for how it holds up in the rain, but we did spray the entire tent and rain fly with a coat of heavy duty water repellent a few days prior to our trip, which I highly recommend doing to any new tent.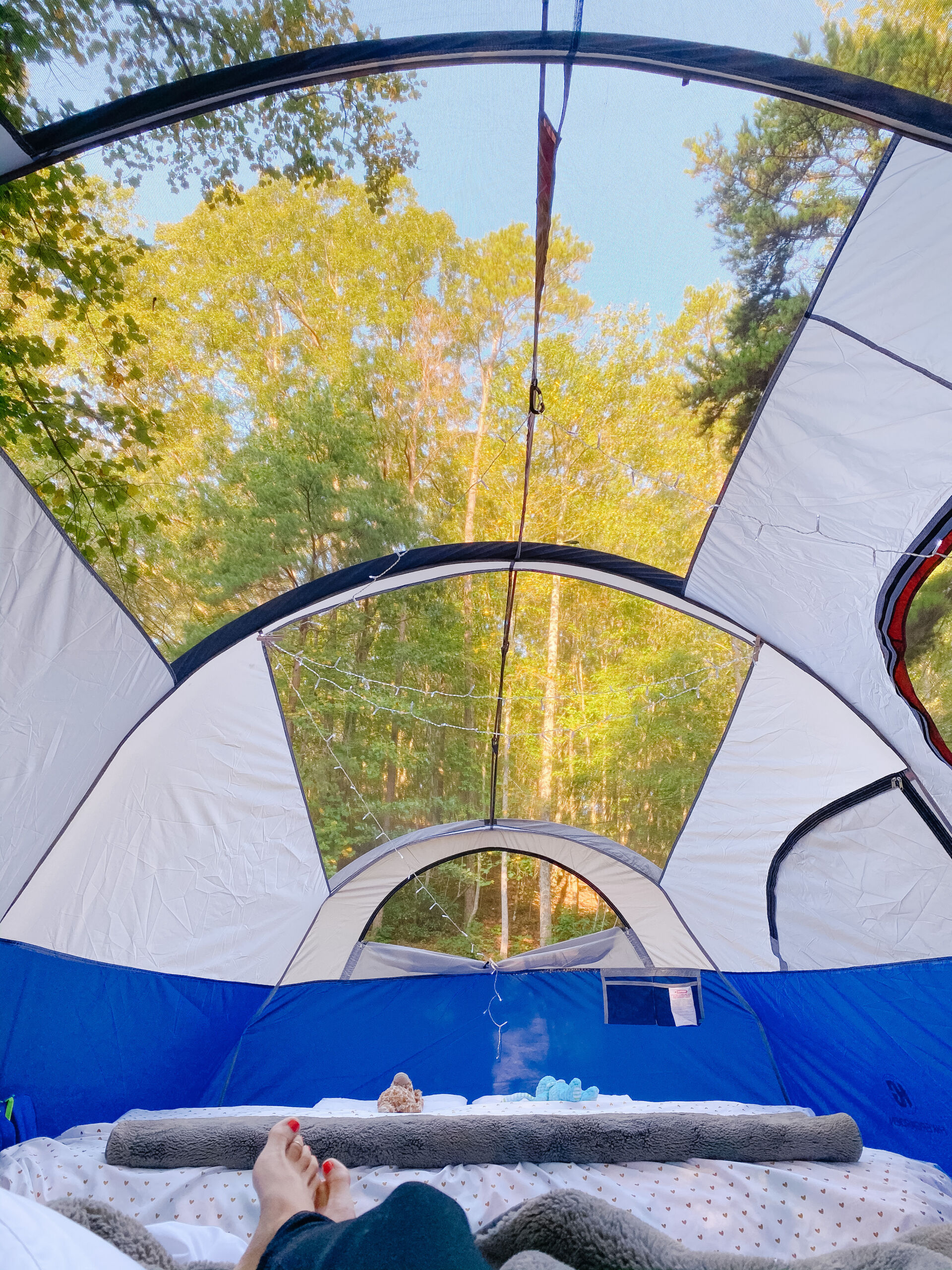 Once we were all unpacked and settled in we headed to the lake so the kids could go swimming!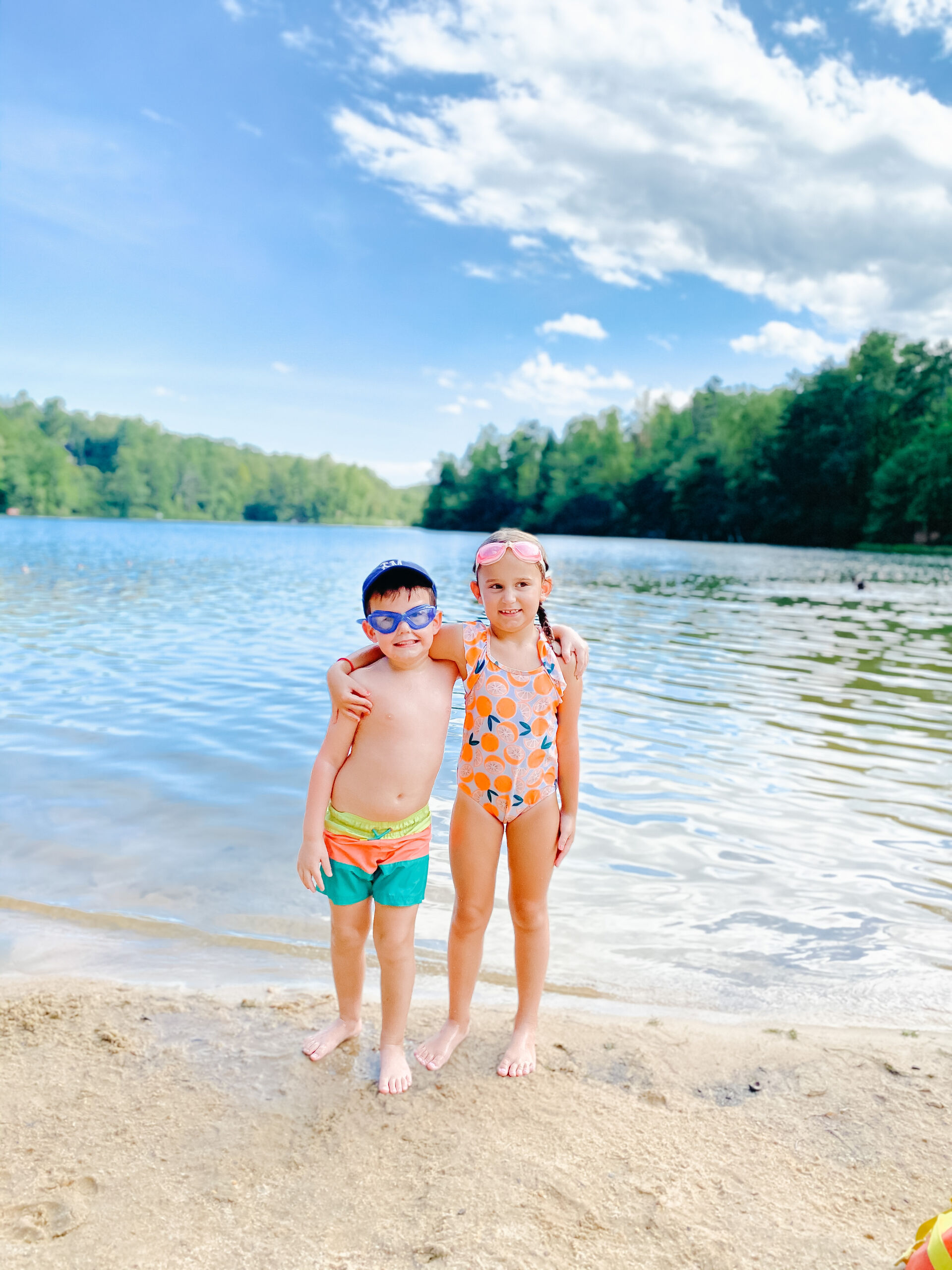 The kids begged and begged and begged for us to rent a sparkly green pedal boat. We reserved a boat for an hour and then 10 minutes in to pedaling the kids started complaining they were bored and hot. So we lasted about a total of 25 minutes before making it back to shore. Also, shout out to Matt for doing most of the pedaling.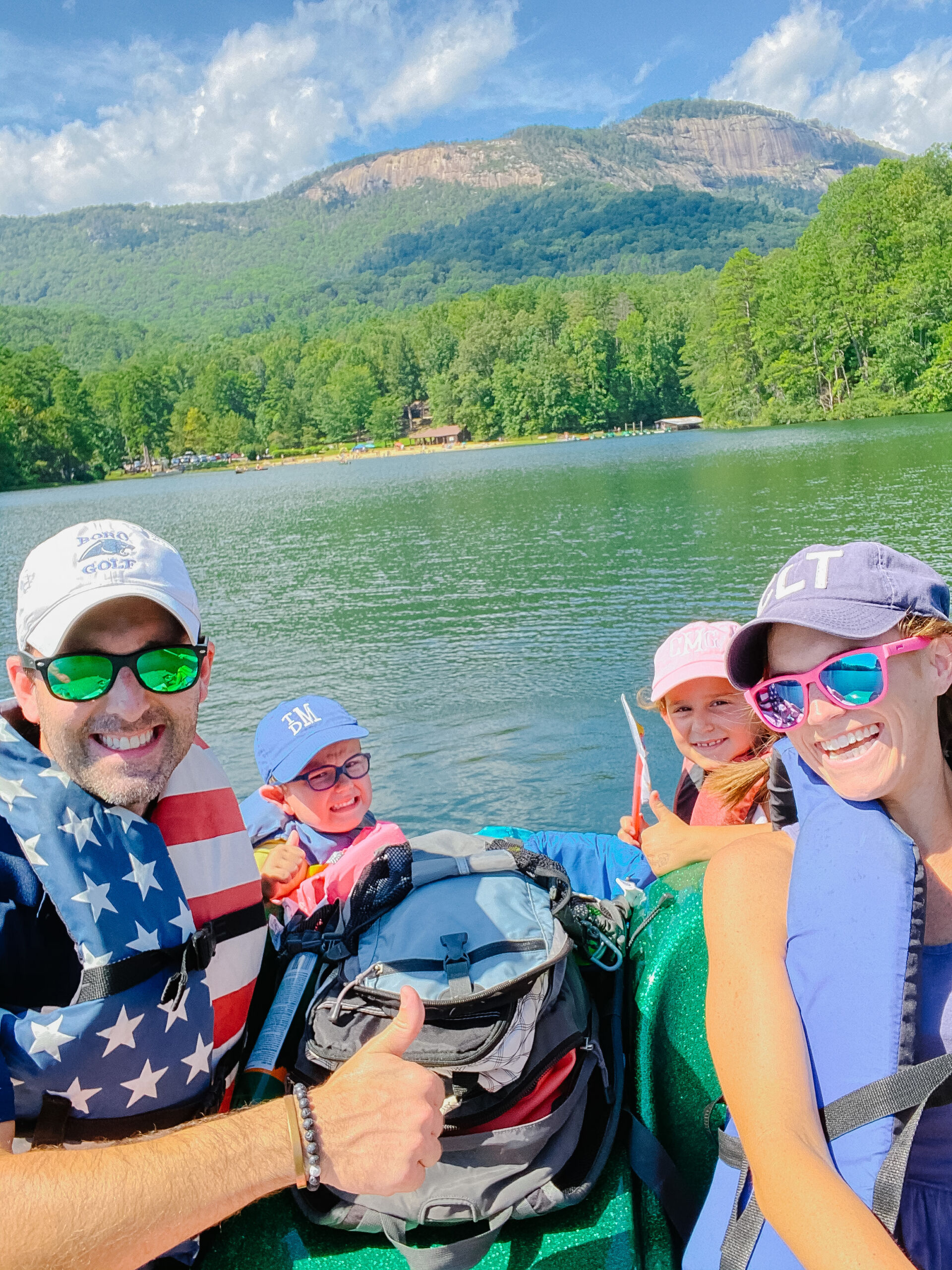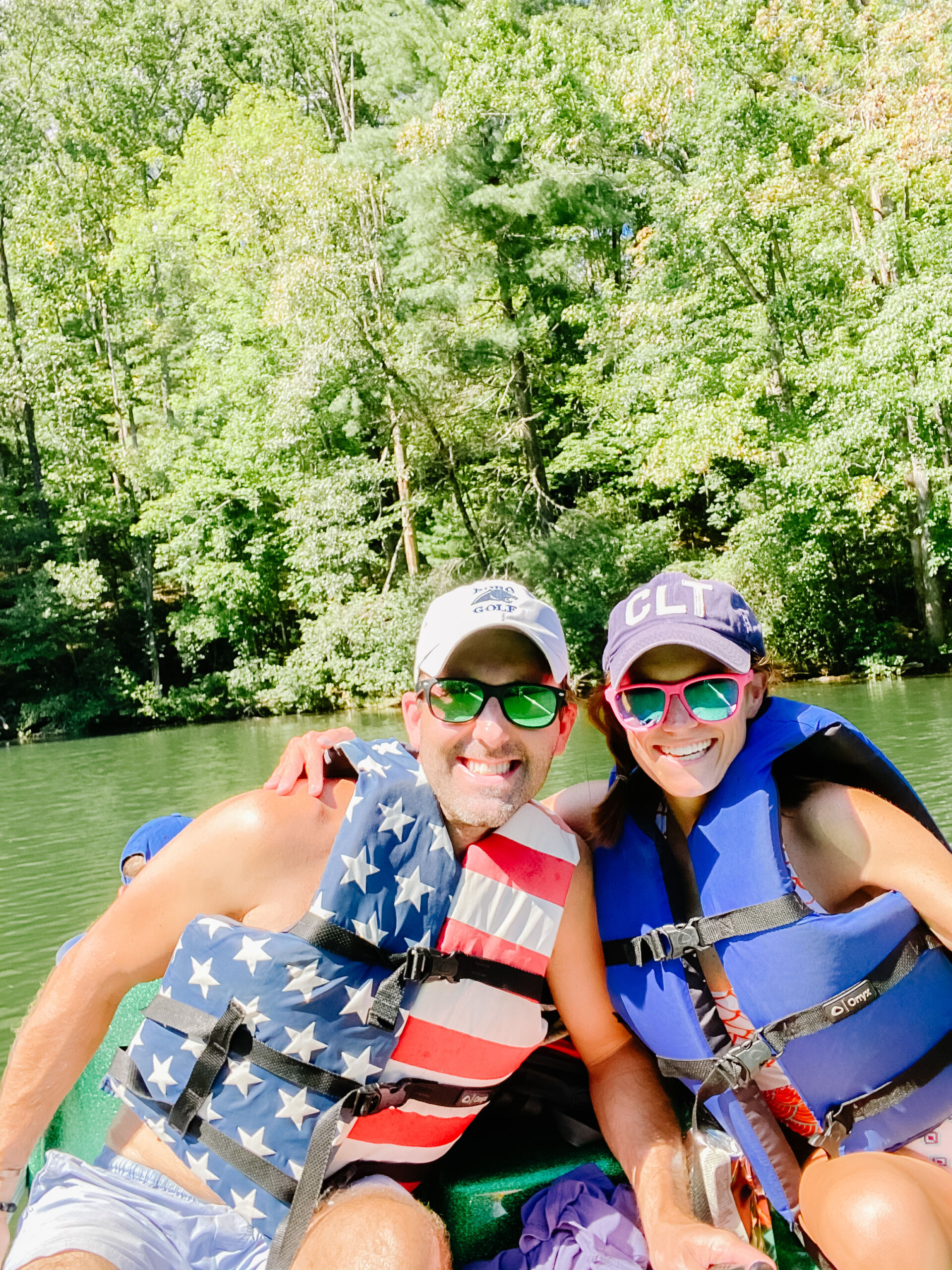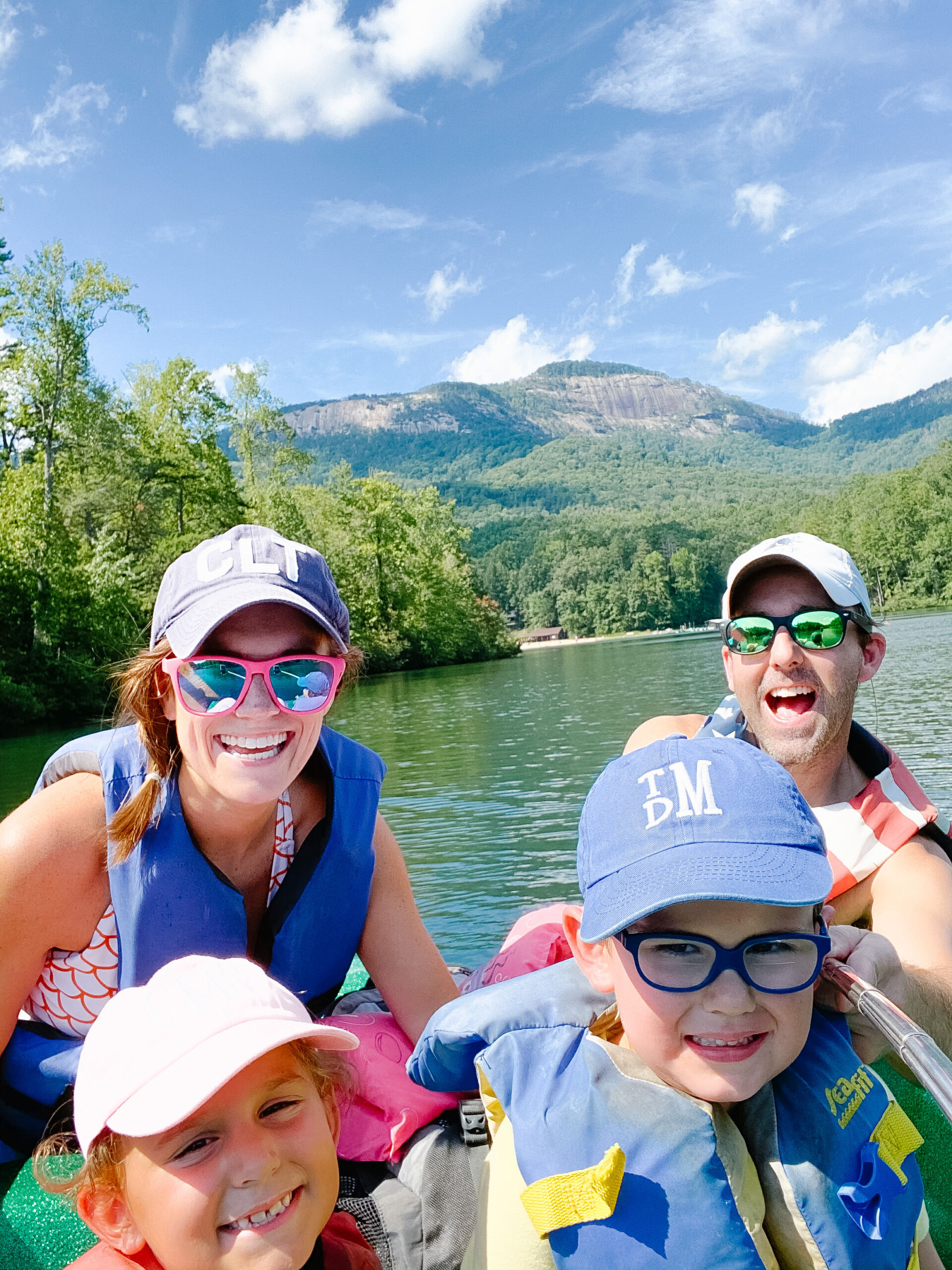 After a few hours we headed back to our camp where I scrubbed the lake water off the kids before they changed into their pajamas while Matt got a fire going. The campground did offer showers somewhere but they weren't close to our site so we got creative and made a tiny bathtub for the kids which worked out great even though the water was very cold!!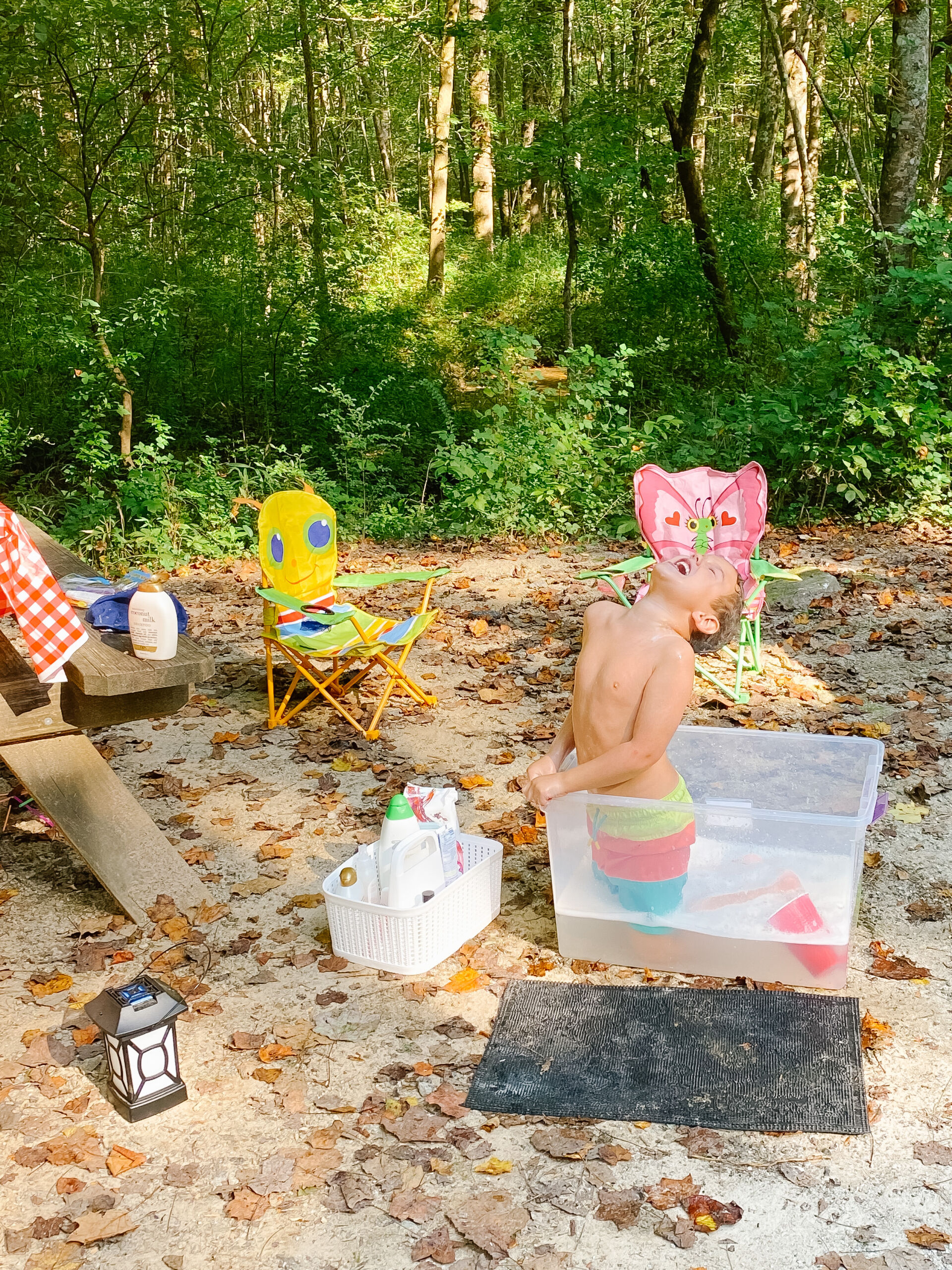 Before the trip I made a few sage bundles to bless our campsite. Kidding. Burning sage is a great natural mosquito repellent and also smells amazing. I recommend bundling the sage with twine or tossing the loose leaves directly into the fire.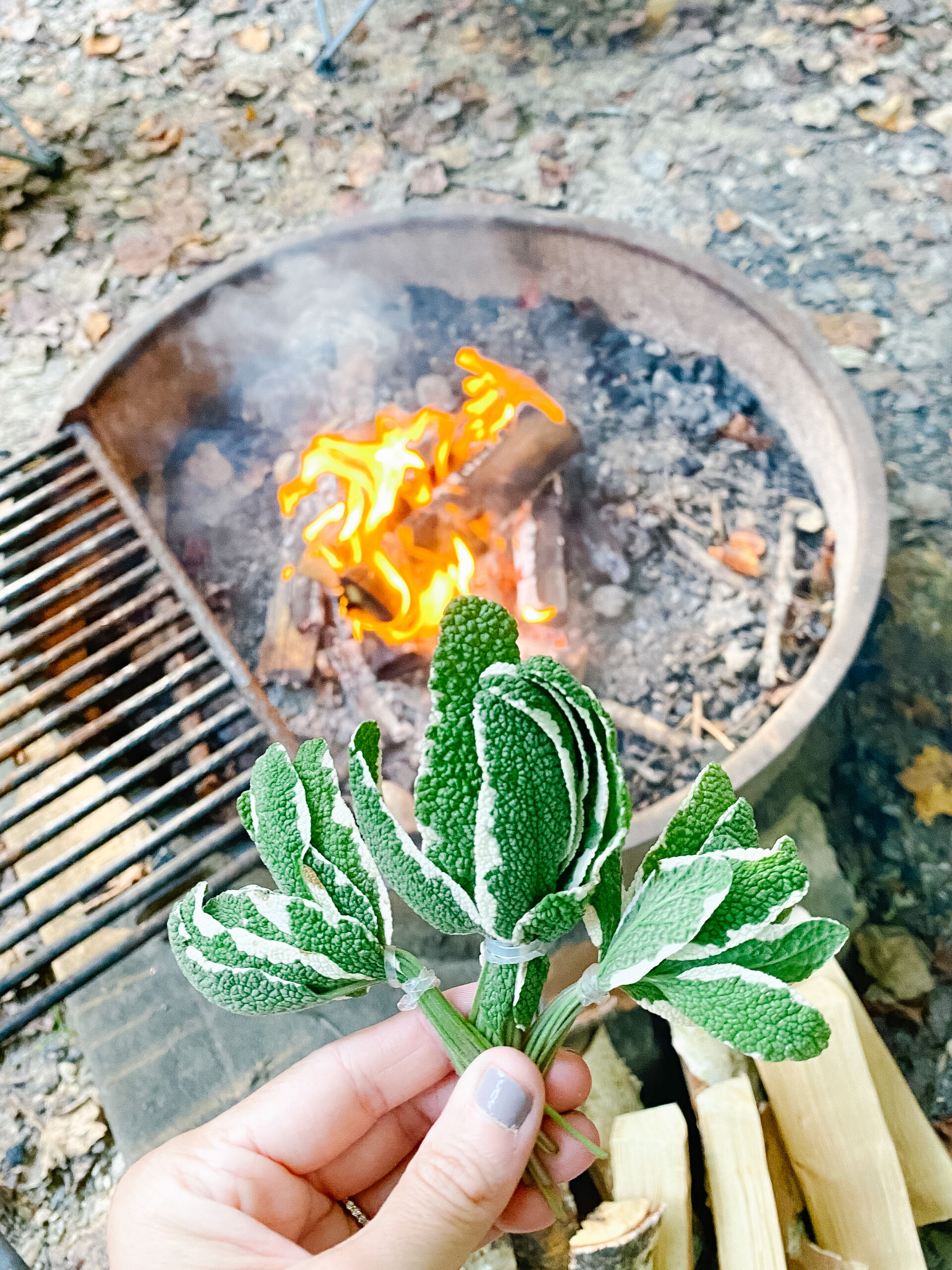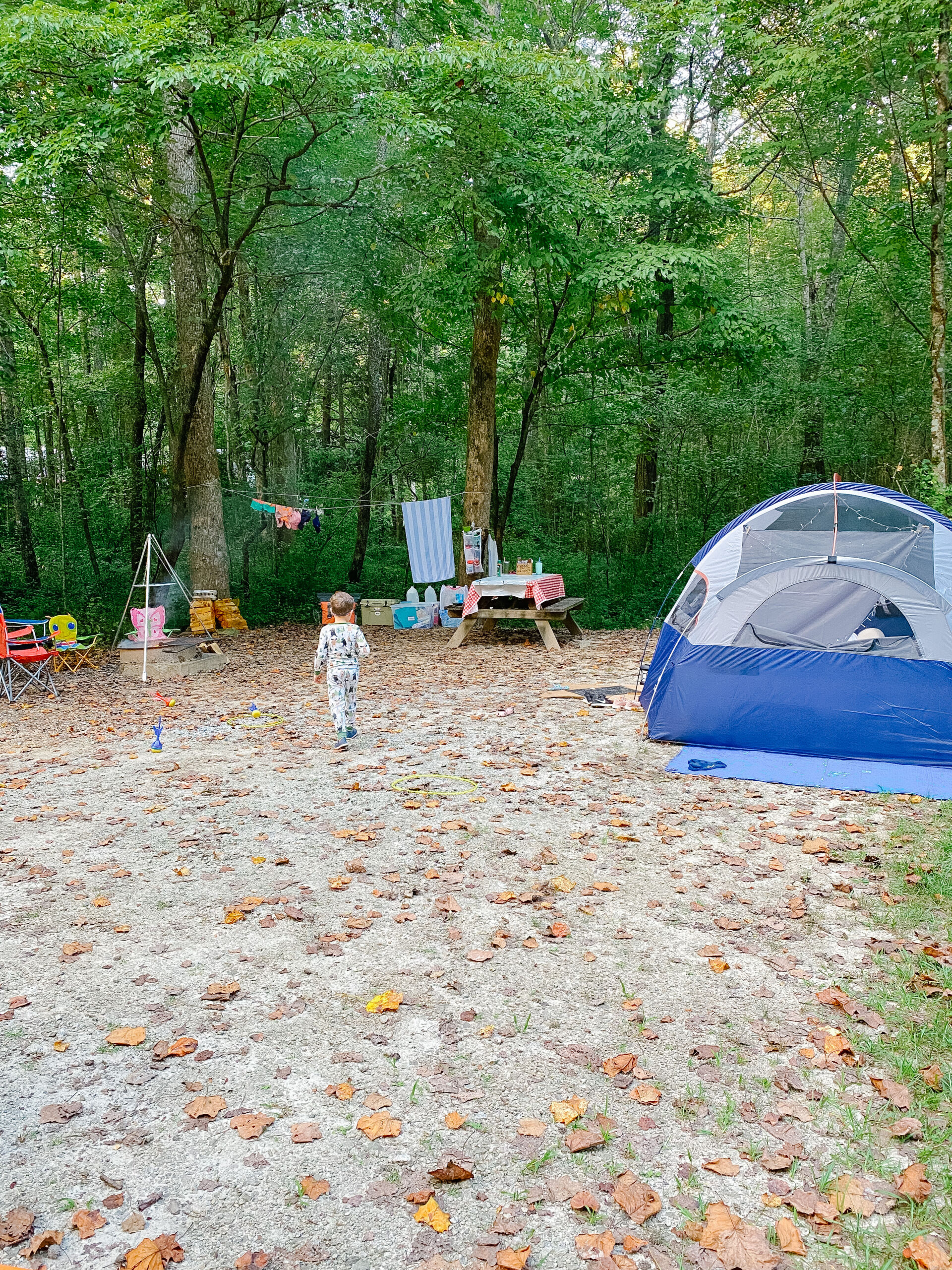 We spent the evening playing lawn darts and the kids had an absolute blast with their walkie talkies!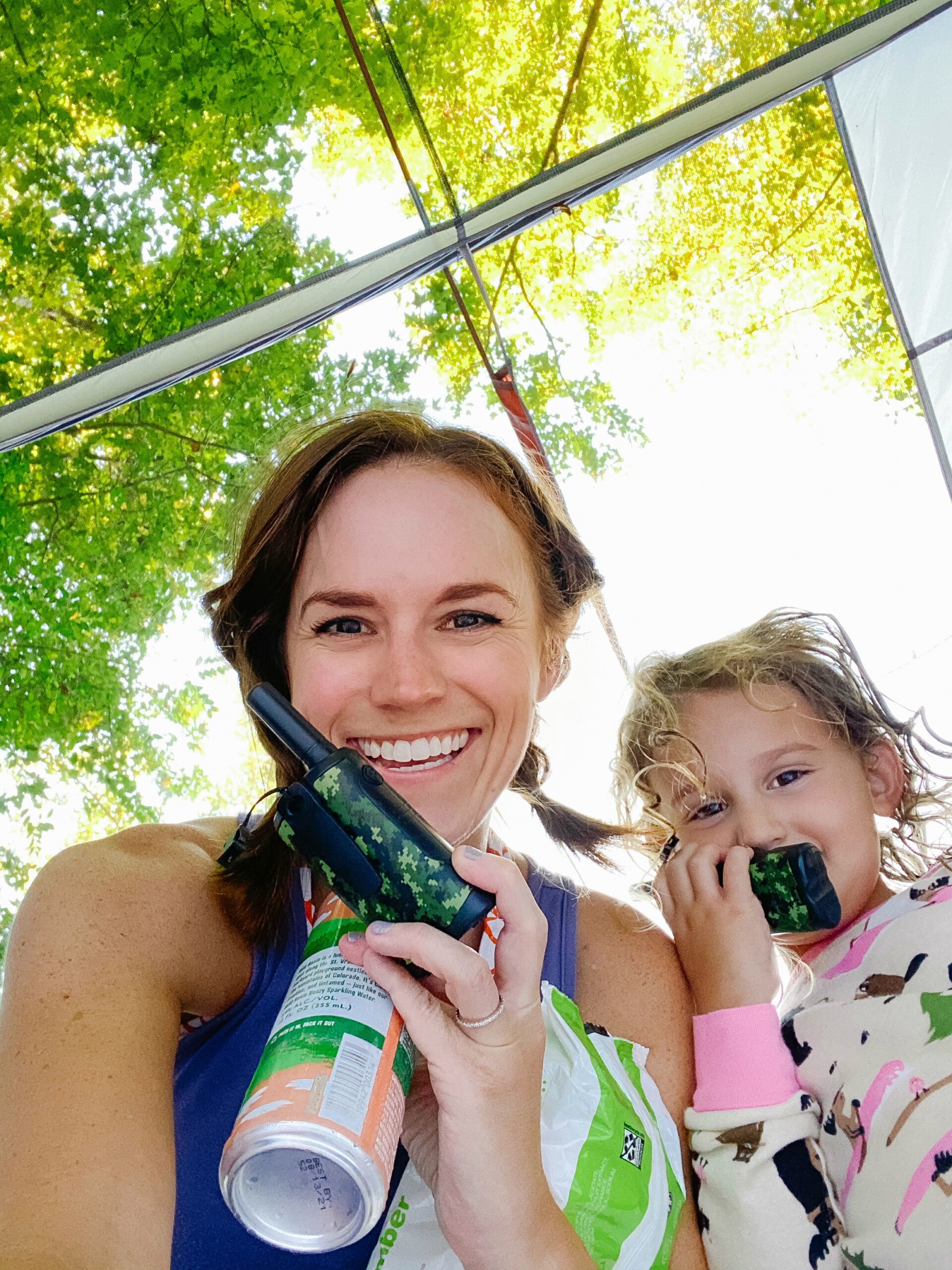 Time for dinner! Earlier while Matt and I set up the tent, Caroline filled cardboard egg cartons up with charcoal which made starting the fire SO much faster once we were ready for dinner! We just tossed the entire carton straight into the fire and like magic we had strong flames and were ready to start cooking!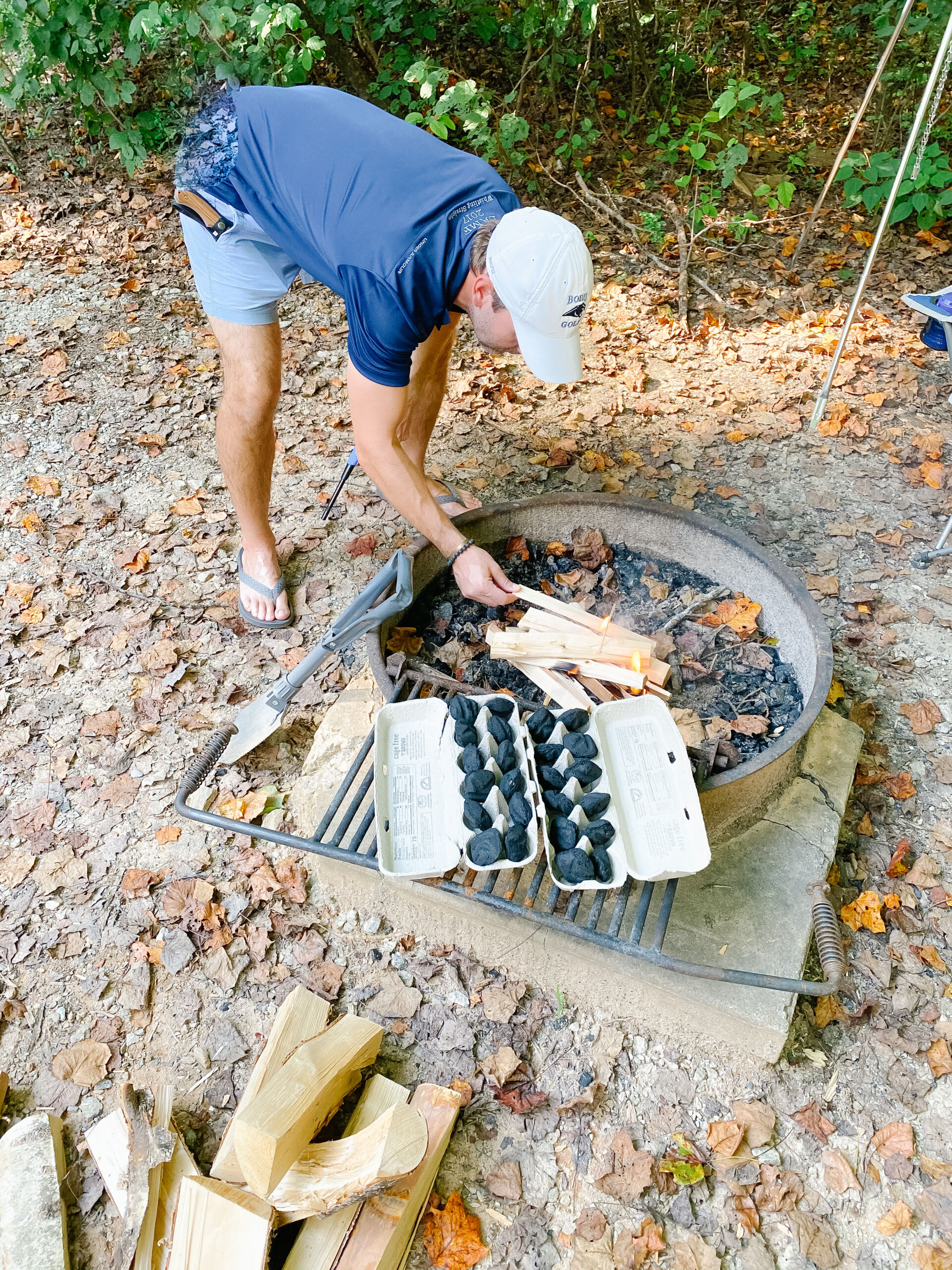 For dinner our first night we made tacos in a bag which were a huuuuuge hit! To keep things easy, I pre-cooked and seasoned the taco meat at home before we left, so all we had to do was toss it into an aluminum pan and warm it up over the fire. Assembling the taco bags was really fun. We slightly crushed mini bags of Doritos before adding the taco meat. Then we piled on all the toppings (diced tomato, shredded lettuce, green onion, shredded mexican cheese, etc.). This was definitely our favorite campfire meal of the trip. It was so easy and delicious!
Once it got dark we roasted s'mores and let the kids stay up late. Once they crashed into bed, Matt and I relaxed around the campfire for awhile. It was a gorgeous night.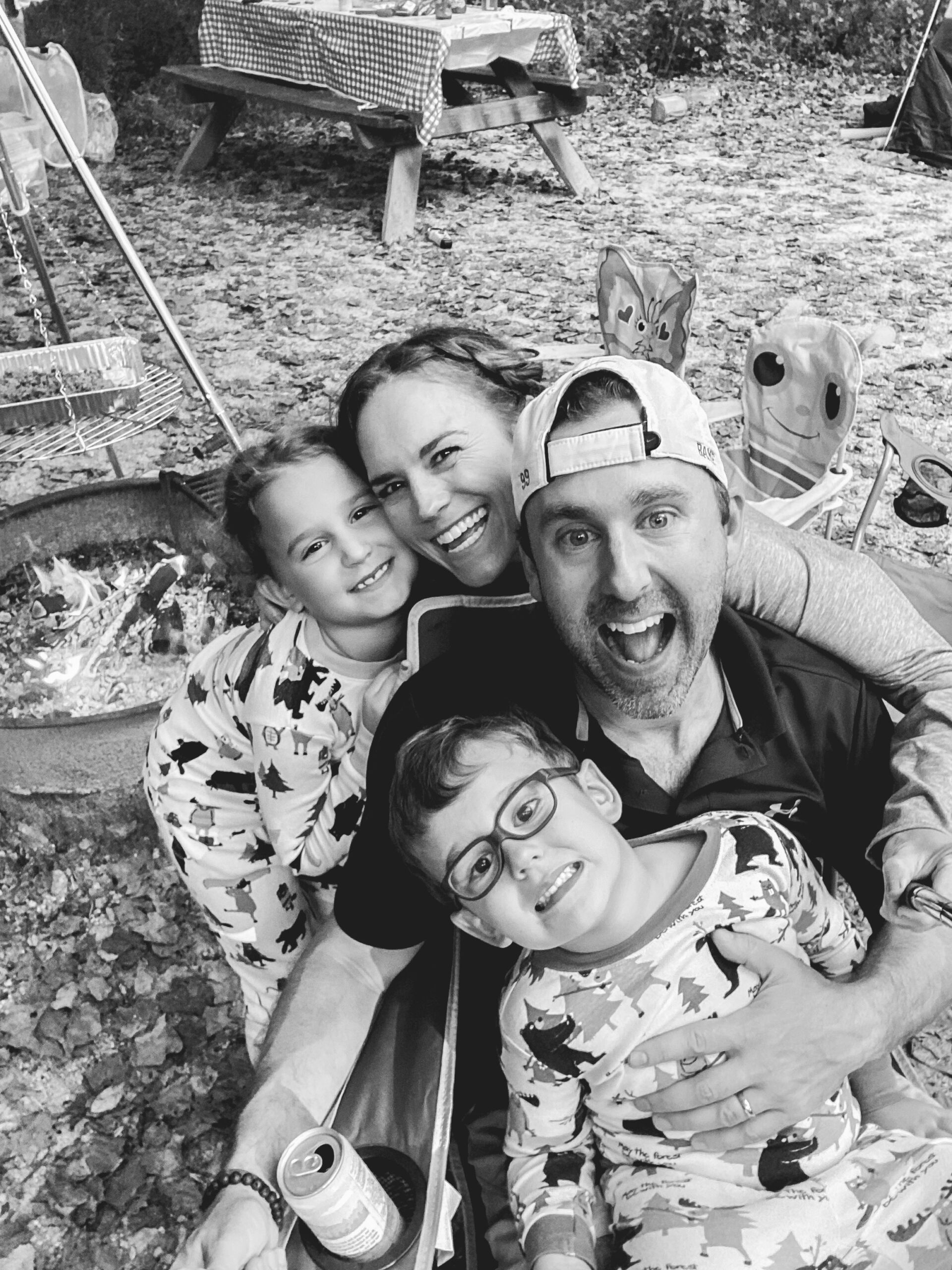 Sunday morning we were up bright and early. While I made iced coffees, Matt got the fire going for breakfast.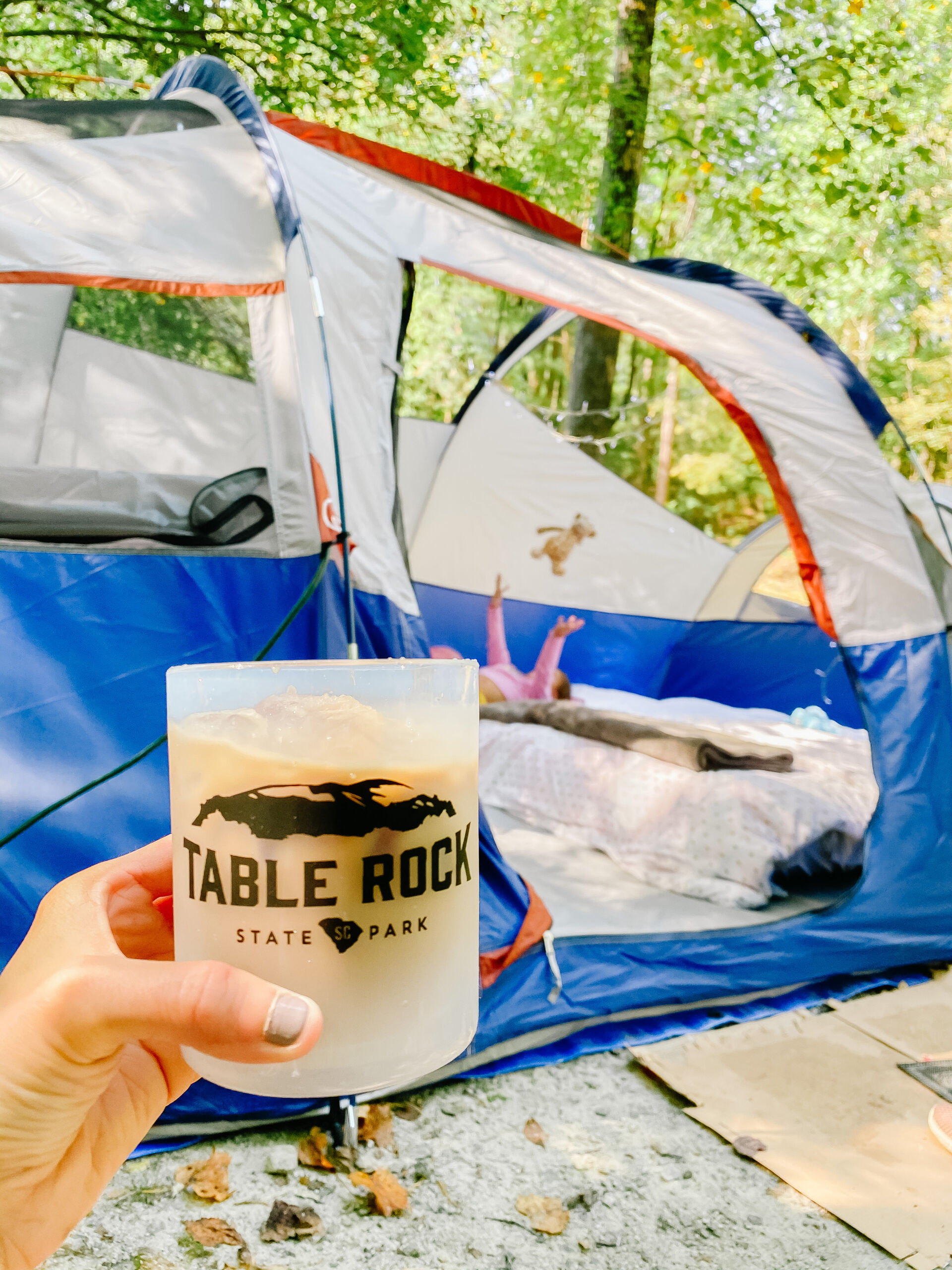 We cooked scrambled eggs (which I had pre-scrambled and stored in a coffee creamer container), bacon, shake & pour pancakes (which were a bust) and toast!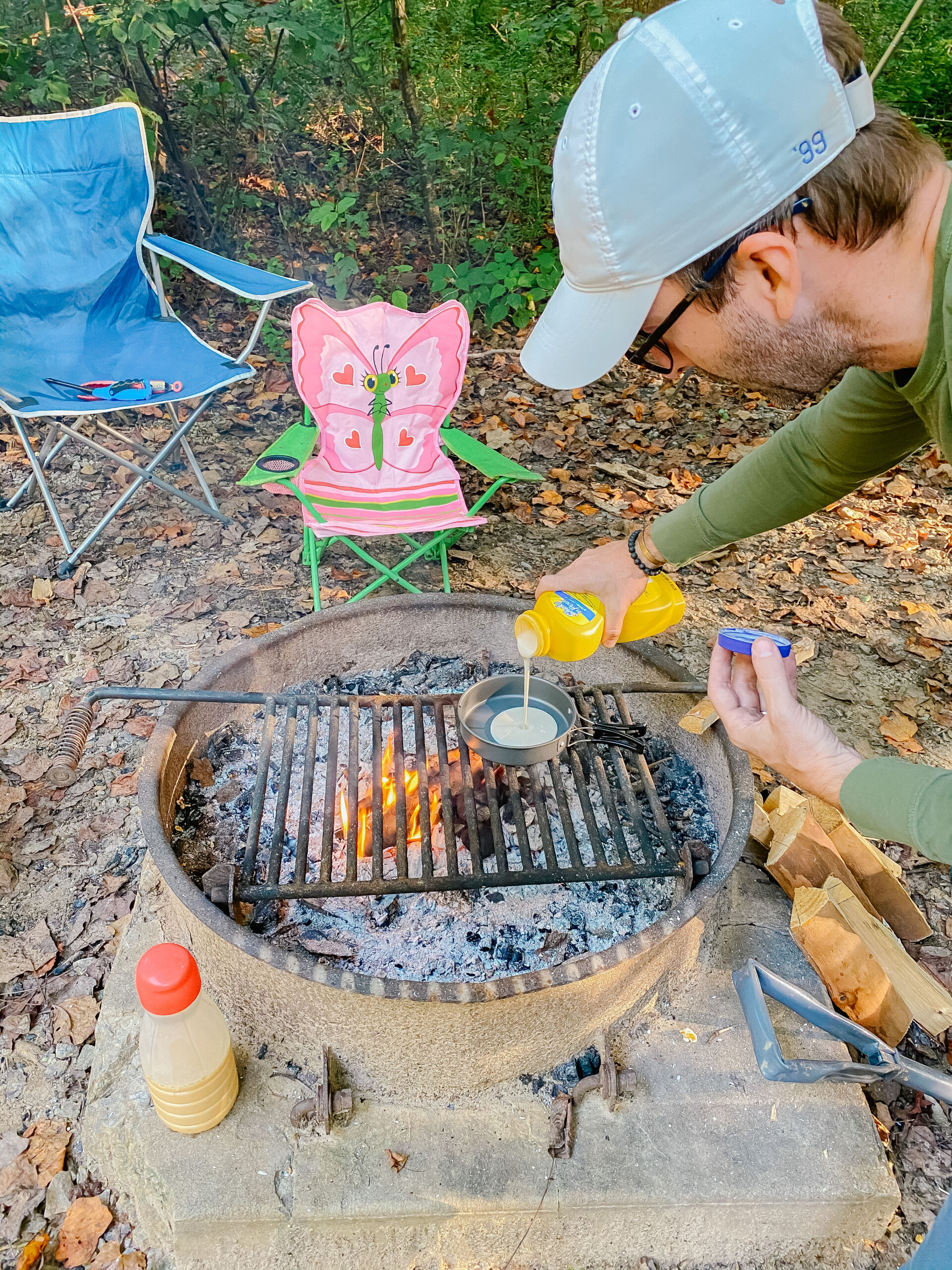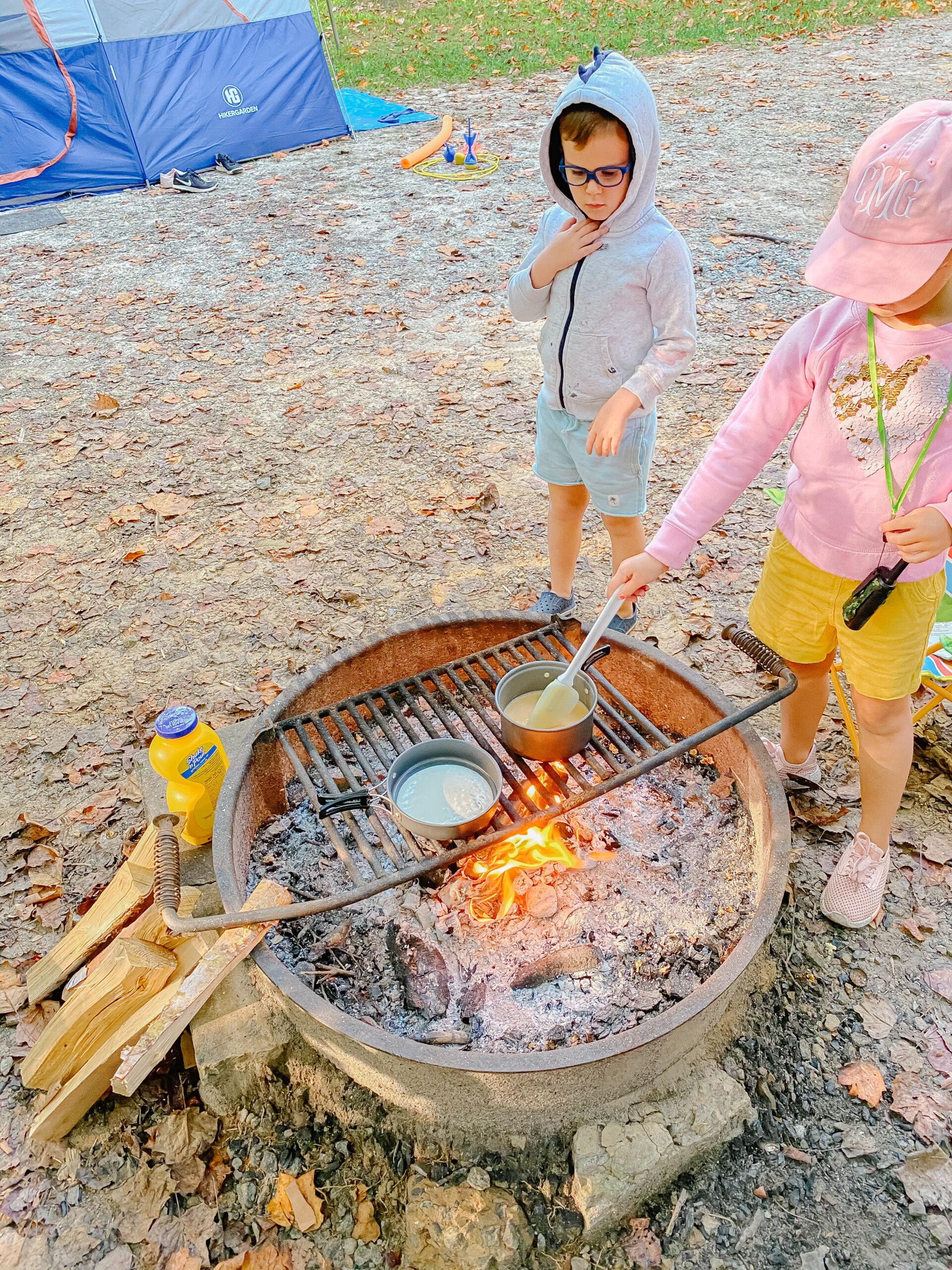 We spent most of the day exploring the forest and hiked Carrick Creek, a 2-mile trail featuring lots of waterfalls. The hike took us a few hours to complete and Thomas whined and complained pretty much every step of the way — he definitely hates hiking but Caroline loves it. We stopped a lot throughout the hike for snack breaks and to play in the water.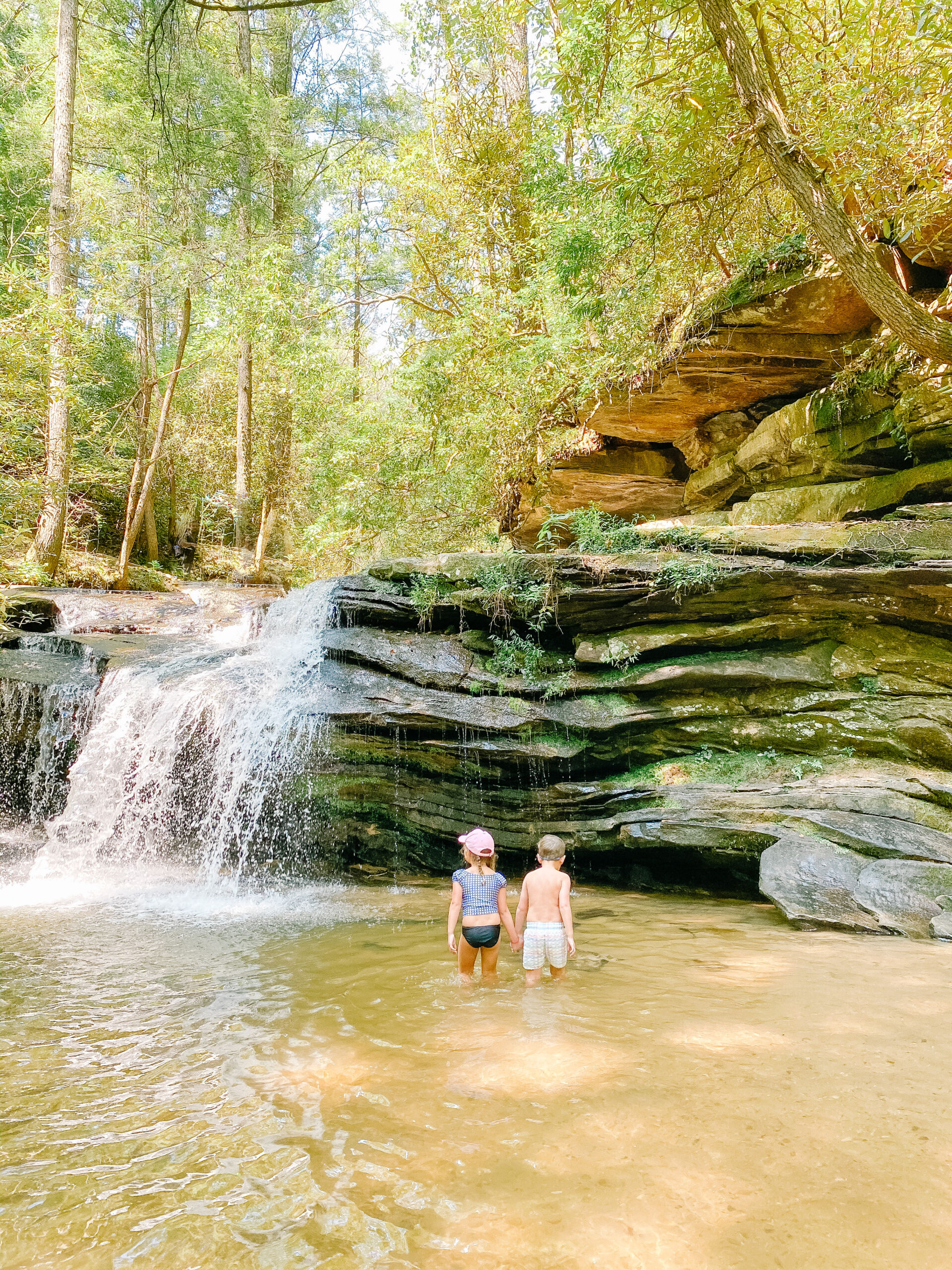 After our hiking adventure, we headed back to the campsite for more snacks and got a fire going. For dinner we grilled hotdogs and baked beans for the boys while Caroline and I grilled flatbread pizzas for us! Caroline was excited to make a few types of pizzas (pesto based and red sauced based) which were SOOOO good despite me dropping mine inside the firepit while I was trying to scoot it onto my plate…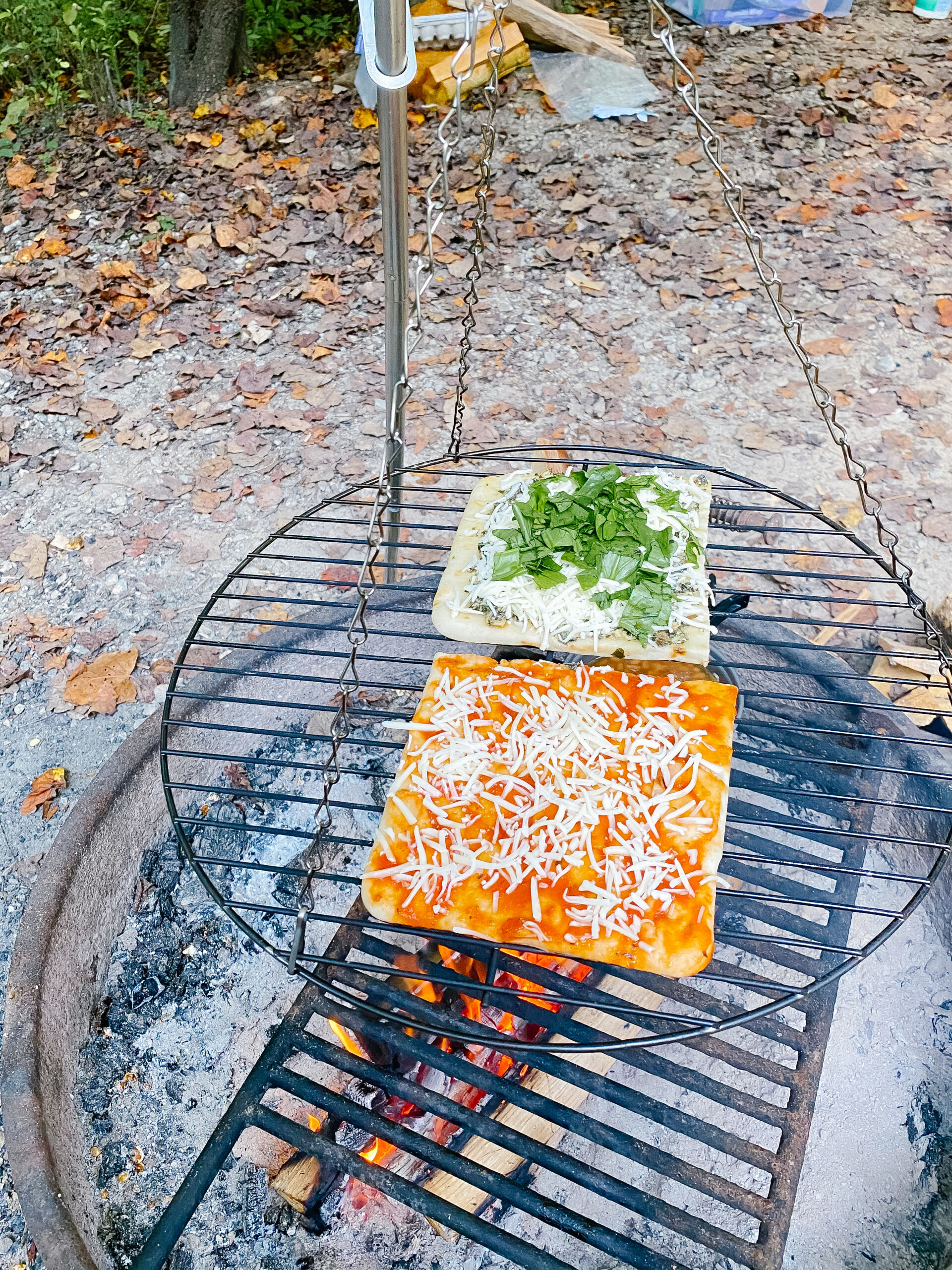 We roasted s'mores for dessert and again stayed up late hanging around the campfire polishing off the rest of the s'mores ingredients once the kids were in bed.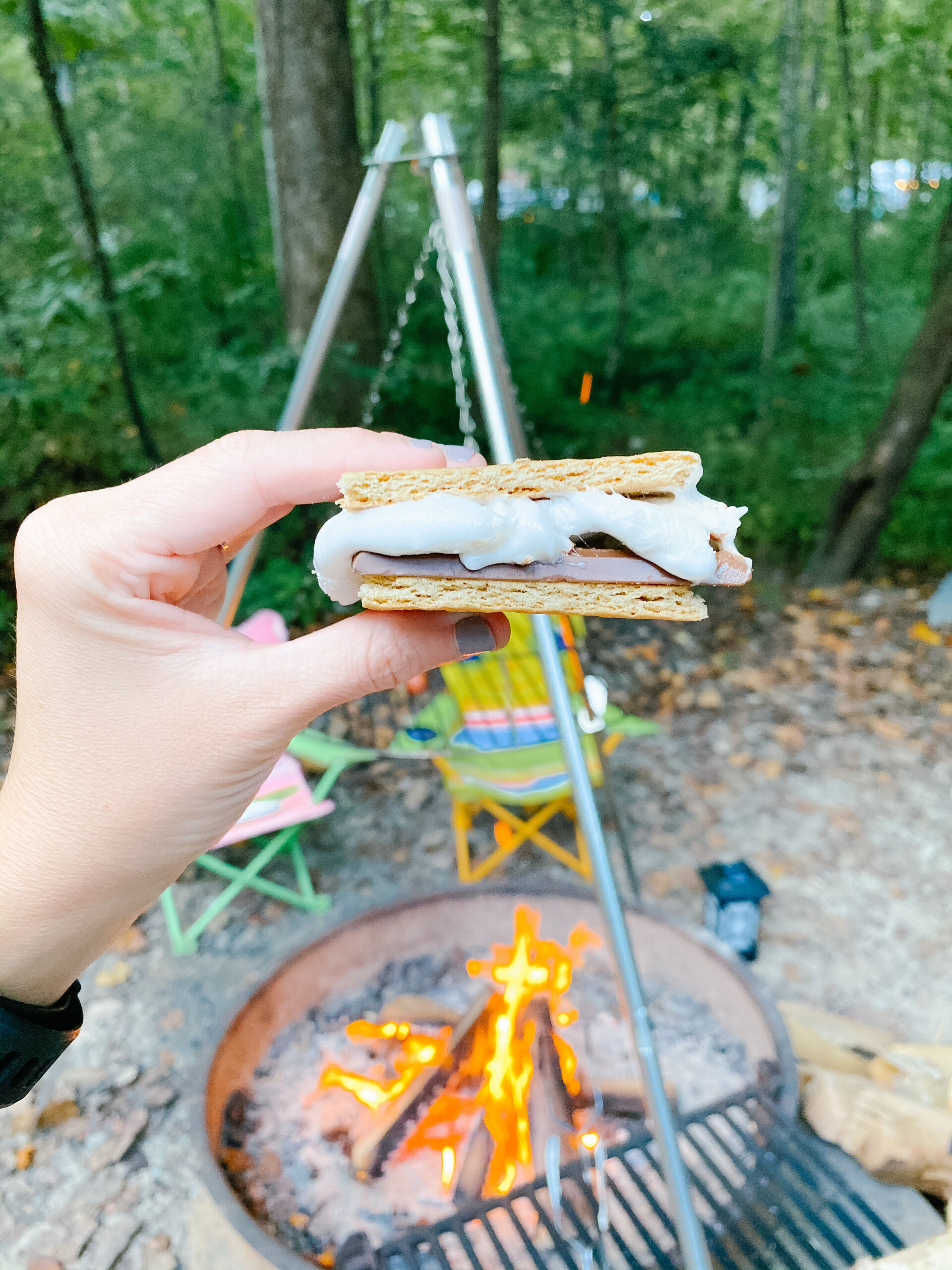 Monday morning we made cinnamon rolls over the fire before packing up and heading home! It was a fun trip and I'm calling it a successful first family tent camping experience! We've already booked another campground for next Labor Day!
Alright, if you came for the packing list…
What We Packed
We packed SO MUCH STUFF for the trip that I thought there was no way we'd need or use it all (spoiler: we did use almost everything we brought except for the emergency items). We ended up bringing 4 large storage containers that were packed and organized by category. This packing method (I discovered from Pinterest) helped us tremendously. If you go this route, make sure you get the containers that lock into place.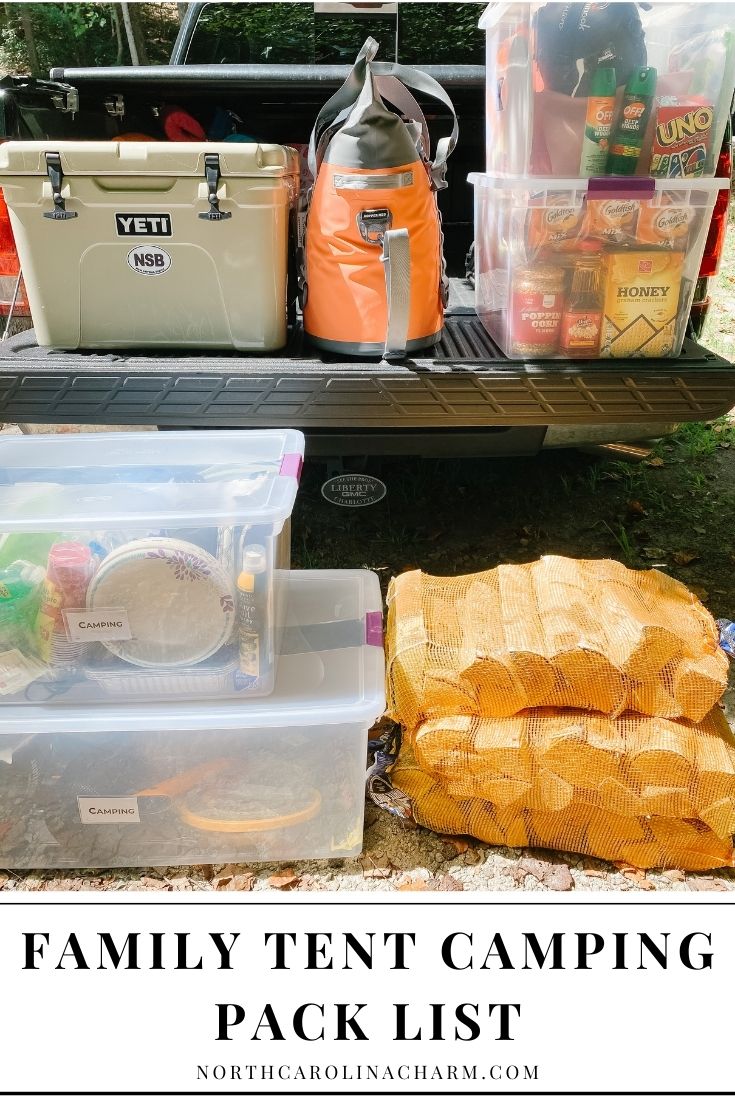 Camping Gear Container
tarps + mallet

twinkle lights

(for stringing inside the tent)

torch lighter + fire starters + waterproof matches

flashlights +

collapsible lanterns

+

headlamps

x4 + extra batteries

thermacell

x2 +

refills

polyrope + clothes pins (for clothesline)

charcoal + empty cardboard egg cartons (hack to use as fire starters for cooking)

dust pan + brush (for sweeping out the inside of the tent)

extension cords + splitter

pool noodle (to wrap tent lines)

door mat

glow sticks
Additional Gear (not stored in container)
Family Container
portable speaker
camera + tripod + selfie stick
bug spray
sunscreen
first aid kit
cards + games (lawn darts)
bug bite stick + bug bite thingy
baby wipes
mesh laundry bag (for dirty clothes)
toiletries caddy: shampoo + conditioner + soap + toothbrushes + toothpaste
Additional Items (packed in a separate bag)
pool towels + bath towels
queen sheets x2
pillows x4
comforters + blankets

Kitchen Container
I would highly recommend making a trip to the dollar store for most of these items! Also, you can see how we used almost all of these items on the list in the above picture.
paper towels + bungee cord (to use as paper towel holder)

yeti tumblers + kids tumblers

trash bags

ziploc bags

kitchen utensils: spatula + tongs + pizza cutter + can opener + scissors

knife + cutting board

cutlery: knives + forks + spoons (used a 6 pk beer container as a caddy)

paper plates + paper bowls + napkins

disposable cups

pop-up trashcan

or

laundry hamper

+ binder clips (to secure the bag)

potholders

dish towels

disposable tablecloths +

tablecloth clamps

foil pans

aluminum foil

hanging shoe organizer

(for easy access to frequently used items)

dish scrub brush + dish soap

disposable gloves

lysol wipes

sharpie

tupperware

cooking oil spray

salt + pepper + seasonings


toilet paper

hand sanitizer
Dry Food Container
Obviously this container will look totally unique to the meals you plan to make. Here are the dry ingredients we packed for breakfast (scrambled eggs, cinnamon rolls, bacon & pancakes) lunch (sandwiches), snacks and dinners (pizzas, hotdogs & tacos in a bag):
trail mix
granola bars
animal crackers
goldfish
gallons of bottled water x 3
popcorn kernels + oil
s'mores: graham crackers + chocolate + marshmallows
ketchup + mustard
pancake mix (shake & pour) + syrup
hotdog buns + sandwich bread
baked beans
potato chips
doritos (mini bags for tacos in a bag)
tortilla chips + salsa
pizzas: flatbreads + pizza sauce + pesto
pretzels
red wine
fruit
Cooler Items
We packed two separate coolers — one for drinks and one for food items.
Food Cooler
eggs (hack: pre-scrambled in a creamer container)
cinnamon rolls
bacon
hotdogs
tacos in a bag: taco meat (cook ahead and bring in tupperware) + shredded mexican cheese + shredded lettuce + diced tomatoes + diced green onions
deli meat + sliced cheese
pizzas: shredded mozzarella cheese + toppings (pepperoni, prosciutto, spinach, etc.)
boursin cheese
sage bundled with twine (burn as mosquito repellent)
Drinks Cooler
beer
hard seltzers
sparkle waters
iced coffee + coffee creamer
bottled waters
gatorades
Things I wish we would have packed that we will bring next time:
bikes & scooters
coffee maker
nails (to hang things from the tree)
griddle (for pancakes/bacon)
much bigger doormat
more disposable foil pans
caddy for all of the kitchen utensils (to set inside next to the fire while cooking)