Sharing some of my favorite easy camping meals and snacks today!
Even though we only get to do it once every fall, our family LOVES to camp. Eventually, I'd love to do more primitive camping with our kids, but at their current ages, we have really enjoyed tent camping with our car parked right at our site! And since we don't have to haul a bunch of gear and food on our backs, we can cook some pretty delicious meals and snacks. Here are a few of our favorites…
Tacos In A Bag
Also known as "Walking Tacos," this is hands down everyone's favorite meal every trip.
To keep things easy, I pre-cook and season the taco meat at home before we leave, so all we have to do is toss it into an aluminum pan and warm it up over the fire. This also cuts down on cookware to clean afterward too. However, you can totally cook it at your site if that's your preference.
Assembling the taco bags is really fun. We slightly crush mini bags of Doritos before adding the taco meat. Then we pile on all the toppings (diced tomato, shredded lettuce, green onion, shredded Mexican cheese, etc.).
Tacos In A Bag Ingredients
Seasoned Taco Meat (or Ground Beef & Taco Seasoning)
Snack Bags of Doritos (you can also use Fritos!)
Your Favorite Toppings: Diced tomato, Shredded lettuce, Green Onion, Shredded Mexican cheese, etc.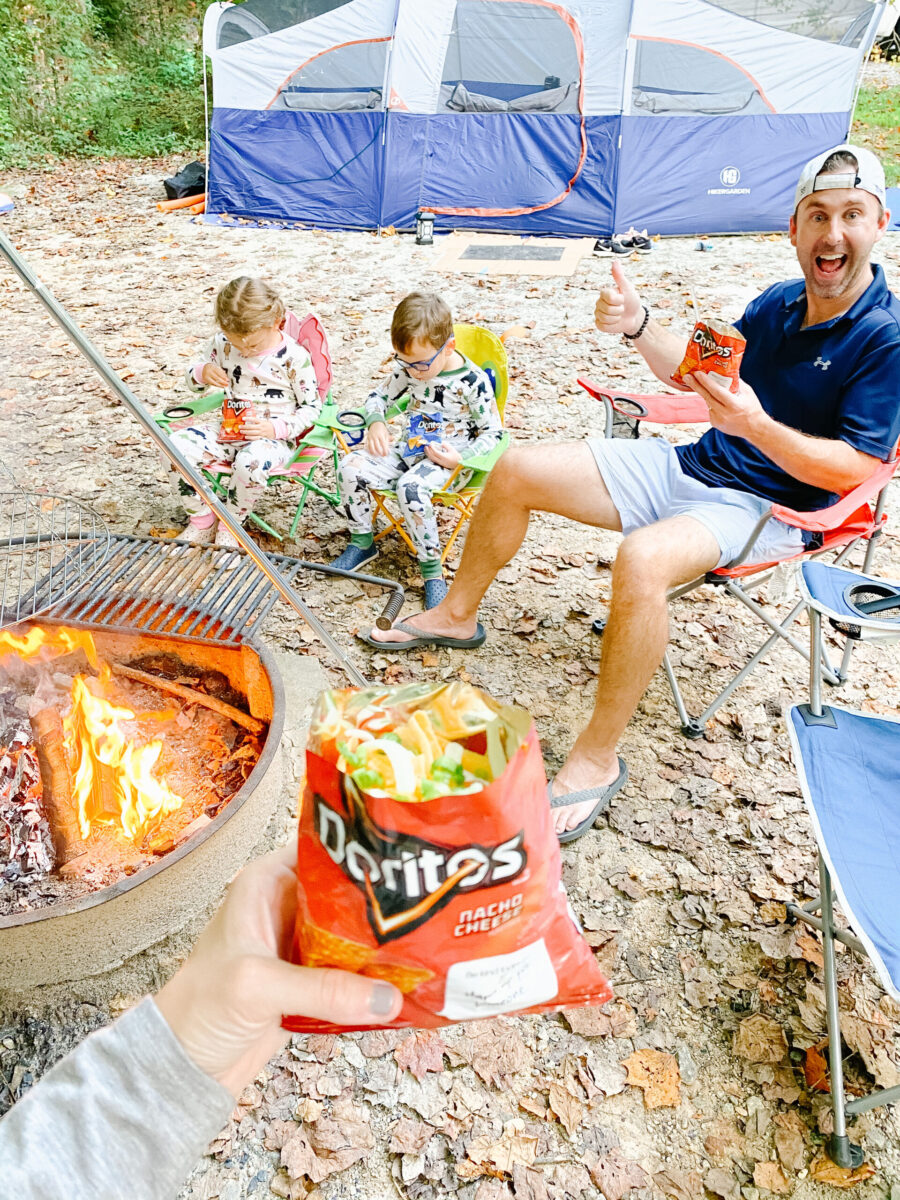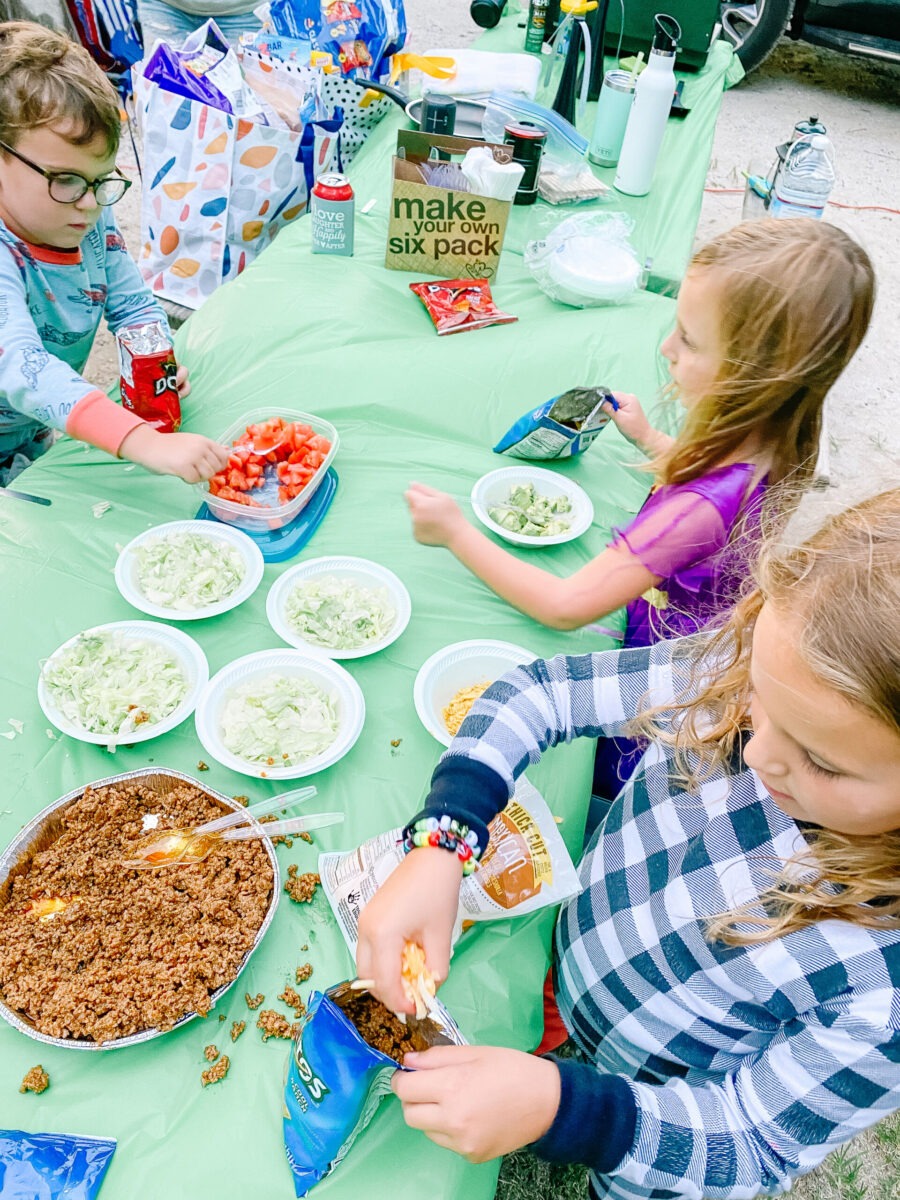 Pita Pizzas
Another fun dinner we make every time we camp — Pita Pizzas! Grab some pitas, smear a layer of sauce on top, sprinkle with cheese, add all your toppings, then cook over the fire. We slow cook them on the tri-pod grill which gives perfectly crispy edges to your pizza crust.
Pita Pizza Ingredients
Pita Bread (you can also use pre-made pizza crusts, flatbread, naan, etc.)
Pizza Sauce
Mozzarella Cheese
Favorite Toppings: Pepperoni, Veggies, Pineapple, etc.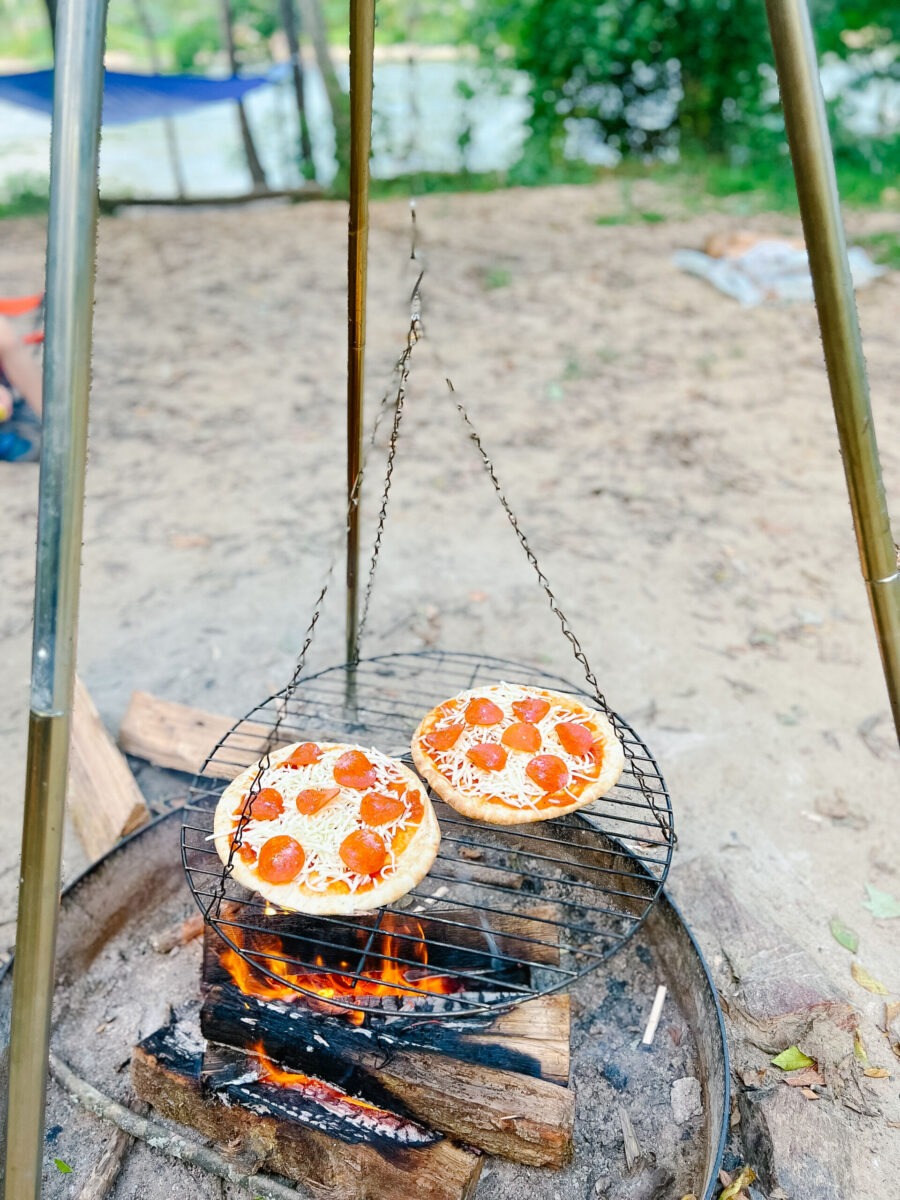 Slider Sandwiches
Mini sandwiches are a super easy lunch that you can prep ahead of time. We usually make Hawaiian Ham Sliders but don't add the topping so the bread doesn't get soggy.
Slider Sandwich Ingredients
Hawaiian Sweet Dinner Rolls
Deli Honey Ham or Turkey
Sliced Swiss Cheese or Sliced Cheddar Cheese
Condiments (add just before serving): Mustard, Mayo, etc.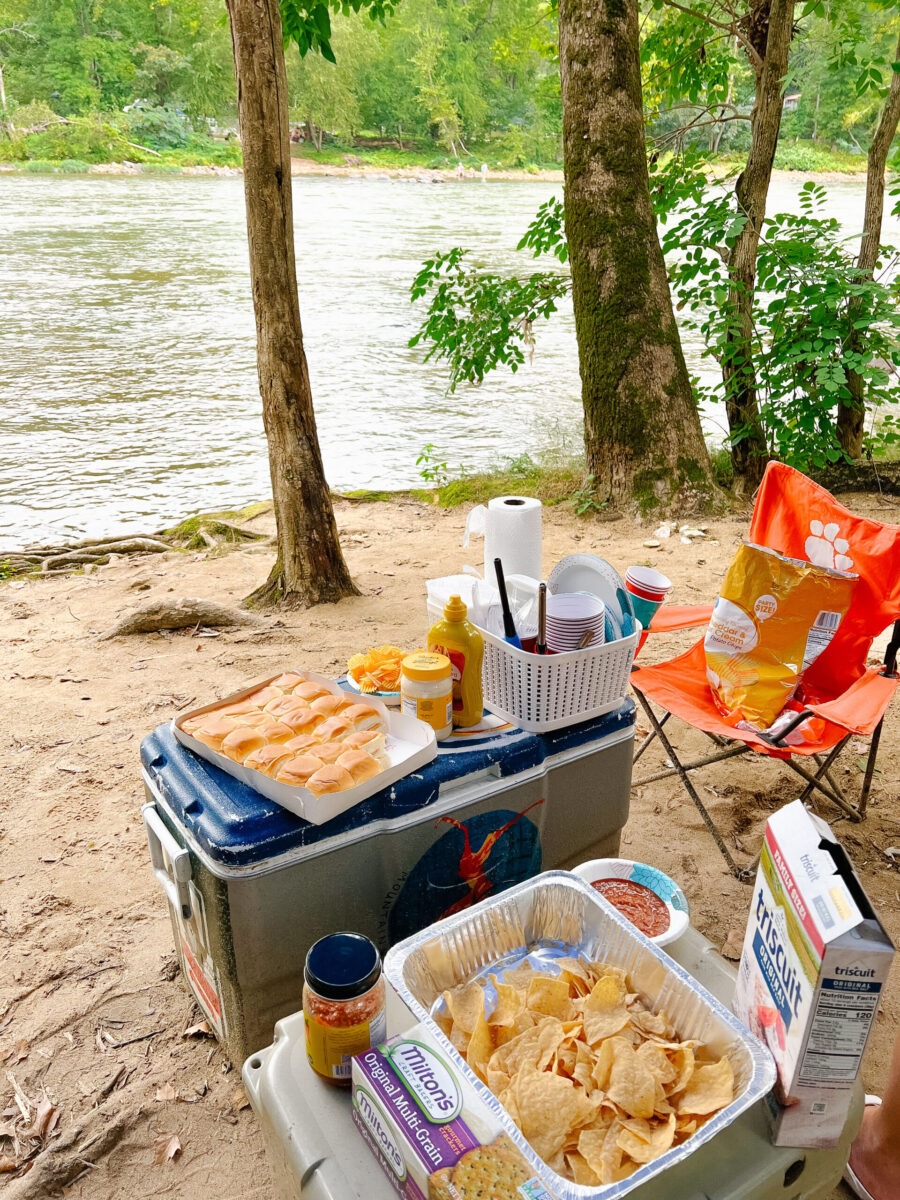 S'mores Granola
Like trail mix, but with granola since my kids don't love nuts. In a large Ziploc bag, add marshmallows, granola, and M&Ms! Super easy and delicious.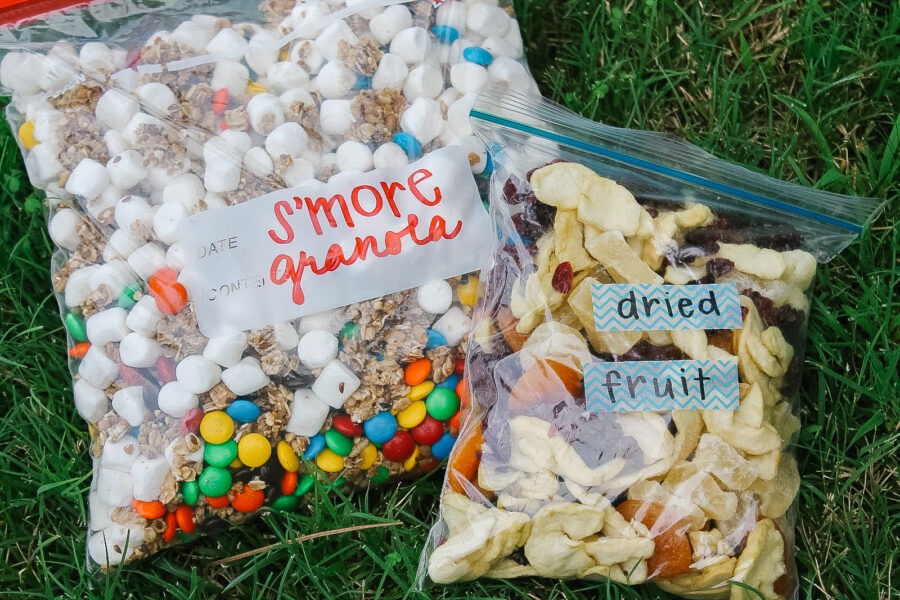 S'mores Campfire Cones
These are so easy, delicious, and slightly less messy than traditional s'mores.
In a waffle cone, layer marshmallows, mini M&M's, and mini Reese's cups. You can really go wild with so many other toppings too including fruit like raspberries and bananas (which I brought but we failed to remember to pull out of the cooler).
Once the waffle cones are stuffed to the brim, wrap them in foil and slowly roasted them over the campfire until they were warm and melty (about 15 minutes).
S'mores Campfire Cone Ingredients
Waffle Cones
Mini Marshmallows
Miniature Candy (smaller candy pieces work better): Mini M&Ms, Mini Reese's Cups, etc.
Fruit: Raspberries, Diced Strawberries, Sliced Bananas, etc.
Aluminum Foil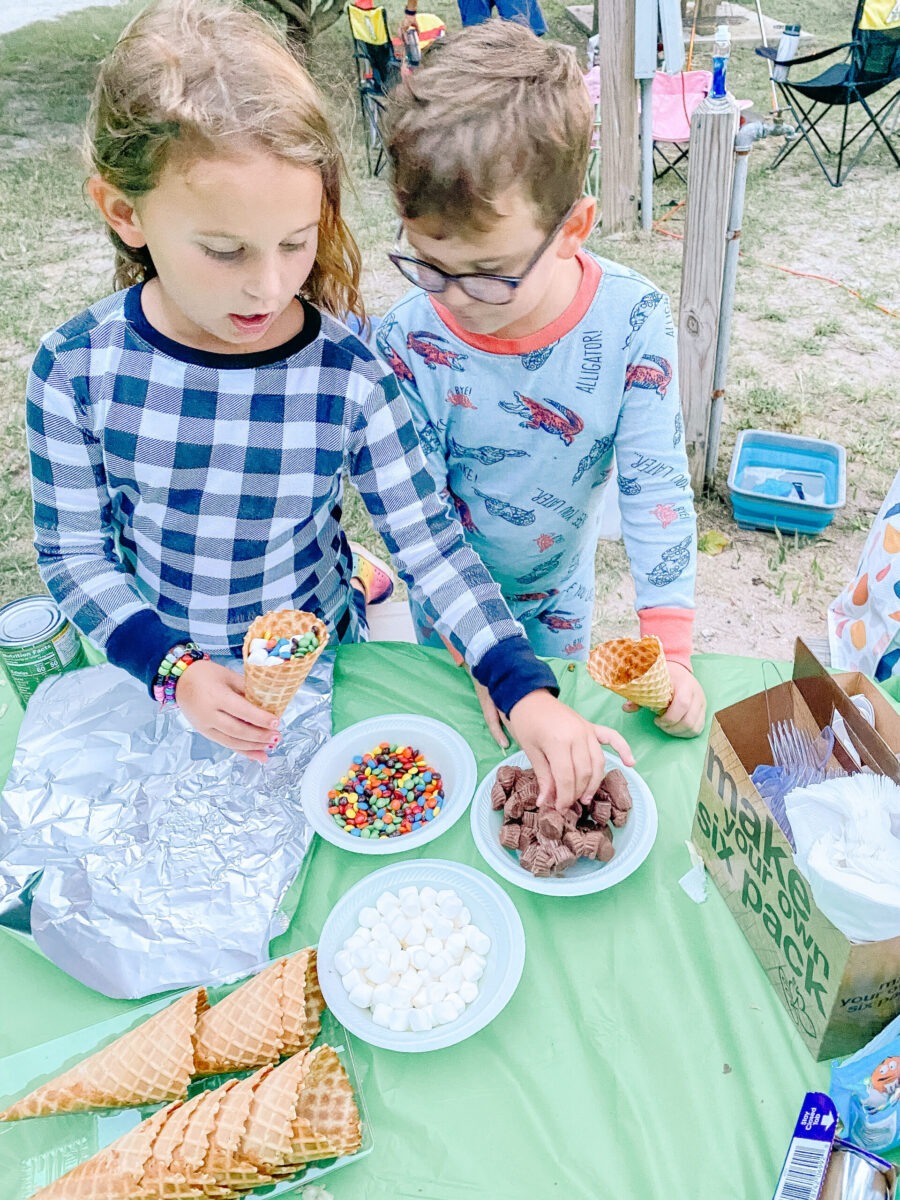 Breakfast & Snacks
My best tip is to bring meal items as prepared as possible. If you like scrambled eggs, pre-scramble the eggs and store in a container until you're ready to use so you aren't cracking a dozen eggs at the picnic table.
Breakfast: scrambled eggs, bacon, bagels, mini muffins, mini boxed cereals, yogurt, cold brew coffee
Snacks: popcorn (popped on tri-pod grill in covered foil pan with oil), crackers + spreads, chips + dips, trail mix, dried fruit.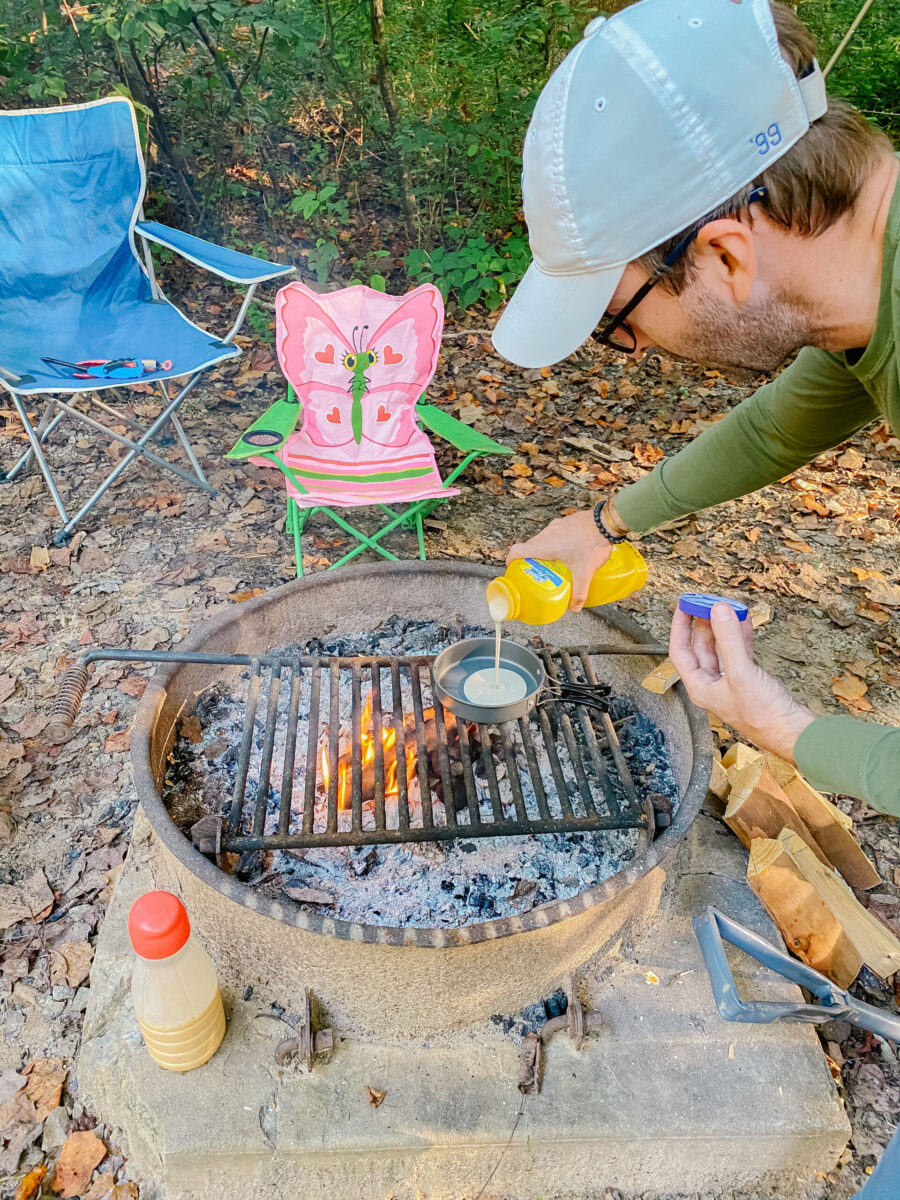 Cooking Gear
You can find a full list of gear, supplies, food, packing lists, and more in my Car Camping Essentials Post. However, here are a few cooking stations we love to bring camping with us…
Outdoor Master Cook Station: After several camping trips we finally decided to purchase a cooking table and it has been a total game changer. Not only is it nice not having to share our cooking station with our dining picnic table, this folding table has a lot of awesome features too. There's plenty of counter space to accommodate our stove, cooking utensils & cookware, a storage rack for paper towels, a collapsible sink, and a lantern pole!
Tri-Pod Grill: For slow-cooking food over the fire.
2-Burner Camping Stove: For quickly cooking items we don't want to slow cook over the fires (eggs, bacon, etc.)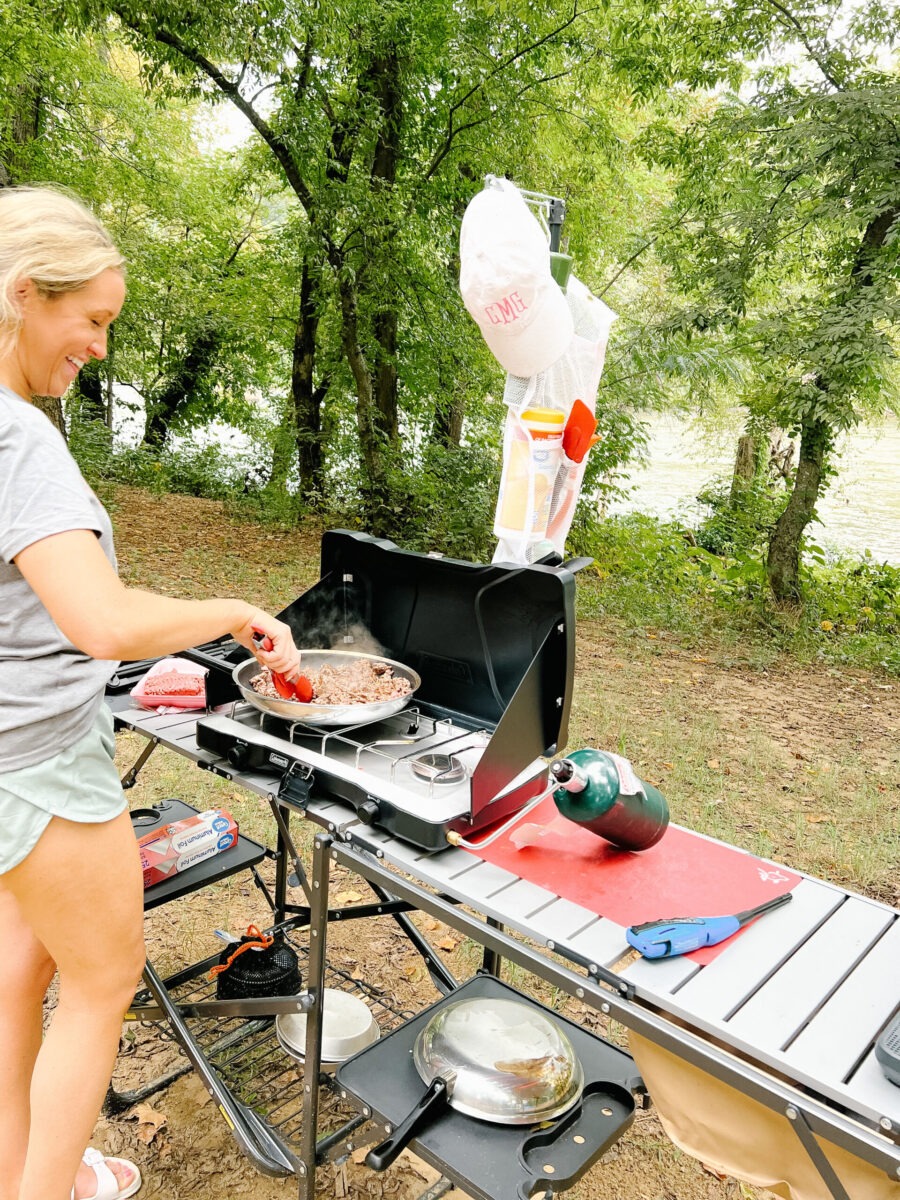 A few places we've camped as a family and really loved: