For the small percentage of my readers who follow a vegan diet, this post is for you! For the last 4'ish months, I've been cooking vegan meals for Matt. To be honest, it is SO much easier to find tasty vegan ingredients in 2021 than it was 10 years ago when he last went vegan. There is almost always a vegan option at restaurants and many grocery stores carry a variety of vegan foods these days. In fact, some grocery stores have an entire section of "meats" and "cheeses" which is so awesome.
I recently ran to Trader Joe's for a few items and stumbled upon some new (and grabbed some old favorite) vegan foods that I wanted to share! One of our go to Trader Joe's meals right now is spaghetti noodles, topped with bolognese sauce and parmesan shreds, served with a side Caesar salad (romaine hearts with vegan Caesar dressing & plantain croutons)!
1. Vegan Caesar Dressing
This dressing is SO good!!! Drizzle it on a bed of romaine lettuce with vegan Parmesan cheese and plantain croutons and it is even better than your traditional Caesar salad!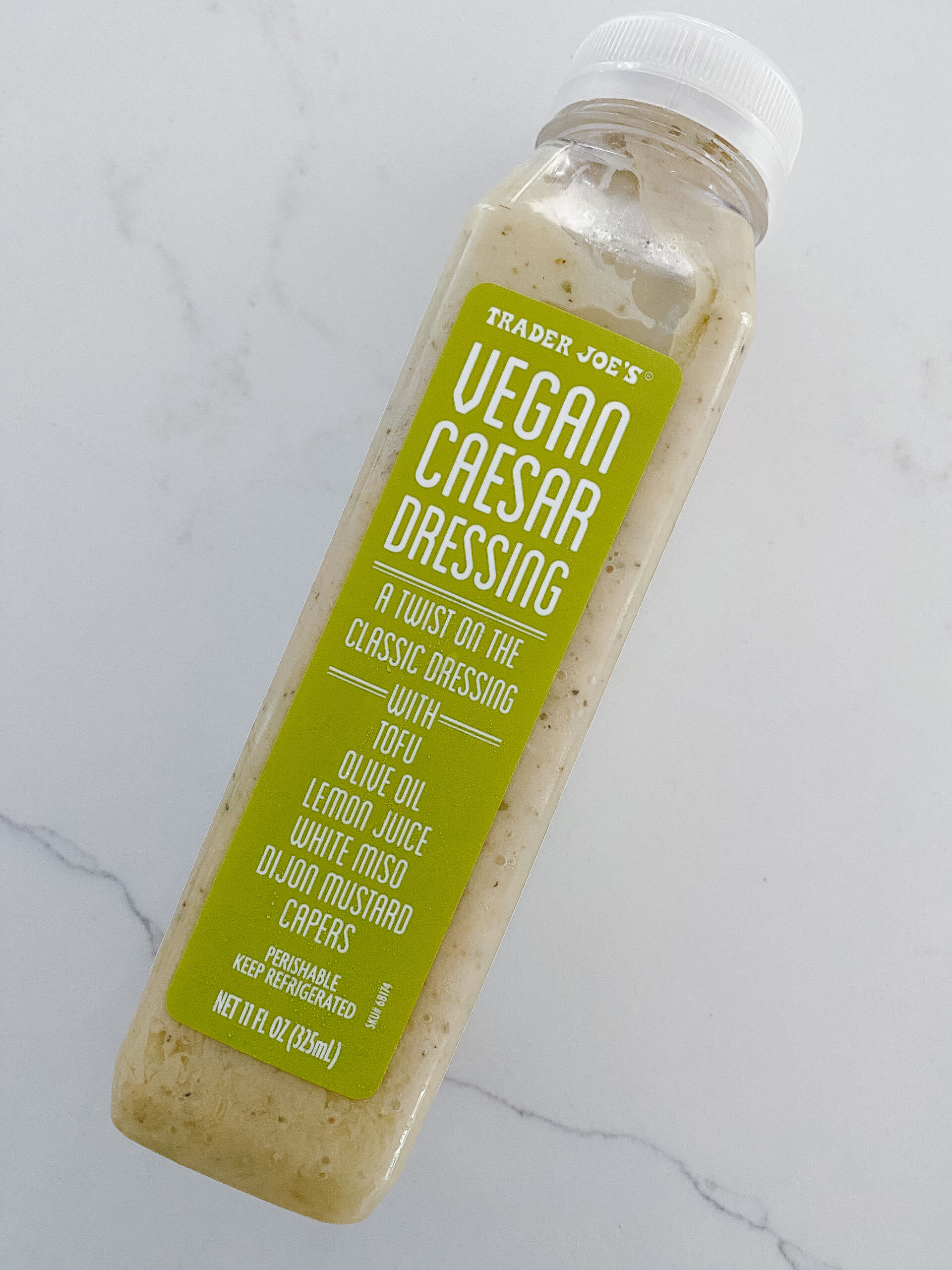 2. Plantain Croutons
THESE ARE SO GOOD! I use them on all of our salad and even enjoy eating them by the handful for a snack! This was one of our favorite TJ items before we even went vegan.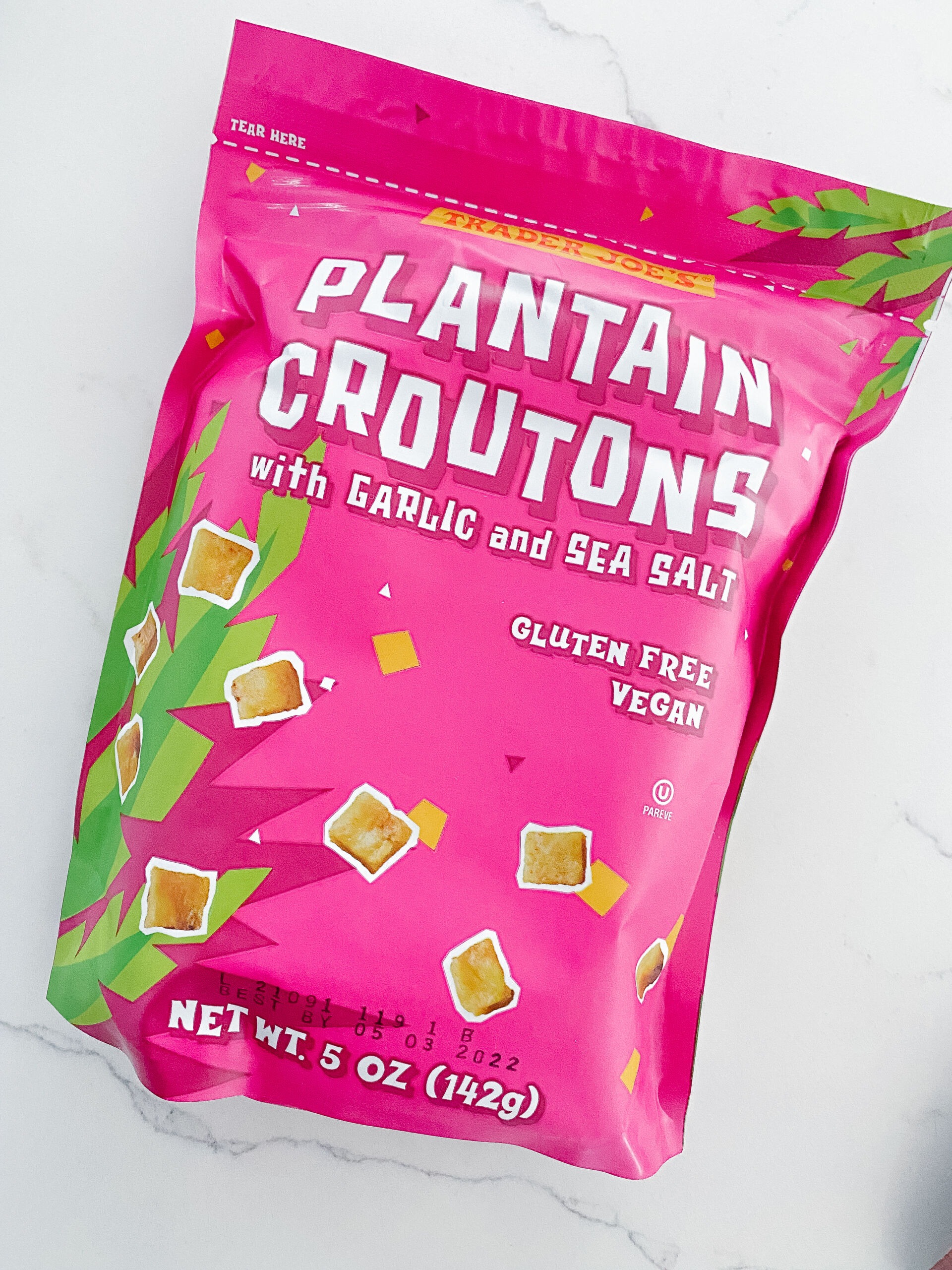 3. Mozzarella Shreds
It is amazing how far dairy-free "cheese" has come over the last few years.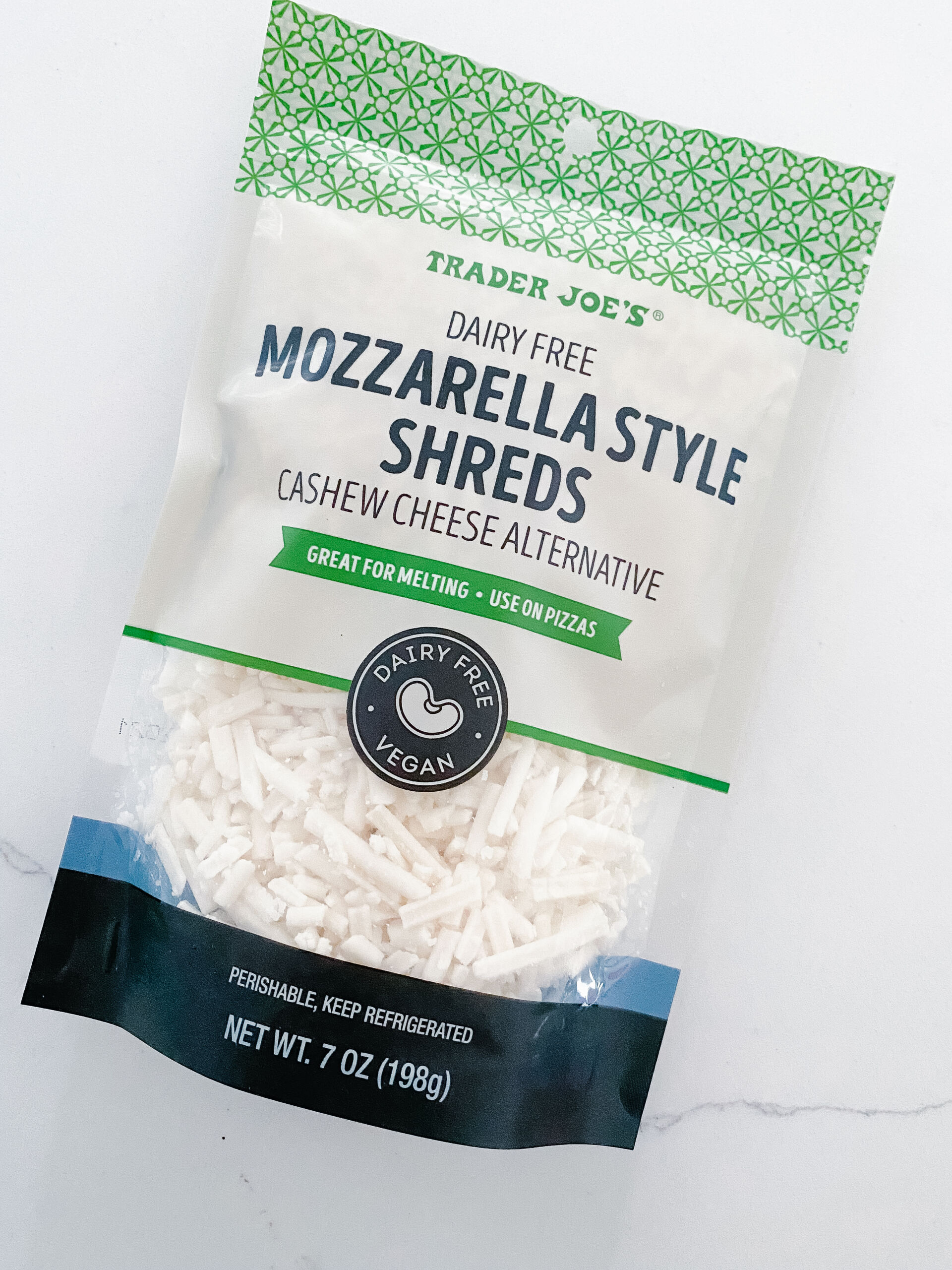 4. Vegan Bolognese Sauce
I was highly skeptical of this sauce…and it really surprised me! Even the kids ate it. This sauce is now a pantry staple for us!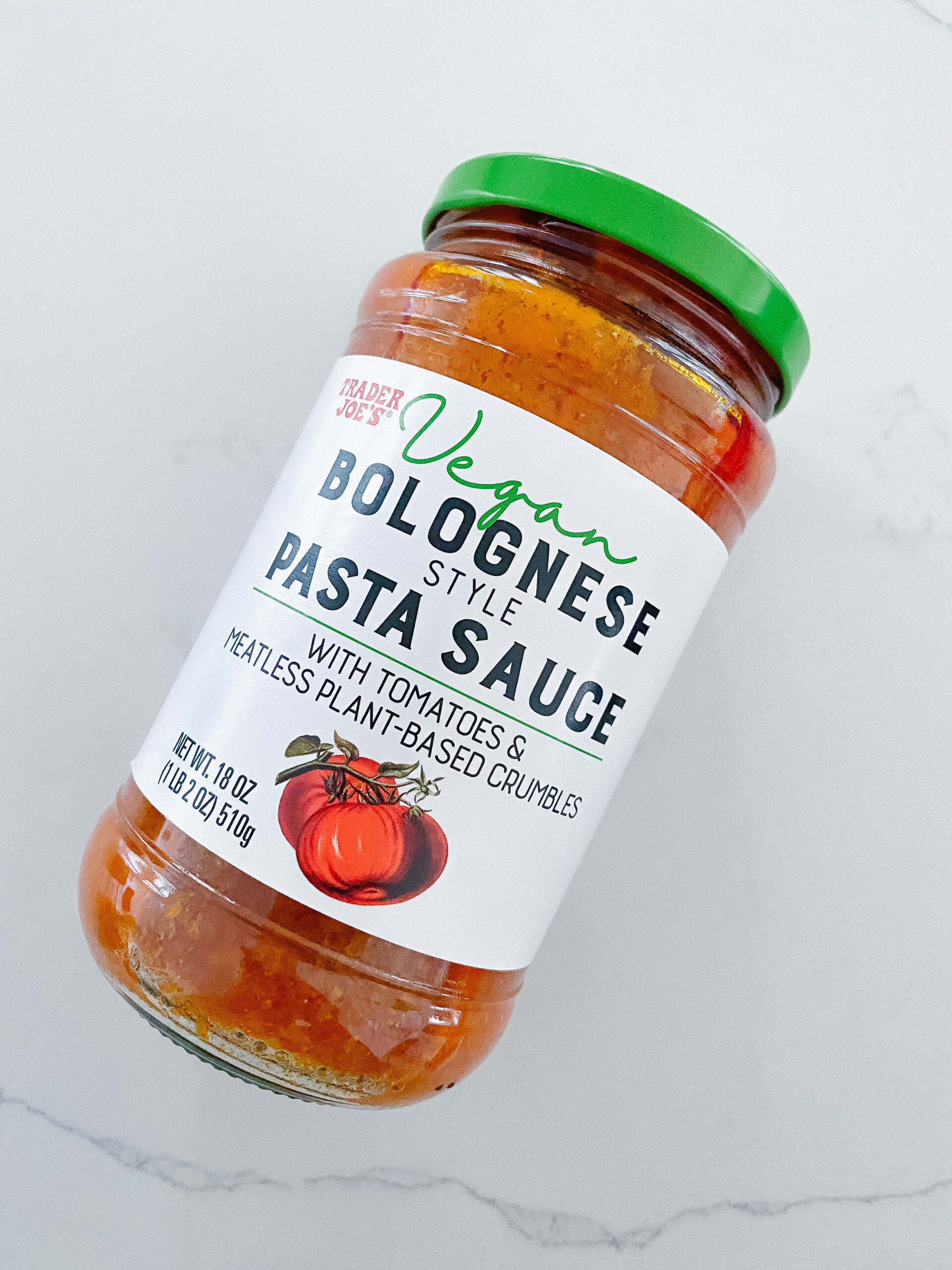 5. Spaghetti Noodles
These noodles are delicious and also gluten free!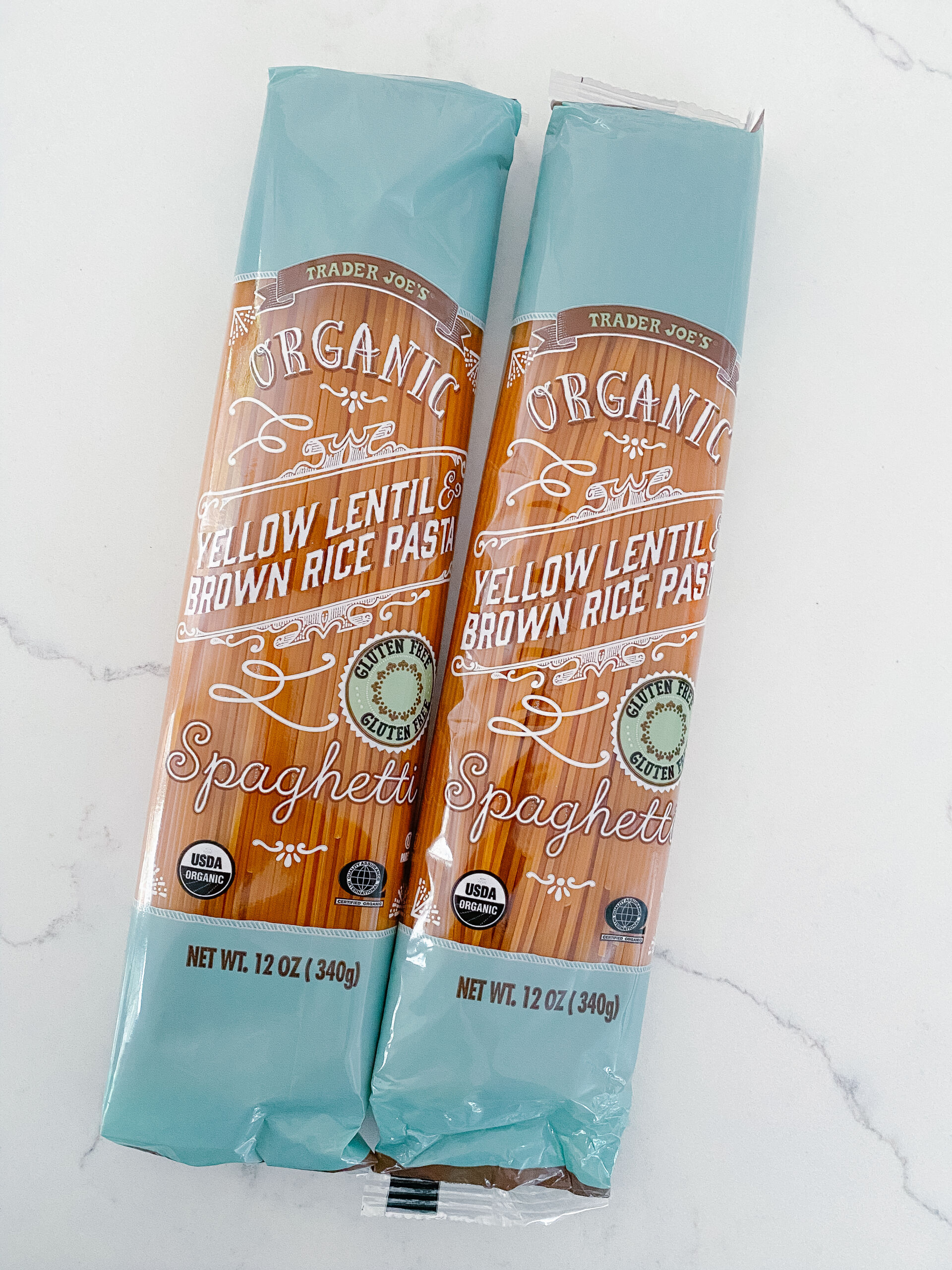 6. Cheese-less "Cheesecakes"
Desserts have come a long way since we last went vegan!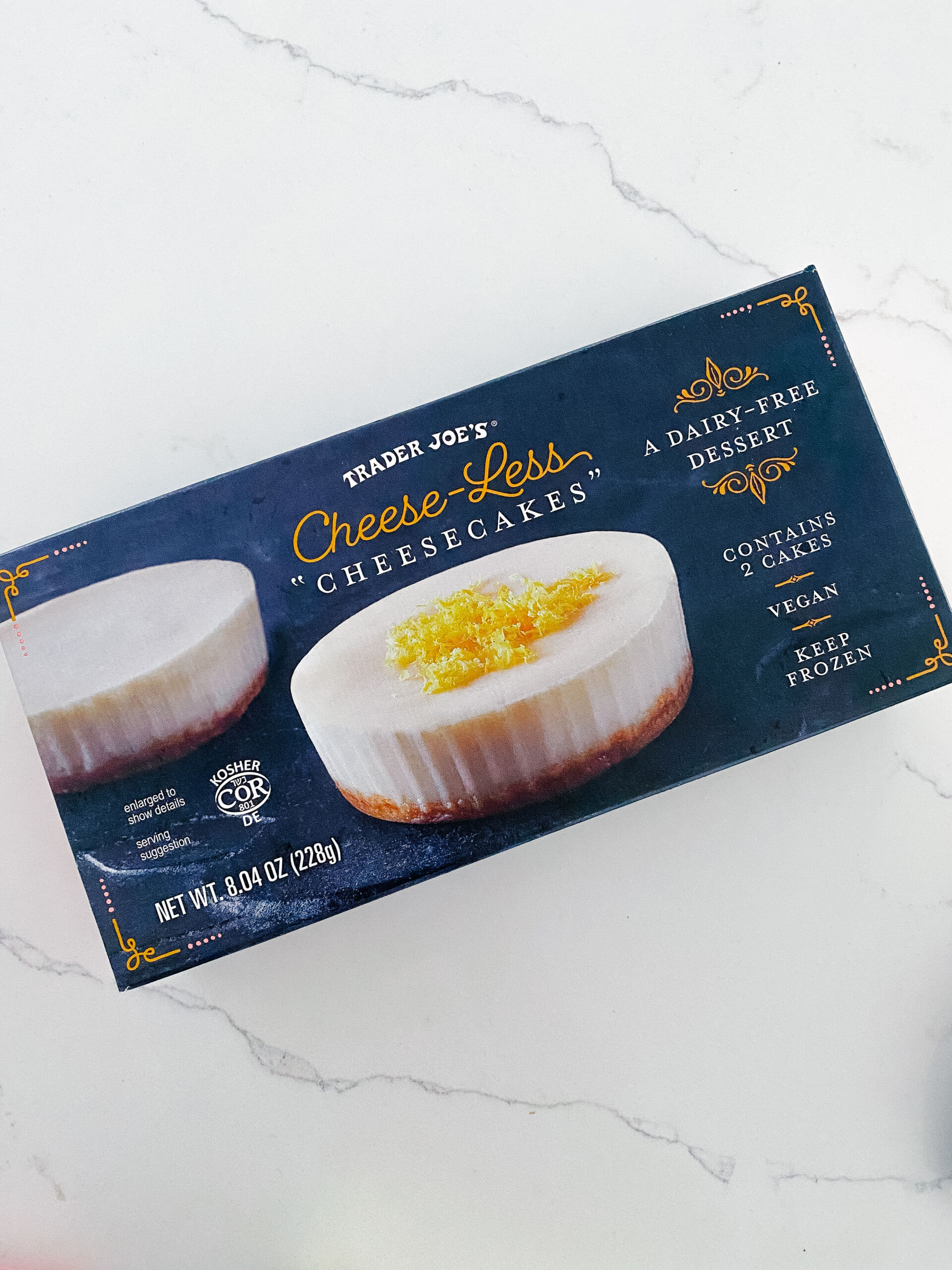 7. Cashew Fiesta Dip
Our go to "cheese" dip for snacking! We serve it with plantain chips!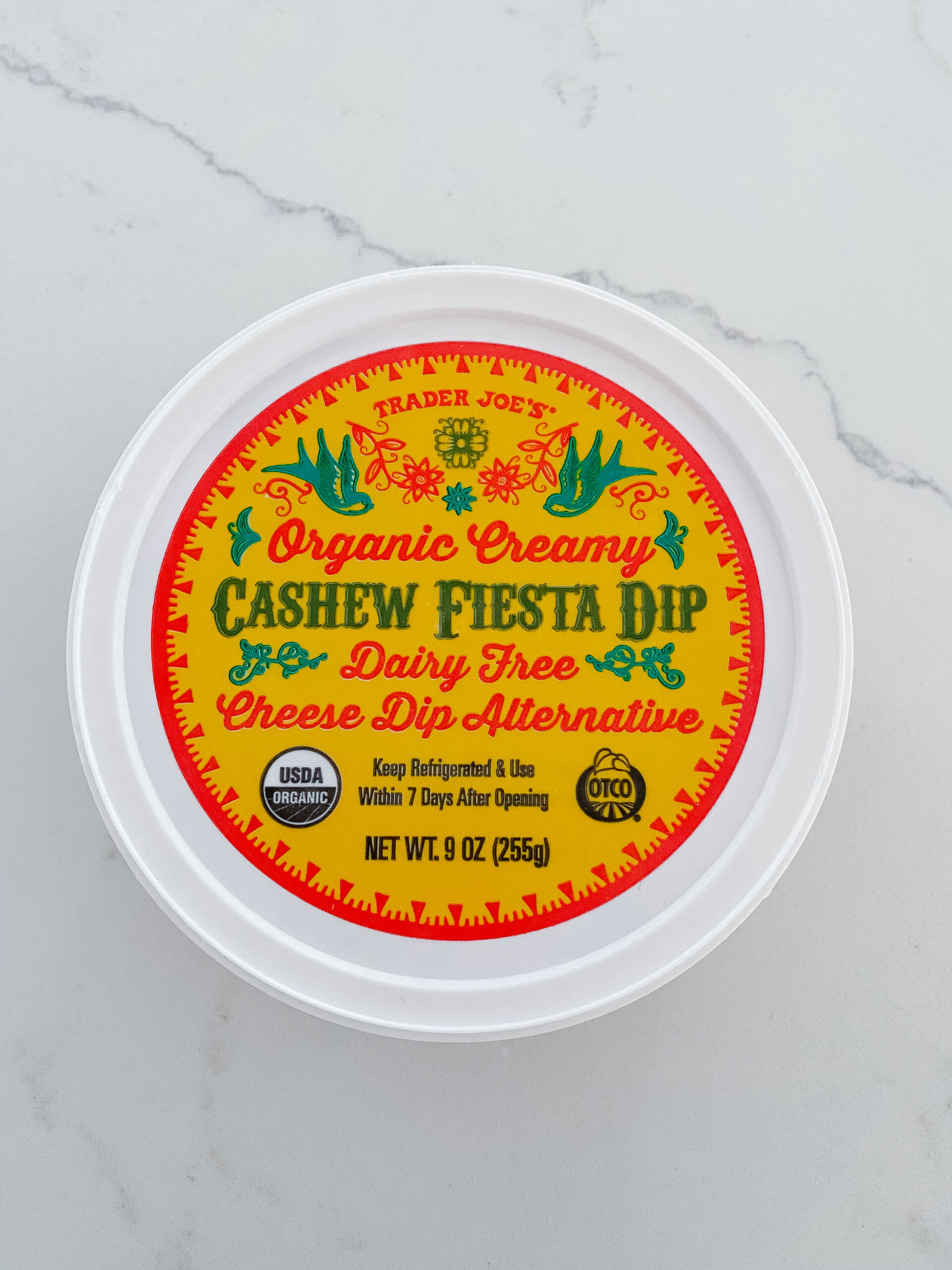 8. Vegan Tzatziki Dip
Another amazing dip.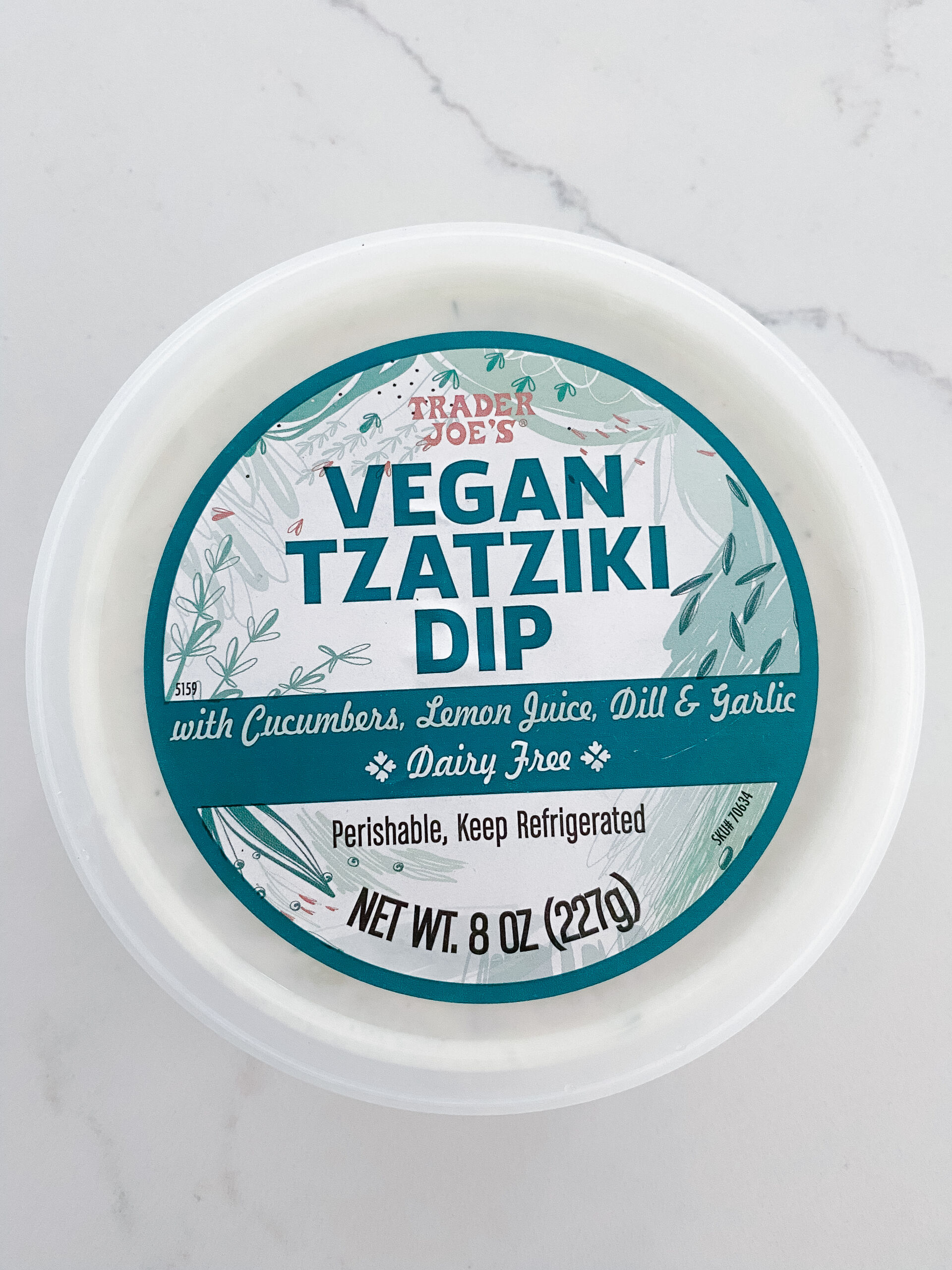 9. Vegetable Fried Rice
We've been buying this fried rice for years and it never occurred to me that it's actually vegan!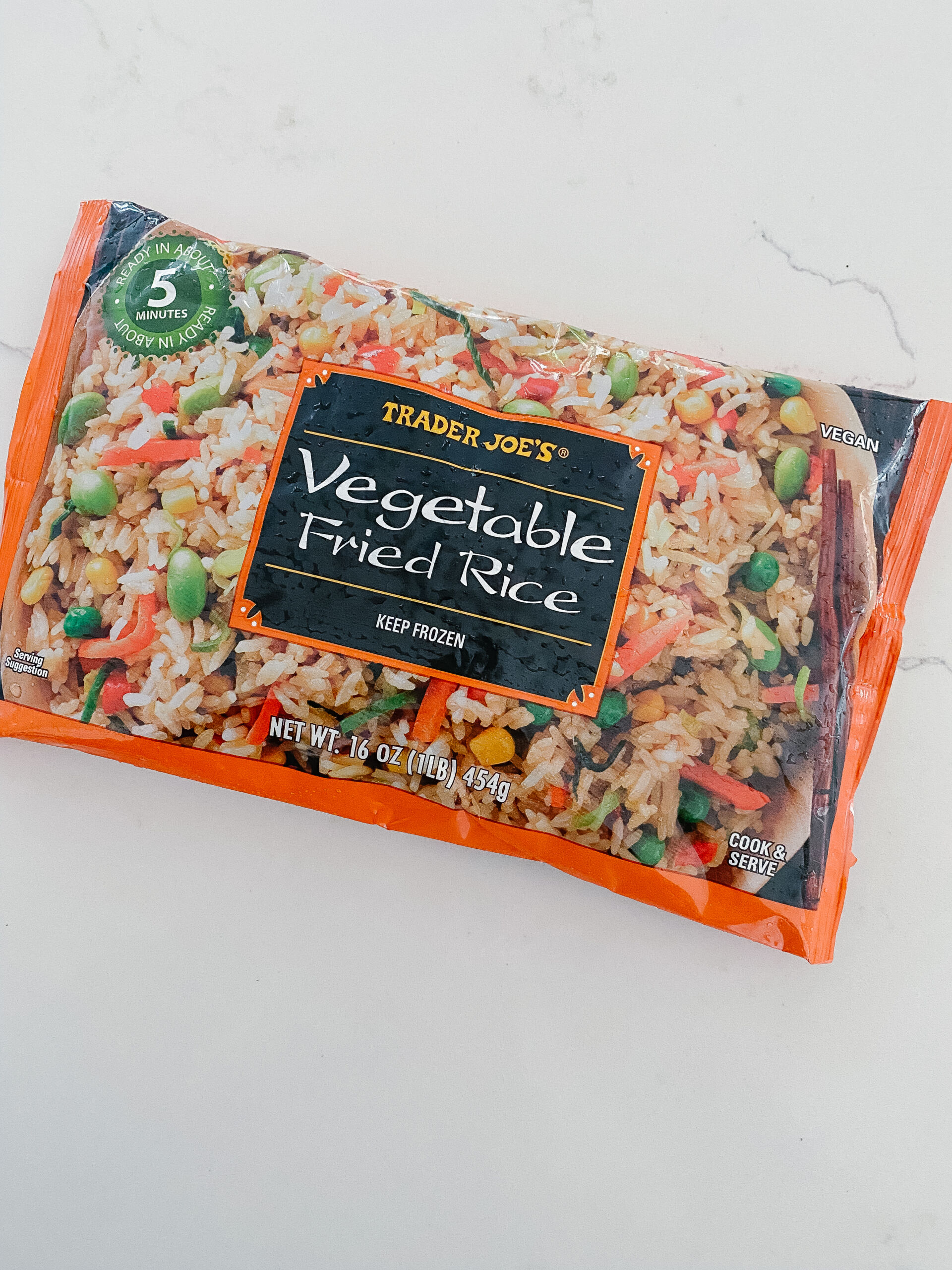 10. Falafel
Matt has really been loving falafel lately so I grabbed a bag to try and the entire family LOVED it. Matt thought I made the falafel from scratch and was shocked when I told him they came frozen from Trader Joe's!
11. Chickenless Crispy Tenders
One item I picked up but haven't cooked yet, so I'll report back on these!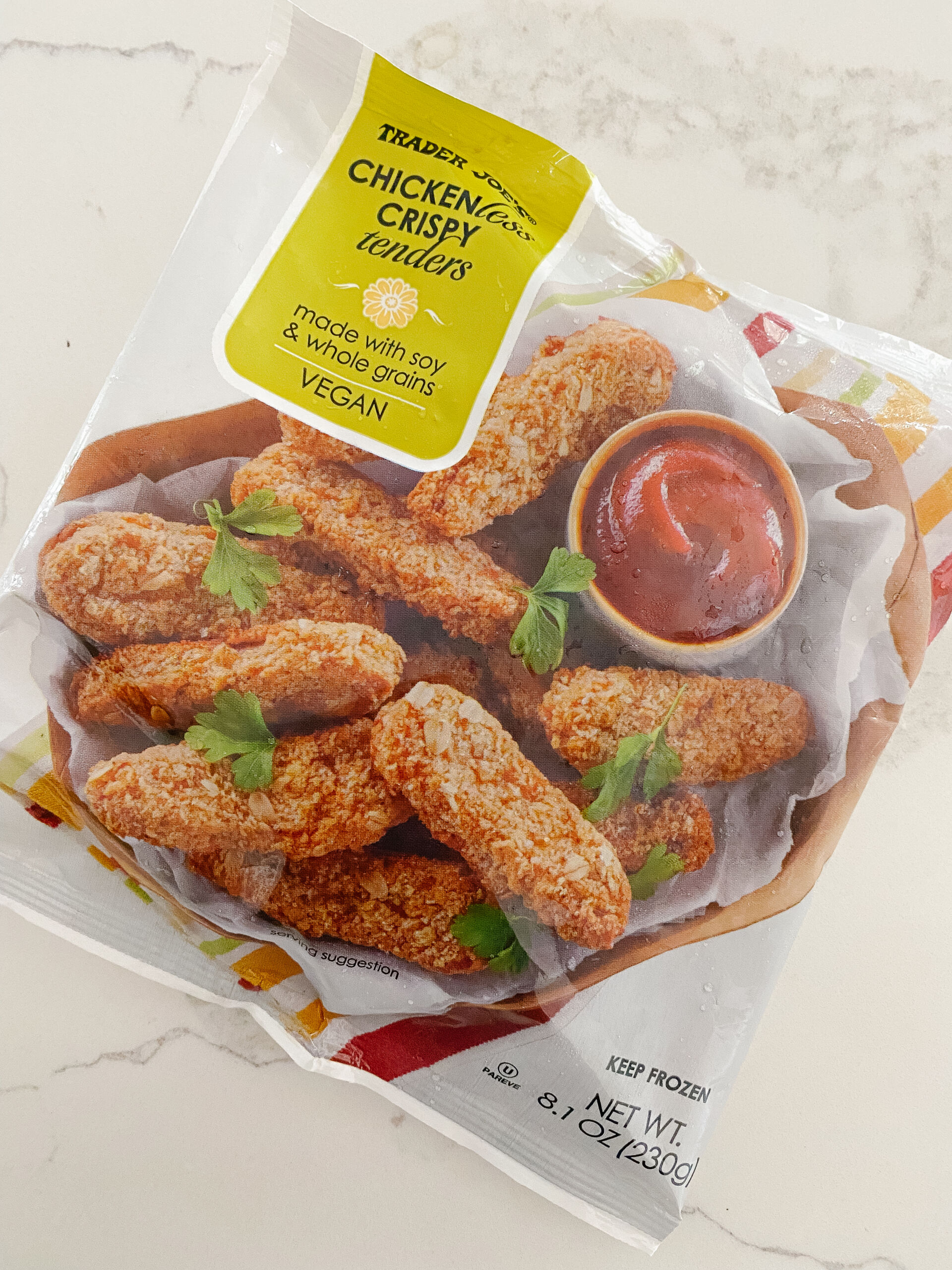 12. Vegan Caramelized Onion Dip
Even our kids love this dip!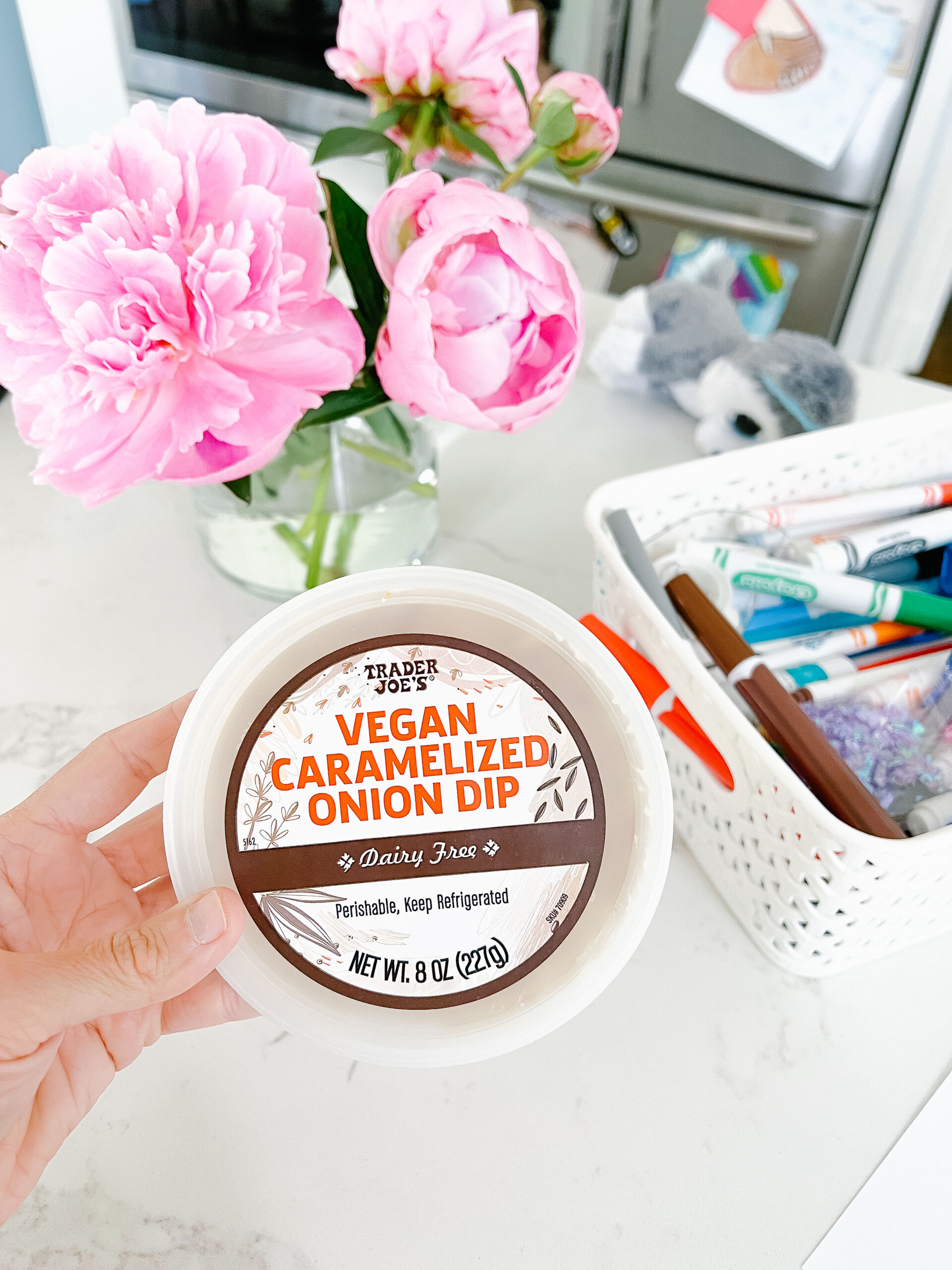 Hope you found something new to pick up next time you're at Trader Joe's!