A few weeks ago I used the grill for the first time in my life. I do 98% of the cooking around here so I have always left the 2% grilling to Matt. Plus the grill legitimately terrifies me. Anyway, I had my pork perfectly marinaded and my peach salsa ready to go…just needed Matt to finish his round of golf to grill it. And then the kids started melting down because they were apparently dying of starvation so I took matters into my own hands and YouTubed how to light the grill. And then I Facetimed my dad to supervise me just in case I got blown up and needed someone to call 911 for me.
I am happy to report I kept my eyebrows and served one heck of a dinner that every person in my family devoured.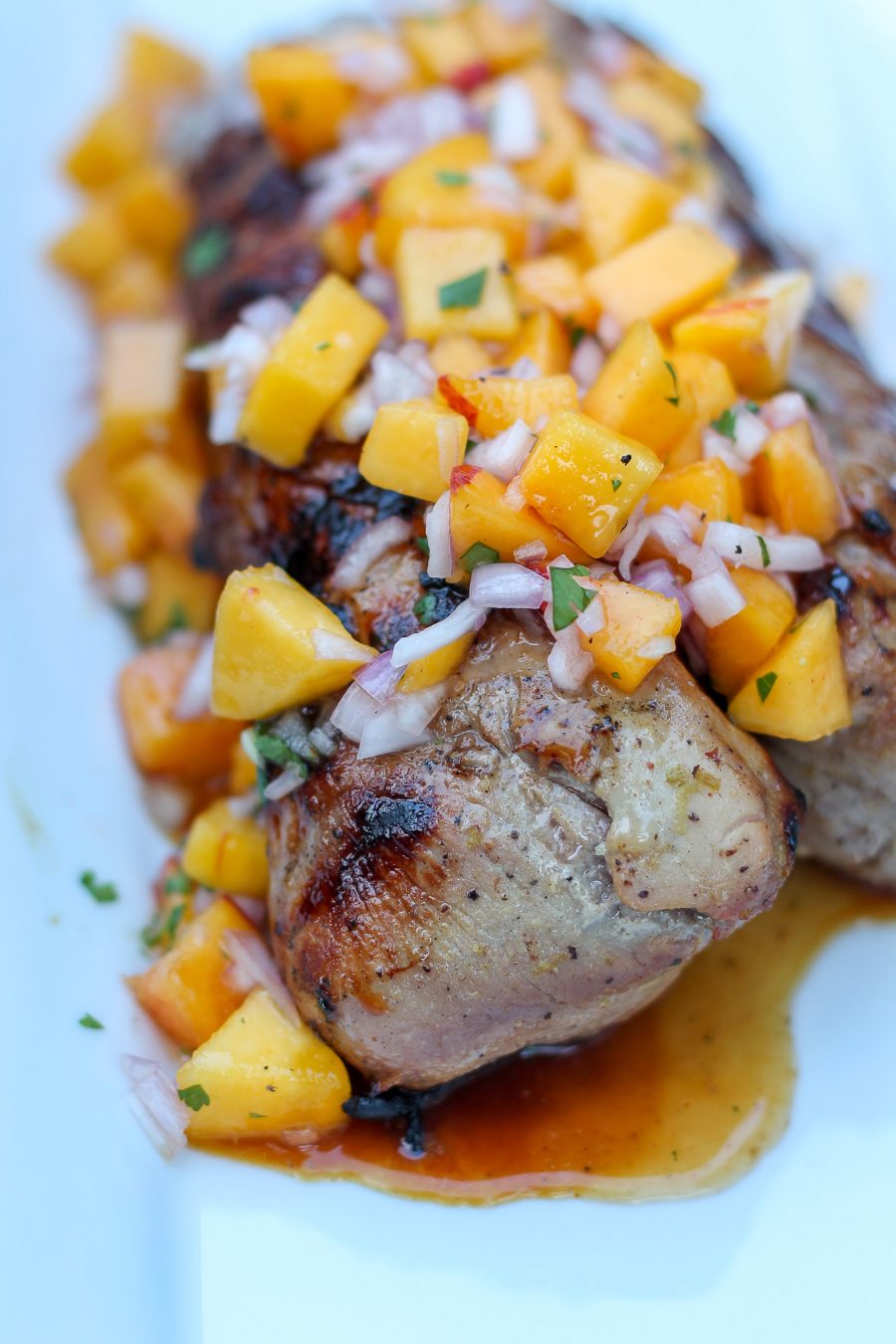 Marinated Pork Tenderloin with Peach Salsa
Recipe by The Organic Kitchen

Ingredients
Marinade & Pork
1 teaspoon freshly grated lime zest
1/3 cup freshly squeezed lime juice
1/4 cup olive oil
1/4 cup honey (optional)
2 tablespoons spicy brown mustard (or your favorite mustard)
1 teaspoon coarsely ground pepper
1 teaspoon salt
2 (3/4-1 pound) pork tenderloins
Peach Salsa:
3 cups peaches, peeled and diced (about six peaches)
1/4 cup shallots or red onion, peeled and finely diced
2 Tablespoons lime juice (about 2-3 limes)
1 Tablespoon honey (optional)
1 jalapeño pepper, finely minced (2 teaspoons for mild, 3 for medium, 4 for hot)
2 tablespoons cilantro, chopped
salt and pepper to taste
Instructions
Marinade:
Use a microplane to zest limes, then juice them. Combine all ingredients and whisk. Place tenderloins in a dish and pour marinade over pork.
Cover and refrigerate overnight if possible turning several times the next day. Otherwise marinate all day the day you plan to cook turning several times.
The Salsa:
Combine all ingredients, stir. Serve immediately.
Pork:
Take pork out of refrigerator and allow to rest on counter for a half hour before cooking. Clean grill and either spray or wipe with coconut oil to prevent sticking. Preheat grill to 400 degrees.
Place pork on grill and cook for 18-20 minutes, turning every five minutes creating nice grill marks on all four sides. While pork is cooking prepare salsa.
When the center of pork is very light pink remove from grill, cover with foil and allow to rest for five minutes.
Slice pork and top with some salsa. Serve the rest of the salsa on the side.