IT'S AMAZON PRIME DAY!!!!!!!!
I've scoured the deals to see what's going on sale today and am SO excited to share some of my favorites. Most of these items we own. If not, they are just a REALLY good deal that I wanted to share.
I didn't provide all my usual descriptions for each item…because well, there's a TON of items. However, I will be sharing lots more over the next two days on Instagram — including when these deals are live.
A quick reminder before we dive in — make sure you check out as soon as you load the item into your cart. Many of these deals expire after a certain amount of time or sales so if there's something you really want, grab it right away.
And one last thing — I really, really, really appreciate you shopping through my links. Your support means the world to me!
Amazon Prime Day Memberships
You're going to see SO many products going on sale today, but I wanted to share 3 exciting membership deals that you won't want to miss:
Audible: If you've ever wanted to join Audible, now is the time!! I patiently waited for this deal last year and it has been SO worth it. I receive one credit a month to purchase an audio book and it's been GREAT for scooping up new releases that are either exclusive to audible or I don't want to wait 14 weeks for to receive from the library.
Prime Video: Our most used membership from Amazon! We watch SO many shows and movies with Prime Video. Most recently, we rented The Watcher and it was a wild suspense movie. I also just binged The Summer I Turned Pretty — so good.
Amazon Music: Our kids use this service for their Amazon Alexas!
Amazon Prime Day Beauty Deals
I own and love ALL of these beauty products. In fact, they are currently in my bathroom vanity. Well, with the exception of #9 — those are on Matt's side. I use each and every one of these regularly so you've seen them all on the blog before (sometimes multiple times) and in many gift guides! If you're refilling some products today, GET THE GrandeLASH-MD Lash Enhancing Serum!!!! This deal is INSANE.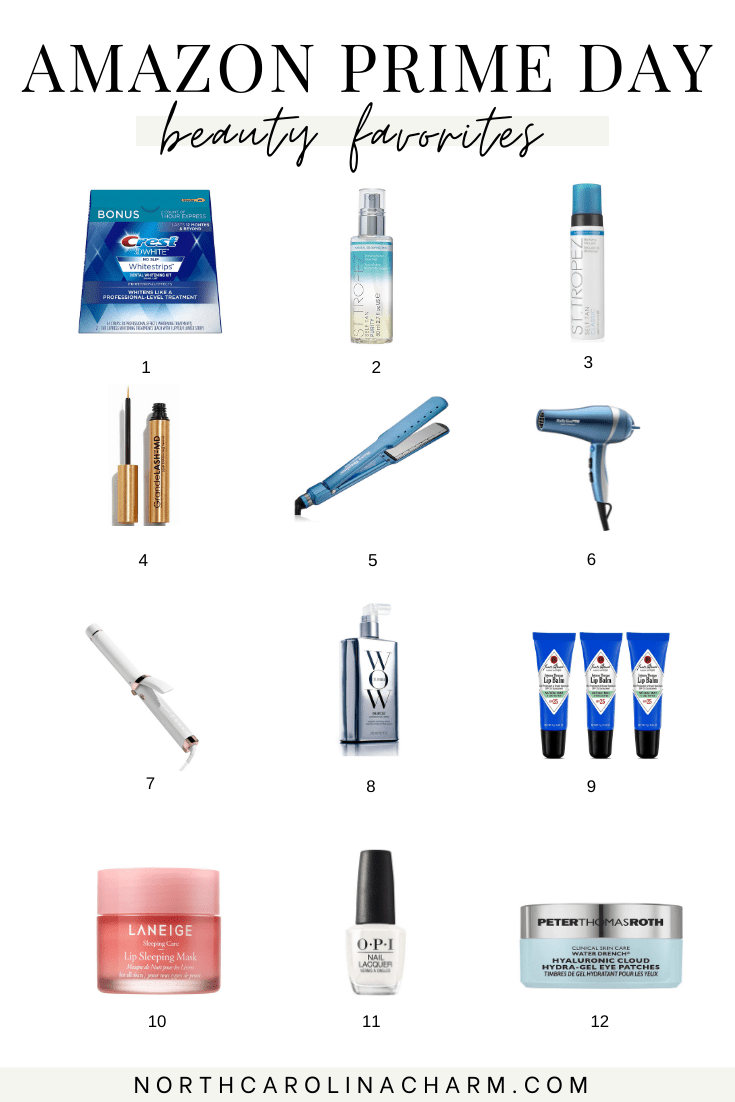 Amazon Prime Day Home Deals
We own almost all of these items and if I had to pick my top 5 deals on this list…man, it's hard…but I'd say:
1. BISSELL Little Green Multi-Purpose Portable Carpet and Upholstery Cleaner (this has saved our carpet and upholstered furniture many times)
2. BLACK+DECKER dustbuster Cordless Handheld Vacuum: Probably the most used small appliance in our home — I use this vacuum at least 3 times a day to clean up under the kids chairs after meals.
3. Amazon Basics Enameled Cast Iron Covered Dutch Oven: This deal is just TOO good to pass up.
4. BLACK+DECKER Powerseries Extreme Cordless Stick Vacuum Cleaner for Pets: The Prime Day deal I've been waiting for to finally purchase!!!!
5. iRobot Roomba: This little robot runs all over our house daily!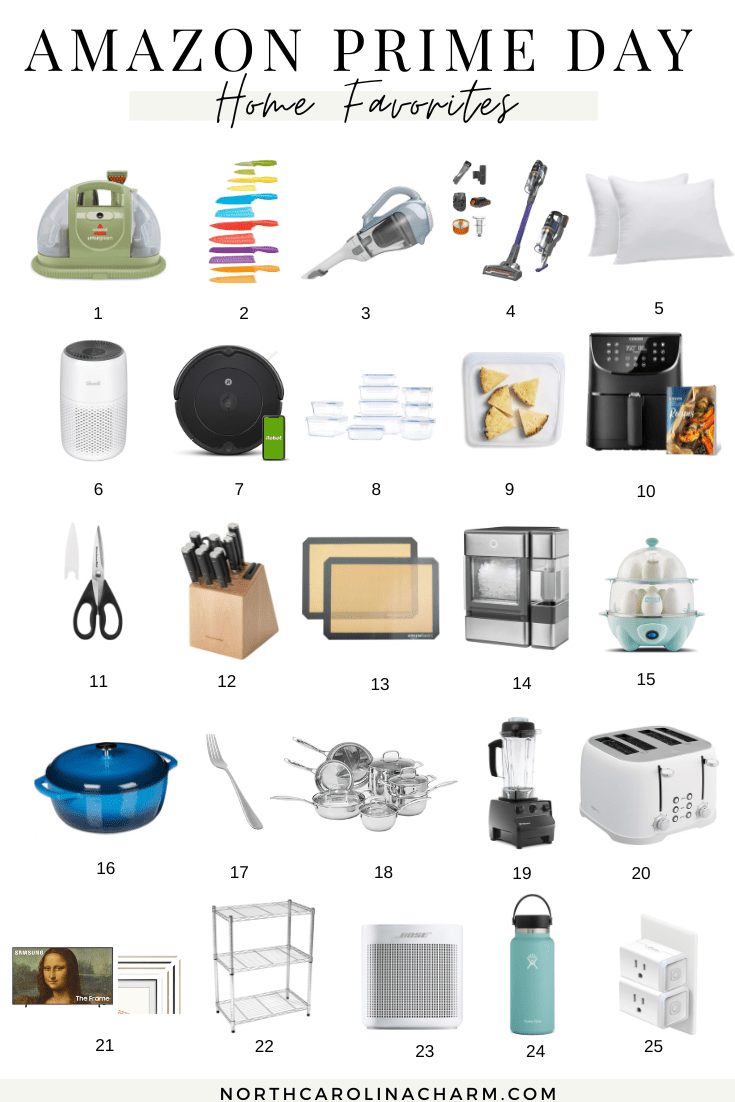 Amazon Prime Day Fashion Deals
This was the hardest category to round up. There are just SO many good deals running around fashion (which is a pretty broad category for Amazon). I love to use this sale to stock up on basics for the fam — shoes for the kids, socks, underwear, etc.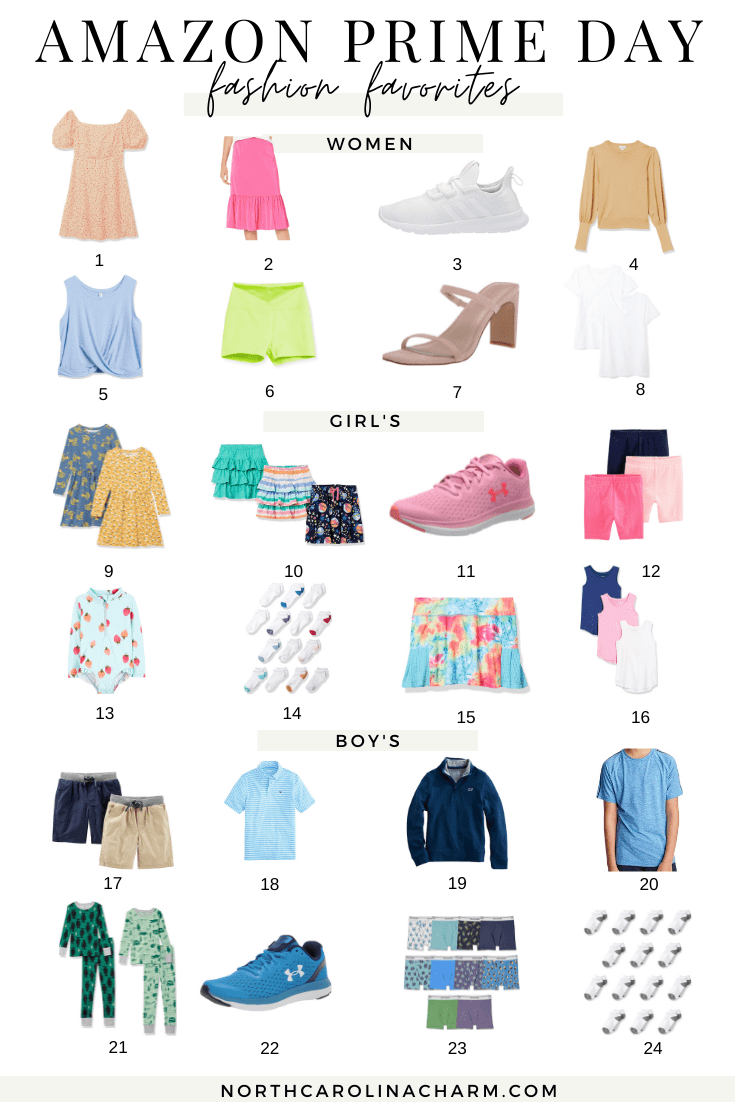 Women
Girls
9. Amazon Essentials Girls and Toddlers' Long-Sleeve Elastic Waist T-Shirt Dress 10. Spotted Zebra Girls and Toddlers' Knit Ruffle Scooter Skirts, Multipacks 11. Under Armour Unisex-Child Grade School Charged Impulse Sneaker 12. Girls' Bike Shorts, Pack of 3 13. One Piece Rashguard14. Low Cut Socks15. C9 Champion Girls' Performance Skort 16. Tank Top Multipack

Boys17. Simple Joys by Carter's Toddler Boys' Shorts, Pack of 2
18. vineyard vines Boy's Winstead Stripe Sankaty Polo 19. vineyard vines Boys' Saltwater Quarter-Zip Pullover Sweatshirt 20. C9 Champion Boys' Fashion Tech Short Sleeve T Shirt 21. Amazon Essentials Kids' Snug-Fit Cotton Pajama Sleepwear Sets 22. Under Armour Unisex-Child Grade School Charged Impulse Sneaker 23. Tag Free Cotton Boxers
24. Low Cut Socks