OK, so I know y'all said you didn't care about book reviews BUT this is the first book I've read this year that I have LOVED and couldn't put down. Also, finishing a book is a pretty huge accomplishment for me so documenting it on the blog is like my prize. Skip this post if you don't love murder suspense books.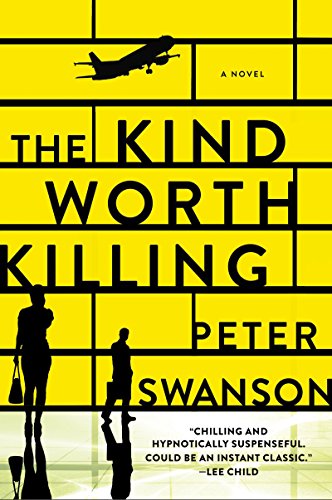 Title: The Kind Worth Killing
Author: Peter Swanson

Genre: Thriller & Suspense
Back Cover Summary: On a night flight from London to Boston, Ted Severson meets the stunning and mysterious Lily Kintner. Sharing one too many martinis, the strangers begin to play a game of truth, revealing very intimate details about themselves. Ted talks about his marriage that's going stale and his wife Miranda, who he's sure is cheating on him. Ted and his wife were a mismatch from the start—he the rich businessman, she the artistic free spirit—a contrast that once inflamed their passion, but has now become a cliché.
But their game turns a little darker when Ted jokes that he could kill Miranda for what she's done. Lily, without missing a beat, says calmly, "I'd like to help." After all, some people are the kind worth killing, like a lying, stinking, cheating spouse. . . .
Amazon Rating: 4.5 stars
My Review: Definitely a page turner! This book was full of suspense with massive plot twists, well developed characters and a great ending. I could not read this book fast enough. Highly recommend scooping up a copy!