Dinner was SO good tonight that I couldn't wait to post it! You must make it! MUST! It may look complicated but I promise it's super simple! After I plated the meal Matt commented that our dinner looked straight out of a gourmet restaurant. Five stars. So good.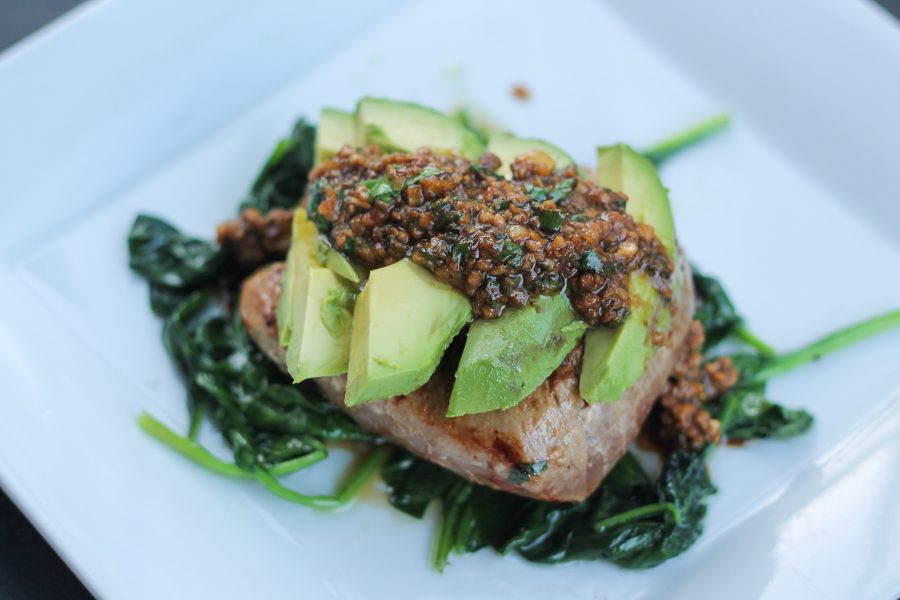 Grilled Citrus Tuna Steak with Avocado & Spinach
Adapted from Bev Cooks
2 tuna steaks (ahí or yellowfin)
pinch of salt and pepper
3 Tbs. extra-virgin olive oil, divided
2 Tbs. soy sauce
1 tsp freshly minced ginger
2 cloves garlic, minced
1/2 cup chopped cilantro
juice of 1 lime
1 avocado, thinly sliced
6 cups spinach
Season both sides of the tuna with salt and pepper.
In a small bowl, whisk together 2 Tbs. oil, soy sauce, ginger, garlic, cilantro and lime juice. Add the fish and marinate for at least 2 hours in the fridge.
In a small skillet heat the last Tbs of oil. Add the spinach and wilt slightly. Toss in a teeny pinch of salt and pepper. Remove from heat and set aside.
Remove the fish from the marinade and or sear for 1-2 minutes on each side.
Pour the remaining marinade into a small saucepan and reduce until it becomes thick, 2 minutes.
Top the wilted spinach with the grilled fish, followed by the sliced avocado and a drizzle of the reduction.