Caroline is SEVEN! I say this every year but I honestly cannot believe how fast she's growing. We celebrated our sweet girl last weekend with lots of special surprises including a super fun party with her friends. Here's a recap of the weekend celebrations!
Friday morning Caroline burst threw the wall of colorful streamers hanging in front of her bedroom door and came bouncing downstairs to loads of balloons, more streamers, gifts and a donut birthday cake! I have to give Matt ALL the credit on the decorations — he did them all on his own and they turned out awesome!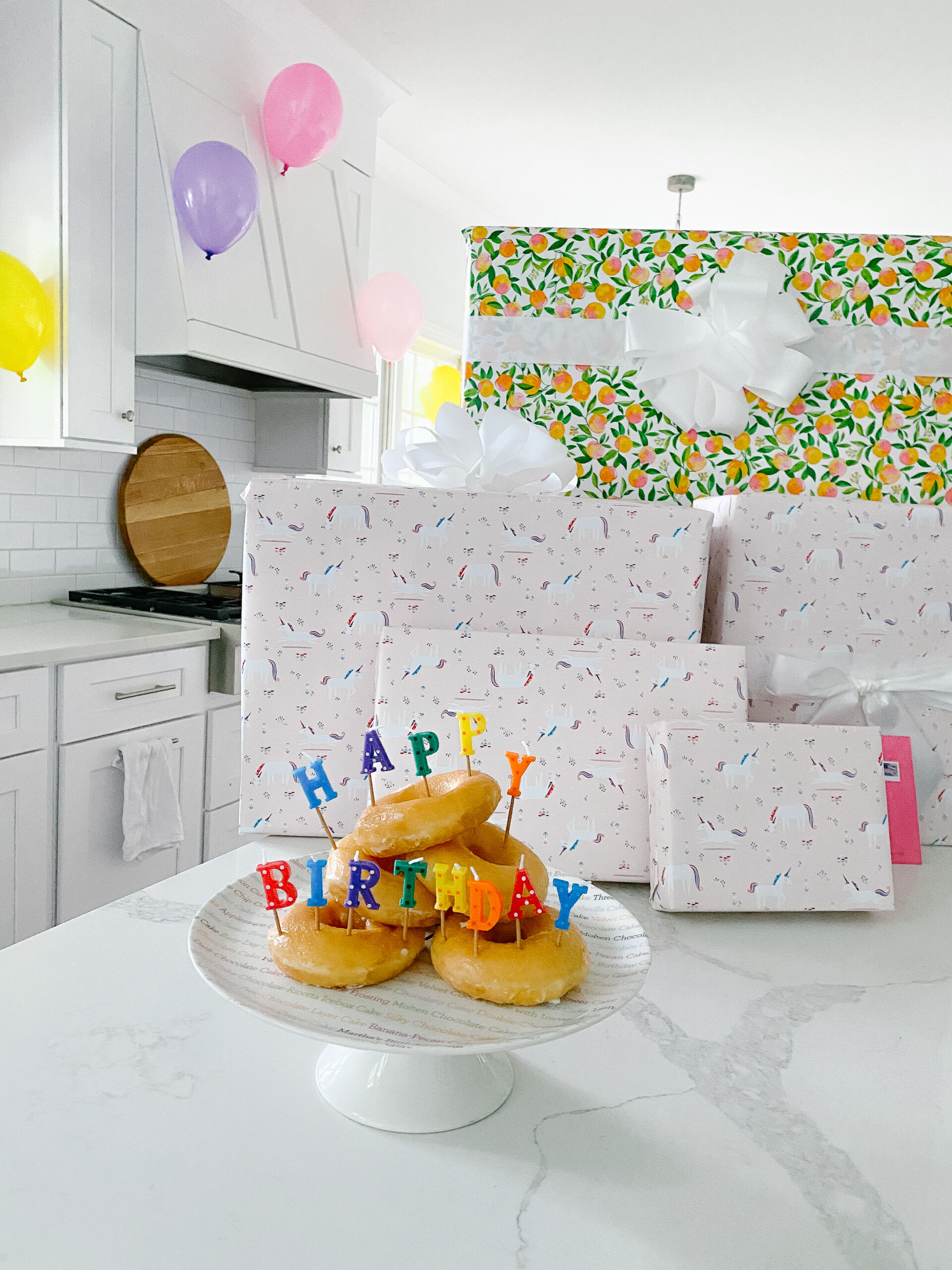 Thomas was so so SO excited to gift Caroline the present he bought her — a Barbie Styling Head that she's been wanting forever.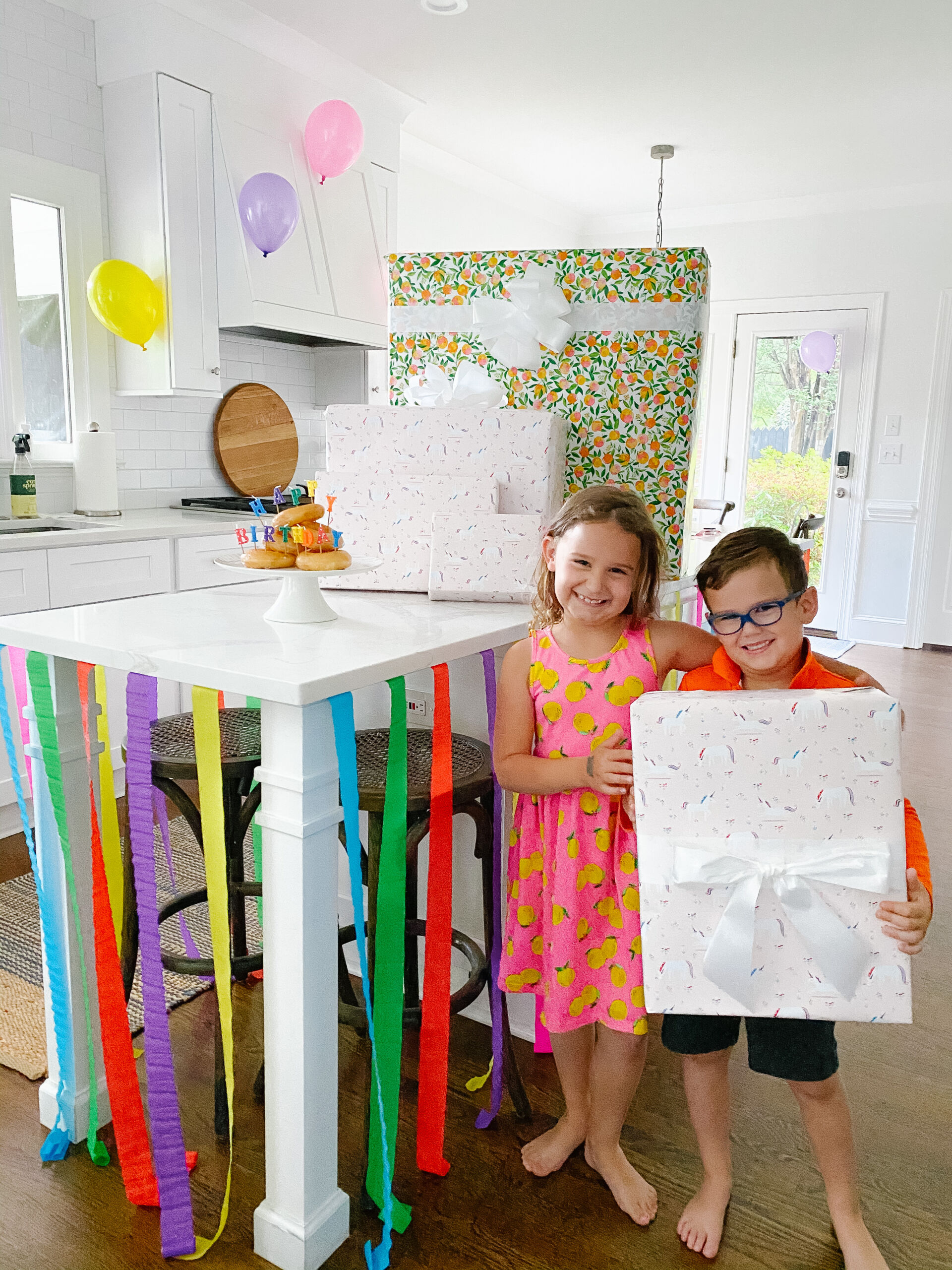 After we all crushed some donuts it was time for school. In our excitement over all the new gifts we missed the bus!!! Bahhh! But that was OK because it gave us extra time to admire Caroline's yard card and I got to take her to school. The card was such a hit last year that we had to do it again. Kerri really nailed the sign and included some of Caroline's favorite things — ballet, unicorns, flamingos and lots of pink! She loved it!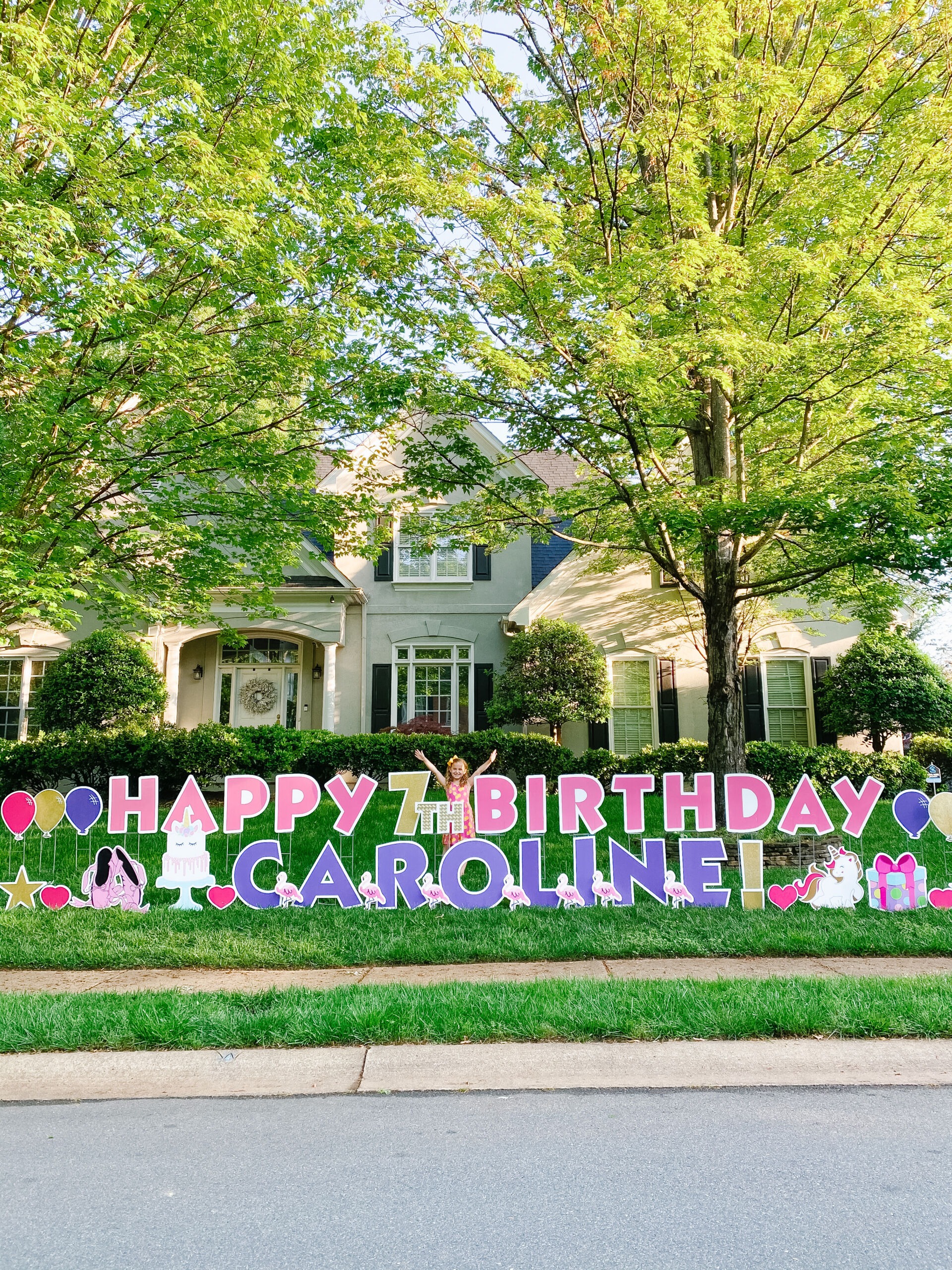 Matt picked up Caroline early from school and a few hours later it was time for her birthday party. Y'all, there are no words to describe just how fabulous and fun Caroline's unicorn birthday party was. On Friday evening the Sugar & Spice Party Bus rolled into our driveway and 8 VERY excited little girls slipped on their unicorn headbands and pink paint aprons before dancing down the pink carpet and onto the pink bus where they had an absolute blast for two hours. The party kicked off with unicorn painting, then pizza for dinner, followed by cupcakes! I popped in and out of the bus frequently and was overjoyed to see how much fun the girls were having. I about died watching their onscreen dance party (with live video) — that may have been the cutest thing I've ever seen. The girls also had a pillow fight, loaded up their party favor bags with treats from the candy bar and got all dressed up for a fashion show (perfectly timed as the parents were all arriving to pick up and got to watch it)!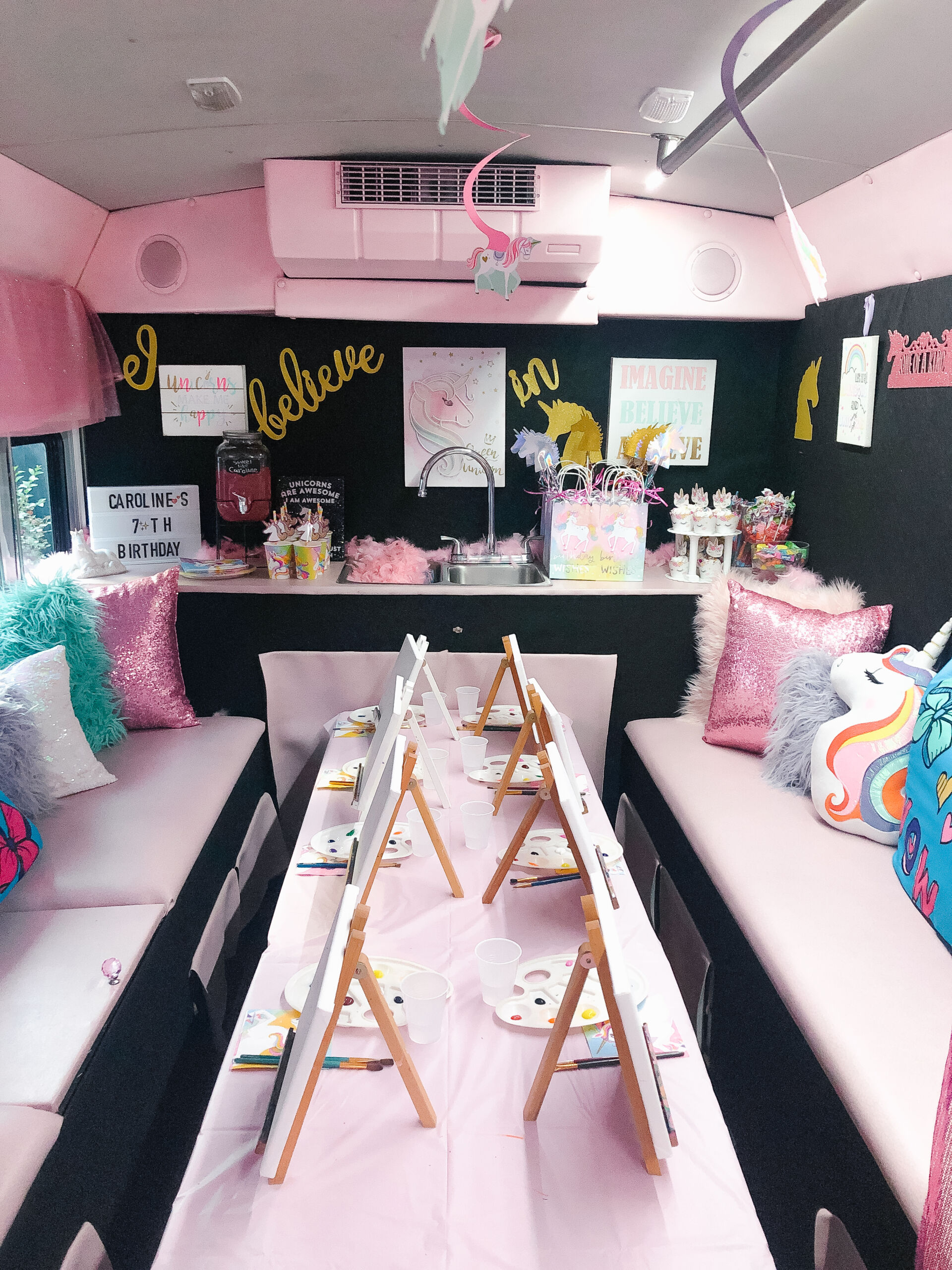 In case you were wondering what Thomas was doing the entire time…he was running around the yard with a handful of boys and popped on the bus once or twice to check it out but definitely did not want to stick around. After the party, he was thrilled to sleep over at his friend Henry's house (whose sister stayed at our house).
Charlotte friends, I absolutely cannot recommend the Sugar & Spice Party Bus high enough for girls birthday parties. From spa parties to LOL Dolls to Tik Tok themes, there is a wide variety of packages for all ages! And the owner, Joi, was incredible to work with. She sets it all up and literally provides EVERYTHING for the party — the headbands, paint aprons, pizza, cupcakes, party favors, activities and so much more. And she takes a million videos and pictures too. I didn't have to do a thing for the party! It was truly the best party Caroline has ever had and she is still gushing about it days later (and the parents of the other girls have reached out to tell me the same thing). I was so happy this bus was recommended to me by another Charlotte mama.
Disclaimer: This review is NOT sponsored in ANY way. We gladly paid for the party and genuinely had such an amazing experience that I had to share.
We let Caroline invite two friends to spend the night after her party. I thought the girls would be up all night but to our surprise all 3 crashed hard into bed and slept until 7:30 am on Saturday! We had a fun pancake breakfast with lots of sprinkles while Caroline opened all her gifts.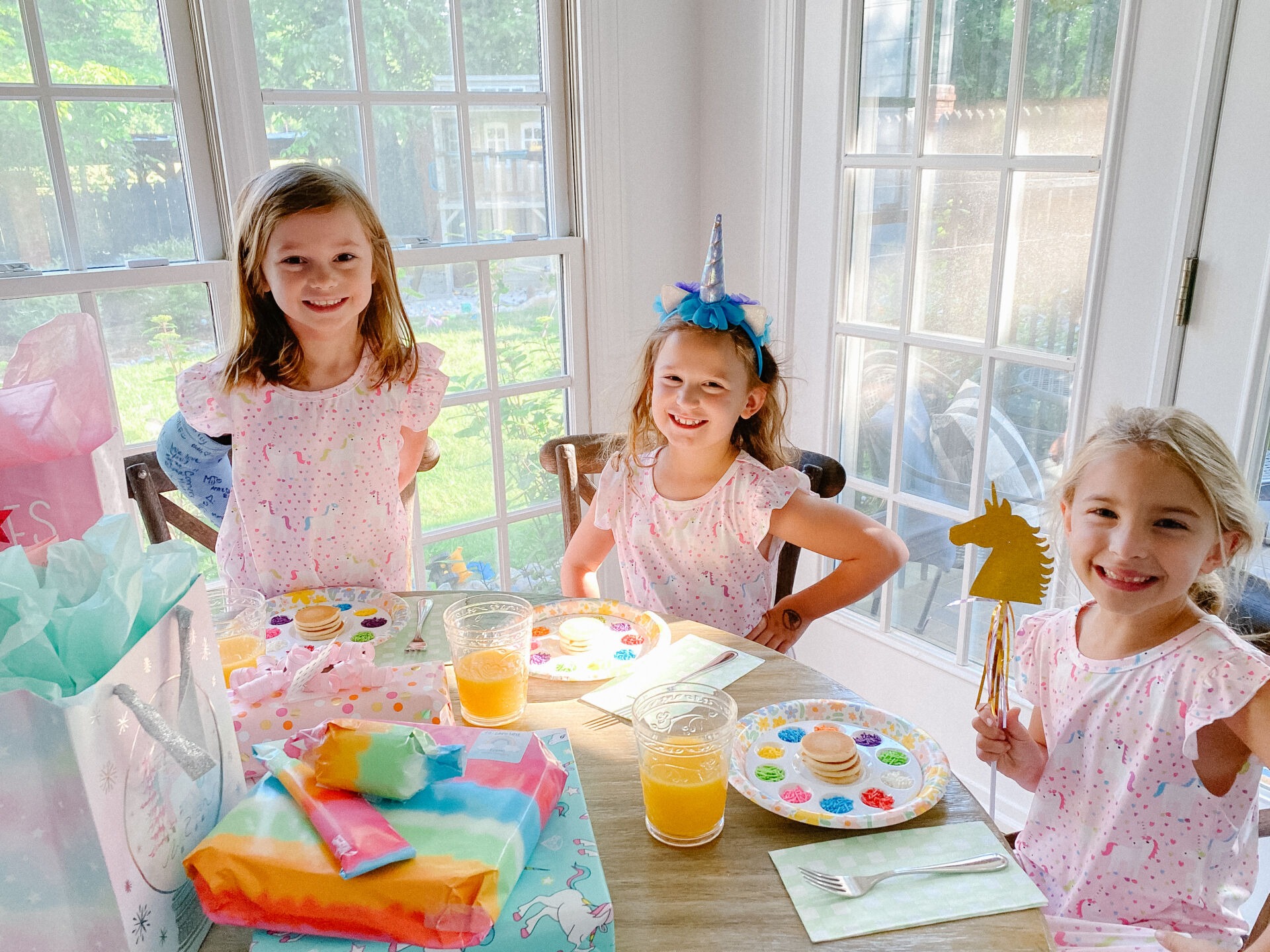 We spent Saturday laying around recovering from the party. Everyone was absolutely exhausted from all the fun we had celebrating our sweet Caroline.
Happy 7th birthday to our talented little baker, tiny dancer and sweetest girl with the kindest heart. We are so very grateful you came into our lives 7 years ago! We love you "as high as the sun" Caroline!!