From filling the baskets to celebrating in church, I absolutely love everything about Easter. This year we are spending our first Easter ever in Florida with my family! However, we are going to have the Bunny swing by our home in Charlotte before we head out to carry on our family traditions. So basically this will be the most epic Easter ever for the kids since the Bunny is coming twice.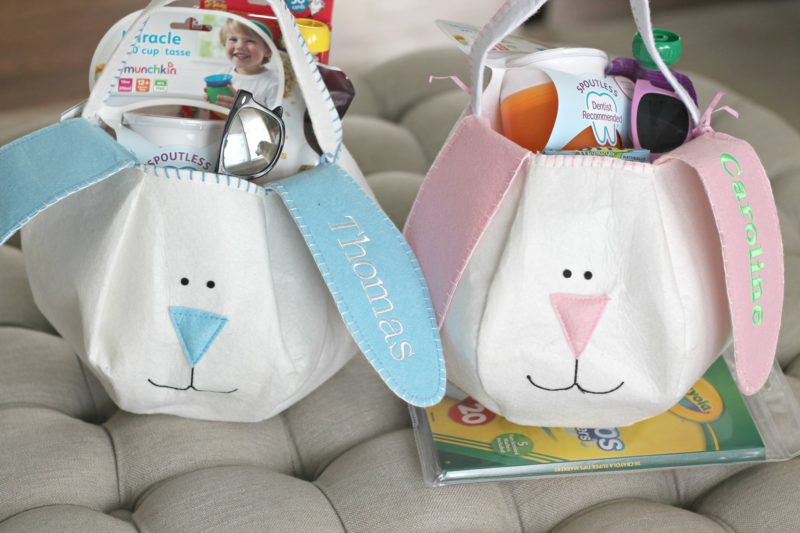 Last week Matt and I had an Easter basket shopping date and had so much fun browsing the Target aisles together picking out cars, dolls, puzzles and more. The rest of the stuff we Amazon primed. Here are a few things the Bunny is bringing to Thomas & Caroline this year…
Caroline: Washable Markers // Mermaid Puzzle // Lemon Swim Suit // Bubble Gun // / Have You Filled A Bucket Today? // 6 pk Card Games // Watercolor Paint // Scissors // Sunglasses
Thomas: Bubble Gun // Sailboat Shirt + Shorts Set // Dragons Love Tacos // Sports Balls Set // Bunch-O-Balloons // Scissors // Pull Back Cars // Sunglasses
If you're looking for stuffer ideas for younger kiddos, below I'm re-sharing our favorite items from previous years so you don't have to surf my archives!
Baby's First Easter Basket
Baby Einstein Roller Pillar Activity Balls // Baby Banana Training Toothbrush // Guess How Much I Love You // Plum Organics Puffs // Munchkin Latch Sippy Cup // Jellycat Bunny // Bella Tunno Pacifier Clip // MAM Pacifiers // Yogurt Melts // Hide N Squeak Eggs // OXO Snack Keeper // Boon Pulp Silicone Feeder // Noodle & Boo Hair + Body Wash // Bella Tunno Wonder Bib
Note: If you only buy one item from this list, get the Hide N Squeak Eggs. These have been one of the most played with toys in our home between both kids. Caroline received these at 6 months old for Christmas and still plays with them.
Egg Chalk // Crayons // Plum Organics Jammy Sammys // OXO Fork & Spoon Set // OXO Snack Keeper // Annie's Organic Bunny Fruit Snacks // Garden/Beach Toys // Munchkin Miracle 360 Sippy Cup // Runaway Bunny // Babyganics Bubble Bath // Light Up Timer Toothbrush // VTech Baby Phone // Play-Doh
Note: I cannot recommend the Munchkin Miracle 360 Sippy Cup enough. It is an absolute favorite of ours and I highly recommend it for your little one's Easter basket! It doesn't spill, it doesn't leak and it's super easy to clean.

Easter Books Round-Up

Duck & Goose, Here Comes the Easter Bunny // The Berenstain Bears and The Easter Story // Guess How Much I Love You // God Gave Us Easter // Happy Easter, Mouse // The Donkey Who Carried a King // Llama Llama Easter Egg // Runaway Bunny // The Easter Story
Teacher Gifts
Last but not least, here is a little treat I gave the teachers last year for Easter. Simple and inexpensive, yet thoughtful!
Now tell me what you love to stuff in your Easter baskets!