One of the keys to keeping our sanity during the work week is meal prep. This includes breakfast.
For a while I was making egg sandwiches, then switched to breakfast wraps, and am now obsessed with breakfast bowls ever since our Whole30 challenge. I can eat the same breakfast every day but I try to mix up the ingredients each week to give Matt some variety (although he could eat the same thing day after day too). I'll rotate between sausage and bacon for the breakfast meat, sometimes add different roasted vegetables in and top the bowls off with fresh veggies (usually avocado if I have time to cut one up that morning). Anyway, we are hooked on these.
And if you're looking for an easy breakfast you can make for the entire week, you need to try these.
Easy Whole30 Breakfast Bowls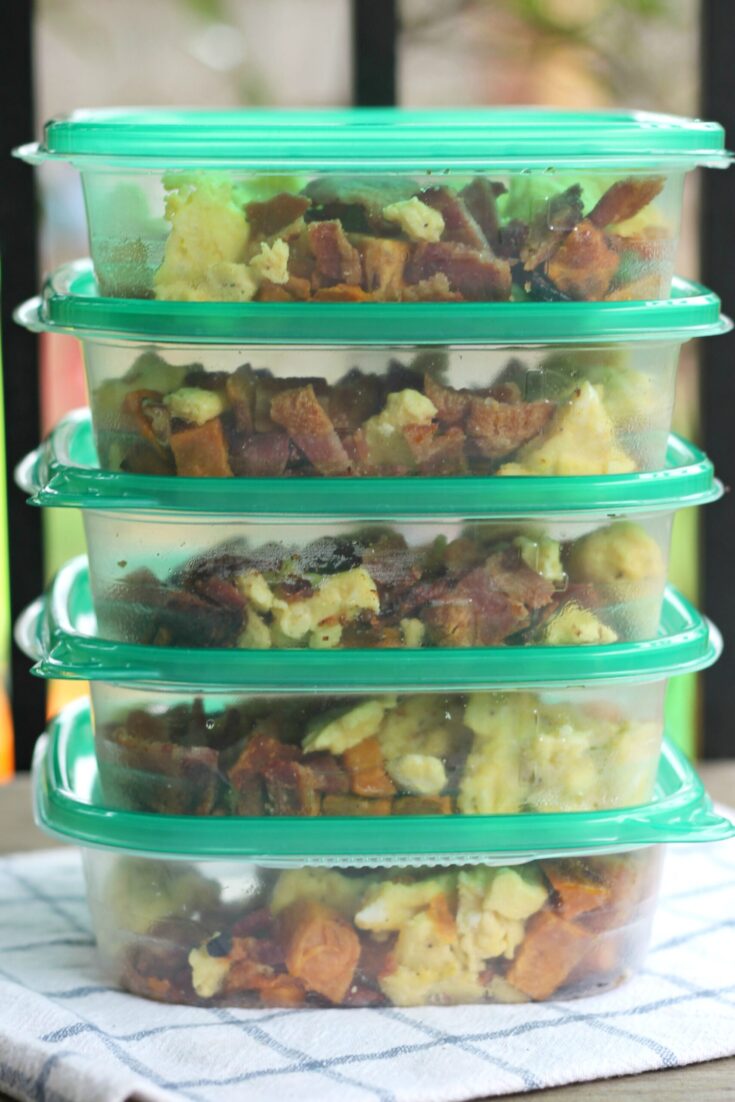 Ingredients
12 slices bacon
2 large sweet potatoes, peeled and diced
1 large onion, sliced
1 tbsp olive oil
salt & pepper
For the Scrambled Eggs
12 large eggs
1/2 cup full fat coconut milk
1 1/2 tsp salt
1 tsp pepper
2 tbsp olive oil
Instructions
Roast the sweet potatoes. Preheat your oven to 425 degrees. Spread sweet potatoes across a greased baking sheet. Drizzle with olive oil and sprinkle with salt. Bake for 25 minutes or until sweet potatoes are fork-tender. Remove from oven and set aside.
Cook the bacon. Place bacon on a large baking sheet and bake in oven at 425 for 15 minutes or until bacon is brown and crispy.
Caramelize the onions. Toss your onions in a skillet with some olive oil. Add a pinch of salt, and slow cook, stirring occasionally, lowering the heat if any onions begin to brown too quickly.
Scramble the eggs. In a large bowl or stand mixer whisk together the eggs, coconut milk, salt, and pepper.
Assemble the bowls. Layer your roasted potatoes, onion, bacon and eggs. Add any other toppings you wish!