If you can't decide between making one of these cheese or chocolate fondue recipes…make them both.
We purchased a fondue pot last year and broke it in for New Year's Eve with both chocolate and cheese fondue. It was seriously the most fun and delicious dinner. Ever since, the kids have been begging for another fondue night, so we promised chocolate fondue for Valentine's Day dessert this year and I am counting down the days…
In case you missed the recipes from my Winter Break Rewind post, I wanted to share them again in their own post…well, because they certainly deserve their very own post!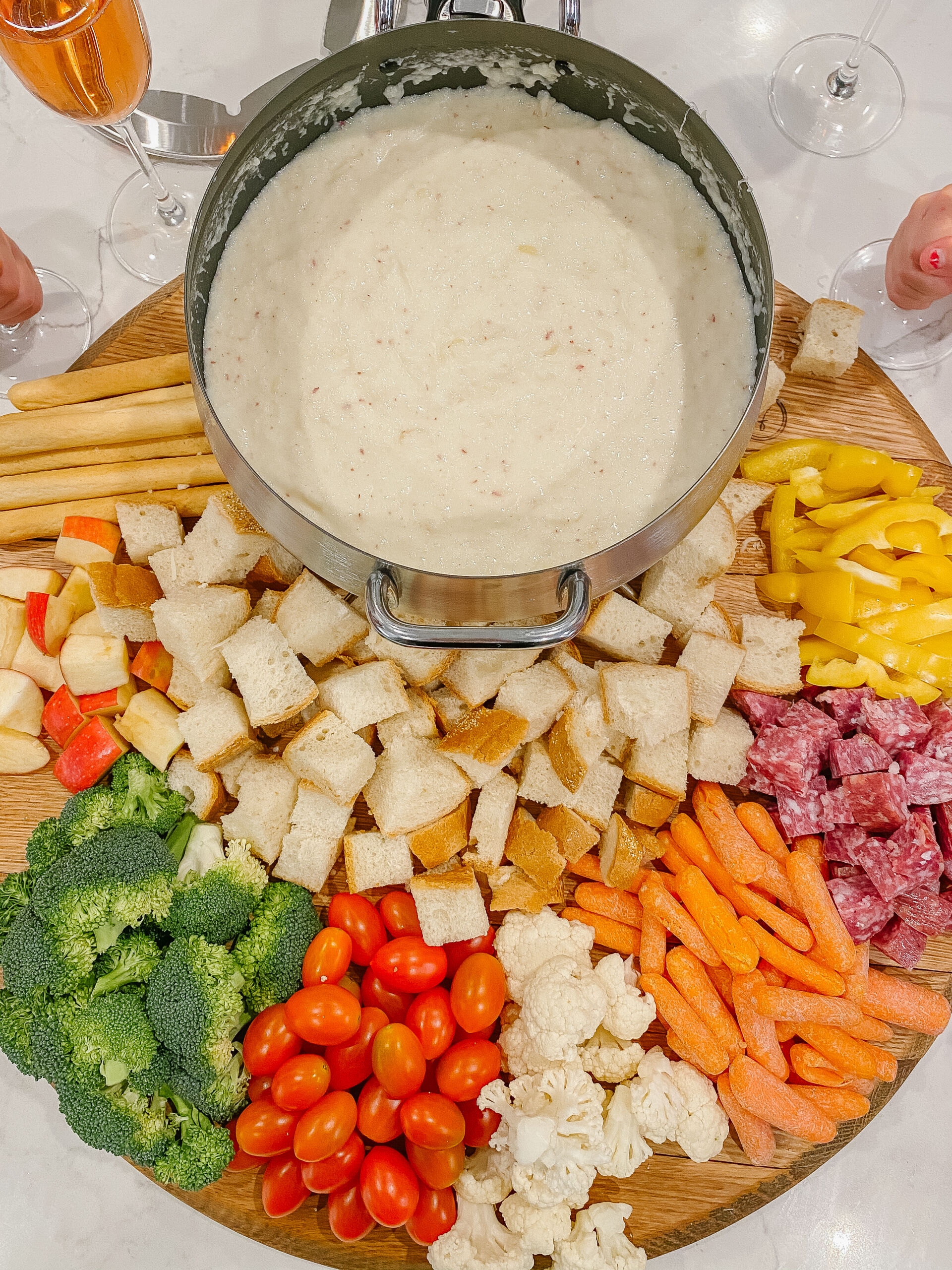 Fondue Pots
I spent a good amount of time researching and reading reviews to decide which fondue pot to purchase. I ended up selecting the Cuisinart Electric Fondue Pot mostly because of the removable temperature control that is adjustable for a wide range of recipes — chocolate, cheese, broth, oil, etc. The stainless steel bowl features a nonstick interior so it is easy to clean (especially helpful when switching from cheese to chocolate) and the set also includes 8 color coded fondue forks for the kids to fight over.
So the good news is fondue pots are a popular item around Valentine's Day so you can find many of them on sale — woohoo! The bad news is they are in high demand so they may sell out quickly. I've rounded up some of electric fondue pots for ya below!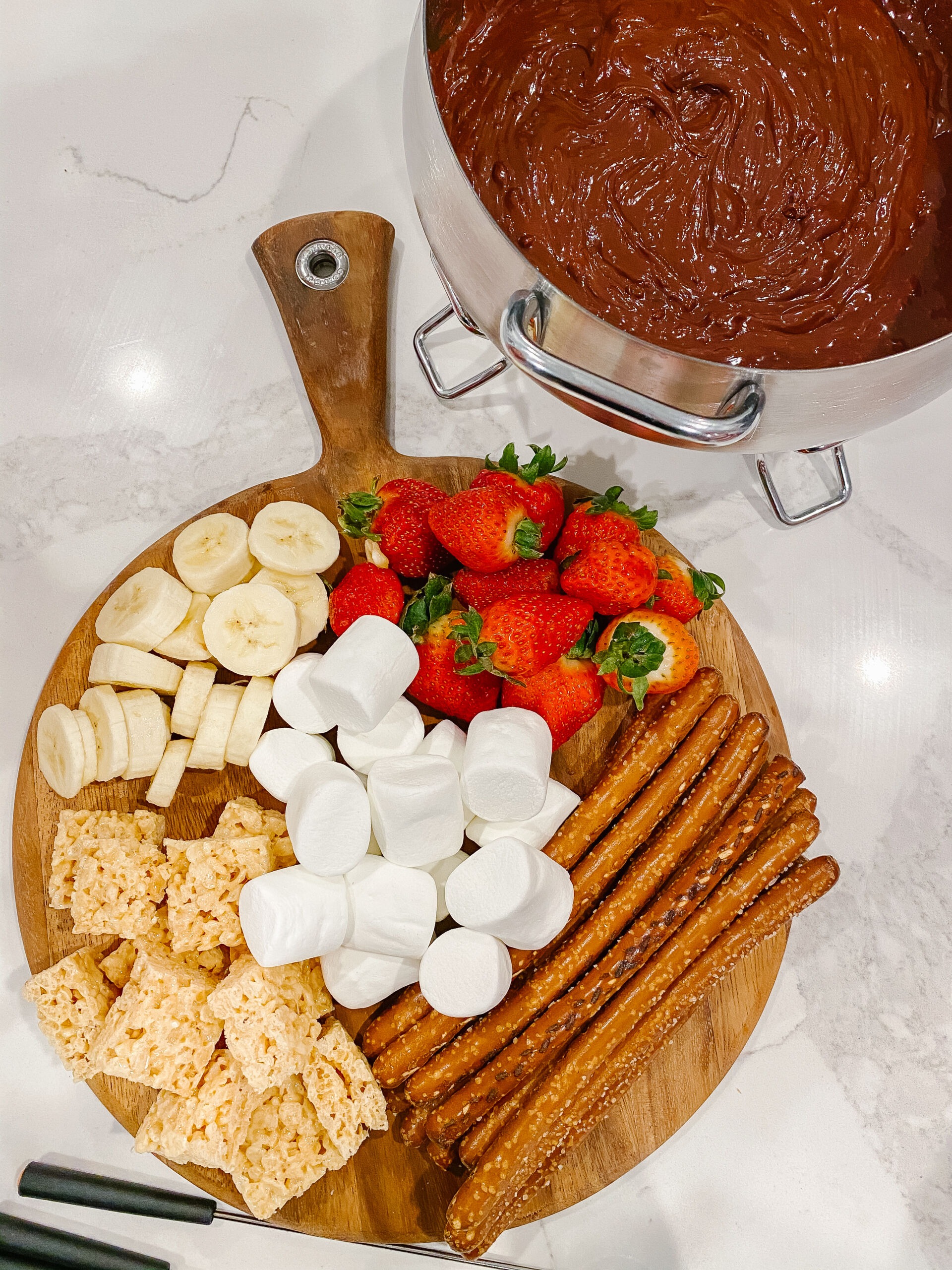 Fondue Recipes
Cheese Fondue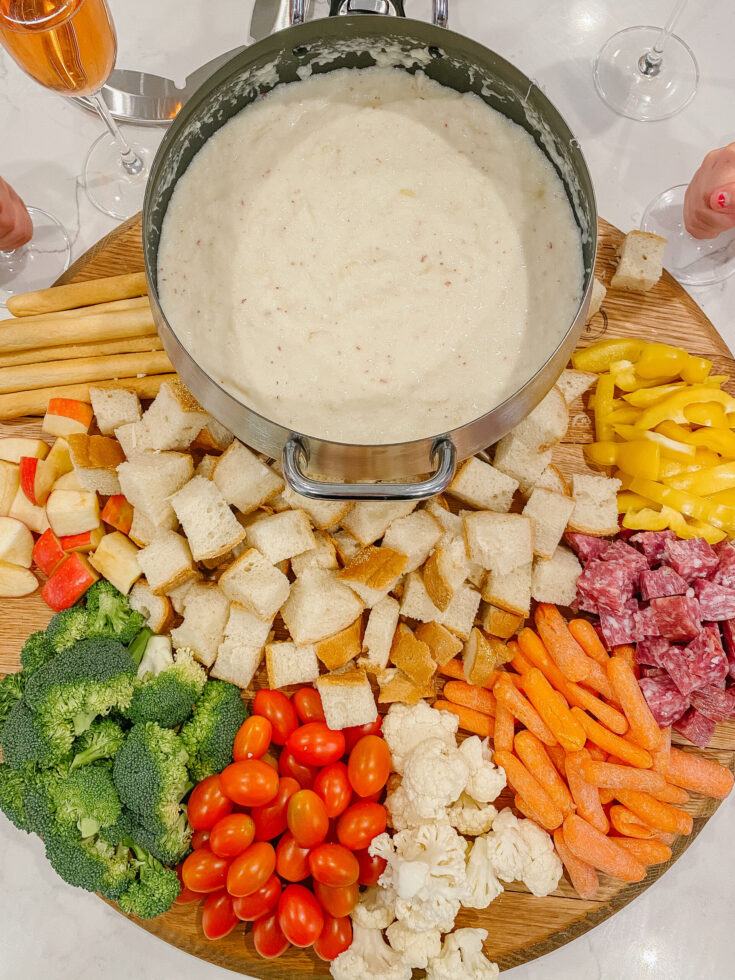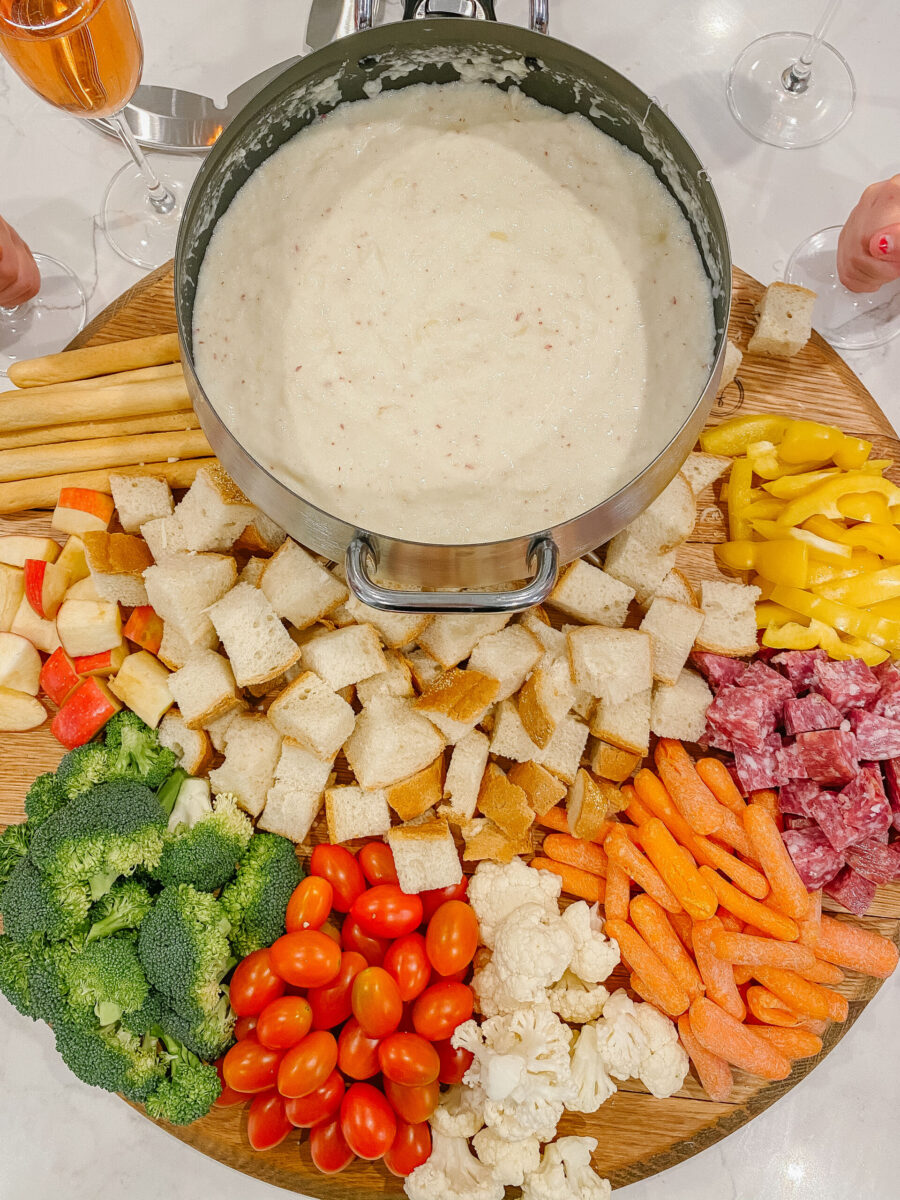 The perfect dinner experience to ring in the new year or celebrate birthdays, Valentine's Day, anniversaries and more!
Ingredients
1 tbsp garlic, minced
2 cups Trader Joe's Swiss & Gruyere shredded cheese blend
2 cups Manchego cheese, shredded
2 cups white cheddar cheese, shredded
2 tbsp cornstarch
1.5 cups, plus 2 tbsp dry sherry
Dippers
Instructions
Stir garlic all around the inside of a fondue pot over medium heat until fragrant.
Pour 1.5 cups sherry into pot and reduce heat to medium low. When liquid starts to bubble, start adding cheese by the handful, stirring until melted and combined.
In a small bowl, whisk cornstarch with 2 tbsp sherry until cornstarch disolves; stir into fondue pot. Continue whisking until cheese mixture is smooth and slightly bubbling, about 5 minutes.
Reduce heat to low and serve immediately with assorted dippers.
Notes
Feel free to go a little crazy with your cheese dippers. Some of our favorite include broccoli florets, cherry tomatoes, cauliflower florets, carrots, cubed salami, sliced bell peppers, diced apple, bread sticks, french baguette cubes
Chocolate Fondue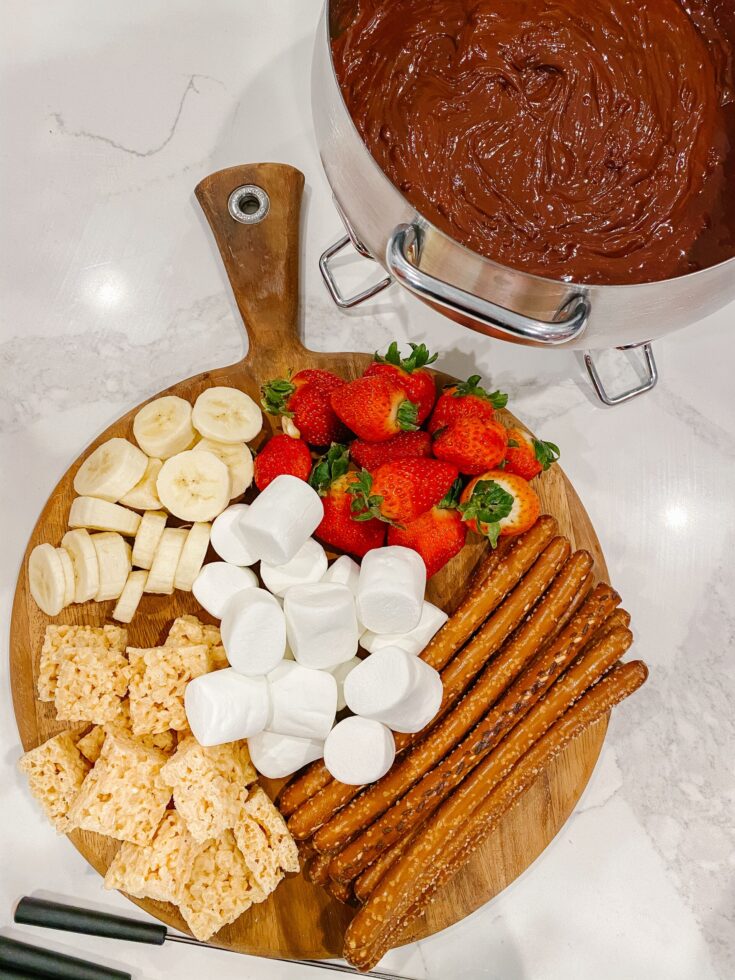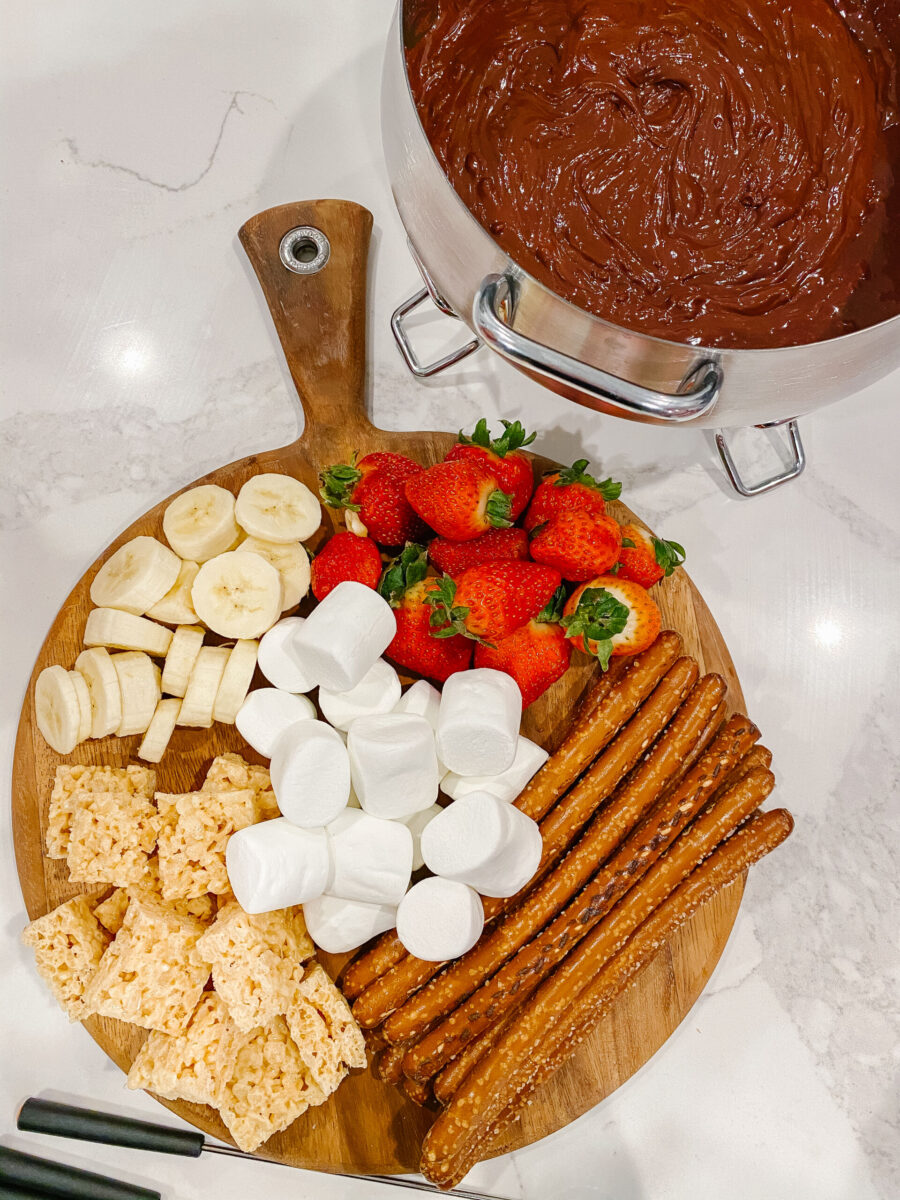 The perfect dinner experience to ring in the new year or celebrate birthdays, Valentine's Day, anniversaries and more!
Ingredients
1 lb semisweet chocolate (high quality)
2 cups heavy cream
Dippers (sliced bananas, marshmallows, strawberries, rice crispy treats, pretzel sticks)
Instructions
In fondue pot over low heat, add chocolate and heavy cream, stirring occasionally until chocolate is melted and mixture is smooth.
Serve immediately with dippers.
Notes
It is VERY important that you use HIGH QUALITY chocolate for fondue. It really makes a huge difference in how evenly and smoothly the chocolate will melt. I used ghirardelli chocolate for our fondue.
And if you need more fondue inspiration, I highly recommend checking out
Abby's Fondue Supper Club
(which still goes down as one of my favorites Supper Club dinners ever!).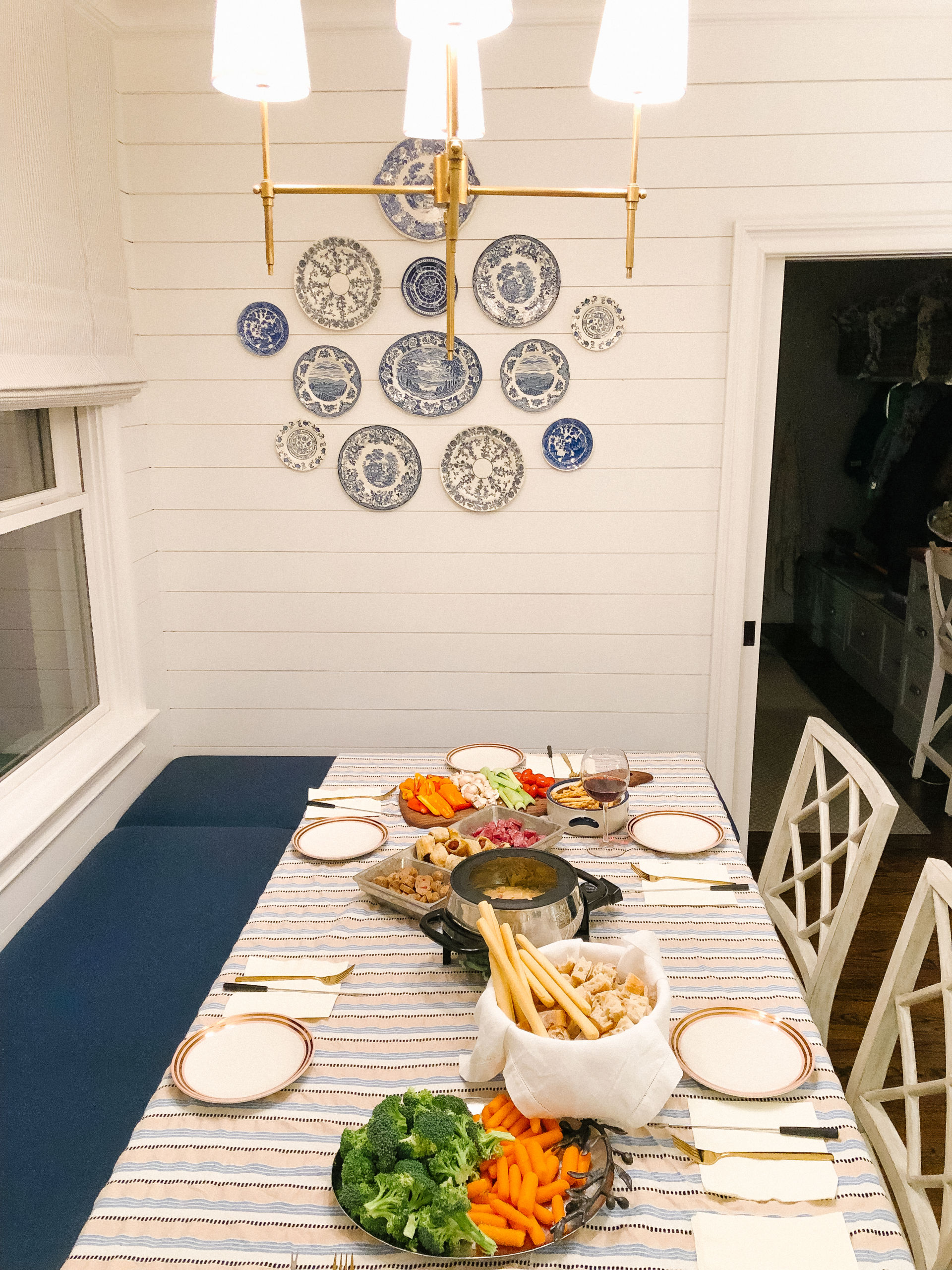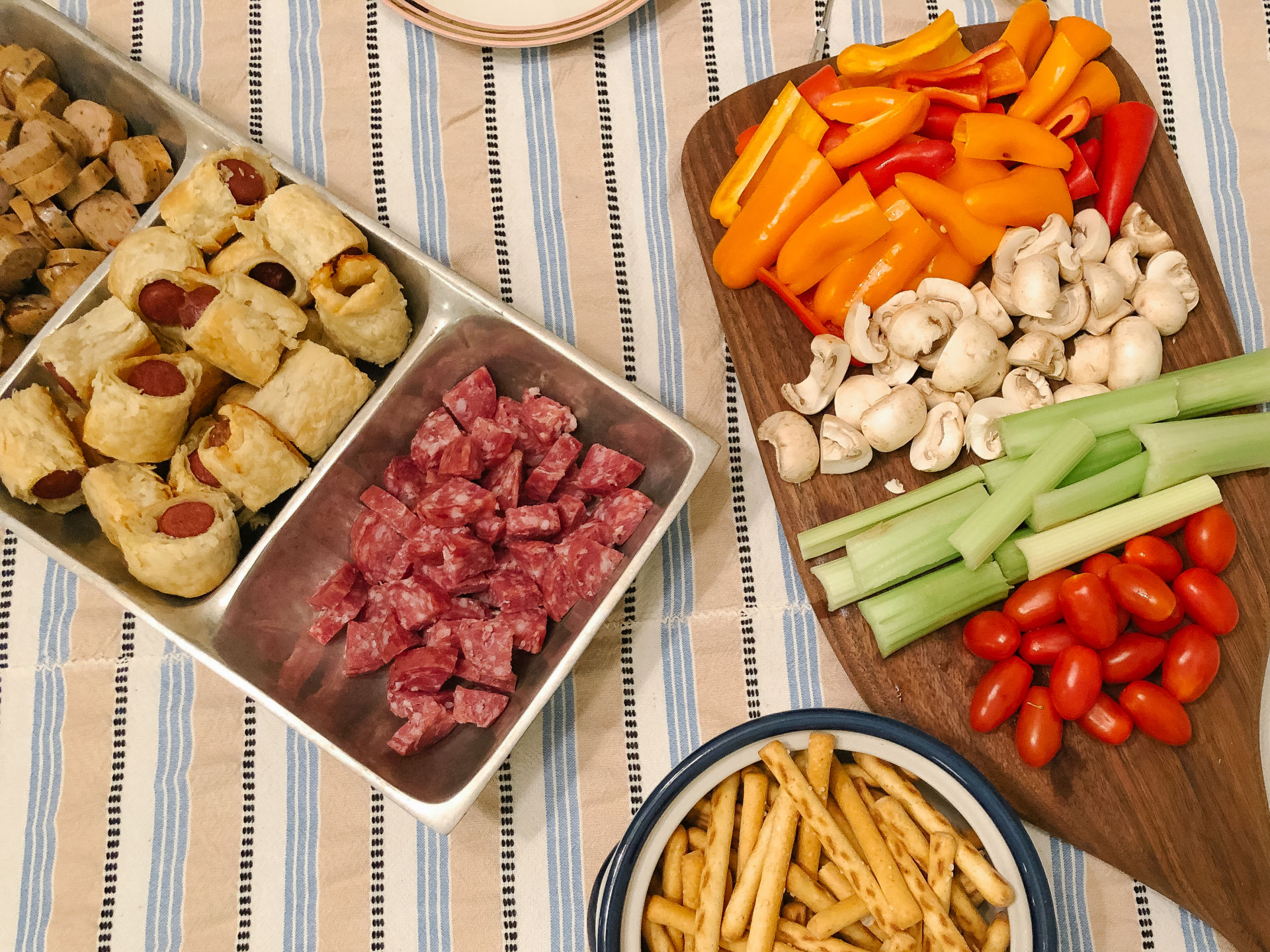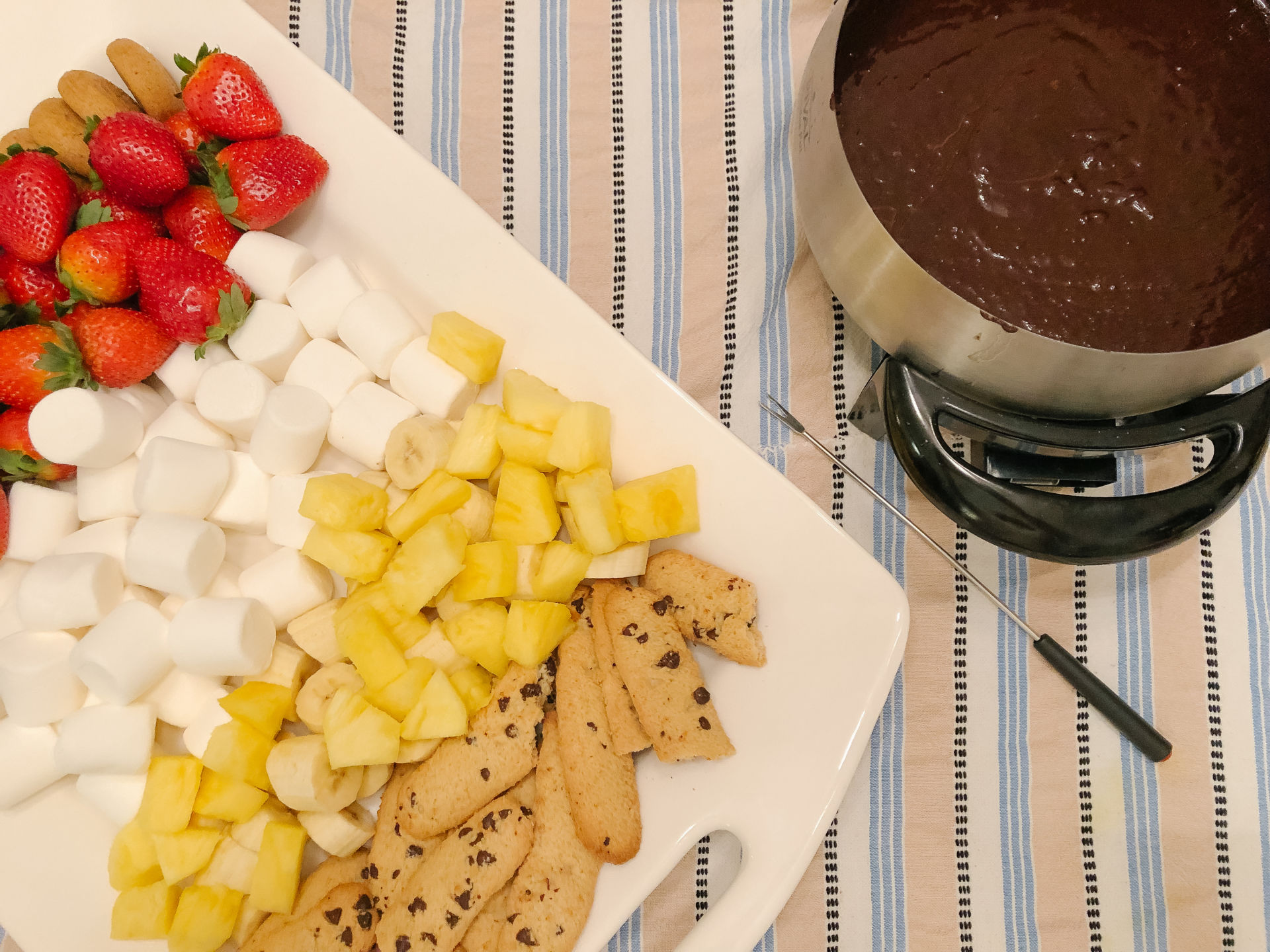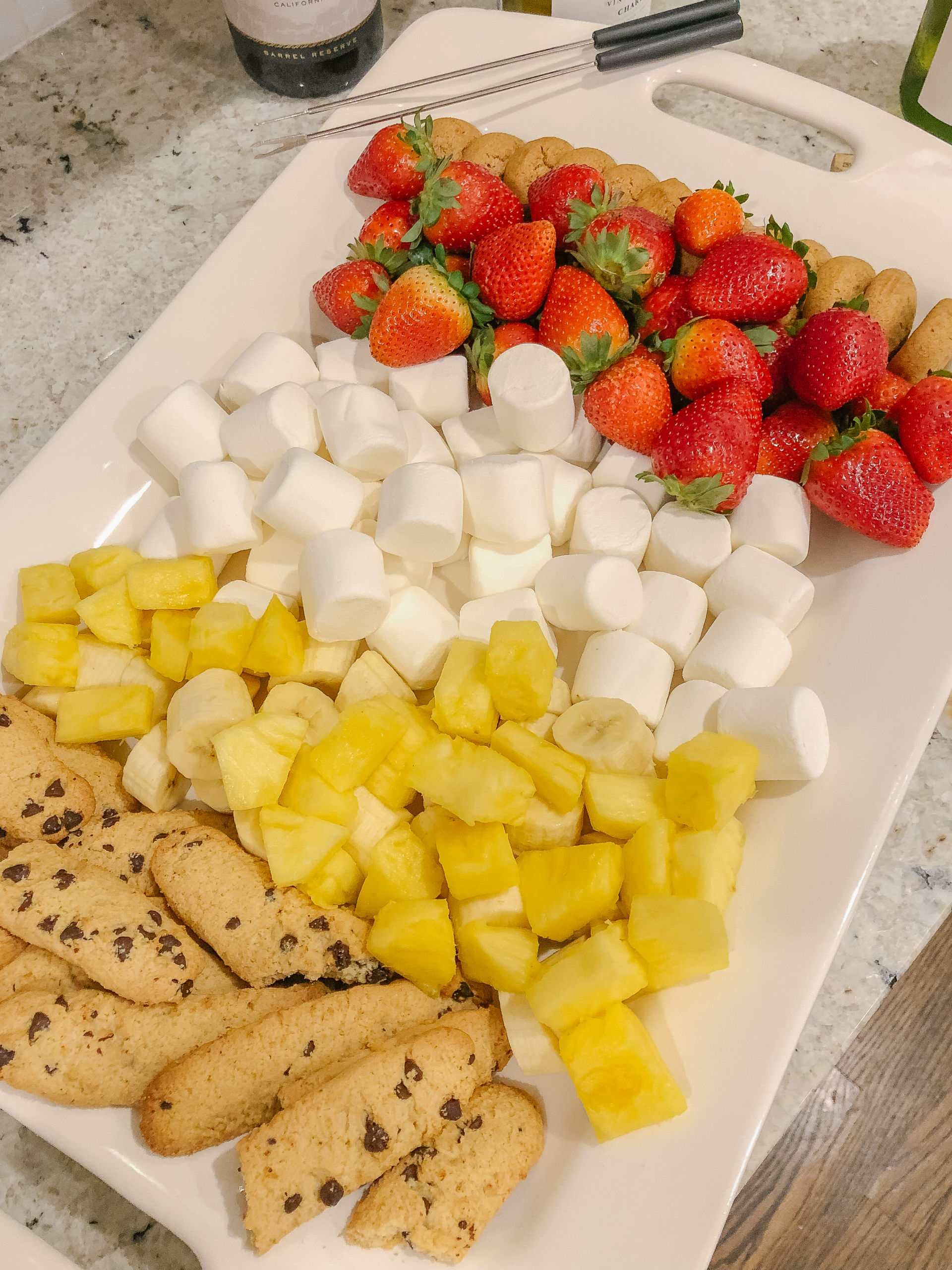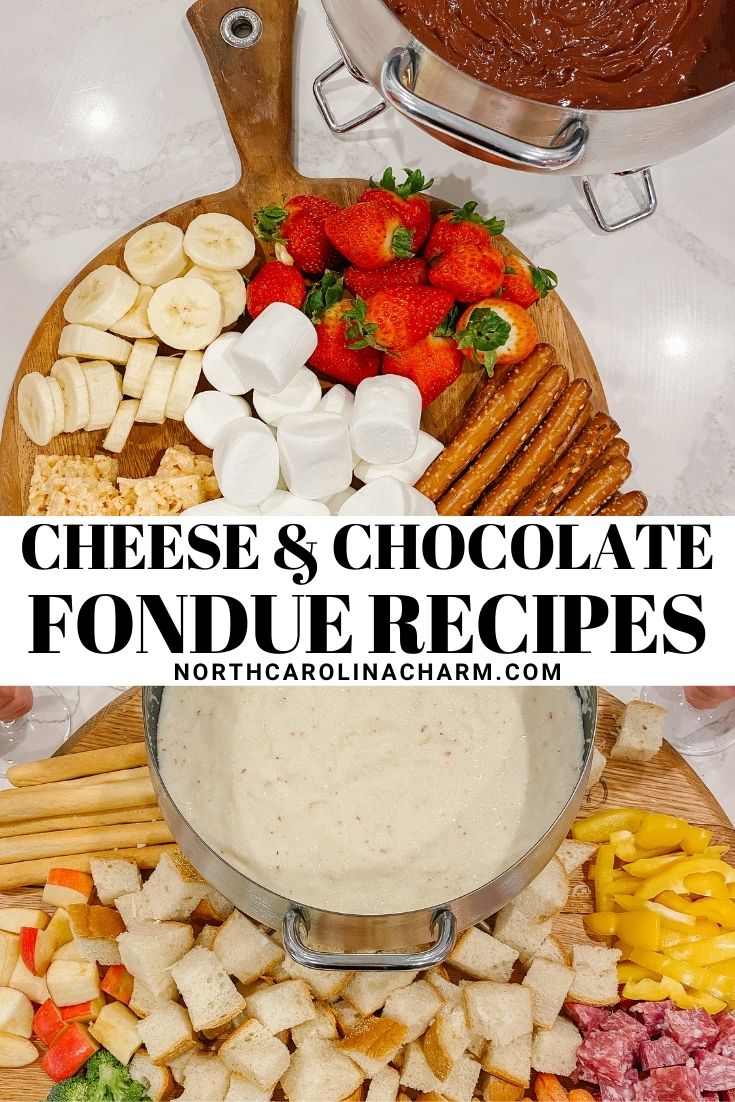 *pin to save for later
Shop Fondue Pots
Posts You May Also Like