I am going to blow your mind with this restaurant style steak recipe today. This is a longtime favorite recipe of ours and is definitely our favorite way to cook steak!
For as long as I can remember Saturday has always been steak night for my family. This tradition goes way back starting with my Grandpa and still lives on through my dad. When I was little I loved tying back my little yellow apron, pulling up my step stool near the grill and helping Grandpa cook some steaks. And on Saturday nights I would do the same at home with my daddy.
So growing up we ate a lot of steak. When we go home to visit we are always guaranteed a steak dinner. Although we love steak, Matt and I haven't carried on the weekly tradition in our home. Instead we save it for special occasions. Valentine's Day happens to be one of those occasions for us.
When I first started whipping up this steak I was scared to tell my dad that I don't use the grill. Gasp! Instead I briefly sear the steak in a skillet and then toss it in the oven for a few minutes. Voila — the best steak you'll ever eat. But shhh, don't tell dad.
Super fresh ingredients are in part what make this steak so delicious. So don't dig through your spice drawer for the thyme and parsley. You must use fresh ingredients if you're looking for the best steak of your life. I repeat, do not skip any of these steps or substitute any of these ingredients!
We normally pick up our steaks from the Harris Teeter. However, one of Matt's clients surprised him with bacon wrapped filet mignons from Omaha Steaks so we were excited to sear these suckers up.
A beautiful log of delicious compound butter.
By the way, to form into a log, I drop the mixed butter onto wax paper and twist it up. Easy.
If you become as obsessed as I am about this butter, feel free to add a little more on top at the end!
Restaurant Style Steak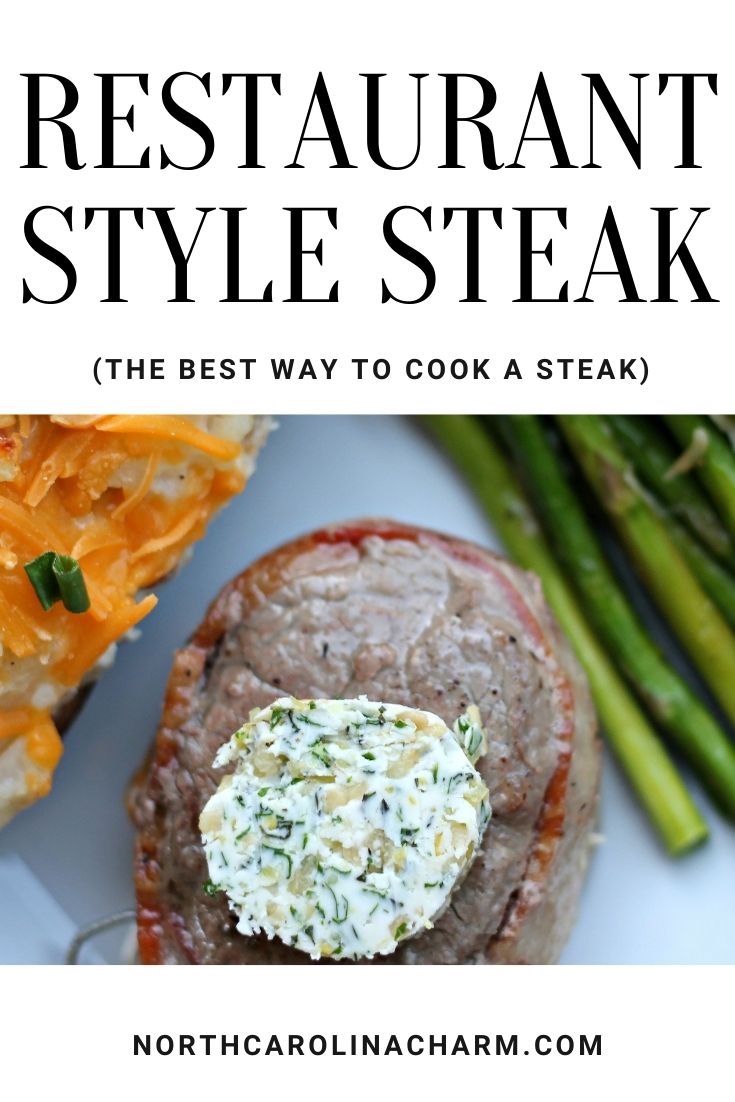 The BEST Restaurant Style Steak EVER.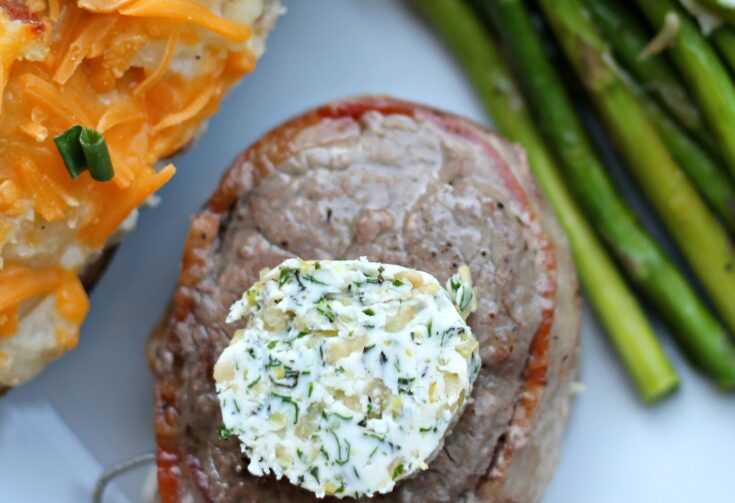 The very best way to cook a steak -- period.
*recipe adapted from from Amuse Bouche
Ingredients
2 oz Filet Mignon
4 tsp kosher salt
4 tsp freshly cracker pepper
1 stick butter (softened)
tbsp olive oil
2 cloves garlic (finely diced)
1 tbsp fresh parsley (finely chopped)
1 tbsp fresh thyme (finely chopped)
1 tsp lemon zest
Instructions
Mix together half the butter, herbs and lemon zest. Form into a log and refrigerate.
Generously season the filets with salt and pepper, approximately 1 teaspoon of seasoning per side.
Heat the remainder of the butter (1/2 stick) and the olive oil in a skillet to a screaming hot temperature.
Preheat oven to 400 degrees.
In the very hot skillet, sear the filets for about 2-3 minutes per side, or until a nice brown crust has formed. While the steak is searing, continuously spoon the residual butter in the pan on top of the meat.
Once both sides are seared, place skillet in oven for about 6-8 minutes for medium rare temperature. Increase time for well done steak.
In the last minute of cooking, take the log of compound butter and slice a nice thick piece to place on top. Your steak will be ready when it is approximately 135 degrees in the center, or when you push lightly on the top center of the steak and it gently and slowly bounces back.
*pin to save for later
Posts You May Also Like