Happy Friday!
I've been wrestling with trying to write a Day In The Life post since it was such a popular request. I know you all come here for positive updates and perspectives, but if I'm being honest (and a little dramatic), it's been pretty tough lately and I'm struggling. Work is insanely busy and I have been experiencing cabin fever with constantly being at home lately (especially with this past week filled with stormy weather). I live here. I work here. I facilitate school here. Some days I barely leave my dining room table and some days I don't even go outside all day. And I miss having my own space, or being alone to work. I share my "desk" all day long with Caroline then immediately head to the kitchen 8 hours later to begin dinner. Matt arrives home with Thomas and we eat as a family, which is honestly the highlight of the day. I clean up dinner. After baths and play time, we practice lots of reading and then tuck them into bed. Then Matt and I both clean up all of the rainbow loom bands, markers and snack wrappers scattered throughout the house then get some more work done before falling asleep. So that's kind of what our days look like right now. I promise I truly am thankful for everything we have — our health, my ability to work from home, and so much more. I am just getting really restless…and the walls feel like they are closing in on me, which leads me to a tangent…
Earlier this week Matt and I started seriously discussing converting the Circle Room (one of my absolute favorite rooms in the house) into an office. We actually use this room a LOT since it is usually the cleanest and most comfortable room in the house — free of toys, mostly used for piano practice, Community Group, conversations and conference calls. So I'm struggling with the decision to convert it. However, it would be nice to put up some healthier boundaries around work and have physical doors to close at the end of the day to my "office." I don't know. I asked Matt if I could have a she-shed in the backyard instead and he said no. I keep telling myself, this isn't forever but it's almost been a year…so it does feel like it. Anyway, I instead bought new wallpaper for the powder room (a relief to Matt and a surprise to no one who knows me in real life). Long story…I'll save it for when the new wallpaper comes in.
I digress. I think I'll finish the Day In The Life post when I can drink wine again during the week and crush some chocolate covered raisins. (Whole30 ends Sunday)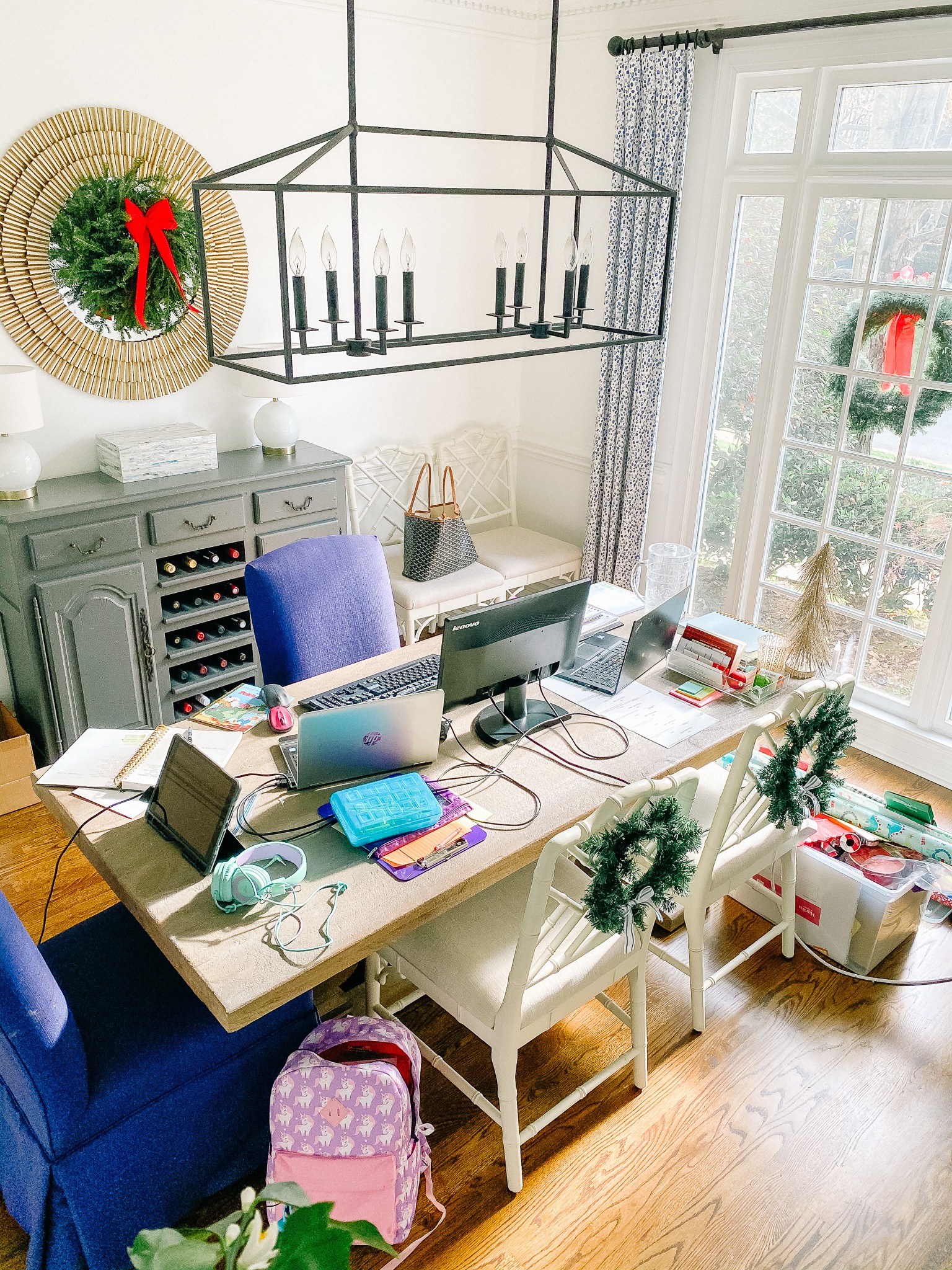 On to the 5!
1. Home Repairs & Service Provider Recommendations
Is it just me or does anyone else feel like their home has been more destroyed than normal over the past year with being home so much? I've stopped cleaning my walls because it just seems like a never ending task. I don't even notice the marker scribbles or sticky hand prints anymore. And I know I was just whining about being home all the time, but I will say it's been SO nice to already be home for service repairs!! None of these reviews are sponsored or anything, I just wanted to share a few businesses that we truly have been impressed by and would recommend.
Carpet/Upholstery Cleaning
Last spring I said "let's wait until after summer to have our furniture deep cleaned" and then it was "after school starts" then "after Thanksgiving" then "after the holidays" and finally I called Tony to come out and clean the upstairs carpet, upholstery and rugs. I told him he could just burn the couch if it was too far beyond repair but he worked his magic and was able to get marker, slime, mud and lots of mystery food stains out. This is our third year having Tony out for deep cleaning and scotch guarding and cannot recommend him enough. He is quick, efficient and fairly priced. Here is his info if you need it: Carpet Care of Metrolina — Tony McKnight: 704-392-4800
Appliance Repair
We also finally had our ice maker repaired…which broke awhile ago (highly recommend these ice cube trays by the way!!). Matt and I have had "fix ice maker" on our weekend to do list for many weeks now and over the past weekend realized we just couldn't figure it out no matter how many YouTube tutorials we watched. Then the water dispenser also stopped working so we finally called in the professionals. Turns out there was a broken water line wire that needed to be replaced for the ice maker and the water line to the water dispenser was frozen (likely due to the kids leaving the door open all the time). Anyway, we have used Advanced Service several times before and are always so impressed. This company is very responsive, professional, reliable and honest. We've had the same repair man (Nick!!!) come out several times and he is truly excellent.
Roof Repair
We've had a wet stain growing on our bathroom ceiling the past few months and finally had Southern Star Roofing come out and diagnose the issue. It was our first time using them and I was definitely impressed with this company and would recommend them. Not only was it easy to book an appointment, our roofer came out right on time, provided really professional leave-behind materials, and diagnosed the issue quickly. I was worried we were going to receive a recommendation for a new roof and our roofer was honest and told us he could repair the issue and that we could squeeze a few more years out of the current (original to the house) roof. The repair quote was reasonable and once we signed the contract he was back out a few days later to fix the roof!
Next on the list…
We're looking for a recommendation to have our hardwoods and tile deep cleaned as well as a cane furniture repair recommendation…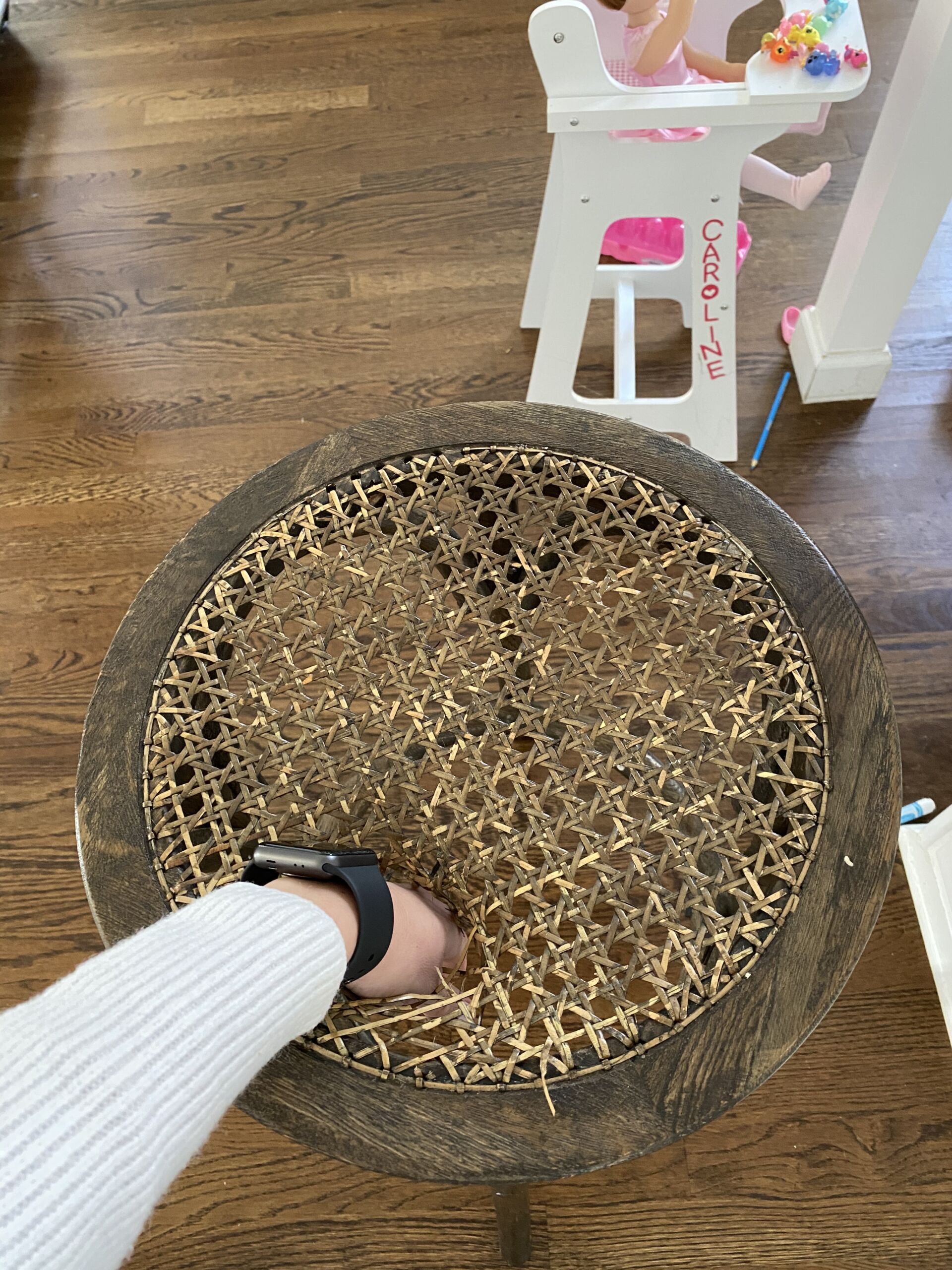 2.100 Days of School
Can you believe it?! We have officially made it through 100 days (mostly remote) of first grade. What a wild year it's been and I am honestly just SO proud of Caroline. Virtual school is seriously tough and I'm sending a virtual high five to all the students, teachers, parents and guardians who are navigating this wild year. Congrats on 100 days!
Since Caroline is with me 24/7, pulling off a little surprise for her was tough but I was able to successfully drop both kids off at dance class on Wednesday night and use my 40 minutes to quickly run to Publix and grab balloons, swing through Krispy Kreme to pick up fresh mini donuts (topped with confetti cake crumbles and decorated with a dollop of birthday cake flavored buttercream and sprinkles) and stop at home to hide the surprises in my closet before making it back to the dance studio with literally one minute to spare!
It was so fun to watch the kids come downstairs and Caroline felt SO celebrated for all the hard work she's put in to school this year. Matt gave a little speech about how proud we are of our kids and I was seriously on the verge of tears.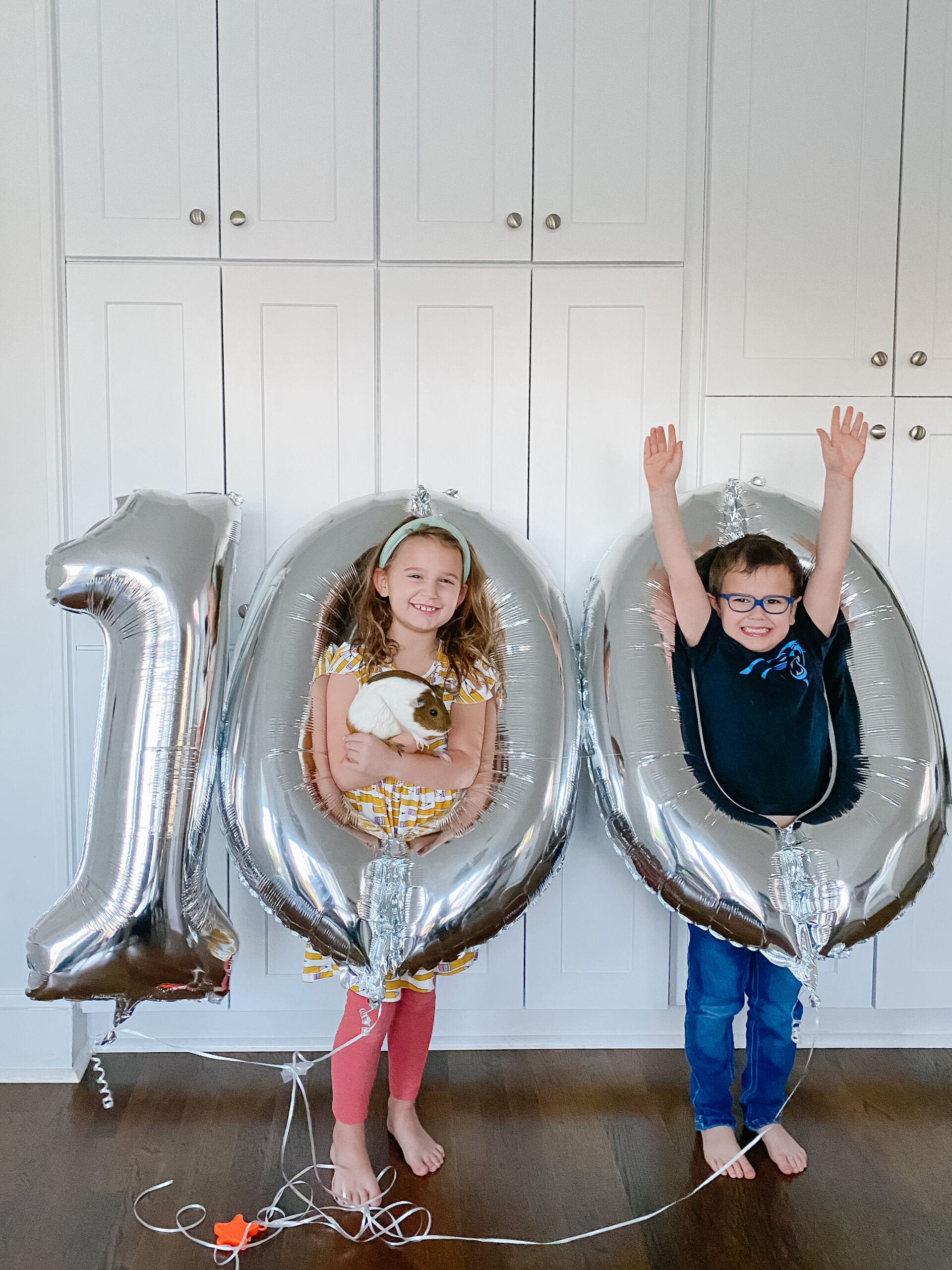 Summer Countdown
Speaking of school…let's talk end of school! A few weeks ago I polled my Charlotte readers on summer camps and got a few suggestions…but mostly just requests to share the results! I know. I know. It's crazy to think we already need to start planning for summer, but as a working mom who relies on almost 13 weeks of full day summer programs, I begin to panic when all the registrations open and fill up SO quickly!!! I also had some questions about how we organize our summer camps so I'm sharing my spreadsheet template HERE if you need/want one!
Anyway, we decided to pull Thomas out of daycare for summer to give him the fun summer camp experience before Kindergarten (because who knows what K will look like this year)! Yesterday, the last camp registration we'd been waiting for opened and I was ecstatic to get both kids spots, officially filling in the last full weeks of our summer! We've got some holes here and there but I am so relieved to finally have the majority of summer planned with a variety of camps and some really fun family vacations too!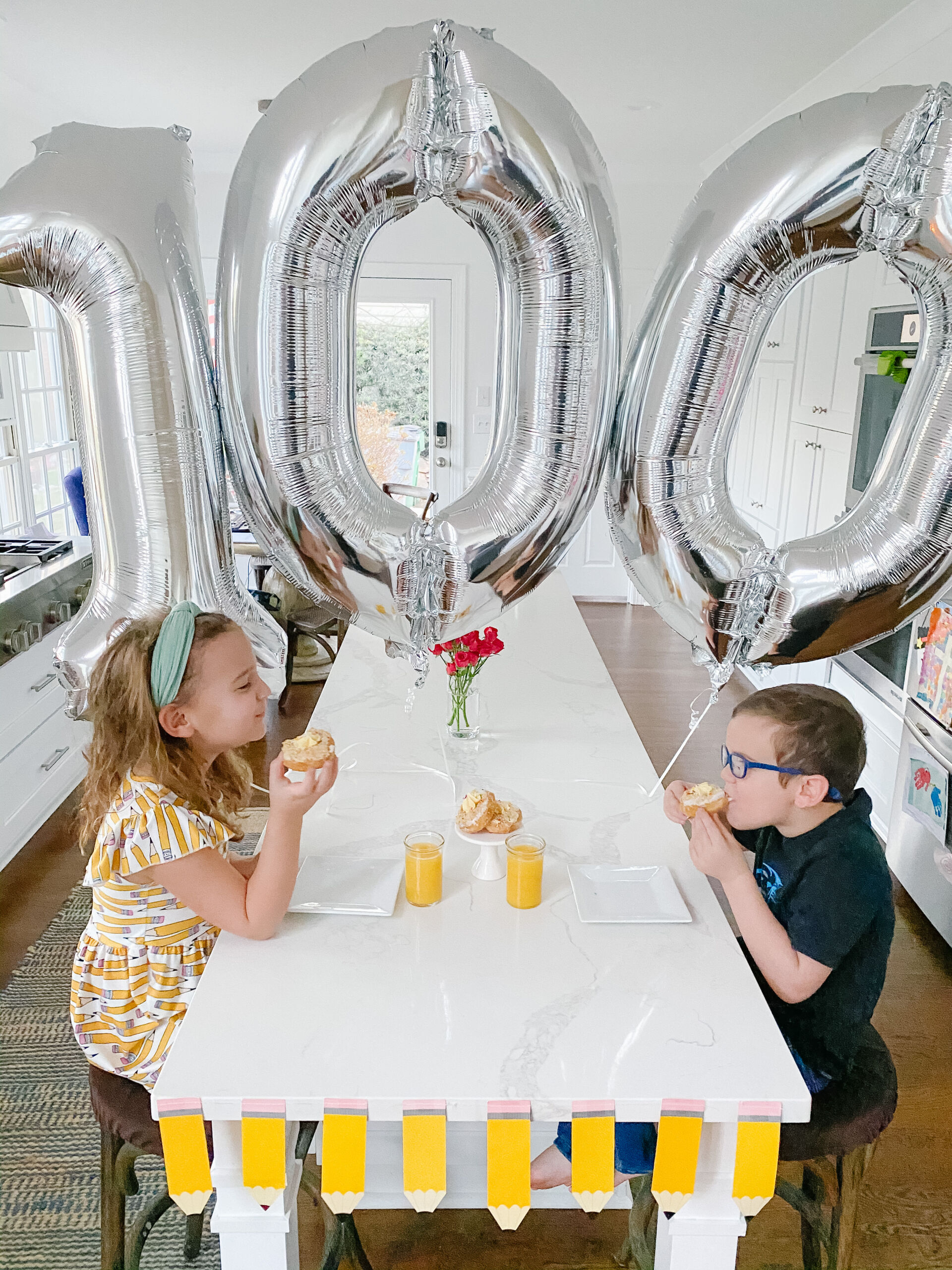 3. Book Review: Such A Fun Age
An instant New York Times bestseller, winner of MANY awards and popular book club pick, I could not get through Such A Fun Age by Kiley Reid fast enough! This was another book from my friend Abby's list that I absolutely loved and give 5/5 stars, no question. This well-written story explores racism, white privilege, social division, parenthood and more. For those of you who prefer audio books, I wanted to also note that the narrator does an excellent job reading this story! Highly, highly recommend!
Book Summary: A striking and surprising debut novel from an exhilarating new voice, Such a Fun Age is a page-turning and big-hearted story about race and privilege, set around a young black babysitter, her well-intentioned employer, and a surprising connection that threatens to undo them both.
Alix Chamberlain is a woman who gets what she wants and has made a living, with her confidence-driven brand, showing other women how to do the same. So she is shocked when her babysitter, Emira Tucker, is confronted while watching the Chamberlains' toddler one night, walking the aisles of their local high-end supermarket. The store's security guard, seeing a young black woman out late with a white child, accuses Emira of kidnapping two-year-old Briar. A small crowd gathers, a bystander films everything, and Emira is furious and humiliated. Alix resolves to make things right.
But Emira herself is aimless, broke, and wary of Alix's desire to help. At twenty-five, she is about to lose her health insurance and has no idea what to do with her life. When the video of Emira unearths someone from Alix's past, both women find themselves on a crash course that will upend everything they think they know about themselves, and each other.
With empathy and piercing social commentary, Such a Fun Age explores the stickiness of transactional relationships, what it means to make someone "family," and the complicated reality of being a grown up. It is a searing debut for our times.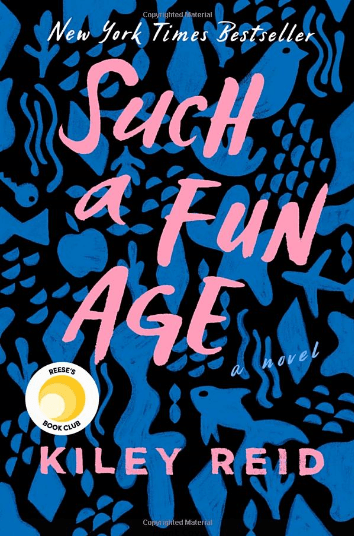 4. Eola Coffee — The Best Coffee In Orlando
To my Orlando friends — if you aren't already getting Eola Coffee hand-delivered fresh to your doorstep, you are missing OUT!!! A few years ago, my longest time best friend (since Kindergarten!!!) Ashley and her husband revived Orlando's original coffee company, Eola Coffee (established in 1927!!!) and I can honestly and confidently declare IT IS THE BEST COFFEE IN THE WORLD. Yes, the entire world. They are so dang talented and entrepreneurial and pour so much love into everything they do, so it's no surprise their ethically sourced and locally roasted small-batch coffee (curated from beans from around the world) is outrageously good.
5. Amazon Favorites
A few of our favorite Amazon items this week include…
Roll Neck Cotton Sweater: Featured on my Valentine's Day for Her Gift Guide, this is one of my favorite sweaters! It comes in 11 colors and is seriously so comfortable. It runs true to size and I love to pair it with jeans.
Bike Safety: The kids are still so obsessed with riding their new bikes they got for Christmas. Since it gets dark so quickly I have been purchasing ALL the bike safety gear lately (Bike Safety Flags, LED Bike Wheels, USB Rechargeable Bike Light Set, Traffic Cones & Slow Man Sign aka "Slowi") and we've been installing the items as they arrive!
Crest Whitestrips Sensitive Teeth Whitening Kit: I've been using these strips for a few years now at the recommendation of my dentist and just replenished my stash. I use these once a week for about 30 minutes.
Qwixx: Recommended by a reader, I purchased this dice game for our family to play after dinner. It just arrived and we cannot wait to play it. There were almost 6500 reviews on Amazon and my reader promised we'd love it!
In Case You Missed It