We started a diet this week in our house. So naturally, we needed to go out with a bang over the weekend with one last big calorie splurge. Since dessert, especially ones loaded with cookies, frosting, brownies and chocolate syrup, are definitely not permitted in our diet, I thought Extreme Oreo Brownies would be the perfect indulgence.
I originally got this recipe idea after our good friends dropped off dinner and dessert to us earlier last week. Accompanying our tasty dinner were the most amazing Oreo brownies that my friend picked up from the pastry case at Harris Teeter. They were so ridiculously delicious that Matt and I polished them all off after dinner.
A few days later I had a craving for them again so I began a recipe search and found a similar recipe that I tweaked a bit to create Extreme Oreo Brownies…
These brownies really are extreme…extremely tasty! There's a fudgy layer, an oreo layer a fluffy layer and more.
Extreme Oreo Brownies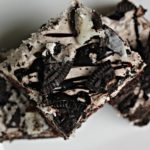 For the Brownies
1 box favorite fudgy brownie mix + ingredients on back of box
15 oreo cookies
1 tbsp vanilla extract
For the Fluffy White Frosting
8 tbsp vegetable shortening (Crisco)
1/4 cup unsalted butter, softened
1 cup marshmallow creme (ex: marshmallow fluff)
3 tsp pure vanilla extract
1 1/4 cups powdered sugar
2 cups Oreo cookies, quartered
For the Topping
2 tbsp unsalted butter
2 tbsp light corn syrup
1/2 cup semisweet chocolate chips
2 tsp very hot water
Make the Brownies
Make the brownies according to the directions on back of brownie box, adding in 1 tablespoon of vanilla extract. Pour batter into prepared pan and spread until even. Place 15 Oreos evenly on top and press down lightly to cover with the batter. Bake according to boxed recipe, or until a toothpick inserted in the center comes out clean. Cool to room temperature on the counter, then cover and refrigerate overnight.
Make the Frosting
Beat shortening and butter in a mixer. Mix in marshmallow creme and vanilla extract. Slowly mix in powdered sugar. Spread frosting evenly over top of the brownies. Top evenly with quartered Oreos.
Make the Topping
Melt the butter and corn syrup in a small saucepan. Turn off the heat and stir in the chocolate chips, then stir in the water to thin. Drizzle over the top of the frosting. Chill the frosted brownies for at least 1 hour until the frosting and topping sets. Remove from pan and slice into bars.