Last Christmas my best friend from college came over while we were home in Florida and brought us the most amazing Graham Cracker Toffee. It was literally devoured by the time she left our house! So good. Anyway, I harassed her for the recipe and then saved it for an entire year as a picture in my phone in preparation for my cookie swap the following Christmas!
After digging through my iPhone photo archives I found it just in time for a cookie exchange last week! I expected it to be difficult since it was so tasty but to my surprise there are only five ingredients, two dirty dishes and a few steps! In case you're looking for a delicious and easy recipe to make for a party, to give out as presents or to leave for Santa, I highly recommend!
Graham Cracker Toffee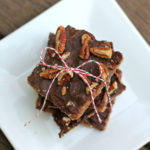 14-16 sheets graham crackers
1 cup packed brown sugar
1 cup butter
2 cups semisweet chocolate chips
1 cup chopped pecans, toasted (or other crushed toppings like Andes mints, candy cane, sprinkles, etc.)
Preheat oven to 350 degrees.

Line an 13 x 9" baking sheet with aluminum foil and mist it with baking spray. Tightly arrange graham crackers in a single layer. You may need to break a few into smaller pieces. Set aside.

In a saucepan, heat the butter until melted. Add brown sugar and whisk to combine. Continue cooking until the mixture reaches a boil, stirring constantly. Let the mixture boil for about 2 minutes, then remove from heat and pour over graham crackers. Use a spatula or spoon to spread the mixture evenly over the graham crackers. Bake for 7-8 minutes or until the butter mixture is bubbly.

Remove pan and immediately sprinkle the the chocolate chips evenly on top of the graham crackers. Let sit for a few minutes until the chocolate is melted, then use a spatula to spread the chocolate around. Sprinkle crushed pecans (or Andes mints, candy cane, sprinkles,etc.) evenly on top of the melted chocolate.

Let sit for about two hours or chill for 30 minutes. Cut and enjoy!
*consider pinning to save for later