Grilling season is here and I couldn't be more excited! We love to fire up the grill on Sunday afternoons as soon as the weather warms up and our first grilled recipe of the season? Grilled pizzas! Yes, pizza! We started grilling homemade pizzas a few years ago and never looked back. Curious how to grill the perfect pizza? Keep reading as I am sharing all my secrets!
Alright, if you aren't grilling your pizza, you have to try it. And I promise it's super easy. You can use a charcoal or gas grill — either will take your homemade pizza to the next level and give it the most delicious flavor and texture that you can't get from an oven.
Last weekend I ordered all our pizza ingredients for free same-day delivery from Walmart using my Walmart+ membership ($35 order minimum. Restrictions apply.). All of our items arrived fresh to our door within a few hours we were rolling dough for 3 different types of personal pan size pizzas — a regular cheese & pepperoni for the kids, a dairy-free margherita pizza for Matt and a caramelized onion & prosciutto pizza for me!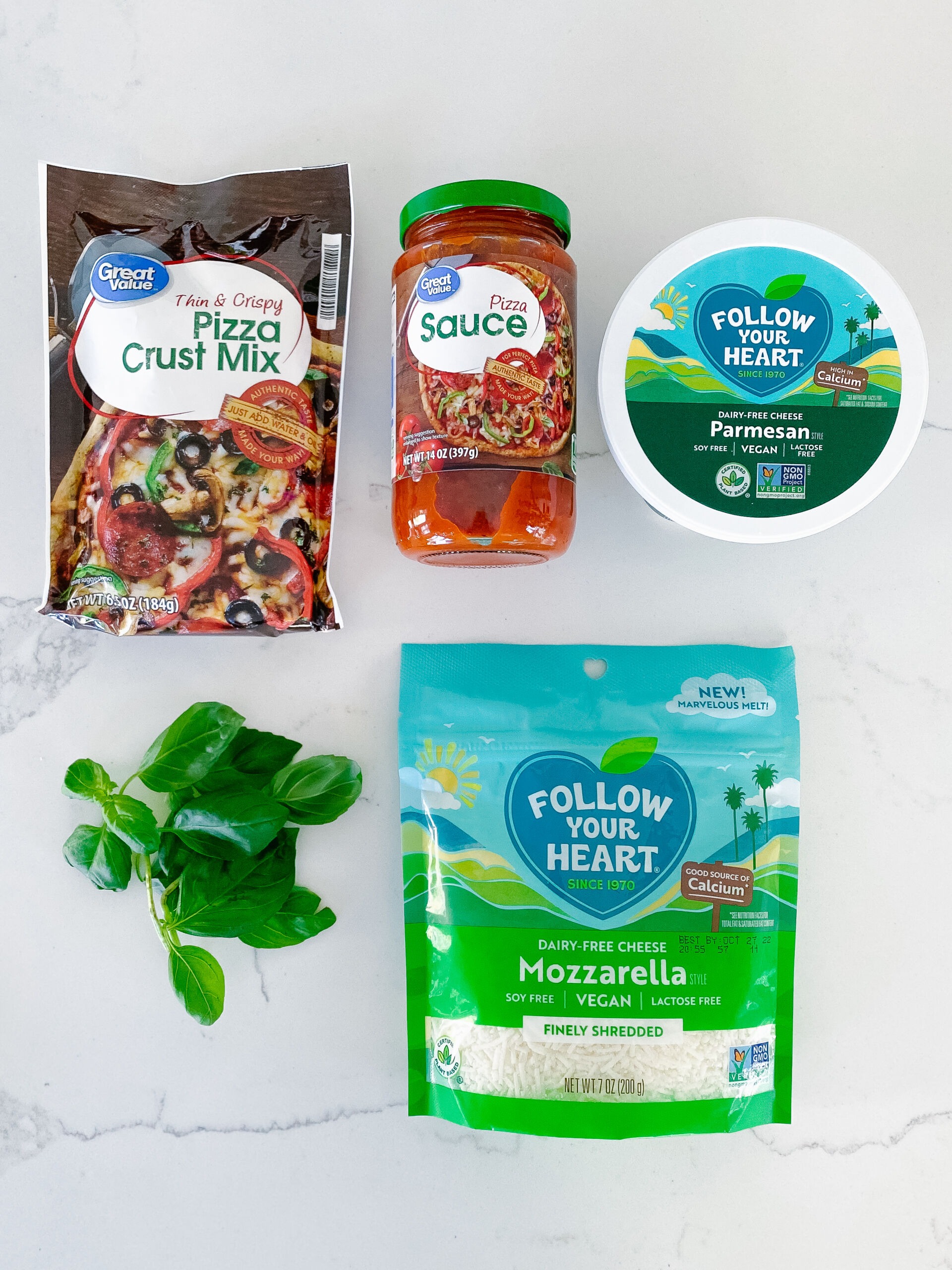 Dairy-Free Margherita Pizza Ingredients
Caramelized Onion & Prosciutto Pizza Ingredients
To make the caramelized onions: Heat 2 tablespoons olive oil in a large skillet. Thinly slice a medium red onion and add to pan with 1/4 cup brown sugar and toss for several minutes, or until onions are brown and cooked.

How to Grill The Perfect Pizza:
Preheat your grill to 425 degrees for 10 minutes. Brush the grill grates with olive oil so your pizza doesn't stick.
Make sure you have your dough rolled out and ready to go, along with all your pizza toppings.
Lightly brush one side of the pizza with olive oil and place pizza directly onto the grill (oil side down). Cover and cook for 2-3 minutes, or until bottom side is golden brown and has grill marks. Note: The top of the pizza dough will start bubbling up with air pockets.
Flip the pizzas onto a cookie sheet or pizza peel and add sauce and toppings to the cooked side. If you're making the caramelized onion and prosciutto pizza, brush cooked side with olive oil and top with mozzarella cheese, your caramelized onions and prosciutto torn into bite size pieces.
Transfer pizzas back to the grill. Cover and cook for 3-5 minutes, until cheese is melted and bottom crust is golden.
Remove pizza from the grill, slice and serve.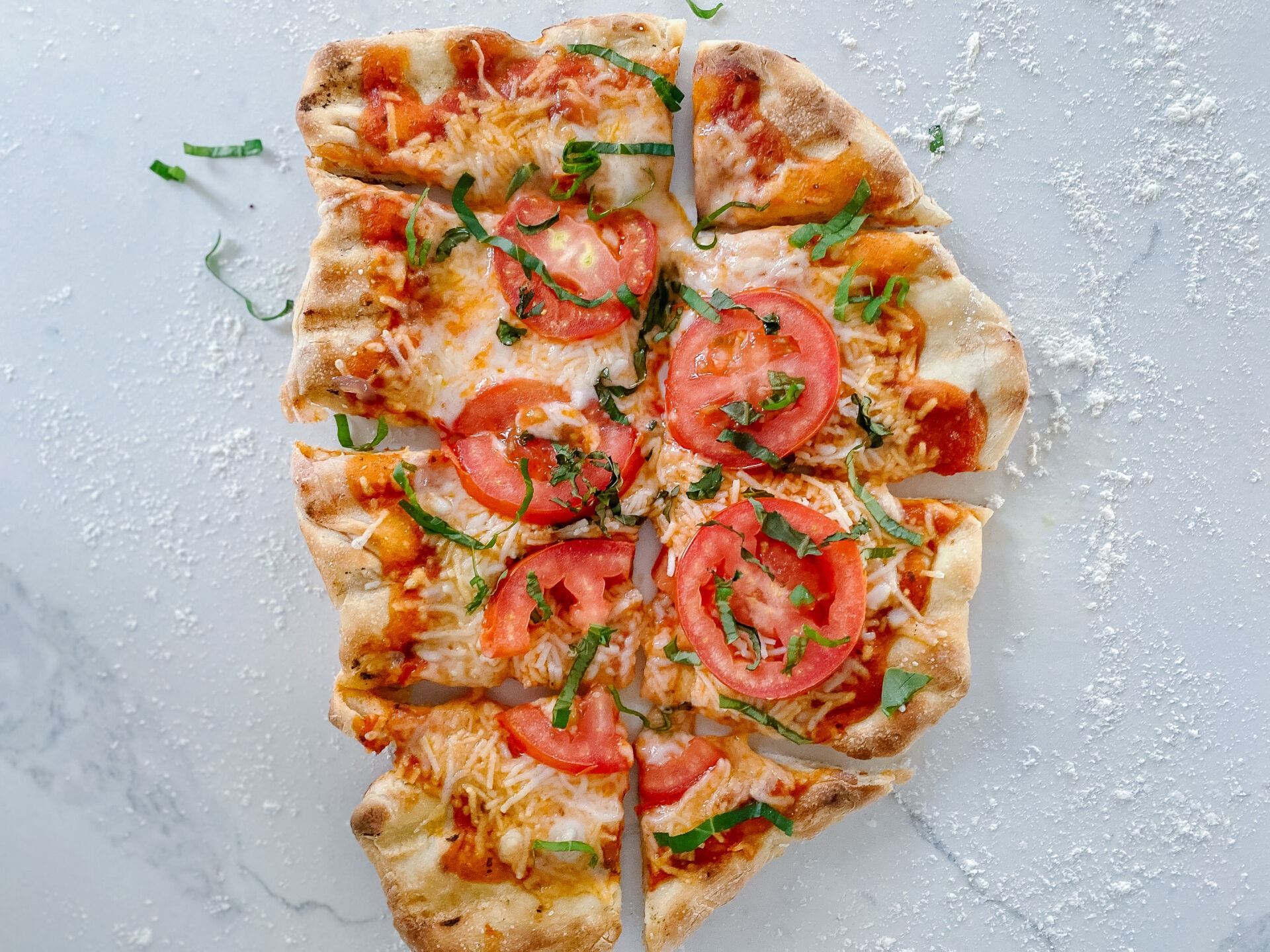 You can join Walmart+ for $12.95/month or $98/year and includes free same-day delivery on fresh, high quality groceries at the same low prices as in store (there is a $35 order minimum and some restrictions apply). Members also receive free shipping with no order minimum (excludes most Marketplace items, location & freight surcharges).
Thank you to Walmart+ for partnering with my family on this post and to my readers for supporting my blog. I have made all my product purchases and all reviews are my own.