Kicking off our guest post week with a day in the life of my friend, Caroline! She's a working mom of 4 cute girls (19 mo, 5, 6, & 8), has 2 cats (Peggy and Glinda) and a basset hound puppy (Jolene). Her husband is a phenomenal private chef.
Background & ChildCare Situation
We typically have our beloved nanny, Brooke, Monday-Thursday (then co-white knuckle through Fridays together), but she's off today.
Today, Molly Sutton is along for the ride with us, and my big 3 have their favorite week of the summer: farm camp at our beloved Hunter Farm. Camp is 9-1 all week, and is truly heaven on earth.
Over the last week our house has been on the market, our nanny was off, and Molls had strep. This Monday honestly feels like a relief.
Our house is under contract (!!!), and our inspection is scheduled for Wednesday morning. We're trying to pack and keep it show ready through the inspection, which is very exciting with so many living creatures under one roof.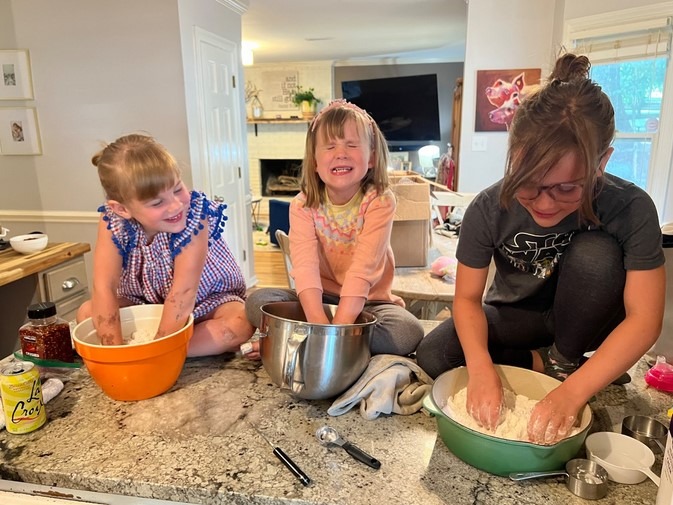 Day In The Life
5:45: my 5-year old is awake. She comes in to tell me and to get some snuggles then asks if she can go downstairs. I always say yes, but I'm glad she asks, so I can peek at the clock. Some nights she wanders in around 1:30, and if I'm not careful I say yes, and she heads downstairs in the middle of the night. Whoops! She goes down, grabs some yogurt and turns on a show.

5:45 – 6:35: Some number of children join her down there.

6:35: My alarm goes off. Per many a self-improvement influencer, I should be trying to wake up before the girls and claiming that time as my own, but my husband and I are night owls, and so I wake up.

6:35 – 6:50: I take our 7-month-old basset hound puppy Jolene outside and wash my hair over the side of the tub.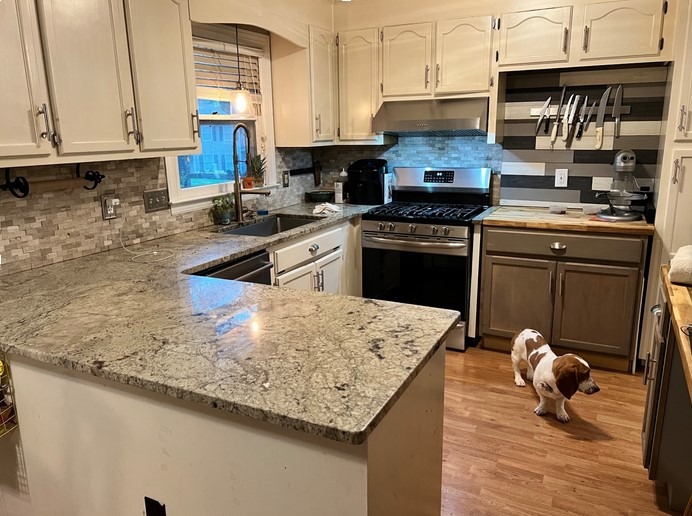 6:50: Our 19-month-old is awake. She's been up for a little bit, but if I can get my hair washed first, it's a bonus.

6:55: The girls are hanging out and playing while I make breakfast. Like so many of us, I am focused on getting protein into them at every meal. This morning I mixed a chocolate plant-based protein drink with chocolate milk to mixed reviews. The girls are Irish dancers and attended Irish dance camp earlier in the summer. During one of the days they made scones, and asked if we could make more yesterday. They each made a different type (blueberry, strawberry, and citrus-almond), so they get a scone, the chocolate protein concoction and berries for breakfast. Molly Sutton also gets her own yogurt.

7:00: While everyone eats, we do the well-choreographed, and often chaotic, morning routine. I pack lunchboxes for everyone (David's homemade focaccia with a goat cheese/sun-dried tomato spread), bacon-wrapped pork tenderloin (we always have family dinner on Sunday nights, and I try to use the leftovers for lunches), sugar snap peas, blackberries, and peaches. There are about 37 reminders to get dressed and brush teeth. David brushes everyone's hair and gets Molls dressed. I pack backpacks. He applies everyone's sunscreen. With about 10 minutes left, I go upstairs and get dressed, dry my hair and curl it, then we're on the road.
8:15: I grab a dynamic duo of a Car Bar (Dark Chocolate Peanut Butter Perfect Bar today) and my second (?) Diet Dr. Pepper of the day. I subsist on DDP all day but don't worry, I also drink 100+ oz. of water. Am I explicitly ignoring the new WHO notes about aspartame? 100%. I work in healthcare communications, and we have had plenty of media inquiries about it *takes a nervous sip*

8:35: Camp drop off! The girls were THRILLED to see so many beloved faces at the farm. Drop-off was smooth, quick, and full of hugs. This is Nora Beth's 4th year at camp, and she considers herself a counselor. Annablair and Jane Ellis are in separate groups this year (they're 17 months apart and often grouped together), and I'm so happy they have their autonomy during camp.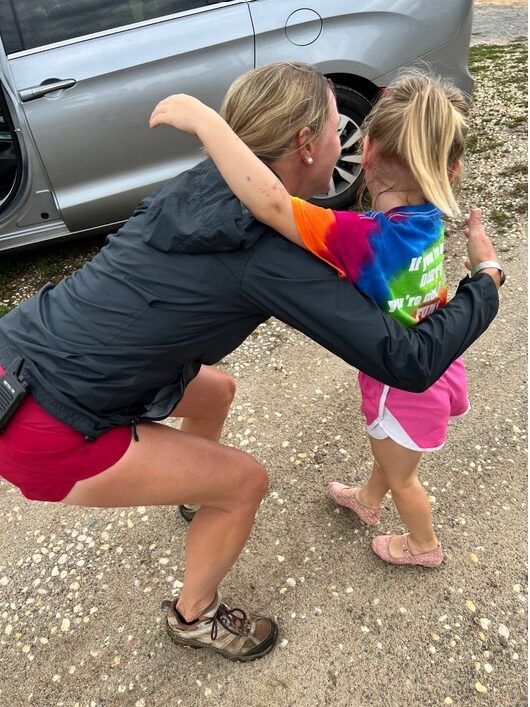 8:40: I leave camp, do my makeup in the car, and head to the Brace Y.

8:50: I make it to the Y, which is my home away from home. I use their 2 hours of free childcare religiously, but even if the girls are with Brooke, I'll often drop in and work from the lobby. I drop Molls in YKids and snag my favorite lobby table as well as a cold DDP from their vending machine before diving into work.
9:00: Today is a full day of meetings, so I settle in and get to work.
10:50: Time to pick up from YKids!

11:00: We're home, and I push the littlest girly on the swing for a few minutes before I settle back in at the kitchen table, and she "plays," which really means she climbs on the table and messes with my mouse. Despite the early Covid-PTSD this brings me, we make it work, and I remind myself that Brooke is back tomorrow!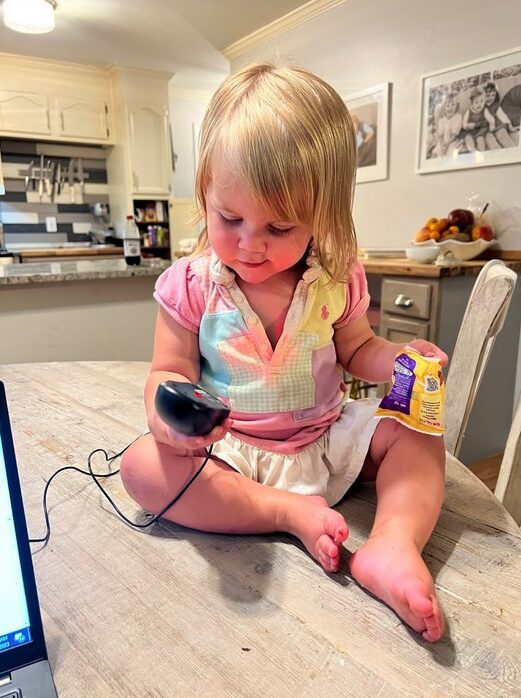 11:45: I pull her lunchbox out of the fridge (I packed it at the same time I made camp lunches to save some time), and she eats while I pack a couple of boxes. We close in 6 weeks, which has proven to be an odd time of what to pack and when, but with our inspection coming up, I want the house to look clean(ish) and tidy(ish)
12:40: David is home, Molly Sutton is sleeping, and I hop in the car for camp pick-up. While I prefer to have a "real" lunch, I grab another Car Bar (Clio Greek Yogurt Bar).

1:40: We're all home, the big three are having a little bit of quiet time, and I make a real-er lunch of these croissant-type bagels that I found at Sprout's and are DELICIOUS, add an egg, and some prosciutto, plus a Mid-Day Square (not a Car Bar, and I realize this is a lot more packaged food than I typically eat)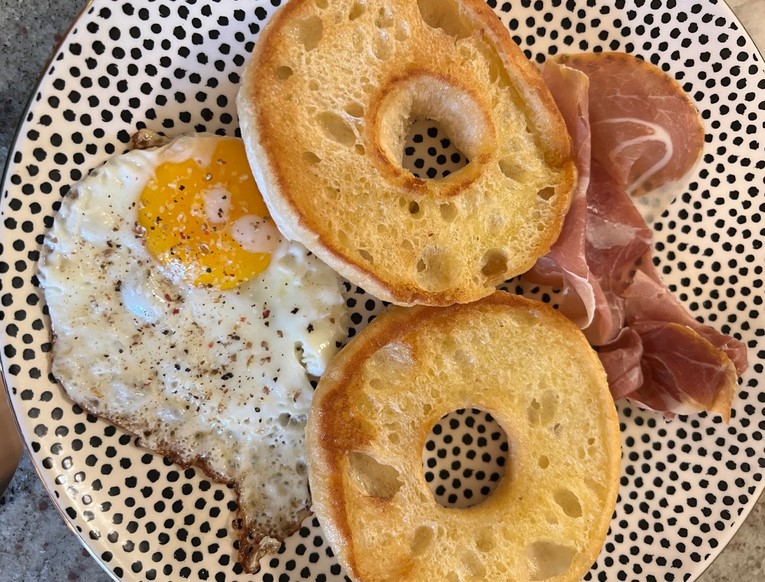 1:55: David has set up a splash mat that I Prime'd over the weekend, so the girls have something fun to do. Our best neighbor friends come over, so everyone is happy and busy.

2:30: Molly Sutton still seems to be recovering from strep and not quite herself. She has so much fun in the splash mat, but tires out pretty easily. I put her in the bath, facetime my sister and niece then lay her back down.
3:30: Meanwhile the big three have found wood scraps in our garage, and they devise some elaborate "training centers" with David. He helps them hammer them together, which takes most of the afternoon. I'm still trying to dig out from so many interrupted workdays, but I'm so grateful for the flexibility that working from home allows.

5:15: Between calls earlier I prepped a tomato pie with some farmer's market tomatoes. I pull it out of the oven and start assembling the rest of dinner for the girls: Amy's artichoke and gruyere sausages, tomato pie, berries, and pasta with parmesan and kale pesto.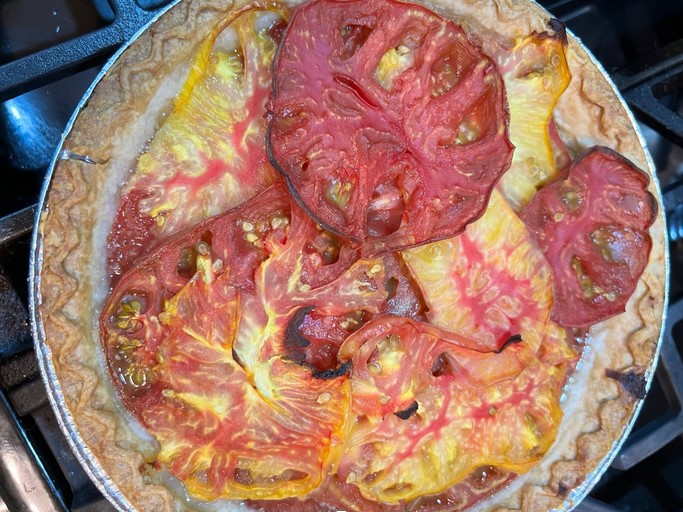 5:30: David is up on the roof cleaning it off in preparation for the inspection, and Annablar is practicing Irish dance. The girls started in September, and they all love it so so much. I never could have imagined how great it would be for them, and we're obsessed with the studio and its owner. Happy to share details, if you are looking for an activity that empowers and teaches so much beyond just the sport! I film her performances, then she asks me to text them to our teacher, who replies with feedback.
6:30: Everyone is bathed and cozied up on the couch watching a show together. As expected they are exhausted from their day.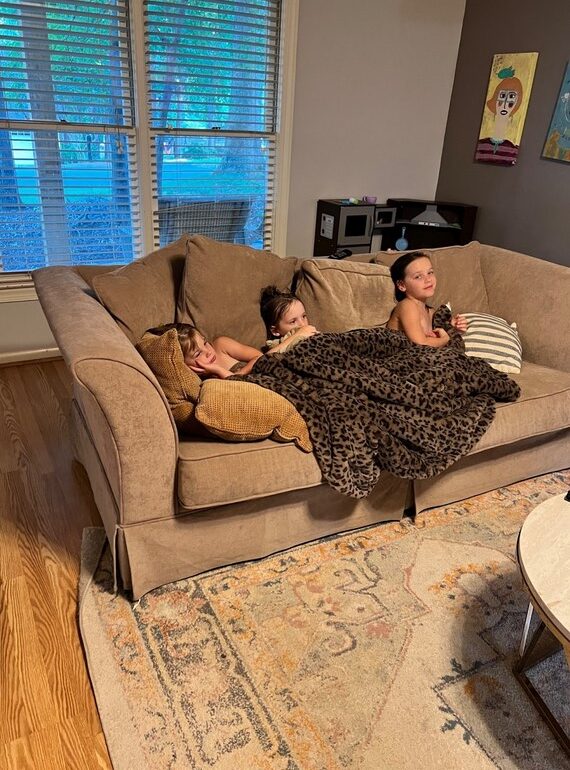 7:20: Bed for everyone! Nora Beth will read for a while, but the middles are asleep.

7:30: I run to the grocery store, make a meal delivery (we run a meal delivery service, and while most meals are delivered on Sunday, I have one left tonight) then knock out some freelance writing.

8:20: I'm fitting in a Peloton ride. This is my favorite form of self-care, and I really prioritize it each night.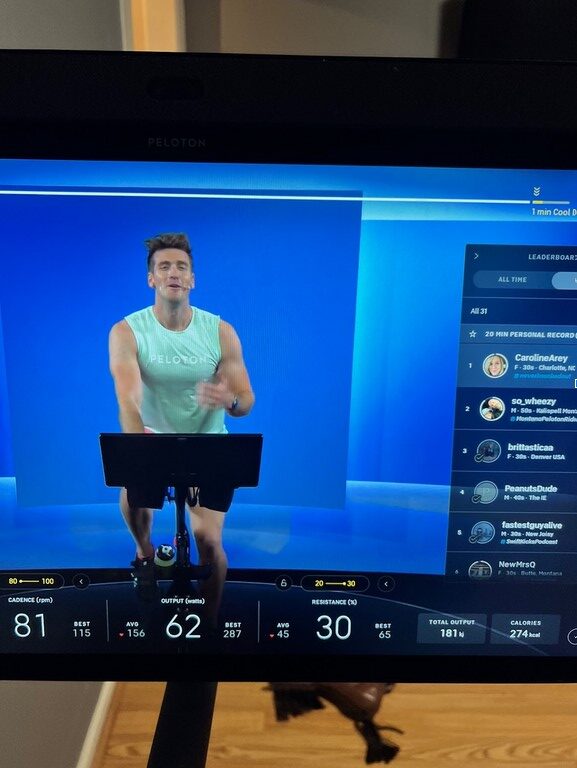 8:50: David starts the air fryer full of wings. One of our go-tos when neither of us wants to cook. I make some kale chips and slide them in the oven then run and get in the bath with a book. I just started "The Turnout," which promises to be a thriller about a ballet studio owned by sisters.

9:30: We sit down to eat and turn on Righteous Gemstones, our current TV obsession. We end every night with a late dinner, a show, then a mug of ice cream each (Publix Maple Walnut for him and Publix Black Jack Cherry for me)

10:50: I can tell I'm starting to doze off on the couch, so I head upstairs. David stays downstairs to play a video game, and I squeeze in a few more pages of my book.

11:30: Probably asleep.