While we don't return to school until late August, I know many of you are starting much sooner! So today I wanted to round up all things back-to-school in case you're looking for a fun new tradition, shopping for school stuff, teacher gifts and SO much more!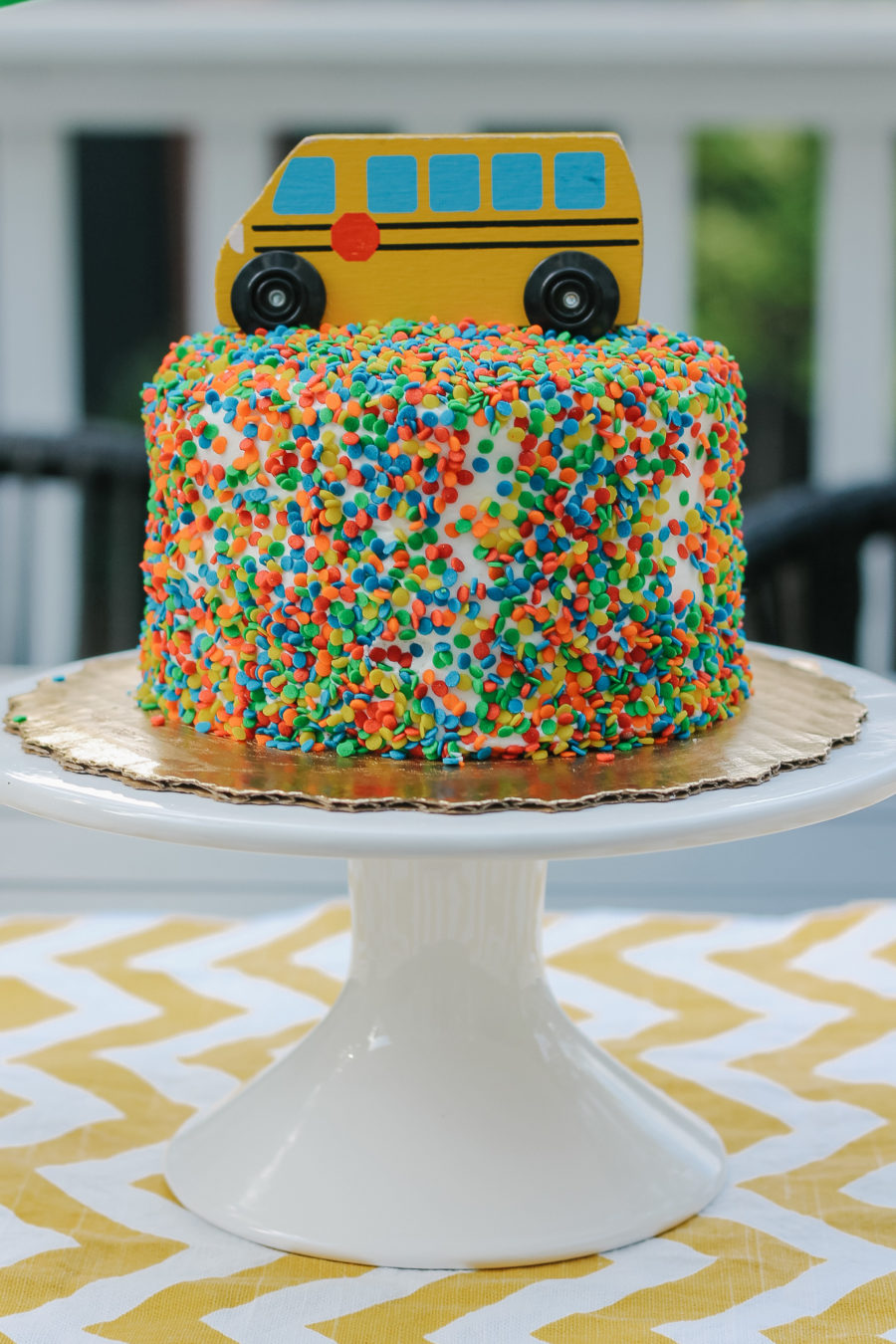 Back-to-School Dinner Tradition
Starting off with one of our favorite traditions — a back-to-school dinner.
Every year we celebrate the return to school with a fun family dinner. The kids absolutely love this tradition and it's an easy way to get them excited for the school year ahead.
These dinners can be as simple or extravagant as you want. I've always found a few decorations, a little activity or game, and a cake or an ice cream bar always kicks up the excitement for the kids.
Sometime during dinner, we also have them fill out a back-to-school questionnaire (we use this one), and after dinner we mark their height on a doorframe in our kitchen! It's been so fun to watch them grow over the years. Before we moved we took a picture of all our measurements and are going to add them to our new home!
FUN DINNER IDEAS: Make Your Own Pizzas / Cheese & Chocolate Fondue / Shrimp Boil / Burger Bar / Nacho Bar / Roll-Your-Own-Sushi / Fancy Steak Dinner / Homemade Spaghetti Dinner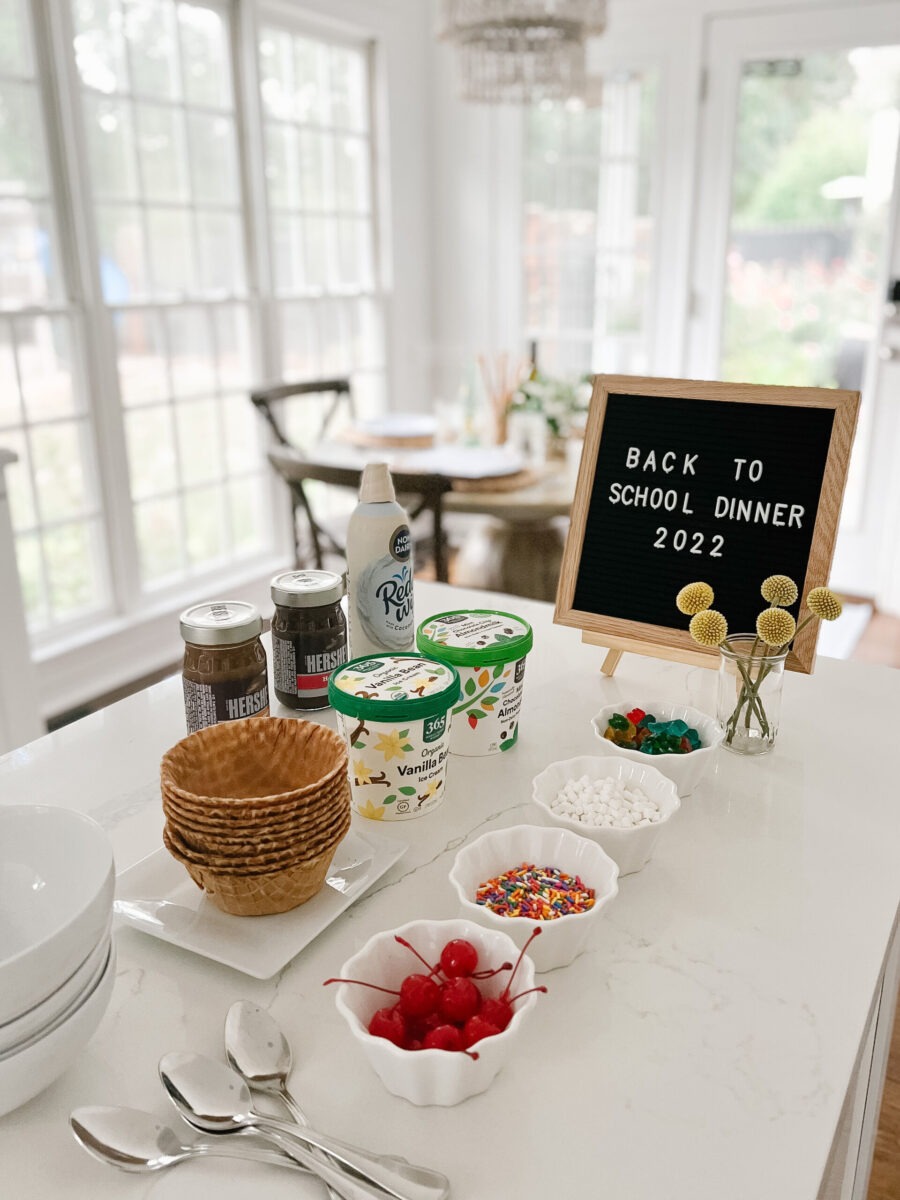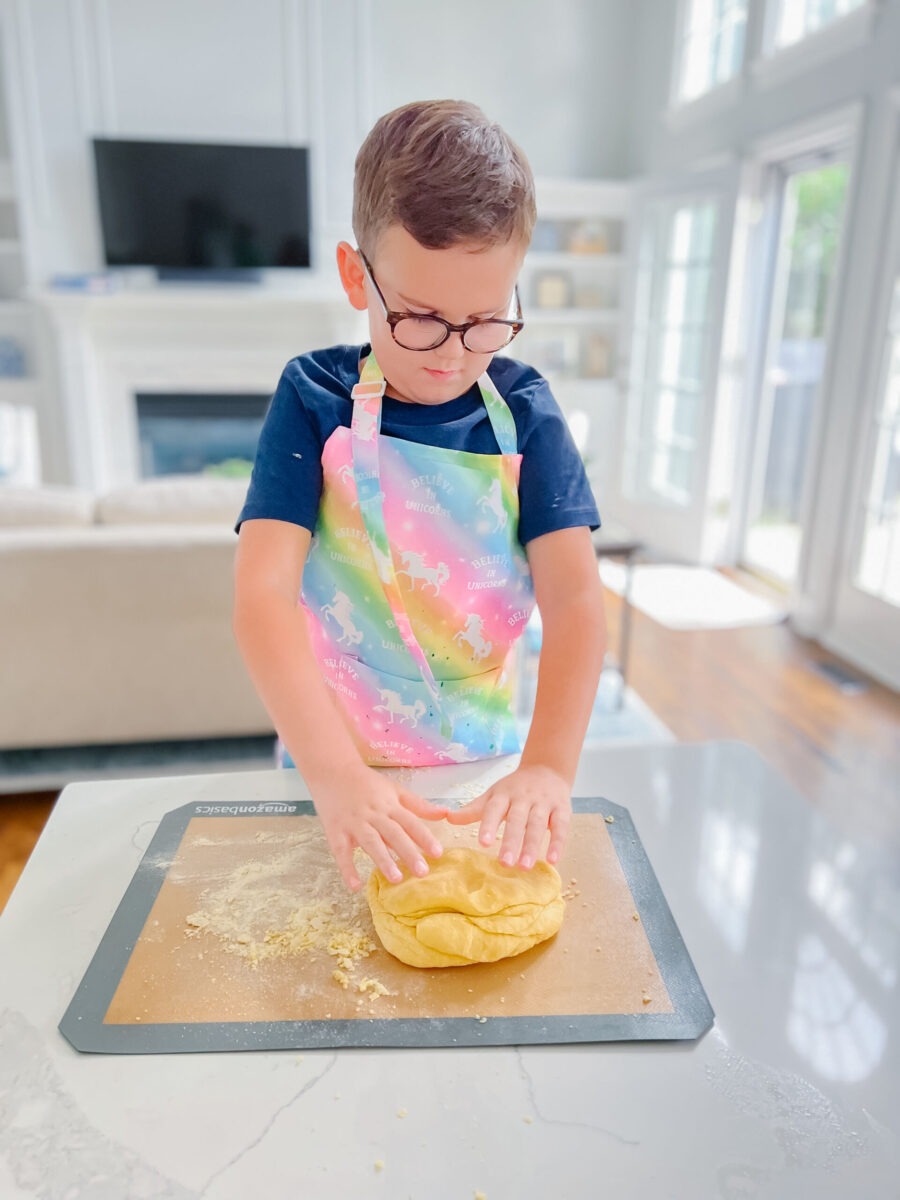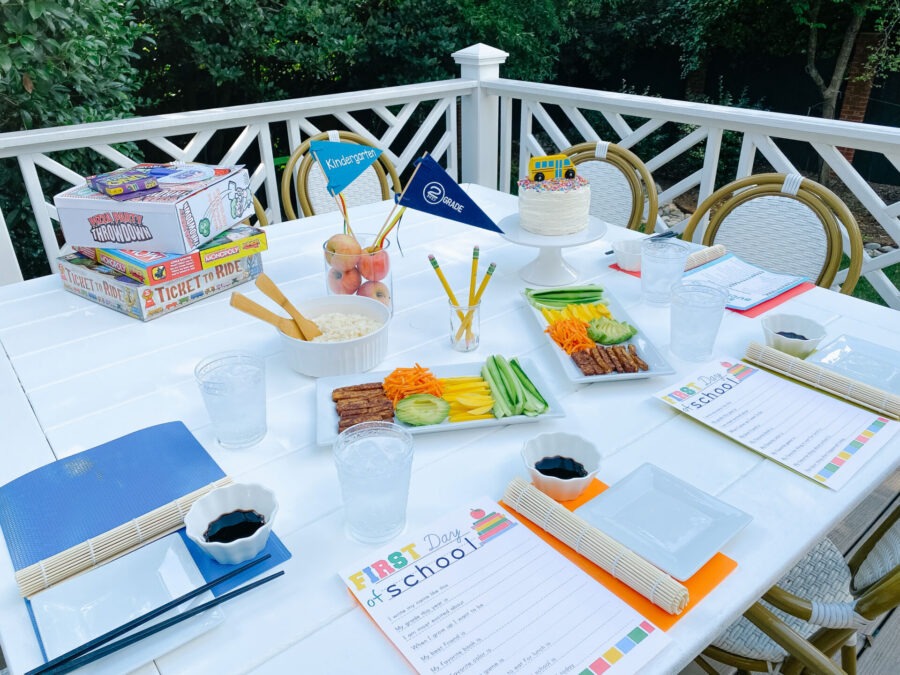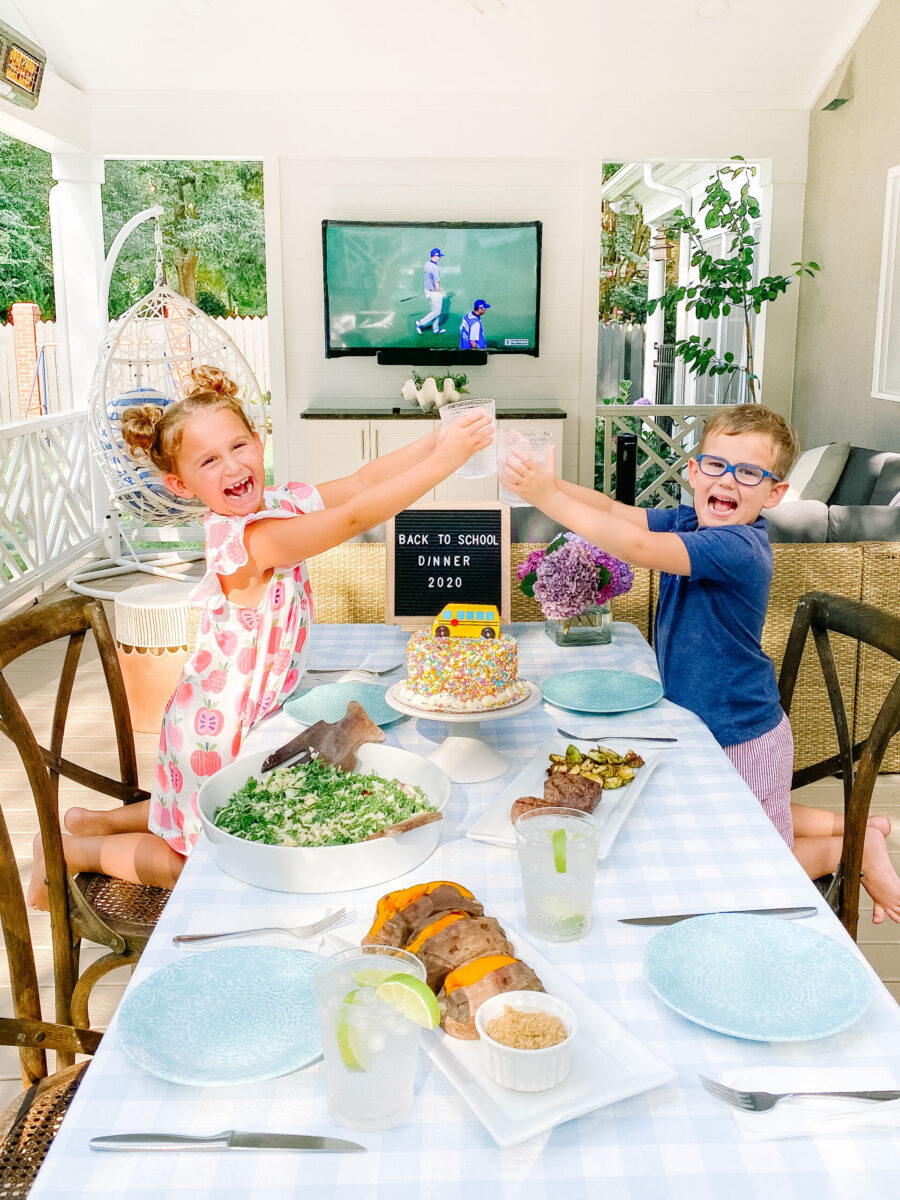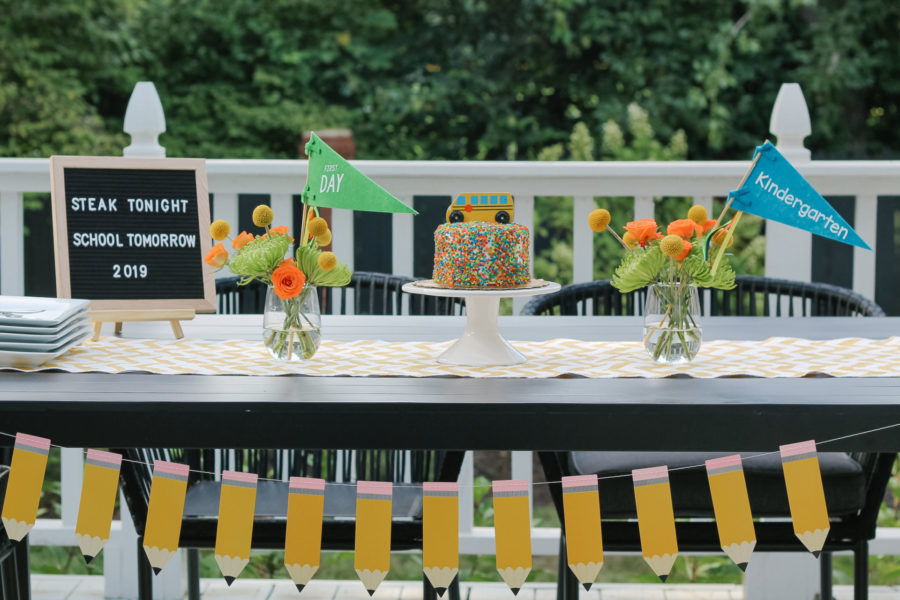 Back-to-School Shopping
Next up? Shopping!! Here are a few of our favorite school items.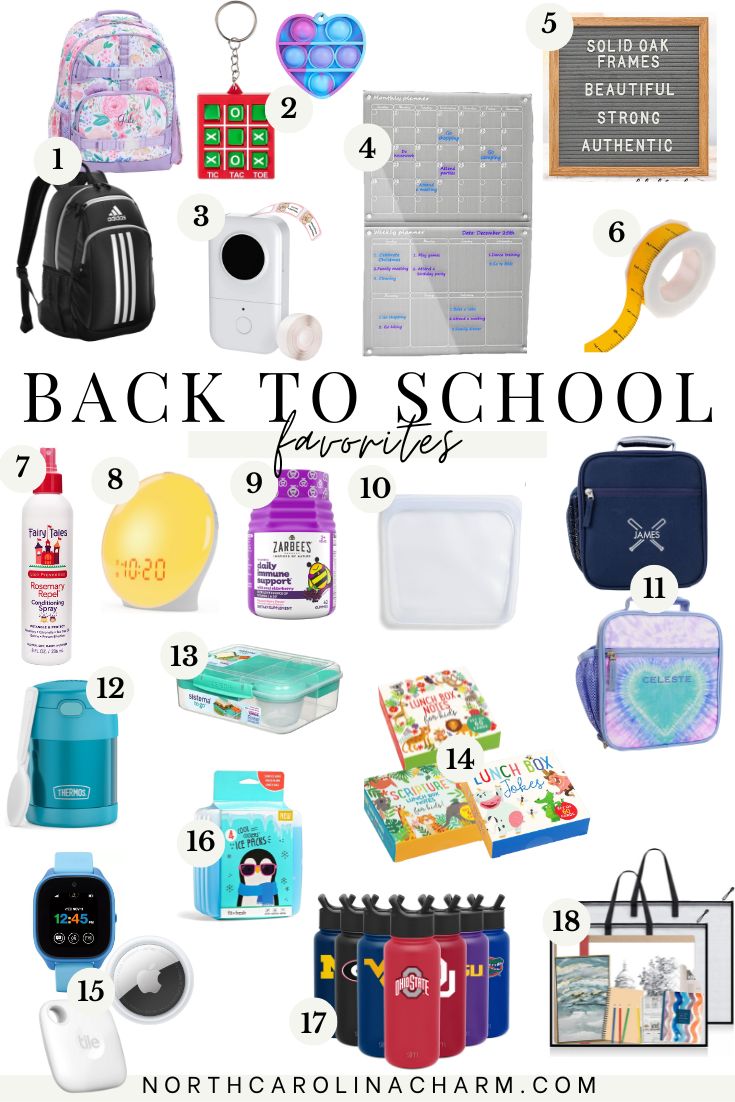 Backpacks (GIRLS FLORAL / BOYS ADIDAS): Last year we spent a little more for quality backpacks and it turned out to be the first year our backpacks actually made it through the entire year without needing to be replaced AND we are reusing them again this year!
Backpack Keychains (Tic Tac Toe / Pop Fidget Toys): Fun fidget toys for playing with while your kid(s) ride the bus, wait in the car line, etc.
Label Maker: For labeling ALL THE THINGS. This one is smaller and more compact than the one I have and is super affordable!
Acrylic Calendar: Perfect for the fridge so everyone can see what's going on for the week and for the entire month!
Felt Letter Board: For first day of school pics! Reminder: You don't need to take your first day of school picture on the actual first day of school. I usually have our kids try on their outfits the weekend before and snap their photo then so we aren't rushing on their first day.
Ruler Ribbon: For teacher gifts or for wearing in your hair as a bow!
Fairy Tales Conditioner Lice Prevention Spray: We love this detangling leave-in conditioner which also doubles as a lice prevention spray.
Sunrise Alarm Clock: For your heavy sleepers.
Elderberry Vitamins: We double down on elderberry the first few weeks of school to keep immune systems up and prevent sickness.
Art Portfolio Bag: One per kid! We like these for storing keepsakes like art, report cards, school award certificates, etc.
Lunchboxes (Girls + Boys): We decided to splurge on PB lunchboxes last year and were super happy with them. They are extremely durable and easy to wash (I throw mine in the washing machine). Ours take a beating throughout the year but come out looking brand new after a good wash. We're re-using our lunchboxes again from last year and I highly recommend getting the "cold pack" style which perfectly fits an ice pack. (PB Tip: If you have an older kid, check out PB TEEN lunchboxes for more design options.)
Stasher Bags: I really only use these for dry snacks outside of the lunchbox.
Insulated Food Thermos Container: Caroline would eat chicken noodle soup every day for lunch if I let her.
Walmart Bento Box: THE HOLY GRAIL OF ALL BENTO BOXES. I have shared this $10 lunchbox more times than I can count but I can promise you this is the ONLY lunchbox you need. It's so much better than any others we've used. It comes with multiple removable and stackable compartments, locks into place, and is dishwasher-safe!
Tile Mate + Apple Air Tag + Gizmo: The tile mate and air tags are a great way to keep track of lunch boxes and backpacks, and are especially great for pinging to see where the bus is.

Gizmo Smart Watches: I know smart devices are a very personal choice, but for us we feel most comfortable with our kids having a Gizmo watch. These watches have given us so much peace of mind when our kids started riding the bus (the bus app is extremely unreliable and was often hours late last year). These watches don't allow outside apps and can only call or text me and Matt. And per school rules, they keep their watches in their backpacks once they arrive to school. But they have also come in handy when the kids have needed to reach us during emergencies (last year Caroline witnessed a scary school bus crash in the lane next to her on the way to school and quickly called me to let me know her friend was on that bus and that I needed to get in touch with the mom immediately. I was able to track down that mom and she was first on the scene before any other parent was even notified of the accident.)

Lunch Box Notes + Joke Cards + Scripture Cards: I love all of these sets for lunch box notes!!! The kids always get a kick out of these.
Slim Ice Packs: These are the ice packs we use with our bento boxes.
Water Bottles: Hoping if I get Thomas an Ohio State water bottle he'll care more about keeping track of it…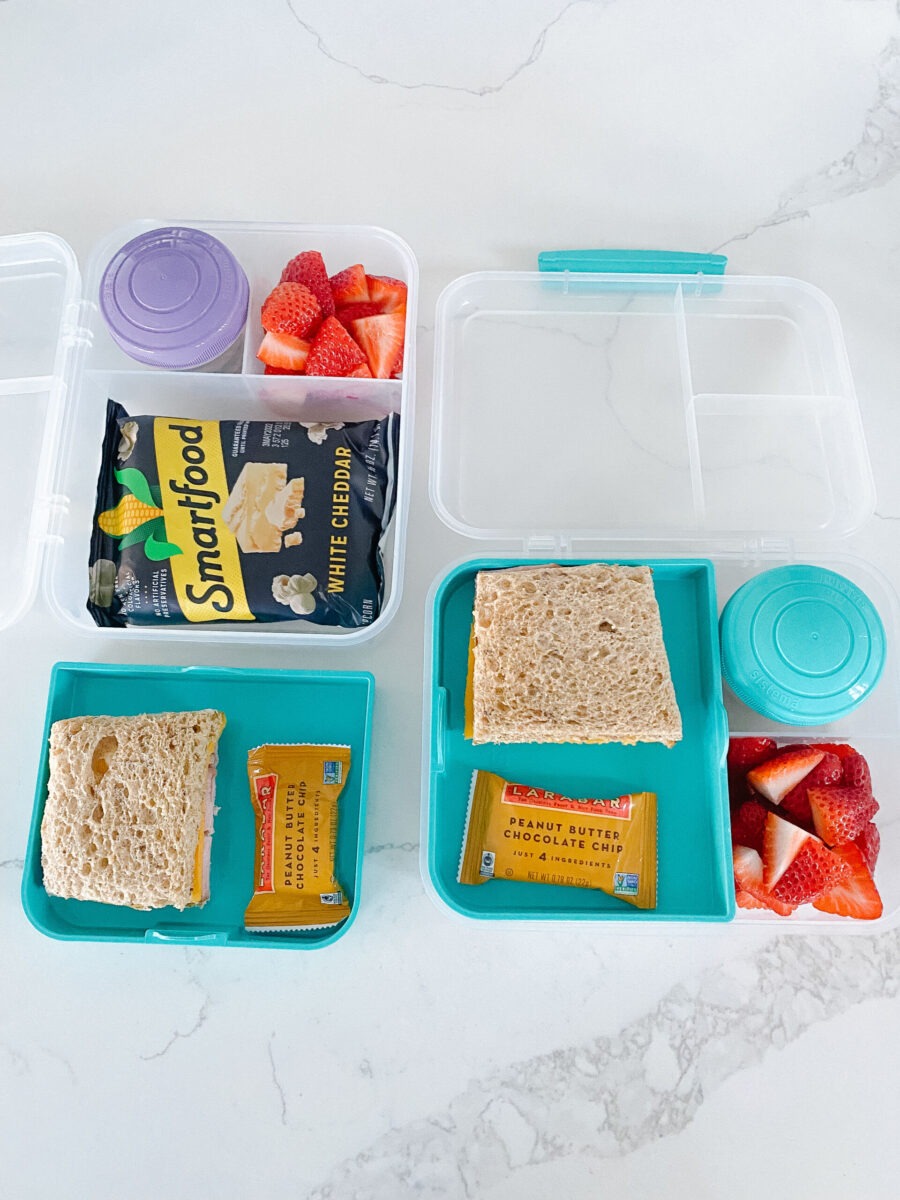 A few items we're scooping up for the kids this year. Thomas is 8 and Caroline is 9, so they pretty much only want to wear athletic clothes…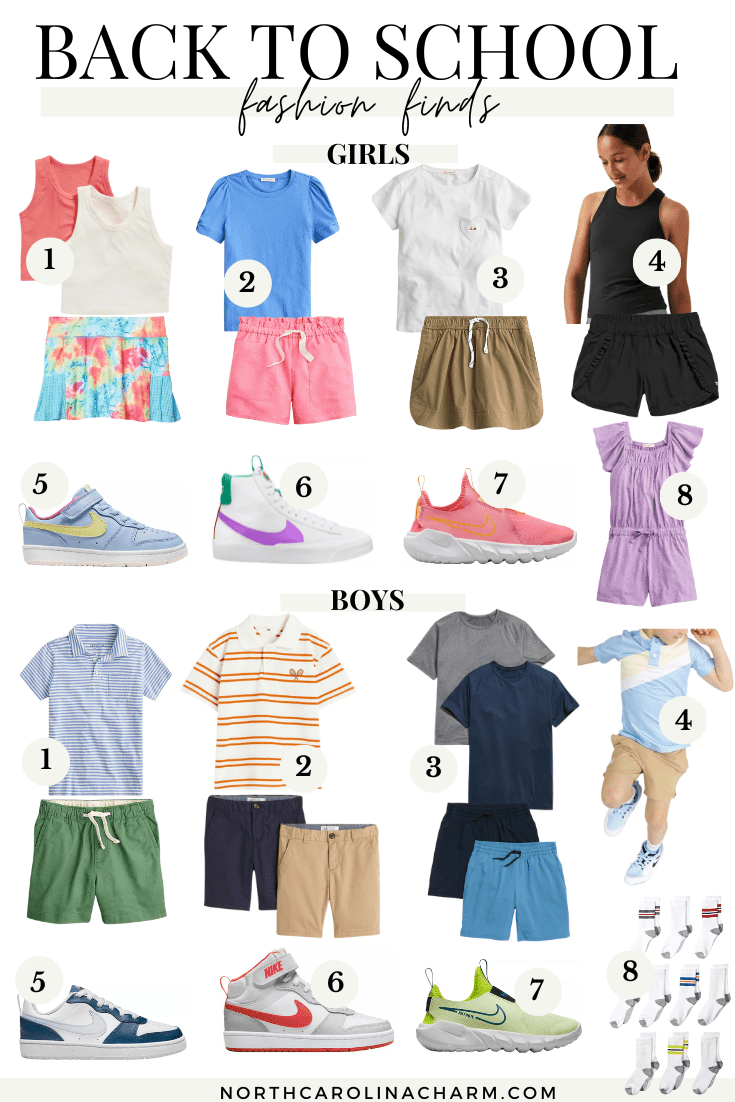 GIRLS BACK TO SCHOOL STYLE
BOYS BACK TO SCHOOL STYLE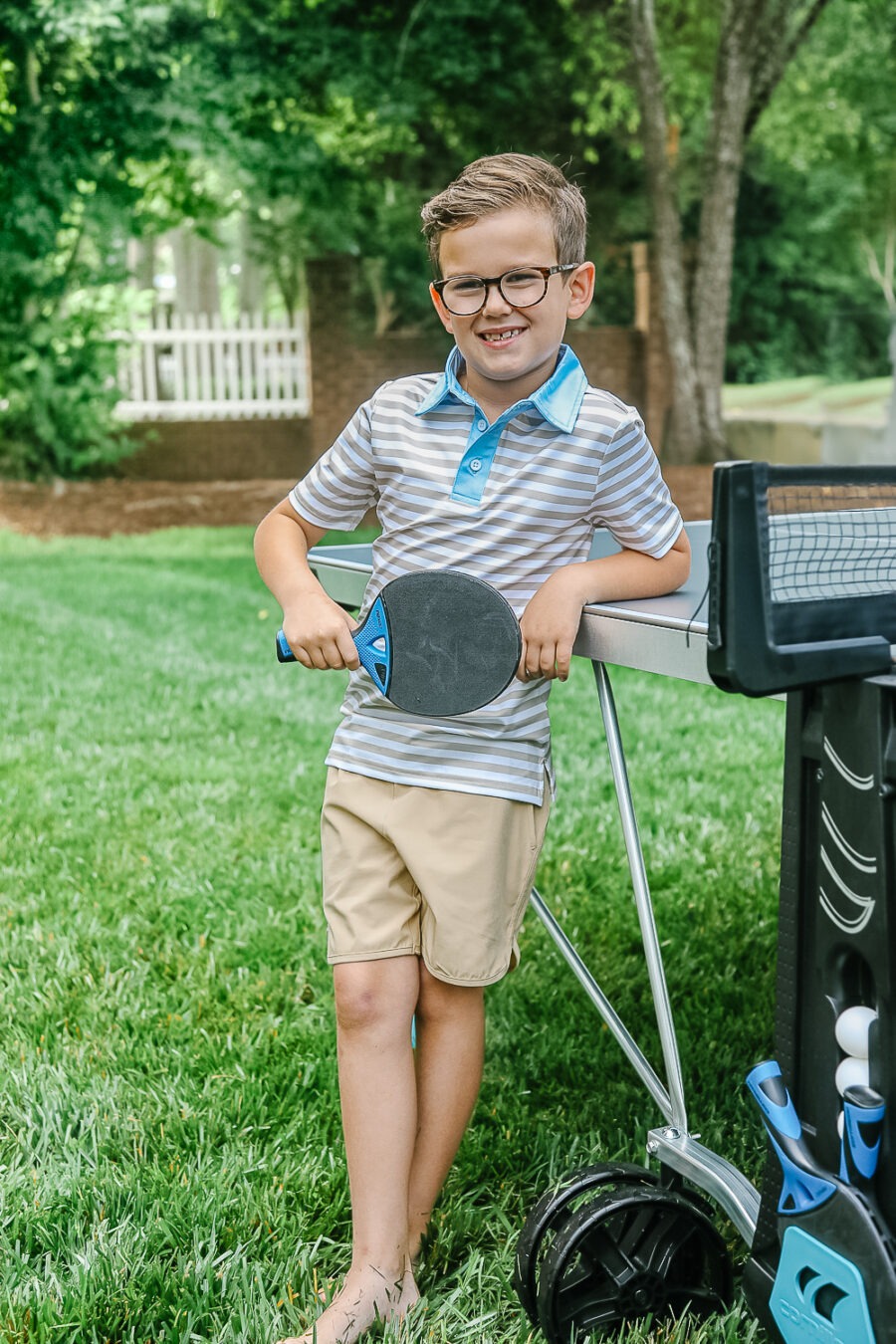 Teacher Support
A few teacher-related things!
Teacher Wish Lists: If you're feeling generous and would like to support a Title 1 or first-year teacher, we've got hundreds of submissions on this Teacher Wish List post! I know the needs these teachers are facing can be overwhelming and heartbreaking with items ranging from basic needs like underwear and laundry detergent to snacks, school supplies, holiday party items and so much more. No donation is too small and I know they are super grateful for any support!
Teacher Gifts: We usually send in Starbucks gift cards on the first day of school, but I've got an entire post dedicated to Teacher Gifts if you're looking for a small present to bring your new teacher.
Teacher Favorite Things: If you want to personalize your treats for your teachers throughout the school year, I would check with the room parent(s) to see if they have asked your teacher to complete a favorite things survey. If not, I created this Favorite Things Survey (back when I served as a Room Mom) that you can send in with kid(s) at the beginning of each school year for their teachers to complete and return to you. To download it, right-click and hit save image as.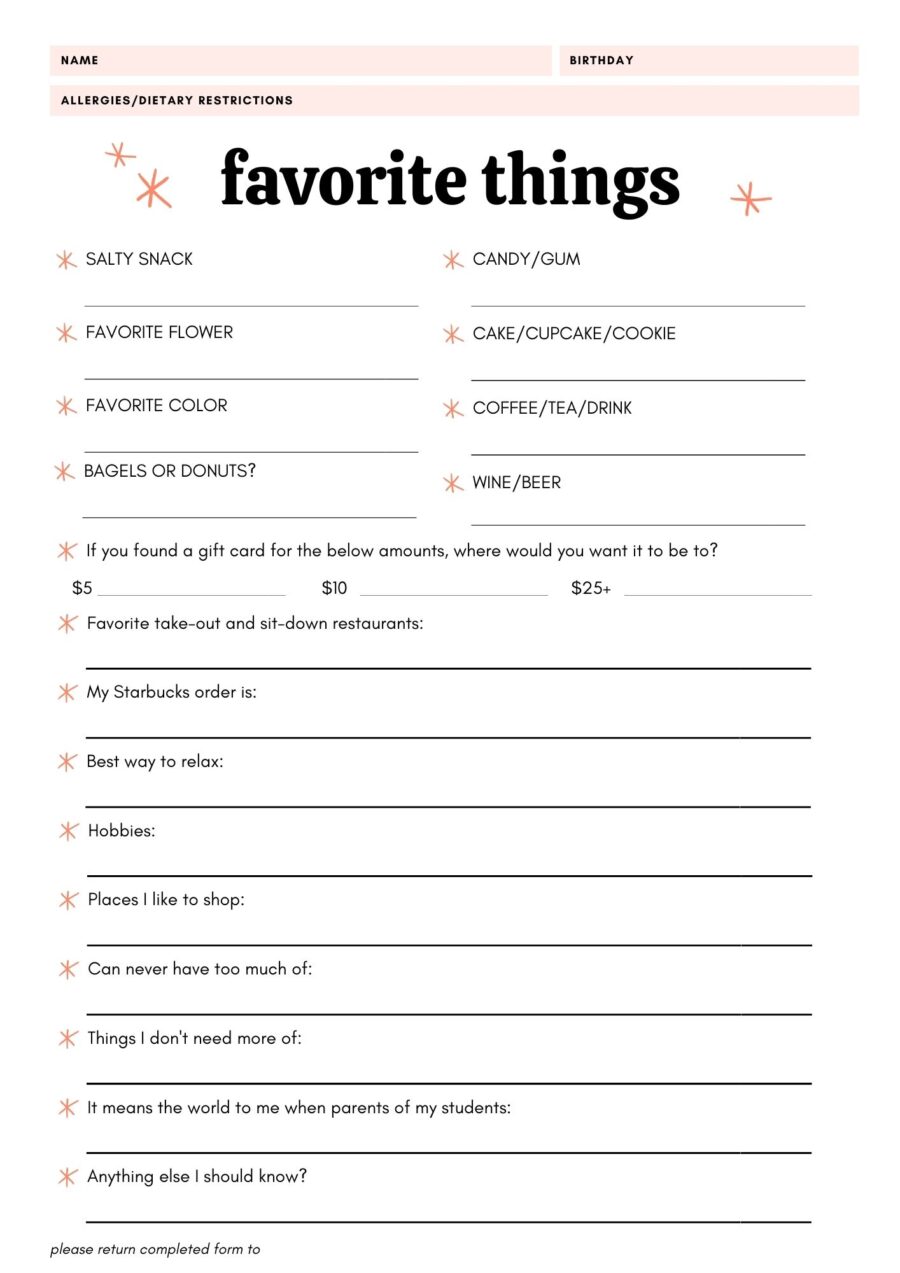 The After-School Restraint Collapse
This post is already super long, but I wanted to share about the "after-school restraint collapse" again for mamas with Kindergartners (or kids starting daycare or ANY new grade) in case any of you experience this with your kid(s) and are wondering what in the heck is happening.
A few months after starting Kindergarten, Caroline began coming home highly emotional and would easily explode into tears over little things like putting on a jacket, doing her homework (which she loves), learning what's for dinner, taking a bath, etc. This behavior was so uncharacteristic for her and Matt and I were desperate to figure out what our sweet girl was going through. No matter how much sleep she got she would arrive home absolutely exhausted and would crumble on a dime into a million pieces for absolutely no reason.
Finally, we had a breakthrough when another mama shared the "after-school restrain collapse" with me.
So you know how when your kids go to daycare or to a friend's house for a play date and the mom or teacher raves about how great they are? Our kids hold it together all day trying to meet expectations, manage challenges and be "good." Then they run out of energy and release all their true emotions when they get to a safe place (ex: home!).
For kids, they may become weepy, throw tantrums, be unreasonable, disrespectful or mean to their siblings. And in my research I learned that the after-school restraint collapse is even more intense for sensitive kids (ahem, Caroline). The good news is that it's temporary and should subside as your babe fully adjusts to the change in environment and schedule.
So what are you supposed to do to get through those first few months?
The best advice I found on this is to find a decompression strategy that works for your kid, make room for their tantrum and validate their emotions.
For Caroline, during the summer months we would take family bike rides together after school. And once it got cold, she really loved taking a long bath with "special bubbles" while watching a show on my iPad. And when she fell to pieces we would give her a big hug and tell her "We got you, baby girl! You had a long day! It's OK to let out that exhaustion and relax for a bit!"
And after a few months, she was emotionally collapsing less and less.
I hope this helps you mamas with kids heading to the next grade, a new school or a new routine.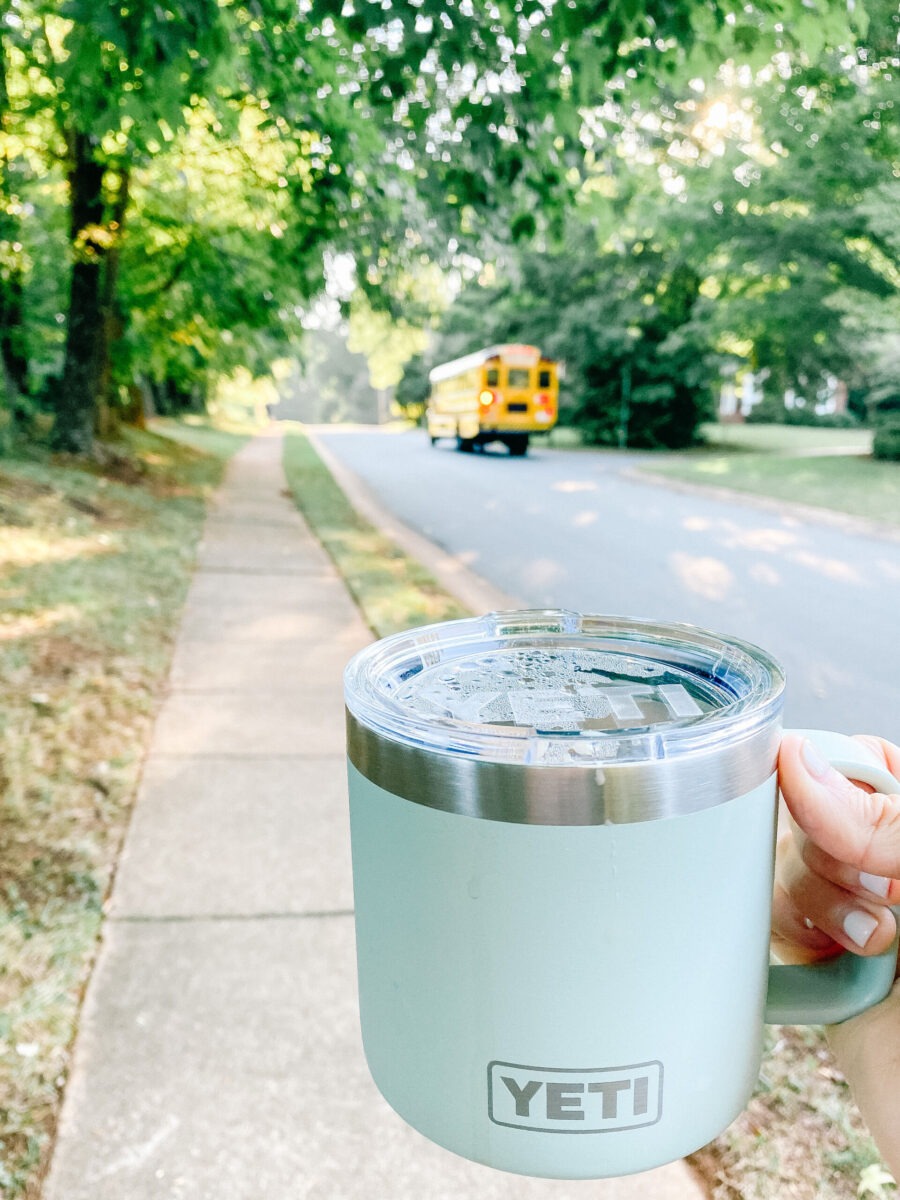 Wishing you the best school year ahead!