Outside of our master bathroom renovation I think our staircase makeover and flooring have been among our biggest transformations in our new home! Who knew painting rails would make such a ginormous impact?
Let's take a look at what we were working with…
BEFORE
Hardwoods Refinishing
We knew refinishing our hardwoods would be a pretty penny to do but we are beyond happy we did it now…because had we not, we probably would have never done it! Also, this project (and interior paint) really transformed the house into home for us. It made our new space feel clean, updated, and more like us!
Originally we had planned to go super dark on our floors. In fact, Matt and I were both split between Jacobean for his vote and Dark Walnut for mine. But after receiving so many comments on my insta-stories advising us not to go dark, we reconsidered our stain. I owe you all a huge thanks for the stern warnings against being slaves to cleaning dark floors. So we asked for 4 more colors to review…
And then we had the kids run all over them to give them the ultimate dirt test and polled our friends a million times before selecting…
50% Dark Walnut mixed with 50% Provincial. And we've been REALLY happy with them.
I almost cried happy tears when our hardwoods guy sent me this picture of the freshly stained floors (still very wet here)! A tremendous improvement from the well loved honey stained floors. We also replaced all of the floor return registers throughout the house. Most of the original vents were either broken or severely rusted out and disgusting…
I loved the wicker design on these registers. You can buy them from Amazon or if you're frugal like me you can go to ebay and buy a set of $15 off $50 printable Lowes coupons for .99 and then buy your registers in quantities of 4 at a time from Lowes. It may not sound like much, but when you need like 20 registers, this savings adds up quickly! I placed all of my orders online for in-store pick-up and I also used ebates for cash back on all of my Lowes purchases! You can sign up for ebates here!
Staircase Banister
The next project was painting the banister. I knew painting the banister was a risky move but it was one I was
willing to take — and I'm so glad I did. I am obsessed with how it turned out. I wanted to go dark for a nice contrast, but not too dark since my walls were painted a super light grey. I spent many, many nights scrolling through Pinterest and researching paint colors. It finally came down to Benjamin Moore Wrought Iron and Sherwin Williams Tricorn Black.
We selected Benjamin Moore Wrought Iron and love that it's a super dark grey instead of black! It perfectly contrasts our wall paint and flooring.
And a year later we tackled the wall niche!!! We dry walled it up and hung a mirror!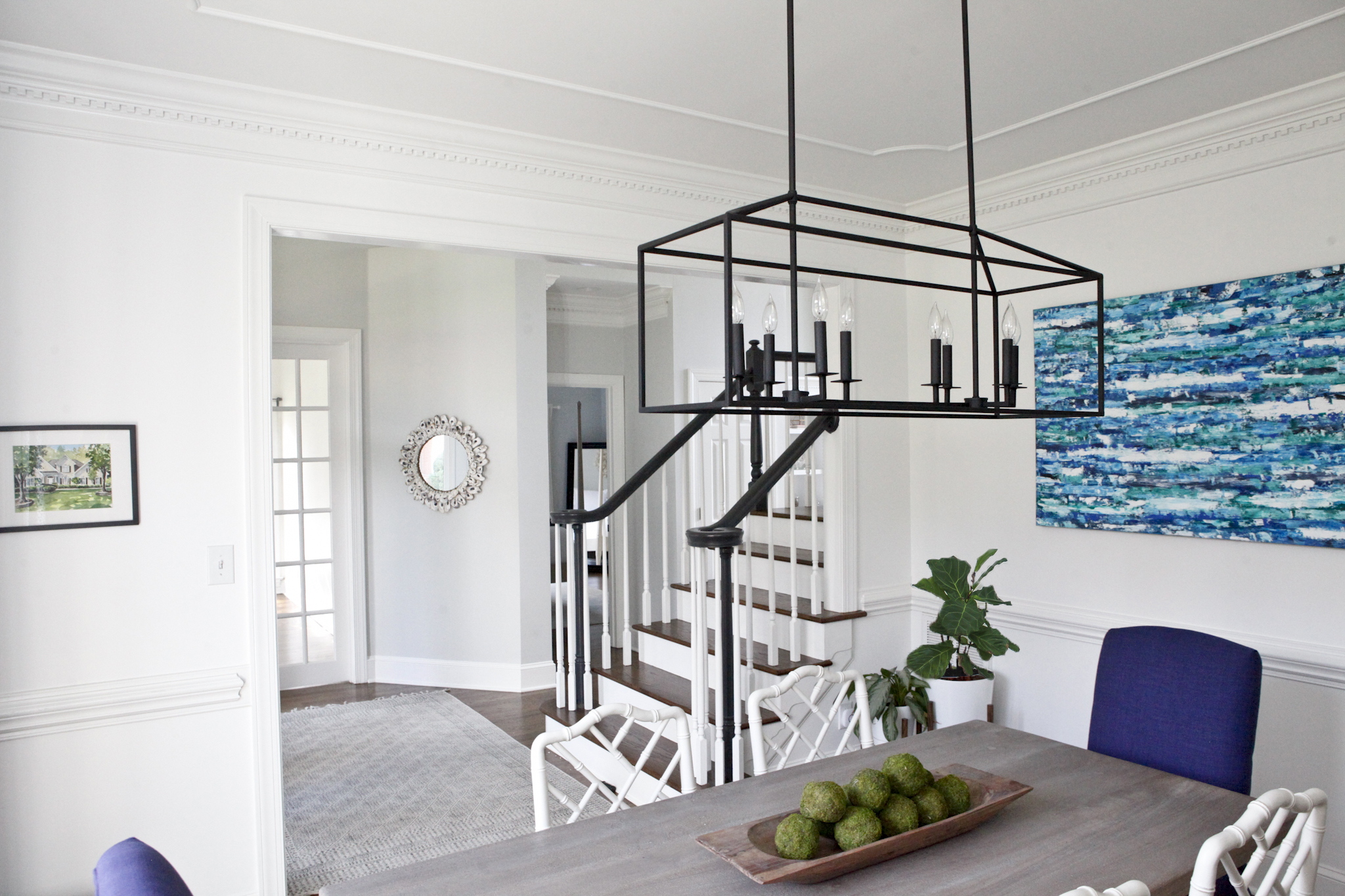 SOURCE LIST
Hardwood Floor Company: Hudson Hardwoods
Wall Paint Color: Benjamin Moore Gray Owl cut 50% in cashmere finish
Trim Color: Benjamin Moore Chantilly Lace
Banister Color: Benjamin Moore Wrought Iron
Hardwood Stain: 50% Provincial + 50% Dark Walnut
Floor Registers