To celebrate our first day of school, I thought I'd share a week of school lunch box ideas that are fun for kids and easy to whip up! This round-up also includes a grocery list for lunch boxes fill with breakfast, sushi, charcuterie, sandwich kabobs, and DIY pizza!
Here's to a happy and delicious school year…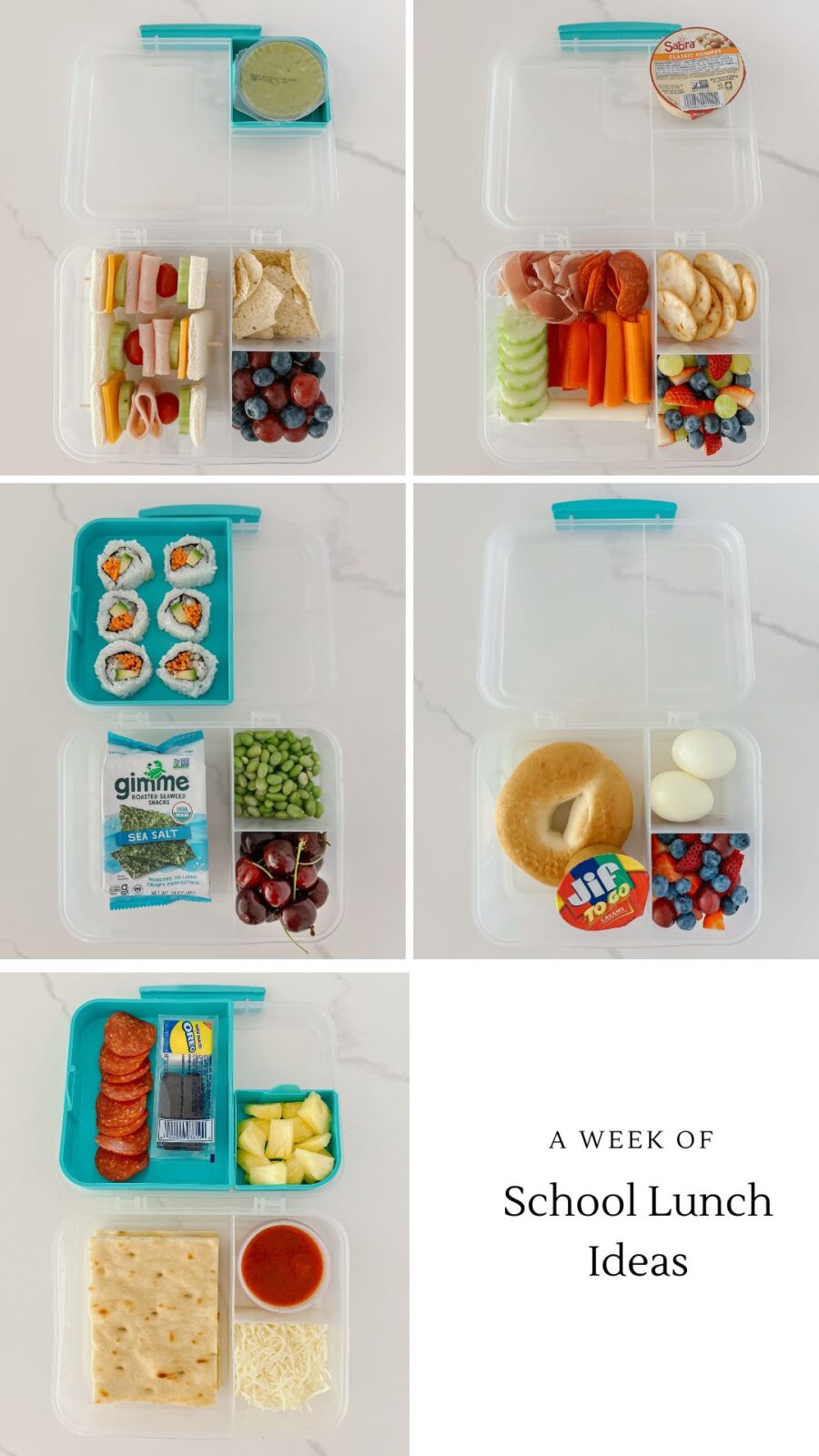 Our Favorite Lunch Box
Before we dive into the lunch ideas I wanted to share our favorite lunch box and bento box insert that we've been using for a few years.
Lunch Boxes (Girls + Boys): We decided to splurge on PB lunch boxes last year and were super happy with them. They are extremely durable and easy to wash (I throw mine in the washing machine). Ours take a beating throughout the year but come out looking brand new after a good wash. I highly recommend getting the "cold pack" style which perfectly fits an ice pack. (PB Tip: If you have an older kid, check out PB TEEN lunchboxes for more design options.)
Walmart Bento Box: THE HOLY GRAIL OF ALL BENTO BOXES. I have shared this $10 lunchbox more times than I can count but I can promise you this is the ONLY lunchbox you need. It's so much better than any others we've used. It comes with multiple removable and stackable compartments, locks into place, and is dishwasher-safe!
Slim Ice Packs: The perfect size ice pack to keep the lunches chilled.
Lunch Box Notes + Joke Cards + Scripture Cards: I love all of these sets for lunch box notes!!! The kids always get a kick out of these.
Brunchable Lunch Box
I love breakfast for lunch and so do my kids. And the best part is there are SO many breakfast items you can play with to customize this lunch. Some other options include a yogurt parfait, cooked sausage links or patties, a few mini pancakes, french toast sticks or waffles with syrup, mini muffins, croissant, etc.! Don't forget to pack a utensil for the bagel spread.
Grocery list
Bagel
Peanut butter (can also use sun butter, cream cheese, or any other favorite spread)
Hardboiled eggs
Fruit (strawberries, blueberries, and grapes)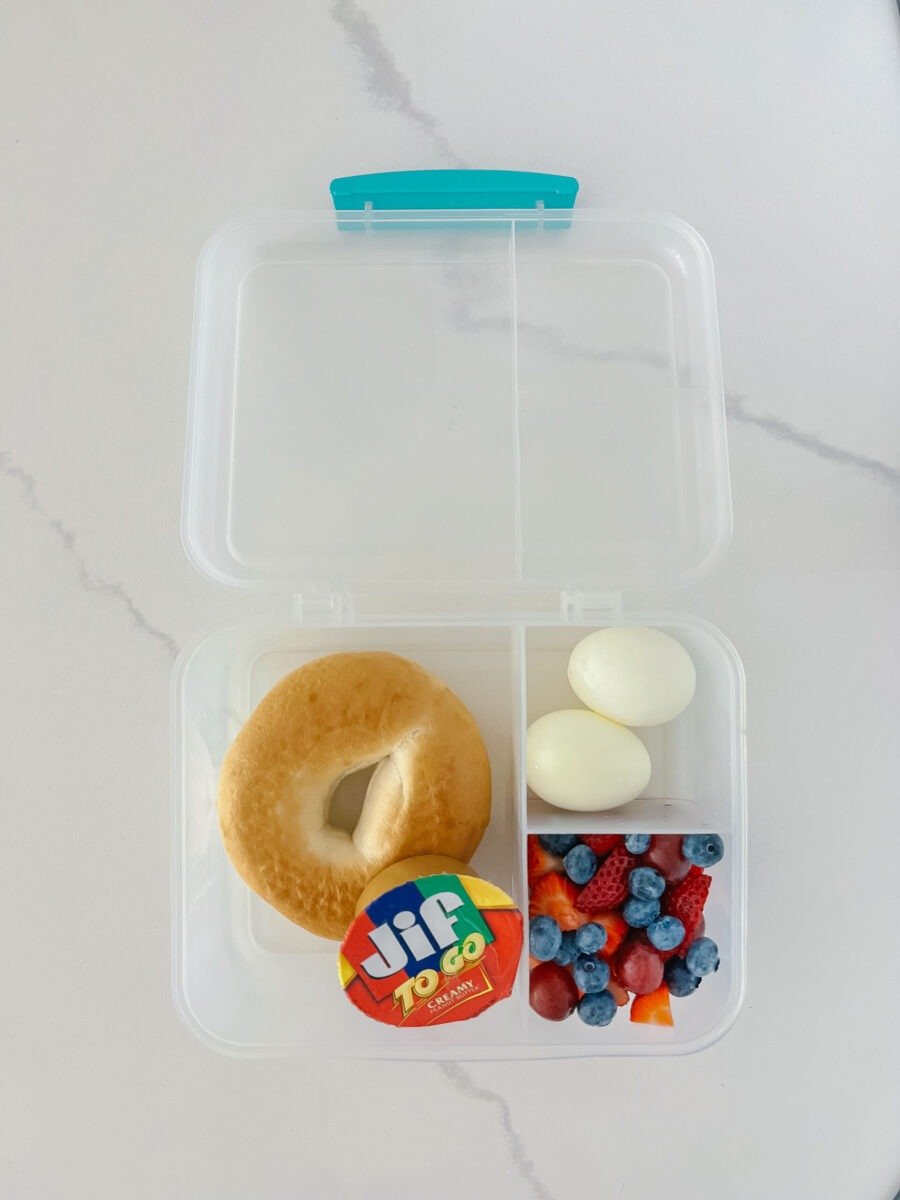 Sushi Lunch Box
Both of my kids' favorite lunch, I try to make this once a week. You can roll your own sushi or you can grab a roll from the grocery store. I split a veggie sushi roll between both kids and it's the perfect amount for lunch.
Grocery list
Veggie sushi roll
Roasted seaweed chips
Edamame
Cherries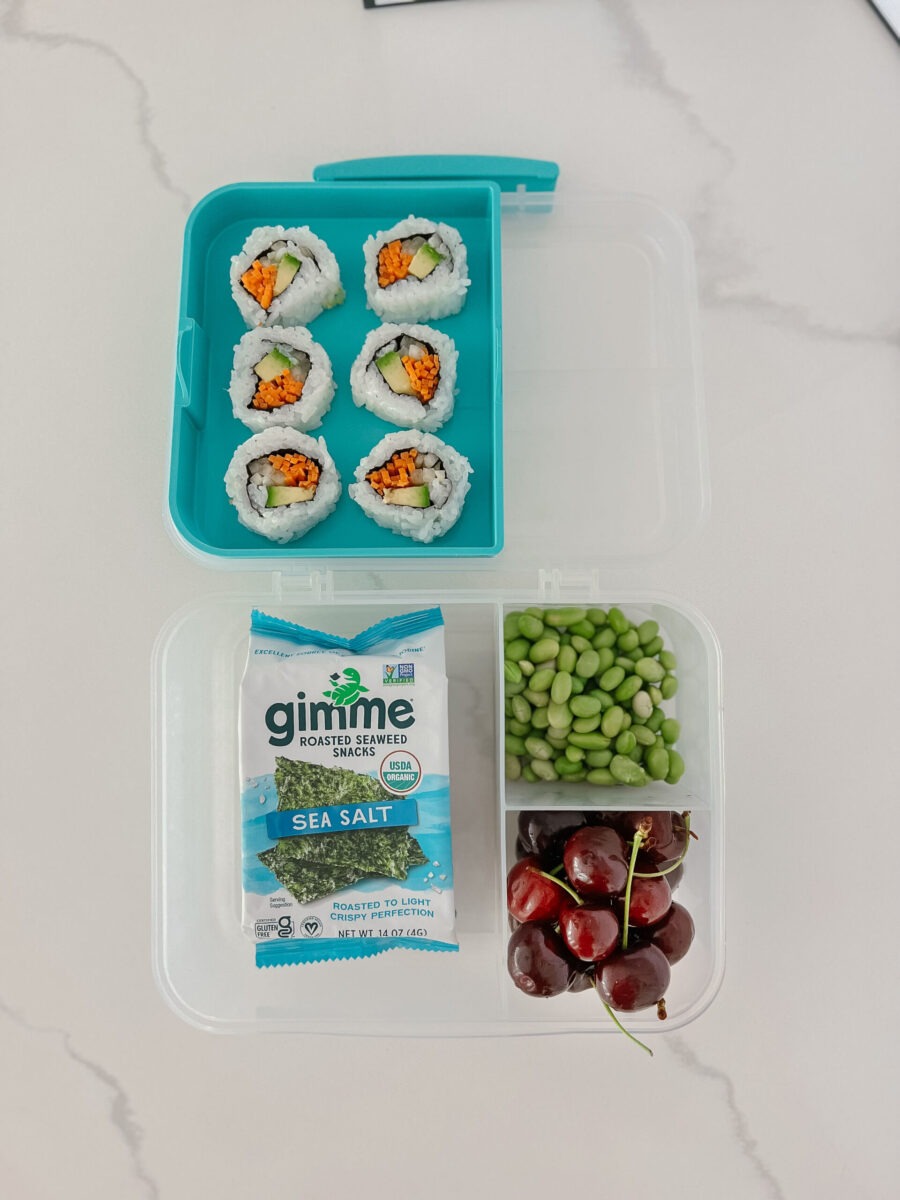 Charcuterie Lunch Box
Perfect for a "snacker," this lunch is the ultimate collection of meats, cheese, fruits and veggies!
Grocery list
Prosciutto
Pepperoni
Hummus
Cucumbers
Carrot sticks
Red pepper
String cheese
Crackers
Blueberries, strawberries & grapes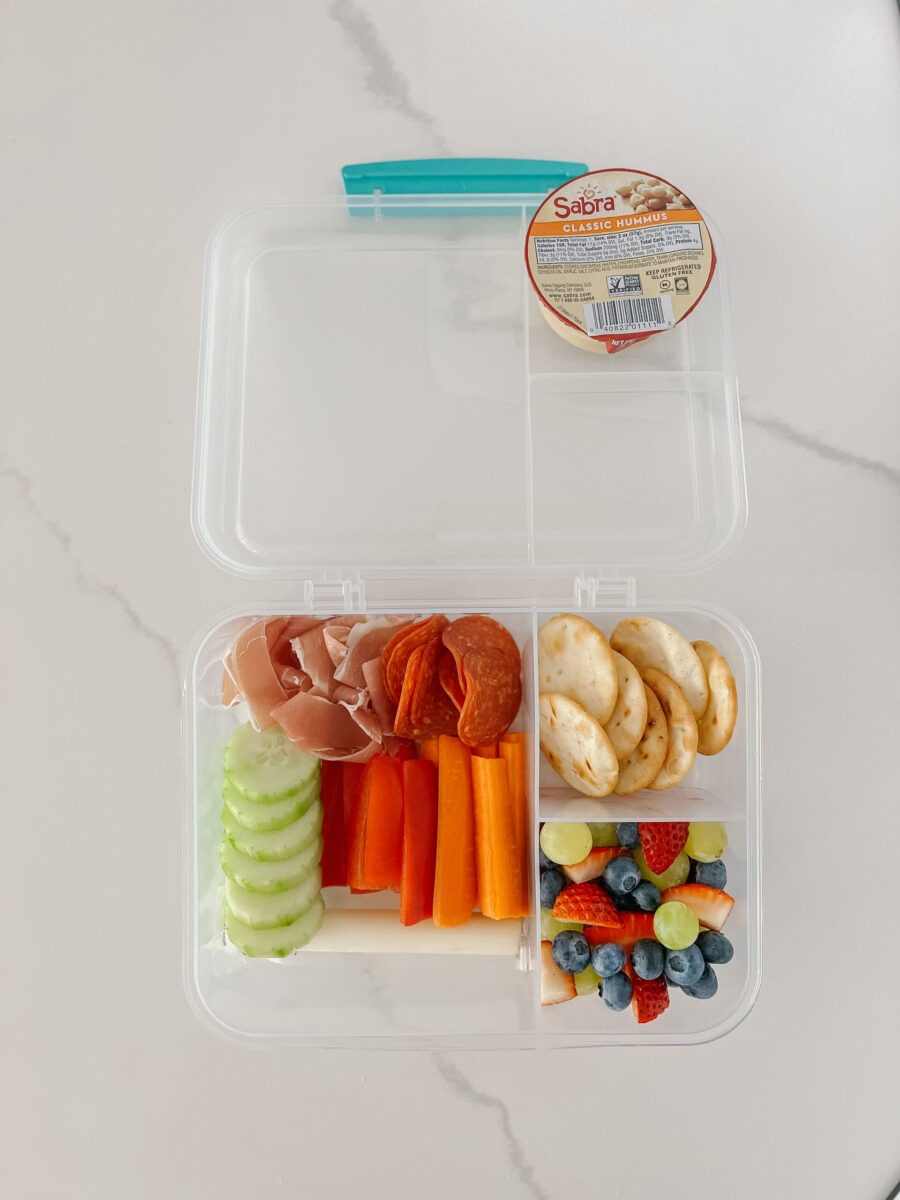 Sandwich Kabobs
I started putting my sandwiches on kabobs when I got tired of throwing away sandwiches every day when I emptied their lunch boxes. I decided to experiment with different ways to serve a sandwich and the kabobs are like magic — both kids LOVE a sandwich kabob.
Grocery list
Sandwich kabob: sourdough bread, sliced cheddar, cucumber, turkey, grape tomato
Chips
Guacamole
Grapes and blueberries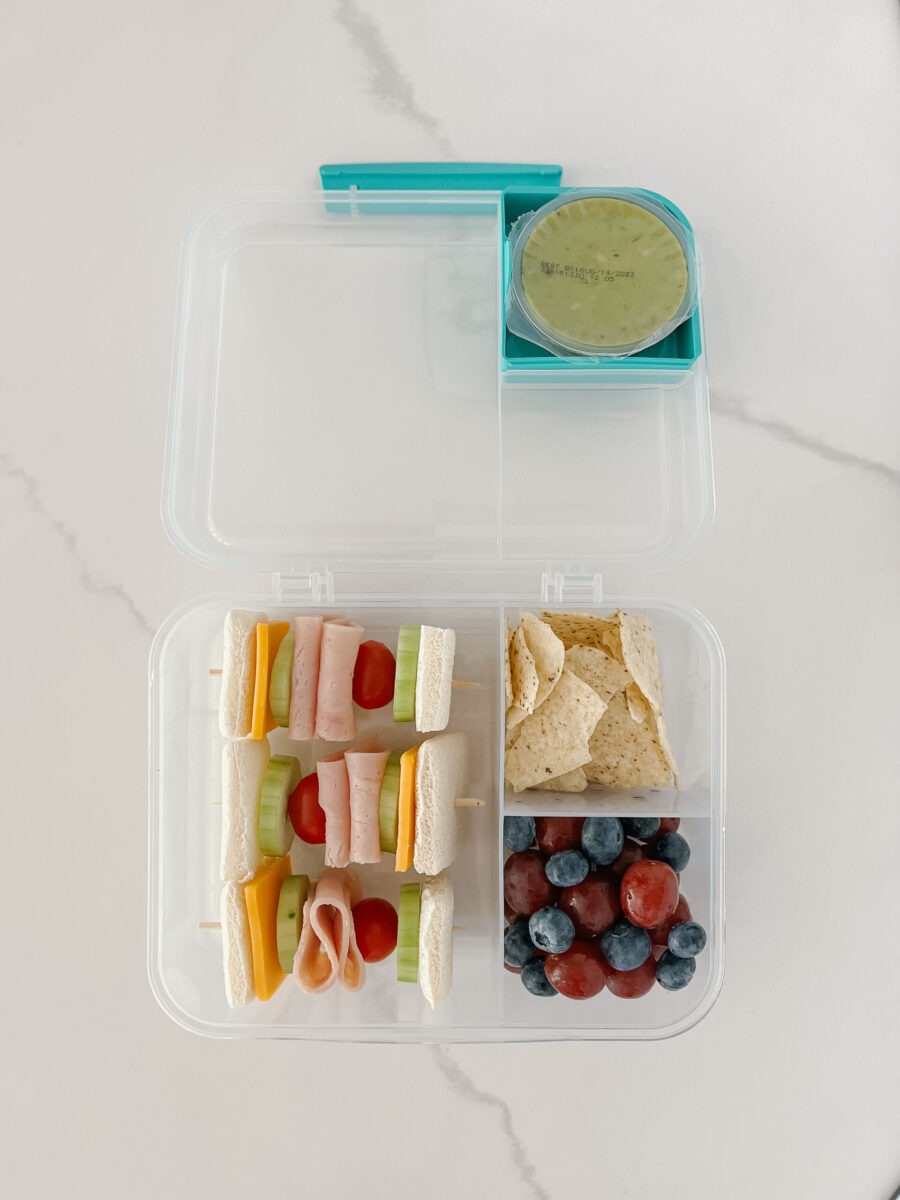 Homemade Lunchable
A fun box for Fridays, this make-your-own-pizza "lunchable" is always a hit!
Grocery list
Flatbread (I divide larger flatbreads into quarters to fit into the lunchbox)
Pizza sauce
Mozzarella cheese
Pepperoni
Pineapple
Oreo dippers
Don't forget to check out my REEL ON INSTAGRAM with all these lunch box ideas!
Posts You May Also Like