If you're looking to deep clean your towels, I've got an easy laundry stripping recipe for you — and it doesn't require soaking your towels all day in the bathtub.
We all know there is nothing worse than stepping out of the shower to a towel that smells like it sat a little too long in the washer machine, right? Gross.
Each week I deep clean all my towels in one giant load. The load includes all the kitchen dish towels, bathroom hand towels, my make-up remover washcloths, and bath towels. The only towels that usually don't make it into this load are pool towels since they come home wet and get smelly fast if they sit too long in the laundry tub. Since we only wash all our bath towels once a week, we make sure they are completely dry before we throw them in the hamper.
But before we get down to the laundry stripping process, I want to revisit our hilarious Instagram Bath Towel Discussion. I loved re-reading all the responses on how often you use your bath towels before washing over on Instagram! We try to use our towels a few times before tossing them in the laundry hamper, but inevitably the kids will take their towels to their rooms to get dressed and leave them somewhere along the way…then grab a new towel the next night. So they go through a lot more towels than we do.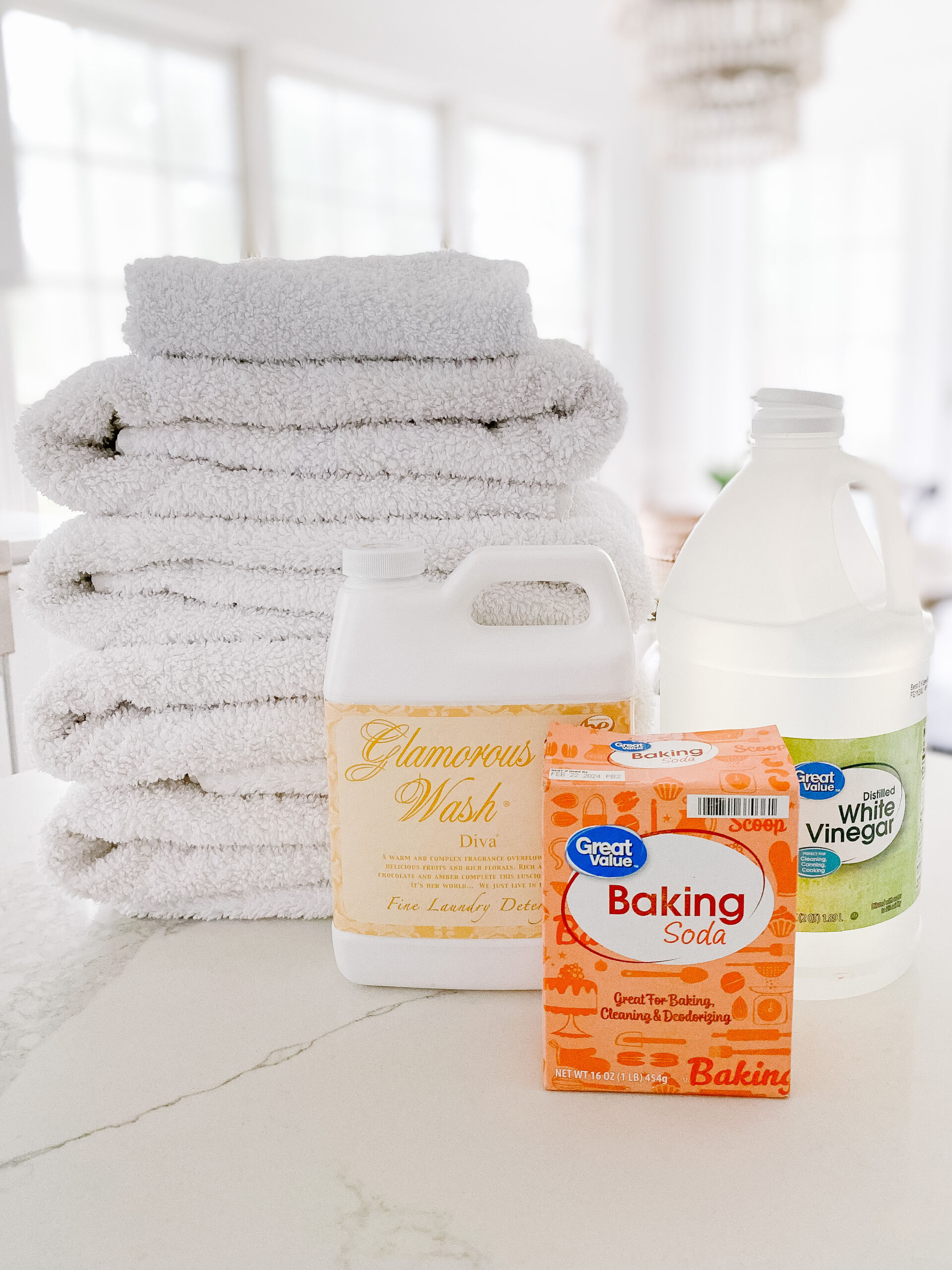 Laundry Stripping Recipe Products
1 cup White Vinegar
1/2 cup Baking Soda
1/4 cup Glamorous Diva Wash (totally optional, but see notes below)
How To Deep Clean Towels (Easy Laundry Stripping Recipe)
For this deep cleaning method, you do not need to use laundry detergent or fabric softener at all. In fact, I've been stripping laundry without powdered laundry detergent for years. But then I was introduced to Glamorous Diva luxury detergent and started using a small amount in the second rinse cycle (the baking soda cycle) and oh my gosh my towels smell absolutely incredible. This detergent is pricier than my regular detergent but I promise it is worth every penny…and will last a while as it is highly concentrated. I discovered this heavenly detergent back last December when April gifted it at our Community Group Favorite Things Party with the suggestion to use it on our own clothes (not the kids' dirty socks and underwear), sheets, and towels! Solid advice. While it's not the cheapest detergent, a little goes a LONG way!
Quick disclaimer & story: This is a VERY strong fragrance and you will either love or HATE it. So start with a small bottle, maybe even split one with a friend to try. I was so excited to wash our sheets the very next day after receiving this detergent that I actually decided to clean out the washing machine filter just before using it. After throwing the sheets in the wash on the extra-long deep clean cycle, I sat on back-to-back calls the rest of the afternoon only to find my laundry room was completely FLOODED when I returned to flip the wash. Apparently, I had not screwed the filter back in all the way so the water just poured right out all over the floor for 90 minutes. Anywayyyyyyy, the fragrance was SO strong that my ENTIRE house smelled like this laundry detergent for DAYS! When Matt walked into the house that evening (not knowing about the flood), he could not stop raving about the fragrance!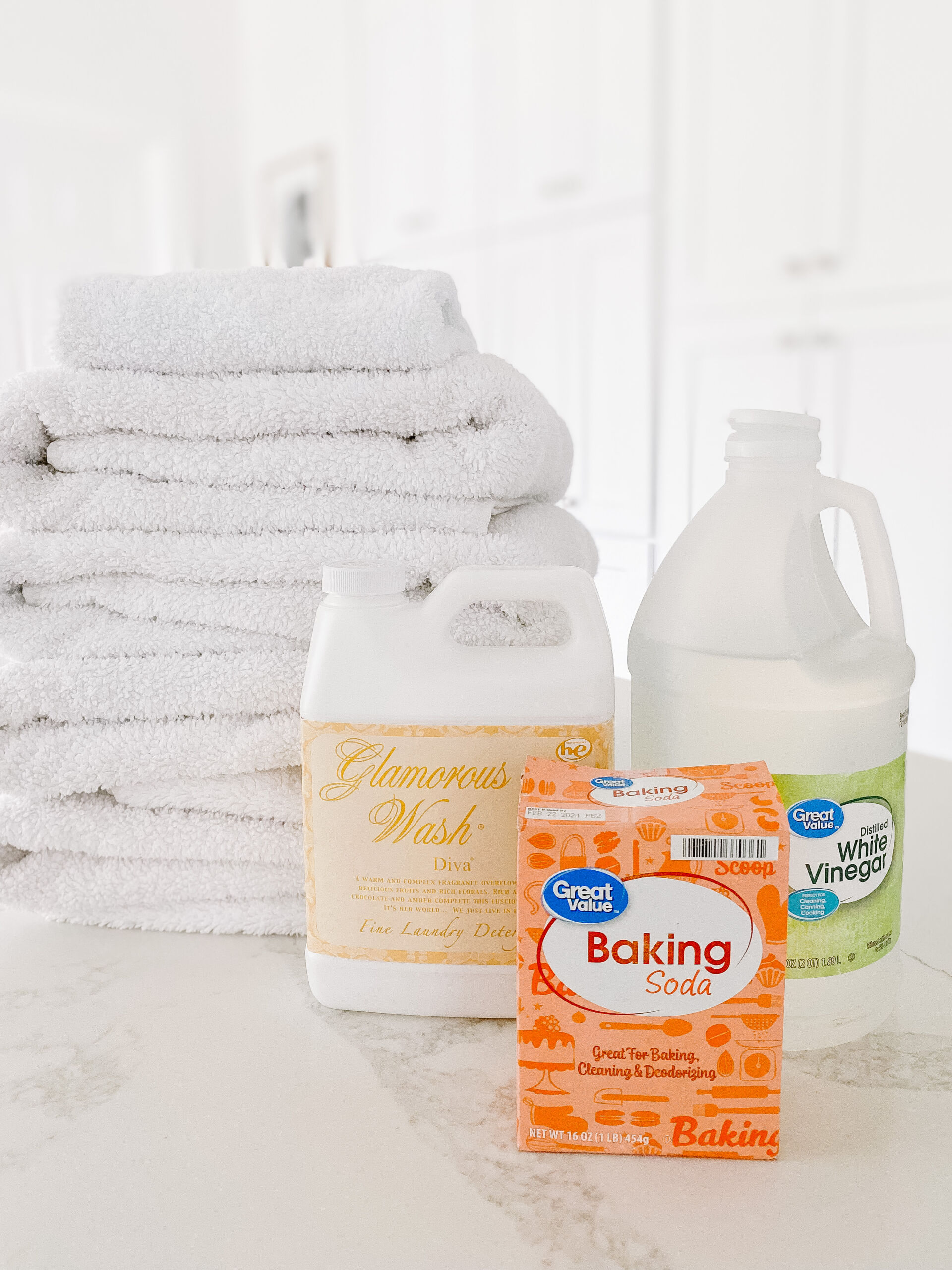 How to Deep Clean Towels - Laundry Stripping Hack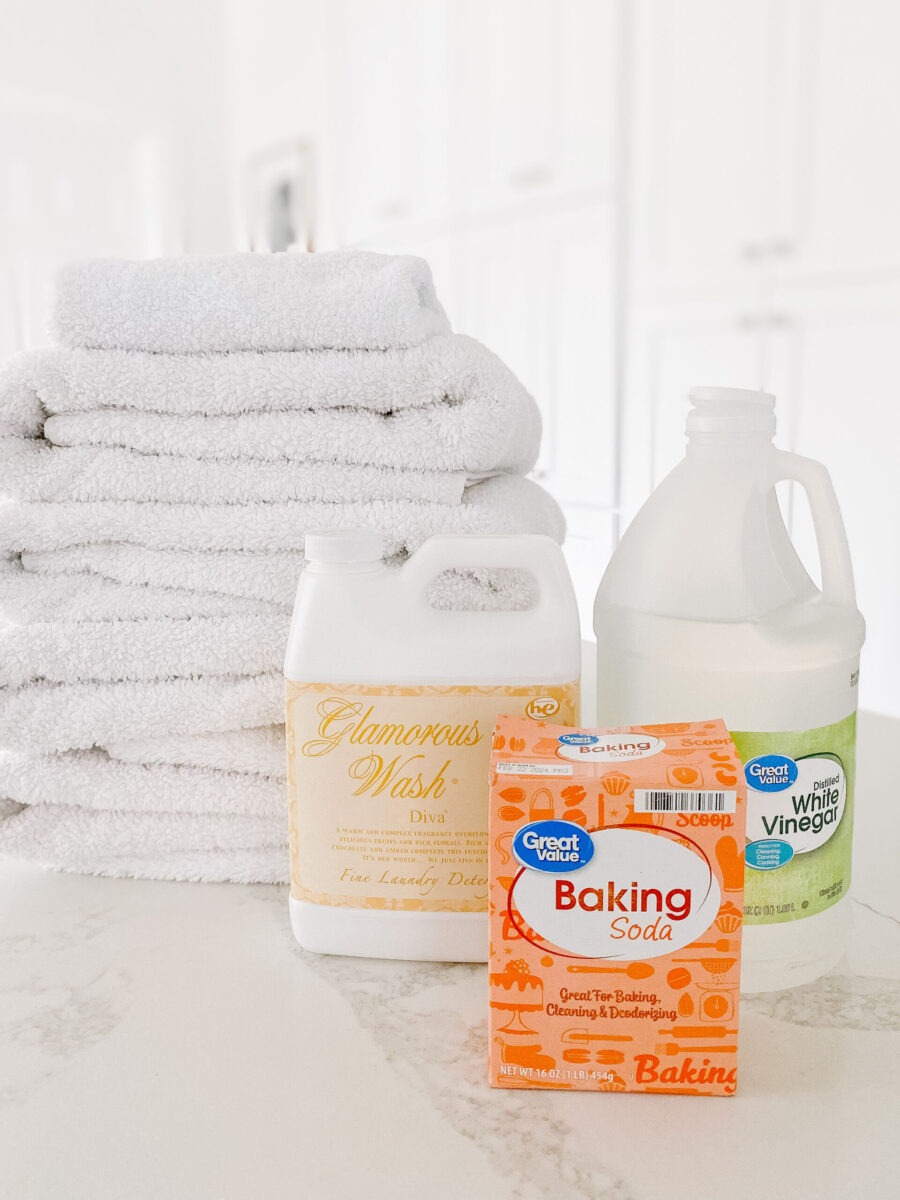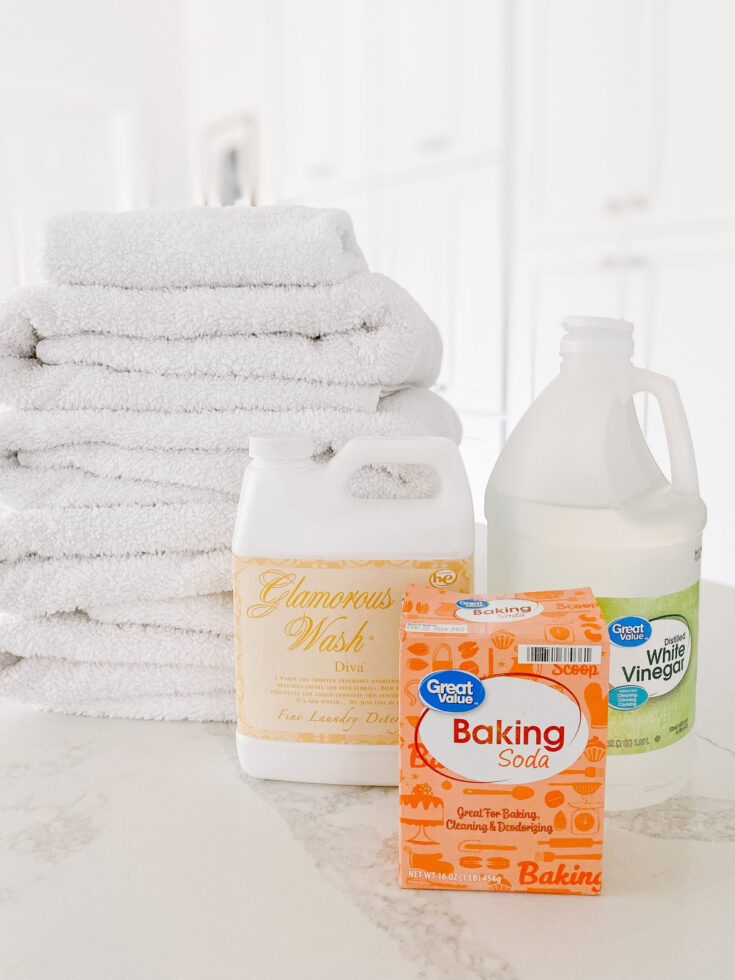 There is nothing worse than stepping out of the shower to a towel that smells like it sat a little too long in the washer machine! Every week I deep clean all my towels in one giant load. Here's how...
Instructions
1. Wash your towels in hot water with one cup of vinegar (only).

2. Wash towels in hot water again with 1/2 cup of baking soda (sprinkle the powder directly into the wash with the towels) and 1/4 cup Diva Wash.

3. Throw towels in the dryer. Fold and enjoy!
Reader Favorite Bath Towels
Lastly, let's talk bath towels!
My absolute favorite towels were from Target and sadly were discontinued in 2020 (huge bummer), which sent me on a mission to find a new favorite. After polling y'all, I decided to go with the #1 reader recommendation — the Costco bath towel which is ahhh-maaaazing, but I don't have a Costco membership so one of my girlfriends ordered some for me through her membership. Those were definitely my favorite towels until…Cozy Earth launched their premium plush bath sheets.
As y'all know, I'm a huge Cozy Earth fan (if you don't use their bamboo bed sheets…you're missing out) so I knew they would be worth every penny. I don't know how to adequately describe these towels. They are huge (I got the bath sheet size — 40″x65″) and feel like a luxurious blanket when you get out of the shower.
I genuinely love all my Cozy Earth products and did not get paid to promote them. However, they did offer me a 40% off promo code for my readers. Use code CAROLINACHARM40 at checkout. (And for real…if you only buy one thing, get the bed sheets.)
Also, let me just say again that bath sheet-sized towels are worth the extra pennies!! They are so big and luxurious and I get bummed when I run out of them and have to use the regular size.
There were several others towel recommendations in case you're in the market so I've rounded them all up below:
Reader Favorite Bath Towels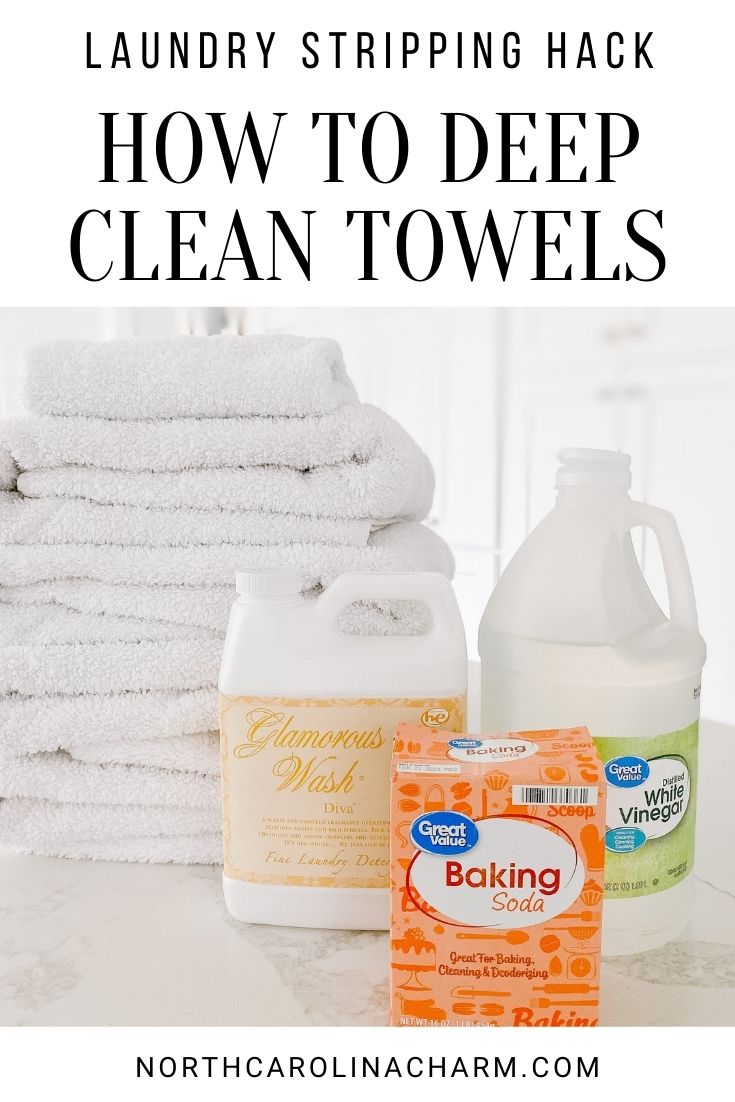 Do you need to soak your towels in the bathtub for this method?
Nope! That is what makes this deep cleaning method SO easy!
What if I want to add a fragrance to my towels?
I highly recommend adding 1/4 cup Glamorous Diva Wash to the second cycle for the most heavenly smelling towels ever.
Does this method require fabric softener?
Nope! It's a simple recipe — just vinegar and baking soda, with an option to add fragrance.