I have been meaning to round up my skincare products forever and finally sorted through all my drawers to inventory my favorites!
To be honest, I used to bounce around with my products a LOT before I learned how much my skin hated the adjustment to new formulas. So now I am pretty consistent with my routine and have figured out what I really love! You've probably seen me feature lots of these products many times before on the blog too…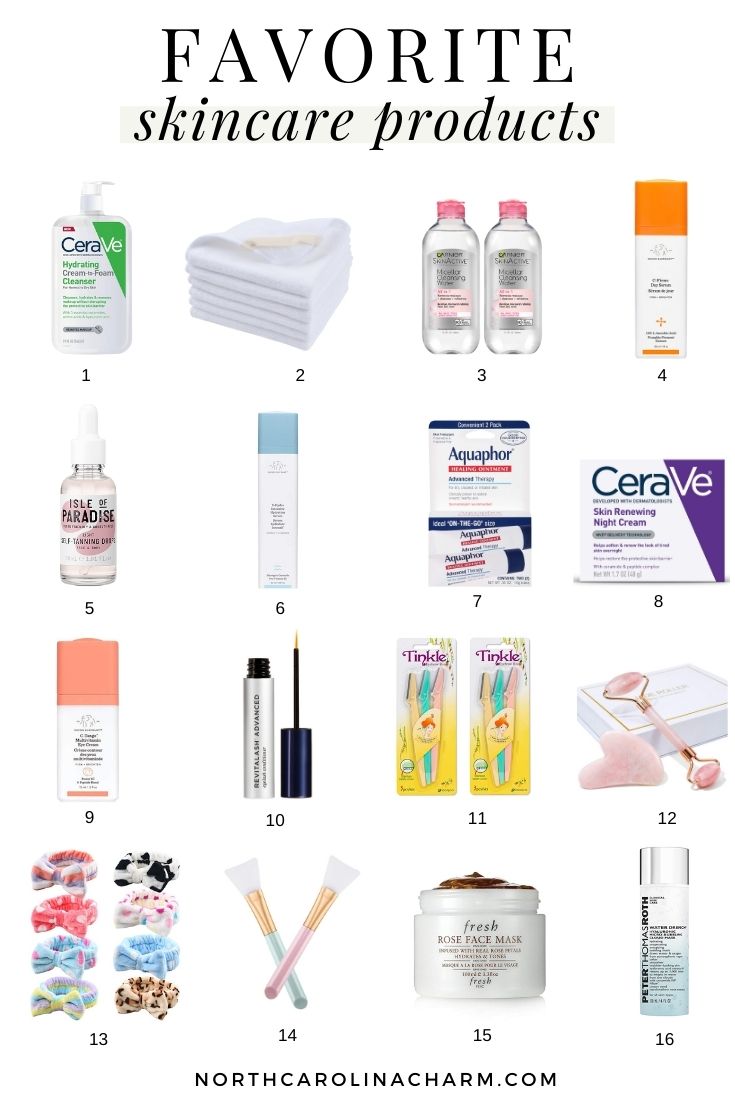 CeraVe Hydrating Cream-to-Foam Makeup Remover Cleanser

: This is the cleanser I use twice daily to wash my face and remove my makeup. My dermatologist highly recommended it during my last appointment earlier this year and I LOVE IT. This foam to cream cleanser is formulated with

hyaluronic acid

to hydrate the skin and works well to remove makeup. I love this stuff so much and am thrilled to have found a cleanser that is affordable! Highly recommend!
Microfiber Facial Cleansing Cloths: These suuuuper soft cloths are made for removing makeup, grease, oil and dead skin cells and exfoliate the skin! I've been using them for years now and still remember after my first use how grossed out I was by the amount of makeup I was clearly not removing before. Every 6 months'ish, I'll toss my set into the "rags for cleaning" bin and purchase a new set.
Micellar Cleansing Water: This is the makeup remover I use for my eye makeup!

Drunk Elephant C-Firma Day Serum

: I really love this tightening and brightening serum that is packed with antioxidants. I use it twice daily (morning and night).

Isle of Paradise Self Tan Drops Light

: My love for these self tan drops runs deeeeeep! These are the tanning drops I use for my face. I just add a generous dropper to my moisturizer (or #4 Drunk Elephant C-Firm Serum) and apply it all over my face and neck — it's a gorgeous glow color!! I usually use these every 2-3 days.
Drunk Elephant B-Hydra Intensive Hydration Serum: Another favorite Drunk Elephant product! This anti-wrinkle serum is lightweight and is designed to hold moisture to the skin. I like to use this in combination with the C-Firm Serum in the mornings.
Aquaphor Healing Ointment: I keep these everywhere (nightstand, makeup drawer, kitchen drawer, etc.) for chapped lips and apply it frequently throughout the day. During the winter, I also use it on the kids faces to protect their little cheeks and lips.

CeraVe Skin Renewing Night Cream

: I love and use a LOT of CeraVe products, but the skin renewing night cream is my favorite. This is the cream I use at bedtime! It's honestly been really hard to find lately though because CeraVe is having a hard time keeping it stocked.

Drunk Elephant C-Tango Multivitamin Eye Cream

: Matt bought me this eye cream for Christmas a few years ago and I've been using it ever since. This m

ultivitamin eye cream features a brightening combination of eight peptides, five forms of vitamin C and cucumber extract for firmer, stronger-looking skin around the eye area.

RevitaLash Advanced Lash Enhancing Conditioner

: The eye lash serum I've been swearing by for years. I've tried lots of competitor serums and always come back to this one. It.is.so.good. And it WORKS!
Tinkle Razors: For at-home dermaplaning!
Jade Roller: I love using this roller at night to help massage my thicker products into my skin before I go to bed. This roller also provides

muscle tension relief and lymphatic drainage to help firm your skin and make it look dewy and lifted.

Makeup Headbands: New!! I just scooped these up a few weeks ago and looooove them. They caught Caroline's eye immediately so I'm glad they come in an 8-pack because it's only a matter of time before she starts swiping these from me.
Face Mask Brushes: The brushes I use to apply my Fresh Rose Face Mask (#15).


Fresh Rose Face Mask

: I've been using this mask since 2018 and have blogged about it a million times (and always include it on all my gift guides. This silky gel infused with rose petals is hands down my favorite face mask for hydrating and toning.
Peter Thomas Roth Water Drench Hyaluronic Micro-Bubbling Cloud Mask: I AM SO DANG OBSESSED WITH MASK. I have never experienced a face mask like this before but it legitimately feels like a bubble bath on my face. This whipped and creamy mask is packed with hyaluronic acid and uses moisture in the air to bring oxygen to your face (or something like that. I don't know. But it's MAGIC).