Happy Friday!
Before I dive in, I wanted to say THANK YOU to everyone who left a comment on my Weekend Rewind post earlier this week. It's not always fun to peel back the curtain, but I think it's important to remind y'all that it's not always sunshine and rainbows over here.
Despite mid-day doctor appointments for the kids (forgot to do this over summer and our immunization records were overdue for school), unexpectedly needing to pick Caroline up in the middle of the school day due to a tummy ache, and a Teacher work day to plan around, this week was so much better than the last! I've also been getting up a few hours early this week to tackle some personal projects so that's felt good too.
1. Recent Kiddo Accomplishments
Leader of the Week
We are so proud of Caroline for being awarded the Leader of the Week during her first week of 2nd grade!! To celebrate, I ran to Target during lunch to surprise her with her first "American Girl doll" (she's been begging for one of these).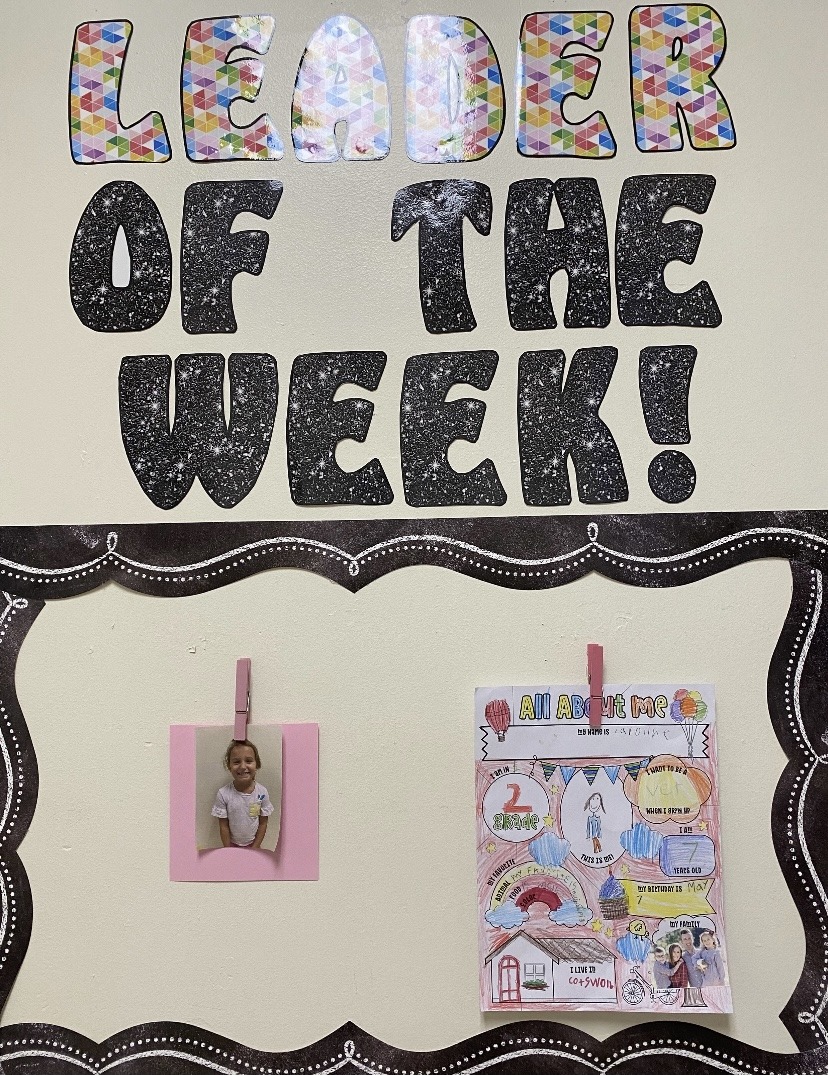 Contacts & Patching
At the beginning of the year we start patching Thomas's left eye again for 2 hours a day. He absolutely HATES it (especially when we're out and people ask "WHAT happened to your eye?!?!!?!?!?!?!!?"). There isn't enough time in the mornings to do the full 2 hours so we have to do it after school. Even though we've been doing it for 9 months now, he still melts down every night when we pull the patch out. He is seriously such a trooper.
Additionally, during a conference call with his eye doctor last month we were instructed to start taking his contacts out EVERY night and letting him sleep without them to let his eyes breathe. This blew our minds as he absolutely has ZERO vision without contacts and has slept in them since he was 3 months old. So if he needs to get up in the middle of the night to use the bathroom or crawl into Caroline's bed he is basically navigating the house with his eyes shut…which he can totally do since he knows our house so well, but the stairs scare the hell out of me. We are a couple weeks in to this new routine now and at first he was really upset to have to change his contacts daily (we were previously changing them out every few days) but he is starting to understand the importance and we are so proud of him. So he got a surprise toy too — a flying helicopter man.
Our favorite SToK cold brew coffee has been really hard to find in stock lately. Even though I don't love a strong pumpkin flavor (I do like pumpkin, but just a slight pumpkin taste), I decided to grab the pumpkin cold brew flavor to try and IT IS SO GOOD. It's smooth, creamy, has the perfect amount of sweetness and the perfect amount of pumpkin flavor. And now we are addicted to it in our house!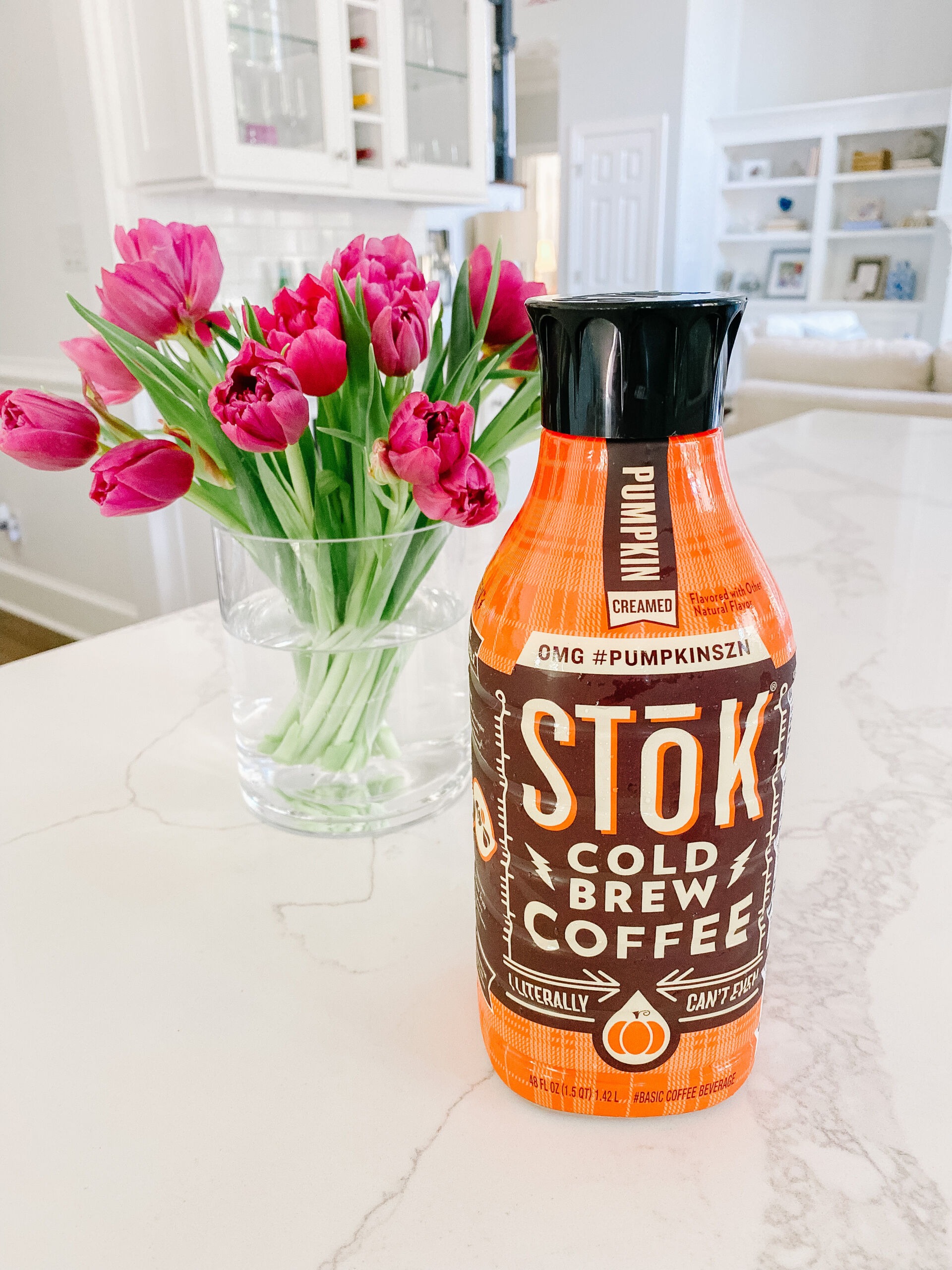 3. Book Review: Pieces of Her by Karin Slaughter
Review 3.5/5: I cannot believe I'm giving a Karin Slaughter book less than 4 stars. Normally I can devour her books in 2 days, but Pieces of Her took me over a week to finish. It is long (the audio book was 16 hours!!!) and started off strong but then the momentum slowed down quite a bit. The plot felt like it took forever to play out so I kept drifting out of focus and actually ended up restarting the book after getting about halfway through. I did enjoy the book, it just wasn't my favorite. Regardless, I will definitely be tuning in to the Netflix series!!
Book Summary: Andrea Oliver's mother, Laura, is the perfect small-town mum. Laura lives a quiet but happy life in sleepy beachside Belle Isle. She's a pillar of the community: a speech therapist, business owner and everybody's friend. And she's never kept a secret from anyone. Or so Andrea thinks.
When Andrea is caught in a random violent attack at a shopping mall, Laura intervenes and acts in a way that is unrecognisable to her daughter. It's like Laura is a completely different person – and that's because she was. Thirty years ago. Before Andrea. Before Belle Isle.
Laura is hailed as a hero for her actions at the mall but 24 hours later she is in hospital, shot by an intruder, who's spent decades trying to track her down.
What is Andrea's mother trying to hide? As elements of the past return and put them both in danger, Andrea is left to piece together Laura's former identity and discover the truth – for better or worse – about her mother. Is the gentle, loving woman who raised her also a violent killer?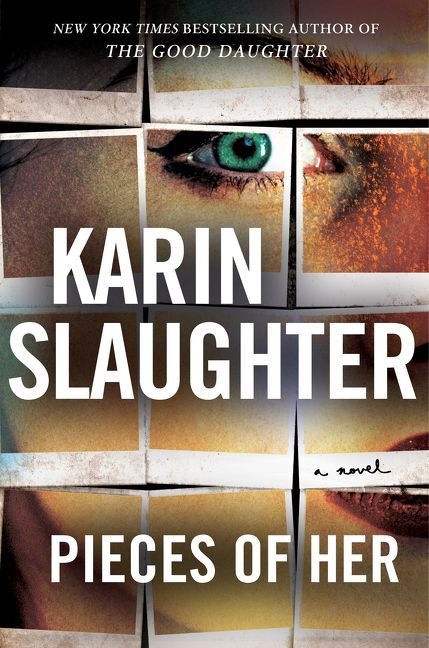 4. Black Bean Taco Salad
Mondays are salad night at our house so I'm always on the hunt for new salads to add to our rotation that everyone will eat. This week I whipped up a black bean taco salad and it was a huge hit! Caroline picked out the tomatoes in her salad and Thomas picked out the (vegan) cheese on his, but otherwise everyone was happy. I had some requests for the recipe so I'm sharing the ingredients I used below.

Black Bean Taco Salad Ingredients
3

cups

chopped romaine lettuce

2 cups chopped spinach

1

can

black beans

(drained + rinsed)

1

cup

fresh

corn

(boiled for 5 minutes)


1/2

cup

diced tomatoes

1 avocado, diced

1/2

cup

grated cheddar cheese (dairy-free cheese)


1/4

cup

crushed tortilla chips

Tessemae's Avocado Ranch (see pic below)
5. Amazon Faves
A few recent Amazon purchases that I am loving…
I am so mad it took me until the end of summer to discover these magical fly fans! We have been using these a lot for outdoor dinners lately and they work really well to keep the flies away from our food.
My friend Stephanie shared these amazing rug gripper pads on her recent Amazon Live and I purchased them immediately in hopes that our family would stop slipping and tripping over every rug corner in our house. And these WORK — really well. The pads come in a 4 pack, but I was able to cut a few of the pads up into smaller squares to tackle more rugs. The pads are like little stickers that you place directly onto the rug and they are washable too. We were previously using rug pads under our rugs which drove me crazy because no matter how small I cut them down they were always hanging out of the sides of the rug. My Roomba and I are also so very happy to no longer have curly rug corners!
BEFORE
AFTER
I recently picked up a tube of Revision Lip Replenisher at the recommendation of my friend Lindsey and LOVE it! It stays on my lips for hours and the hyaluronic acid provides hydration and a plumping effect.
Have a great weekend, friends!
In Case You Missed It