Progress went a mile a minute since I shared our framing + drywall photos and our kitchen is now complete! Even though things are finished now I'm going to take a few steps back and share our cabinetry today. Also, this is kind of a huge reason why we picked Atreum to work with…
Kitchen Reno
Back when we were receiving bids from various construction companies Matt and I were seriously astounded by the price of cabinetry. Wood boxes. So insanely expensive. In fact, the line item for cabinets in one of the bids we received was higher than the cost of our entire renovation. Atreum was our last bid received and we were blown away by the price difference. Actually, we were perplexed. Peter, our GC, explained that while they could most certainly have custom cabinetry made for our kitchen that he didn't think it was necessary. Instead, Atreum offered to install prefabricated cabinets that promised to look custom. And it saved us tens of thousands of dollars which allowed us to put more money into other things that were more important to us – like a play room addition, a fireplace makeover…and my dream counter tops! We couldn't sign on the dotted line fast enough with Atreum.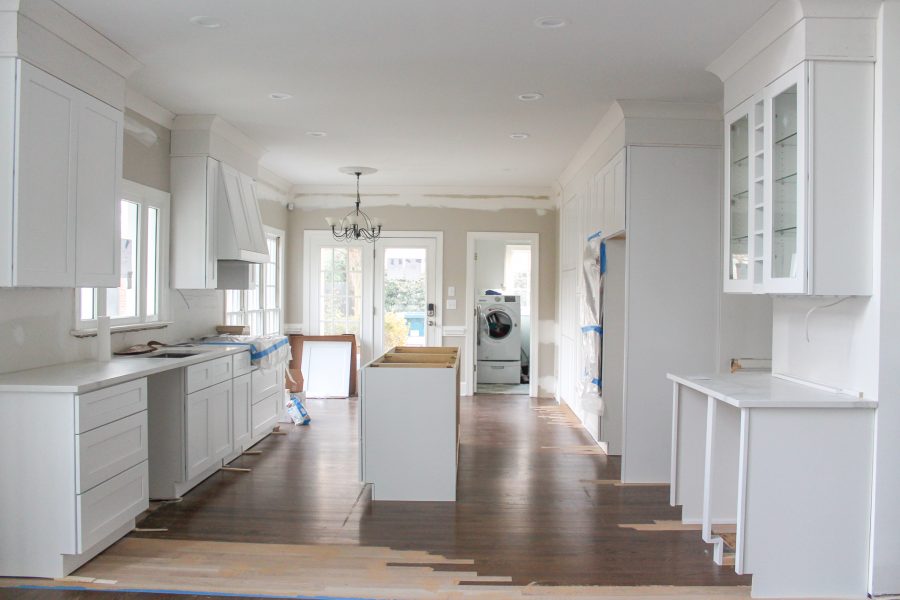 We picked out white shaker style cabinetry and YES, we are well aware how dirty white gets (our former cabinets were white too) but we love a bright white space and are used to cleaning sticky hand prints constantly! All of the doors and drawers are soft close which is seriously amazing. Also, we opted for as many drawers vs cabinet doors wherever possible. The amenities we requested were an appliance garage pull-out, a spice rack and a double trash can pull-out. Once Peter finalized our drawings he ordered the cabinetry…and a week later, our garage was filled to the brim with boxes of cabinetry. I did a happy dance the day they arrived because I had heard horror stories from many of you about your cabinets being backordered or delayed which significantly increased your renovation timeline.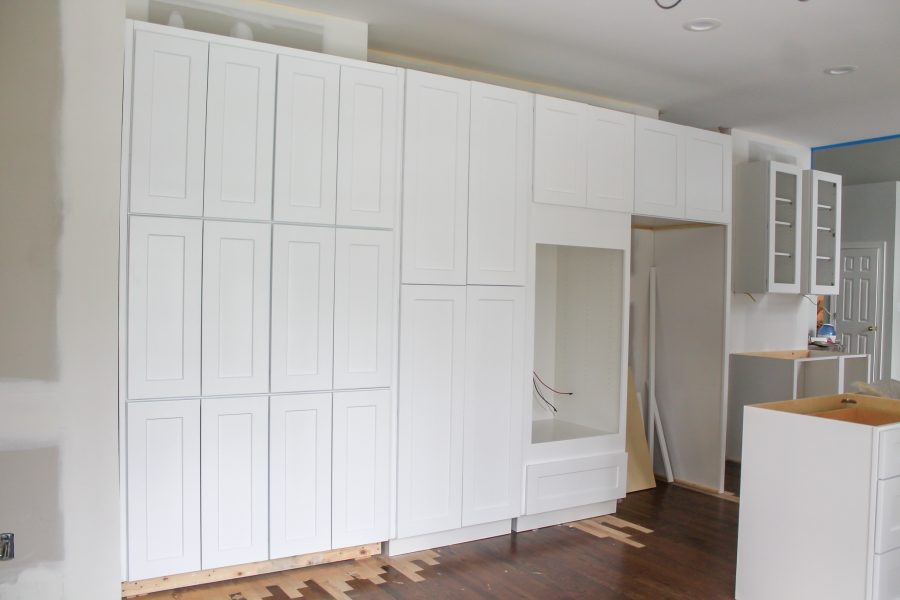 I should also mention that on demo day, I assumed our old cabinets would be thrown into the massive dumpster sitting in our driveway. They were pretty beat and the plastic was peeling off the front of many of the cabinets so they weren't able to be donated. So you can imagine my surprise when Steve, one of the owners, handed us some cash a few days later. He had listed and sold our cabinets for us on Craigs List!!! Truly awesome.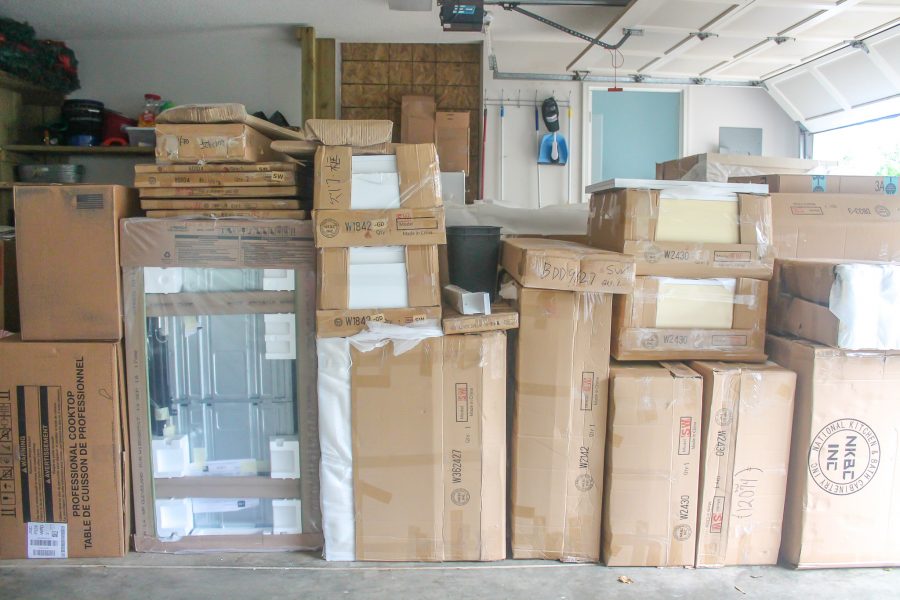 Since our cabinetry options were limited to standard sizes there were several areas of the kitchen where our GC got creative. First, we wanted our cabinets to go to the ceiling. To get this look, we used soffit and crown molding and then painted it to match the cabinets. For our upper cabinets above our beverage center, Peter installed two standard size glass cabinets and then built a wine rack in between to fill the space. Um, perfect!
The Cabinetry
Our kitchen is long and narrow so we spent a lot of sleepless nights time designing the look and functionality of our island. Matt and I really wanted to add seating to the island and went back and forth over whether to add seating down the side of the island or add an overhang at one end for seating. Ultimately, we decided to add the seating to the end vs the side because we worried that we would both lose our minds pushing bar stools (or people on bar stools) in every time we needed to get inside the fridge or ovens.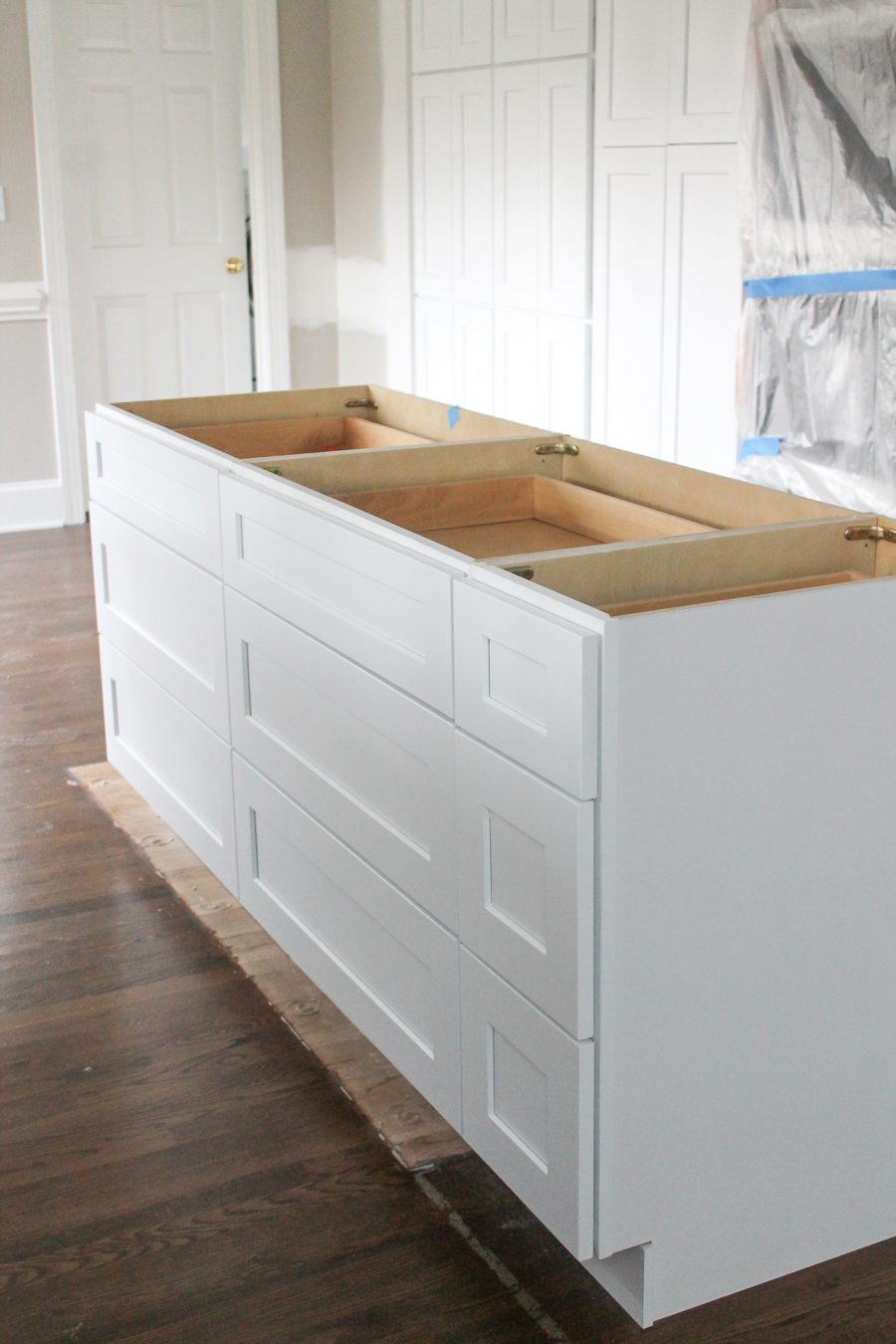 Last but not least, the hood. Oh, the hood! I mentioned on my InstaStories that Matt and I had our hearts set on a boxy, freestanding hood (no cabinets flanking it) for above the cook top. This was our inspiration picture, but we wanted it without cabinets on each side. Our GC tried very hard to persuade us otherwise, even drawing up several options for us. Alas, he began building our dream hood and when we saw it coming together Matt and I immediately realized we had made a huge mistake. It was too bulky, awkward and threw off the symmetry of the kitchen just as Peter had warned us. I was so nervous and felt badly about disliking the hood that I begged Matt to call and tell Peter.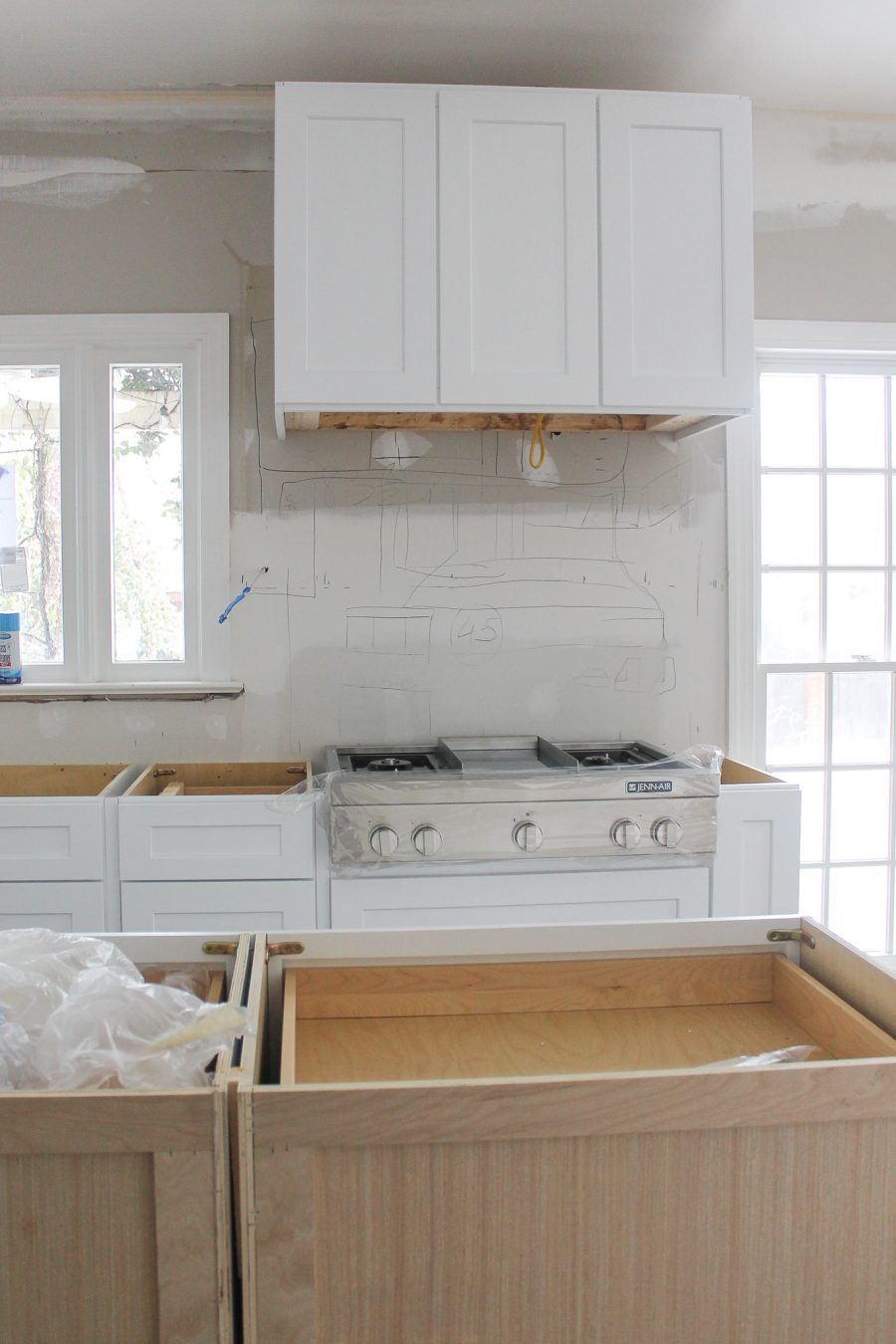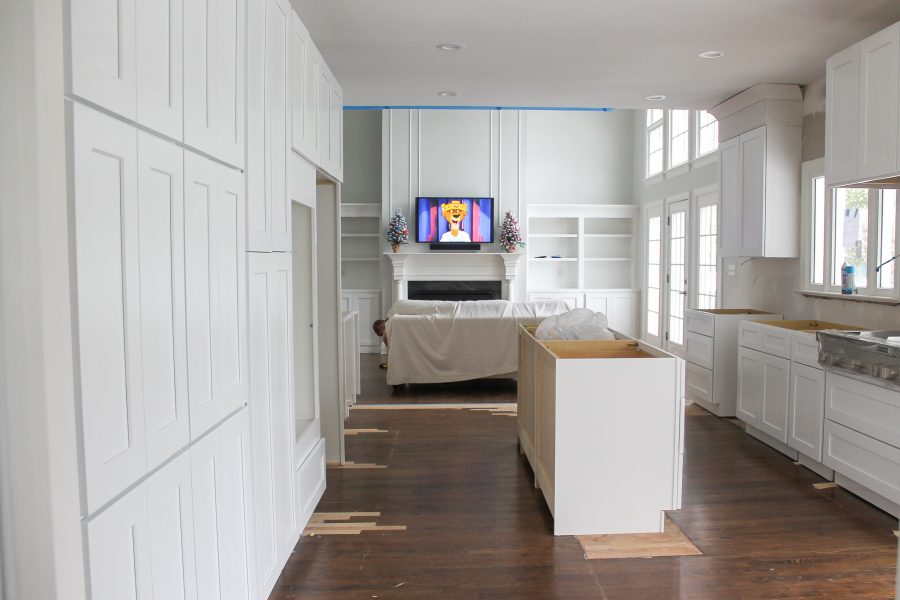 Turns out he had been anticipating our call…and hadn't even placed the insert inside the hood or finished building it out because he had a sneaky suspicion we wouldn't love it. He laughed and said it was absolutely no big deal and the very next day they demo'd it and we redesigned it together using this picture for inspiration and I LOVE IT! So, I know I have professed my love for Atreum throughout this entire process, but I legitimately love this company and we could not have had a better experience. The new hood…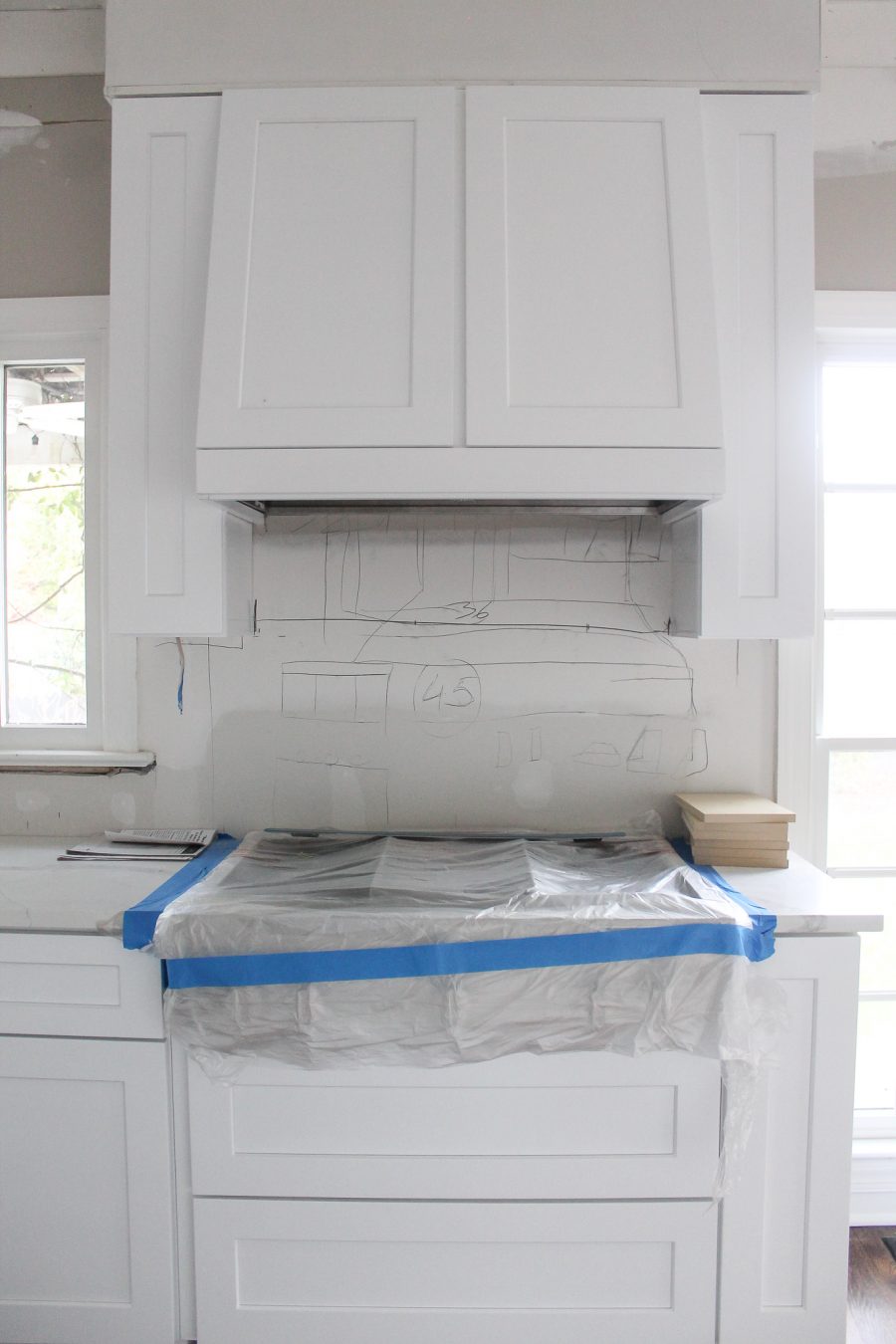 Two other amenities we were excited to add to our cabinetry was counter lighting controlled by a light switch with a dimmer and we swapped out our former wall outlets for under cabinet power strips which makes our tile backsplash so much prettier.
Kitchen Organization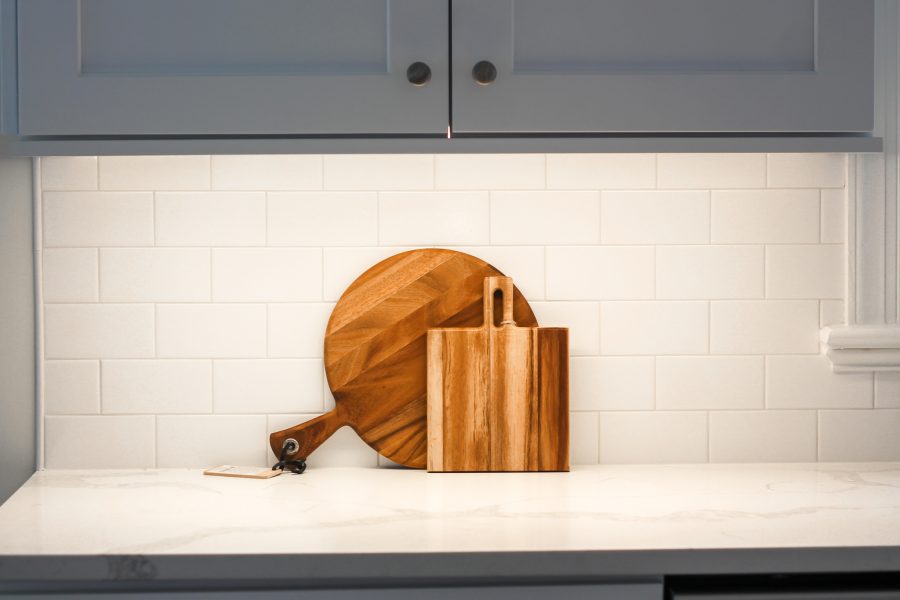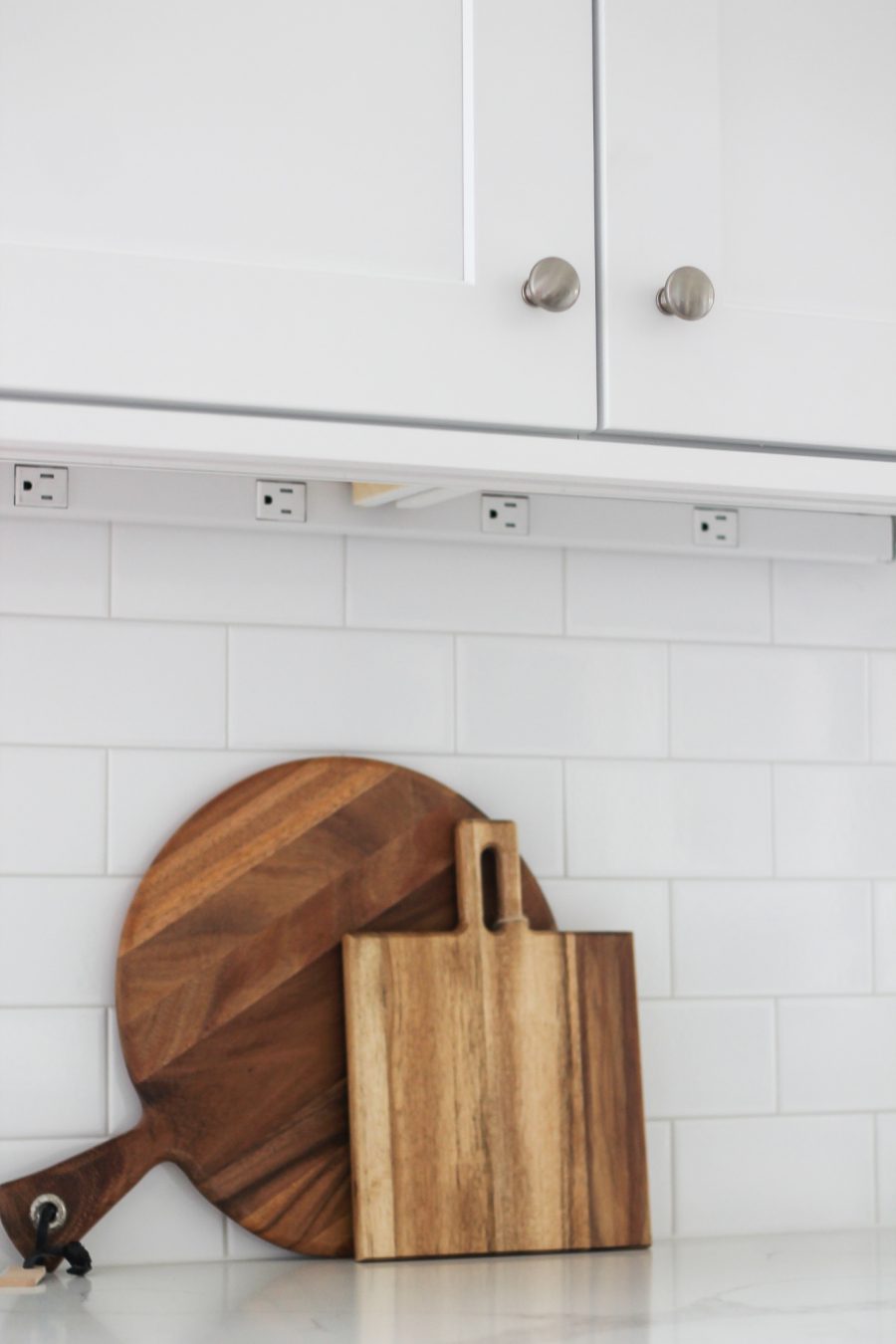 The original kitchen had an awkward wall to the left of the pantry which we turned into useful floor to ceiling cabinetry. These cabinets house all of our pantry items and all of our large and small appliances we wanted to get off the counter.
Hardware Sources

After the kitchen was finished, Minimized, a Charlotte boutique professional organizing company offered to unpack our kitchen and get us organized! Once the cabinetry was installed Minimized came out and took measurements and went shopping for all the organizing supplies for us. Not only did they show up and unpack us so efficiently, they did it in less than 2.5 hours! I was so impressed. I would have never organized my kitchen this well or this quickly — especially with our kiddos at home with us.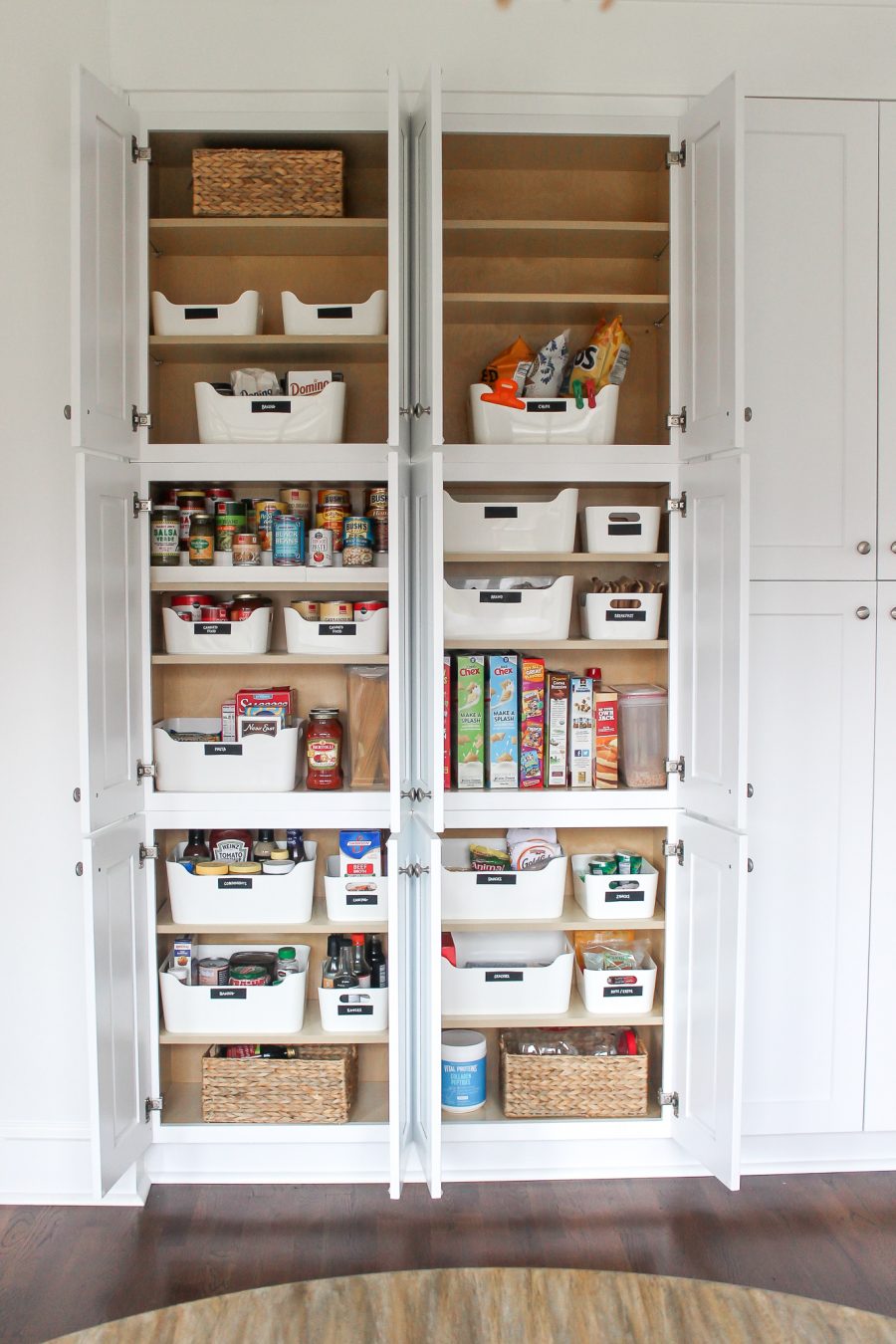 I promise to share the other spaces in our kitchen they organized in another post. In the meantime, if you're itching to organize your kitchen, below are some of the products they used. If you want to leave your project to the professionals, Minimized is offering Carolina Charm readers a $20 Container Store gift card when you book their services!
Organization Products & Supplies



Thank you to Minimized for partnering with me on my kitchen organization! All opinions are my own.