Today I wanted to share a collection of my favorite tennis gear!
I've been playing more tennis lately and it makes me so happy! Even though I'm very much a beginner, I have really fallen in love with the game and am always looking for ways to squeeze in more play time!
Currently, I get most of my playtime in through beginners clinics at our neighborhood court, but I also recently joined a Charlotte tennis ladder league which has been a really fun way to meet new people and play on courts around town.
Alright, let's get down to the gear…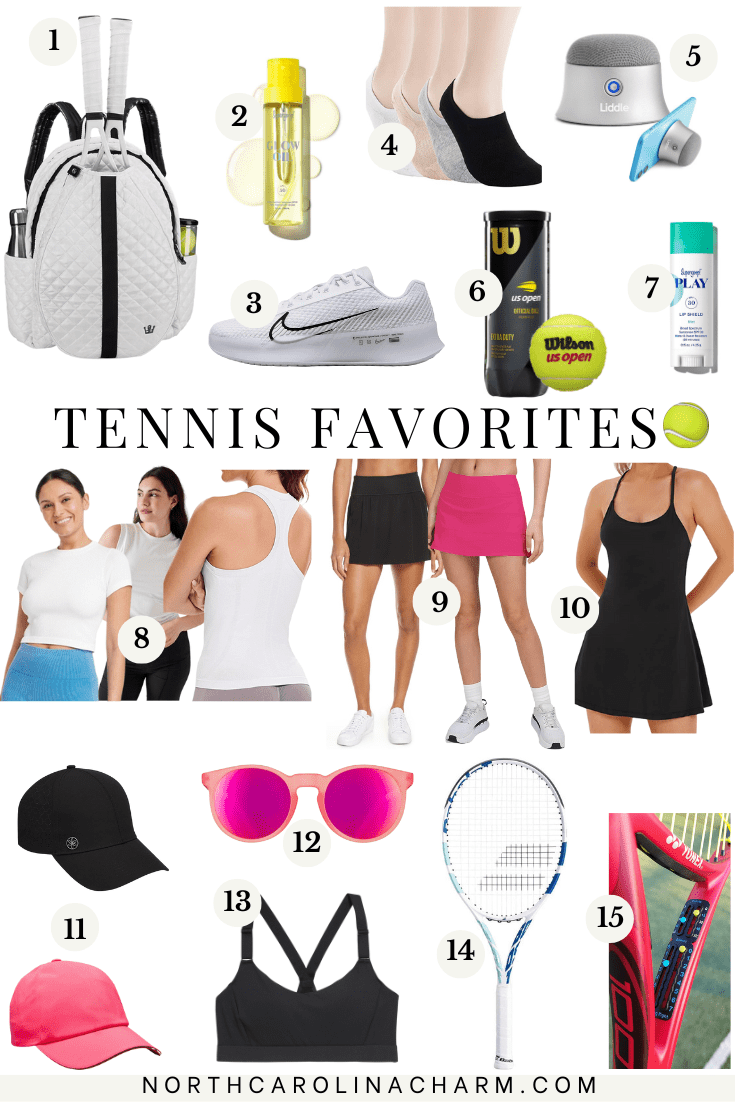 I absolutely LOVE my quilted tennis backpack. It fits two rackets, has two large side pockets, a stash pouch, laptop sleeve and is water resistant.
Tennis Bags
I love this sunscreen oil! It's a water-resistant spray (you still have to rub it in) with SPF 50. It's also lightweight, hydrating, packed with Vitamin E and leaves a subtle glow (without looking/feeling greasy!).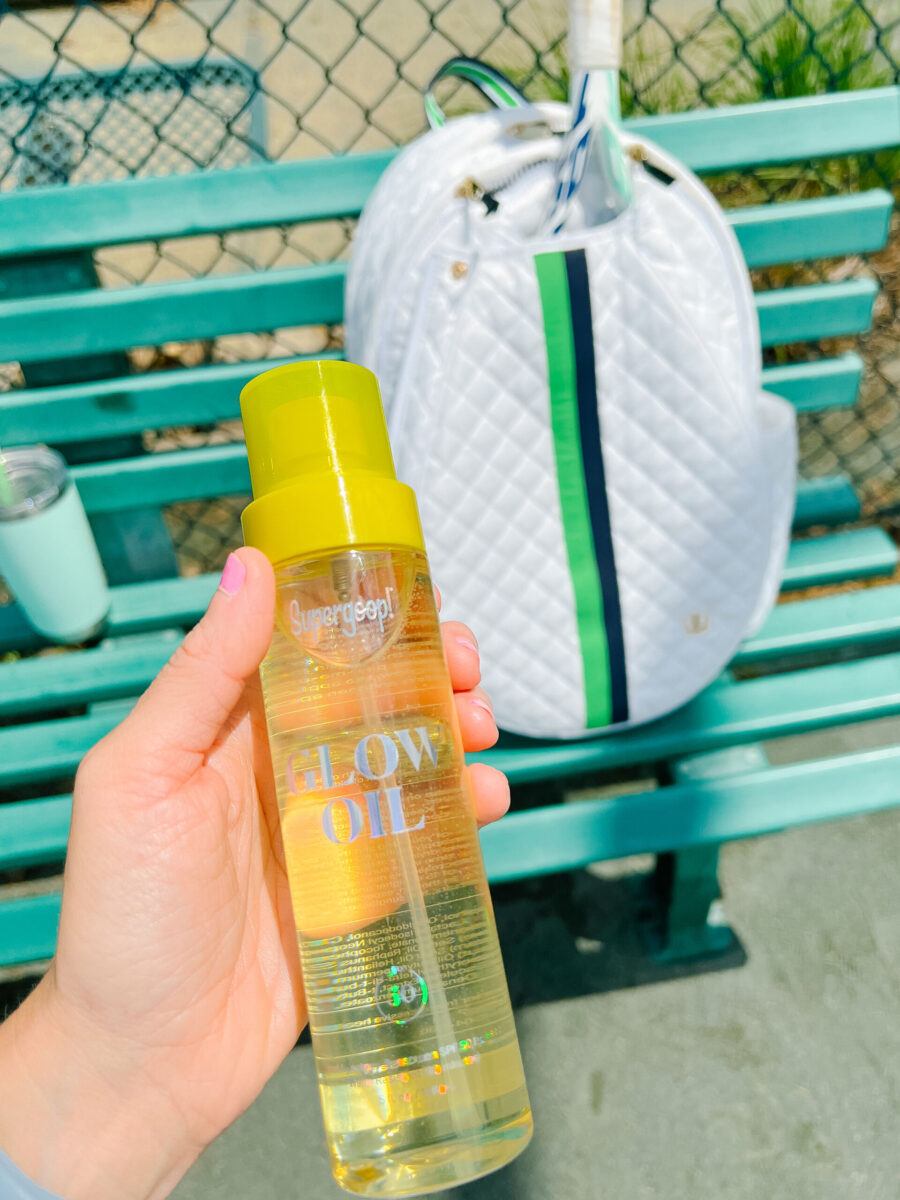 I spent way too much time searching for the perfect pair of tennis shoes and finally found them. They are the NikeCourt Air Zoom Vapor 11 and are absolutely excellent. They have amazing support, are breathable and have good structure. And bonus — they look really good too.
Can't mention my favorite tennis shoes and not mention the best no-show socks to go with them. They are soft, and comfortable and have a rubber grip inside the sock so they don't slip down inside your shoe! Everyone in our house loves these and I am constantly repurchasing them.
I love this viral bluetooth speaker and keep it inside my tennis bag for when I'm playing with Matt or friends! It features 9 built-in magnets (and extra metal rings) so you can attach it to any metal surface. This portable, durable speaker also has excellent sound quality and can play for 8 hours. Available in 3 colors.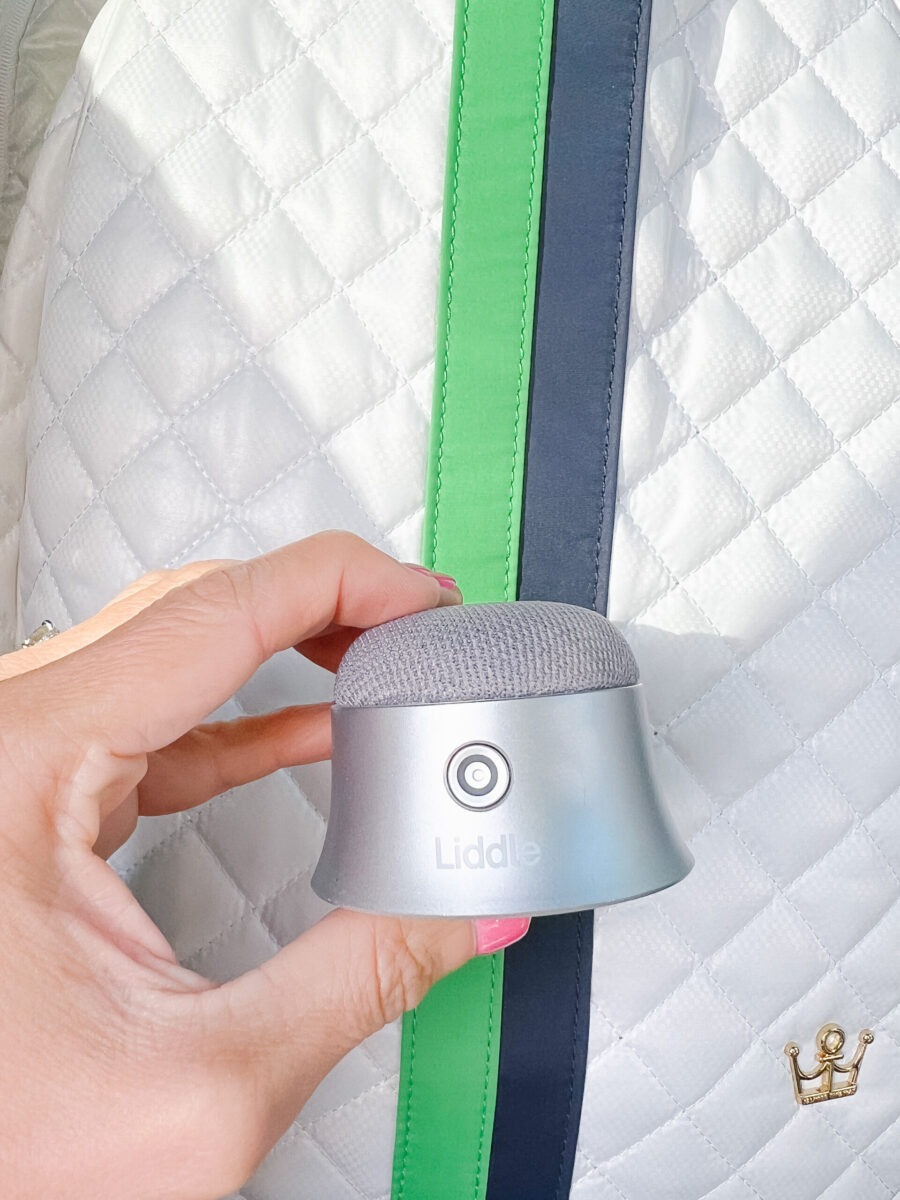 You can find me playing with cheap, old balls unless I'm playing a league match where a new can of balls is required. In the ladder league, both players bring an unopened can of balls and the winner gets to take home the extra can…which means I go through a LOT of balls right now and order them in very large quantity!
7. Supergoop! Lip Balm
Every summer I love to scoop up a few tubes of Supergoop! lip balm and keep one in my tennis bag! We absolutely love this lightweight, hydrating chapstick with SPF.
LIP BALMS: MINT + STRAWBERRY + COCONUT / ACAI FUSION BALM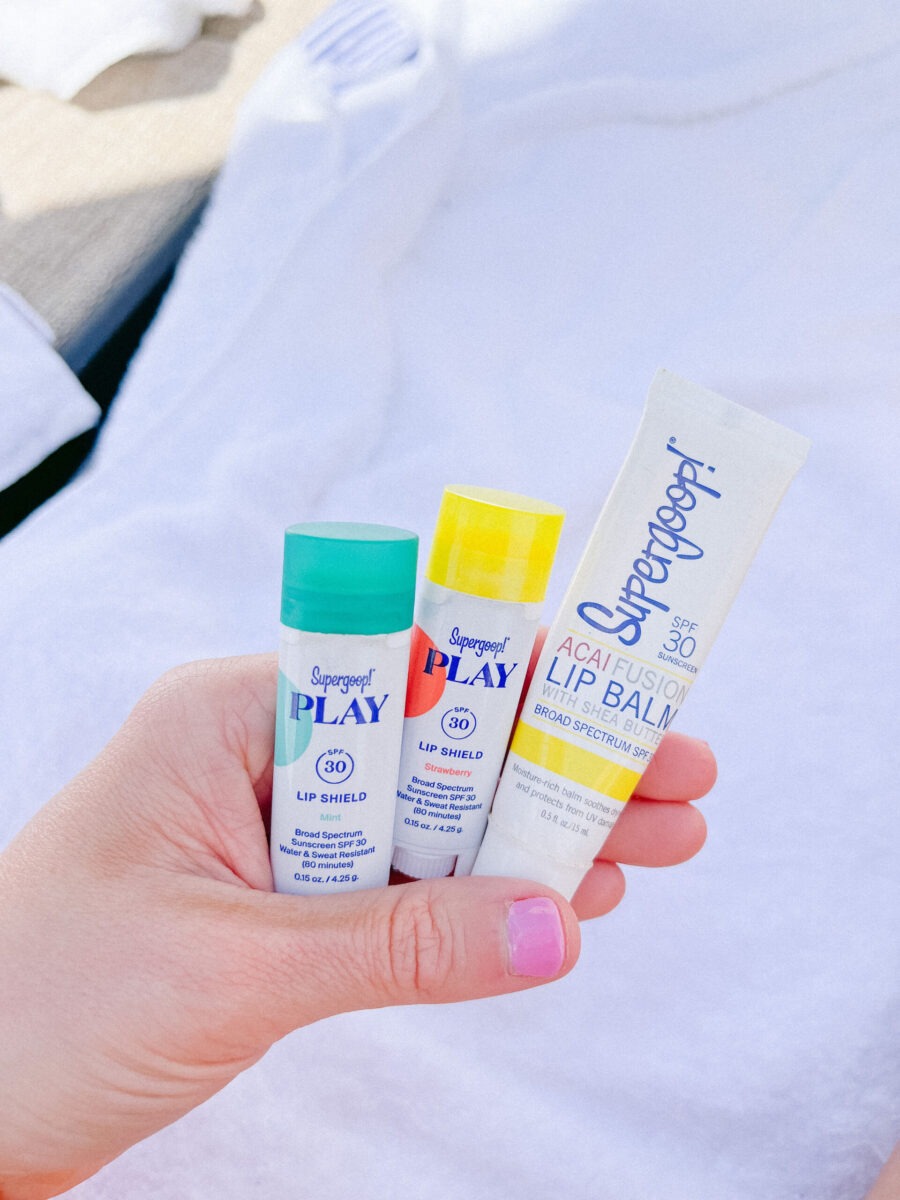 8. Tennis Tops
My 3 favorite tops for playing in:
Target Seamless Ribbed Top: This top is so cute and comfortable to play in. Actually, it's a great all-around workout top and I've also worn it to my Burn workout class. It's midweight, has a ribbed texture, and stretchy fabric. It runs short (at-waist length) and is an athletic fit. Available in 3 colors.
Amazon: The VERY similar version of my favorite Lulu top but at a 1/3 of the price! Available in 6 colors.
Athleta: A cute muscle tank. Available in 4 colors.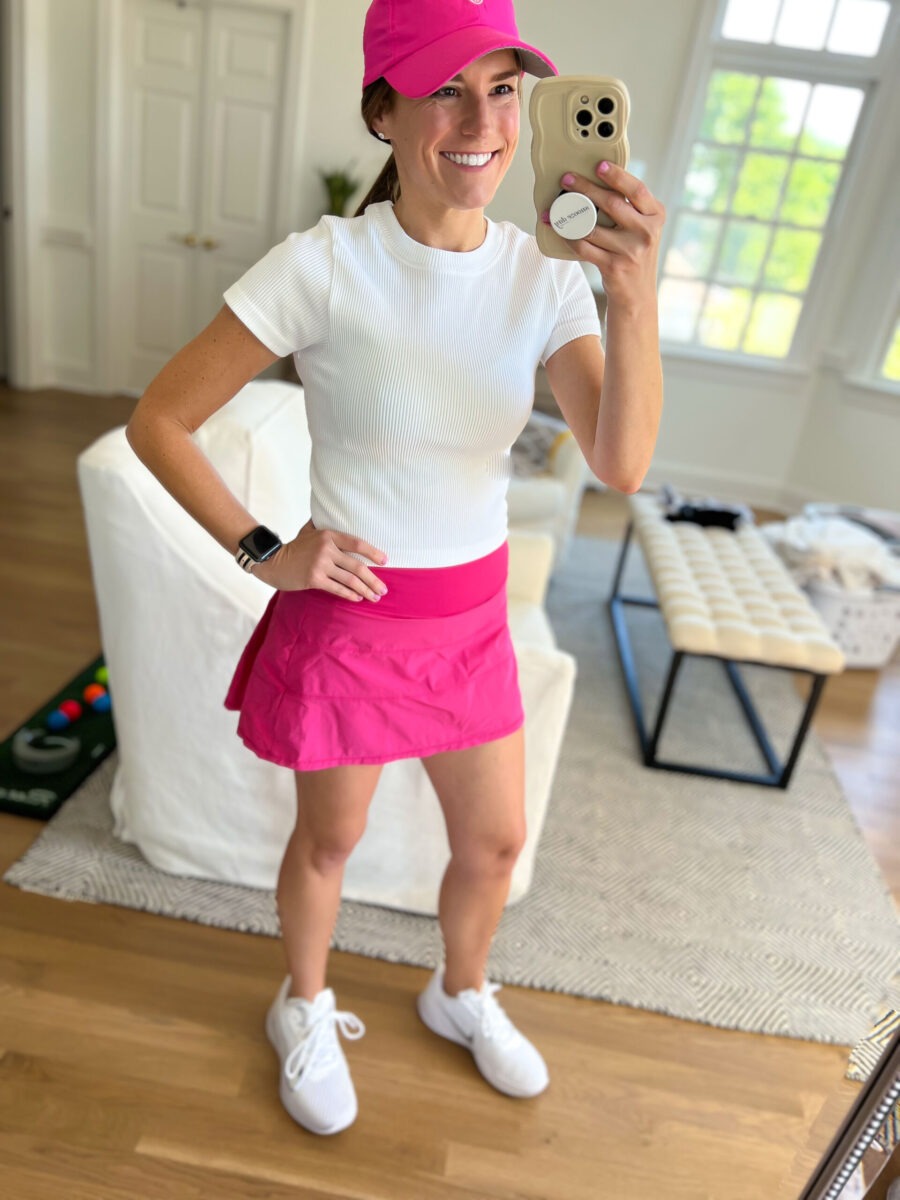 9. Tennis Skirts
My absolute favorite tennis skirt ever is the Spanx Get Moving Tennis Skort. I have it in two colors and it is by far the best skirt ever. It features built-in shorts with added sculpting for a little booty lift and boost, it's got a back zippered pocket (perfect for keys and cards) and a side pocket for your phone or tennis balls. Oh, and my favorite part — the shorts actually stay in place with a silicone liner (so you're not constantly tugging them down under your skort)! Available at Nordstrom in 2 colors, or in 3 colors at Spanx.
When both of my Spanx skirts are dirty, my next favorite skirt to reach for is the Amazon Pleated Tennis Skort. I've shared this one a few times. It looks almost identical to the Lulu version which is double the price. It's mid-rise, comfortable, has built-in shorts, a zippered back pocket, and comes in a rainbow of colors.
The most perfect tennis dress for playing in when it's suuuuper hot outside. I have this dress in two colors and it's really great. It's got moisture-wicking fabric with 4-way-stretch, built in shorts with side pockets and built-in bra. Available in 11 colors.
11. Hats
I go back and forth between my Lululemon Fast & Free hat and this hat from Amazon!
Matt and I both have a few pairs of Goodr sunglasses but my favorite style is Influencers Pay Double. I love this brand because they are known for their special grip coating that elimates bouncing or slipping — especially when you're sweaty! And all their styles feature glare-reducing, polarized lenses.
No surprise I had to include my absolute favorite sports bra. Awhile ago I polled y'all for the best sports bra with sewn in cups and got a lot of recommendations (which I rounded up HERE). And this is absolutely the best sports bra I've ever owned — the Medium Support Powersoft Adjustable-Strap Sports Bra from Old Navy. It's comfortable, features adjustable straps, is affordable, provides great support and has SEWN IN CUPS. This bra really is the total package.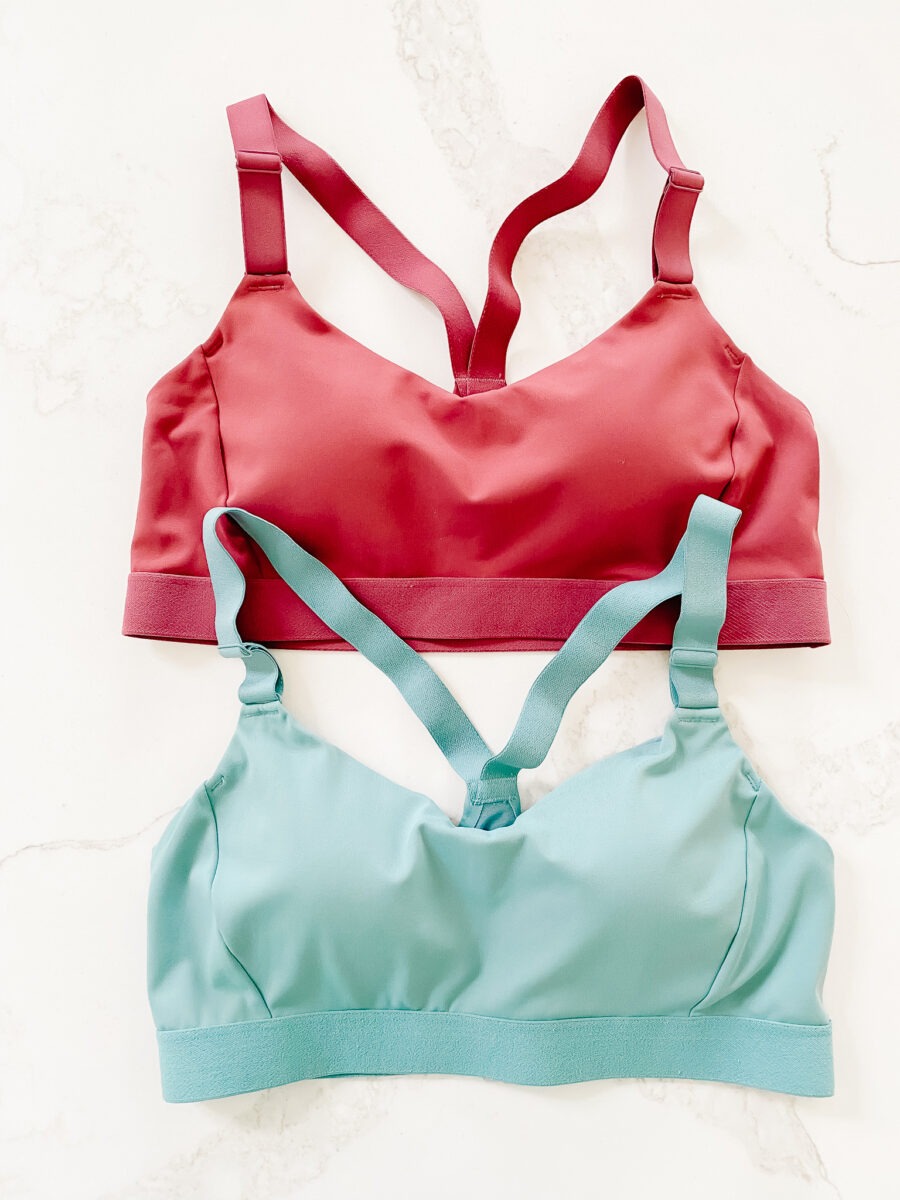 Not super fancy, but the guy at the tennis shop picked this one out for me and I do love it!
Caroline got me this super helpful tennis scorekeeper for my racket for Christmas and I wanted to share it for those of you who love tennis and have a hard time (like me!) keeping up with the points, games, and sets! The scorekeeper board has a sticker backing so you can easily mount it to the inside or outside of your racket.