Over the weekend I whipped up several batches of the most amazing and festive drink ever — Sparkling Caramel Apple Cider. I posted some photos to Snapchat and Instagram and the requests for the recipe came flooding in. So most of you now have the recipe and many of you have already made the cocktail and raved about it too! But for those of you who want to pin this away for your future Christmas party, tree decorating, Christmas card addressing, Christmas day drink, etc., here ya go…
**UPDATE: I've made a few tweaks to the recipe over the years. For the sugar rim, I recommended using cinnamon as a substitute for pumpkin pie spice! The original recipe also calls for 6 cups of cider, but now I use 1-3 cups just to sweeten it a tad! So now it's more of a bubbly drink than a heavier and sweeter cider drink. I am always revising and experimenting with recipes to perfect the blend of tastes — and I think I've officially nailed it. Enjoy!
WARNING: Pace yourself! This drink is sneaky sweet and you can't really taste the alcohol so I highly recommend sharing your pitcher with friends. The first pitcher I whipped up was for tree decorating…and the tree definitely did not get decorated that day.
The next day Matt and I hosted a few families for dinner and I decided to whip up another batch for the ladies. Everyone agreed this is THE best drink of the season.
One more note: I picked up the Caramel Vodka from the ABC store. When I arrived home and opened the truck door the groceries had all shifted and the bottle of vodka came tumbling out and shattered all over the driveway. I cleaned up all the pieces and ran back to ABC. The cashier looked confused to see me again and questioned why I was buying a second bottle of vodka 11 minutes apart. I explained the incident and she told me that if I had brought the broken bottle back to the store some managers will replace it for free!!! I really hope I never bust another bottle of booze, but I noted the return policy for the future!
Also, make sure you find a container large enough to house your cocktail. I ran out of room in my pitcher both times I made it over the weekend. And once you've had a few glasses the drink fits perfectly back into the Apple Cider container and you can pop it back into the fridge. Just make sure to clearly mark "SPIKED" on the bottle so no one pours a glass and gets a surprise!
Sparkling Caramel Apple Cider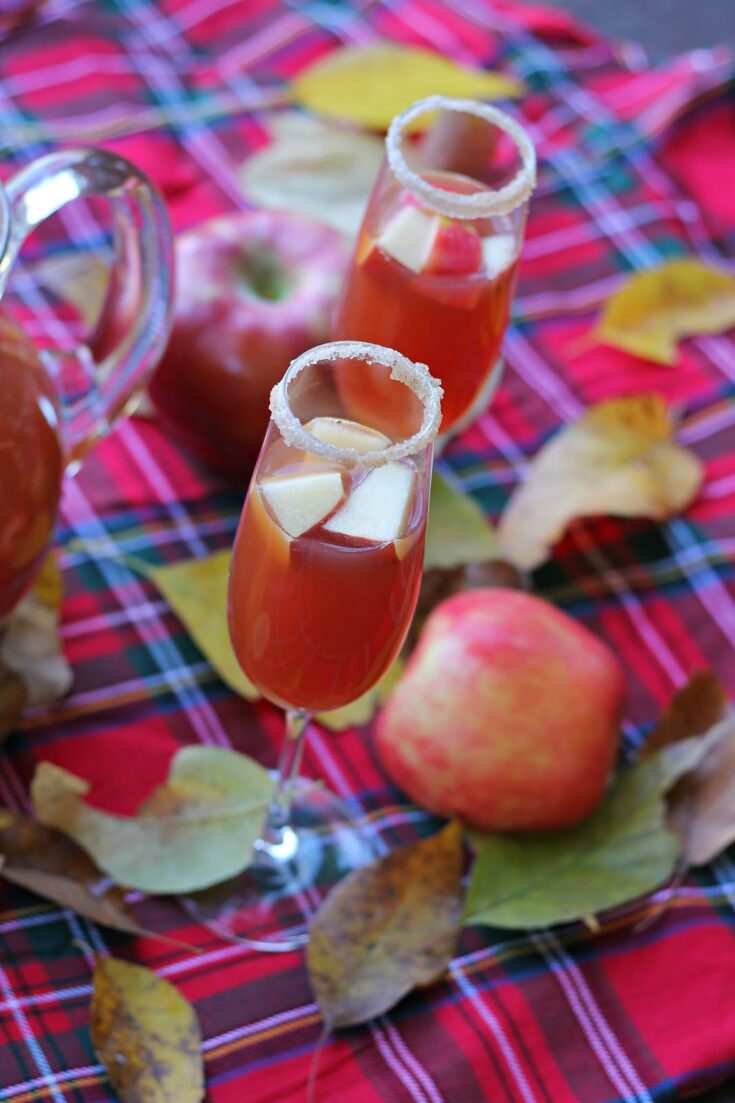 The most festive drink for the holidays that sneaks up on you fast so pace yourself!
Ingredients
1 750 ml bottle of prosecco
1 cup caramel flavored vodka
1-3 cups apple cider, depending on how sweet you prefer
2 medium apples, cored and chopped
1 tbl cinnamon
3 tbl sugar
Instructions
Make the sugared rim. Combine sugar and cinnamon together in a shallow dish. Wet the rim of each glass, all the way around, with water. Dip each rim into cinnamon sugar to coat. Set aside. In a large pitcher stir the prosecco, vodka, and apple cider together. Add the chopped apples to the pitcher, or to individual glasses.

*photo updated December 2020 from Gingerbread House Play Date