Tonight we are celebrating a ginormous milestone — Marcellino & Tyson's 5th anniversary. Matt has worked so hard to build his business and I couldn't be more grateful for his hustle and proud of all his accomplishments. It honestly brings me to tears when I reflect on the past 8 years…
2011
I'll never forget how scared I was when Matt shared his dream of opening up his own law firm. For one, I'm a risk adverse person. And secondly, at the end of each month, the very, very little disposable income we had leftover after paying student loans was being saved for our wedding. So the idea of saying goodbye to a consistent paycheck to pursue his dream of hanging his own shingle really, really terrified me. However, the passion Matt had was undeniable and if anyone could pull this off I knew it was him. We prayed a lot and then went all in.
On May 16, 2011, The Law Office of Matthew T. Marcellino opened it's doors for business in Uptown — just down the street from the courthouse. I remember how surreal it felt assembling Ikea furniture for his office space, which he actually shared with another solo practitioner at the time who provided him with a lot of guidance. We were also grateful when Matt's paralegal from his previous firm agreed to take a leap of faith and join the journey only 5 months after the doors had opened. And of course, Charlie was always down to sleep under Matt's desk on some of the longer days. There was so much to learn during that first year from how to manage the business to getting the phone to ring. We ate a lot of eggs for dinner and Matt devoted a ton of hours to the business. (This is when I began blogging)! Within the first year Matt had expanded his practice areas, hired 3 interns and had 130+ clients! It was time for a larger office space…
2012
In August 2012, we moved Matt across Uptown to a new office space where I had even more Ikea decorating to do. At this point, it was time to take another leap of faith and Matt hired his first associate attorney to join his firm. I couldn't believe it — another attorney! She first interned with Matt, graduated, passed the bar exam and then jumped right in. She did a great job and really helped Matt move the firm forward before she took a job with one of the banks in town. During this same year, one of Matt's former colleagues, who had been a stay-at-home mom for a few years, joined the firm in a part-time capacity to help manage the litigation cases. Super grateful and fortunate that she agreed to come aboard.
2013
In May 2013, we celebrated his second anniversary. And soon thereafter, a new opportunity presented itself — Matt merged with two other law firms in town! This was yet again, another ginormous leap of faith.So we packed him up and moved him to South End. Matt learned a ton that year and met one of the most important people in his life — Bryan Tyson who merged his practice into this now larger firm and became business partners together at the new law firm. And while Matt and Bryan had different practice areas and methods to their madness, it was a match made in a heaven that we never saw coming. While things were going well at this new law firm, Matt had a much different vision for his business that required a different platform. It was a tough decision, but we knew it was time for Matt to go in another direction if he wanted to continue growing. And Bryan felt the same way.
2014
On September 2, 2014, Marcellino and Tyson opened their doors for business in Myers Park. It all started with Matt, Bryan, and Brooks who did everything from answer the phones, serve as their paralegal, and otherwise kept them in order. The office space was gorgeous with floor to ceiling windows and tons of space, including several offices that they didn't need. And although the increased office space meant a significant increase in rent, Matt and Bryan were confident that they would soon fill the vacant offices in their hall. And they did. Between the growth of Bryan's ERISA practice and Matt's family law practice, it was time to hire paralegals and interns! Also, it was time to give Brooks the keys to the castle as the office manager. And she was a great office manager that kept them all in line until she moved to Raleigh in 2018.
2015
Matt and Bryan continued to invest heavily in their law firm. From marketing strategies, bringing on another full time staff member to handle the front office stuff, to toying with practice area expansion. They consistently took on new risks — some payed off and some were learning experiences. And let's not forget…the TV commercials! This was the year Matt and Bryan also began hosting two annual firm events — their annual Masters Tournament Party and an annual Oktoberfest — both have grown tremendously over the years. They also use these events to gather donations for local nonprofits.
2016
Here comes Jennifer Moore. She joined the firm in January 2016 and Matt and Bryan were thrilled! She, Matt, and Bryan are uniquely different and similar; the result has been terrific. Then in April 2016, Rachel Matesic joined the firm's ERISA practice. She has really built up an incredible resume in such a short time. In June 2016, with the addition of several associate attorneys, paralegals, and interns, Marcellino & Tyson had officially run out of office space and desperately needed more. So they broke their lease and moved to a brand new office location (they had built out) in Dilworth. I loved this office space and could not have been more proud of Matt and Bryan for outgrowing their last office so fast. Also, I was very happy when Jen took control of the interior design. When they first moved in, they had grown to 5 attorneys, 2 paralegals and several amazing support staff. They outgrew that space within a year. Before they moved out in 2017, they had added another attorney, Andria Marquez, who has been an amazing addition. Although they hit their new capacity pretty quick, Matt and Bryan still had big plans to continue expanding!
In October 2016, Matt was notified that he would be recognized in 2017 by Business North Carolina as a Legal Elite and later by Super Lawyers as a Rising Star!! For the non-attorney readers out there, Super Lawyers is a rating service of outstanding lawyers from more than 70 practice areas who have attained a high-degree of peer recognition and professional achievement. The Rising Star list recognizes no more than 2.5 percent of attorneys in each state, so this was a big deal and I was so proud of Matt!
2017
In January 2017, Matt won Business Legal Elite and Super Lawyers, but Bryan was the big winner. He was voted Number 1 Employment Law Attorney by the Legal Elite edition of Business North Carolina magazine. Big time! But…Marcellino & Tyson had once again run out of office space for their growing business. In November, the firm moved to a brand new office space in Myers Park that is absolutely gorgeous and offered room for expansion. The firm also began offering several bi-monthly programs: divorce workshops for men, divorce workshops for women and business owner workshops.
2018
In January 2018, Matt won Business North Carolina's 2018 Legal Elite Young Guns award and was featured on the magazine cover of their January edition! There were two other Legal Elite winners from the firm too! I was also ecstatic when Jen made Partner last year! Although Jen and I went to the same college together, we didn't get to know each other until she joined the firm in 2016. She has worked so hard to grow her practice and is seriously one of the toughest and most driven women I know — and Matt agrees. During the summer, Clay Campbell and Tara Harrawood joined the firm. They brought a ton of experience and reputation to the firm. They are terrific and Matt trusts them immensely. This was the year that Brooks moved to Raleigh. Although she left some big shoes to fill, Matt and Bryan found a fantastic replacement to run the office.
2019
So many awesome things continue to happen at Marcellino & Tyson that it's hard for me to even keep up anymore! The firm hired a Business Development Coordinator who is a rock star! The Firm added two more attorneys, Hannah Auckland and Deb Dilman, that makes 9 attorneys with only one more attorney office available! Bryan & Rachel were granted membership to the Million Dollar Advocates Forum, one of the most prestigious groups of trial lawyers in the US, for their recent award-winning verdict on behalf of an ERISA client.
It all started with 3…and now they are 16 strong. And tonight the firm is celebrating 5 YEARS with a big party!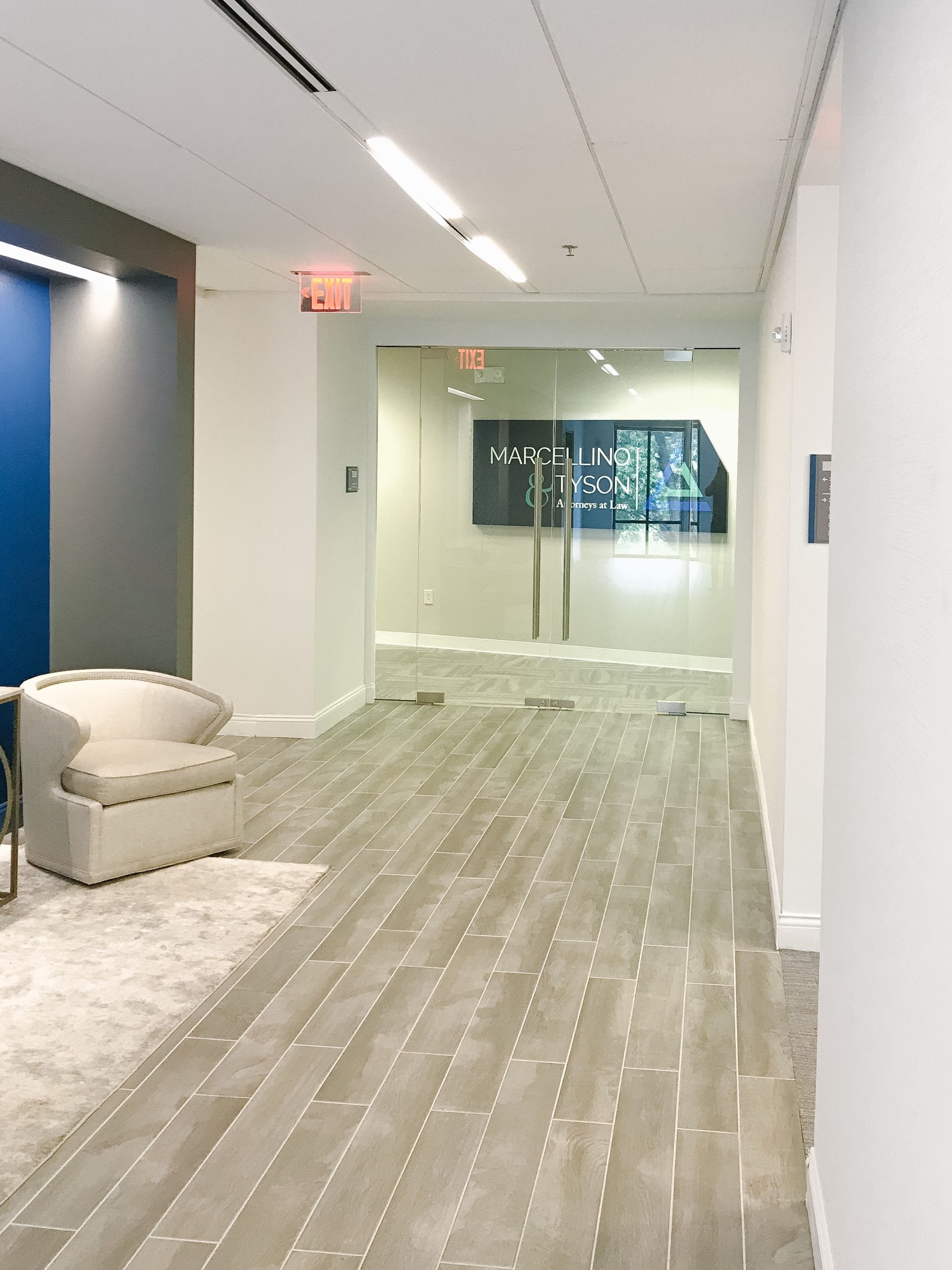 Matt,
It blows my mind to see how far Marcellino & Tyson has come over the past 5 years. And how far YOU have come in 8 years (especially given the hardships we have simultaneously endured with my dad's cancer diagnosis, Thomas's vision, my double mastectomy and more). I couldn't be more proud to be the one standing by your side through all of it, holding your hand through every challenge, every leap of faith and every blessing. You are stronger and more courageous than I will ever be. I am so proud of the lawyer, husband, father and business owner you are. I promise to cheer you on through all the years to come and cannot wait to see what's ahead for Marcellino & Tyson. I love you with all my heart. Happy anniversary, babe!
Love,
Christina