Thank you to Walmart for partnering with my family on this post and to my readers for supporting my blog. All products, purchases and reviews are of my own.
One of my most read posts from 2020 was My Daily Faves, so I thought it would be fun today to share a similar post rounding up my top 9 daily favorite products that I refill often. These are all products I truly love and use every day — so you've probably seen me mention them a time or two!
As I was planning out which products to share I thought the best place to start would be my Walmart recent purchase history. I only had to browse my last few grocery deliveries to quickly identify 9 things I couldn't live without — and thanks to my Walmart+ membership I don't have to!
Many of you noticed my bubly addiction when I posted this picture recently on Instagram. During the week I sit at my desk all day and crush a variety of these sparkle waters. I usually go through 5 cases a week! My top 3 favorite flavors (in order) are…1. watermelon 2. pineapple and 3. raspberry, although I really love the strawberry and new coconut pineapple flavor too. I don't love the bubly bounce as much but will drink them every now and then.
bubly Sparkling Water
An earth-friendly product I've featured a million times on my blog! I have been using this all purpose cleaner for years! It makes your kitchen smell like a freshly planted herb garden and you can use this plant-powered cleaner pretty much on any surface – stone, hardwoods, linoleum, chrome, stainless steel, wood, bathroom, etc.
I tried to pick just one to share but it was too hard so I'm rounding up my favorite CeraVe products. I use every one of these products every day and have shared all of them here before.
CeraVe Hydrating Facial Cleanser: This is the cleanser I use twice daily to wash my face and remove my makeup. My dermatologist highly recommended it during my last appointment earlier this year and I LOVE IT. This foam to cream cleanser is formulated with hyaluronic acid to hydrate the skin and works well to remove makeup. I love this stuff so much and am thrilled to have found a cleanser that is affordable! Highly recommend!
CeraVe PM Face Moisturizer: So I actually use this as my daytime moisturizer (even though CeraVe offers an AM Face Moisturizer that includes SPF 30).
CeraVe Skin Renewing Night Cream: This is the cream I use at bedtime! It's honestly been really hard to find lately though and the listing price on this one is triple what it normally is because CeraVe is having a hard time keeping it stocked.
CeraVe Moisturizing Cream: My daily body lotion I've been using for years. It's so thick and hydrating. I lather it on right after I get out of the shower and use this on the kids too.
CeraVe Products
I'm an organizer by color type of person. All of my to do lists and calendars look like a rainbow explosion of color, but it all make sense to me. It's the only way I can keep all the things organized — work, blog, kids, appointments, various to do lists, shopping lists, etc. And my longtime favorite pens for the job are the Paper Mate Flair Felt Tip Pens!
I have a pretty bad sweet tooth that usually creeps up in the afternoons and after dinner. Even though I have to constantly change the hiding spot so Matt and the kids don't demolish my stash, I always, always, always have candy stocked somewhere in my house. (Pro Tip: one of my best hiding spots was actually an empty cereal box of the kind no one likes!!). So my favorite candy is actually Bridge Mix but for some reason (maybe because I've convinced myself that almonds make this candy "healthier"), I've been buying bags of Almond M&Ms the past few months. I also love peanut butter m&ms and Raisinets.
While I'm airing my bad habits…I may as well include my favorite snack — animal crackers! But not any animal crackers — Stauffer's Animal Crackers. I've been eating these animal crackers since I fell in love with them in high school. So if I don't prep a kale salad for lunches for the week…I will either DoorDash a $20 salad (which is possibly the worse habit?)…or eat a bag of animal crackers for lunch. Is this healthy? No, of course not. But there are days I am too busy to make something healthy so I'll grab a bag or handful of animal crackers (and almond m&ms) to get me through the day. I also love to dip these in peanut butter…or frosting for dessert (because I have no will power to keep these in my house anymore).
If you thought my bubly addiction was bad…allow me to introduce my stash of Aquaphor Healing Ointment. Actually, this is a sample stash as it does not include any tubes from our cars (yes, I keep one in Matt's car too), my purses or bags (gym, pool, etc.). Obviously, I keep these everywhere (nightstand, makeup drawer, kitchen drawer, etc.) for chapped lips and apply it frequently throughout the day. During the winter, I also use it on the kids faces to protect their little cheeks and lips.
Seriously the best mascara ever and an incredible dupe for Too Face Better Than Sex mascara ($23)! This mascara makes my eye lashes look fuller and longer. I love this product so much that I gifted it to my girlfriends at my Favorite Things Gift Exchange a few years ago. And the primer makes a huge difference too so I recommend grabbing the set.
Lash Paradise
You all knew this was coming! I couldn't make this list and not include some of my favorite Dr. Teals products. I have Dr. Teal's stocked in both my bathroom and the kids bathroom. Clearly I'm a big fan of the epsom salts — this is not even my full collection! I bounce around with between scents (and salts vs foaming baths) all the time but really love the Post Workout Salt after a tough kickboxing class, the Eucalyptus Spearmint or Glow & Radiance for relaxing, and the Vapor Bath for when any of us are sick or congested (and if it's for Matt, I'll sprinkle a generous handful of salt around the shower floor). And my favorite for the kids is the Melatonin Sleep Soak. For body wash, I rotate between the Coconut Oil, Glow & Radiance and Eucalyptus Spearmint. And I use the 3-in-1 Sleep Blend on the kids. I love the foaming bath too but buy it less only because the kids will pour the entire bottle into the tub…
Dr. Teal's Products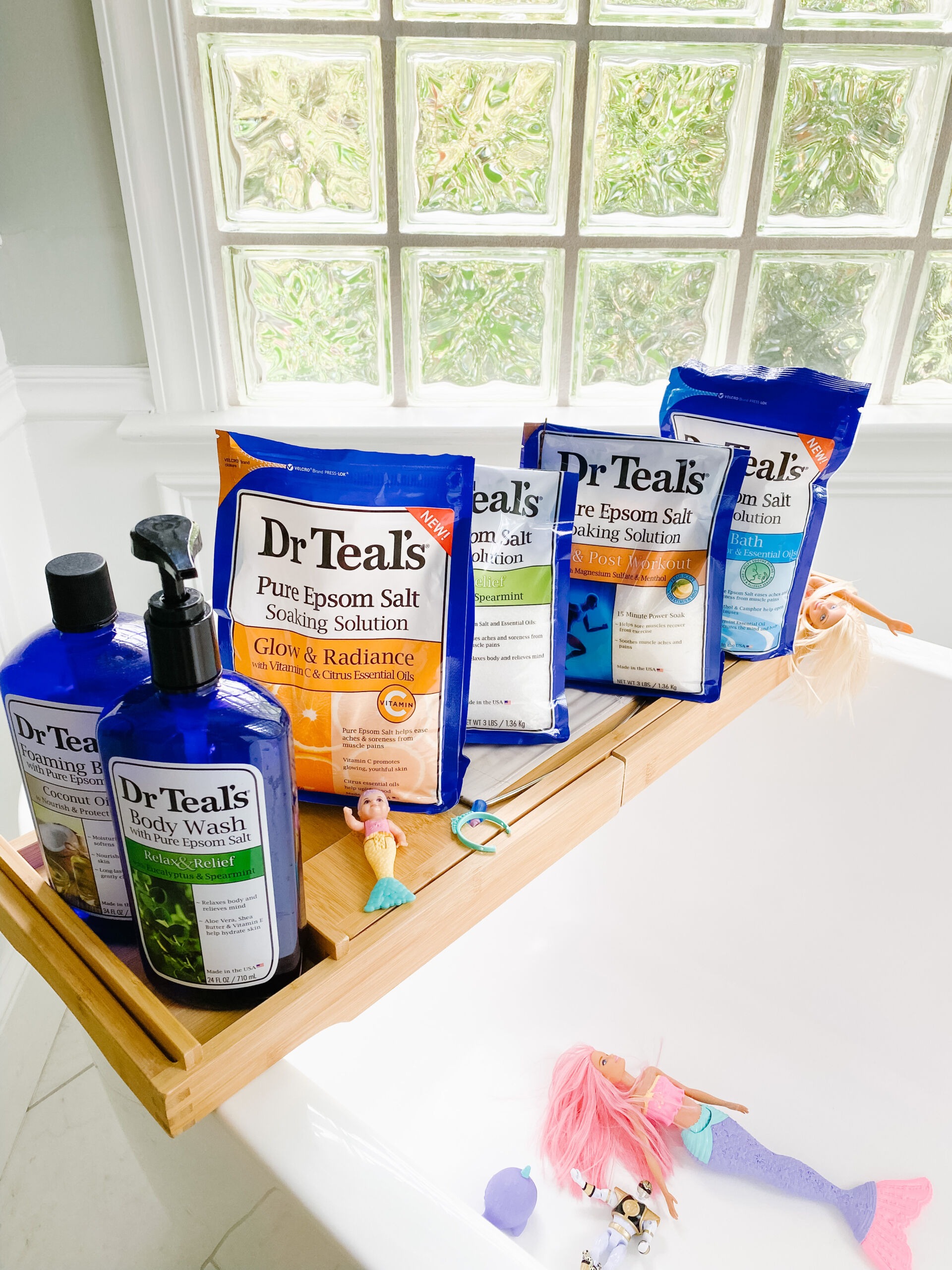 The Walmart+ membership offers a ton of benefits including free unlimited delivery ($35 minimum, restrictions apply) for groceries, household supplies, and so much more right to your doorstep. You can join Walmart+ for $12.95/month or $98/year. The yearly commitment was an obvious choice for us given how often we use it! Membership benefits include free unlimited delivery (there is a $35 order minimum and some restrictions apply), member prices on fuel (save 5¢ per gallon at Walmart & Murphy fuel stations) and mobile scan & go (a benefit in the Walmart app for streamlining in-store shopping by allowing you to scan items to check prices and pay directly on your phone for a contact-free checkout)!