Easter has always been one of my favorite holidays and this year it's going to look a little different! I'm really sad my mom is no longer able to come spend the holiday with us, I'm going to miss attending church live and going out for brunch afterwards and we always looked forward to the annual Easter festival in Matt's parents' neighborhood! However, we're determined to make our Easter extra special at home. We will still dye eggs, get dressed up, watch church on TV, hunt eggs in the backyard, make a delicious brunch and more. It will still be special, just different!
Before we get down to all things Amazon — a quick PSA if you're looking for new Easter baskets — order them ASAP. I ordered new, larger baskets for the kids this year. I tried to round some options up from Amazon but couldn't find any I loved as much as the Pottery Barn baskets. I really wanted to get this gorgeous seagrass basket but know it would likely get destroyed in wet grass so I went with the classic style for both kids — natural basket for Thomas with a green liner and white basket for Caroline with a pink liner. Apparently I'm a little too late in my Easter shopping because the liners are no longer able to be monogrammed since they are sold out in the warehouse and shipping directly from stores now! Crazy!
Easter Baskets

OK, let's get down to it!
— EASTER BASKET FILLER —
A few of our favorite fillers (we used a lot of these in the kids' Christmas stockings)!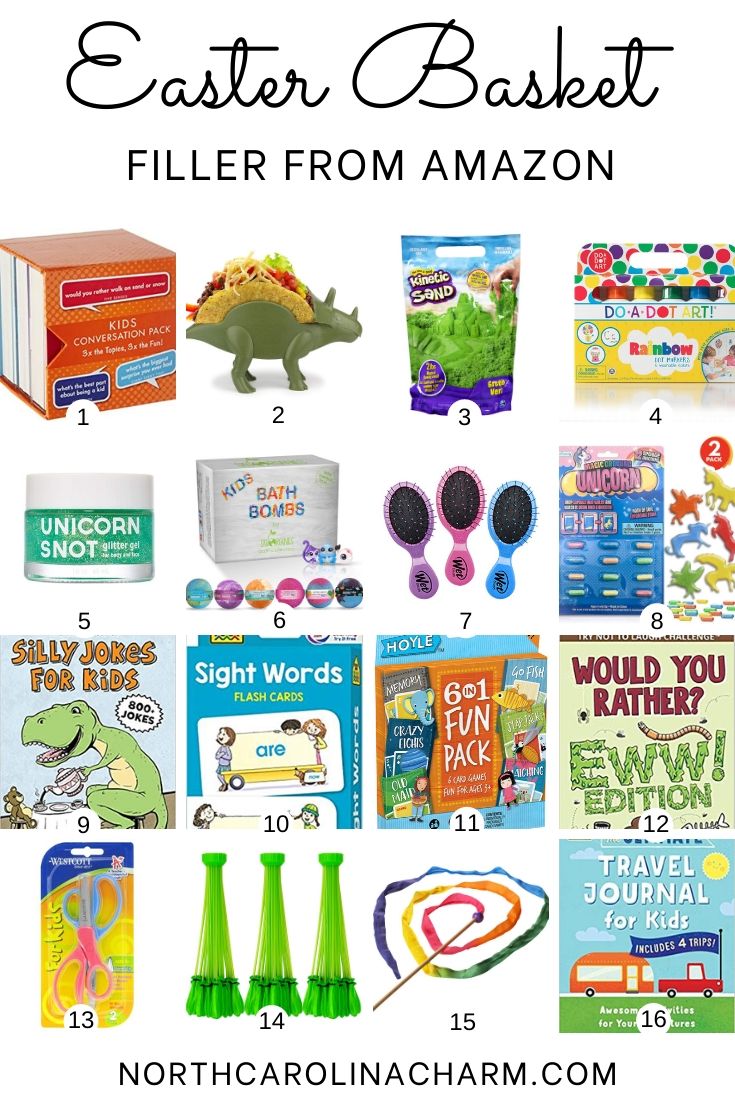 1.Table Topics To Go for Kids 2. Dinosaur Taco Holder 3. Kinetic Sand 4. Dot Markers 5. Unicorn Snot 6. Bath Bombs with Surprise Toys for Kids 7. Mini Wet Brush (3 pk) 8. Magic Grow Unicorns / Magic Grow Bundle Pack (!!) 9. Silly Jokes for Kids 10. Sight Word Flash Cards 11. 6 pk Kid Card Games 12. Would You Rather Book 13. Kid Scissors 14. Water Balloons 15. Silk Ribbon Dancer 16. Travel Journal + Scavenger Hunt
You can find basket fillers for toddlers in a previous basket post HERE!
— EASTER EGG FILLER —

Anyone else hide a massive golden egg in the yard?! I am so excited to continue this tradition this year and think we'll put a $5 bill in the golden egg. Actually, we hide two golden eggs to eliminate any fights followed by meltdowns. The rest of the eggs will be filled with candy and tiny little plastic toys that I will 100000000% regret buying and will eventually throw away as I find them scattered around the house over the following weeks.
So obviously, candy is a popular egg filler, but I wanted to round up some other egg filler ideas that don't require you to leave your house to buy! All of these items are from Amazon! And most of these come as pre-filled eggs so it even saves you a step of filling them yourself! It would be really fun to partner with another family to each buy a few of these fillers that come in larger quantities and then split them with each other!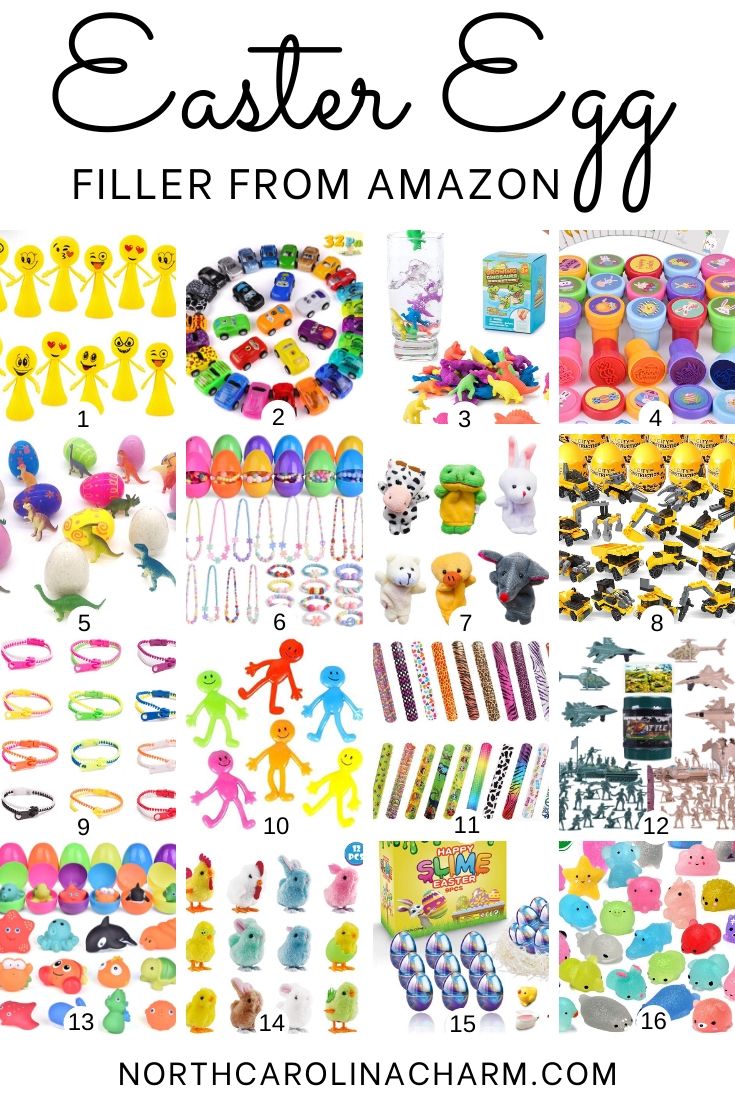 1. Jumping Emojis 2. Pull-Back Cars 3. Grow Dinosaurs 4. Stamps 5. Dinosaur Surprise Eggs 6. Necklaces & Bracelets 7. Finger Puppets 8. Construction Trucks 9. Zipper Bracelets 10. Stretch Smiley Faces 11. Slap Bracelets 12. Army Men 13. Sea Animal Bath Toys 14. Wind Up Toys 15. Slime Putty 16. Squishies
— EASTER OUTFITS —

Last but not least, outfits! I am so obsessed with the Hope & Henry line on Amazon right now. The quality is excellent and the styles are precious. The clothing runs true to size but certain sizes sell out fast. We've purchased a few of these dresses for Caroline and got THIS dress for her for Easter. It looks pink in the collage but it's actually a really light lavender color and is gorgeous!!).
1 / 2 / 3 / 4 / 5 / 6 / 7 / 8
You can find all of these dresses and more HERE!
1 / 2 / 3 / 4 / 5 / 6 / 7 / 8 / 9 / 10 / 11
You can find all of these styles and more HERE!